Motivating Gary Vaynerchuk Quotes To Help You Crush It!
"Gary Vee" has, over the last eight years, grown in popularity in the up-and-coming world of motivation and entrepreneurship.
He started in his teens working 10+ hours days in his parent's wine store in New Jersey, hustling long days, learning for over a decade as much as he could about the world of wine. Then he began the first online video wine review, "Wine Library" on YouTube, which he leveraged to get himself into the world of media.
Now he runs Vayner Media, VaynerRSE, is a keynote speaker, and is also the author of multiple books.
He also encourages those seeking help and guidance to do the work and hit the grind, while being intelligent in how they do it. Gary Vee has built his reputation and brand with his hard-hitting, no-frills advice, combined with his down-to-earth approach.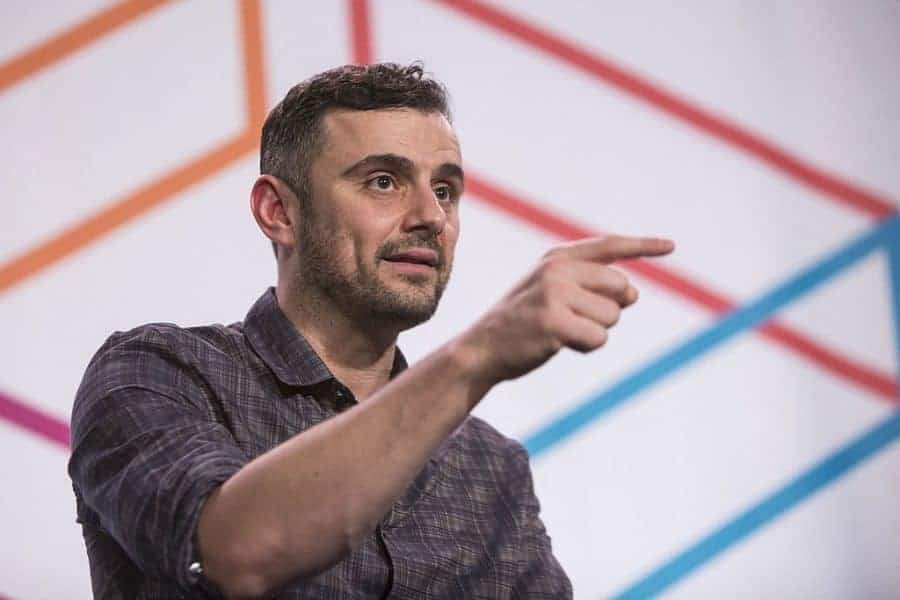 I've selected the following are Gary Vaynerchuk quotes to try and help you get a kick-up in your energy and to bring you the true essence of success. But if you REALLY want to get a shove in the right direction, you need patience, hard work, and perseverance.
Take a gander at what I've laid out for you below, but also see what he has to say for yourself.
Gary Vaynerchuk Quotes About Your One Life
1. "The number one advice I have, is communicate, learn how to communicate."- Gary Vaynerchuk
2. "Do the work. Everyone wants to be successful, but nobody wants to do the work." – Gary Vaynerchuk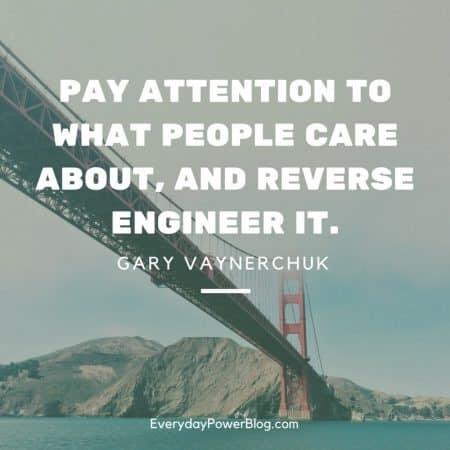 3. "Self-awareness, Work ethic, being driven by something bigger- for me, it's gratitude." – Gary Vaynerchuk, (On getting on -track to success)
4. "Ideas are completely, completely, completely worthless unless you execute against those ideas. And you can sit here and tell me what your "purpose" is, but unless you go and execute against it, it is not different than an idea, which is completely useless without fundamental execution." – Gary Vaynerchuk
5. "It pisses me off how many people contact me and say how luck I am 'Oh Gary, you're so lucky'…and I just want to sit there and be like 'Thanks for thinking I'm lucky, but remember that time when we were 21 and you were at the Jersey shore with hot chicks? I was working my ass off…'" – Gary Vaynerchuk
6. "Making the switch of going all-in, not doing tactics…because you're not, unless you completely go black and white…. You gotta make that binary switch of like 'I'm going to work a lot, and not have excuse anymore, I'm going to be very patient, I'm going to learn how to build a business' then that's when things can to happen…Forever, 7 days a week, for life." – Gary Vaynerchuk
7. "Width is cute, but depth is everything." – Gary Vaynerchuk
8. "The first 5 years in your life out of school, should be 100 percent predicated on living the thing that you dream about the most. AKA, if you want to be a rap mogul, you should be hitting up the P-Diddy, Jay-Z… and go work for them for free for 5 years. The number one way to win, is to be as close to the sun as you want to be." – Gary Vaynerchuk
9. "Work your face off for the next year, to get out of debt…and by the way, one year in debt, is nothing. Debt compounds and there is no reason to have it, if you're that close, and you want to get rid of it already….Make that your core #1 thing right now…If you have debt right now, work your ass off, get rid of the debt, then work your face off, and save money…24 months of eating sh*t, to eat caviar the rest of your life." – Gary Vaynerchuk
10. "All you need to do is build brand with the end consumer." – Gary Vaynerchuk
Motivating GaryVee Quotes
11. "I don't care about anything else except these two things: speed, and native." – Gary Vaynerchuk
12. "I love the game, I respect everybody, even our competitors and people that don't believe in us, but I want to win. I want to win more than anything." – Gary Vaynerchuk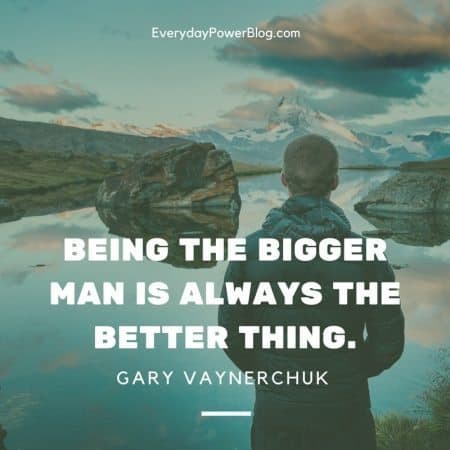 13. "So you're young and hungry and want to rip peoples sculls out of their bodies- but let it come to you." – Gary Vaynerchuk
14. "I don't need a boat this year, I don't need a Lambo to put on Instagram, BECAUSE I am building a business." – Gary Vaynerchuk
15. "People will watch a 4-hour movie, if it's great….and they will get out of a 6 second Vine, 2 seconds in, if it sucks." – Gary Vaynerchuk
If you're enjoying these quotes, you'll love our collection of iconic vine quotes to make you LOL.

16. "It's VALUE: It comes down to how much value you can bring to the audience." – Gary Vaynerchuk
17. "Complaining has no value, let your actions dictate, instead of sitting there and feeling like you're not in control." – Gary Vaynerchuk
18. "It's what you don't do that will screw with you later on." – Gary Vaynerchuk
19. "I think the North Star has to be truth. It's quite simple: If you do not know what the truth or not truth is within your body within your own self, then there is nothing that I can do or you can do to help others." – Gary Vaynerchuk
20. "As long as the person that "loses the most" is self-aware (they will eventually win)…self-awareness is the ultimate in our society right now…."- Gary Vaynerchuk
21. "I loved the game, waking up at 5am, going to a flea market, buying stuff for 4 bucks, and selling it for 11 bucks. I wasn't going to buy mansions with my $7 profit, but it was the action." – Gary Vaynerchuk
22. "That's why I love losing: It's a motivator for me. I don't believe anybody. I don't believe their comments on YouTube…I don't believe my mother… I believe ME." – Gary Vaynerchuk
23. "People need to start breaking the rules. Stop going about it the way you think that it needs to be done." – Gary Vaynerchuk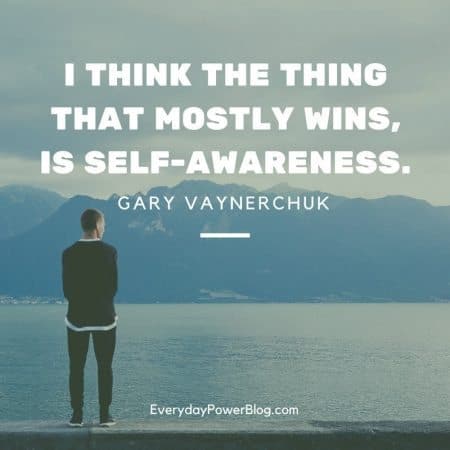 24. "Give, without expectation in return, and recognize how the world actually works is: If you're actually giving without expectation in return, many things happen. The person you're giving to is feeling guilty into giving back 50 percent of the time, and the other 50 percent of the time they're busy telling other people how awesome you are." – Gary Vaynerchuk
Gary Vaynerchuk Quotes on Hustling
25. "It's a hell of a lot better to have a purpose behind what you're doing than not." – Gary Vaynerchuk
26. "I think the biggest mistake we make, is we hope who we are, instead of auditing who we are." – Gary Vaynerchuk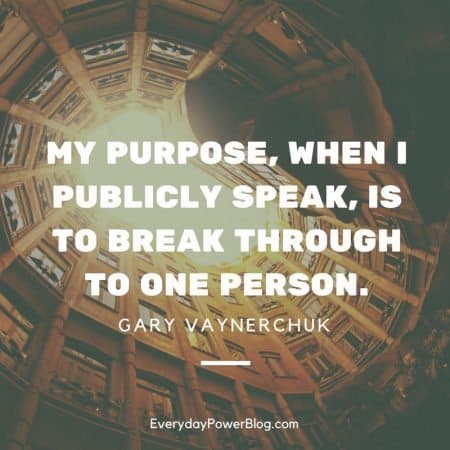 27. "We're living through a time where self-awareness is not being deployed enough, because people are chasing a narrative… Like what are YOU good at?" – Gary Vaynerchuk
28. "Find the five people who are closest to you in the world, spend a week, not 5 minutes, making them feel safe for the question you're about to ask them, which is: Tell me what I am good at, and tell me what I am bad at." – Gary Vaynerchuk
29. "This is such an important part of being an entrepreneur, and I think that the most important part is… seeing the glass half-full. You have to look at the upside." – Gary Vaynerchuk
30. "I read every one of my negative Amazon reviews. All of them. 3 times… to me, understanding how people consume you, and respecting the market, need to trump your own self…I'm thrilled for my haters and trolls, because they context and have allowed me to understand that I was a contradiction." – Gary Vaynerchuk
31. "Once you know yourself, and what you're good at, go all chips in." – Gary Vaynerchuk
Gary Vaynerchuk quotes about being a successful entrepreneur
32. "IF you're doing something else, and you want to do this thing you love, you do it after hours. You work 9-6, you get home, you kiss the dog, and you go to town. You start building your equity in your brand, and whatever you're trying to accomplish. Everyone has time. Stop watching "Lost" (TV series), Everyone has time. You want this? You want bling-bling, you want to buy the Jets? WORK." – Gary Vaynerchuk
33. "If there is any level of romance left in this room about your idea, I'd like to suffocate it. Because I think the actual situation is what you actually do with it." – Gary Vaynerchuk
34. "I respect data, but I'm telling you right now, there are too many people running their business with this (points to head), than this (points to heart). And I'm telling you now, the reason I amassed my following and why I continue to retain it, is because my percentage of this (heart) far outweighs everyone else in this room. And I promise you, if you can figure out how to afford the allocation of this (heart) in your business, then your long-term business success with be dramatically higher." – Gary Vaynerchuk
35. "If you call 'breaking out', punting anything that was happy, and fun, or easy, and grinding my face off, then yea, I was breaking out." – Gary Vaynerchuk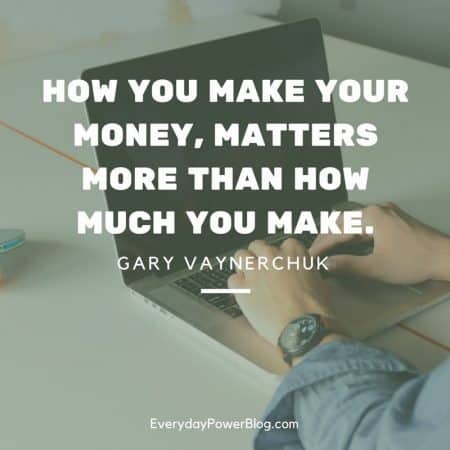 36. "When you tell your truth, it's not scary to talk to one; it's not scary to talk to 50,000. The biggest mistake people make, and the number one reason people fail, is because they have to think- because they don't know, because they have to fake it." – Gary Vaynerchuk, (On public speaking)
37. "Don't try to act bigger than you are. "Oh now that I am on the big stage, let me make pretend or embellish…." – Gary Vaynerchuk
38. "I try to guilt people to like me, because I gave them so much!" – Gary Vaynerchuk
39. "I go to every conference, and I try to make anybody who came there for someone else, question that person (they came for)… and that's by: I'm going to provide so much stream of value, so hard, so long, that they're going to be tired when I'm done. Big Value." – Gary Vaynerchuk
Gary Vee quotes about going all in and grinding
40. "If you ever say to someone else 'Why are you up so early?' then that is the biggest tell that you are not a player." – Gary Vaynerchuk
41. "You haven't made it, so stop being fancy. You're trying to be big time, because you think acting like it is making it." – Gary Vaynerchuk
42. "Having something good happen, (to you/for you) doesn't trigger something bad to happen." – Gary Vaynerchuk
43. "Where does motivation stop and start? Everybody's got a different answer, but here's what I can tell you: It's really easy to be motivated, either you got it, or you can watch it. It's really hard to execute, it is the variable that separates you." – Gary Vaynerchuk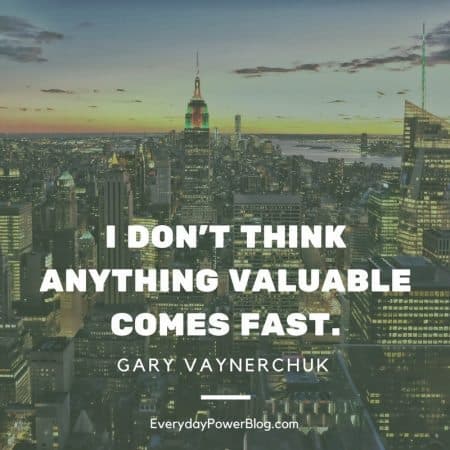 44. "People talk sh*t, and I know that most of you, 99 percent of you, aren't going to do anything." – Gary Vaynerchuk
MastermindTalks Keynote 2016 | Gary Vaynerchuk
45. "I think a lot of you are not motivated, because you're lucky. You're lucky in different ways: You haven't dealt with adversity that much- and by the way it's not a white thing, black thing, or girl thing boy thing, it's you just had great parents and a good upbringing, and life just didn't give you that much adversity." – Gary Vaynerchuk
More Gary Vaynerchuk quotes
46. "Life shrinks and expands on the proportion of your willingness to take risks and try new things." – Gary Vaynerchuk
47. "Being cool has nothing to do with age; it has to do with how solid your identity is." – Gary Vaynerchuk
48. "Even if your ambitions are huge, start slow, start small, build gradually, build smart." – Gary Vaynerchuk
49. "There no longer has to be a difference between who you are and what you do." – Gary Vaynerchuk
50. "Developing your personal brand is key to monetizing your passion online." – Gary Vaynerchuk
51. "Before you invest in yourself, you have to invest in your long-term future." – Gary Vaynerchuk
52. "Because when it comes down to it, the only thing that will never change is human nature. When given the choice, people will always spend their time around people they like." – Gary Vaynerchuk
53. "If you're not 100 percent happy with your life today, it is never a waste of time to try something that could get you there." – Gary Vaynerchuk
54. "Share three characteristics: A commitment to service A desire to provide value A love of teaching." – Gary Vaynerchuk
55. "You may not have connections, or an education, or wealth, but with enough passion and sweat, you can make anything happen." – Gary Vaynerchuk
Did you like these Gary Vaynerchuk quotes? Don't forget to share them!
To get what YOU need from Gary Vee, add him on Snapchat (@GaryVee), follow him on Instagram (garyvee), subscribe to his channel on YouTube, find him on Facebook, and in what little time you have (because you're hustling and grinding hard, sunrise to sunset, and more), tune in, and listen.
And throughout your day, while you're grinding, let your True North guide you on your journey to YOUR success.
February 25, 2021 6:00 AM EST
Be the first one to leave a comment!