50 Jeep Quotes About the Badass Off-Road Vehicle
September 20, 2022 8:00 AM EST
Listen to article
4 minutes
These Jeep quotes are funny, but they do adequately depict the Jeep lifestyle.
Jeep owners are a little crazy…and I am totally looking in the mirror when I say that!
There is just something about knowing that you can drive straight up that hillside and make it to the top.
If your jeep is lifted high enough you can even make it over a fallen tree in the path.
Flexing your jeep on a rock or other obstacle makes for the coolest of Instagram posts, and these Jeep quotes will help you find the perfect caption.
While Jeepers do take their Jeep shots seriously, they are more concerned about the actual adventure!
Jeep girls are a whole different breed of Jeep owners, too!
Don't believe me? Just check out the section of Jeep quotes for girls!
In our house, it's definitely a girl thing.
I loved my Jeep wrangler, and my teenage daughter had a Jeep Liberty and just traded it in for a Patriot!
Jeeping is serious business around my house.
If you are a Jeep enthusiast then the Jeep wave is something you are familiar with.
What is really awkward is when you Jeep wave from your other car or a rental car and people look at you funny!
Keep reading through these Jeep quotes to learn more about the history of America's favorite off road vehicle.
Check out our most popular quote article, a list of short inspirational quotes for daily inspiration.
Explore our complete collection of motivational quotes here.
Funny Jeep quotes
These Jeep quotes will make you laugh. Which one is your favorite?
1. "I like my Jeep topless." — Unknown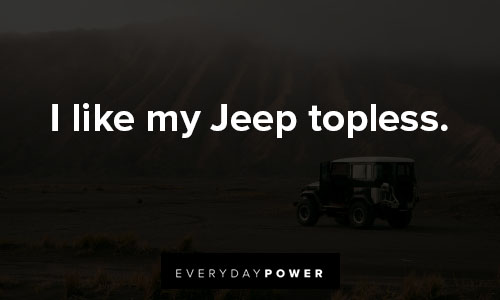 You will also enjoy our article on car quotes.
2. "Don't follow me, you won't make it." — Unknown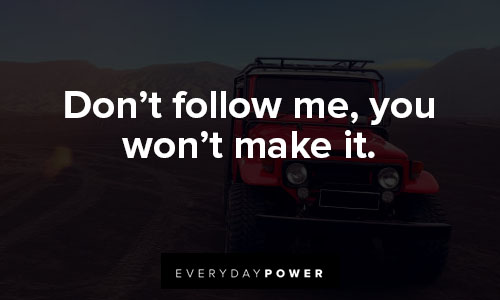 You will also enjoy our article on badass quotes.
3. "Keep smiling if you are driving a Jeep in the mud." — Unknown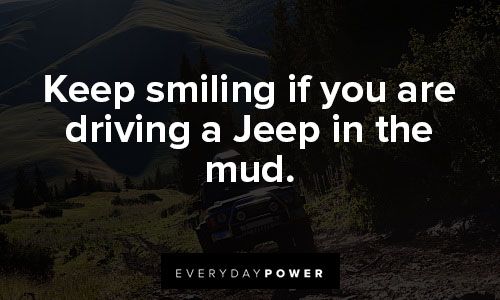 You will also enjoy our article on road quotes.
4. "I work hard so that my Jeep can have a better life." — Unknown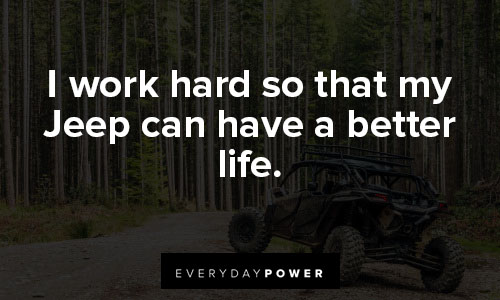 5. "I built my Jeep never to break, but to break things." — Unknown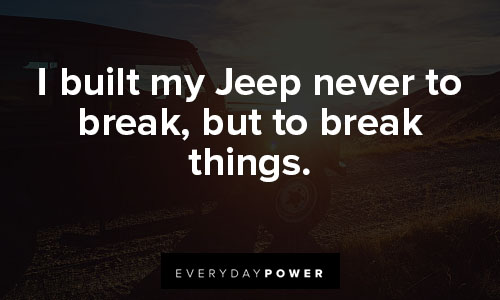 6. "No one is perfect but if you drive a Jeep you are pretty close." — Unknown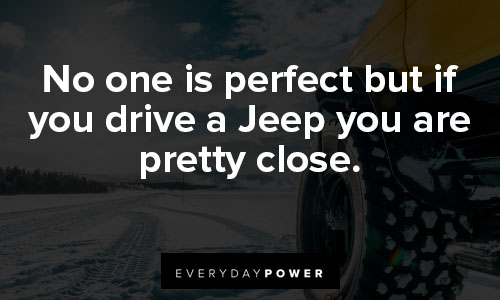 7. "God separated the Jeep from the car and named it 'Rock Crawler'" — Unknown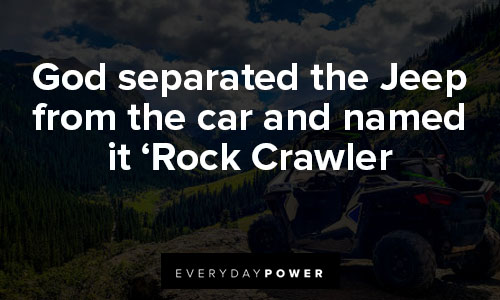 8. "Buy a Jeep, they said. Best car around, they said. They are absolutely right." — Unknown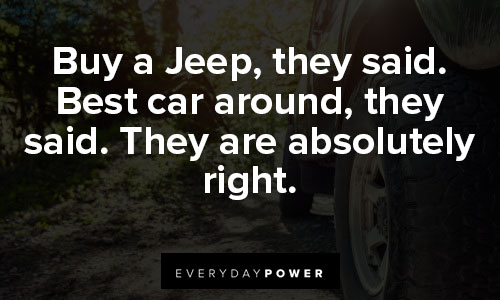 9. "Sometimes the road less traveled is less traveled because drivers don't have a Jeep." — Unknown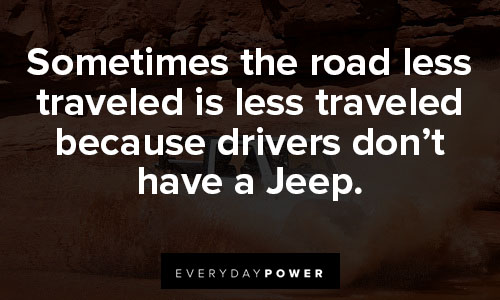 10. "Having a Jeep is like having herpes. Sure it will act up from time to time. But, you will never get rid of it." — Unknown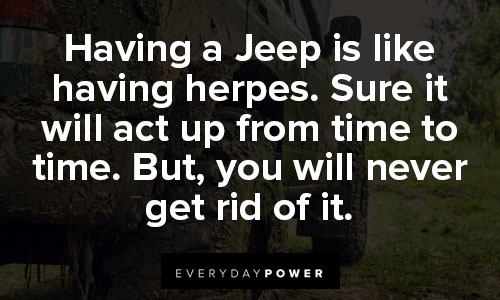 Jeep quotes for Instagram
Everyone loves a good Jeep Instagram post. Pare these quotes with a photo and you will have the perfect Instagram post!
11. "My Jeep is calling." — Unknown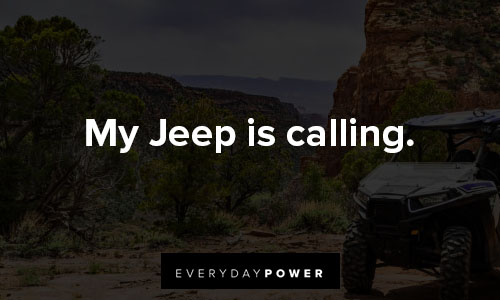 12. "We don't need roads." — Unknown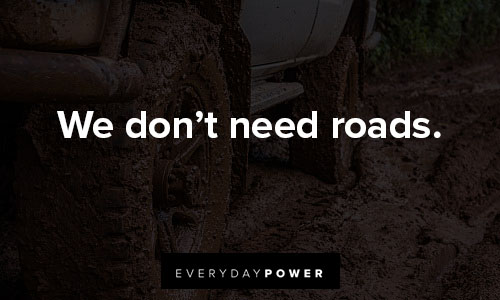 13. "When in doubt, mud it out." — Unknown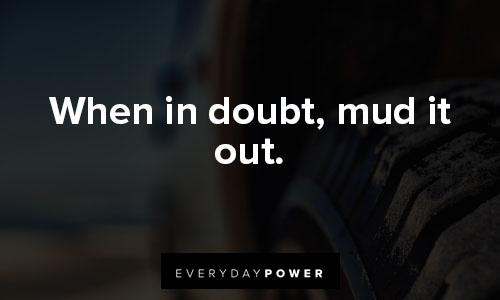 14. "Fun begins where roads end." — Unknown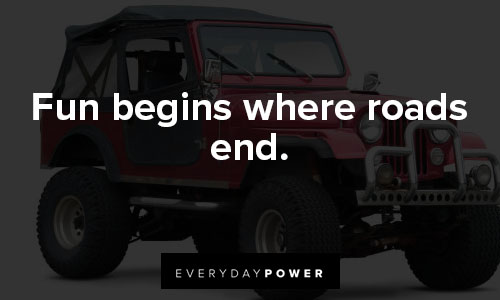 15. "No doors or No top. No problem." — Unknown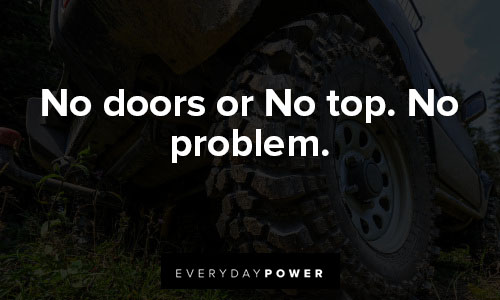 16. "Let's get lost together, shall we?" — Unknown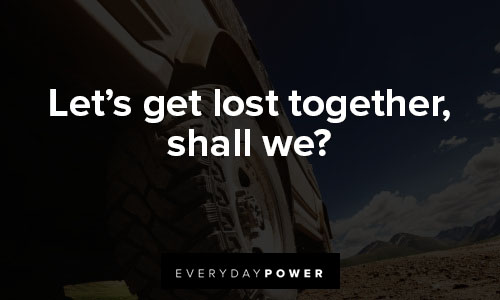 17. "Life is damn simple.Sleep, Eat, Jeep." — Unknown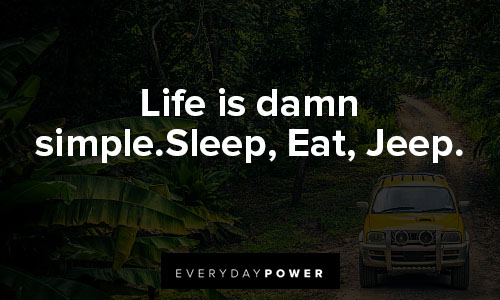 18. "To avoid injury, don't touch my Jeep." — Unknown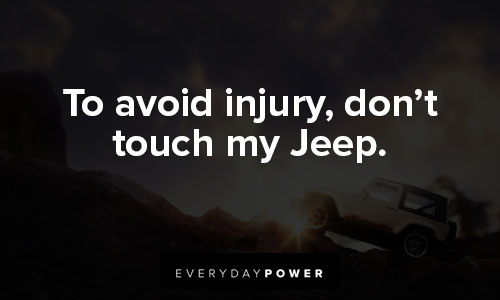 19. "Off-roading gives a better view of nature." — Unknown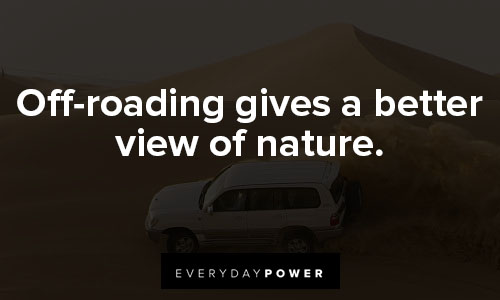 20. "Jeep is not a hobby. It is my escape from reality." — Unknown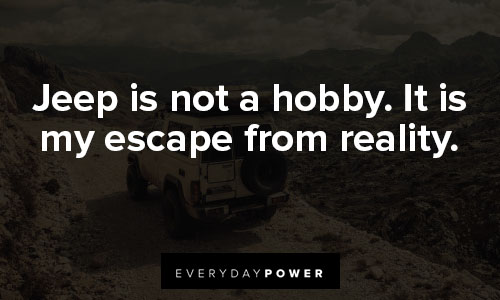 Jeep quotes for girls
These Jeep quotes are perfect for the off road girl! Which one describes you or the girl in your life?
21. "I like BIG Jeeps & I cannot lie." — Unknown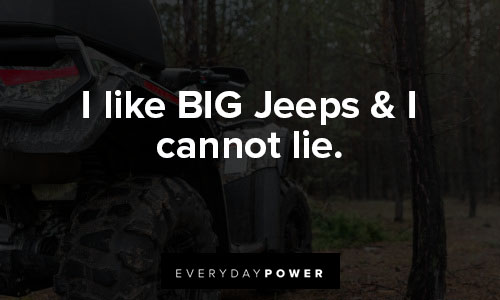 22. "Jeep is a man as well as a woman thing." — Unknown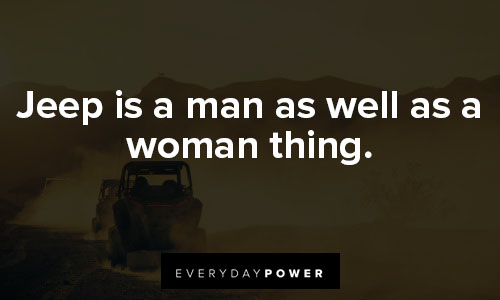 23. "If she's a Jeeper then she's a keeper." — Unknown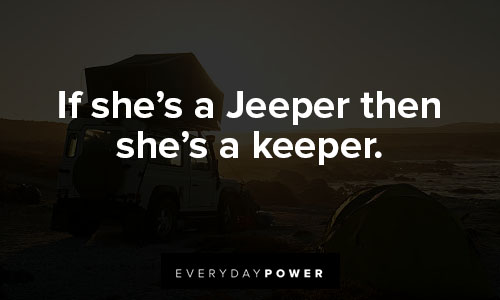 24. "Girls always love three words, 'I gotta Jeep'" — Unknown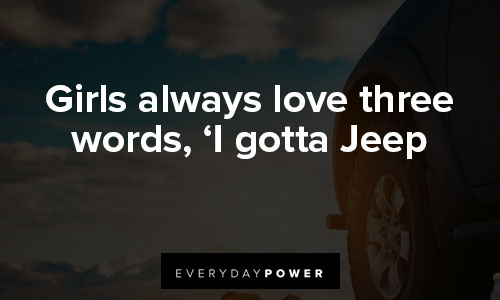 25. "Some girls like fast cars, and then there are Jeep girls." — Unknown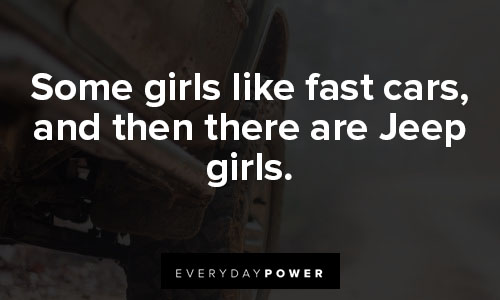 26. "All women are created equal, but only the finest drive a Jeep." — Unknown
27. "Whoever said diamonds are a girl's best friend, obviously never met a jeep girl." — Unknown
28. "If you say I am a girl and jeeps are not for me, I am going to run my jeep over you." — Unknown
29. "There is a name for girls who like to drive jeeps, drink beer and go fishing. Keepers." — Unknown
30. "You can tell a lot about a woman by her hands. For example, if they're gripping the steering wheel of a Jeep, you should either marry her or run." — Unknown
What are Jeeps and the Jeep life quotes
If you want a peek into the "Jeep Life" then take a look at the quotes below. Did the quotes help you understand the "Jeep Life"?
31. "Go Anywhere. Do Anything." — Jeep Motto
32. "Jeep is not the brand. It is the passion." — Unknown
33. "Jeep is not a hobby. It is my escape from reality." — Unknown
34. "Thanks for the offer but I am busy living my Jeep life." — Unknown
35. "No plans, no roads, no maps, no GPS. It's a Jeep life." — Unknown
36. "Many people will never understand. It's more than just a JEEP. It's passion." — Unknown
37. "It will go anywhere, anytime, in any weather. An off-roading beast, recovery vehicle and badass big kids toy!" — Unknown
38. "The freedom of knowing that you can be anywhere, anytime, and just fade into your jeep world. This is what a Jeep offers." — Unknown
39. "Sometimes when you have a tough day, you just want to drink a good beer, eat an entire package of Oreos & run someone over with your Jeep." — Unknown
40. "In a Jeep, you get the full service to the senses. Howl of tires, leaks in the soft top, the bumps and grinds, the never-ending uncertainty of actually making it there." — Unknown
Driving a Jeep quotes
These quotes are for those of you that actually drive a Jeep. The quotes below do a good job of describing what it is to drive a Jeep!
41. "Let me drink coffee, and then I will drive the Jeep." — Unknown
42. "There is no terrain in the world where a Jeep can't reach, trust me." — Jeep Owner
43. "Sometimes all you need is a wheel in your hand and four on the road." — Unknown
44. "People who drive Jeeps are people who like to do outdoor activities." — Inga Cadranel
45. "Supercars are made for the first mile, and Jeeps are built for the last mile." — Unknown
46. "Most just sit and ride, but you should remember that Jeep is made for adventures." — Unknown
47. "If you want to drive fast then buy lambo, but if you intend to go anywhere, buy a jeep." — Unknown
48. "If people don't start buying Jeeps, they will never know about the great places in life they can drive to." — Gemini Jeeps
49. "When you drive a Jeep, you're not just driving a Jeep. Notice: you are a captain of a 4×4 doorless unicorn of freedom." — Unknown
50. "You know it's important to have a Jeep in Los Angeles. That front wheel drive is crucial when it starts to snow on Rodeo Drive." — Sergio Leone
Jeep facts every Jeep lover should know
Did you know that the original Jeep design took just two days to develop?
The United States government recognized that its aging fleet of Model T's were not going to cut it in WWII.
Karl Probst began designing a vehicle that would meet the needs of war.
A small, lightweight, three-seat, four-wheel-drive vehicle was born in July 1940.
Bantam was the original company producing Jeeps but they couldn't handle the quantity needed.
To solve this problem the Army handed the blueprints to Willys and Ford.
Ford is responsible for the front end look of a Jeep.
The flat front grill is an iconic Jeep style today, however, it started simply as a means to make quality production easier.
Jeepers have been taking off-roading seriously for decades.
In fact, the longest off-road trip happened in 1978.
Fourteen people took six stock Jeep CJs to the southernmost point of South America.
It took five months for the crew to trek more than 20,000 miles through some of the world's roughest terrain.
The caravan of Jeeps reached the northern reaches of Alaska.
What other Jeep facts do you want to share?
You can use the comment section below to let us know!
Also, feel free to share with your friends!