45 Country Girl Quotes About These Amazing Women
If you have ever wondered what it means to be a country girl, these country girl quotes will illustrate some common characteristics of a country girl.
These include how they dress, spend their free time, and their behavior and views.
A few country girl stereotypes seem to hold true for most (certainly not all) country girls.
For starters, they love the outdoors and riding around in a pickup truck.
They often have their own pickup trucks too, so don't think they need a man's!
Country music is most certainly playing on the radio in said truck!
You might like these country music quotes:
Another sign that you might have found a country girl is she owns more boots than heels.
She will have boots for every occasion, but undoubtedly will have her favorite (and worn) pair that she wears with her jeans.
She is also not going to put up with much crap (especially if she is a feisty Southern girl!
There is a whole section of country girl quotes dedicated to these Southern belles.
They look sweet, and they can be, but they didn't come to play!
Keep reading for more insights into just who a country girl is at heart.
If you enjoy this article, check out our most popular quote article, a list of short inspirational quotes for daily motivation.
Browse our entire collection of inspirational quotes for more motivating ideas and concepts.
Country girl quotes for Instagram
Match these quotes with a photo and you will have a perfect Instagram post! Take a look and see which quotes you would use to create posts.
1. "I was raised on country sunshine." — Unknown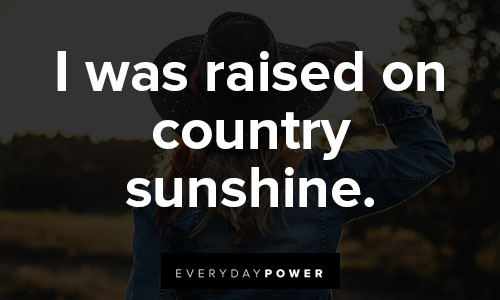 You will also enjoy our article on quotes for girls.
2. "Country girls don't retreat. They reload." — Unknown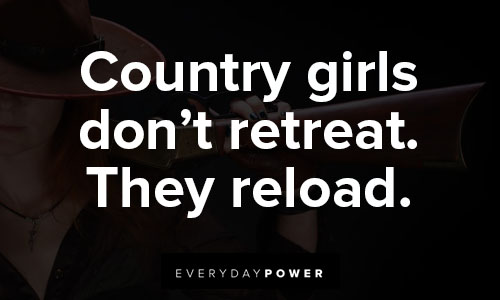 You will also enjoy our article on New Girl quotes.
3. "I own too much Camo. Said no one ever." — Unknown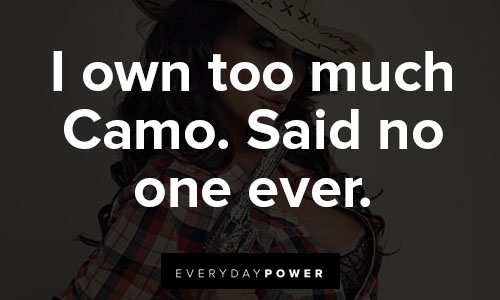 You will also enjoy our article on sassy quotes.
4. "Forget glass slippers. This princess wears boots." — Unknown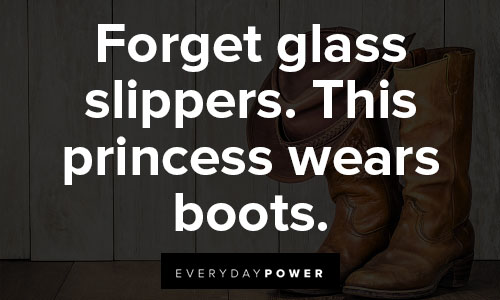 5. "Country is the way you live. Not the way you look." — Unknown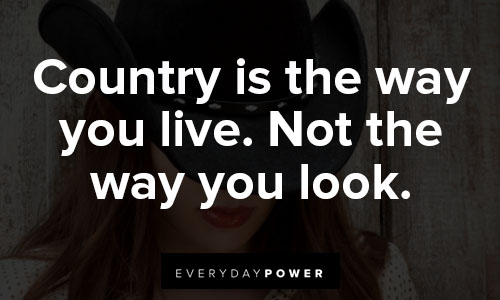 6. "Girls are like country roads. The best ones got curves." — Unknown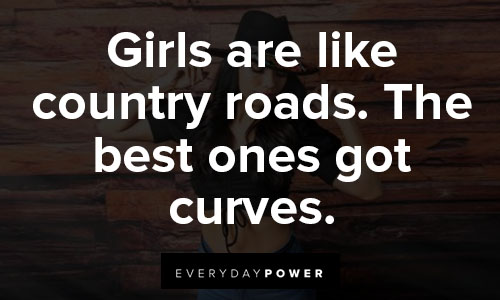 7. "You can dress like a country girl. But can you work like one?" — Unknown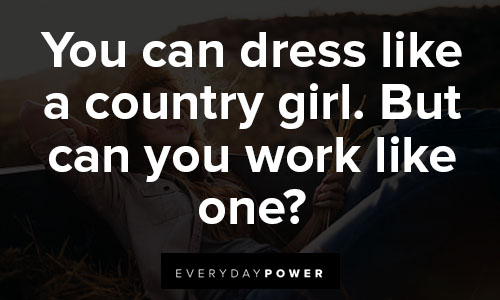 8. "Sweet as sugar, hard as ice. Hurt me once, I'll shoot you twice!" — Unknown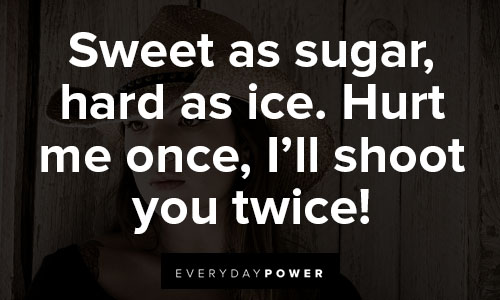 9. "I'm a sassy talkin', sweet tea drinkin', jeans and t-shirt kind of girl." — Unknown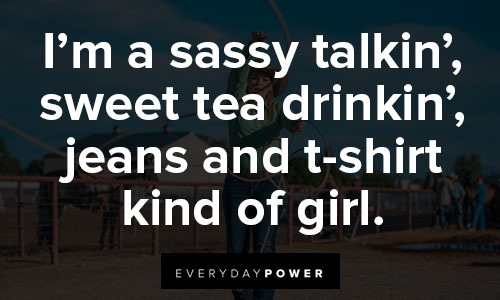 10. "You don't ever wanna cheat or hurt a country girl 'cause your truck will be broken and you'll be six feet." — Unknown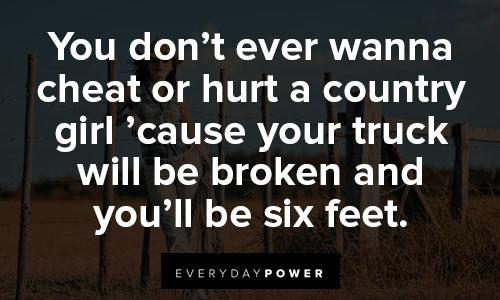 Country girl quotes from self-proclaimed country girls
Check out these quotes from some self-proclaimed country girls themselves. Which of these ladies do you identify with?
11. "I'm just a simple country girl." — Dolly Parton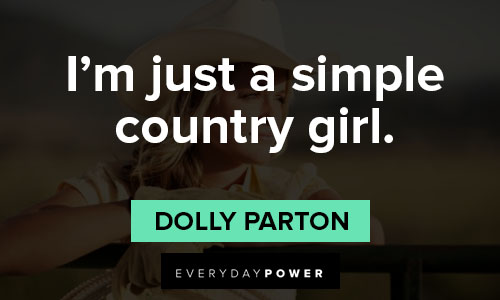 12. "I'm a simple, country, small-town girl at heart." — Tori Bowie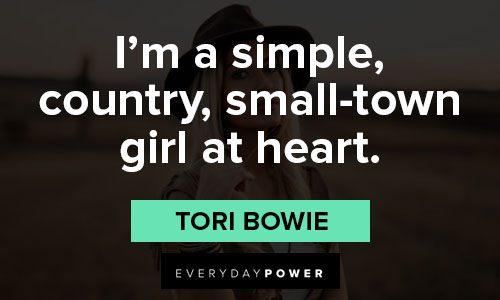 13. "I'm a country girl; I like country music. That's what my car radio is on." — Kim Dickens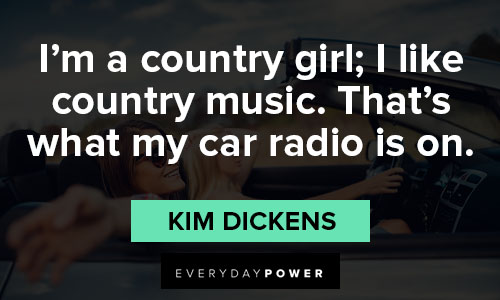 14. "I have always been a country girl and still have a country girl's values." — Ava Gardner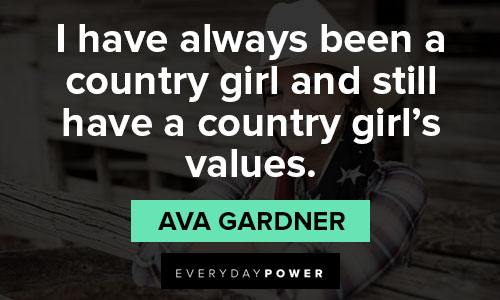 15. "I'm a country girl. I have to be in nature, so my daughter is exposed to it a lot." — Salma Hayek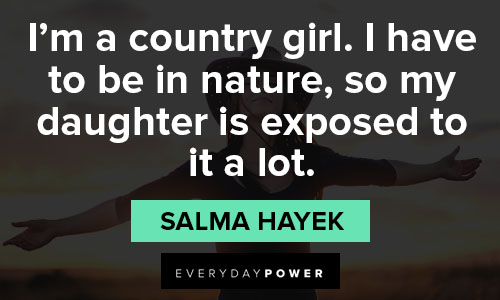 16. "I like sundresses with cowboy boots, little shorts with big wedge heels and a big piece of turquoise." — Kirsten Prout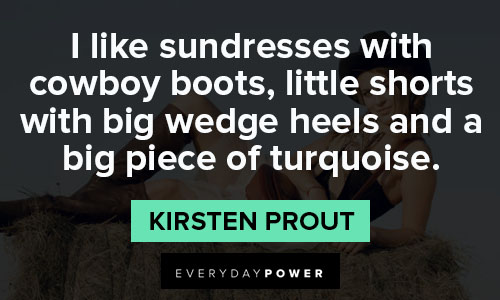 17. "I am a country girl at heart. I love dressing up in the latest fashion, but I would rather be in the mud, fishing or swimming in the pond." — Unknown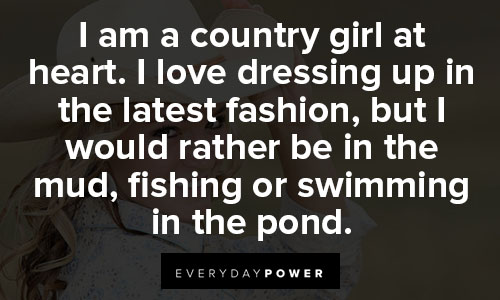 18. "I grew up in Nashville, born and raised. I'm a country girl, and I love country music. I had a dream I was going to be the first black female country music star, but then that wasn't the case." — Adrienne C. Moore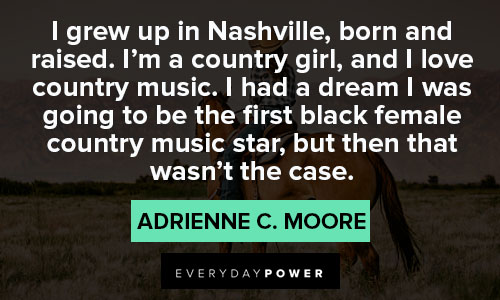 Country girl quotes from musicians
This collection of county girl quotes is from musicians. Are your favorites musicians listed below?
19. "Country is in your blood, not in your closet." — Earl Dibbles Jr.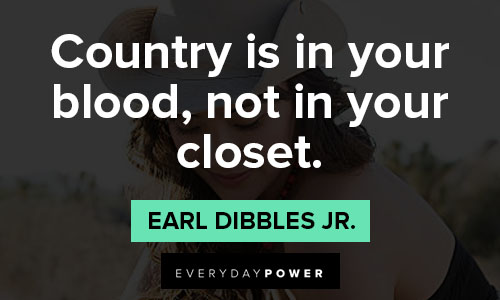 20. "A country girl can talk her way out of a ticket." — Kellie Pickler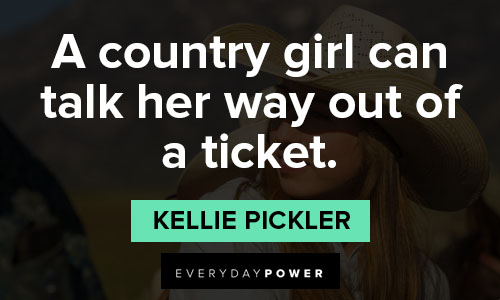 21. "I was born a country girl, I will die a country girl." — Dottie West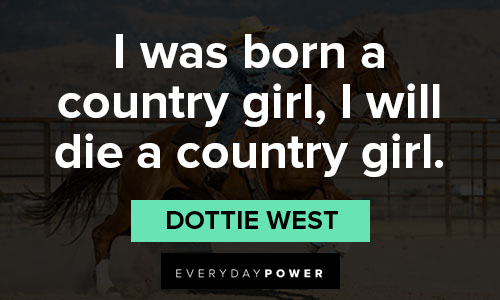 22. "Talkin, true blue, out in the woods, down-home, country girl." — Jason Aldean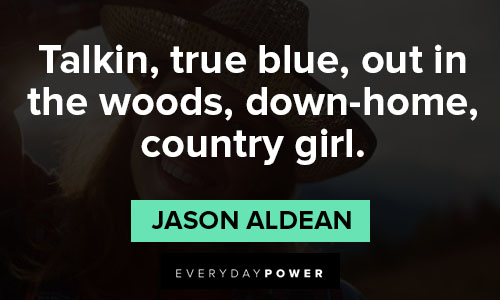 23. "Country girls are just like normal girls. Only prettier, more fun and can shoot a gun." — Earl Dibbles Jr.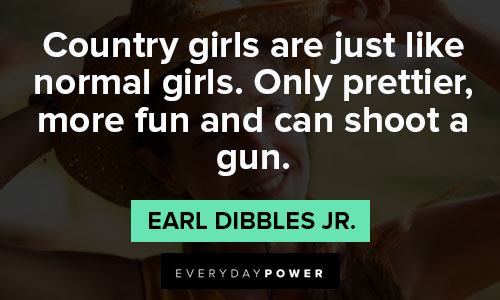 24. "If you talk bad about country music, it's like saying things about my mama. Them's fightin' words." — Dolly Parton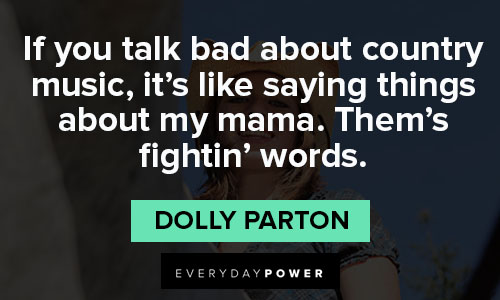 25. "I'm not just a big-haired redhead country singer who dresses flamboyantly, has this wicked sense of humor and wears rhinestones." — Naomi Judd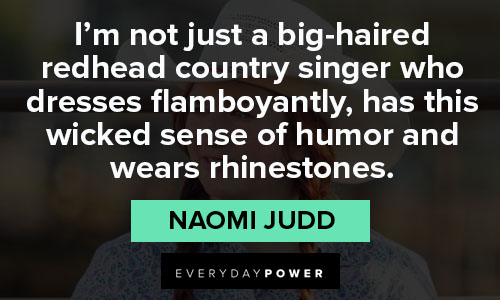 26. "Not only do I know how to milk a cow, but I know how to herd a bunch of cows, too. Which is a life skill that I think may come in handy someday." — Martina McBride
Country girl quotes about women from the south
These quotes are about southern women, but they apply to a lot of women everywhere. Take a look and see if any would apply to you.
27. "For breakfast I have grits, because I'm a southern girl." — Shanola Hampton
28. "Southern Mamas are known for being subtle, like a freight train." ― Shellie Rushing Tomlinson
29. "If you wanted something done, come hell or high water, you leave it to a Southern girl." — Angie Fox
30. "One thing about Southern women, they were tough. No one said no and got away with it." — Sherrilyn Kenyon
31. "Southern women can say more with a cut of their eyes than a whole debate club's worth of speeches." — Allison Glock
32. "Southern women see no point in the hard way. Life is hard enough. So we add a little sugar to the sour." — Allison Glock
33. "A Southern girl is only helpless when her nail polish is drying and even then she could pull a trigger if she had too." — Unknown
34. "Southern women are impossible to live with because they will never find a man who treats them like their daddy did." — Maryln Schwartz
35. "Southern girls are God's gift to the entire male population. There is absolutely no woman finer than one raised below the Mason-Dixon line…" — Kenny Chesney
36. "Well, honey, it is the south. These debutantes know how to verbally kick anyone's ass. They learned it from their mamas in the womb." ― Magan Vernon, On Paper Wings
37. "She was a southern girl, which is the same as saying she was insane. Some are cold blooded killers and some are harmless eccentrics, but the best of the breed exhibit both of these characteristics and always the one you expect the least at the time you least expect it." ― Bill Hicks, Love All the People: Letters, Lyrics, Routines
More country girl quotes
Here are some extra county girl quotes for you to enjoy. Take a look to find your favorites.
38. "Good girls are made of sugar and spice. Country girls are made of whiskey on ice." — Unknown
39. "Country girls play like a boy, love like an angel and know their way around a shotgun." — Unknown
40. "What doesn't kill you makes you stronger. Except for country girls. Country girls will kill you." — Unknown
41. "She's got street smarts. Now those streets might be dirt roads but she knows what she's doing." — Unknown
42. "You can't take the New York out of the girl. It's like a little country girl coming to the big city." — Randee Heller
43. "If a country girl is smiling, she wants to do something crazy. If she's laughing, she's already done it." — Unknown
44. "The country girl is a figure for a sense of distance from modernity that is proper to modernity itself." — Catherine Driscoll
45. "Puttin' on a cowboy hat & a pair of boots doesn't make you country; Like puttin' on a ball gown & glass heels won't make me Cinderella." — Kellie Elmore
Country girls and their biggest values
They love their families, communities, and are often proud of their faith.
It is a big part of who they are, and they will always have their loved one's backs.
She is likely the apple of her father's eye (as are most girls).
With a country girl though, don't be surprised if her daddy greets you with a shotgun!
They also love food, as it is part of every family gathering.
There will be more food than you know what to do with in the country, and country girls do not hide their love of food.
Especially biscuits and hushpuppies!
She is the girl who is going to want to go fishing, instead of hanging out at the hottest dance club.
Their perfect date might be having a picnic and watching the stars from the bed of that pickup I mentioned earlier.
Now, don't get me wrong, they clean up well and know how to create the perfect hairstyles, but they are not afraid to be wind blown and dirty either!
Of course, they are often proud of their country and the fact that they live in the heartland.
They fly American flags over their houses and the fourth of July is a huge deal!
What else do you think of when you think of a country girl?
Hopefully these country girl quotes have made you proud to be a country girl!
Share with your friends and let us know your thoughts in the comment section below.