Nostalgia Quotes About Longing For the Past
Our latest collection of nostalgia quotes and sayings on Everyday Power.
Enjoy!
We can all get a little nostalgic about certain things from time to time.
We define nostalgia as a longing for the sentiment and wistfulness of the past, usually having to do with a period or place of happiness.
For example, my husband bought a PlayStation 4 to play the new Final Fantasy 7 remake because it was his favorite game as a child.
Back in the 90s, as a teenage boy, he played it on the PlayStation 1.
It was a popular game, and he played it with his brother and friends.
He wanted to recreate all those feelings of being connected, winning, and experiencing graphics far exceeding those of Mario Brothers for the first time.
What are the benefits of reading these nostalgia quotes?
He played it and enjoyed it.
But as is often the case with nostalgia (as you will see in these nostalgia quotes), he couldn't quite recapture the magic of those past feelings.
That left him slightly disappointed, and now we have a $500 gaming system no one plays.
This kind of scenario begs the question: is nostalgia good or bad?
These nostalgia quotes try to answer that with some funny jokes about nostalgia.
There are also quotes about being:
homesick
missing your childhood
and your friends
These could go either way in answering whether we can benefit from nostalgia.
Opinions are truly split, with some people even wondering if you can die from nostalgia!
Keep reading these nostalgia quotes to discover more and decide how you feel about this feeling that can sneak up on you when you least expect it.
Don't forget to check out these memory quotes that will remind you how far you've come and motivate you to keep going.
Also, check out our most popular quote article, a list of short inspirational quotes for daily wisdom.
See the rest of our quote database for even more inspirational ideas and thoughts.
Funny, sarcastic, and even a bit bitter nostalgia quotes
1. "I don't have a photograph, but you can have my footprints. They're upstairs in my socks." ― Groucho Marx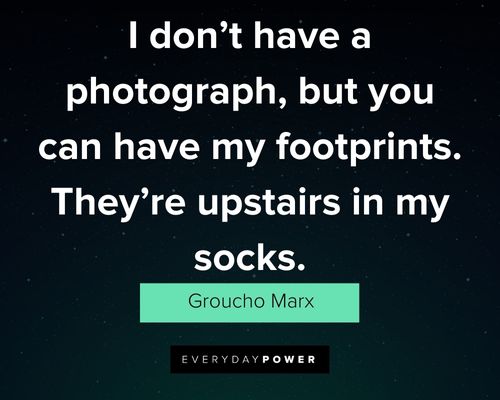 You will also enjoy our article on past quotes.
2. "When people talk about the good old days, I say to people, 'It's not the days that are old, it's you that's old.' I hate the good old days. What is important is that today is good." ― Karl Lagerfeld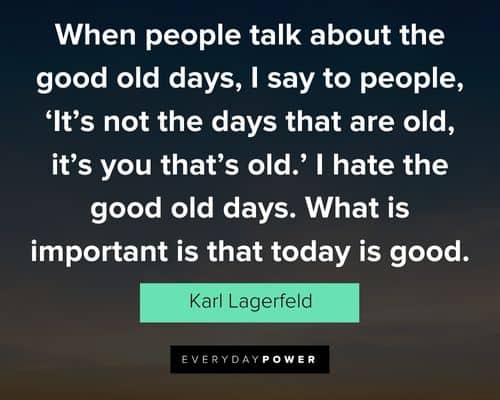 3. "Have you ever wondered how nostalgia isn't what it used to be?" ― Jasper Fforde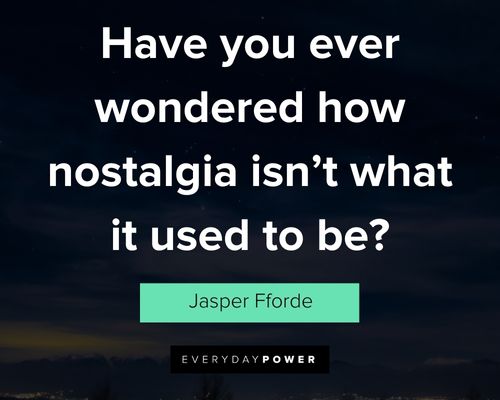 4. "The only way to fight nostalgia is to listen to somebody else's nostalgia." ― Pete Hamill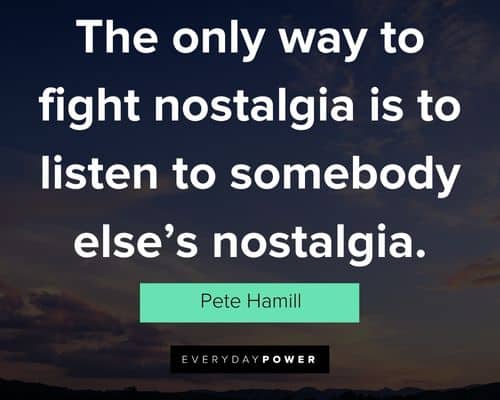 5. "Everyone wants to live in tomorrow and vacation in yesterday." ― Matt Spire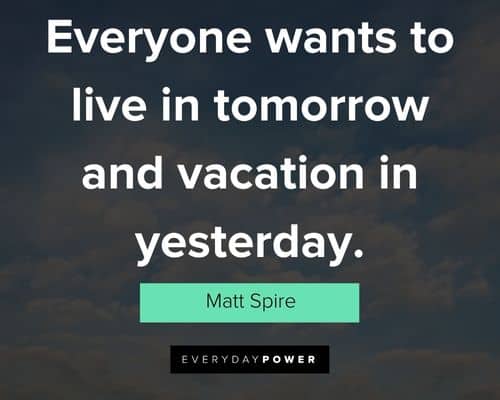 6. "I've had about all I can take of them. If they wanna have a big nostalgia love fest, leave us the fuck at home, ya know?" ― Nick Drnaso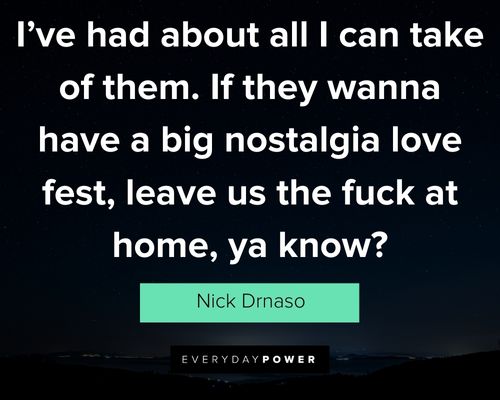 7. "Nostalgia is a seductive liar." ― George Ball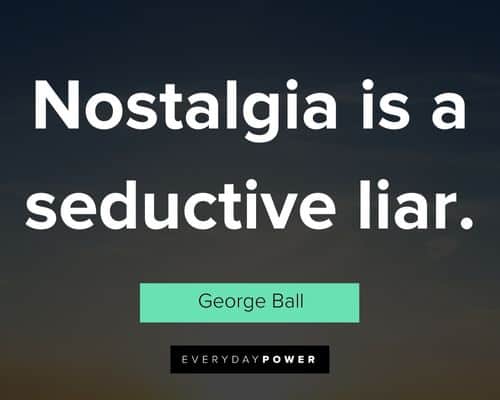 8. "I don't do nostalgia. The phrase 'the good old days' never passes my lips." ― Nicholas Haslam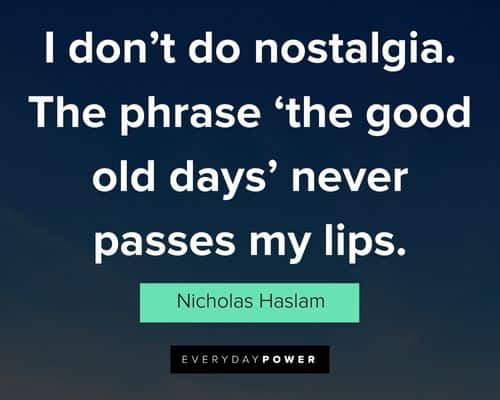 9. "Nostalgia isn't what it used to be." ― Peter De Vries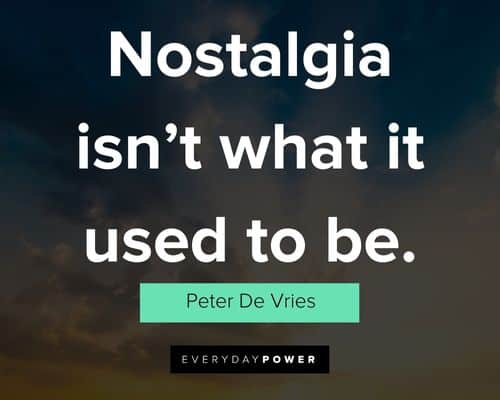 10. "I don't like nostalgia unless it's mine." ― Lou Reed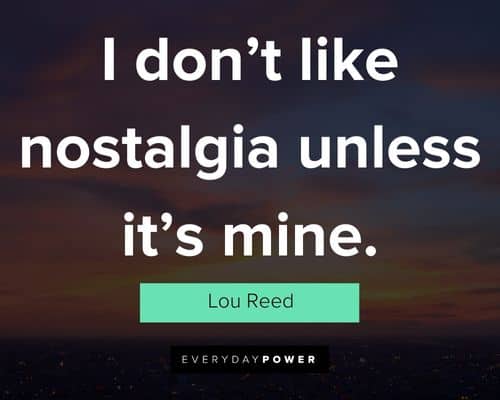 Happy nostalgia quotes that remind you of childhood and home
11. "Every act of rebellion expresses a nostalgia for innocence and an appeal to the essence of being." ― Albert Camus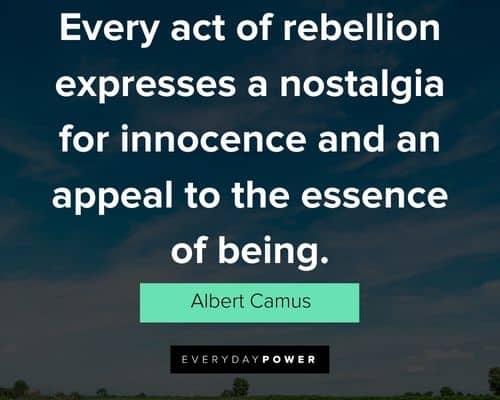 12. "Some days in late August at home are like this, the air thin and eager like this, with something in it sad and nostalgic and familiar…" ― William Faulkner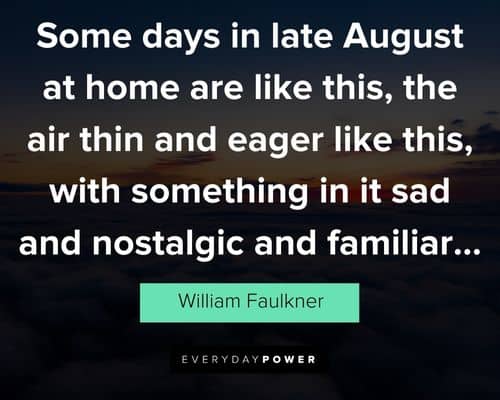 13. "You can go other places, all right – you can live on the other side of the world, but you can't ever leave home." ― Sue Monk Kidd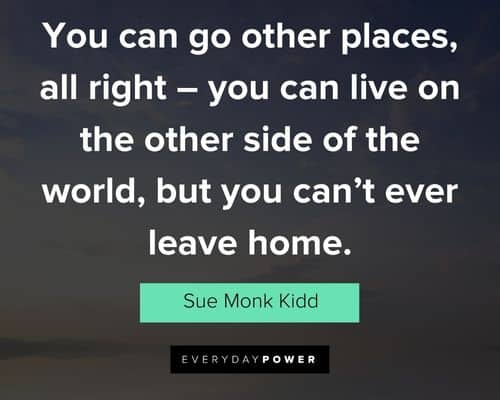 14. "Philosophy is really nostalgia, the desire to be at home." ― Novalis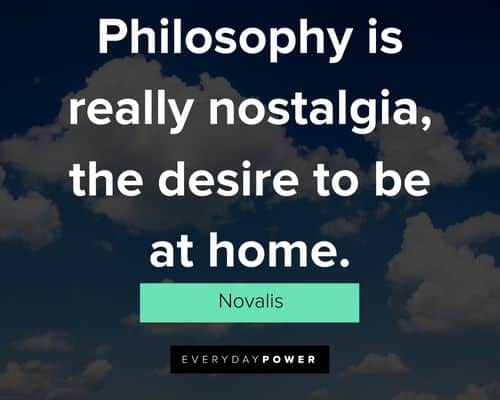 15. "I felt a pang—a strange and inexplicable pang that I had never felt before. It was homesickness." ― Alan Bradley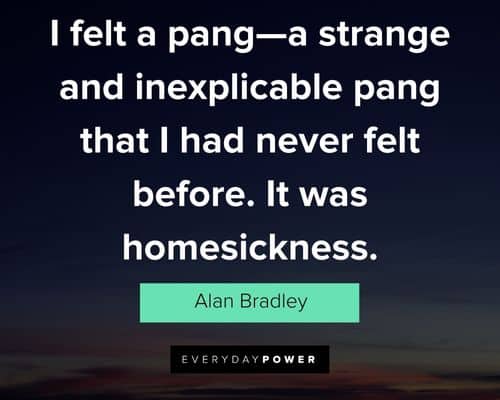 16. "Children are still the way you were as a child, sad and happy in just the same way—and if you think of your childhood, you once again live among them, among the solitary children." ― Rainer Maria Rilke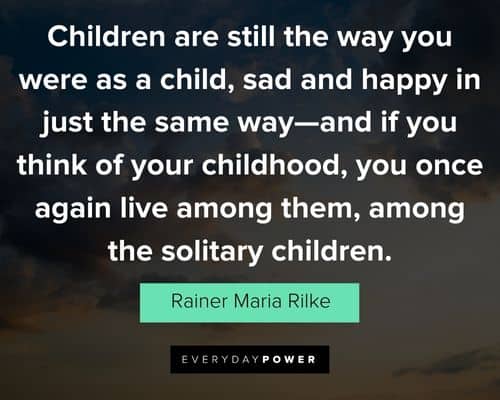 17. "Many of my cartoons are not a belly laugh. I go for nostalgia, the lump in the throat, the tear in the eye, the tug in the heart." ― Bil Keane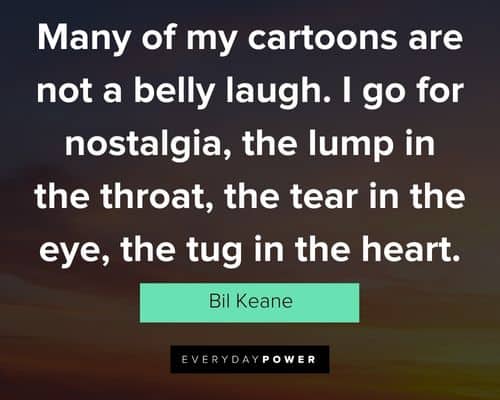 18. "I've often carried a crayon in my shirt pocket. When I need to go back in time, I put it under my nose and I take another hit." ― Randy Pausch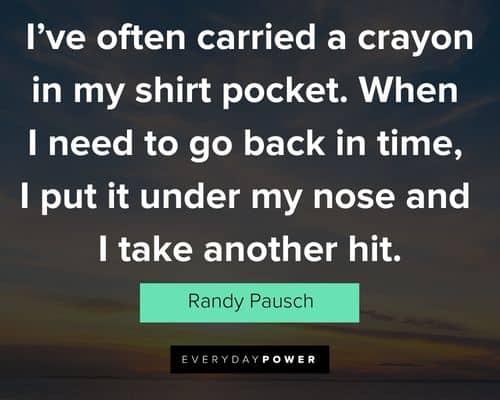 19. "God! what would I forfeit to have the days of my childhood restored, or to be able to forget them forever!" ― Charles Dickens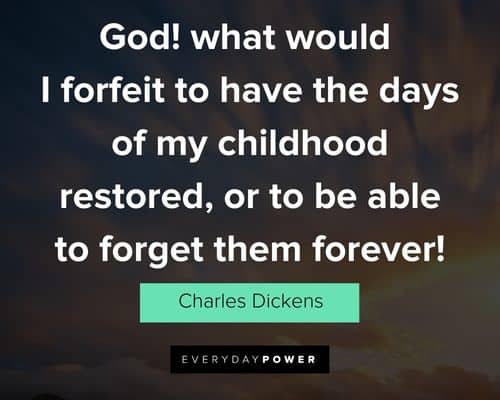 20. "… suddenly I wanted to go back and be in all the places I'd ever been, every street I'd walked down, every room I'd sat down in. I wanted to see it all again. I tried to remember my life, flipping through Polaroids in my mind… But I knew that even if I could go back, if such a thing were possible with exactitude, in life or in dreams, there was really no point." ― Ottessa Moshfegh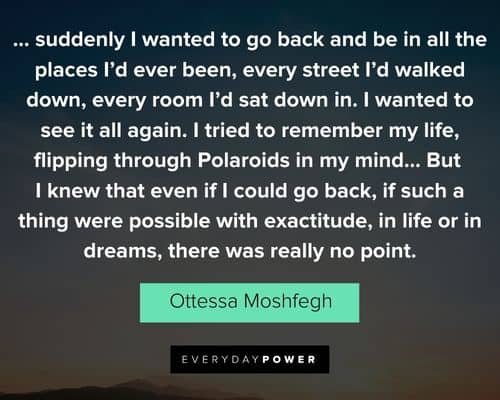 The perfect nostalgia quotes for your Instagram posts
21. "It is strange how we hold on to the pieces of the past while we wait for our futures." ― Ally Condie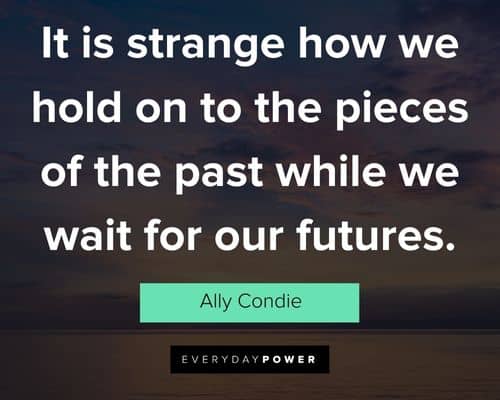 22. "Nostalgia is an illness for those who haven't realized that today is tomorrow's nostalgia." ― Zeena Schreck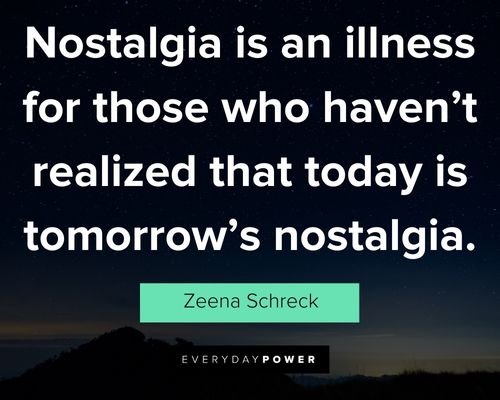 23. "It was nostalgic in that painful way nostalgia could be" ― Kristen Ashley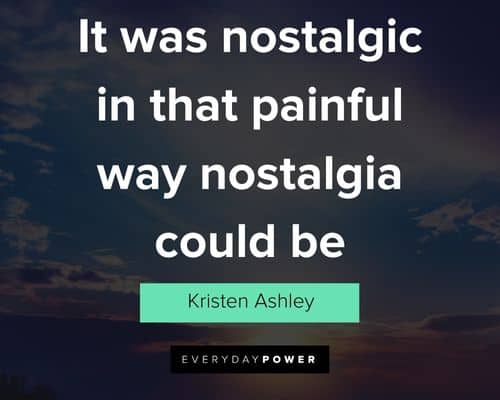 24. "The best times we've had on earth are usually with those we love." ― Van Harden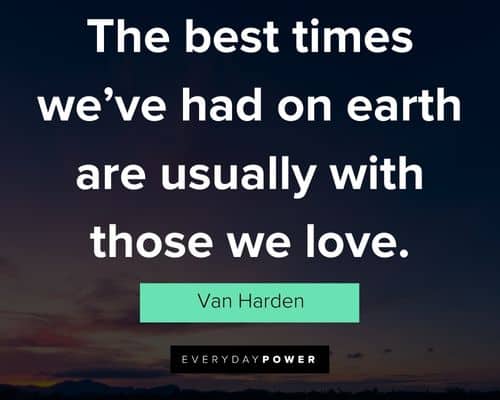 25. "What seems real one moment is fiction the next and gone out of existence the moment after that. Nostalgia is the greatest enemy of truth, and change our only constancy." ― David Budbill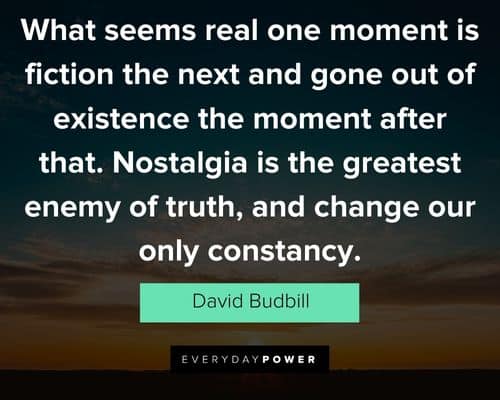 26. "The past isn't quaint while you're in it. Only at a safe distance, later, when you can see it as décor, not as the shape your life's been squeezed into." ― Margaret Atwood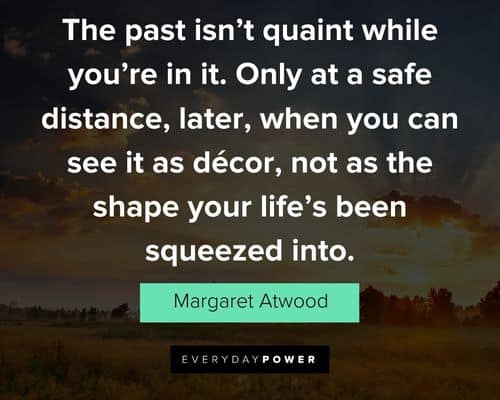 27. "Maybe that's the definition of nostalgia: getting sappy about things that are supposed to be insignificant." ― Rachel Lynn Solomon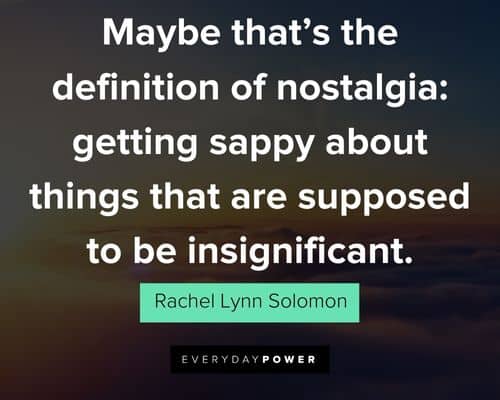 28. "Music evokes so many feelings in us, memories, nostalgia, things that are connected to our past." ― Olga Kurylenko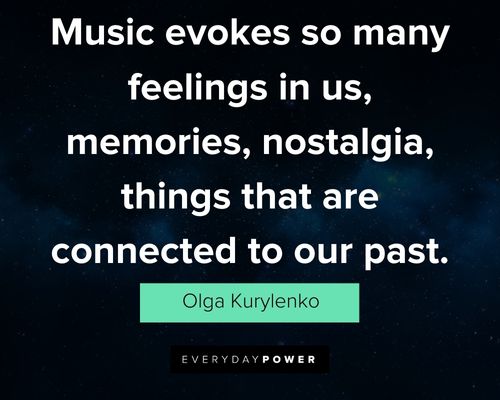 29. "Nostalgia is a powerful feeling; it can drown out anything." ― Terrence Malick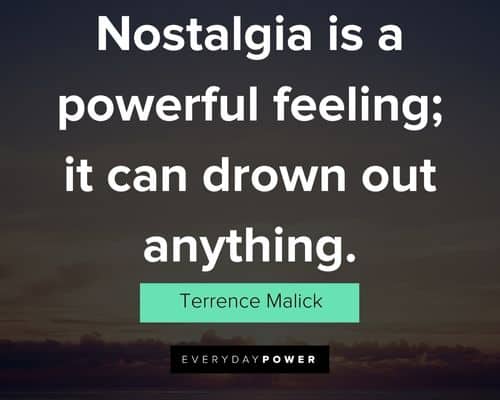 30. "There's a certain nostalgia and romance in a place you left." ― David Guterson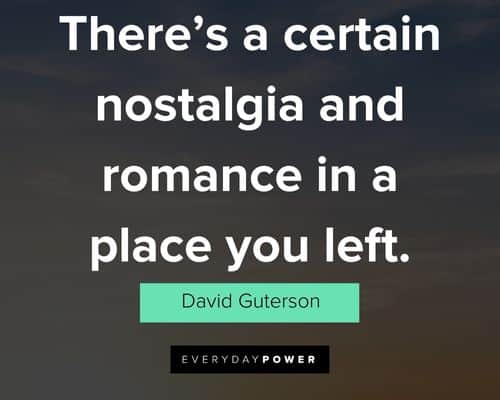 Nostalgia quotes for when you miss an old friend
31. "The times you lived through, the people you shared those times with — nothing brings it all to life like an old mixtape. It does a better job of storing up memories than actual brain tissue can do. Every mix tape tells a story. Put them together, and they can add up to the story of a life." ― Rob Sheffield
32. "Hey presto: time travel. You don't need a time machine, it turns out, you just need a friend to laugh like a teenager. Chronology shivers." ― Michael Marshall Smith
33. "If they Brought you back the old cafes, who will bring you back the old friends?" ― Mahmoud Darwich
34. "Can you miss someone you haven't seen for longer than you knew them? Maybe we rue the time, not the person." ― Hannah Rothschild
35. "The inside jokes weren't jokes anymore. They had become stories." ― Stephan Chbosky
36. "… so delicate, but potent. It makes us a bit more human–is that ache in your heart for a place [or someone] that no longer exists… a sneaky magician. One that takes us by surprise in the most lucid way possible." ― Efrat Cybulkiewicz
37. "At our graduation we were bound by enormous affection, by our shared experience of a time that could never come again…" ― J. K. Rowling
38. "In personal life, the warm glow of nostalgia amplifies good memories and minimizes bad ones about experiences and relationships, encouraging us to revisit and renew our ties with friends and family. It always involves a little harmless self-deception, like forgetting the pain of childbirth." ― Stephanie Coontz
39. "I tend not to fathom the best times of my life until they are gone." ― Lidia Longorio
Emotional Nostalgia quotes about life that really hit hard
40. "The Greek word for "return" is nostos. Algos means "suffering." So nostalgia is the suffering caused by an unappeased yearning to return." ― Milan Kundera
41. "We are homesick most for the places we have never known." ― Carson McCullers
42. "We were nostalgic for a time that wasn't yet over." ― Nina LaCour
43. "But in that moment I understood what they say about nostalgia, that no matter if you're thinking of something good or bad, it always leaves you a little emptier afterward." ― John Corey Whaley
44. "From an evolutionary point of view, most emotions – fear, desire, anger – serve some practical purpose, but nostalgia is a useless, futile thing because it is a longing for something that is permanently lost…" ― David Nicholls
45. "It's not regret for staying. It is nostalgia for something that we believe is true in our illusion, something we will never have. And if we touched it, we would soon realize that it was not what we dreamed of." ― Constantin Virgil Gheorghiu
46. "The nostalgia of a moment's love can be an illusionary precipice from which we fall from truth; in heartbreak, what we escape to in the past is what tortures us in the present." ― Mike Norton
47. "We long to have again the vanished past, in spite of all its pain." ― Sophocles
48. "Nostalgic memory is a sudden encounter with the thingness of the thing that has been forgotten, not the continuous desire for possessions, whether past, present, or future." ― Marjorie Garber
49. "Everyone who ever bet against you was wrong. There is an empowered kind of nostalgia that comes when you think of all the people who tried to block your path… and here you are… not only surviving, but THRIVING… while helping others… with your baddasss unapologetic self." ― Steve Maraboli
50. "Distance not only gives nostalgia, but perspective, and maybe objectivity." ― Robert Morgan
Nostalgia Quotes To Bring You Sweet Memories
51. "Tragically, the loneliness of the soul is not the nostalgic absence of presence, but the unbearable presence of absence." ― Danny Castillones Sillada
52. "You know what nostalgia is, don't you? It's basically a matter of recalling the fun without reliving the pain." ― Bette Davis
53. "The past is desirable, more often than not, because it can make no demands." ― Patrick White
54. "I guess everybody thinks about old times, even the happiest people." ― Willa Cather
55. "Advice is a form of Nostalgia." ― Mary Schmich
56. "As we age we begin to grasp at youthful bliss like a life raft in a sea of harsh reality." ― Brad Herzog
57. "The ethereal past had blinded him, and the highest happiness he could dream was a return to it." ― E. M. Forster
58. "I didn't really want to come back here and again have to feel like my lungs were drowning in this perverse nostalgia." ― John Green
59. "We should have taken our chances back then, when we were young and beautiful and didn't even know it." ― Lois McMaster Bujold
60. "I love how summer just wraps its arms around you like a warm blanket." ― Kellie Elmore
What did you learn from these nostalgia quotes and sayings?
Nostalgia stems from the idea that the simpler times of the past were better.
People dislike change, but change, death, and taxes are just about the only certainties in this life.
Nostalgia is a longing for perceived stability and a way to escape the mental stress of growth and change.
According to Krystine Batcho, a professor of psychology, "In 1985, psychoanalytic theorist Roderick Peters described extreme nostalgia as debilitative, something that persists and profoundly interferes with the individual's attempts to cope with his present circumstances."
Have you had those moments of nostalgia that genuinely seem to make your current situation worse because the longing for another time is so strong?
I can see how this could be a bad thing.
However, Dr. Batcho's research also points out how nostalgia might be good.
She points to a study in 2015 that showed nostalgic reminiscence could be a 'stabilizing force.'
She states, "It can strengthen our sense of personal continuity, reminding us that we possess a store of powerful memories that are deeply intertwined with our identity."
My husband and his video game reminded him he is still that nerdy video game kid (who grew up to be a computer programmer because games like Final Fantasy 7 inspired him).
He still has these friendships from his childhood.
His brother (who has passed away) is still in his memories.
Like almost everything in life, there is a fine line between nostalgia's positive and negative effects.
It is about balance.
It is probably ok to take a little stroll down memory lane occasionally.
Just don't pack up your entire existence and get stuck in the past.
You might also like this nostalgic article, Radio Babies of the 90s Celebrate National Radio Day.
What's your biggest takeaway from these nostalgia quotes and sayings?
Let us know in the comment section below.
Before you go, take a moment to check out these daydreamer quotes!
Don't forget to click the share button if you found this article interesting.