Protection Quotes to Safeguard Ourselves and Loved Ones
September 16, 2022 6:00 AM EST
Listen to article
4 minutes
These protection quotes help explain the human desire we have to protect those we love.
Protectiveness (yes, that is an actual word) comes from our affections toward others.
The warmhearted feelings we have for those we care about can be demonstrated in several ways that convey protection.
These protection quotes for him and her offer different ways we can be protective of our relationships.
This includes things like being considerate and ensuring their safety.
Sometimes, in a relationship, people might feel that their partner is overprotective or not protective enough.
Communicating your needs is the key to solving this problem, just like it is important to nearly every relationship issue.
Physical touch is another way that you can offer a sense of protection and connection.
Simple touches like a hug, a squeeze on the shoulder, or hand-holding help create intimacy.
We also need to know that we can do things to protect ourselves and not just rely on others.
This includes protecting ourselves emotionally and physically.
Keep reading through these protection quotes to learn more about protecting yourself as well.
Don't forget to also check out these insecurity quotes for knowing you're not alone.
Check out our most popular quote article, a list of short inspirational quotes for daily inspiration.
If you enjoy this collection, check out our inspirational quotes category page.
Short protection quotes
1. "A good deal of tyranny goes by the name of protection." ― Crystal Eastman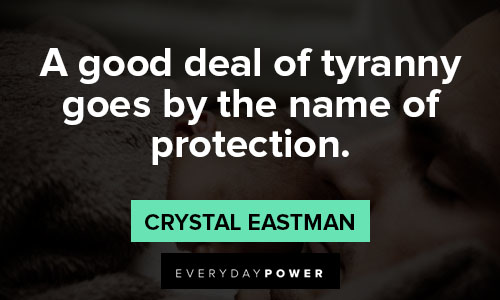 You will also enjoy our article on safety quotes.
2. "Friendship is rooted in the protection of deep dark secrets." ― R.J. Intindola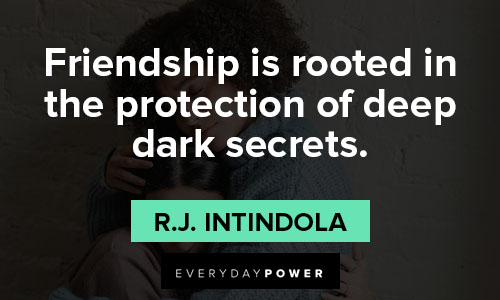 3. "You can change the world again, instead of protecting yourself from it." ― Julien Smith, The Flinch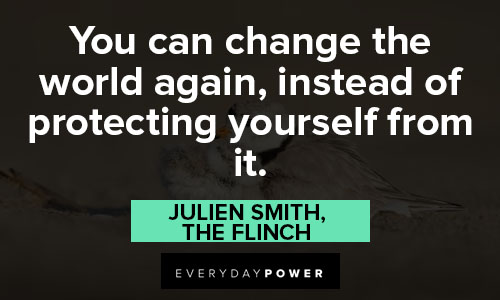 4. "I fight so that those who cannot will never have to live in fear." ― Kat Kinney, Dark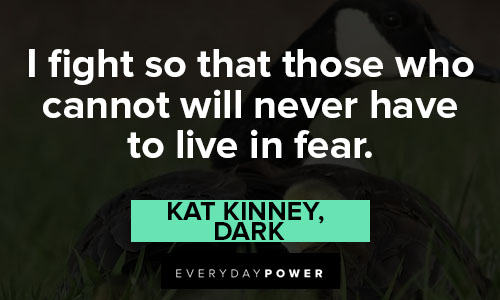 5. "Patience protects you from deception." ― A. R. Bernard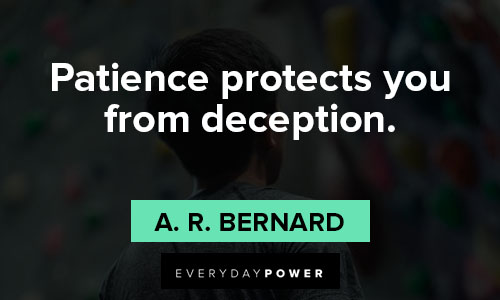 6. "Because even if the whole world was throwing rocks at you, if you still had your mother or father at your back, you'd be okay." ― Jojo Moyes, One Plus One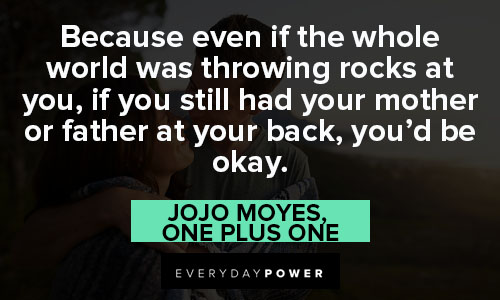 7. "To protect the sheep you gotta catch the wolf, and it takes a wolf to catch a wolf." ― David Ayer, Training Day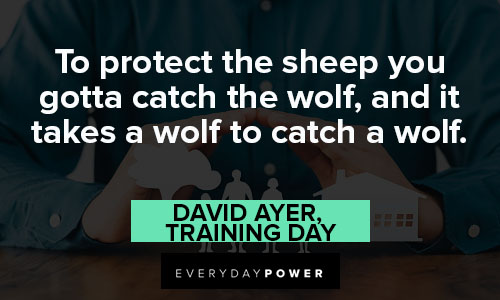 8. "Forgetting is, I think, a form of protection." ― Daisy Johnson, Everything Under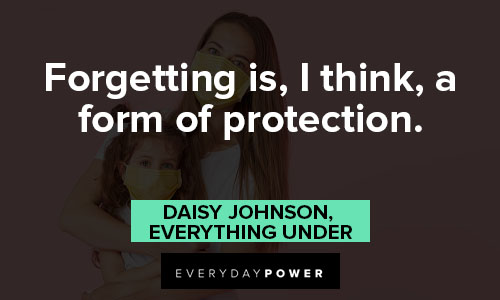 9. "Not believing in something does not protect you from it." ― Wayne Gerard Trotman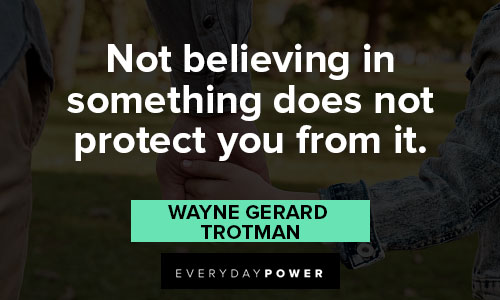 10. "No matter what evil might come one's way; to be loved is to be protected." ― Kate Morton, The Clockmaker's Daughter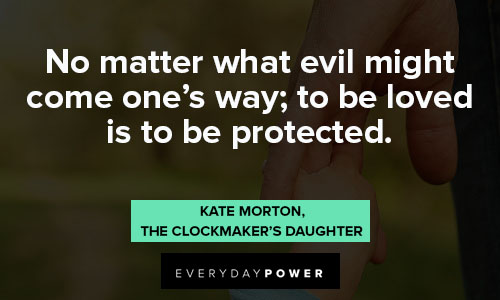 Protection quotes for him
11. "I cannot love a man who cannot protect me." ― Anne Bronte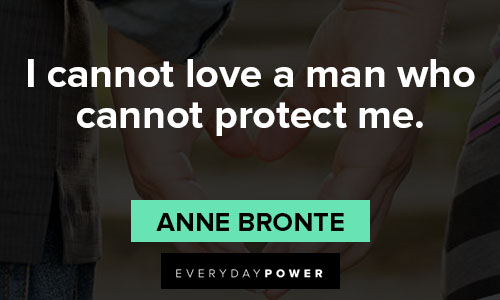 12. "I can't protect you without holding a sword. I can't embrace you while holding a sword." ― Tite Kubo, Bleach, Volume 05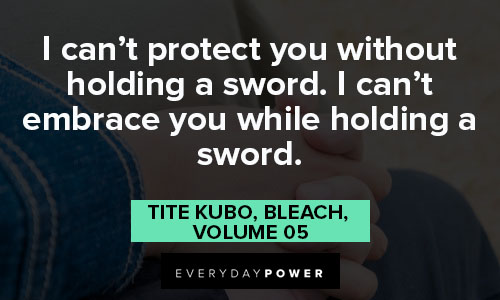 13. "Find her, protect her, spoil her, dance with her, and never stop loving her or someone else will." ― The Cowboy Way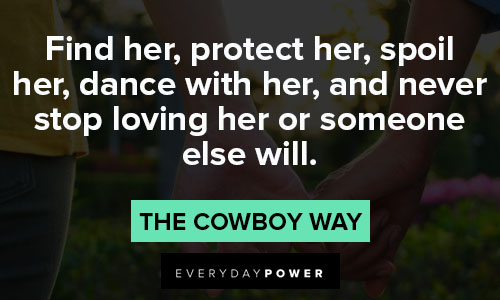 14. "I cannot think of any need in childhood as strong as the need for a father's protection." ― Sigmund Freud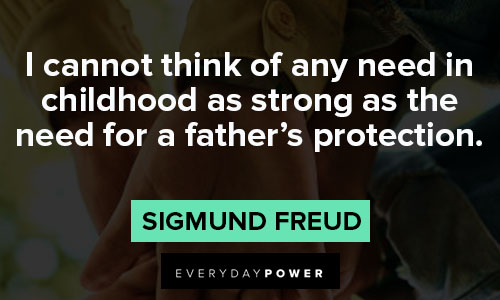 15. "If you can't protect yourself with talk, you won't be alive to protect yourself with guns." ― Arthur Boyd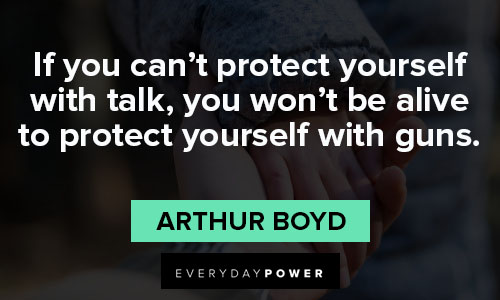 16. "Fighting cruelty with just criticism is like fighting against sword with a stick." ― Amit Kalantri, Wealth of Words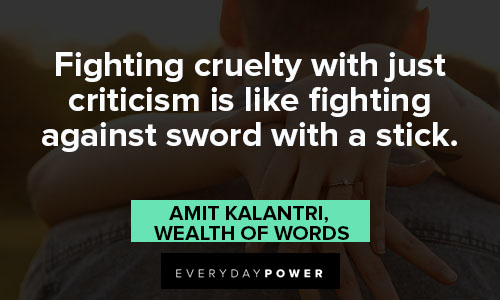 17. "There's a level of protection you need to give to your kids, and then sometimes you need to just let them figure out things on their own." ― Brody Jenner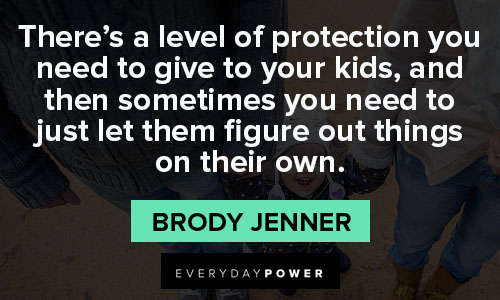 18. "Truth is the thing that protects me from chasing the stuff that will rather quickly end up chasing me." ― Craig D. Lounsbrough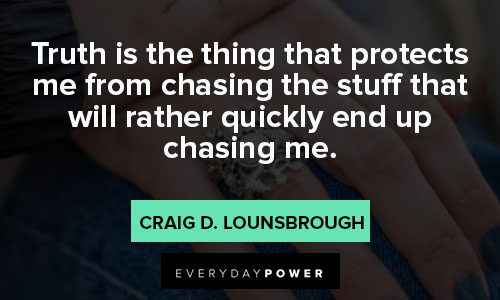 19. "Tenderness is the name for a lover's most exquisite sensation; protection is implied in his most generous and heart-thrilling impulse." ― William Godwin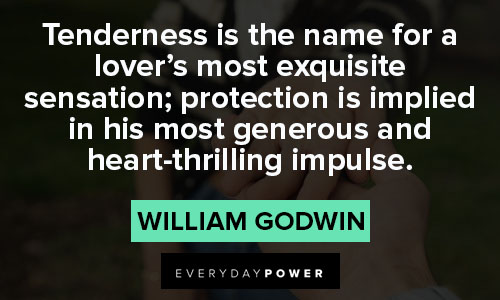 20. "Protecting the weak is the whole fucking basis for civilization. If you're not protecting the weak, you're not civilized. You're fucking animals." ― Robert Kirkman, The Walking Dead, Vol. 26: Call to Arms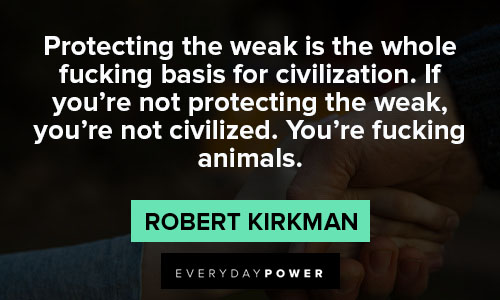 Protection quotes for her
21. "A woman's best protection is a little money of her own." ― Clare Boothe Luce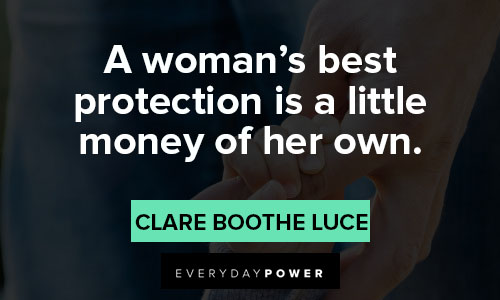 22. "The best protection any woman can have… is courage." ― Elizabeth Cady Stanton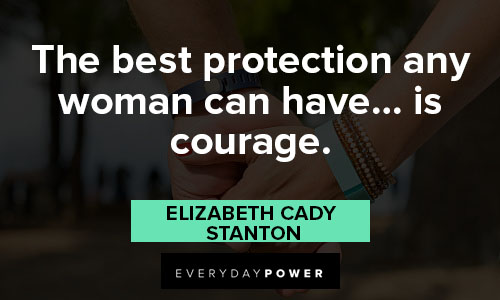 23. "Every man I meet wants to protect me. I can't figure out what from." ― Mae West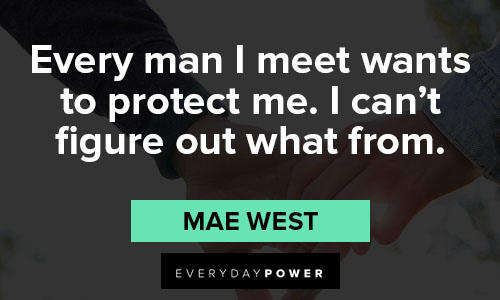 24. "A protector can't protect someone who does not wish to be protected." ― Dan Lord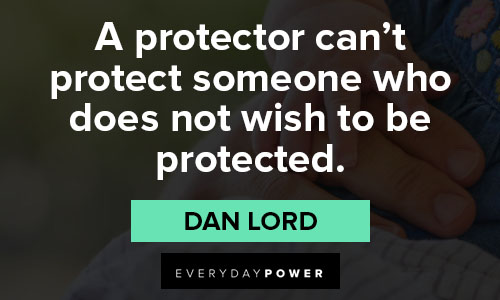 25. "Your need for another person's attention and protection will always prevent you from loving them." ― Marty Rubin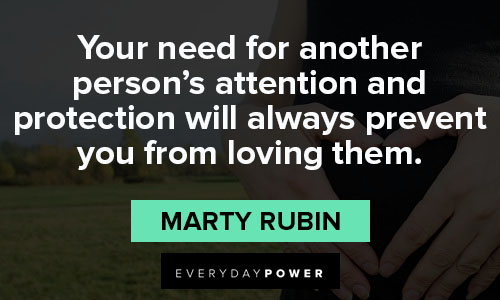 26. "The respect and protection of women and of maternity should be raised to the position of an inalienable social duty and should become one of the principles of human morality." ― Maria Montessori
27. "I declare to you that woman must not depend upon the protection of man but must be taught to protect herself, and there I take my stand." ― Susan B. Anthony
28. "When my kids become wild and unruly, I use a nice, safe playpen. When they're finished, I climb out." ― Erma Bombeck
29. "It is not the job of the child to protect her mother. It's the mother's job to protect the child. By allowing your mother to protect you, you gave her a gift. Do you understand me?" ― Kristin Cashore, Bitterblue
30. "We all fight over what the label 'feminism' means, but for me, it's about empowerment. It's not about being more powerful than men―it's about having equal rights with protection, support, justice. It's about very basic things. It's not a badge like a fashion item." ― Annie Lennox
Protection quotes about keeping yourself safe
31. "A man without a vote is a man without protection." ― Lyndon B. Johnson
32. "The best lightning rod for your protection is your own spine." ― Ralph Waldo Emerson
33. "When you protect yourself from pain, be sure you do not protect yourself from love." ― Alan Cohen
34. "The best protection for the people is not necessarily to believe everything people tell them." ― Demosthenes
35. "A cold heart is my protection mechanism. I don't really feel anything for anyone." ― Emmanuel Jal
36. "Letting others keep you safe is a risk in itself, a gamble on the long run that you'll always be protected." ― Daystar Eld, Pokemon: The Origin of Species
37. "Enthusiasm is the best protection in any situation. Wholeheartedness is contagious. Give yourself, if you wish to get others." ― David Seabury
38. "Sometimes you have to fight with the very same people who protect you. Sometimes success comes with the hefty price." ― Sarvesh Jain
39. "Protection, as we use the word in Buddhism, is actually wisdom, it's insight. Protection is seeing and knowing deeply that all things in our experience arise due to causes, due to conditions coming together in a certain way." ― Sharon Salzberg
40. "Innocence always calls mutely for protection when we would be so much wiser to guard ourselves against it: innocence is like a dumb leper who has lost his bell, wandering the world, meaning no harm." ― Graham Greene
Protection quotes about God, faith, and prayer
41. "You can't have it both ways. You can't have both free will and a benevolent higher power who protects you from yourself." ― Arthur C. Clarke
42. "He who prays five times a day is in the protection of God, and he who is protected by God cannot be harmed by anyone." ― Abu Bakr
43. "God's angels often protect his servants from potential enemies." ― Billy Graham
44. "Trust not overmuch to the blessed Magdalen; learn to protect yourself." ― Benjamin Disraeli
45. "Thoughts are like a train, they'll take us somewhere. Protect by filling with the word of God." ― Christine Caine
46. "God will not protect you from anything that will make you more like Jesus." ― Elisabeth Elliot
47. "God will protect us, but to make sure, carry a heavy club." ― Gypsy Rose Lee
48. "Protect your spirit because you are in the place where spirits get eaten." ― John Trudell
49. "The simpleness, the sweetness, and the constancy of the tender mercies of the Lord will do much to fortify and protect us in the troubled times in which we do now and will yet live." ― David A. Bednar
50. "Some people were removed from your life for your protection and progress. There are people in your life that cannot go with you into this new season of increase. Trust God, cut your losses, and move forward by faith." ― Tony Warrick
Protection Quotes For Your Family
51. "May your neighbors respect you, trouble neglect you, angels protect you and heaven accept you" – Drake
52. "St. Joseph was a just man, a tireless worker, the upright guardian of those entrusted to his care. May he always guard, protect and enlighten families." – Pope John Paul II
53. "I have no fear, I have only ambition, and I want mine, And I will do anything to protect and feed my family." – Tupac Shakur
54. "A friend is not a true friend unless he protects his friend in his misfortune, in his absence, and at his death." – Ali ibn Abi Talib
55. "For me, family always comes first I would do anything to protect them." – Mark Wahlberg
56. "Family is not an important thing. It's everything." – Michael J. Fox
57. "We're as thick as thieves and we protect each other 'til the end." – Caroline Manzo
58. "Maturity isn't a product of growing older. It's a product of growing wiser." – Ann Landers
59. You can't separate the impact on the environment from the impact on our families and communities." – Jim Clyburn
60. The strength of a family, like the strength of an army, is in its loyalty to each other." – Mario Puzo
Short Protection Quotes And Sayings
61. "Protecting yourself is self-defense. Protecting others is warriorship." — Bohdi Sanders
62. "Protection is not a principle, but an expedient." — Benjamin Disraeli
63. "To enable men to exercise that power is the object of protection." — Henry Charles Carey
64. "Be good to others, that will protect you against evil." — Abu Bakr
65. "Protection is the first necessity of opulence and luxury." — Joseph Conrad
66. "One of the best protection against disappointment is to have a lot going on." — Alain De Botton
67. "It was easier to be brave when someone needed your protection." — Robert Jordan
68. "Protection of religious freedom means considering the faiths and beliefs of everyone involved." — Mike Quigley
69. "Even the powerful need protection sometimes." — J.R. Ward
70. "Protectionism is the institutionalization of economic failure." — Edward Heath
Protection Quotes To Keep You Safe
71. "In conditions of uncertainty, humans, like other animals, herd together for protection." — James Surowiecki
72. "My desk, most loyal friend thank you. You've been with me on every road I've taken. My scar and my protection." — Marina Tsvetaeva
73. "With so much protection, wouldn't one be able to wander among the undead ranks, taunting them at will with no danger of repercussion?" — Max Brooks
74. "God sometimes removes a person from your life for your protection. Don't run after them." — Rick Warren
75. "Life's one great lesson was: Do not care. Not caring was a person's real protection." — Francine Pascal
76. "With care and protection, with safe havens in the ocean, there is still a good chance that we can turn things around." — Sylvia Earle
77. "The creative, loving-something life is also the healthy one. There is healing and protection in doing what makes you happy." — Richard Bach
78. "We comfort ourselves by reliving memories of protection." — Gaston Bachelard
79. "Patience serves as a protection against wrongs as clothes do against cold." — Leonardo da Vinci
80. "There is, though I do not know how there is or why there is, a sense of infinite peace and protection in the glittering hosts of heaven." — H. G. Wells
Protecting yourself is important too
There are a few things we can do to protect ourselves emotionally.
Learning to be assertive is an important part of being able to communicate the things you need to feel safe in a relationship.
These differ for everyone, so it is also important to be honest with yourself.
Humans are social creatures, so another way to feel protected is to build up your tribe.
A nurturing support system can help you reach your true potential and feel safe in a world that is often chaotic.
When it comes to protecting ourselves physically, people often think of self-defense moves they can use when in danger.
These are important and I believe everyone should know some basic self-defense.
There are other things you can do though that are more proactive.
Being aware of your surroundings is essential in any setting.
It often amazes me how people can be in a situation and not see the things that are happening around them.
You don't have to walk around in fear, but pay attention to your intuition.
Another way to protect yourself is to make smart decisions, like not going out at night.
If you must walk around outside at night, don't go alone.
If you know you will be out at night and be alone, bring along some mace, have your phone accessible, and be alert.
Do you have any other protection quotes or tips you would like to share?
You can do so in the comment section below.