Relatable Quotes On The Connection Between Life And The Seasons
The seasons are constantly changing and life always seems to be falling right in line as these relatable quotes show.
Everyone seems to have their favorite season.
Some love when spring arrives and brings the warmer air, singing birds, and beautiful flowers.
They love the feeling of the world being fresh and new.
Others enjoy summer when there is excitement and long, sunny days and it feels like there is more time to go and enjoy.
Some prefer the crisp air and beautiful colors as fall rolls and the leaves begin to paint the world.
Then, there are those that enjoy the cold air on their skin while the snow falls gently around them.
And life changes the same way the seasons do.
There is continual change from one time until the next.
Check out our most popular quote article, a list of short inspirational quotes for daily inspiration.
Our inspirational quote category page has even more inspirational and educational quotes.
Relatable quotes showing the connection between the changing seasons and life
1. "You must take personal responsibility. You cannot change the circumstances, the seasons, or the wind, but you can change yourself. That is something you have charge of." – Jim Rohn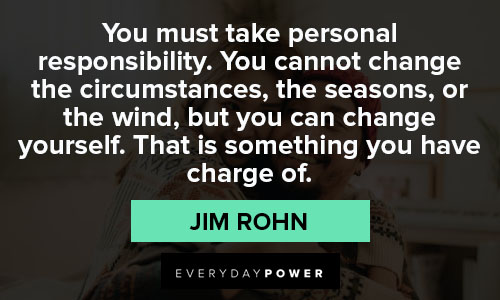 You will also enjoy our article on snow quotes.
2. "Be aware of what season you are in and give yourself the grace to be there." — Kristen Dalton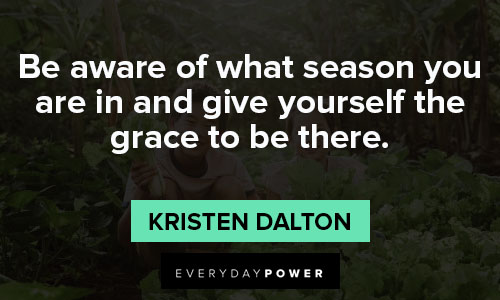 If you're enjoying these quotes, make sure to read our collection of grace quotes that will change your life.
3. "When the seasons shift, even the subtle beginning, the scent of a promised change, I feel something stir inside me. Hopefulness? Gratitude? Openness? Whatever it is, it's welcome." – Kristin Armstrong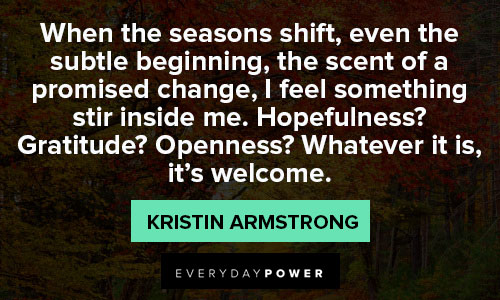 You will also enjoy our article on Grey's Anatomy quotes.
4. "Nature is never static. It is always changing. Everything is in a constant state of flux. Nothing endures. Everything is in the process of either coming into being or expiring." ― Kilroy J. Oldster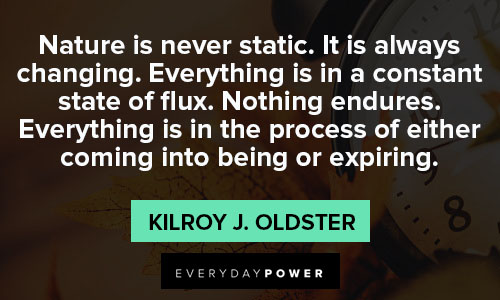 You will also enjoy our article on grey quotes.
5. "The coming and going of the seasons give us more than the springtimes, summers, autumns, and winters of our lives. It reflects the coming and going of the circumstances of our lives like the glassy surface of a pond that shows our faces radiant with joy or contorted with pain." – Gary Zukav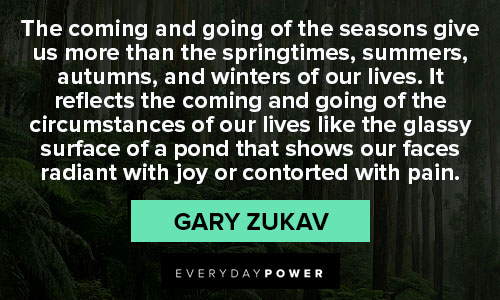 6. "If you stay stuck in the past season or fixated on the future season, you will miss the one you're in." — Maree Dee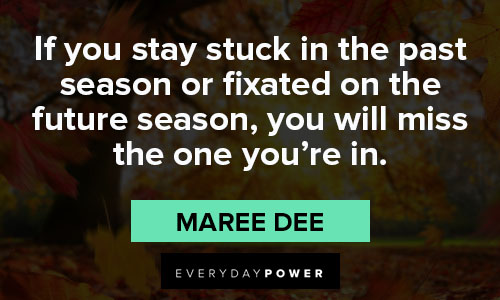 7. "Everything has seasons, and we have to be able to recognize when something's time has passed and be able to move into the next season. Everything that is alive requires pruning as well, which is a great metaphor for endings." – Henry Cloud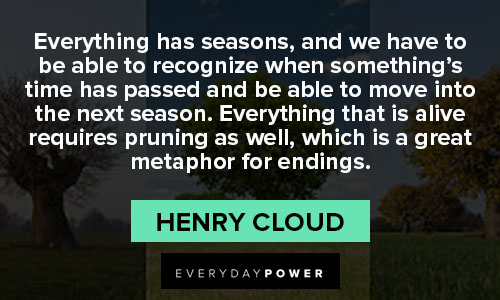 8. "I believe in process. I believe in four seasons. I believe that winter's tough, but spring's coming. I believe that there's a growing season. And I think that you realize that in life, you grow. You get better." – Steve Southerland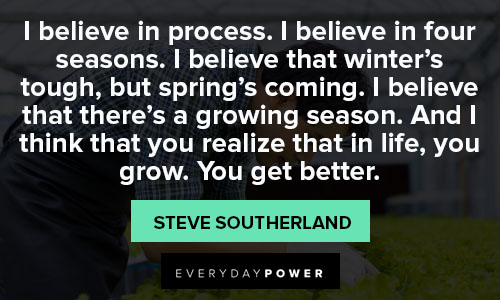 9. "There is no winter without snow, no spring without sunshine, and no happiness without companions." – Korean Proverb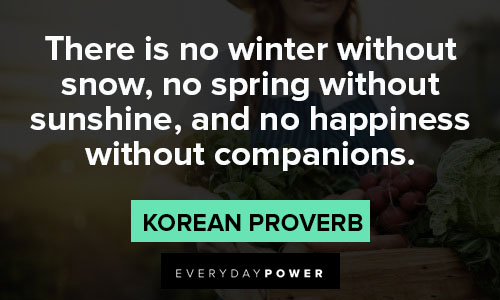 10. "Even seasonal situations can bring with them lessons that last a lifetime. If the love doesn't last, it prepares you for the one that will." ― Mandy Hale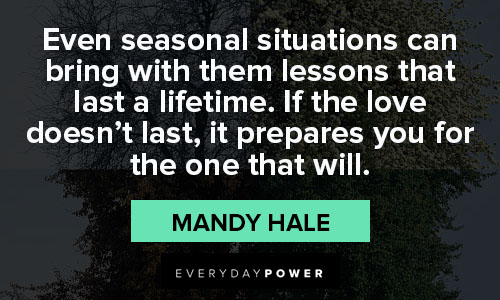 Relatable quotes about life and spring
11. "Expect to have hope rekindled. Expect your prayers to be answered in wondrous ways. The dry seasons in life do not last. The spring rains will come again." – Sarah Ban Breathnach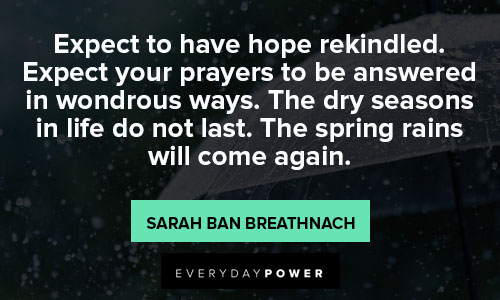 12. "Spring time is a time for revival of every living thing."― Lailah Gifty Akita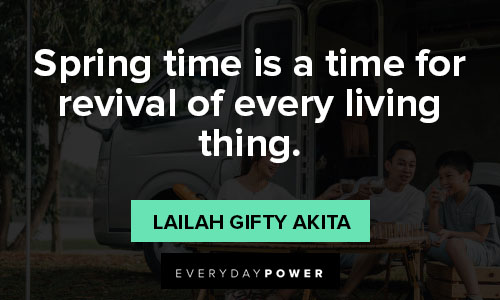 13. "You can't reach your potential by remaining in a past due season. Your breakthrough is coming. Strongholds are breaking. Get Ready!" ― Germany Kent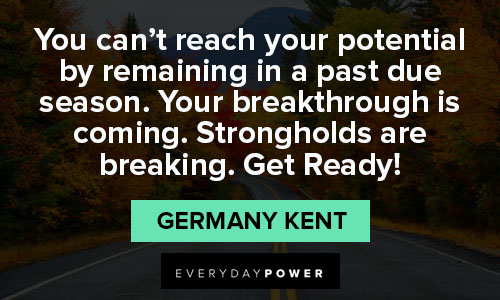 14. "Gratitude for the turning of the seasons. May we attune our hearts to their enduring message of renewal." — Kristin Granger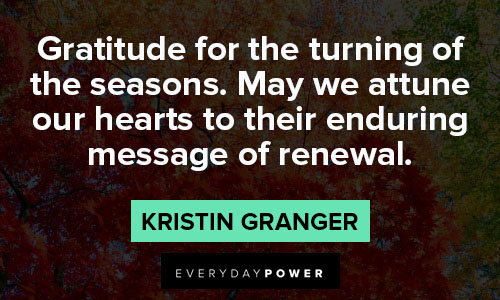 15. "Spring time is a refreshing time." ― Lailah Gifty Akita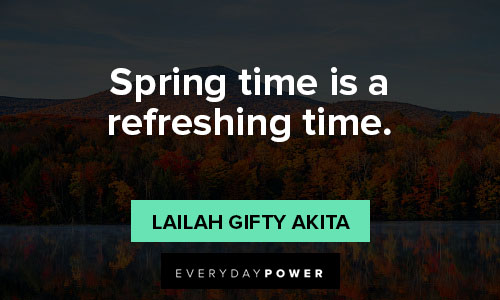 16. "Trust the wait. Embrace the uncertainty. Enjoy the beauty of becoming. When nothing is certain, anything is possible." — Mandy Hale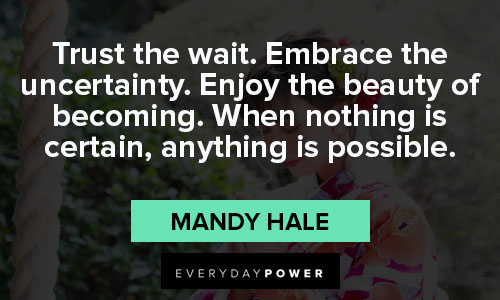 Relatable Quotes about life and fall
17. "The trees are about to show us how lovely it is to let the dead things go." – Unknown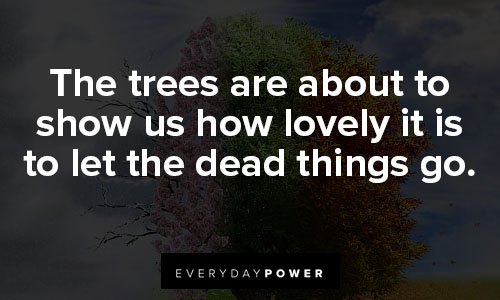 18. "Life starts all over again when it gets crisp in the fall." – F. Scott Fitzgerald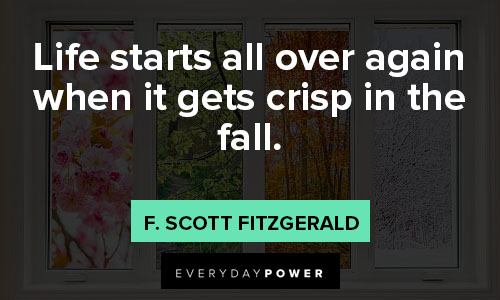 19. "Another fall, another turned page." – Wallace Stegner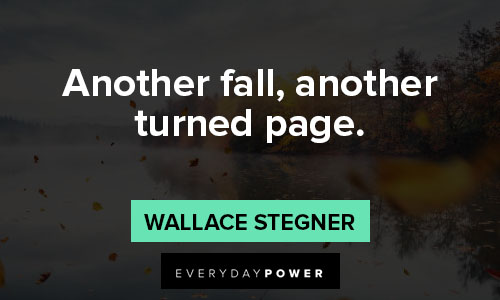 20. "All the trees are losing their leaves, and not one of them is worried." — Donald Miller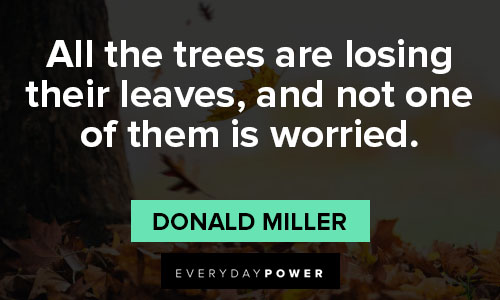 21. "Is not this a true autumn day? Just the still melancholy that I love — that makes life and nature harmonize." – George Elliott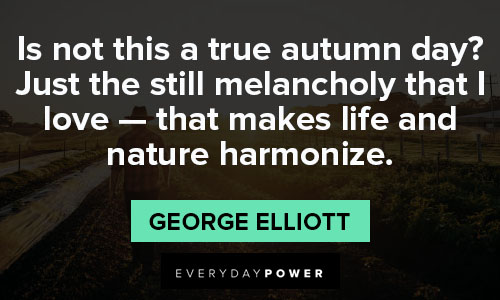 22. "Autumn shows us how beautiful it is to let things go." – Unknown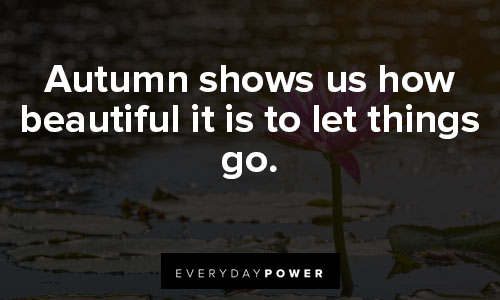 23. "There is something incredibly nostalgic and significant about the annual cascade of autumn leaves." – Joe L Wheeler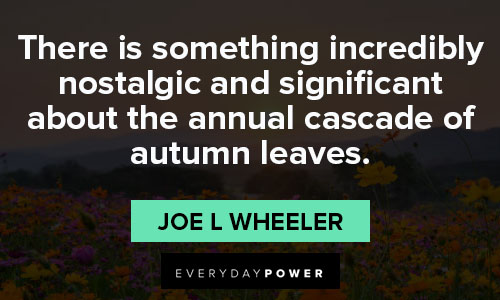 24. "Autumn passes and one remembers one's reverence." – Yoko Ono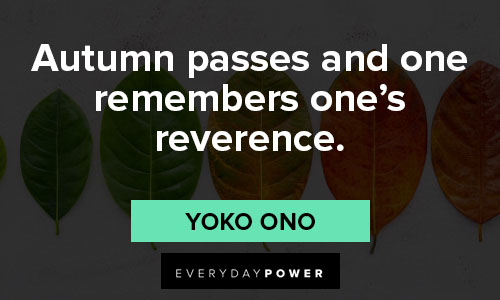 25. "And all the lives we ever lived and all the lives to be are full of trees and changing leaves …" – Virginia Woolf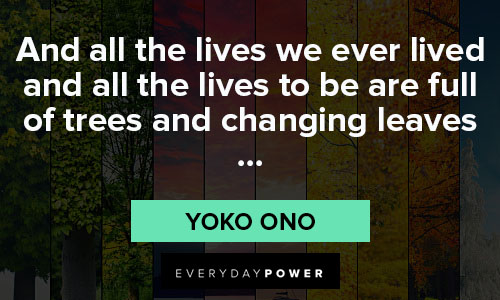 26. "Notice that autumn is more the season of the soul than of nature." – Friedrich Nietzsche
If you're enjoying these quotes, you'll love our collection of Autumn quotes that show the beauty of the season.
Relatable quotes about life and winter
27. "When the winds of change blow, remember… sometimes what appears dead is simply preparing for a new season." — Jane Lee Logan
28. "Blow, blow, thou winter wind, thou art not so unkind as man's ingratitude." – William Shakespeare
29. "Winter is on my head, but eternal spring is in my heart." – Victor Hugo
30. "What good is the warmth of summer, without the cold of winter to give it sweetness." – John Steinbeck
31. "Winter forms our character and brings out our best." – Tom Allen
32. "In life, we need to go through a naked tree season in order to turn nothingness into meaning." ― Luis Enrique Cavazos
33. "In the depth of winter, I finally learned that there was in me an invincible summer." – Albert Camus
34. "Advice is like snow. The softer it falls, the longer it dwells upon and the deeper it sinks into the mind." – Samuel Taylor Coleridge
35. "Winter is a season of recovery and preparation." – Paul Theroux
If you're enjoying these quotes, make sure to read our collection of winter quotes about the power of the cold.
Relatable quotes about life and summer
36. "And so with the sunshine and the great bursts of leaves growing on the trees, just as things grow in fast movies, I had that familiar conviction that life was beginning over again with the summer." – F. Scott Fitzgerald
37. "One must maintain a little bit of summer, even in the middle of winter." – Henry David Thoreau
38. "There shall be eternal summer in the grateful heart." – Celia Thaxter
39. "It was early summer. And everything, as it always does, began to heave and change." ― Helen Garner
40. "We might think we are nurturing our garden, but of course it's our garden that is really nurturing us." – Jenny Uglow
41. "Summertime is always the best of what might be." – Charles Bowden
42. "Rest is not idleness, and to lie sometimes on the grass under trees on a summer's day, listening to the murmur of the water, or watching the clouds float across the sky, is by no means a waste of time." – John Lubbock
43. "Keep your face to the sunshine and you will never see the shadows." – Helen Keller
44. "The summer night is like a perfection of thought." – Wallace Stevens
If you're enjoying these quotes, make sure to check out our collection of summer quotes to celebrate the season of outdoor exploration and fun.
More relatable quotes about the changing seasons
45. "Every new season of your life will be an opportunity for you to learn and grow. Don't celebrate the good without celebrating the bad because they both work together to prepare you for the next season of your life." ― Theresa Lewis
46. "You can't enter into a new season until you're willing to leave the old one!" ― Joe Joe Dawson
47. "I know I am but summer to your heart, and not the full four seasons of the year." – Edna St. Vincent Mallay
48. "In seed time learn, in harvest teach, in winter enjoy." – William Blake
49. "No winter lasts forever; no spring skips its turn." – Hal Borland
If you're enjoying these quotes, read our collection of spring quotes, celebrating the new season.
50. "Even nature has hidden lessons for mankind underneath its silent saga. The trees teach us to give without discrimination, the seasons proclaim that time keeps changing for the better and the vastness of the sky bears the amount of love we should hold in our hearts for everyone we come across throughout the day."― Sanchita Pandey
51. "When it is time for a season to change, the imperfections of life are most visible." – Sue Detweiler
52. "There are seasons in life. Don't ever let anyone try to deny you the joy of one season because they believe you should stay in another season… Listen to yourself. Trust your instincts. Keep your perspective." – Jane Clayson
Relatable Quotes In Our Everyday Lives
53. "You can learn practically anything you want in the world online." ― Matt Mullenweg
54. "There is no heaven or afterlife for broken down computers; that is a fairy story for people afraid of the dark." ― Stephen Hawking
55. "Sometimes you can have a reputation for not being relatable and nice because you had a bad day once." ― James Corden
56. "Life is short … so why waste it doing something dumb?" ― Aaron Swartz
57. "The most exhausting effort in my life has been to suppress my own nature in order to make it serve my biggest plans." ― Albert Camus
58. "My passion is for scientific truth. I don't much care about good and evil. … I care about what's true." ― Richard Dawkins
59. "People understand me so poorly that they don't even understand my complaint about them not understanding me." ― Soren Kierkegaard
60. "If you're going to play strength, you've got to marry that with a vulnerability and give your character some relatable qualities." ― Katee Sackhoff
61. "Solving big problems is easier than solving little problems." ― Sergey Brin
62. "Following instructions is overrated." ― Seth Godin
Which of these relatable quotes is your favorite?
What season of life are you in right now?
Are you struggling through a bitter and cold season?
Are you reveling in summer fun or enjoying a new beginning in some area of life?
Or, do you feel that things are slowing in life and a once busy time is now transitioning to something different?
There is something to be learned in every season that we face.
Take the time to look around and cherish the season you have before the next one comes along.
Life, like the seasons, is always moving and always changing.
Appreciate each one for what it is before the next comes along.
So, what's your biggest takeaway from these relatable quotes and sayings?
Do you have any other inspirational quotes to add?
Let us know in the comment section below.