80 Barber Quotes About The Medieval Profession We Still Value Today
These barber quotes highlight what they really do and how important they are.
Most people are familiar with the term barber and know that it's usually a person who is responsible for grooming men's hair.
You probably know how to spot a barbershop too, with its neat little barber pole.
In the US that pole is often white with red and blue helix stripes.
Sometimes, they spin around with the help of a small eclectic motor but other times they are stationary.
The pole dates back to the Middle Ages, and this is where being a barber gets very interesting!
You see, once upon a barber was responsible for a lot more than just ensuring you had an Instagram-worthy fade.
(Don't worry, there are plenty of barber quotes you can use for those perfect haircuts below!)
Babers used to be called "barber surgeons" because they were also responsible for surgical procedures and dentistry.
Currently, surgeons are very respected, highly specialized individuals.
However, to the European medical practitioners of the Middle Ages, they were above performing surgery.
These doctors preferred academia, working in universities, or residing in castles where they were the in-house physician to the wealthy.
So if there was a battle, the barber-surgeon, who was skilled with his razors and had excellent coordination, would come to the battlefield and start amputating limbs!
Most people in today's world rely on their barber or hairdresser for a few things outside the scope of hair cutting, but generally, those do not include medical procedures.
Keep reading through these barber quotes to find out just what it means to be a barber, and how vital their roles in our communities are.
Don't forget to also check out these hair quotes that will boost your confidence.
Check out our most popular quote article, a list of short inspirational quotes for daily inspiration.
Check out our entire collection of motivational quotes here.
Funny barber quotes that will make you smile
1. "Finding a good barber is like finding a good lawyer―you gotta go to the same guy." ― Ronny Chieng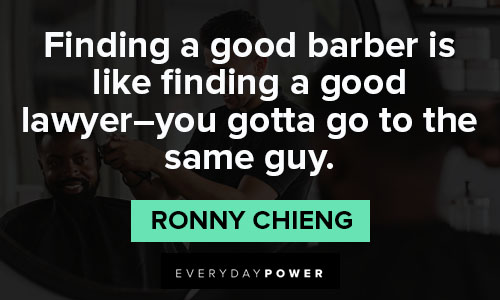 You will also enjoy our article on gentleman quotes.
2. "I've lived in L.A. for a long time, and they say, 'If you sit in a barber's shop for long enough, you will get a haircut.' Well, if you live in Los Angeles for long enough, you're going to get some surgery." ― Robbie Williams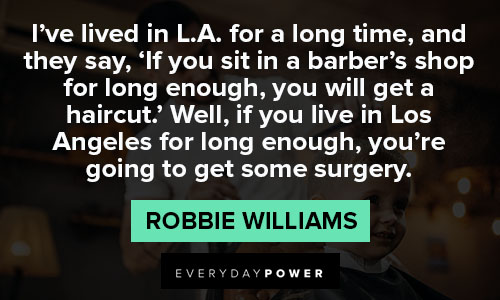 You will also enjoy our article on Matthew McConaughey quotes.
3. "Beware of the young doctor and the old barber." ― Benjamin Franklin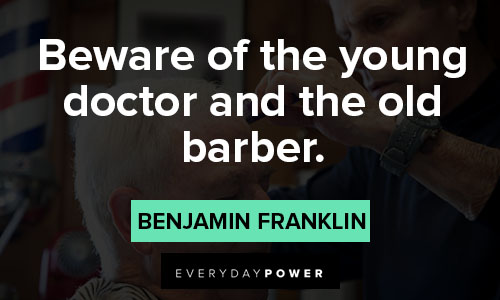 4. "Whatever you hear at the barbershop, stays at the barbershop." ― Bernie Mac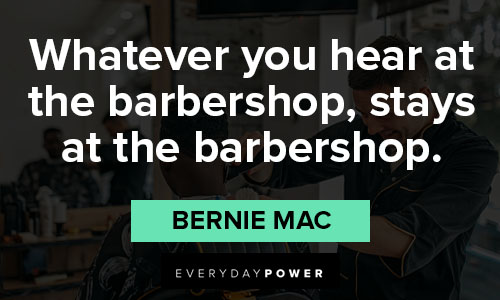 5. "You can find out a lot sitting in the barber's." ― Dizzee Rascal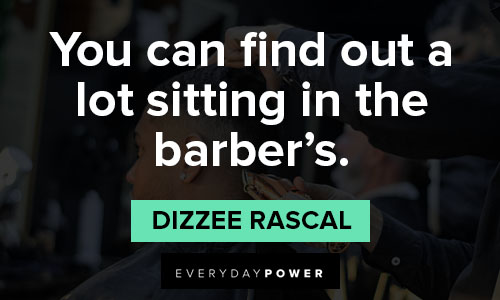 6. "Like a barber's chair that fits all buttocks." ― William Shakespeare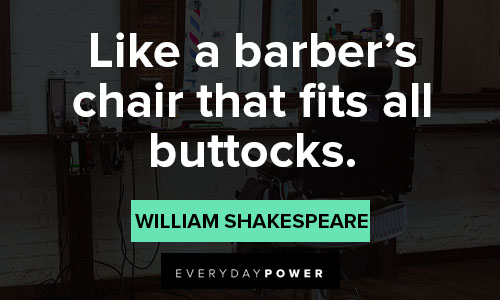 7. "When's the last time you went into a barbershop and saw everyone there unconscious?" ― Bobby Heenan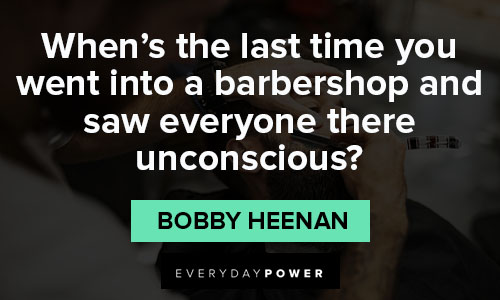 8. "Asking for financial advice from a financial planner is like asking a barber if you need a haircut." ― Warren Buffett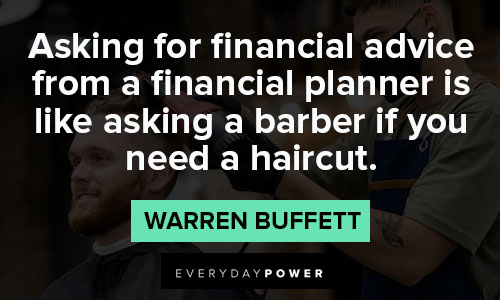 9. "You might be a redneck if you need an estimate from your barber before you get a haircut." ― Jeff Foxworthy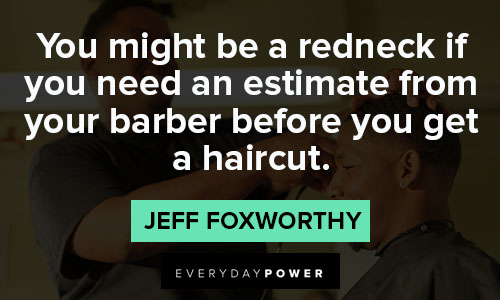 10. "Long hair minimizes the need for barbers; socks can be done without; one leather jacket solves the coat problem for many years; suspenders are superfluous." ― Albert Einstein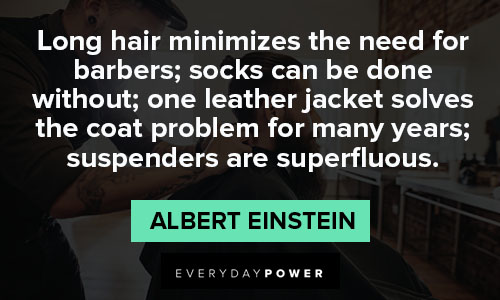 11. "You can find out a lot sitting in the barber's." ― Dizzee Rascal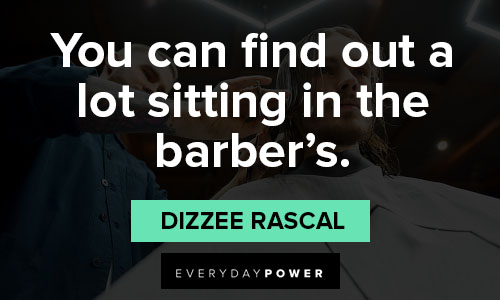 12. "One of the hardest things for a man to find is a good wife and a good barber" ― Sotero M Lopez II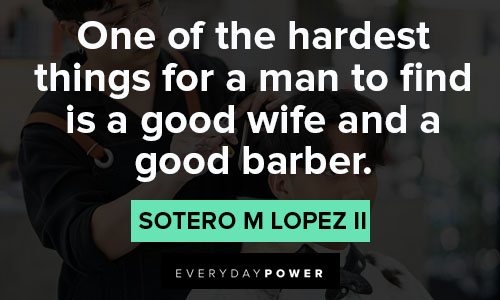 Barber quotes about haircuts and shaves
13. "If you keep walking past the barbers, eventually you'll get a haircut." ― Paul Merson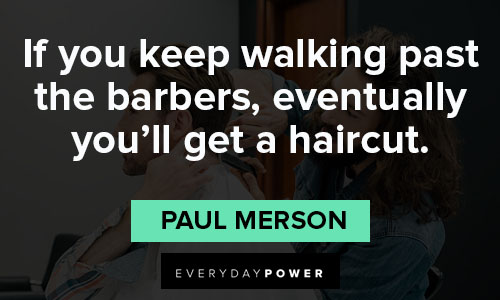 14. "You don't ever ask a barber whether you need a haircut." ― Warren Buffett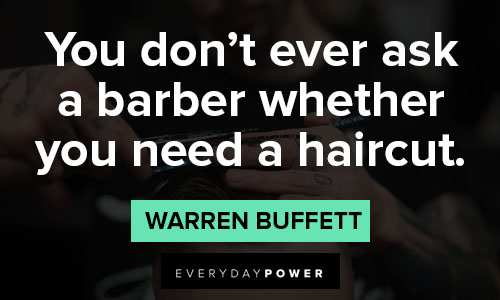 15. "I resent my barber when he charges the full cost after he cuts my hair, but he says he's charging me for finding it." ― Tim Conway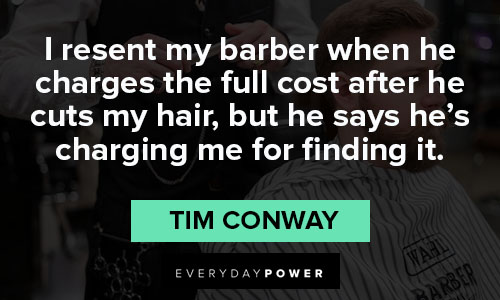 16. "A barber lathers a man before he shaves him." ― Dale Carnegie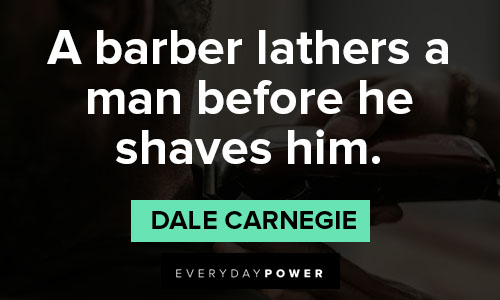 17. "No barber shaves so close but another finds work." ― George Herbert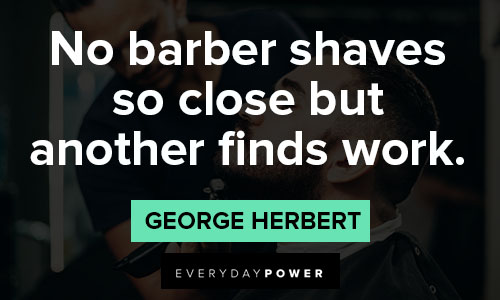 18. "When you go into your customary barbershop, you will wait for the man who gives you a little better shave, a little trimmer haircut. Business leaders are looking for the same things in their offices that you look for in the barbershop." ― Charles M. Schwab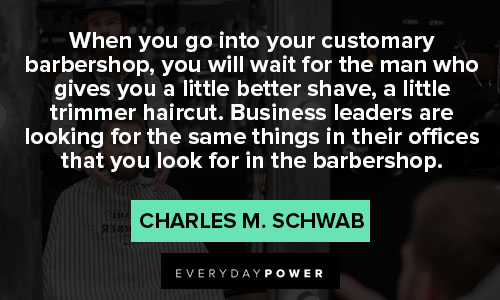 19. "If you teach a poor young man to shave himself, and keep his razor in order, you may contribute more to the happiness of his life than in giving him a thousand guineas. This sum may be soon spent, the regret only remaining of having foolishly consumed it; but in the other case, he escapes the frequent vexation of waiting for barbers, and of their sometimes dirty fingers, offensive breaths, and dull razors." ― Benjamin Franklin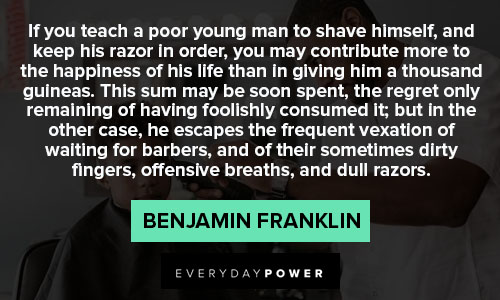 20. "Don't ask the barber whether you need a haircut, and don't ask an academic if what he does is relevant." ― Nassim Nicholas Taleb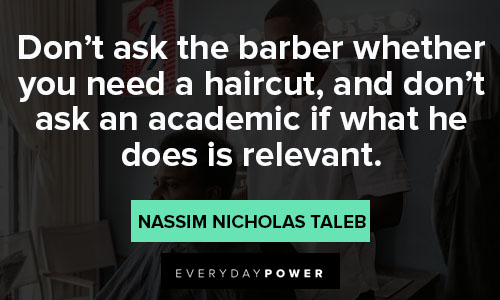 21. "No matter what ailed you, you went to see the barber-surgeon who wound up cupping you, bleeding you, purging you. And, oh yes, if you wanted, he would give you a haircut and pull your tooth while he was at it." ― Abraham Verghese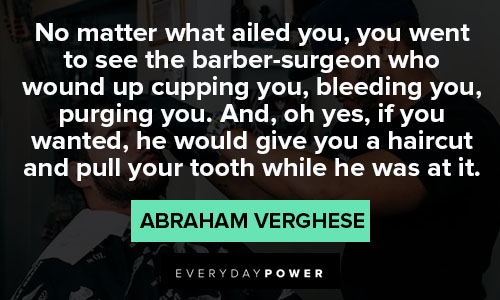 22. "Ho, pretty page, with the dimpled chin That never has known the barber's shear, All your wish is woman to win, This is the way that boys begin. Wait till you come to Forty Year." ― William Makepeace Thackeray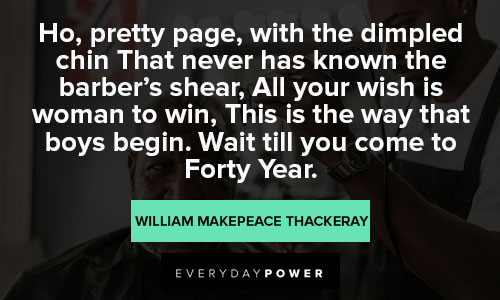 Barber quotes about what they really do and how important they are
23. "Being a barber is about taking care of the people." ― Anthony Hamilton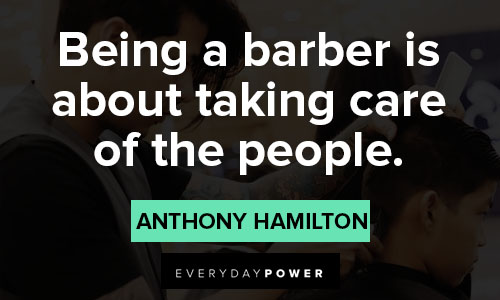 24. "Your barber always knows everything that goes on in the town, doesn't he?" ― Adam Peaty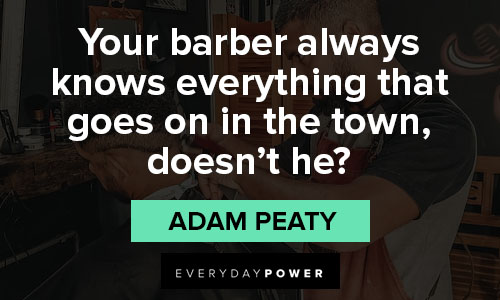 25. "A barber is by nature and inclination a sport. He can tell you at what exact hour the ball game is to begin, can foretell its issue without losing a stroke of the razor, and can explain the points of inferiority of all the players, as compared with the better men that he has personally seen elsewhere, with the nicety of a professional." ― Stephen Leacock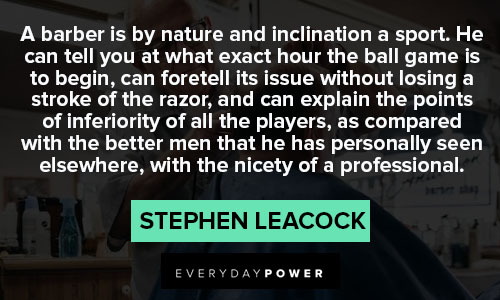 26. "Every hairstyle I have is funny because my barber is a standup comedian by the slightly unfortunate name of Paul Sweeney. His cuts are fantastic, but the chats are even better." ― Joe Lycett
27. "Sometimes I have better relationships with my barber than with people who are in cinema from an upper class." ― Gaspar Noe
28. "Every businessman enjoying customer patronage, whether he be a baker, banker, or barber, is conferring a public benefit, raising production, and reducing unemployment; businessmen earn their livelihood by producing products and rendering services where ever they are needed." ― Hans F. Sennholz
29. "I am sure the man who powders most, perfumes most, embroiders most, and talks most nonsense, is most admired. Though to be candid, there are some who have too much good sense to esteem such monkey-like animals as these, in whose formation, as the saying is, the tailors and barbers go halves with God Almighty." ― Thomas Jefferson
30. "Because I understand that when you're looking for a barber, you're looking for a person—a person who cares about your hair and how it looks and feels. That's why I do my job with care." ― Unknown
31. "There's something special about the barbershop. It's a space where conversations and connections happen, where stories are shared over hot towels and cold cuts. Barber culture is something to celebrate and I want to capture that feeling in my." ― Unknown
32. "In a way the philosopher and the barber are of the same guild; the barber cuts hair and the philosopher splits hairs." ― José Ortega y Gasset, Man and People
Barber quotes for when you know you need visit one
33. "I must to the barber's, monsieur, for methinks I am marvelous hairy about the face." ―
William Shakespeare
34. "Take your ass to the barbershop. Tell the barber that you're sick of looking like an asshole." ― Wesley Willis
35. "To make a fine gentleman, several trades are required, but chiefly a barber." ― Oliver Goldsmith
36. "If the guy that writes you checks says cut your hair, off to the barbershop you go. That's that." ― Paul Konerko
37. "No matter what ailed you, you went to see the barber surgeon who wound up cupping you, bleeding you, purging you. And, oh yes, if you wanted, he would give you a haircut and pull your tooth while he was at it." ― Abraham Verghese
38. "That was in Crescent City, California, up near the Oregon border. I left soon after. But today I was thinking of that place, of Crescent City, and of how I was trying out a new life there with my wife, and how, in the barber's chair that morning, I had made up my mind to go. I was thinking today about the calm I felt when I closed my eyes and let the barber's fingers move through my hair, the sweetness of those fingers, the hair already starting to grow." ― Raymond Carver
39. "I was in the process of growing dreads, they were down to my lip. I could whip them back and forth. Then I just thought to myself, "Is this really me? Can I really do this?" So I washed them out and went to the barbershop. I told them to give me a mohawk. But then there was this teenager also getting one. I couldn't do that." ―Nate Burleson
40. "Every barber thinks everybody needs a haircut." ― M.F. Moonzajer
41. "Growth of human hair is the absolute blessing for a barber" ― Munia Khan
42. "My hair had grown out long and shaggy—not in that sexy-young-rock-star kind of way but in that time-to-take-Rover-to-the-groomer kind of way." ― Jim Butcher, White Night
Quotes from barbers and people who cut their own hair
43. "When I was a barber, me being extreme was how I got popular: you name it, I was drawing it on someone's head." ― Swizz Beatz
44. "A prating barber asked Archelaus how he would be trimmed. He answered, 'In silence.'" ―
Plutarch
45. "A man of Seville is shaved by the Barber of Seville if and only if the man does not shave himself. Does the barber shave himself?" ― Bertrand Russell
46. "If I was switched from whatever I'm doing, and I was, for some reason, made the chief football writer in any newspaper, then I'd retire. I'd go back to being a barber." ― Steve Bunce
47. "I did study the art of being a barber because I wanted to figure out what my routine would be. Do you start in the front or back? Top or bottom? Swivel the chair or walk around? What I did discover is there's no such thing as the perfect haircut!" ― Sean Patrick Thomas
48. "I cut my own hair. I got sick of barbers because they talk too much. And too much of their talk was about my hair coming out." ― Robert Frost
49. "With every great haircut comes a great story. Never miss a chance to connect and strike up conversation, humor is the ice breaker in any environment." ― Unknown
50. "I've been cutting hair for a while now…" ― Unknown
Exciting Barber Quotes To Make You Laugh
51. "There are things people say in the barbershop they won't even say in their own living room because it's just one of those zones where nobody's going to judge you too much about your dumb opinion." — Ice Cube
52. "There is no bad day that can't be overcome by listening to a barbershop quartet. This is just truth, plain and simple." — Aldous Huxley
53. "Barbershop conversations are irrefutable proof that heads exist for the sake of hair." — Karl Kraus
54. "No matter what barbershop you go to, there's always that guy who's just hanging around and doesn't do much, but knows everything that's going on in the community." — Deon Cole
55. "There are no more barbershop quartets wearing boaters, even though I still like them. Life goes on." — Tina Weymouth
56. "Barbershop is not a hobby, it`s a lifestyle." — Harvey Feldman
57. "I've had the same barber since I was about 14 years old." — Victor Cruz
58. "I don't have any beauty shop memories. I remember the barbershop."— Jenifer Lewis
59. "Some of the worst mistakes of my life have been haircuts." — Jim Morrison
60."Having a bad haircut can be quite traumatic!"— Rachel Stevens
Best Barber Quotes
61. "Whatever you hear at the barbershop, stays at the barbershop." – Bernie Mac
62. "The moment to tell my barber I was gay just never came up." – Yotam Ottolenghi
63. "A great haircut is the best accessory a man can have."– Oscar Wilde
64. "My hairstyle was perfect, then the humidity said, " Today I shall make you look like the Lion King." – Spin Tumkur
65. "Doing barbershop has made us all better singers. When we hit just the right chord together, there's no better feeling." – Jonny Moroni
66. "This is a barbershop, not a hair salon. You come in here not trying to impress anyone. It's a place just to talk, to hang out with the fellows, talk about sports, women, relationships." – Joe Davis
67. "Your services might be as useful as a barbershop on the steps of a guillotine." – Rowan Atkinson
68. "All the barbershops and funeral homes were open and the customers were coming and the business was doing great." – Regina Spektor
69. "I'm always at the top of barbershop gossip." – Drake
70. "Barbershop. It's in their interests to find alternate vehicles to promote the shows." – Rob Bennett
Thought Provoking Barber Quotes
71. "What is there of the divine in a load of brick? What … in a barber shop? … Much. All." — Ralph Waldo Emerson
72. "In Atlanta, I went to barber school. That's how I met everyone I know in Atlanta, by cutting hair." — Zaytoven
73. "Do you trust your barber enough to close your eyes during a haircut?" ― Sarvesh Jain
74. "Happiness is a barber with an awesome beard." — Matthew McConaughey
75. "A jobless barber shall learn new hairstyles." — Jagdeesh Kumar
76. "It's not just a haircut. It's an attitude adjustment." — Frank Sinatra
77. "There are not many young barbers. You can make a good living at it, but you still have to work. It takes a while to build a business." — Dale Stephens
78. "Every barber thinks you need a haircut." — Mike Mann
79. "Colloquial poetry is to the real art as the barber's wax dummy is to sculpture." — Ezra Pound
80. "My real father died when I was two years old, so I never knew him. He was a barber in Chicago." — Donald Johanson
What did you learn from these barber quotes?
During the Middle Ages, surgical mortality was high, mostly due to blood loss and infection.
Since doctors treated those things by bloodletting, so did the barber-surgeons (in fact, that is what the pole symbolizes).
Leeches for everyone!
This practice obviously did not improve the mortality rates.
In today's world, you might go see the barber for a few reasons, but surgery and wisdom teeth removal is not usually high up on the list.
However, if you are having surgery, there is a good chance your barber knows all about it.
Another profession barbers could have dabbled in should have been therapy!
Granted men typically do not spend as much time sitting in the barber chair as their female counterparts, but I am sure they talk just the same.
I have told my life story to a hairdresser during a cut and color (which takes me about 6 hours typically)!
Barbers have also played a key role in pop culture where there have been some iconic scenes featuring barbershops.
Ice Cube's movie Barbershop was a movie that drove home the idea of barbershop culture in the African-American community.
If you are looking for a thriller there is always Sweeney Todd with Johnny Depp, or you could watch the musical too!
What did you learn from these barber quotes and sayings?
Let us know what your favorite movie and barber scene is using the comment section below.