Book Quotes: From Romantic, Funny, Inspiring and Sad Books
One of the best escapes we have in life, these book quotes will inspire you to rediscover the pleasure of reading.
Reading a good book is like going on a short hiatus from your life. We can all use a little break from our everyday selves once in a while! You can step into a daring romance, an adventurous quest, or a comedy of errors!
Why is reading books important?
Whether you find romance, humor, or inspiration, you will not be the same after reading a great book. Sometimes, when you need a good cry, a book can accomplish the goal!
Below are 50 of the best quotes from books, and about books in general. Enjoy reading them, and be sure to also check out our hand-picked collection of the best relationship books, books to read before you die as well as these insightful quotes about reading that will expand your mind.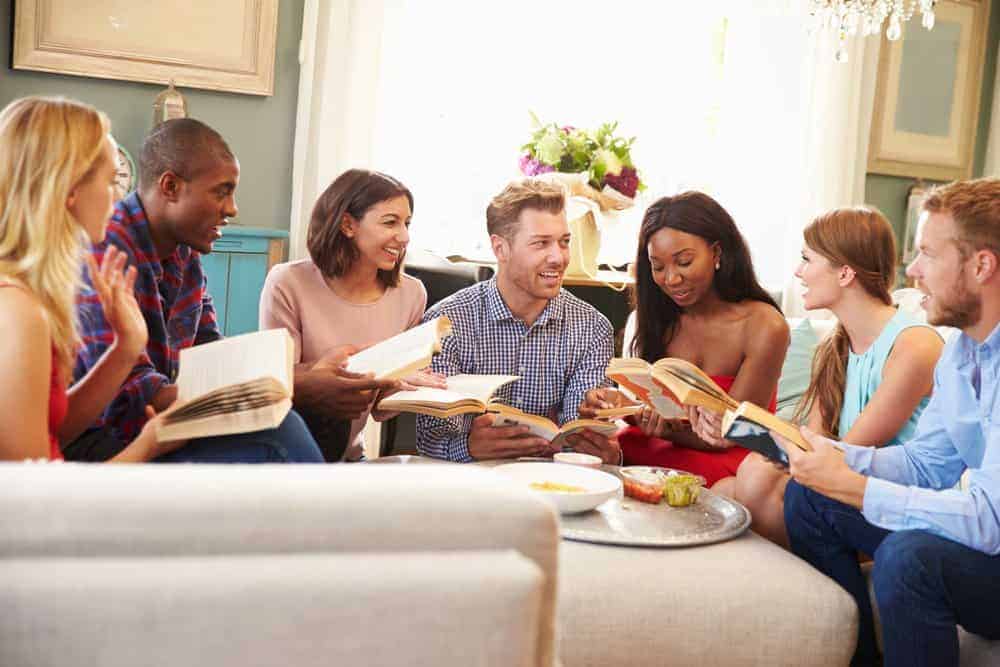 Romantic book quotes from classical literature
1.) "He stepped down, trying not to look long at her, as if she were the sun, yet he saw her, like the sun, even without looking." – Leo Tolstoy, Anna Karenina
2.) "Whatever our souls are made out of, his and mine are the same…If all else perished, and he remained, I should still continue to be; and if all else remained, and he were annihilated, the universe would turn to a mighty stranger." – Emily Brontë, Wuthering Heights
3.) "You are too generous to trifle with me. If your feelings are still what they were last April, tell me so at once. My affections and wishes are unchanged, but one word from you will silence me on this subject for ever." – Jane Austen, Pride & Prejudice
4.) "You and I, it's as though we have been taught to kiss in heaven and sent down to earth together, to see if we know what we were taught." – Boris Pasternak, Doctor Zhivago
5.) "Do I love you? My god, if your love were a grain of sand, mine would be a universe of beaches." – William Goldman, The Princess Bride
6.) "And when one of them meets with his other half, the actual half of himself, whether he be a lover of youth or a lover of another sort, the pair are lost in an amazement of love and friendship and intimacy." – Plato, The Symposium
7.) "I met in the street a very poor young man who was in love. His hat was old, his coat was threadbare – there were holes at his elbows; the water passed through his shoes and the stars through his soul." – Victor Hugo, Les Misérables
8.) "Catherine Earnshaw, may you not rest as long as I am living. You said I killed you—haunt me then. The murdered do haunt their murderers. I believe—I know that ghosts have wandered the earth. Be with me always—take any form—drive me mad. Only do not leave me in this abyss, where I cannot find you! Oh, God! It is unutterable! I cannot live without my life! I cannot live without my soul! Emily Brontë, Wuthering Heights
9.) "When he shall die, Take him and cut him out in little stars, And he will make the face of heaven so fine. That all the world will be in love with night. And pay no worship to the garish sun." – William Shakespeare, Romeo & Juliet
10.) "I have for the first time found what I can truly love–I have found you. You are my sympathy–my better self–my good angel–I am bound to you with a strong attachment. I think you good, gifted, lovely: a fervent, a solemn passion is conceived in my heart; it leans to you, draws you to my centre and spring of life, wrap my existence about you–and, kindling in pure, powerful flame, fuses you and me in one." – Charlotte Brontë, Jane Eyre
11.) "Your name is a golden bell hung in my heart. I would break my body to pieces to call you once by your name." – Peter S. Beagle, The Last Unicorn
12.) "I loved her against reason, against promise, against peace, against hope, against happiness, against all discouragement that could be." – Charles Dickens, Great Expectations
If you're enjoying these quotes, make sure to check out our collection of wise Charles Dickens quotes on self-worth, love, and more.
13.) "I'll hold you in my heart, until I can hold you in my arms." – JM Barrie, Peter Pan: J M Barrie illustrated by Steve Hutton
You might also like these literature quotes to share with your favorite bookworm.
Funny book quotes from classic literature
14.) "Every harlot was a virgin once." – William Blake, The Complete Poetry and Prose
If you're enjoying these quotes, you'll love our collection of William Blake quotes for the creative soul.
15.) "To lose one parent may be regarded as a misfortune; to lose both looks like carelessness." – Oscar Wilde, The Importance of Being Earnest
16.) "Well, my comfort is, I am sure Jane will die of a broken heart, and then he will be sorry for what he has done." – Jane Austen, Pride and Prejudice
17.) "I like persons better than principles, and I like persons with no principles better than anything else in the world." – Oscar Wilde, The Picture of Dorian Gray
18.) "Money's a horrid thing to follow, but a charming thing to meet." – Henry James, The Portrait of a Lady
Also check out these classic Animal Farm quotes.
Classic literature book quotes that inspire you to reach for greatness
19.) "You are a wonderful creation. You know more than you think you know, just as you know less than you want to know." – Oscar Wilde, The Picture of Dorian Gray
20.) "There is one thing, Emma, which a man can always do if he chooses, and that is his duty; not by maneuvering and finessing, but by vigour and resolution. – Mr. Knightley." – Jane Austen, Emma
21.) "It was against my principles and all, but I was feeling so depressed I didn't even think. That's the whole trouble. When you're feeling very depressed, you can't even think." – J.D. Salinger, The Catcher in the Rye (see more quotes from Catcher in the Rye)
22.) "You are braver than you believe, stronger than you seem, and smarter than you think. But the most important thing is, even if we're apart…I'll always be with you." – A. A. Milne, Winnie-the-Pooh
23.) "Look, sir. Don't worry about me,' I said. 'I mean it. I'll be alright. I'm just going through a phase right now. Everybody goes through phases and all, don't they?" – J.D. Salinger, The Catcher in the Rye
24.) "It's delightful when your imaginations come true, isn't it?" – L.M. Montgomery
25.) "Endless is the search of truth." – Laurence Sterne, The Life and Opinions of Tristram Shandy, Gentleman
26.) "I am the master of my fate, I am the captain of my soul." – Willima Ernest Henley
27.) "Don't let politeness interfere with truth." – Jean Webster, Daddy-Long-Legs & Dear Enemy
28.) "Despite everything, I believe that people are really good at heart." – Anne Frank, The Diary of a Young Girl
29.) "Crying is all right in its way while it lasts. But you have to stop sooner or later, and then you still have to decide what to do." – C.S. Lewis, The Silver Chair
Some of the saddest classic book quotes
30.) "So, this is my life. And I want you to know that I am both happy and sad and I'm still trying to figure out how that could be." – Stephen Chbosky, The Perks of Being a Wallflower
31.) "Wilbur never forgot Charlotte. Although he loved her children and grandchildren dearly, none of the new spiders ever quite took her place in his heart." – E. B. White, Charlotte's Web
32.) "I buried Little Ann by the side of Old Dan. I knew that was where she wanted to be. I also buried part of my life along with my dog." – Wilson Rawls, Where the Red Fern Grows
33.) "I ought to of shot that dog myself, George. I shouldn't ought to of let no stranger shoot my dog." – John Steinbeck, Of Mice and Men
You might also like these Of Mice of Men quotes that will inspire you to keep your head up.
34.) "She had tricked him. She had made him leave his old self behind and come into her world, and then before he was really at home in it but too late to go back, she had left him stranded there — like an astronaut wandering about on the moon. Alone." – Katherine Patterson, Bridge to Terabithia
35.) "You see I usually find myself among strangers because I drift here and there trying to forget the sad things that happened to me." – F. Scott Fitzgerald, The Great Gatsby
If you're enjoying these quotes, you'll love our collection of Great Gatsby quotes on love and loss.
Quotes about books from authors
36.) "I don't believe in the kind of magic in my books. But I do believe something very magical can happen when you read a good book." – J.K. Rowling
37.) "Good friends, good books, and a sleepy conscience: this is the ideal life." – Mark Twain
If you're enjoying these quotes, make sure to read our collection of book quotes about the power of reading from your favorite authors.
38.) "The person, be it gentleman or lady, who has not pleasure in a good novel, must be intolerably stupid." – Jane Austen, Northanger Abbey
39.) "You can never get a cup of tea large enough or a book long enough to suit me." – C.S. Lewis
40.) "There is no friend as loyal as a book." – Ernest Hemingway
If you're enjoying these quotes, make sure to read our collection of Ernest Hemingway quotes from the iconic author.
41.) "I declare after all there is no enjoyment like reading! How much sooner one tires of any thing than of a book! — When I have a house of my own, I shall be miserable if I have not an excellent library." – Jane Austen, Pride and Prejudice
42.) "Books are a uniquely portable magic." – Stephen King (see more Stephen King quotes)
43.) "Books are the perfect entertainment: no commercials, no batteries, hours of enjoyment for each dollar spent. What I wonder is why everybody doesn't carry a book around for those inevitable dead spots in life." – Stephen King
44.) "Books are the mirrors of the soul." – Virginia Woolf, Between the Acts
If you're enjoying these quotes, you'll love our collection of Virginia Woolf quotes that will help you understand life itself.
45.) "It is a good rule after reading a new book, never to allow yourself another new one till you have read an old one in between." – C.S. Lewis
46.) "A book lying idle on a shelf is wasted ammunition." – Henry Miller, The Books in My Life
47.) "Be awesome! Be a book nut!" – Dr. Seuss
48.) "There is more treasure in books than in all the pirates' loot on Treasure Island and best of all, you can enjoy these riches every day of your life." – Walt Disney
49.) "Speaking personally, you can have my gun, but you'll take my book when you pry my cold, dead fingers off of the binding." – Stephen King
50.) "If you don't like to read, you haven't found the right book." – J.K Rowling
Also check out these powerful library quotes that will make you want to sit down with a good book.
Which of these book quotes resonated with you best?
I never get rid of a book, and often say they hold the stories of my new friends! Mark Twain says that "good friends, good books, and a sleepy conscience are the ideal life." (That is one extra book quote!) I am in full agreement.
Books are one of the best escapes we have in life. Of course, knowledge can be found in books, but so can adventure, love and humor. If it's been a little while since you sat snuggled with a blanket and read a new book, you should carve out some time and enjoy a good read! Hopefully, these book quotes have inspire you to get started.
Did you enjoy the quotes above? Which of these classic book quotes is your favorite? Let us know in the comment section below.
December 18, 2019 7:00 AM EST
Click to view