Nephew Quotes to Make You Love Being an Aunt or Uncle
These nephew quotes will show you why having one is so special.
Everyone talks about how special it is to have your own child but having a nephew doesn't get the attention it deserves.
What makes nephews special?
Nephews can be fun and wild. They can be a partner in crime or the person you spend your time teasingly tormenting.
And there's nothing like getting back at your own sibling by teaching their son the things they don't want him to know like stories of what their parent did as a teenager.
You get the fun of spending time with your nephew without having to be the person responsible for taking care of them. It's the best of both worlds.
Below is our collection of beautiful, inspirational, and loving nephew quotes and sayings, collected from a variety of sources over the years.
Don't forget to also read these children quotes that will fill your heart with love and laughter.
Wild nephew quotes
1. "I always joke with people that having nephews is the best birth control there is." – Tahj Mowry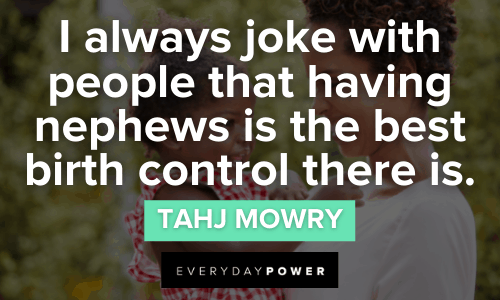 2. "I like being an uncle because there's no such thing as a deadbeat uncle." – @nedostup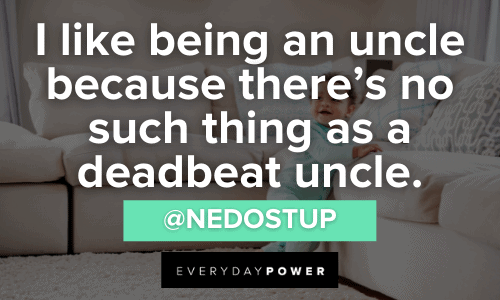 3. "If you think I'm fast, just wait until you see my nephew Bruno." – Ayrton Senna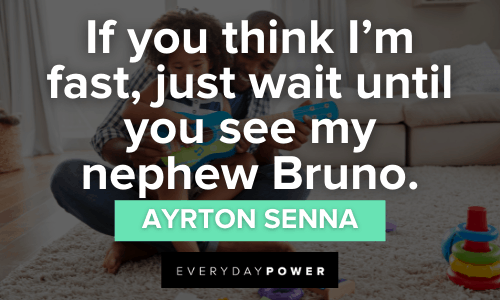 4. "The best aunts aren't substitute parents, they're co-conspirators." — Daryl Gregory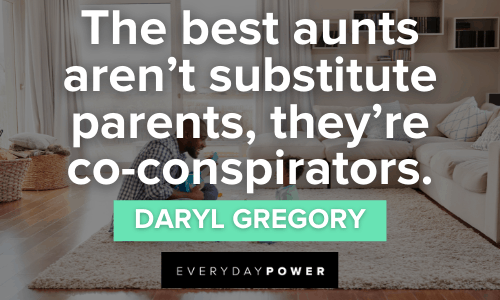 Nephew quotes about the fun of having one
5. "Every child needs at least one adult who is irrationally crazy about him or her." — Urie Bronfenbrenner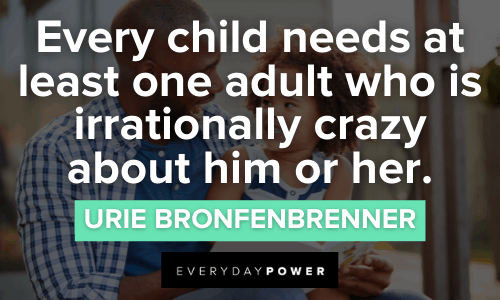 6. "My 2-yr-old nephew learned to imitate laser beam sounds, a rite of childhood. Getting hit with a lot of imaginary beams, a rite of unclehood." – Matthew Pleasant
7. "Well, I'm an uncle now… don't know if I'm a good one. My nephew asked me the difference between a hamster and a gerbil and I told him I thought there was more dark meat on a gerbil." – Bobcat Goldthwait
8. "Happiness is actually found in simple things, such as taking my nephew around the island by bicycle or seeing the stars at night. We go to coffee shops or see airplanes land at the airport." – Andrea Hirata
9. "Finally, a Thanksgiving without a drunken uncle. Just me, my nieces and nephews and my bottle of Jack Daniels." – Conan O'Brien
You might also like these niece quotes for every proud aunt and uncle.
Uncle and nephew quotes
10. "Shopping for kids for Christmas presents is so much fun but having a kid sounds like too much work so being an uncle is the perfect scenario! Glad my sister had a baby so I don't have to!" – Ricky Dillon
11. "Before you were born, I associated the word uncle with old and wobbly men. After you were born, I started associating the word uncle with smart and handsome men. Thanks for teaching me what uncles are really all about." – Unknown
12. "Nephew's hair got so blonde this summer it looks peroxided. He is getting it cut so kids won't think he is punk. I have failed as an uncle." – Unknown
13. "Today I am forcing my nephews to watch my favorite movie, Seven Samurai, because even if you have a cool uncle, sometimes the price is enduring a 3+ hour subtitled black & white movie on vacation." – Lin-Manuel Miranda
14. "Nothin like teaching your 3 ½ year old nephew about the joys of a whoopie cushion and throwing a football in one night! Sweet Uncledom!" – Brandon Barash
15. "Electricity can be dangerous. My nephew tried to stick a penny into a plug. Whoever said a penny doesn't go far didn't see him shoot across that floor. I told him he was grounded." – Tim Allen
Relationship with a nephew quotes
16. "To me, my nephew is the angel of my world. It is my absolute happiest moment whenever he smiles at me." – Li Bingbing
17. "I'm a pretty agile guy, especially being taller and having done martial arts from about the age of 13, but parkour is one of those sports that I wish I'd discovered sooner. When my nephew first showed me, I thought 'Damn – I'm too old for this.'" – Paul Walker (see more Paul Walker quotes)
18. "There's something so great about being with your nephew and, when you're tired, just handing him off back to your sister." – Tahj Mowry
If you're enjoying these quotes, make sure to read our collection of funny sister quotes celebrating unconditional love.
19. "I know time will inevitably turn you all into adults, and my role as your aunt will evolve as you mature. I want you all to know that no matter your age, I'll always play with you, my arms will never grow tired of your hugs, your tears will never both my shoulder, and my door is always open for a visit from you. Thank you for making my life fuller. I love you." – Unknown
20. "Sometimes, the littlest things take up the most room in your heart." — Winnie the Pooh
21. "Uncles are there to help the child get into mischief that they haven't thought of yet." – Unknown
22. "I never dreamed I would be a super cool aunt, but here I am killing it." – Unknown
23. "Everyone had an uncle who tried to steal their nose." – Peter Kay
24. "An aunt is a safe haven for a child. Someone who will keep your secrets and is always on your side." — Sara Sheridan
If you're enjoying these quotes, make sure to read our collection of aunt quotes about the power of family love.
Nephew quotes that he'll love
25. "Every child comes with the message that God is not yet discouraged of man." – Rabindranath Tagore
26. "Nieces and nephews give you the chance to be the parent you would be if you didn't have to worry about being a parent." – Unknown
27. "Just got invited to my nephew's preschool graduation. I'm actually thrilled he's decided to finally do something positive with his life." – Abe Yospe
28. "There's this boy… he kinda stole my heart, he calls me Auntie." – Unknown
29. "Turtles are greater than baby nephews, because it's OK to drop a turtle." – Demetri Martin
30. "My nephews all look at me differently now. Before, they couldn't relate to me, and now I'm like a god." – Ruth Buzzi
You might also like these cousin quotes that perfectly describe your bond.
More nephew quotes
31. "The nephew that I know and I love, and I know in my heart." – Anna Jones
32. "Any day spent with you, my nephew is my favorite day." – A.A. Milne
33. "Every time I go to my nephews' house he wishes to show me all his drawings. I know I'm biased but those things belong in a museum." – James Avery
34. "It's really important to me that my nephews can come and see my show." – Jessie J
35. "It distresses me when I take my seven-year-old nephew out. I cook healthy food, and he wants to go to McDonald's." – Julia Sawalha
36. "Dear nephew, as you will already have realized during our much too brief companionship, I am essentially a man of principle." – Franz Kafka
37. "My nephew doesn't even like good food; he just wants the toys." – Julia Sawalha
38. "I love spending time with you my nephew, and music has always bonded us." – Jessie J
39. "My nephew is a manipulative and scheming. And those are his good qualities." – Kelley Armstrong
40. "I always ask my crying nephew, 'Dude why are you crying? Your life is great. All you do is eat apple sauce and take naps. That's your day'." – Hannibal Buress
Nephew quotes to remind you of that awesome boy
41. "An unlikely source of inspiration? My nieces and nephews. I feel encouraged to keep going because I know that if I keep going, then I can tell them to keep going." –KiKi Layne
42. "When God made nephews, I got the best one." –Author Unknown
43. "Wherever my nephew will be, there my love will also be." –Author Unknown
44. "One of the best things in life that I get to do is to love, pamper, and fuss over my little nephew." –Author Unknown
45. "I really want my nephew to have a little bit of an advantage over everyone when it comes time for him to make his way in the world." – Chad Michaels
46. "Nephews like you are precious gold because they keep their uncles from getting old." –Author Unknown
47. "My nephew feels like he has got me under his command. Well, he is right." –Author Unknown
48. "Great! I now have a nephew who will inherit the greatness of his uncle." –Author Unknown
49. "Behind every great nephew is an aunt cheering him on." –Author Unknown
50. "But if I were you, I would stand by the nephew. He has more to give."  –Jane Auste
Nephew quotes on why they are the son that we never had
51. "When my nephew was 3 and 4, he would say the most genius things. He said, You're hammer macho with FBI dogs. I thought it was just one of those great lines." – Beck
52. "I have three incredible nieces and a nephew who's going off to college. To hear them say they're proud of me left me in tears." – Tamron Hall
53. "I get to have Sunday lunch at my mum's, pick my nephew up from school now and then: it's a very normal life." – Vicky McClure
54. "Why should I marry? One marries to have children, but I already have children! My nieces and nephews are my children." – Salman Khan
55. "I have two new nephews and a new niece this year, so I have plenty of kids that I can spend time with." – Anjelica Huston
56. "I went to pick up my nephew from primary school, and one of the teachers there stopped me and said, 'My son listens to you.' That's quite an awkward thing." – Stormzy
57. "I have a transgender nephew on my father's side of the family. So I'm extremely aware of how important it is to support and advocate for young people who are experiencing that in their lives." – Emma Walton Hamilton
58. "There are many ways to be a mother. I have a lot of young actors I mentor, and my nieces and my nephews need a lot of love." – Kim Cattrall
59. "I'm the age where we didn't have television as kids. So when I saw my nieces and nephews watching Howdy Doody, Kukla, Fran and Ollie, and so forth, I thought the world had gone mad." – Jack Nicholson
60. "To find out who you are is like putting yourself on a psychiatric couch, but you have nobody to help you. Really it isn't easy. I was talking with my nephew this morning and he gave me one of the best quotes I've heard in years 'Personal style is curiosity about oneself.'" – Iris Apfel
Did these nephew quotes inspire you to be the best aunt or uncle
Nephews need a fun aunt or uncle in their life. But that role also comes with some responsibility.
While you aren't responsible for raising the child, you have a chance to point him in the right direction and steer him straight when needed.
You are the adult they feel they can trust to come to for advice because you will protect their secrets and you're way cooler than their own parents. That's the fun of having a nephew.
So keep that in mind whether you already have a nephew or you are getting ready to become an aunt or uncle soon.
Did you enjoy these nephew quotes and sayings? Which of the quotes is your favorite? Let us know in the comment section below.
April 18, 2022 6:00 AM EST
Be the first one to leave a comment!