60 Quotes on the Power of Friendship
Life is better when you're sharing it with someone.
These cool quotes on friendship will make you appreciate your buddies even more.
No one wants to go through life alone.
Having a good friend, or group of friends, gives you someone to laugh with through the good times and cry with during the tough times.
But when life gets busy it can be too easy to brush off your friendships when that's the last thing you need in the moment.
True friends help make you better and yourlife even more enjoyable.
These quotes are a perfect reminder of why those friendships matter so much in your life.
Don't forget to also read our collection of funny quotes about friendship.
If you like this article, we suggest you explore our most popular quotes article, a list of short inspirational quotes for daily encouragement.
Check out more inspirational quotes on our motivational quotes category page.
Cool Quotes on the Power of Friendship
1. "A real friend is one who walks in when the rest of the world walks out." – Walter Winchell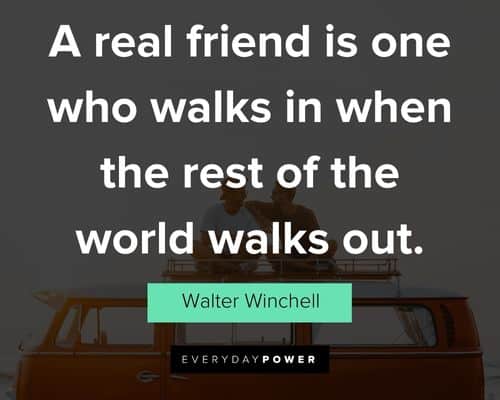 You will also enjoy our article on Winnie the Pooh quotes.
2. "A true friend is someone who is there for you when he'd rather be anywhere else." – Len Wein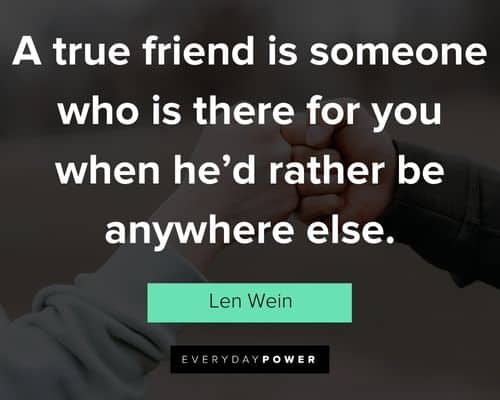 3. "If you live to be 100, I hope I live to be 100 minus 1 day, so I never have to live without you." – Winnie the Pooh (see more quotes by Winnie the Pooh)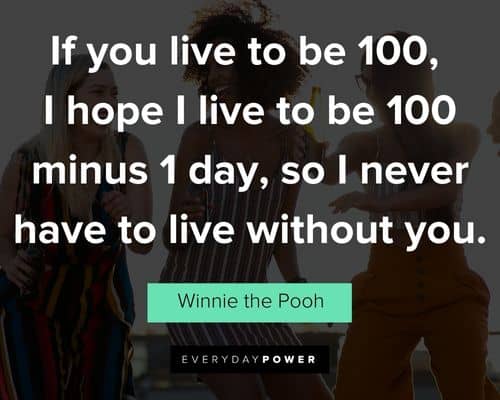 4. "True friendship comes when the silence between two people is comfortable." – David Tyson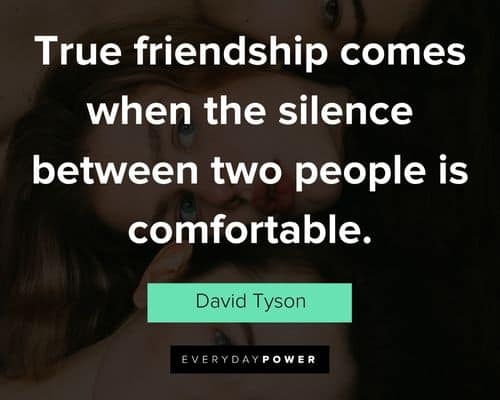 5. "A friend is someone who understands your past, believes in your future, and accepts you just the way you are." – Unknown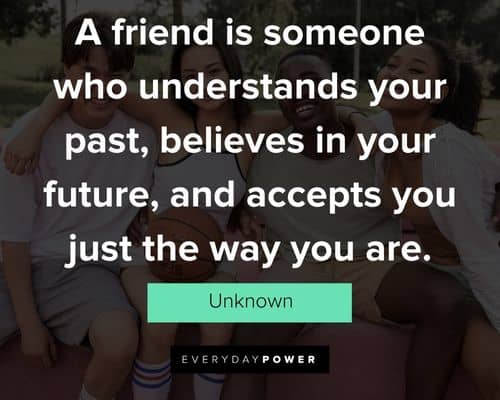 You will also enjoy our article on fake friends quotes.
6. "You can always tell a real friend: when you've made a fool of yourself he doesn't feel you've done a permanent job." – Laurence J. Peter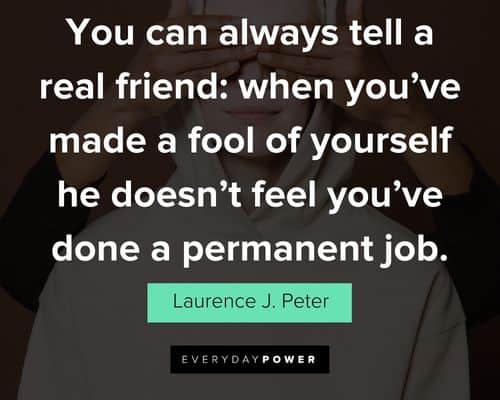 7. "A friend is one who overlooks your broken fence and admires the flowers in your garden." – Unknown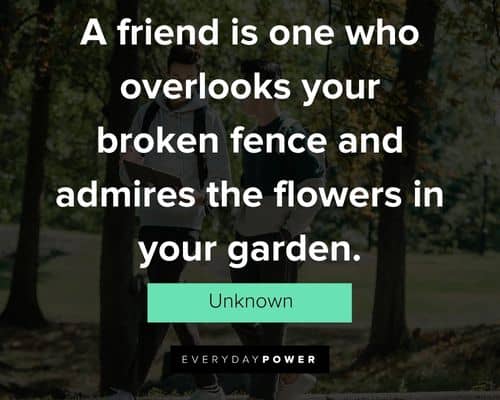 8. "Good friends are like stars. You don't always see them, but you know they're always there." – Unknown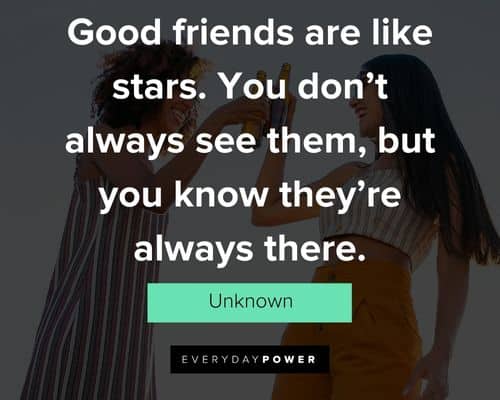 9. "A friend is one who knows you and loves you just the same." – Elbert Hubbard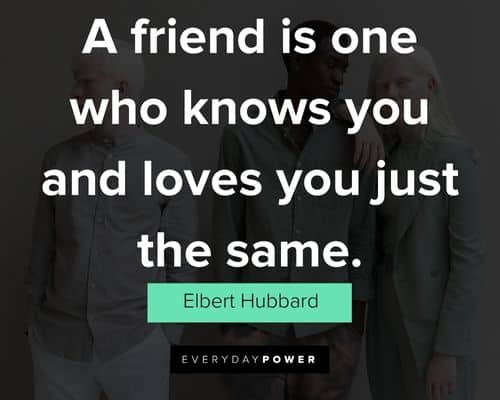 10. "The friend who can be silent with us in a moment of despair or confusion, who can stay with us in an hour of grief and bereavement, who can tolerate not knowing… not healing, not curing… that is a friend who cares." – Henri Nouwen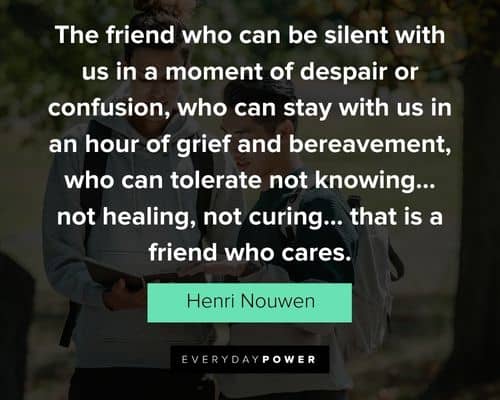 11. "Friends show their love in times of trouble, not in happiness." – Euripides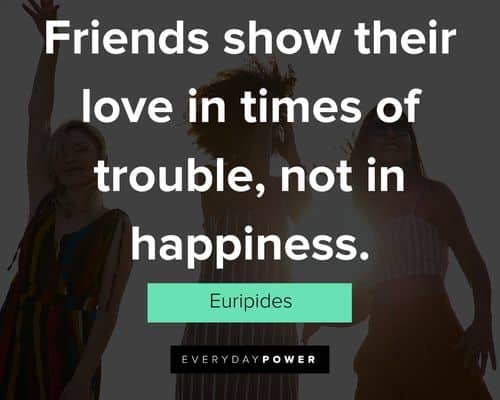 12. "Lots of people want to ride with you in the limo, but what you want is someone who will take the bus with you when the limo breaks down." — Oprah Winfrey (see all quotes by Oprah Winfrey)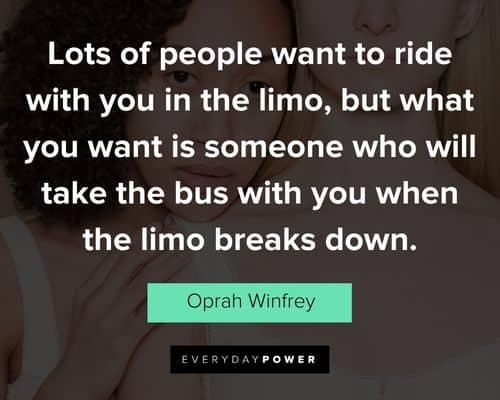 13. "When you stop expecting people to be perfect, you can like them for who they are." – Donald Miller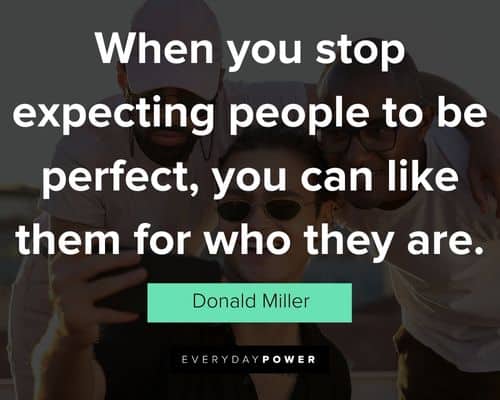 14. "A true friend is someone who thinks that you are a good egg even though he knows that you are slightly cracked." – Bernard Meltzer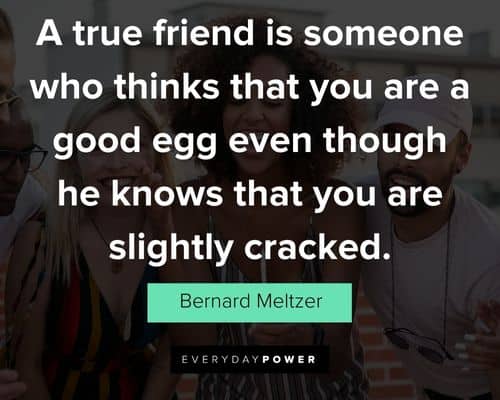 Also read these funny party quotes to help you enjoy your life.
Coolquotes about how friends make you better
15. "Don't make friends who are comfortable to be with. Make friends who will force you to lever yourself up."– Thomas J. Watson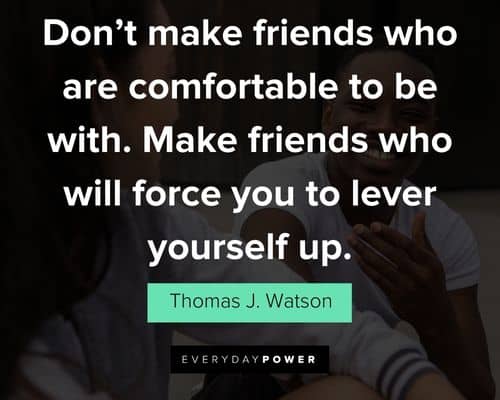 16. "In everyone's life, at some time, our inner fire goes out. It is then burst into flame by an encounter with another human being. We should all be thankful for those people who rekindle the inner spirit." – Albert Schweitzer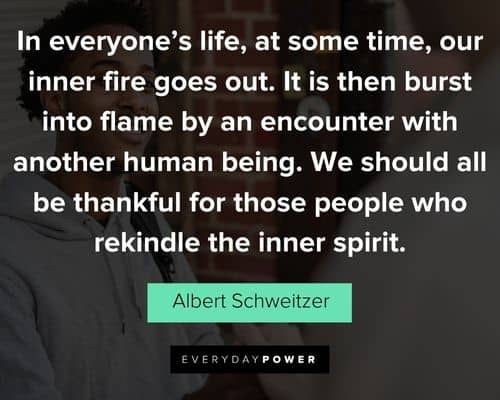 17. "Let us be grateful to the people who make us happy; they are the charming gardeners who make our souls blossom." – Marcel Proust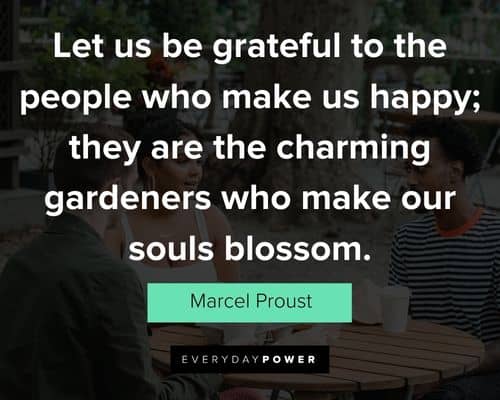 18. "Anything is possible when you have the right people there to support you." – Misty Copeland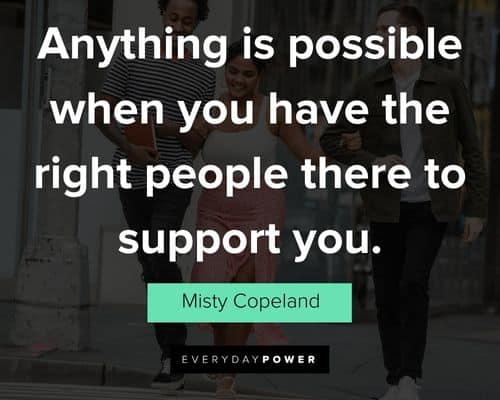 If you're enjoying these quotes, make sure to check out our collection of Misty Copeland quotes for a life of passion.
19. "A sweet friendship refreshes the soul." – Proverbs 27:9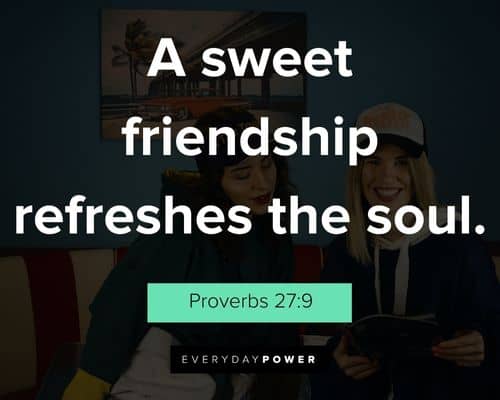 20. "Many people will walk in and out of your life, but only true friends will leave footprints in your heart." – Eleanor Roosevelt (view more Eleanor Roosevelt quotes)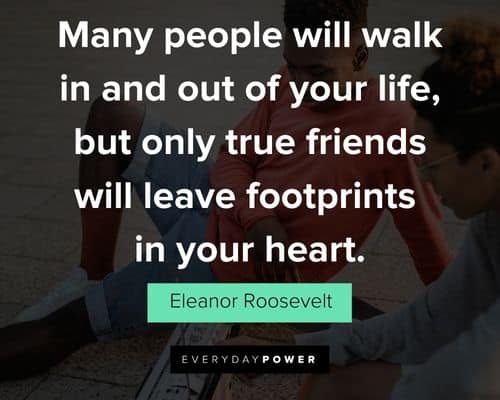 21. "A friend is someone who makes it easy to believe in yourself." – Heidi Wills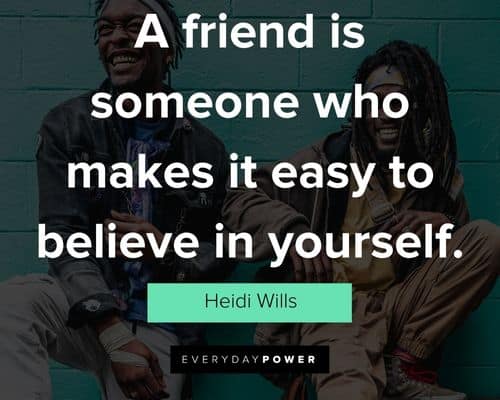 22. "Friendship multiplies the good of life and divides the evil." – Baltasar Gracian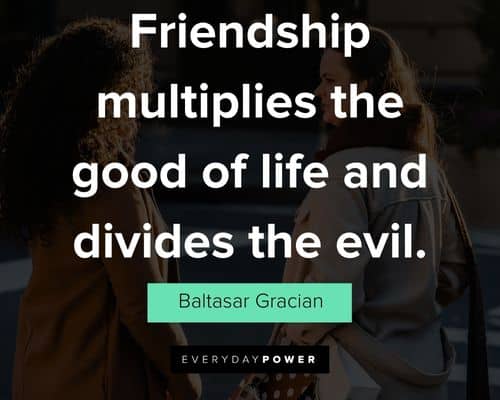 23. "My best friend is the one who brings out the best in me." – Henry Ford (see more Henry Ford quotes)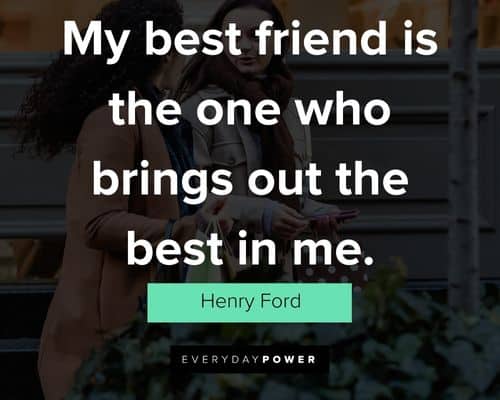 You will also enjoy our article on brotherhood quotes.
Cool quotes about what friendship looks like
24. "I like to listen. I have learned a great deal from listening carefully. Most people never listen." – Ernest Hemingway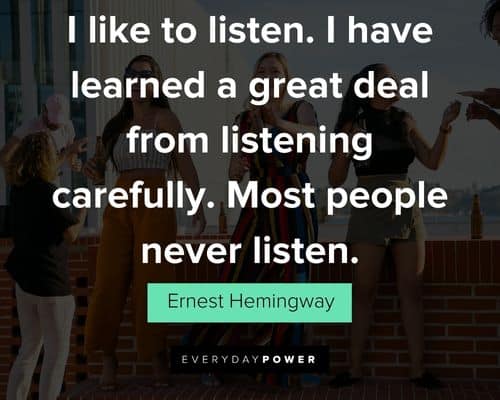 If you're enjoying these quotes, make sure to read our collection of Ernest Hemingway quotes from the iconic author.
25. "Friends are those rare people who ask how we are and then wait to hear the answer." – Ed Cunningham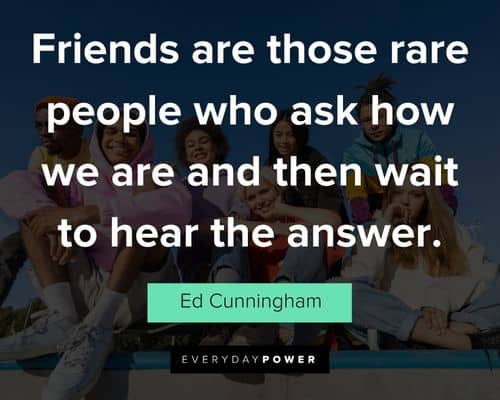 26. "One of the most beautiful qualities of true friendship is to understand and to be understood." – Lucius Annaeus Seneca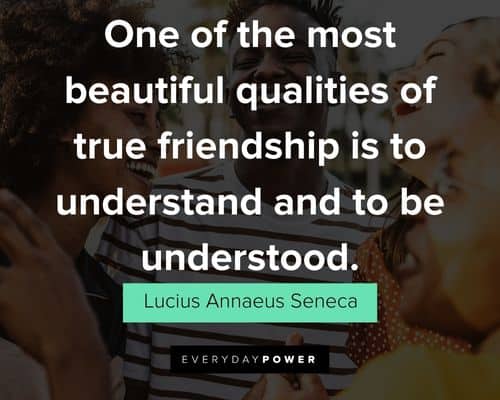 27. "Sometimes being a friend means mastering the art of timing. There is a time for silence. A time to let go and allow people to hurl themselves into their own destiny. And a time to prepare to pick up the pieces when it's all over." – Gloria Naylor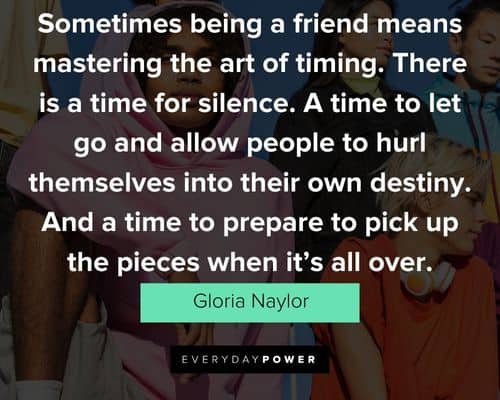 28. "A friend is one that knows you as you are, understands where you have been, accepts what you have become, and still, gently allows you to grow." – William Shakespeare (see all William Shakespeare's quotes)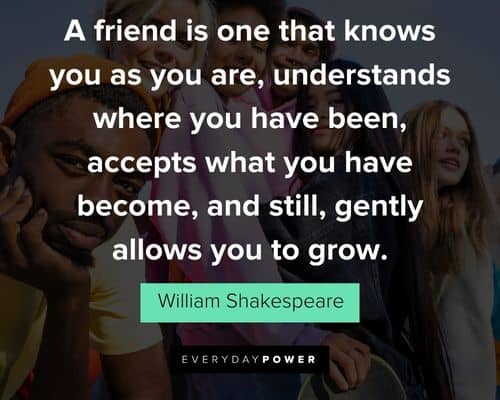 29. "The real test of friendship is: can you literally do nothing with the other person? Can you enjoy those moments of life that are utterly simple?" – Eugene Kennedy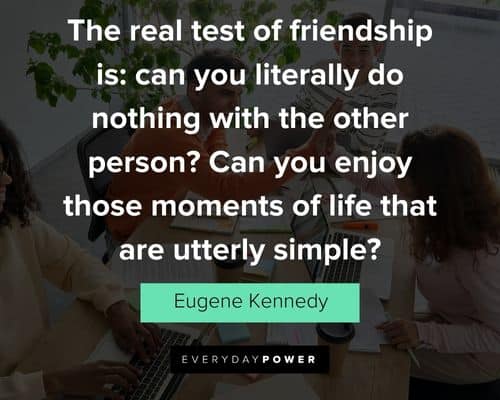 You will also enjoy our article on new friends quotes.
Coolquotes on how to make friends
30. "You can make more friends in two months by becoming interested in other people than you can in two years by trying to get other people interested in you." — Dale Carnegie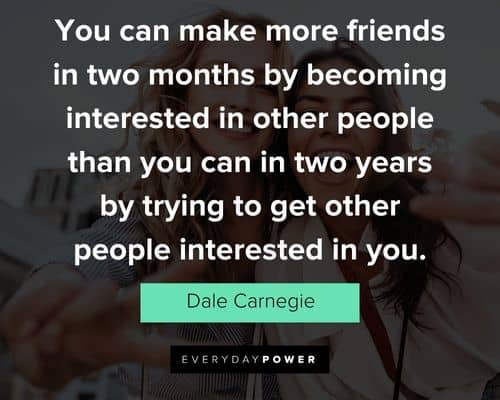 31. "Be slow to fall into friendship; but when thou art in, continue firm & constant." – Socrates
32. "If you go looking for a friend, you're going to find they're very scarce. If you go out to be a friend, you'll find them everywhere." – Zig Ziglar
33. "Surround yourself with only people who are going to lift you higher." – Oprah Winfrey
34. "The only way to have a friend is to be one." – Ralph Waldo Emerson
35. "No friendship is an accident." – O. Henry
36. "Find a group of people who challenge and inspire you; spend a lot of time with them, and it will change your life." – Amy Poehler
You will also enjoy our article on friendship quotes.
Coolquotes about the start of a friendship
37. "Friendship is born at that moment when one person says to another, 'What! You too? I thought I was the only one." – C.S. Lewis
38. "A good friend is like a four-leaf clover: hard to find and lucky to have." – Irish Proverb
39. "Be slow in choosing a friend, slower in changing." – Benjamin Franklin
40. "There are no rules for friendship. It must be left to itself. We cannot force it any more than love." – William Hazlitt
41. "Friendship is a plant of slow growth and must undergo and withstand the shocks of adversity before it is entitled to the appellation." – George Washington
42. "The great thing about new friends is that they bring new energy to your soul." – Shanna Rodriguez
You will also enjoy our article on best friend quotes.
Cool quotes on the importance of friendship
43. "Friendship is the only cement that will ever hold the world together." – Woodrow Wilson
44. "The greatest gift of life is friendship, and I have received it." – Hubert H. Humphrey
45. "Nothing makes the earth seem so spacious as to have friends at a distance; they make the latitudes and longitudes." – Henry David Thoreau
46. "Friendship improves happiness and abates misery, by the doubling of our joy and the dividing of our grief." – Marcus Tullius Cicero
47. "Of all the things which wisdom provides to make us entirely happy, much the greatest is the possession of friendship." – Epicurus
48. "A man's friendships are one of the best measures of his worth." – Charles Darwin (see all Charles Darwin quotes)
49. "Friendship is a wildly underrated medication." – Anna Deavere Smith
50. "Life is partly what we make it, and partly what it is made by the friends we choose." – Tennessee Williams
Cool quotes about how awesome friendship is
51. "Good friends, good books, and a sleepy conscience: this is the ideal life." ― Mark Twain
52. "There is nothing I would not do for those who are really my friends. I have no notion of loving people by halves, it is not my nature." ― Jane Austen
53. "There is nothing better than a friend, unless it is a friend with chocolate." ― Linda Grayson
54. "I would rather walk with a friend in the dark, than alone in the light." ― Helen Keller
55. "Life is an awful, ugly place to not have a best friend." ― Sarah Dessen
56. "Friendship is unnecessary, like philosophy, like art…. It has no survival value; rather it is one of those things which give value to survival." ― C.S. Lewis
57. "What is a friend? A single soul dwelling in two bodies." ― Aristotle
58. "Friendship is the hardest thing in the world to explain. It's not something you learn in school. But if you haven't learned the meaning of friendship, you really haven't learned anything." ― Muhammad Ali
59. "Each friend represents a world in us, a world possibly not born until they arrive, and it is only by this meeting that a new world is born." ― Anais Nin
60. "No person is your friend who demands your silence, or denies your right to grow." ― Alice Walker
Ready to connect after reading these cool quotes?
Take a moment and call up your bestie and let them know how much you appreciate their friendship.
Or better yet, call them up and schedule a time to get together and catch up.
If you feel that you're lacking in the friend department, use the tips in these quotes to go out and build new friendships.
Look for people that you share common interests with.
And remember, friendships change over time and that's OK.
That's why it's so important to continue making new friends as you work through the different stages of your life.
But that doesn't mean you need to let go of the old ones.
The more the merrier when it comes to friendships.
Which of these cool quotes is your favorite?
Do you have any other inspirational quotes to add?
Feel free to share with us in the comment section below.