60 Anti Racism Quotes to Inspire and Encourage Long-term Change
Lasting change is possible and these anti-racism quotes can inspire and encourage you into action.
There have been some smart and courageous people throughout history who have worked to put an end to racism and create equality for all.
However, even with the work that has been done and the progress that has been made, there is still more that can be done.
These anti-racism quotes show that lasting change for all is possible and provide encouragement and tips on where the focus needs to be in order to make it happen.
Allow them to inspire you to see what steps you can take.
Don't forget to also check out these equality quotes about the importance of how we treat each other.
Also, check out our most popular quote article, a list of short inspirational quotes for daily wisdom.
See the rest of our quote database for even more inspirational ideas and thoughts.
Anti-racism quotes about the danger of racism
1. "No matter how big a nation is, it is no stronger than its weakest people, and as long as you keep a person down, some part of you has to be down there to hold him down, so it means you cannot soar as you might otherwise." – Marian Anderson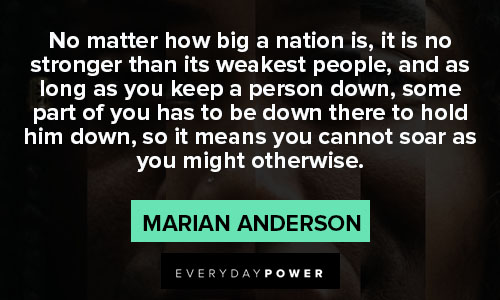 You will also enjoy our article on White Fragility quotes.
2. "Tolerance, inter-cultural dialogue and respect for diversity are more essential than ever in a world where peoples are becoming more and more closely interconnected." – Kofi Annan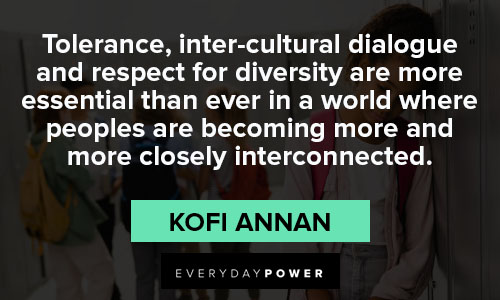 3. "A rattlesnake, if cornered will become so angry it will bite itself. That is exactly what the harboring of hate and resentment against others is – a biting of oneself. We think we are harming others in holding these spites and hates, but the deeper harm is to ourselves." – E. Stanley Jones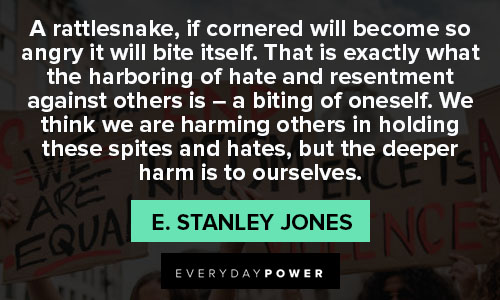 4. "The very serious function of racism is distraction. It keeps you from doing your work. It keeps you explaining, over and over again, your reason for being." – Toni Morrison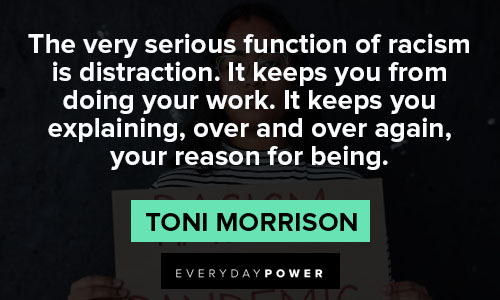 5. "Prejudice is a burden that confuses the past, threatens the future, and renders the present inaccessible." – Maya Angelou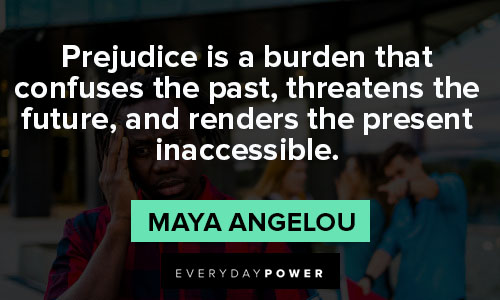 6. "Ignorance is stubborn and prejudice is hard." – Adlai E. Stevenson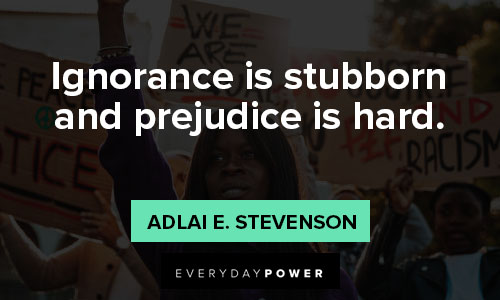 7. "To know what is right and not to do it is the worst cowardice." – Confucius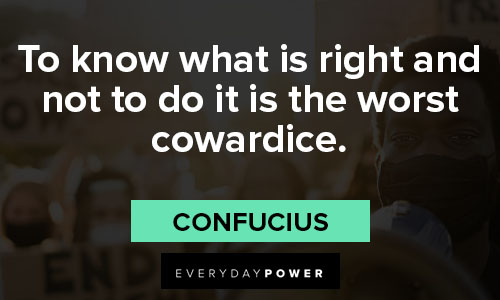 8. "Every time we turn our heads the other way when we see the law flouted, when we tolerate what we know to be wrong, when we close our eyes and ears to the corrupt because we are too busy or too frightened, when we fail to speak up and speak out, we strike a blow against freedom and decency and justice." – Robert F. Kennedy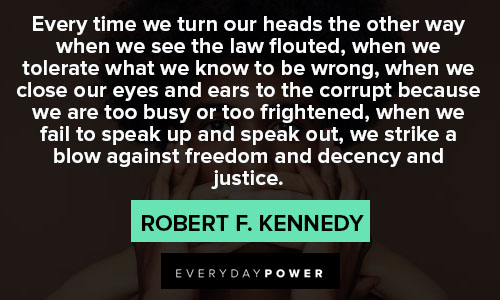 Anti-Racism quotes about what racism is
9. "Racism is man's gravest threat to man – the maximum of hatred for a minimum of reason." – Abraham Heschel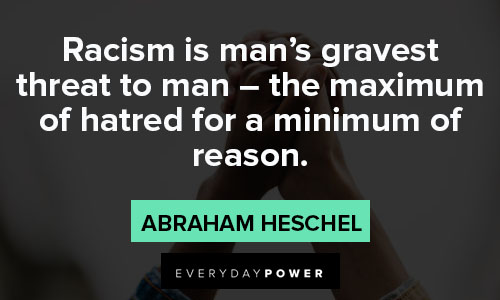 10. "At the heart of racism is the religious assertion that God made a creative mistake when He brought some people into being." – Friedrich Otto Hertz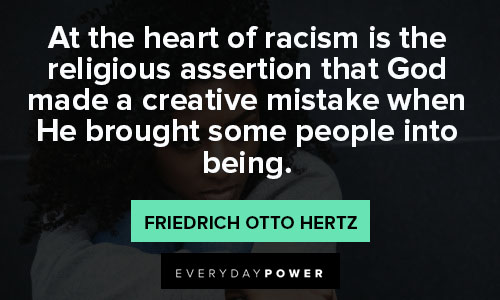 11. "It is not our differences that divide us. It is our inability to recognize, accept, and celebrate those differences." – Audre Lorde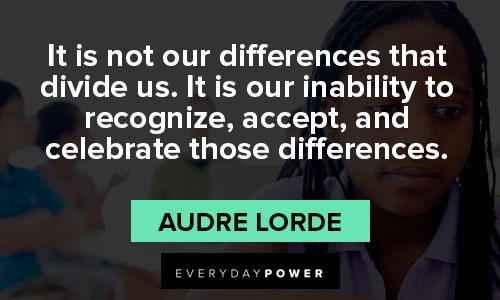 12. "Hating people because of their color is wrong. And it doesn't matter which color does the hating. It's just plain wrong." – Muhammad Ali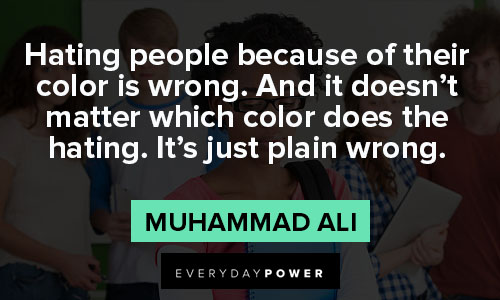 13. "People only see what they are prepared to see." – Ralph Waldo Emerson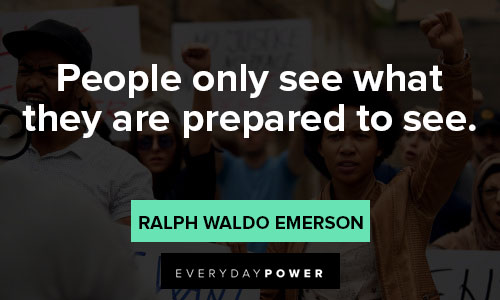 14. "None of us is responsible for the complexion of his skin. This fact of nature offers no clue to the character or quality of the person underneath." – Marian Anderson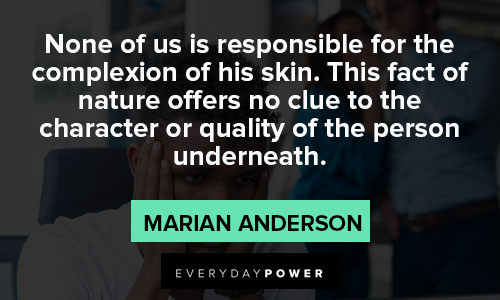 15. "In a racist society, it is not enough to be non-racist. We must be anti-racist." – Angela Davis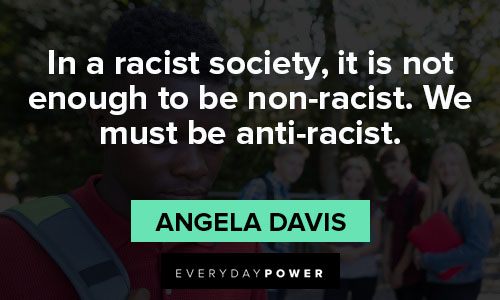 16. "No one is born hating another person because of the color of his skin, or his background, or his religion. People must learn to hate, and if they can learn to hate, they can be taught to love, for love comes more naturally to the human heart than its opposite." – Nelson Mandela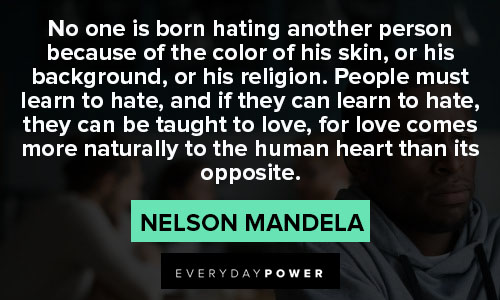 Anti-racism quotes to inspire you to work for change
17. "Not everything that is faced can be changed, but nothing can be changed until it is faced." – James Baldwin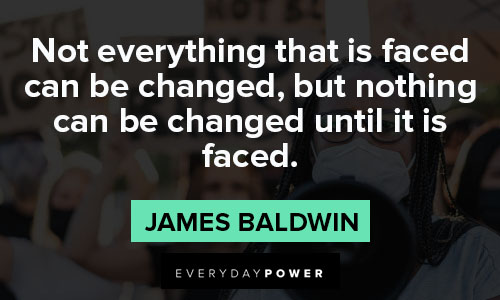 18. "Action is the only remedy to indifference: the most insidious danger of all." – Elie Wiesel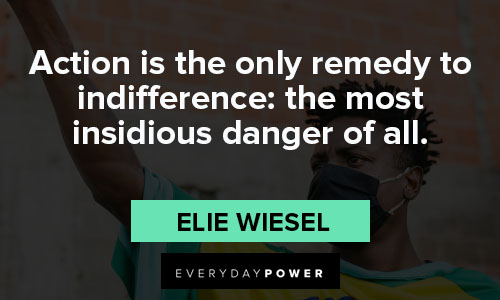 19. "Never doubt that a small group of thoughtful committed citizens can change the world: Indeed it's the only thing that ever has." – Margaret Mead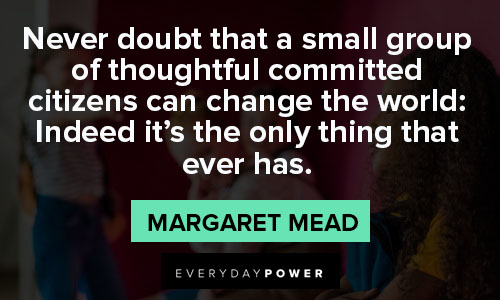 20. "The beauty of anti-racism is that you don't have to pretend to be free of racism to be an anti-racist. Anti-racism is the commitment to fight racism where you find it, including in yourself. And it's the only way forward." – Ijeoma Oluo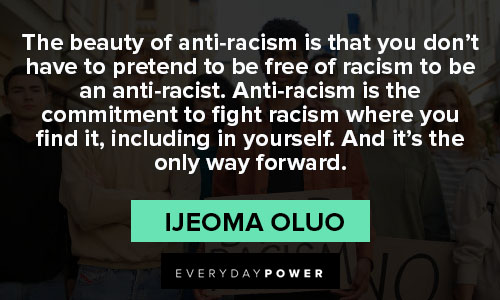 21. "Activism is my rent for living on the planet." – Alice Walker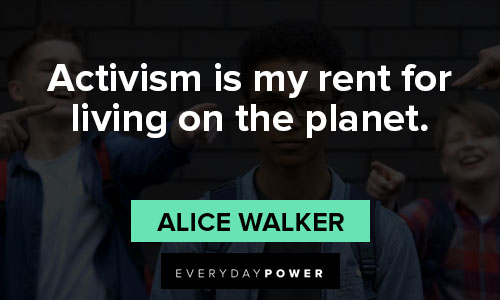 22. "I have a dream that one day little black boys and girls will be holding hands with little white boys and girls." – Martin Luther King Jr.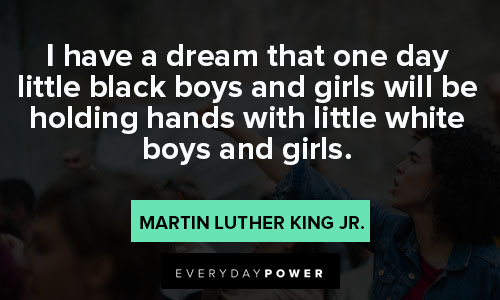 23. "None of us alone can save the nation or the world. But each of us can make a positive difference if we commit ourselves to do so." – Cornel West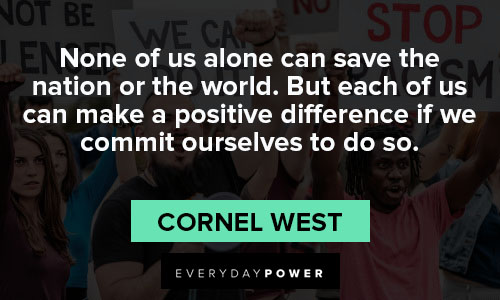 24. "A loving person lives in a loving world. A hostile person lives in a hostile world. Everyone you meet is your mirror." – Ken Keyes Jr.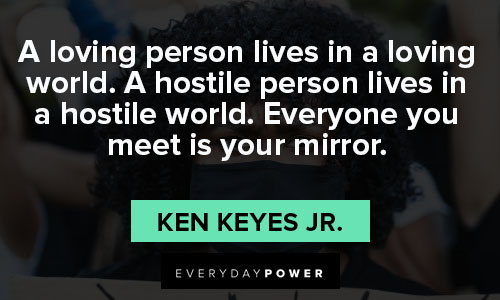 25. "Men build too many walls and not enough bridges." – Joseph Fort Newton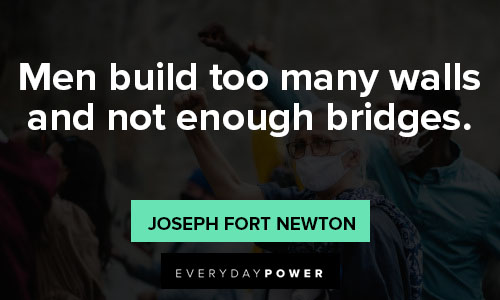 Anti-racism quotes about making lasting change
26. "For it isn't enough to talk about peace. One must believe in it. And it isn't enough to believe in it. One must work at it." – Eleanor Roosevelt
27. "Never doubt that a small group of thoughtful committed citizens can change the world: Indeed it's the only thing that ever has." – Margaret Mead
If you're enjoying these quotes, make sure to check out our collection of Margaret Mead quotes challenging societal stereotypes.
28. "Travel is fatal to prejudice, bigotry and narrow-mindedness." – Mark Twain
29. "If you have come to help me you are wasting your time. But if you recognize that your liberation and mine are bound up together, we can walk together." – Lila Watson
30. "I plan to stand by nonviolence because I have found it to be a philosophy of life that regulates not only my dealings in the struggle for racial justice, but also my dealings with people, and my own self." – Martin Luther King Jr.
31. "Darkness cannot drive out darkness; only light can do that. Hate cannot drive out hate; only love can do that." – Martin Luther King Jr.
32. "To bring about change, you must not be afraid to take the first step. We will fail when we fail to try." – Rosa Parks
33. "It doesn't matter who you are, where you come from. The ability to triumph begins with you – always." – Oprah Winfrey
34. "If you want to make peace, you don't talk to your friends. You talk to your enemies." – Mosha Dayan
35. "Peace is not merely a distant goal that we seek, but a means by which we arrive at that goal." – Martin Luther King Jr.
36. "I refuse to accept the view that mankind is so tragically bound to the starless midnight of racism and war that the bright daybreak of peace and brotherhood can never become a reality… I believe that unarmed truth and unconditional love will have the final word." – Martin Luther King Jr.
If you're enjoying these quotes, make sure to check out our collection of racism quotes about respect and equality.
37. "I destroy my enemies when I make them my friends." – Abraham Lincoln
More anti-racism quotes
38. "The ultimate measure of a person is not where one stands in moments of comfort and convenience, but where one stands in times of challenge and controversy." – Martin Luther King, Jr.
39. "It is never too late to give up your prejudices." – Henry David Thoreau
40. "When will our conscience grow so tender that we will act to prevent human misery rather than avenge it?" – Eleanor Roosevelt
41. "Laundry is the only thing that should be separated by color." – Unknown
42. "I see what's possible when we recognize that we are one American family, all deserving of equal treatment." – Barack Obama
43. "There is no such thing as race. None. There is just a human race – scientifically, anthropologically." – Toni Morrison
44. "If you want peace, work for justice." – Pope Paul VI
45. "You cannot shake hands with a clenched fist." – Indira Gandhi
46. "Our true nationality is mankind." – H.G. Wells
47. "Excellence is the best deterrent to racism or sexism." – Oprah Winfrey
48. "Achievement has no color." – Abraham Lincoln
49. "Our ability to reach unity in diversity will be the beauty and the test of our civilization." – Mahatma Gandhi
50. "Let us all hope that the dark clouds of racial prejudice will soon pass away, and that in some not too distant tomorrow the radiant stars of love and brotherhood will shine over our great nation with all their scintillating beauty." – Martin Luther King Jr.
Anti-Racism Quotes To Promote Equality
51. I realize that I'm black, but I like to be viewed as a person, and this is everybody's wish." ― Michael Jordan
52. I am going to stop calling you a white man and I'm going to ask you to stop calling me a black man." ― Morgan Freeman
53. I believe in human beings, and that all human beings should be respected as such, regardless of their color." ― Malcolm X
54. I say to you quite frankly that the time for racial discrimination is over." ― Jimmy Carter
55. "It's time we become comfortable with the uncomfortable conversations about race…Instead of being color blind, we need to be color brave." ― Mellody Hobson
56. "We have two evils to fight, capitalism and racism. We must destroy both racism and capitalism." ― Huey Newton
57. To live anywhere in the world today and be against equality because of race or color is like living in Alaska and being against snow." ― William Faulkner
58. "We must learn to live together as brothers or perish together as fools." ― Martin Luther King, Jr.
59. Sometimes I feel like rap music is almost the key to stopping racism." ― Eminem
60. "We learn to be racist, therefore we can learn not to be racist. Racism is not genetical. It has everything to do with power." ― Jane Elliott
Which of these anti-racism quotes resonated with you best?
From Rosa Parks and Martin Luther King Jr. to Abraham Lincoln and Eleanor Roosevelt, there are some wise quotes included above.
While their words were spoken decades, or centuries ago, they still apply in so many ways to the world we are living in today.
While laws have been changed or created in order to try to improve racial justice in the world, the issue remains of prejudice between races.
It's not until this can be broken down and changed from all sides that everyone can experience a true difference.
While it might seem like there's a lot of work to be done, every little action changes and everyone can make a difference.
Which of these anti-racism quotes and sayings resonated with you best?
Do you have any other inspirational quotes to add?
Let us know in the comment section below.