85 Team Building Quotes to Promote Working Together
These team building quotes are a powerful reminder of the importance of working with others.
Some people work better individually than they do in teams.
But the reality is that at some point in our lives, we have to work with others, even if we may not be up for it.
What are the benefits of working with teams?
Working with teams has some amazing benefits that are worth whatever frustrations may arise from working with others that you may not be so compatible with.
By working with a team, you learn valuable skills that you can apply to all aspects of life.
Team building exercises can prepare us for challenges in the workplace and also help us create meaningful bonds with others.
These team building quotes will help remind you of the benefits of teamwork, no matter what your position is.
Don't forget to also read these collaboration quotes on teamwork and success.
Also, check out our most popular quote article, a list of short inspirational quotes for daily wisdom.
See the rest of our quote database for even more inspirational ideas and thoughts.
Team Building Quotes on Leadership
1. "A leader takes people where they want to go. A great leader takes people where they don't necessarily want to go, but ought to be." — Rosalynn Carter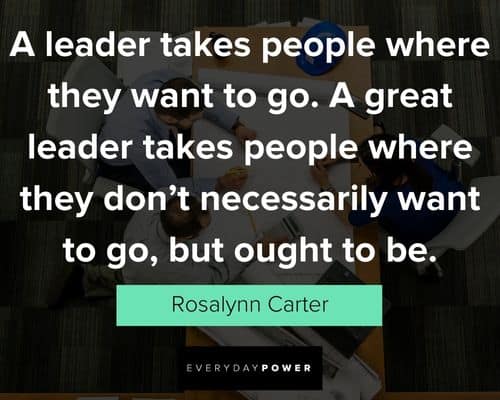 2. "Good management consists in showing average people how to do the work of superior people." — John Rockefeller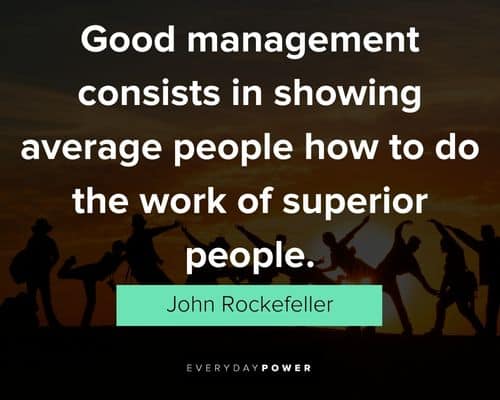 You will also enjoy our article on quotes about helping others.
3. "I've always found that the speed of the boss is the speed of the team." — Lee Iacocca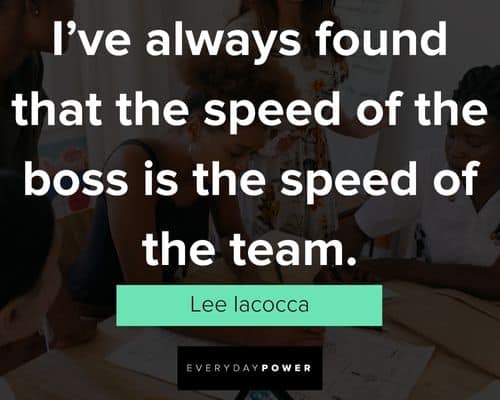 4. "Strategy is not a solo sport, even if you're the CEO." — Max McKeown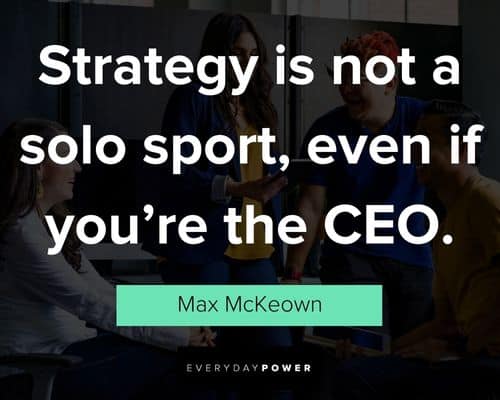 5. "Maintaining high levels of motivation isn't easy, but keep in mind that: "A leader must inspire or his team will expire." — Orrin Woodward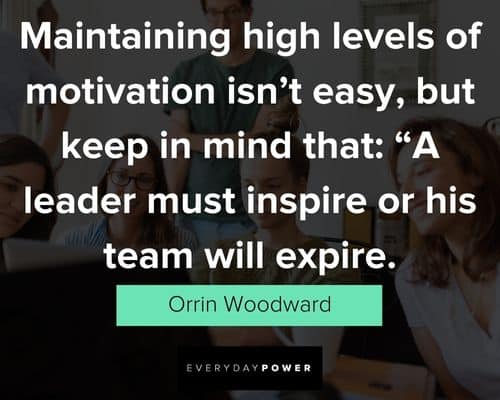 6. "When your team is winning, be ready to be tough, because winning can make you soft. On the other hand, when you team is losing, stick by them. Keep believing." — Bo Schembechler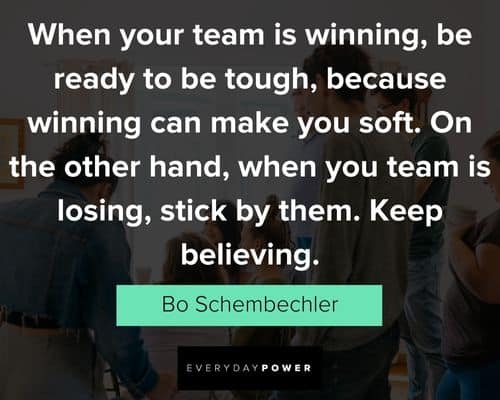 7. "If your actions inspire others to dream more, learn more, do more and become more, you are a leader."  — John Quincy Adams, 6th President of the United States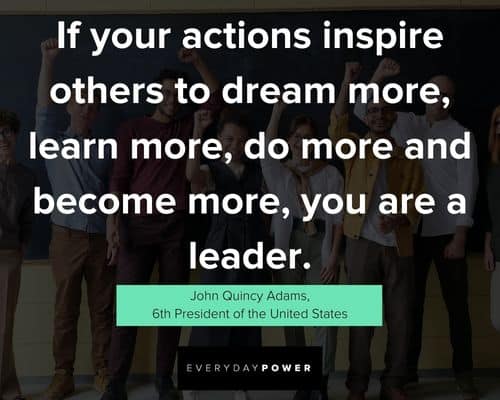 8. "What separates the good players from a great player is that a great player is willing to give up their own personal achievement for the achievement of the group." — Kareem Abdul— Jabbar, American Basketball Player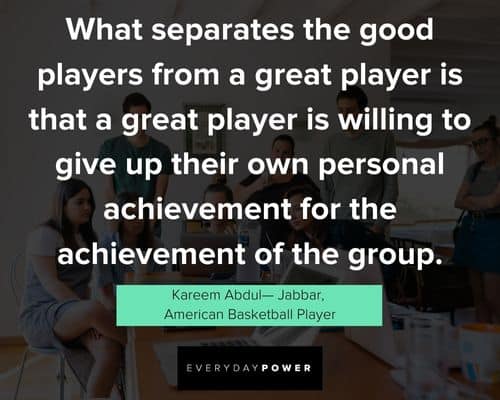 9. "Trust is knowing that when a team member does push you, they're doing it because they care about the team." — Patrick Lencioni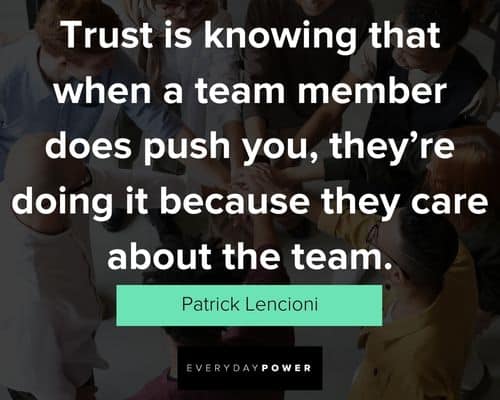 Team Building Quotes on Togetherness
10. Alone we can do so little; together we can do so much." — Helen Keller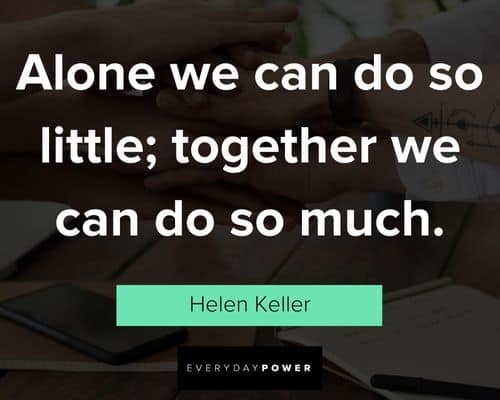 11. "If you want to go fast, go alone. If you want to go far, go together." — African Proverb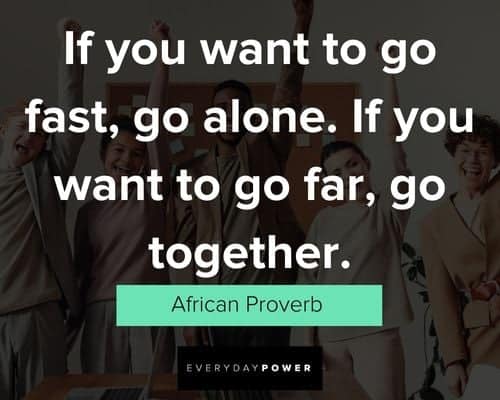 12. "None of us, including me, ever do great things. But we can all do small things, with great love, and together we can do something wonderful." — Mother Teresa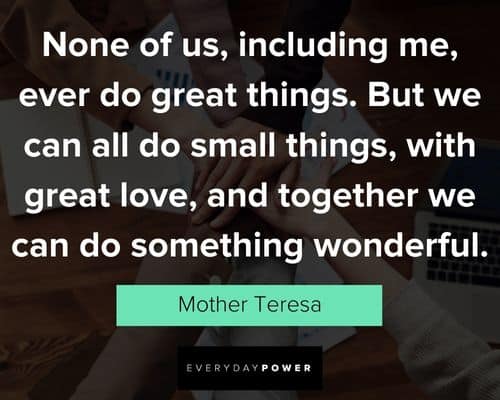 13. "Teamwork makes the dream work." — Bang Gae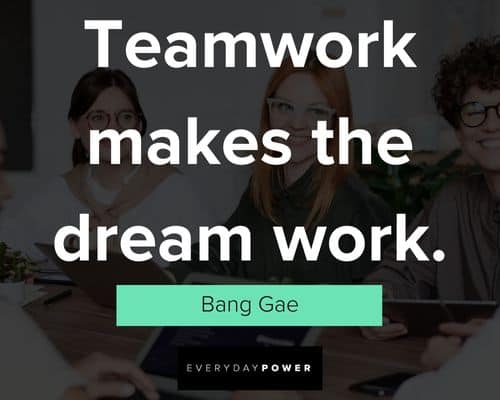 14. "Gettin' good players is easy. Gettin' 'em to play together is the hard part." — Casey Stengel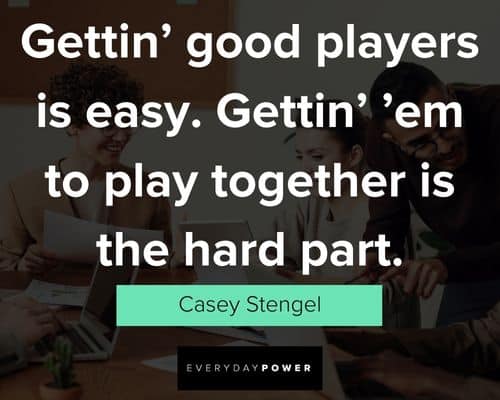 15. "A group becomes a team when each member is sure enough of himself and his contribution to praise the skills of others." — Norman Shidle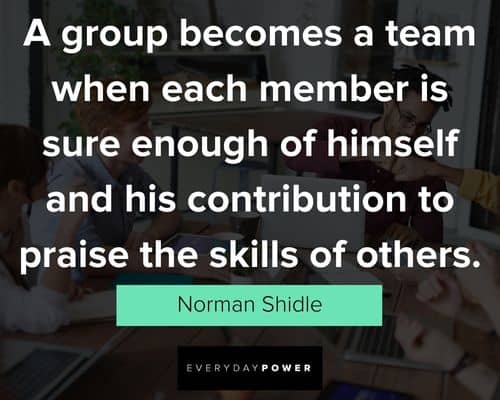 16. "Together, ordinary people can achieve extraordinary results." — Becka Schoettle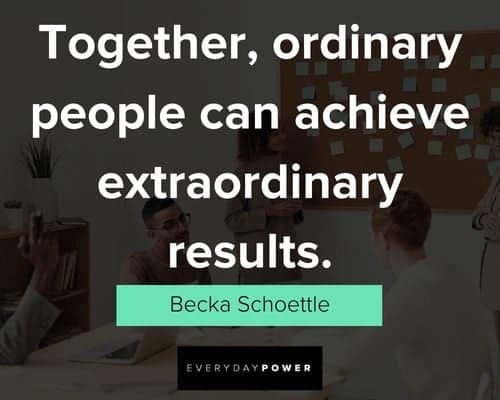 17. "If you want something new, you have to stop doing something old." — Peter F. Drucker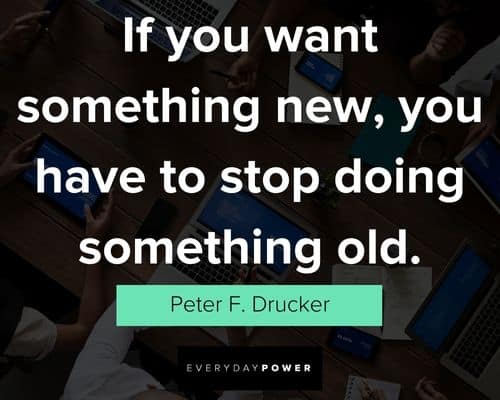 18. "The nice thing about teamwork is that you always have others on your side." — Margaret Carty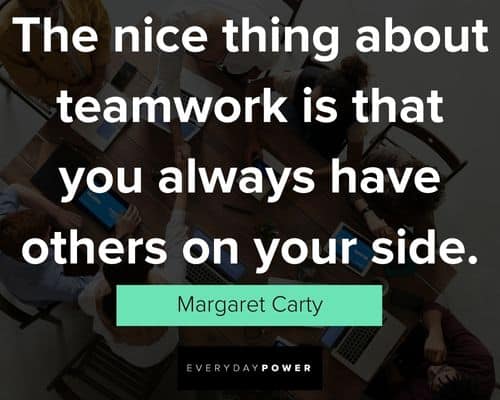 19. "If you can laugh together, you can work together." — Robert Orben20.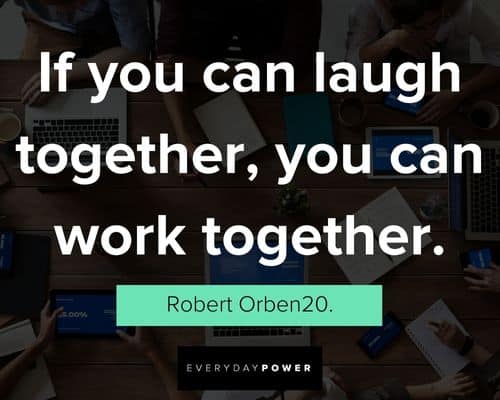 20. "Coming together is a beginning. Keeping together is progress. Working together is success." — Henry Ford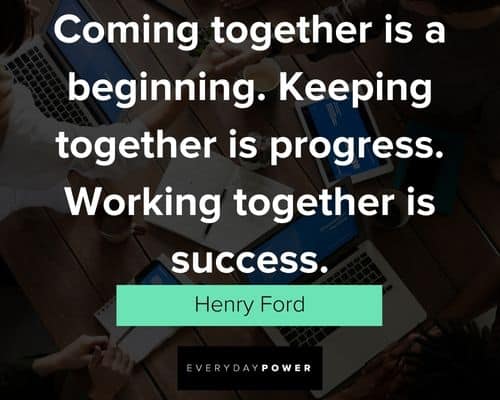 21. "Teamwork is the ability to work together toward a common vision. The ability to direct individual accomplishments toward organizational objectives. It is the fuel that allows common people to attain uncommon results." — Andrew Carnegie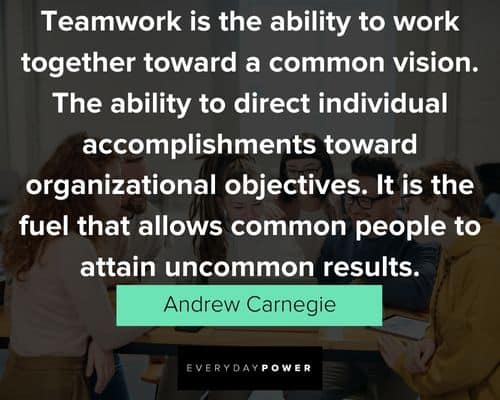 Also check out these employee appreciation quotes to motivate your team.
Team Building Quotes To Inspire Teamwork
22. "In teamwork, silence isn't golden, it's deadly." ― Mark Sanborn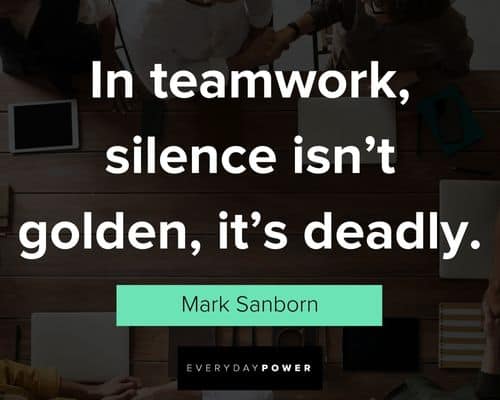 23. "Cooperation is the thorough conviction that nobody can get there unless everybody gets there." ― Virginia Burden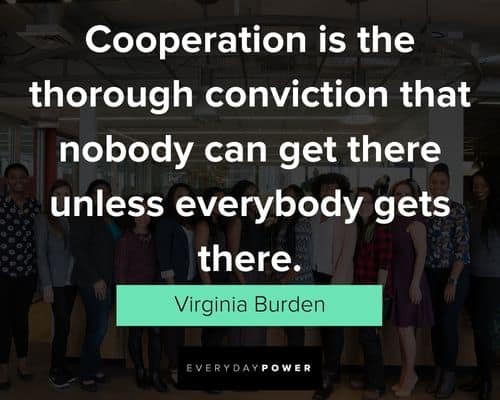 24. "There is immense power when a group of people with similar interests gets together to work toward the same goals." ― Idowu Koyenikan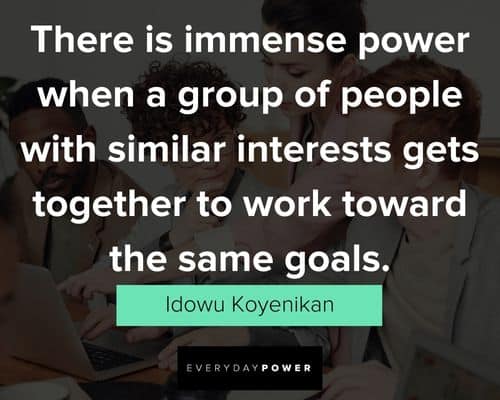 25. "Good teams incorporate teamwork into their culture, creating the building blocks for success." ― Ted Sundquist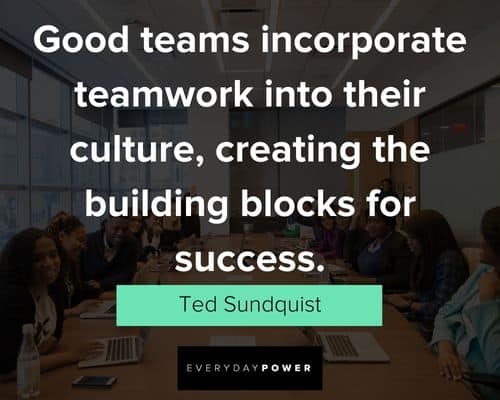 26. "When you form a team, why do you try to form a team? Because teamwork builds trust and trust builds speed." — Russel Honore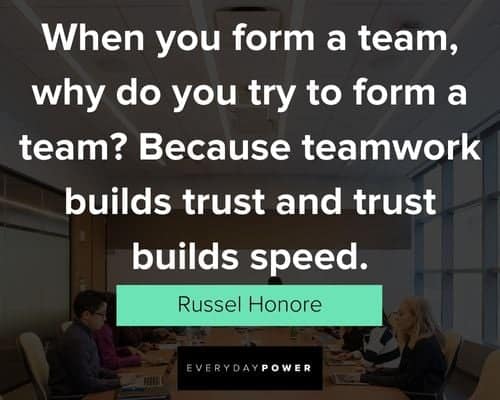 27. "Individually, we are one drop. Together, we are an ocean." — Ryūnosuke Satoro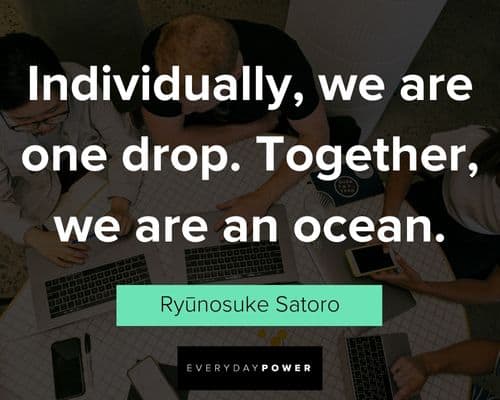 28. "Unity is strength. . . when there is teamwork and collaboration, wonderful things can be achieved." — Mattie Stepanek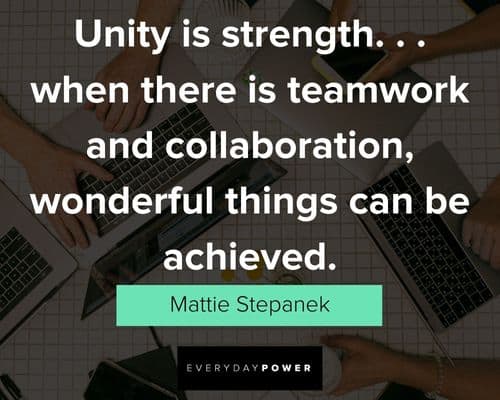 29. "The way a team plays as a whole determines its success. You may have the greatest bunch of individual stars in the world, but if they don't play together, the club won't be worth a dime." — Babe Ruth, American Baseball Player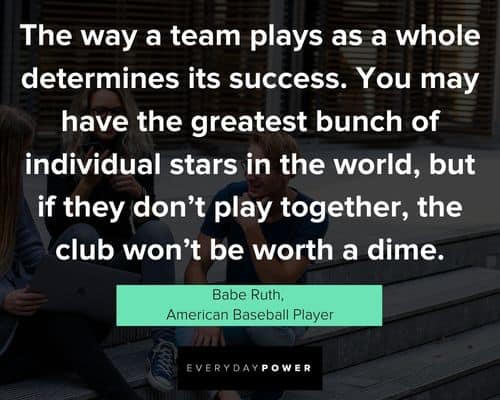 30. "No matter how brilliant your mind or strategy, if you're playing a solo game, you'll always lose out to a team." — Reid Hoffman, American Entrepreneur and Author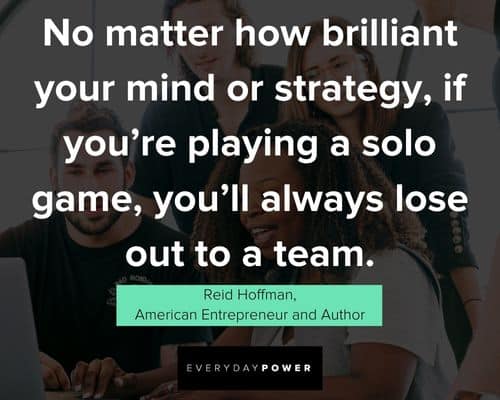 31. "Teamwork begins by building trust. And the only way to do that is to overcome our need for invulnerability." —  Patrick Lencioni
32. "To me, teamwork is the beauty of our sport, where you have five acting as one. You become selfless." — Mike Krzyzewski
Team Building Quotes on Helping Others
33. "It is literally true that you can succeed best and quickest by helping others to succeed." — Napolean Hill
34. "If you want to lift yourself up, lift up someone else." — Booker T. Washington
35. "Individual commitment to a group effort — that's what makes a team work, a company work, a society work, a civilization work." — Vince Lombardi
36. "Great teams do not hold back with one another. They are unafraid to air their dirty laundry. They admit their mistakes, their weaknesses, and their concerns without fear of reprisal." ― Patrick Lencioni
37. "So powerful is the light of unity that it can illuminate the whole earth." ― Bahaullah
38. "The ratio of We's to I's is the best indicator of the development of a team." ― Lewis B Ergen
39. "We must all hang together or most assuredly we shall all hang separately." ― Ben Franklin
40. "You will find men who want to be carried on the shoulders of others, who think that the world owes them a living. They don't seem to see that we must all lift together and pull together." — Henry Ford
41. "When he took time to help the man up the mountain, lo, he scaled it himself." — Tibetan Proverb
42. "You need to be aware of what others are doing, applaud their efforts, acknowledge their successes, and encourage them in their pursuits. When we all help one another, everybody wins." — Jim Stovall
Team Building Quotes on Inspiring a Team
43. "No one can whistle a symphony. It takes a whole orchestra to play it." — H.E. Luccock
44. "If everyone is moving forward together, then success takes care of itself." — Henry Ford
If you're enjoying these quotes, read our collection of Henry Ford quotes from one of America's greatest pioneers.
45. "A leader must inspire or his team will expire." — Orrin Woodward
46. "Leadership is much more an art, a belief, a condition of the heart, than a set of things to do." — Max De Pree
47. "A boat doesn't go forward if each one is rowing their own way." — Swahili Proverb
48. "You are either supporting the vision or supporting division" ― Saji Ijiyemi
49. "The dictionary is the only place that success comes before work." — Vince Lombardi Jr.
50. "The real challenge is for each of us to determine where we feel we can make the most impact." — Jay Samit
Don't forget to also check out these community quotes about connection and leadership.
51. "The team works because of teamwork." – Dele Ola
52. "Teamwork might make the dream work, but teammates make the team work." – Lance Loya
53. "If one member of the team is not at their full capacity, the team cannot be at its full capacity." – Britt Andreatta
54. "A great team consists of great people who believe in the idea of its leader and align themselves with it until it achieved." – Aiyaz Uddin
55. "Good team and network promotes amazing results." – Lailah Gifty Akita
Team Building Quotes To Inspire Collaboration
56. "Talent wins games, but teamwork and intelligence wins championships." — Michael Jordan
57. "It is great to do what you love but greater with the great team." — Lailah Gifty Akita
58. "If you take out the team in teamwork, it's just work. Now, who wants that?" — Mathew Woodring
59. "Not finance, not strategy. Not technology. It is teamwork that remains the ultimate competitive advantage, both because it is so powerful and rare." — Patrick Lencioni
60. "I can do things you cannot, you can do things I cannot: together we can do great things."
— Mother Teresa
61. "When you need to innovate, you need collaboration." — Marissa Mayer
62. "You don't win alone. That's just how it is." — Tobio Kageyama
63. "We may have all come on different ships, but we're in the same boat now." — Martin Luther King, Jr.
64. "Surround yourself with a trusted and loyal team. It makes all the difference." — Alison Pincus
65. "Tough times don't last. Tough teams do." — Robert Schuller
Team Building Quotes To Encourage Teams
66. "No individual can win a game by himself." — Pelé
67. "The greater the loyalty of a group toward the group, the greater is the motivation among the members to achieve the goals of the group, and the greater the probability that the group will achieve its goals." — Rensis Likert
68. "Nobody's going to fix the world for us, but working together, making use of technological innovations and human communities alike, we might just be able to fix it ourselves." — Jamais Cascio 
69. "The combined results of several people working together is often much more effective than could be that of an individual scientist working alone." — John Bardeen
70. "Growth is never by mere chance; it is the result of forces working together." — James Cash Penney
71. "No problem is insurmountable, With a little courage, teamwork and determination a can overcome anything." — B Dodge
72. "Teams are successful when they are focused, have a short cycle time, and are supported by the executives." — Tom J. Bouchard
73. "Teamwork requires that everyone's efforts flow in a single direction. Feelings of significance happen when a team's energy takes on a life of its own." — Pat Riley
74. "Teamwork is the best ever investment. If I make 3 and you make 5, together we will not make 8. We will make 15. Leaders build active teams." — Israelmore Ayivor
75. "Teamwork means that you are willing to compromise when it is best for the team to advance to reach their goals." — Byron Pulsifer
Team Building Quotes To Help Collaborate
76. "Fun is only real and sustainable if it feeds off the team's purpose and performance aspirations." — John Katzenbach
77.  "Synergy – the bonus that is achieved when things work together harmoniously." — Mark Twain
78. "It is better to have one person working with you than three people working for you." — Dwight D. Eisenhower
79. "A demanding performance challenge tends to create a team." — John Katzenbach
80. "No man is wise enough by himself." — Plautus
81. "Teamwork gives you the best opportunity to turn vision into reality." — John C. Maxwell
82. "The luxury of our position now is that we can almost assemble any team to address any issue." — Rem Koolhaas
83. "The team, not the individual, is the ultimate champion." — Mia Hamm
84. "Many hands make light work." — John Heywood
85. "The path to greatness is along with others." — Baltasar Gracian
What did you learn from these team building quotes?
Working together is not always ideal for everyone, but in many cases, it's the only way to be successful.
Ask any influential leader today and they'll tell you that at some point in their journey, someone helped them in some way.
If we don't learn to work with others, we may be missing out on valuable lessons and get answers to problems that we may not be able to solve on our own.
The team building quotes above are a powerful reminder of the importance of working with others, whether you're the CEO, the intern, the adult with years of experience, or the child who is curious about the world.
What's your biggest takeaway from these team building quotes?
Do you have any other insightful quotes to add?
Let us know in the comment section below.