Denzel Washington Quotes On Success, Dreams and Love
These Denzel Washington quotes will prove to you the power in following your dreams.
Denzel Washington is a prolific actor that has portrayed a wide variety of characters so convincingly we often do not know where Denzel ends and the character he's playing begins.
Allow these Denzel Washington quotes to show you the value of dedication, hard work, and following your dreams.
Unquestionably, one of Hollywood's most charismatic and magnetic superstars, Denzel Washington is known for his huge body of work spanning from socially conscious dramas, biopics, and suspense thrillers.
Aside from creating outstanding movies, Denzel along with director Spike Lee, have also paved the way for other African – American actors and actresses.
Washington attended Fordham University in 1977, where he earned a B.A. in Journalism. He found time to pursue his interest in acting when he graduated and moved to San Francisco.
There, Washington got his first taste of theater, by winning a scholarship to the American Conservatory Theatre. Washington was first noticed in 1982 when he joined the cast of the long-running TV series St. Elsewhere.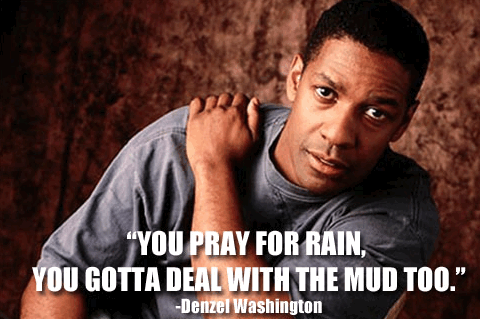 Since then, Washington has starred in over 40 movies, 4 theater productions and has been nominated for over 30 different awards.
A person who has accomplished so much, from such humble beginnings has clearly tapped into his Everyday Power and we are proud to have such amazing Denzel Washington quotes on the blog.
Enjoy reading these quotes, and don't forget to also check out our collection of Martin Scorsese quotes from his amazing film career.
Inspirational Denzel Washington Quotes From His Movies and Interviews
1. "You pray for rain, you gotta deal with the mud too. That's a part of it." – Denzel Washington
If you're looking for more money, more love, more success, or more impact you always have to manage the stress, obligations, commitments, and criticism that come along with all of it. When you want more, you get more of everything.
2. "I think a role model is a mentor – someone you see on a daily basis, and you learn from them." – Denzel Washington
Who are you learning from? Who are you studying? What kind of people are you building relationships with?
3. "I'd be more frightened by not using whatever abilities I'd been given. I'd be more frightened by procrastination and laziness." – Denzel Washington
Are you doing what you are truly capable of? Will you be able to live with the regret if you don't? What scares you the most about going for it?
4. "My mother used to tell me man gives the award, God gives the reward. I don't need another plague." – Denzel Washington
Believe that what you are doing is bigger than yourself, and you will find an irreplaceable peace.
5. "The time to worrying about flying is when you're on the ground. When you're up in the air, it's too late. No point in worrying about it then." – Denzel Washington
We are able to be in our 'flow' when we are well prepared and in the moment. Allow yourself to be in the 'flow' of things with great preparation and a strong sense of ease and belonging. That is is what you scan control.
6. "Luck is where opportunity meets preparation." – Denzel Washington
What are you preparing for? Are you preparing for your greatest achievement, whatever that may be?
7. "If I am a cup maker, I'm interested in making the best cup I possibly can. My effort goes into that cup, not what people think about it." – Denzel Washington
Focus on what you are doing, and not the critics. Critics never made history, and critics never made anyone's life better. Focus on adding value in your own unique special way.
8. "I made a commitment to completely cut out drinking and anything that might hamper me from getting my mind and body together. And the floodgates of goodness have opened upon me – spiritually and financially." – Denzel Washington
What decisions have you made lately about what you put into your body? Do you treat your body like a Ferrari, only putting in high octane gas, or like a hoopty, where it doesn't matter what you put in there since it never goes about 20mph! 🙂
Denzel Washington Quotes On Acting
9. "Every day, sincerely and without phoniness, Lou demonstrated by his actions how very vital it is – more than anything else – to understand and appreciate the people who work with you….Do your job well, learn your job well, but always remember that the people you work with are your most valuable asset. Embrace them. Honor them. Respect them" – Denzel Washington
10. "What it taught me was forgiveness. It taught me that when people present themselves in a certain way, there's probably some back story or issue or reason for the way that they are. It's not you. It's them. And a lot of times, it's about something that's completely out of their control" – Denzel Washington
11. "When I was a child I thought I saw an angel. It had wings and kinda looked like my sister. I opened the door so some light could come into the room, and it sort of faded away. My mother said it was probably my Guardian Angel." – Denzel Washington
12. "We've all received our share of good fortune, so that's my definition of much. A single blessing is all the bounty in the world, and if you've been blessed at all you're meant to pass some of that on. You're meant to set a positive example. That's our responsibility" – Denzel Washington
13. "My faith helps me understand that circumstances don't dictate my happiness, my inner peace." – Denzel Washington
14. "If you have an enemy, then learn and know your enemy, don't just be mad at him or her." – Denzel Washington
Denzel Washington Quotes On Love and Life
15. "Black or white good parts are hard to come by. A good actor with a good opportunity has a shot; without the opportunity it doesn't matter how good you are." – Denzel Washington
16. "I never really had the classic struggle. I had faith." – Denzel Washington
17. "In Los Angeles, everyone is a star." – Denzel Washington
18. "It's simple: You get a part. You play a part. You play it well. You do your work and you go home. And what is wonderful about movies is that once they're done, they belong to the people. Once you make it, it's what they see. That's where my head is at." – Denzel Washington
19. "I'm very proud to be black, but black is not all I am. That's my cultural historical background, my genetic makeup, but it's not all of who I am nor is it the basis from which I answer every question."– Denzel Washington
Also read these wise Keanu Reeves quotes on living life with kindness.
Denzel Washington Quotes On Love
20. "Acting is just a way of making a living, the family is life." – Denzel Washington
21. "You have to grab moments when they happen. I like to improvise and ad lib." – Denzel Washington
22. "I work hard for the audience. It's entertainment. I don't need validation." – Denzel Washington
23. "My mother never gave up one me. I messed up in school so much they were sending me home, but my mother sent me right back." – Denzel Washington
24. "If you don't trust the pilot, don't go." – Denzel Washington
25. "My ultimate life dream project is my kids. My family." – Denzel Washington
You might also like these Sidney Poitier quotes showcasing his Hollywood legacy
More Denzel Washington quotes and sayings
26. "True desire in the heart for anything good is God's proof to you sent beforehand to indicate that it's yours already." – Denzel Washington
27. "If you want to be a warrior, you have to train." – Denzel Washington
28. "Do what you gotta do so you can do what you wanna do." – Denzel Washington
29. "Don't be afraid to fail big, to dream big." – Denzel Washington
30. "You never know how you're going to affect people." – Denzel Washington
31. "I just try to be honest and true to the character and play the part." – Denzel Washington
32. "Every failed experiment is one step closer to success." – Denzel Washington
33. "I actually don't hang out with any celebrities. My closest friends are old friends. And my real close friends, none of them are actors." – Denzel Washington
34. "Talent comes from God. If you have been given some, then value it, cultivate it, work and develop it." – Denzel Washington
35. "I'm not interested in being a celebrity; I'm interested in being a better actor and a better director." – Denzel Washington
36. "At the end of the day, it's not about what you have or even what you've accomplished. It's about what you've done with those accomplishments. Its about who you've lifted up, who you've made better. It about what you've given back." – Denzel Washington
37. "So you never know who you touch. You never know how or when you'll have an impact, or how important your example can be to someone else." – Denzel Washington
38. "There are two kinds of pain in this world. The pain that hurts, the pain that alters." – Denzel Washington
39. "We do what we have to so we can do what we want to." – Denzel Washington
40. "When you don't understand something, you label it and condemn it." – Denzel Washington
41. "Old man's gotta be the old man, fish has gotta be the fish. You gotta be who you are in this world, no matter what." – Denzel Washington
42. "There's nothing good or bad, except by comparison." – Denzel Washington
43. "Don't get all sentimental on me, Makes me think I'm gonna die." – Denzel Washington
44. "A wise woman knows the importance of speaking life into her man. If you love him; believe in him, encourage him and be his peace." – Denzel Washington
45. "Just because you are doing a lot more doesn't mean you are getting a lot done. Don't confuse movement with progress!" – Denzel Washington
Which Denzel Washington quotes were your favorite?
Do you have any other inspirational quotes by Denzel Washington to add? Let us know in the comment section below.
February 24, 2021 6:00 AM EST
Click to view