Retirement Wishes Quotes for a Memorable Farewell
September 23, 2022 8:00 AM EST
If you're looking for the best retirement wishes quotes, you have landed on the right page.
Here, you can find the most popular and heartwarming retirement wishes quotes that you can share with your friends or family upon their retirement.
For most of us, retirement turns out to be a critical milestone in our life.
In other words, retirement is the ending of one chapter in our lives and starting of a new one.
This is a transition where you leave behind long hours at the office or business place.
Now you have plenty of time to travel, play golf or enjoy quality time with your grandchildren.
This is something most folks think about when they are close to retirement.
If one of your relatives or friends is retiring, sending them retirement wishes is a great way to congratulate them regarding their success in life and career.
Before going to our retirement wishes quotes, let's take a look at some handy tips for writing retirement messages.
Check out our most popular quote article, a list of short inspirational quotes for daily inspiration.
Explore our complete collection of motivational quotes here.
Tips to Write Engaging Retirement Messages
Writing a personalized retirement message to your loved ones can make them proud and feel good about their achievements.
To write an engaging retirement message, try to follow the tips mentioned below:
Acknowledge the accomplishments – Let the retiree know that you duly acknowledge his/her contributions and hard work.
Things you will miss – Consider the things that you enjoyed doing together. For instance, you might have served in the same department for years and have memories to celebrate.
Encourage them for the life ahead – Retirement is a big change that can be difficult for some people. Offer them encouragement for the years ahead.
Talk about future plans – When writing retirement wishes quotes, mention things that a person could enjoy. Talk about their hobbies and passions.
Top 10 Retirement Wishes Quotes
The transition of retirement can be bittersweet. These quotes show both the good and the challenges.
1. "Retire from work, but not from life." – M.K. Soni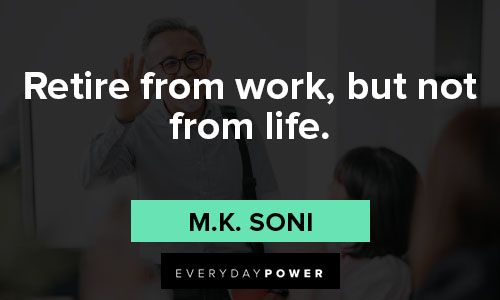 2. "A retired husband is often a wife's full-time job." – Ella Harris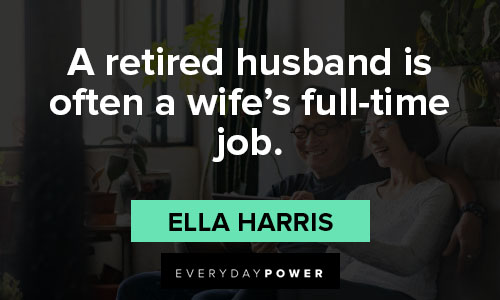 3. "The trouble with retirement is that you never get a day off." – Abe Lemons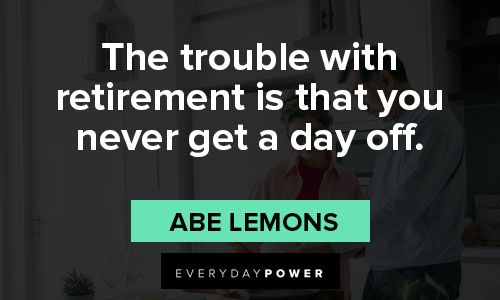 4. "The joy of retirement comes in those everyday pursuits that embrace the joy of life." – Byron Pulsifer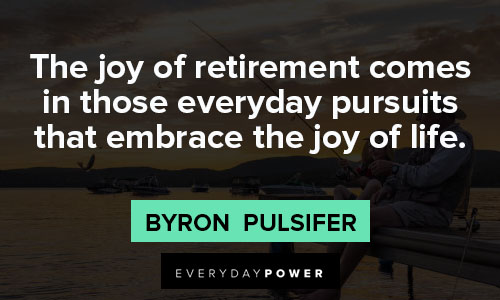 5. "The harder you work, the harder it is to surrender." – Vince Lombardi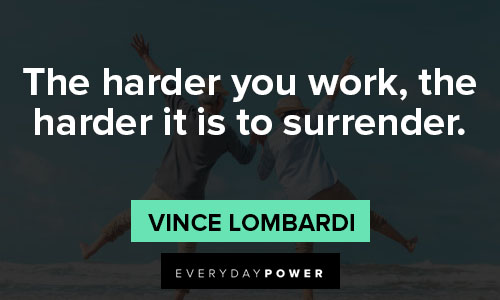 6. "I need to retire from retirement." – Sandra Day O'Connor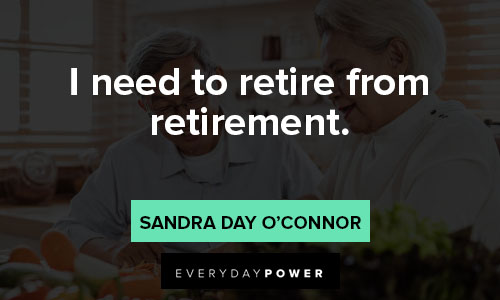 7. "To me, retirement means doing what you have fun doing." – Dick Van Dyke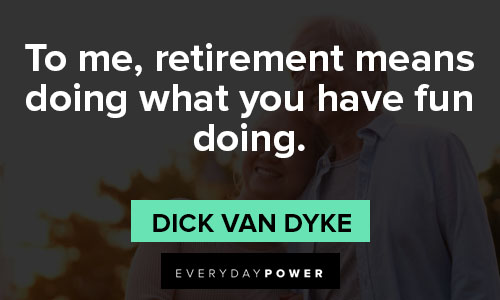 8. "You might be on the back nine of life, but it's good to finish strong." – Morton Shaevitz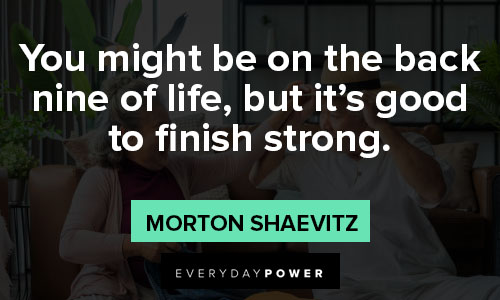 9. "It's time to celebrate all the hard work that led to this joyful occasion." – Sheryl Sandberg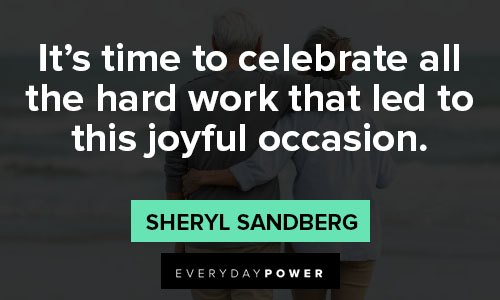 10. "The key to retirement is to find joy in the little things." – Susan Miller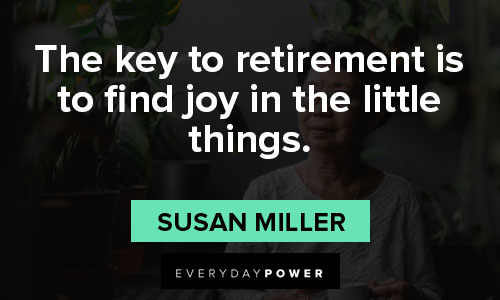 Retirement Wishes Quotes to Boost the Moral
Retirement is one door closing and another one opening. If you're in the midst of transitioning, be motivated by these quotes. There is so much waiting for you still.
11. "Retirement is like a long vacation in Las Vegas. The goal is to enjoy it the fullest, but not so fully that you run out of money." – Jonathan Clements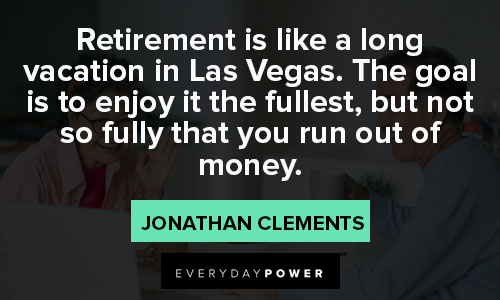 12. "I'm not just retiring from the company; I'm also retiring from my stress, my commute, my alarm clock, and my iron." – Hartman Jule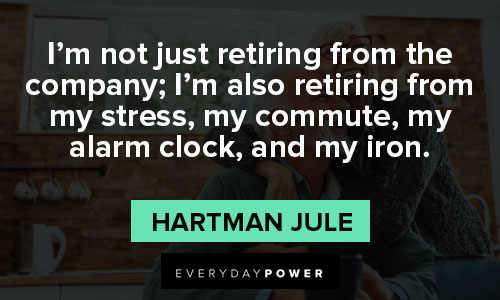 13. "A thriving new beginning can be and should be a time for amazing engagement, growth, connections, contributions, and amazing possibilities." – Lee M. Brower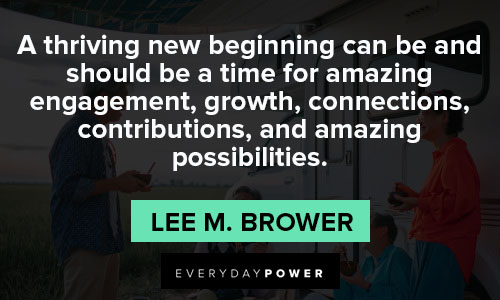 14. "Retirement is a blank sheet of paper. It is a chance to redesign your life into something new and different." – Patrick Foley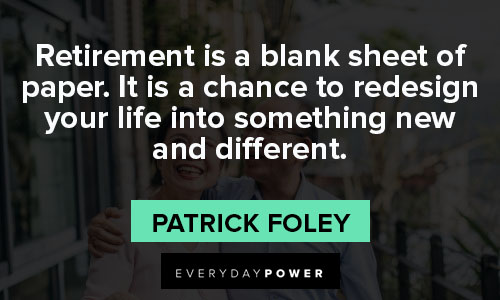 15. "Don't simply retire from something; have something to retire to." – Harry Emerson Fosdick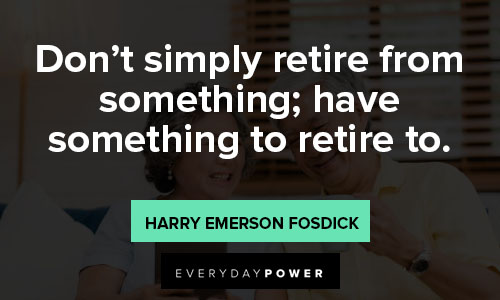 16. "If people concentrated on the really important things in life, there'd be a shortage of fishing poles." – Doug Larson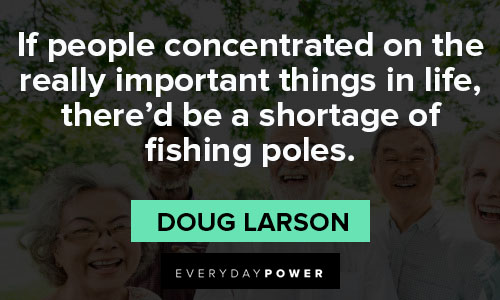 17. "You are never too old to set another goal or to dream a new dream." – C.S. Lewis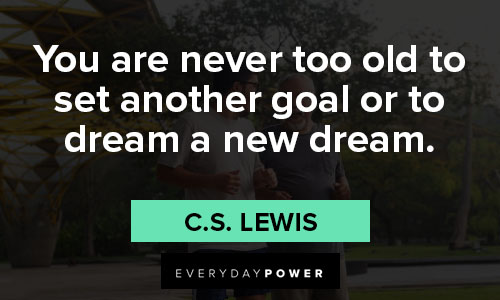 18. "Age is only a number, a cipher for the records. A man can't retire his experience. He must use it. Experience achieves more with less energy and time." – Bernard Baruch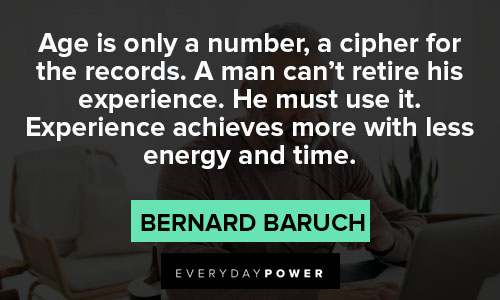 19. "Often when you think you're at the end of something, you're at the beginning of something else." – Fred Rogers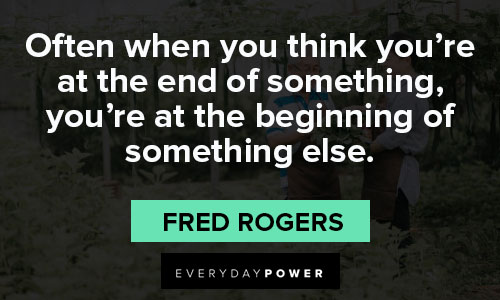 20. "How lucky I am to have something that makes saying goodbye so hard." – A. A. Milne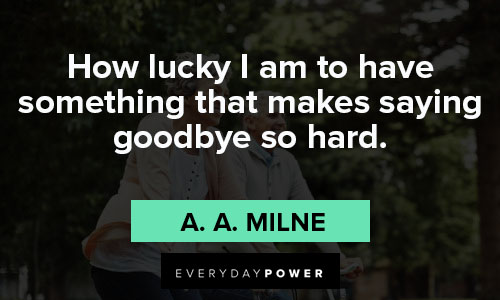 Retirement Wishes Quotes about new beginnings
Retirement brings a new sense of freedom for many people. These quotes show what retirement can mean.
21. "To some of us, retirement gives us time to follow our dreams." – Shirley Mitchell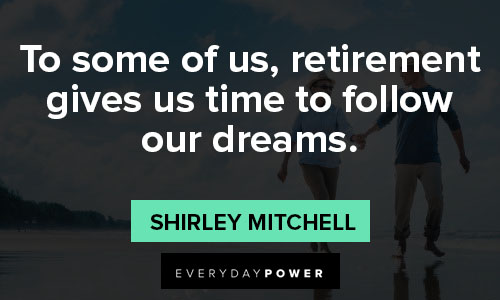 22. "You might retire from a job, but never retire from making contributions. Indeed, life is about contribution, not accumulation." – Hyrum W. Smith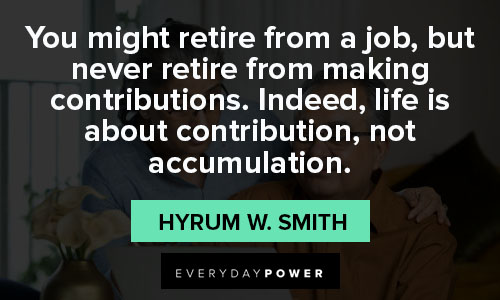 23. "I see retirement as just another of these reinventions, another chance to do new things and be a new version of myself." – Walt Mossberg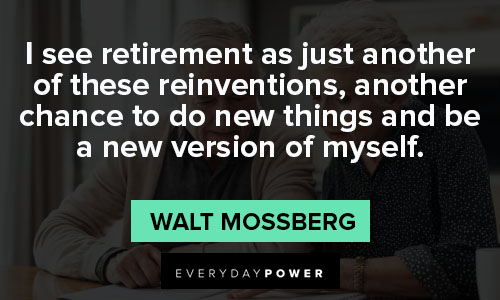 24. "Retirement is the most wonderful thing. I get to enjoy all the things I never stopped to notice on the way up. After an extraordinary life, it's time to enjoy my retirement." – Patrick Macnee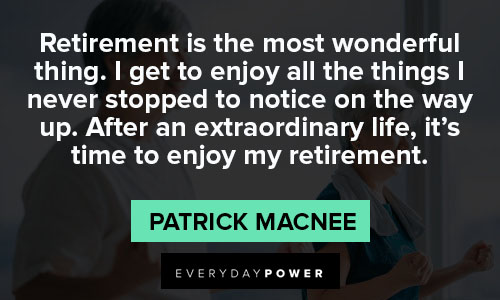 25. "I found out retirement means playing golf or I don't know what the hell it means. But to me, retirement means doing what you have fun doing." – Dick Van Dyke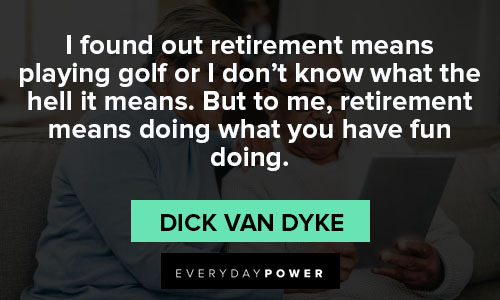 26. "Retirement, a time to do what you want to do, when you want to do it, where you want to do it and how you want to do it," – Catherine Pulsifer
27. "I wanted to have more time to play and reflect, but I find retirement more stressful than having a nice, steady job because I have to make decisions about where I want to be." – Walter Cronkite
28. "Retirement is not in my vocabulary. They aren't going to get rid of me that way." – Betty White
29. "The biggest reward for a thing well done is to have done it." – Voltaire
30. "For retirement brings repose, and repose allows a kindly judgment of all things." – John Sharp Williams
Freedom of Retirement Wishes Quotes
Retirement isn't the end, it's only the beginning for many. Find motivation in the following quotes for how you can enjoy your new found time and freedom of schedule.
31. "For many, retirement is a time for personal growth, which becomes the path to greater freedom." – Robert Delamontague
32. "Living each day as if it were your last doesn't mean your last day of retirement on a remote island. It means to live fully, authentically and spontaneously with nothing being held back." – Jack Canfield
33. "Retirement: That's when you return from work one day and say, "Hi, Honey, I'm home — forever." – Gene Perret
34. "As your life changes, it takes time to recalibrate, to find your values again. You might also find that retirement is the time when you stretch out and find your potential." – Sid Miramontes
35. "Don't act your age in retirement. Act like the inner young person you have always been." – J. A. West
36. "My father calls acting 'a state of permanent retirement with short spurts of work." – Chris Pine
37. "Stay young at heart, kind in spirit, and enjoy retirement living." – Danielle Duckery
38. "Choose a work that you love and you won't have to work another day." – Confucius
39. "My parents didn't want to move to Florida, but they turned sixty and that's the law." – Jerry Seinfeld
40. "Well, I didn't grow up with that word 'retirement' as part of my consciousness. I didn't grow up with professionals that retired. I thought retiring was when you are tired and go to bed." – Ruby Dee
Funny Retirement Wishes Quotes
It's always good to find the lighter side of situations and big transitions. These retirement quotes will show you the fun that's waiting.
41. "There's never enough time to do all the nothing you want." – Bill Waterson
42. "Retirement at sixty-five is ridiculous. When I was sixty-five I still had pimples." – George Burns
43. "Retirement is wonderful. It's doing nothing without worrying about getting caught at it." – Gene Perret
44. "When a man retires and time is no longer a matter of urgent importance, his colleagues generally present him with a watch." – R.C. Sheriff
45. "We spend our lives on the run: we get up by the clock, eat and sleep by the clock, get up again, go to work—and then we retire. And what do they give us? A bloody clock!" – Dave Allen
46. "When men reach their sixties and retire, they go to pieces. Women go right on cooking." – Gail Sheehy
47. "I will not retire while I've still got my legs and my make-up box." – Bette Davis
48. "Congratulations! Today is your day. You're off to great places. You're off and away!" – Dr. Suess
49. "Retirement: No job, no stress, no pay!" – Unknown
50. "Retirement is the only time in your life when time no longer equals money." – Unknown
Which of these Retirement Wishes Quotes do You Like the Most ?
Retirement shouldn't be a reason to stop living an active and happy life.
In fact, many people feel they truly start to live the life they desire once retirement begins.
Their time is now their to control, which can allow them to do more of the activities they enjoy, including traveling since they don't have to be at work anymore.
When coworkers, family, or friends retire, it's a time for celebration.
They have spent years puting in the hardwork and you can help them celebrate their achievements as they transition into retirement.
The retirement wishes quotes above can be a great starting point if you're looking for what message to write to them.
Did we leave any out? Share your favorite retirement wishes quote in the comments.