73 Lizzo Quotes to Encourage You to Love Yourself More
In the lyrical universe of Lizzo, each empowering quote resonates as a manifesto of self-love, confidence, and unapologetic authenticity!
She invites us into a space where her words become anthems for embracing individuality and celebrating life's vibrant spectrum.
One minute, you might be madly in love, and then the next, you are celebrating your breakup.
What do you love the most about singer Lizzo?
Known for being a prominent voice in the body-positivity movement and creating inspirational chart-topping tracks, Lizzo is a singer, songwriter, and rapper.
She catapulted to the top of the charts in 2019 with her 2017 single "Truth Hurts."
The single ended up reaching number 1 on the Billboard Hot 100 List.
As someone who struggled with self-acceptance in the past, Lizzo is now encouraging millions of fans around the world to accept themselves for who they are.
Check out the quotes below to take a peek inside the world of Lizzo. 
Lizzo quotes on self-love
1. "If I'm shinin', everybody gonna shine. I was born like this, don't even gotta try." – Lizzo, "Juice"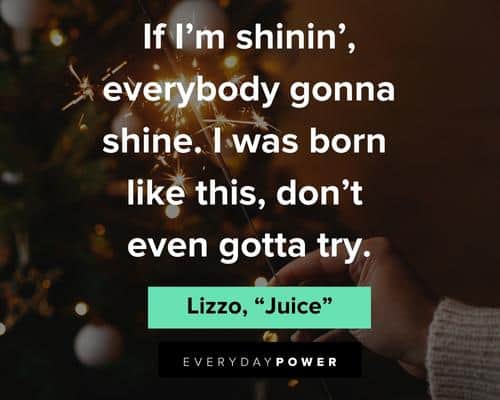 2. "Thick thighs save lives." – Lizzo, "Tempo"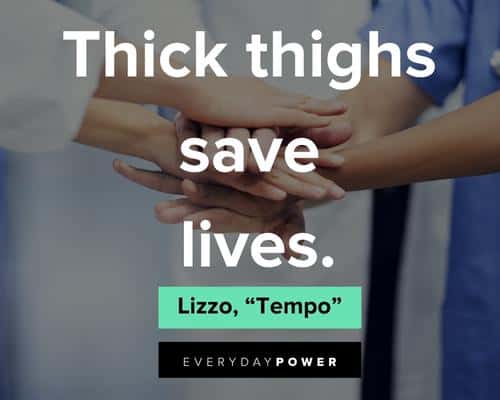 You will also enjoy our article on I'm tired quotes.
3. "I am my inspiration." – Lizzo, "Water Me"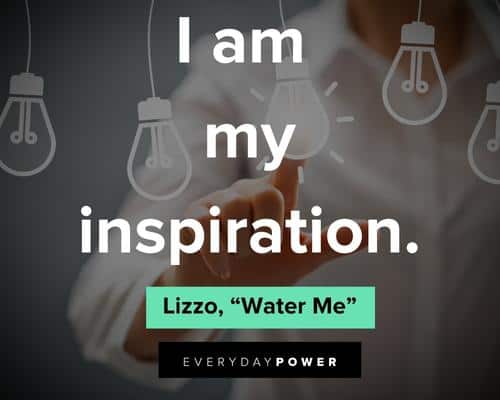 You will also enjoy our article on love yourself quotes.
4. "I know I'm a queen but I don't need no crown." – Lizzo, "Soulmate"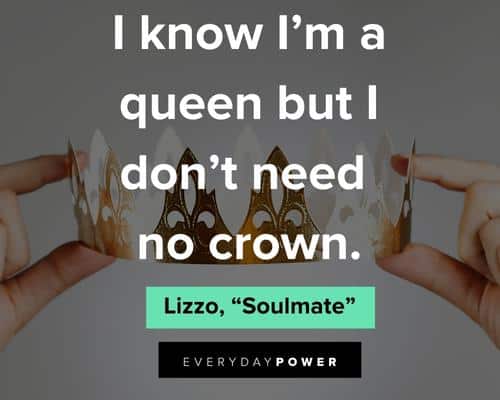 You will also enjoy our article on black women quotes.
5. "I'm like chardonnay, get better over time." – Lizzo, "Juice"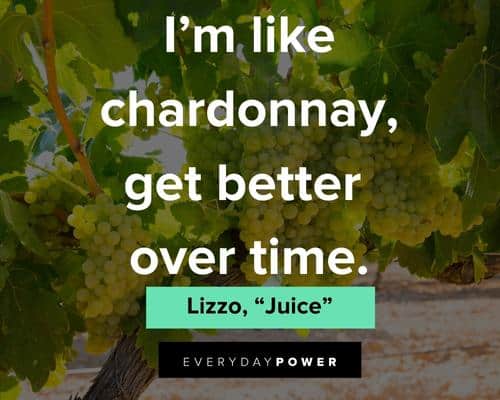 You will also enjoy our article on self esteem quotes.
6. "I'm just as thick as my skin is." – Lizzo, "Let 'Em Say"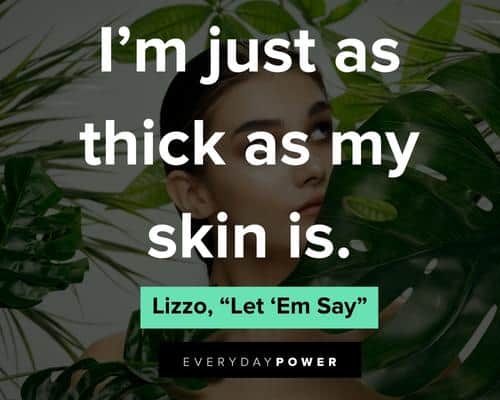 7. "I just took a DNA test, turns out I'm 100% that bitch." – Lizzo, "Truth Hurts"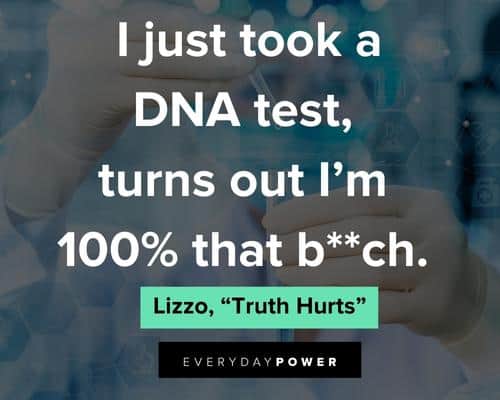 8. "No, I'm not a snack at all. Look, baby, I'm the whole damn meal. – Lizzo, "Juice"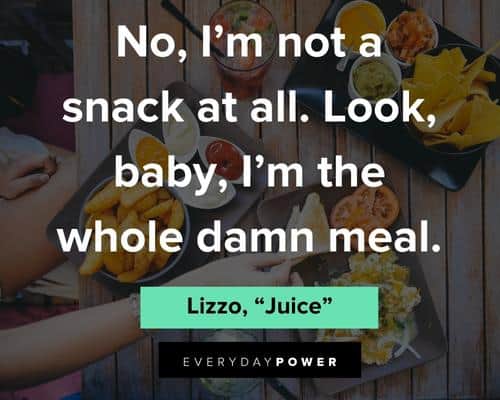 9. "Never ever let somebody stop you or shame you from being yourself." – Lizzo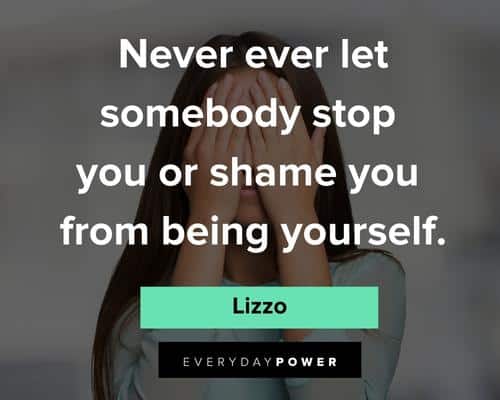 10. "I finally realised that owning up to your vulnerabilities is a form of strength." – Lizzo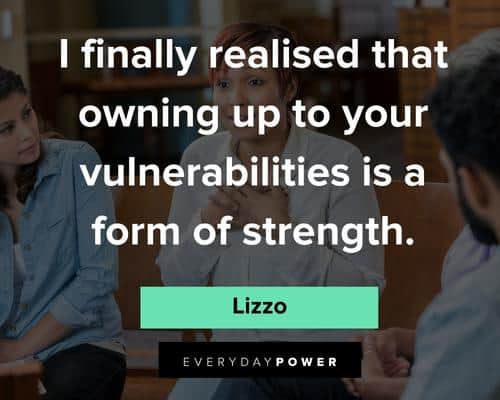 More lizzo quotes on self-love
11. "I'm tired of the bullshit. And I don't have to know your story to know that you're tired of the bullshit too. It's so hard trying to love yourself in a world that doesn't love you back, am I right?" – Lizzo
12. "I just want everyone to remember if you can love me. You can love yourself. Every single day. If you can love my big black ass at this tiny, tiny little desk, you can love yourself." – Lizzo
13. "I'm doing this for myself. I love creating shapes with my body, and I love normalizing the dimples in my butt or the lumps in my thighs or my back fat or my stretch marks. I love normalizing my black-ass elbows. I think it's beautiful." – Lizzo
14. "I don't think that loving yourself is a choice. I think that it's a decision that has to be made for survival. " – Lizzo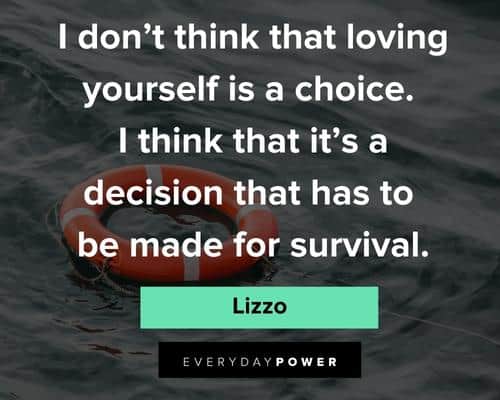 15. "Even when body positivity is over, it's not like I'm going to be a thin white woman. I'm going to be black and fat. That's just hopping on a trend and expecting people to blindly love themselves. That's fake love. I'm trying to figure out how to actually live it." – Lizzo
16. "It's like, you're not gonna wake up and be bigger or smaller or lighter or darker; your hair's not gonna suddenly grow down past your knees. You're going to look this way for the rest of your life. And you have to be OK with that." – Lizzo
17. "Self-care is in the little moments — bathing, sweating, washing your hair.. it's in laughing so hard you can barely catch a breath, your lungs expanding on a morning jog… now more than ever we need to enjoy the quiet within ourselves." – Lizzo
18. "I'm really proud of you – because life comes at you fast, and sometimes it can be so hard, but if I can make it, I know you can make it. We can make it together." – Lizzo
19. "I work on myself daily to be a better person. When I react in a negative way to somebody, I sit back and think about why I did it, so I'm always working on myself, and my music is the same." – Lizzo
20. "Everyone looks to an artist for something more than just the music, and that message of being comfortable in my own skin is number one for me." – Lizzo
21. "Dress for your body type. Some people are blessed enough to be able to throw on something that Beyonce wears and it looks amazing. If I try to go against the grain and wear something that my body doesn't like, it's going to show." – Lizzo
22. "I get flowers every Sunday. I'ma marry me one day." – Lizzo, "Soulmate"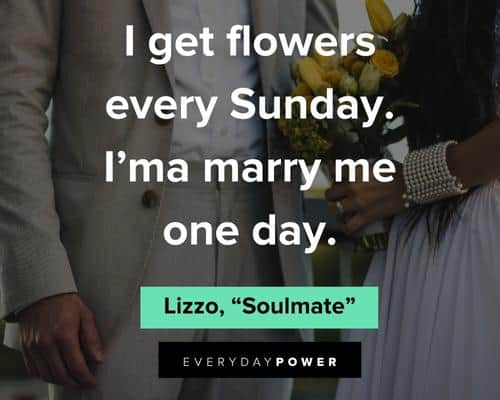 23. "I've never been 'sample size.' I'll never be 'sample size' … And I ain't 'plus-sized' I'm MY SIZE." – Lizzo
Lizzo quotes on love
24. "If he don't love you anymore, just walk your fine ass out the door." – Lizzo, "Good as Hell"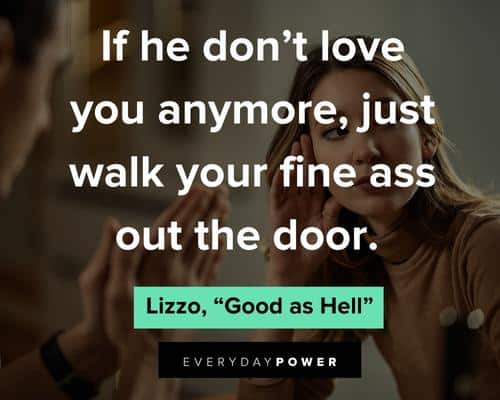 25. "He better know my worth. There's so much that I deserve." – Lizzo, "Good as Hell"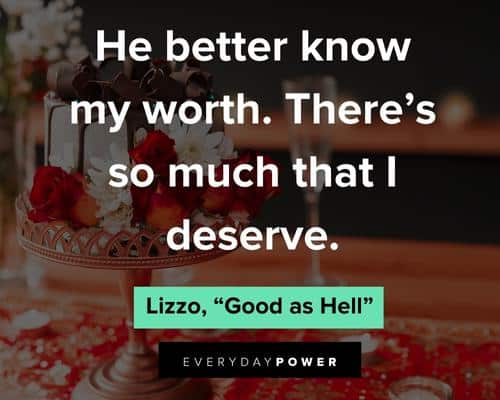 26. "Who told you that you stood a chance with this royalty? / You're so sweet, bless your heart / Can't let a pretty face distract me from business." – Lizzo, "Jerome"
27. "I swore you'd never see this side, but it's so hard to say goodbye. I don't need to apologize. Us big girls gotta cry." – Lizzo, "Crybaby"
28. "Why're men great, 'til they gotta be great?" – Lizzo, "Truth Hurts"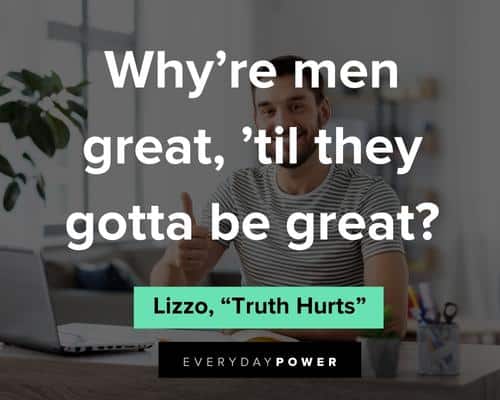 Lizzo quotes on career
29. "Eight years of touring, giving out free tickets to my undersold shows, sleepless nights in my car, losing my dad and giving up on music, playing shows for free beer and food w/ -32$ in my bank account, constantly writing songs, hearing 'no' but always saying 'yes'." – Lizzo
30. "I've done so many tours, but nobody knows who I am until this year. But would I have been able to maintain this type of mainstream success 10 years ago? Hell to the nah! I needed this 10 years. I feel like a master." – Lizzo
31. "I feel like I've started to create my own culture of being a voice for something, and that's what people want to know about. I love that because I am a woman and because I a rap, and I look the way I look, I can connect with the demographic of people who feel like they have a voice in me." – Lizzo
32. "I was so moved by music that I wanted to create it as well, but once you decide that's what you want to do with your life, to be successful, you have to be business-minded, too." – Lizzo
33. "I like that I'm not typical. I like that I'm called 'no-genre hip-hop.'" – Lizzo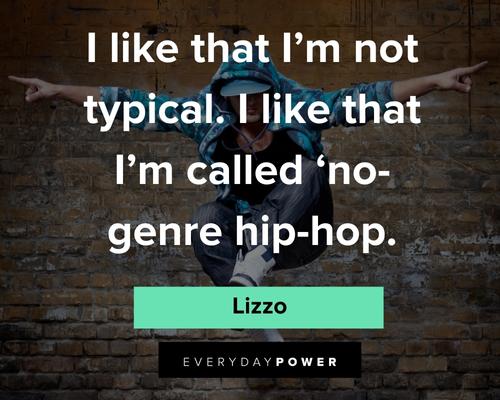 34. "When I was 19, I joined a rock band, and that's when I began to say, 'Okay, this is something that I could take seriously.' When I came to Minneapolis, it just refined everything." – Lizzo
35. "Seeing people catch a feeling in their spirit and sprint the aisles of the church while my cousins played driving, uplifting gospel stuck with me. I let that same feeling wash over me when I experience and perform music." – Lizzo
36. "My movement is for everybody. My movement celebrates diversity. It's all about inclusion. It's all about getting our flowers and giving each person their own space to be an individual and speak up for that individuality." – Lizzo
37. "I started writing these love songs to myself, and so my music is about love but it's self-love…Dudes come and go, they'll break your heart, unbreak your heart, and I think that I could never break my own heart." – Lizzo
38. "You know what I want, above all things? I want people who are aware of my music right now, to believe in change." – Lizzo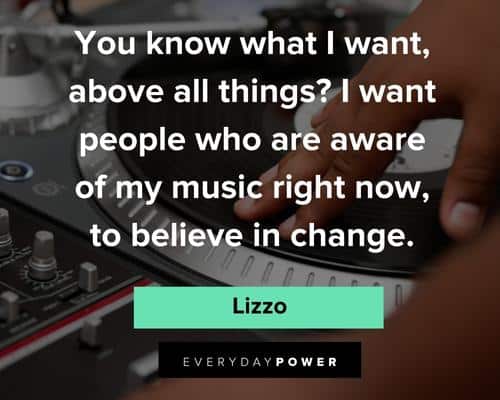 Also, check out these Shawn Mendes quotes that reveal his perspective on love, life, and fame.
Lizzo quotes on life lessons
39. "Growing up is acting less childish and being more child-like." – Lizzo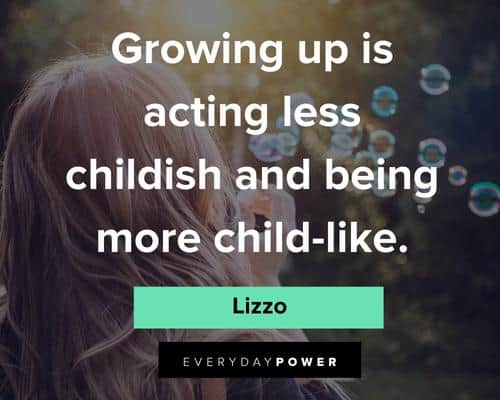 40. "The internet isn't reality. The things people are typing are words in an app you can choose to ignore. Put your phone down, close your eyes, count to 10. Think about how you can make the world a better place in the real world. We need you out here." – Lizzo
41. "Made a decision to enjoy life. No more uncontrollable anxiety. No more fruitless competition." – Lizzo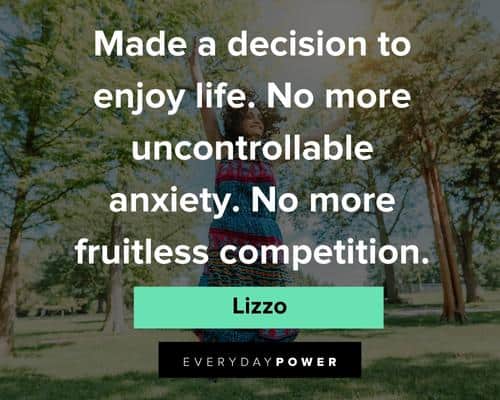 42. "Love Yourself. Eat like you love yourself. Drink water like you love yourself." – Lizzo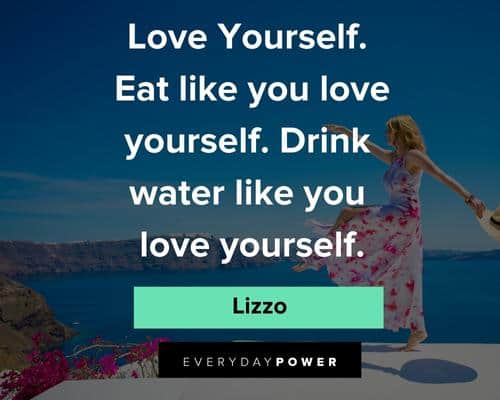 43. "Give your growth time ― it took me 10 years and I'm still not 100% there." – Lizzo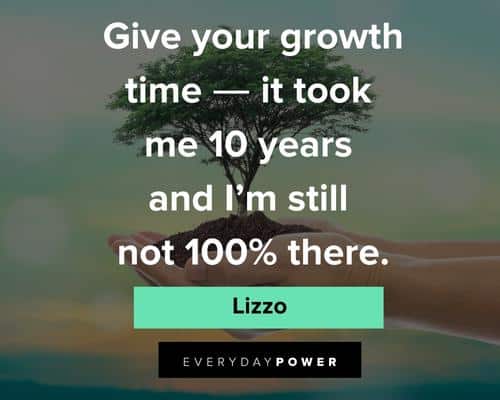 Lizzo quotes on upbringing
44. "My mother and father taught me about black excellence and dynasty. They experienced racism personally, and when something like that happens to you and not around you, you develop a different perception than someone who has never experienced racism a day in their lives." – Lizzo
45. "My formative years were in Houston. I was in middle school, and everyone was dropping the last half of their names and adding an 'o' to the end. My little crew that I had, we were an all-female rap group, and everyone had an 'o' at the end of their name. I was Lisso. Then this dude started getting lazy with it, saying Lizzo." – Lizzo
46. "I spent a lot of time star-gazing, writing, and learning languages when the other kids were doing cooler things in Detroit." – Lizzo
47. "When I was born, my father named me Melissa, and I am still Melissa, but I got the nickname Lizzo around the time I was in the Cornrow Clique." – Lizzo
48. "I'm not a girl who started getting into music and using my femininity to get attention. When I was getting into it, it was all pure skill." – Lizzo
49. "Minneapolis just embraced me. There are a lot of weirdos here. It's awesome, because I'm a weirdo. Thankfully, the city embraced me with open arms. A lot about Minneapolis helped carve my musicality and open my eyes. The whole town is so open-minded compared to like, you know, Texas." – Lizzo
50. "When I first saw Destiny's Child, I was in the fifth grade, and it made me want to sing and make music, and there would be these freestyles on the radio for what seemed like hours; it was just so cool to me." – Lizzo
51. "Just about anybody is a big girl in a small world but you gotta believe it on the inside, that you can be bigger than the rest of it." – Lizzo
52. "I knew a lot of girls who just wanted to be famous, and if that's your goal, that's awesome; that just wasn't enough for me." – Lizzo
53. "If you are confident in yourself and however you want yourself to be presented, and you're doing well and doing it because you want to do it and not because someone is pressuring you, then more power to you." – Lizzo
For more inspiration, be sure to also read these Nipsey Hussle quotes to help you fight for your dreams.
Lizzo Quotes to Empower You
54. "I finally realized that owning up to your vulnerabilities is a form of strength." – Lizzo
55. "Humanize me." – Lizzo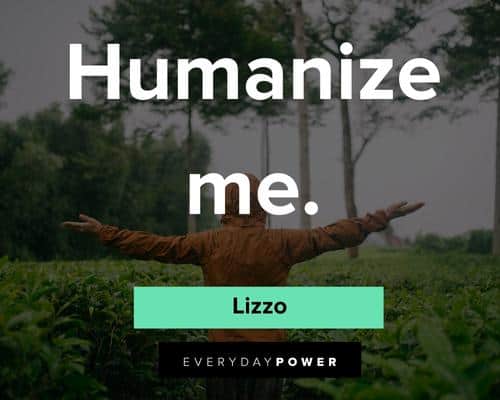 56. "I got an A in self-esteem." – Lizzo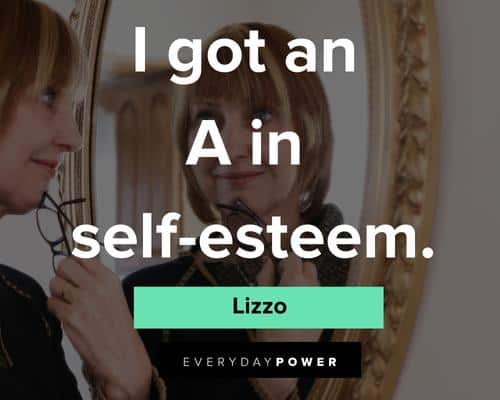 57. "So much Prada on me, I'm a prodigy. I'ma do my thing, no apologies." – Lizzo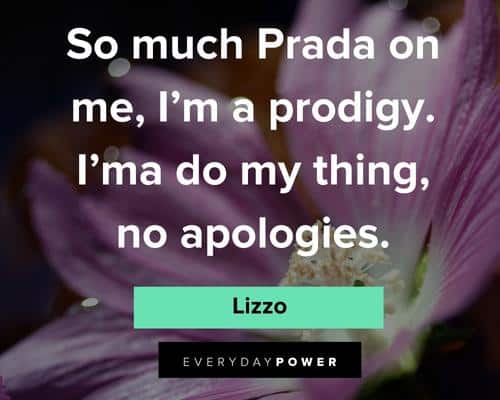 58. "Woo girl, need to kick off your shoes / Got to take a deep breath, time to focus on you." – Lizzo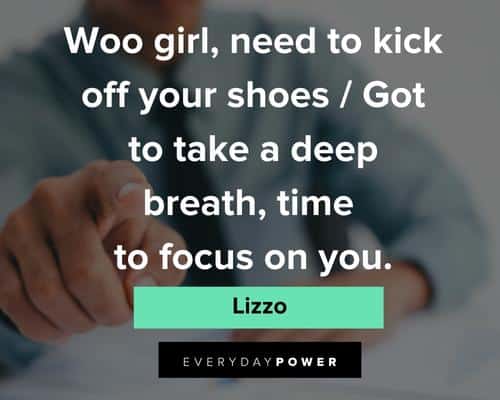 59. "Got me, it's the only thing I'll ever need." – Lizzo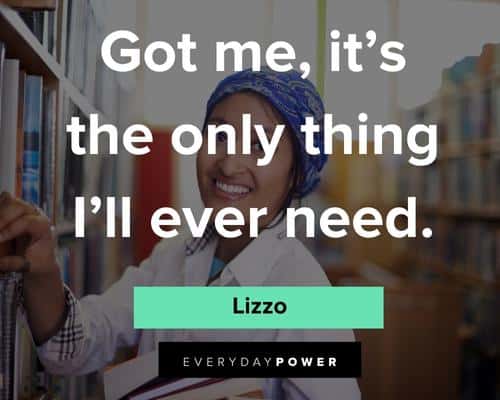 60. "Mirror, mirror on the wall, tell me what you see / It's that, oh my God, it's lookin' heavenly." – Lizzo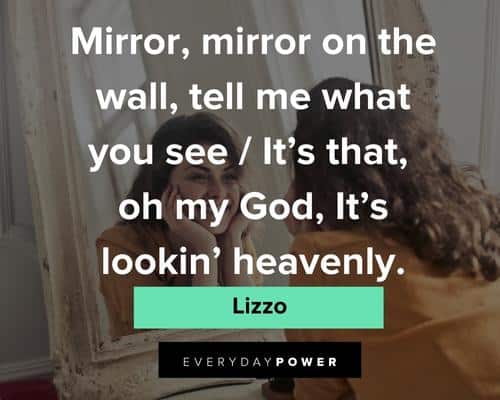 61. "You know you a star, you can touch the sky." – Lizzo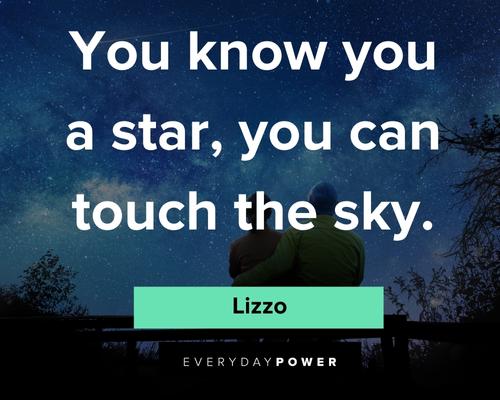 62. "Cause I'm my own soulmate." – Lizzo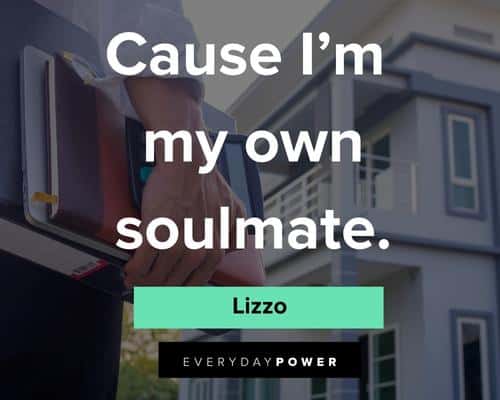 63. "Woke up feelin' like I just might run for president. Even if there ain't no precedent, switchin' up the messaging. I'm about to add a little estrogen." – Lizzo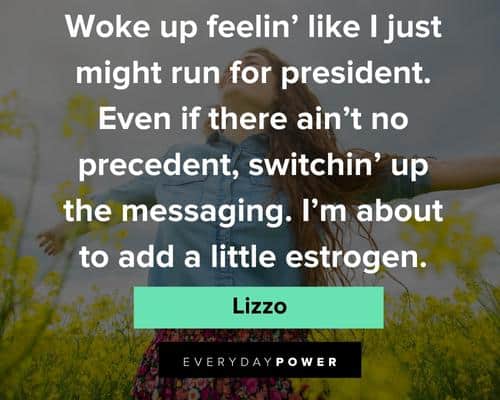 Powerful Lizzo QUotes To Love Yourself
64. "I'm so much more than brave because I actually present that. I have a whole career. It's not a trend." — Lizzo
65. "Got nothing to prove, but I'mma show you how I do." — Lizzo
66. "Don't worry about the small things. I know I can do all things." — Lizzo
67. "Love me or hate me. Ooh, I ain't changing, and I don't give a f*ck, no." — Lizzo
68. "I have nothing to hide. There's no shame anymore. I just post myself. It's like, you take me as I am. You don't have to love me." — Lizzo
69. "I'm all about body positivity and self-love because I believe that we can save the world if we first save ourselves." — Lizzo
70. "True love finally happens when you by yourself." — Lizzo
71. "How can you be in love with someone when you're not even you?" — Lizzo
72. "Boss up and change your life. You can have it all, no sacrifice." — Lizzo
73. "I deserve the spotlight. I deserve the attention. I'm talented. I'm young. I'm hot. You know? And I've worked hard. I had to blaze a trail. There was no Lizzo before Lizzo." — Lizzo
What's your favorite Lizzo song?
One of the many reasons why fans all around the world have fallen in love with Lizzo is that she isn't afraid to be 100% herself.
She's open about her long journey to self-acceptance.
Constantly she reminds fans that there is a light at the end of that tunnel.
Take a page from Lizzo's book and incorporate some positive affirmations into your morning routine.
For example, you could say something as simple as "I am enough."
Repeat it until you believe it.
Words hold a lot of weight, and you may be surprised how taking an extra minute to be kind to yourself can positively affect your entire day.
Is there an awesome Lizzo quote or lyric that we forgot?
What's your favorite live Lizzo performance?
Tell us what you're thinking in the comments section below.