October Quotes to Welcome The Fall
These October quotes remind us about the beauty of nature, and the colorful masterpiece that is October.
These are just a few of the things to appreciate about October.
A common theme of these October quotes seems to be that there is just something magical about October, and I am inclined to agree.
Tell us your favorite October quote in the comment section below.
What are the benefits of reading these October quotes?
I always joke that I have seasonal depression in reverse.
I am miserable in the summer, but I'm like a whole new person when:
the air turns crisp
all things pumpkin spice come back
If you feel invigorated with life and your goals come in October, then you know precisely what I mean.
There are several quotes that left me feeling attuned and even more in love with my favorite month.
Of course, it wouldn't be October without a few Halloween quotes!
There are plenty of reasons to love October; hopefully, these quotes remind you of a few!
If you love this quote collection, read out our most popular quote article about short inspirational quotes for daily motivation.
If you need more inspirational quotes, check out our motivational quotes category page.
October quotes about its nature and beauty
1. "October, baptize me with leaves! Swaddle me in corduroy and nurse me with split pea soup. October, tuck tiny candy bars in my pockets and carve my smile into a thousand pumpkins. O autumn! O teakettle! O grace!" ― Rainbow Rowell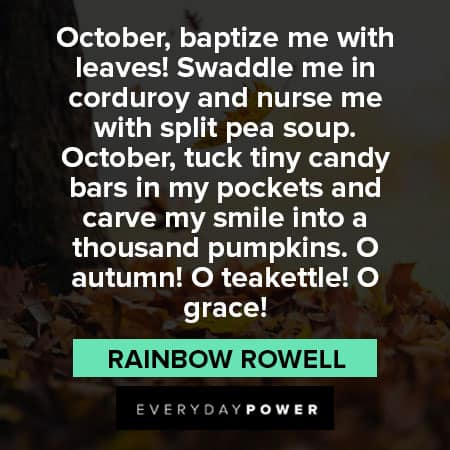 You will also enjoy our article on November quotes.
2. "The crickets still sing in October. And Lilly, she's trying to bloom. Though she's resting her head on the shoulder of death, she still shines by the light of the moon." ― Kevin Dalton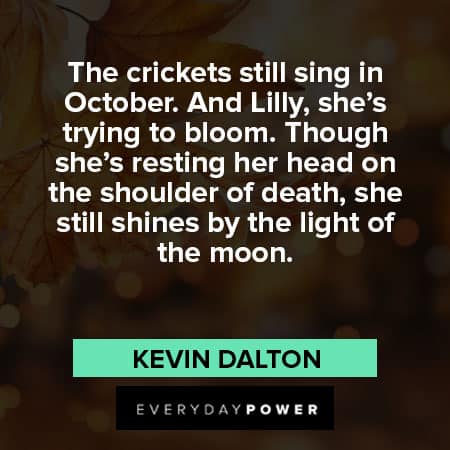 You will also enjoy our article on welcome quotes.
3. "Ah, Lovely October, as you usher in the season that awakens my soul, your awesome beauty compels my spirit to soar like a leaf caught in an autumn breeze and my heart to sing like a heavenly choir." ― Peggy Toney Horton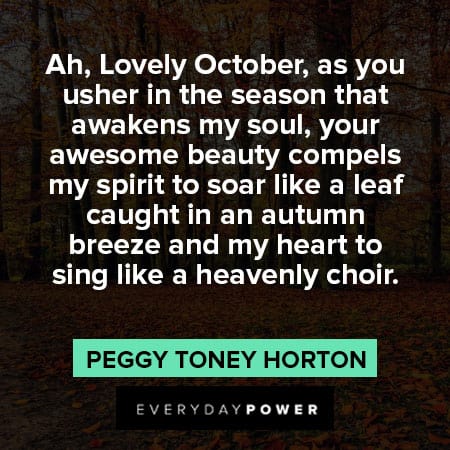 You will also enjoy our article on orange quotes.
4. "This tree must be falling for me. As soon as I sat under it, it dropped its leaves. Oh, sweet October!" ― Charmaine J Forde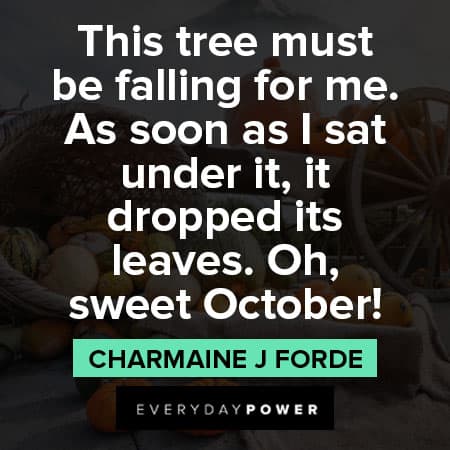 You will also enjoy our article on forest quotes.
5. "You don't waste October sunshine. Soon the old autumn sun would bed down in cloud blankets, and there would be weeks of gray rain before it finally decided to snow." ― Katherine Arden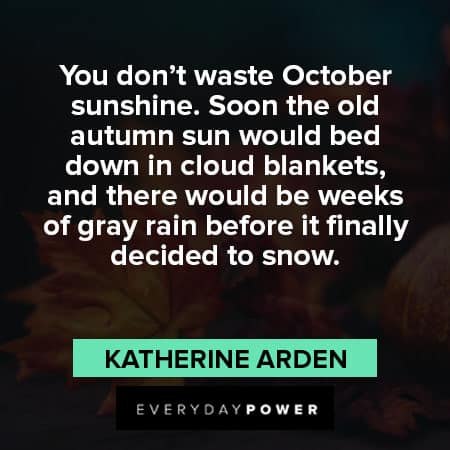 You will also enjoy our article on full moon quotes.
6. "The fallen leaves in the forest seemed to make even the ground glow and burn with light." ― Malcolm Lowry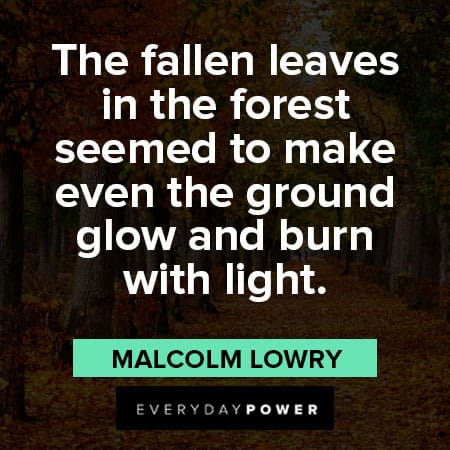 7. "The clear light that belongs to October was making the landscape radiant." — Florence Bone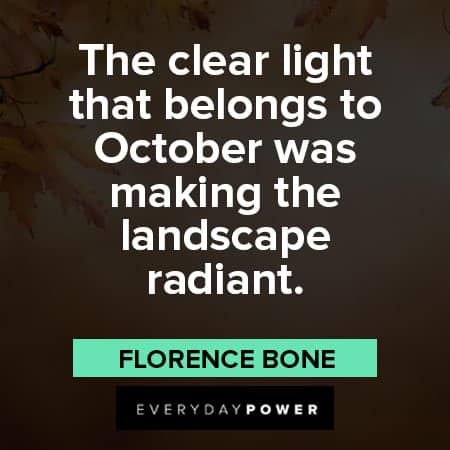 8. "October extinguished itself in a rush of howling winds and driving rain and November arrived, cold as frozen iron, with hard frosts every morning and icy draughts that bit at exposed hands and faces." — J. K. Rowling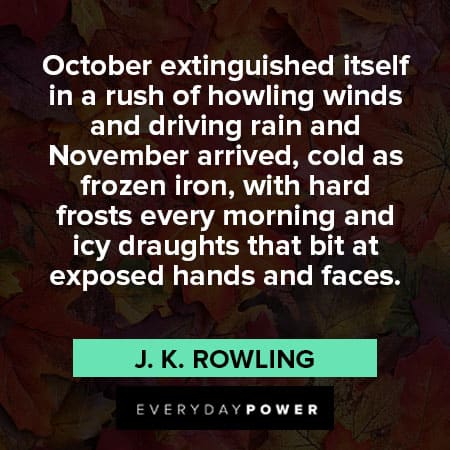 9. "September is dressing herself in showy dahlias and splendid marigolds and starry zinnias. October, the extravagant sister, has ordered an immense amount of the most gorgeous forest tapestry for her grand reception." — Oliver Wendell Holmes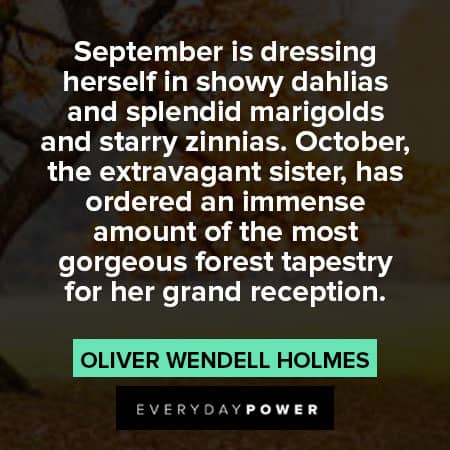 10. "Autumn serenades the breeze into dancing a cha cha cha; the mountains echo in the background. October sky never looked more charming nor the sublime leaves of the trees so graceful." ― Avijeet Das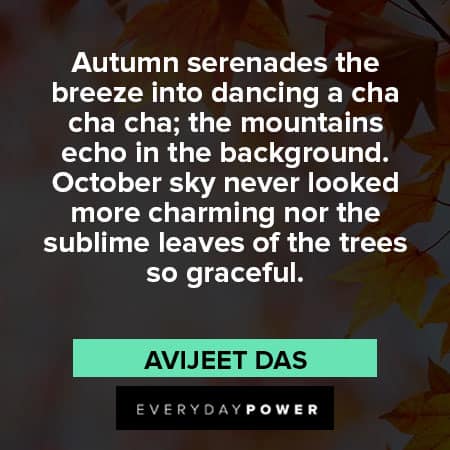 11. "Autumn flings her fiery cloak over the sumac, beech and oak." ― Susan Lendroth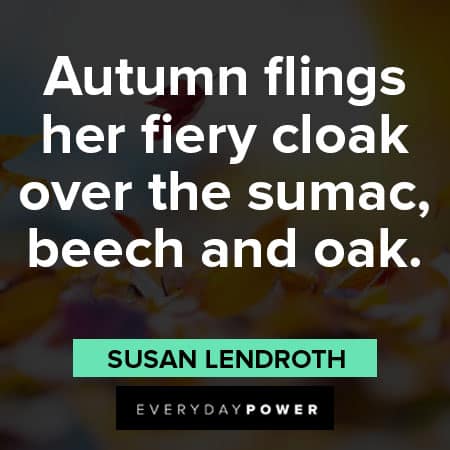 If you're enjoying these quotes, you'll love our collection of Autumn quotes that show the beauty of the season.
October quotes that you'll feel in your soul
12. "There is something in October sets the gypsy blood astir: We must rise and follow her When from every hill of flame She calls and calls each vagabond by name." ― William Bliss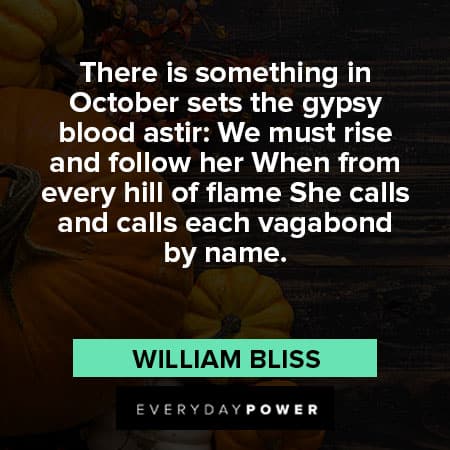 13. "October had tremendous possibility. The summer's oppressive heat was a distant memory, and the golden leaves promised a world full of beautiful adventures. They made me believe in miracles." ― Sarah Guillory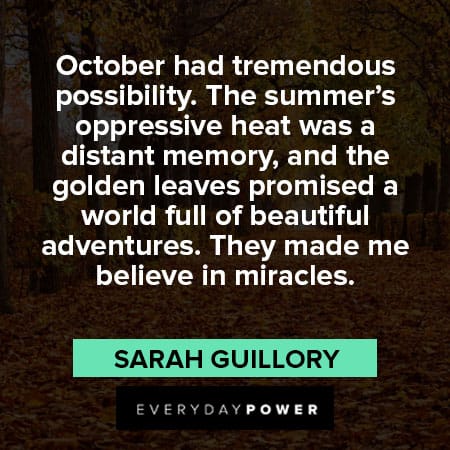 14. "A boy who loved Autumn. A girl who was forever October." ― Nitya Prakash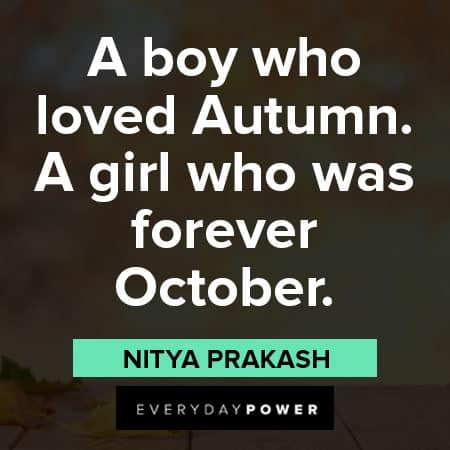 15. "Gardeners are never wicked, are they?' said Ruth. 'Obstinate and grumpy and wanting to be alone, but not wicked. Oh, look at that creeper! I've always loved October so much, haven't you? I can see why it's called the Month of the Angels." ― Eva Ibbotson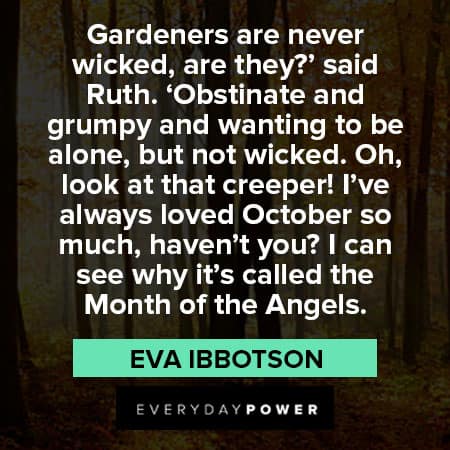 16. "He loved October. Had always loved it. There was something sad and beautiful about it – the ending and beginning of things." ― Jacqueline Woodson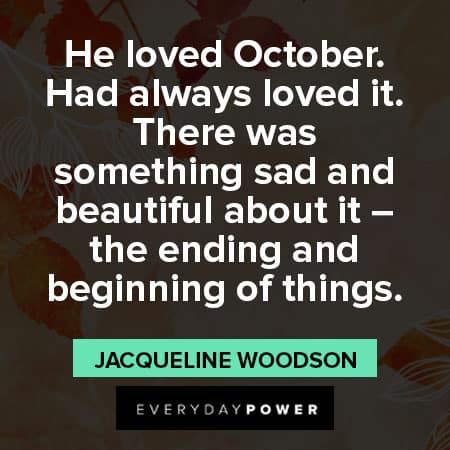 17. "In October I confessed my love for her, and she allowed me to kiss her." ― Ivan Bunin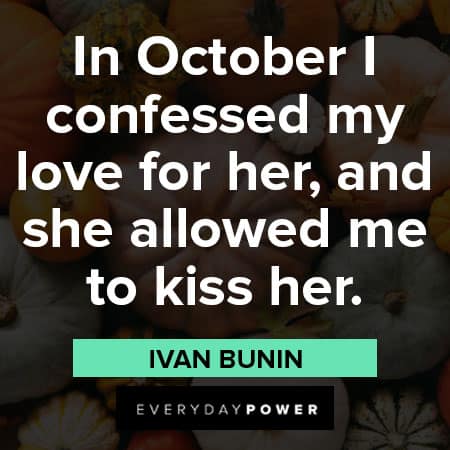 18. "Ah, September! You are the doorway to the season that awakens my soul… but I must confess that I love you only because you are a prelude to my beloved October." ― Peggy Toney Horton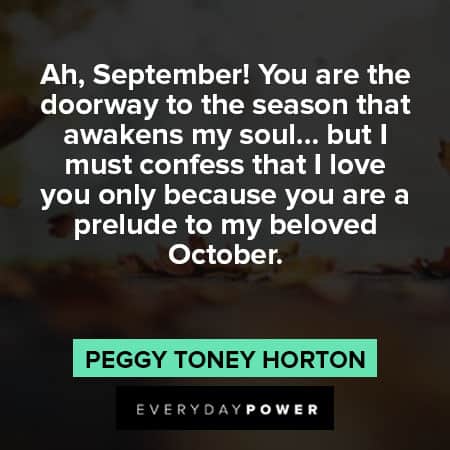 19. "October is the fallen leaf, but it is also a wider horizon more clearly seen. It is the distant hills once more in sight, and the enduring constellations above them once again." — Hal Borland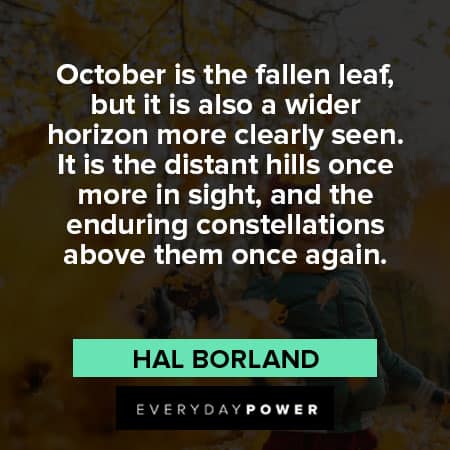 20. "The end of the summer is not the end of the world. Here's to October…" — A.A. Milne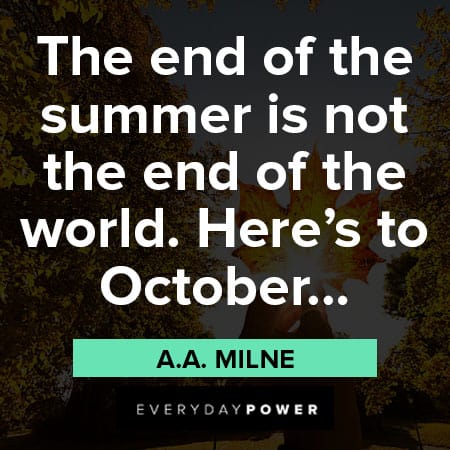 21. "October is crisp days and cool nights, a time to curl up around the dancing flames and sink into a good book." — John Sinor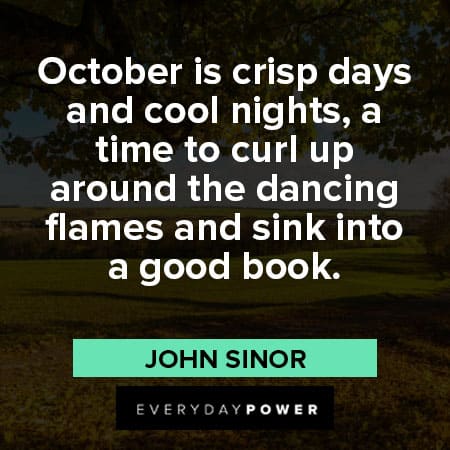 22. "And all at once, summer collapsed into fall." ― Oscar Wilde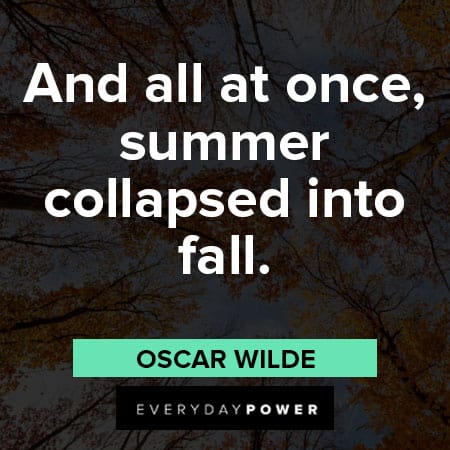 23. "October sunshine bathed the park with such a melting light that it had the dimmed impressive look of a landscape by an old master." ― Elizabeth Enright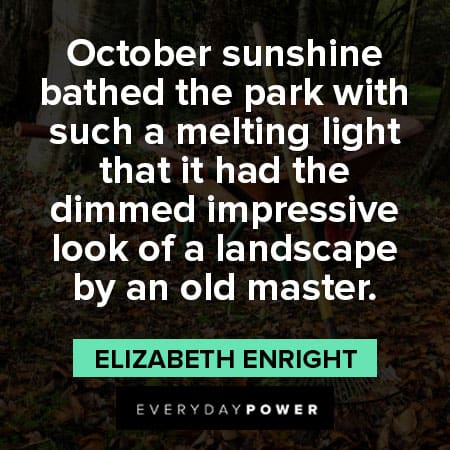 If you're enjoying these quotes, check out our collection of summer quotes to celebrate the season of outdoor exploration and fun.
Colorful October quotes
24. "I remember it as October days are always remembered, cloudless, maple-flavored, the air gold and so clean it quivers." ― Leif Enger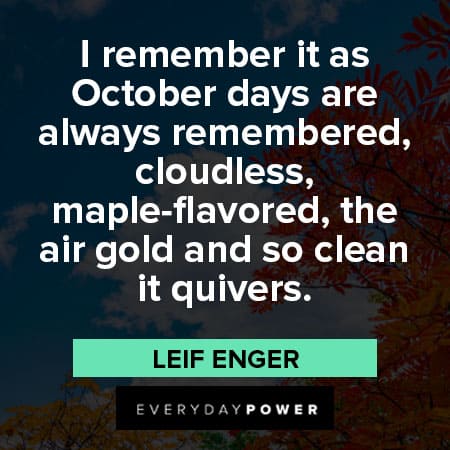 25. "It must be October, the trees are falling away and showing their true colors." ― Charmaine J Forde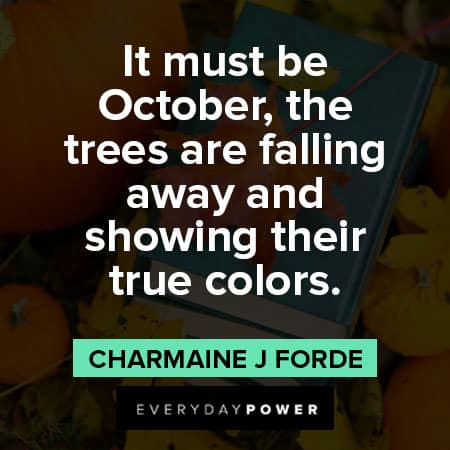 26. "Falling in love with October. Leaves descending to the ground, orange, magenta, green & brown. The cool crisp breezes in the air, Autumn season must be here."― Charmaine J Forde
27. "October is a fine and dangerous season in America. It is dry and cool, and the land is wild with red and gold and crimson, and all the lassitudes of August have seeped out of your blood, and you are full of ambition. It is a wonderful time to begin anything at all. You go to college, and every course in the catalog looks wonderful. The names of the subjects all seem to lay open the way to a new world. Your arms are full of new, clean notebooks, waiting to be filled. You pass the doors of the library, and the smell of thousands of well-kept books makes your head swim with a clean and subtle pleasure." ― Thomas Merton
28. "The dust was antique spice, burnt maple leaves, a prickling blue that teemed and sifted to earth. Swarming its own shadows, the dust filtered over the tents." ― Ray Bradbury
29. "The wind grew cold. The leaves turned red. The bark turned red. The soil turned red. The stars turned red. Something was wrong with October." ― T.R. Darling
30. "We were letting go of October, relinquishing color, readying ourselves for streets lacquered with ice, the town closed like a walnut, locked inside the cold." ― Mark Perlberg
31. "October made the leaves on Main Street fit for a crown. They dripped from the trees in jewel-toned shades: yellow and orange and fiery red. The cool wind sent a confetti-cluster of leaves down around us." ― Natalie Lloyd
32. "Autumn colors remind us we are all one dancing in the wind."― Lorin Morgan-Richards
October quotes about all things Halloween
33. "October proved a riot to the senses and climaxed those giddy last weeks before Halloween." ― Keith Donohue
34. "Pumpkins in October, as fat as the full moon, they sit on our doorstep at night and glow." ― Richelle E. Goodrich
35. "I long for the days of pumpkins and ghosts; when the dead use homes and people as hosts." ― E. Reyes
36. "October, tuck tiny candy bars in my pockets and carve my smile into a thousand pumpkins… Merry October!" — Rainbow Rowell
37. "The farther we've gotten from the magic and mystery of our past, the more we've come to need Halloween. October Dreams: A celebration of Halloween." ― Paula Curan
October quotes that show it's the best month
38. "I'm so glad I live in a world where there are Octobers." ― L. M. Montgomery
39. "Chicago is an October sort of city, even in spring." ― Nelson Algren
40. "It takes a strong man to be with a woman full of fire and stars and all of October." ― Melody Lee
41. "There is October in every November, and there is November in every December! All seasons melted in each other's life!" ― Mehmet Murat ildan
42. "Listen! The wind is rising, and the air is wild with leaves. We have had our summer evenings, now for October eves!" ― Humbert Wolfe
43. "I wish that every day was Saturday, and every month was October." ― Charmaine J. Forde
If you're enjoying these quotes, make sure to read our collection of Saturday quotes that will encourage you to have a fantastic day.
44. "What could be more exciting than an October day? It's your birthday, Fourth of July and Christmas all rolled into one." ― Peggy Toney Horton
45. "Although I was born in April, I'm quite certain I was not fully awake until October." ― Peggy Toney Horton
Funny October Quotes To Enjoy Stepping Outside
46. "I love the chill October days, when the brown leaves lie thick and sodden underneath your feet." — Jerome K. Jerome
47. "We must have football. What would this country be without football in October?" — Hunter S. Thompson
48. "I don't count on the boy who waits till October, when it's cool and fun, then decides he wants to play." — Darrell Royal
49. "It's a funny kind of month, October. For the really keen cricket fan it's when you discover that your wife left you in May." — Denis Norden
50. "I have been younger in October than in all the months of spring." — W. S. Merwin
51. "What of October, that ambiguous month, the month of tension, the unendurable month?" — Doris Lessing
52. "You ought to know that October is the first Spring month." — Karel Capek
53. "October: that's when they pay off for playing ball." — Reggie Jackson
54. "And he that will go to bed sober, Falls with the leaf still in October." — Dario Fo
55. "October is the opal month of the year. It is the month of glory, of ripeness. It is the picture-month." — Henry Ward Beecher
Did you enjoy these October quotes?
The feeling of change is everywhere in October, and I am always my most motivated this month.
Every day feels full of newness and there are so many things to look forward to!
We have all our October family traditions: pictures in the pumpkin patch, the corn maze, haunted houses, an escape room, and any other Halloween events we can find.
It is our second most fun-packed month of the year, and we always have a big Halloween-themed dinner.
We have had rat meatloaf, graveyard mashed potatoes, and food laid out like a body.
Then there is trick or treating and candy; what could be any better!
Do you have any fun traditions you do in the fall?
Do you feel the magic and wonder of this autumn month?
Share your favorite things to do, pictures of the leaves changing, and any other October quotes and sayings in the comments below.
If you loved these October quotes, please share them with your friends on social media.