89 Photography Quotes by Photographers to Inspire Your Best Pictures
Our latest collection of photography quotes on Everyday Power.
Photography makes our lives better in many ways.
With the proper camera and vision, you can get many amazing benefits from photography.
Photography affords immortality, helps document our journey through life, inspires our imagination, and acts as a wonderful stress reliever.
Photography can also be a means of discovering ourselves, bringing us closer to our natural spirituality.
Pictures are a great way to preserve new and old memories.
All in all, photography can increase the quality of your life in so many ways.
To make it even better, you don't need expensive camera equipment to take beautiful pictures.
Most cell phones today are capable of creating incredible awesome pictures.
To inspire you to take great pictures, below is our collection of photography quotes and sayings, collected over the years from a variety of sources.
Also check out our Ansel Adams quotes for additional inspiration.
Also, check out our most popular quote article, a list of short inspirational quotes for daily wisdom.
See the rest of our quote database for even more inspirational ideas and thoughts.
Photography Quotes by Photographers to Inspire Your Best Pictures
1. "The more you photograph, the more you realize what can and what can't be photographed. You just have to keep doing it."– Eliot Porter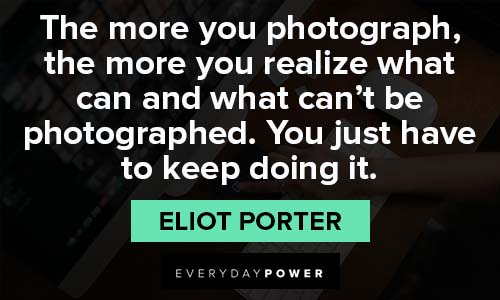 You will also enjoy our article on pictures quotes.
. "In photography there is a reality so subtle that it becomes more real than reality."– Alfred Stieglitz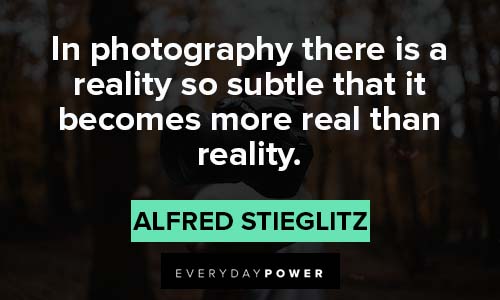 You will also enjoy our article on black and white quotes.
3. "If I have any 'message' worth giving to a beginner it is that there are no shortcuts in photography."– Edward Weston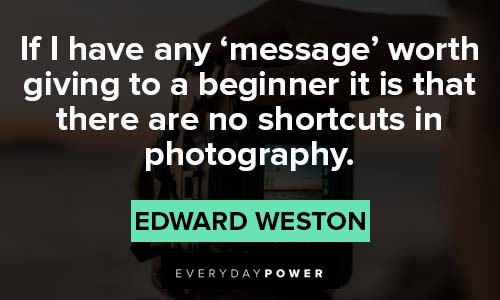 4. "Photography is a love affair with life." – Burk Uzzle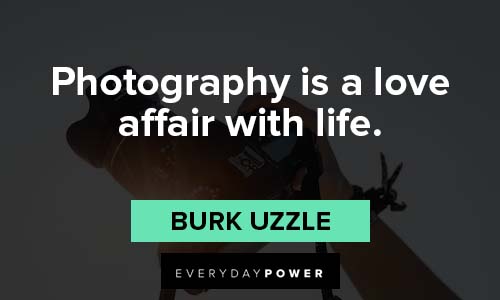 5. "Photography is the story I fail to put into words."— Destin Sparks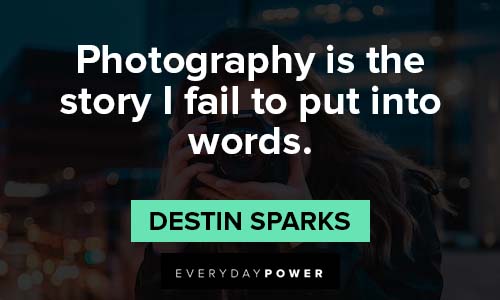 6. "A lot of photographers think that if they buy a better camera they'll be able to take better photographs. A better camera won't do a thing for you if you don't have anything in your head or in your heart."– Arnold Newman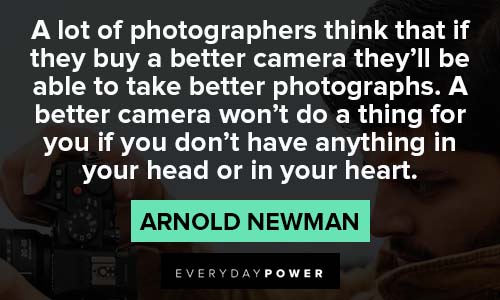 7. "Photography takes an instant out of time, altering life by holding it still."
– Dorothea Lange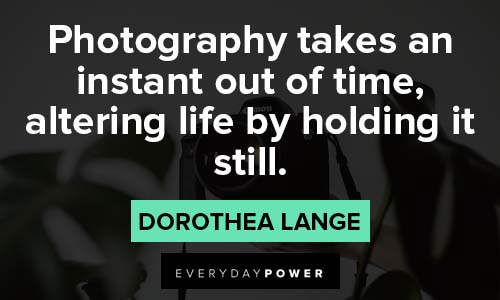 8. "Photography is an austere and blazing poetry of the real."– Ansel Adams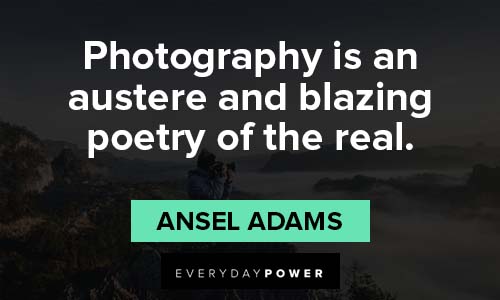 9. "A tear contains an ocean. A photographer is aware of the tiny moments in a person's life that reveal greater truths." — Anonymous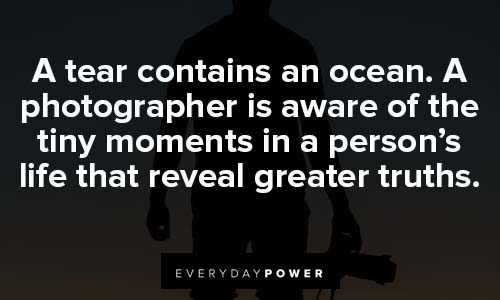 10. "It isn't the alphabet that's important. The important thing is what you are writing, what you are expressing. The same thing goes for photography." – Andre Kertesz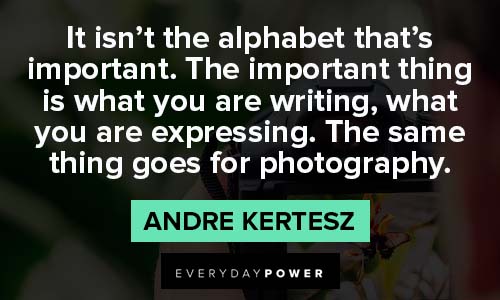 Photography quotes to help you stay inspired and motivated
11. "Look and think before opening the shutter. The heart and mind are the true lens of the camera."— Yousuf Karsh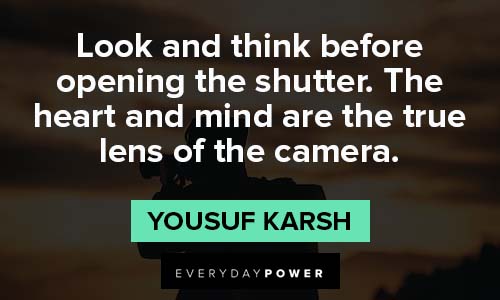 12. "Photography is a way of feeling, of touching, of loving. What you have caught on film is captured forever… It remembers little things, long after you have forgotten everything."– Aaron Siskind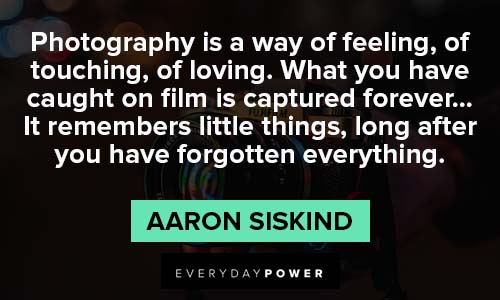 13. "I don't think there's any such thing as teaching people photography, other than influencing them a little. People have to be their own learners. They have to have a certain talent."– Imogen Cunningham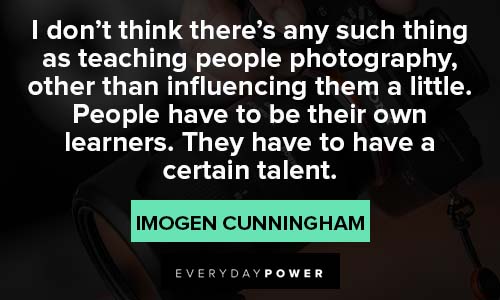 14. "Your first 10,000 photographs are your worst." – Henri Cartier-Bresson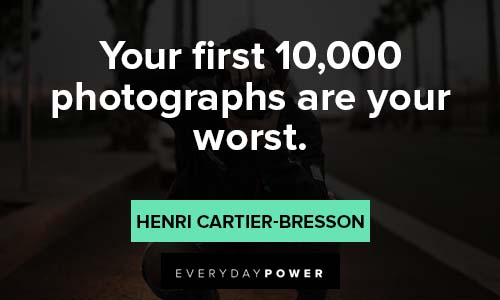 15. "Photography is truth."— Jean-Luc Godard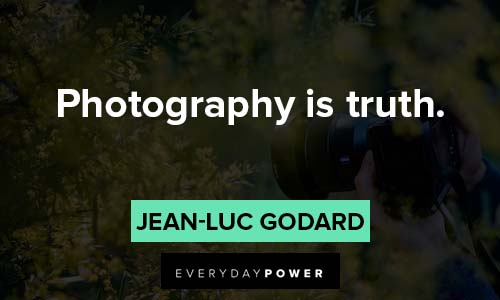 16. "The camera is an instrument that teaches people how to see without a camera." — Dorothea Lange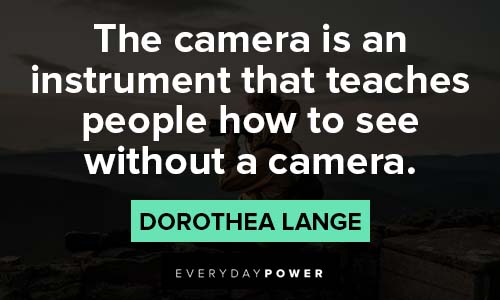 17. "A lot of people seem to think that art or photography is about the way things look, or the surface of things. […] They don't understand that it's not about a style or a look or a setup. It's about emotional obsession and empathy."- Nan Goldin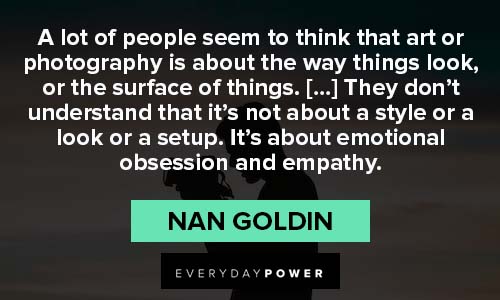 18. "The camera is much more than a recording apparatus, it is a medium via which messages reach us from another world."– Orson Welles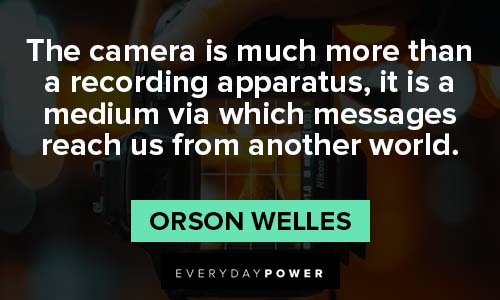 19. "Your photography is a record of your living, for anyone who really sees."- Paul Strand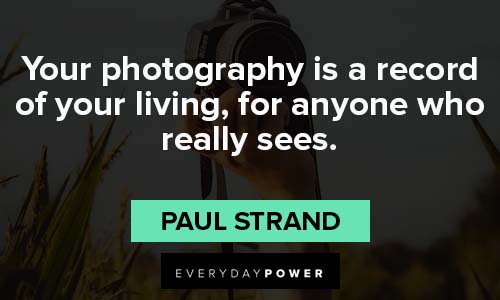 20. "Taking pictures is savoring life intensely, every hundredth of a second." ― Marc Riboud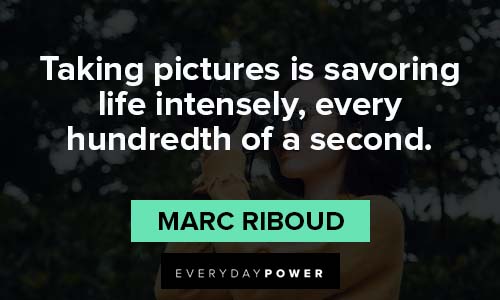 If you enjoy this article, check out our collection of framed quotes for remembering life's moments.
Photography quotes that prove a picture is worth a thousand words
21. "The picture that you took with your camera is the imagination you want to create with reality."— Scott Lorenzo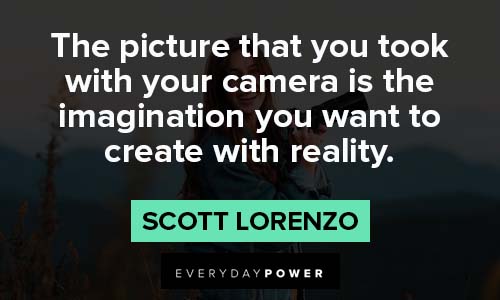 22. "We don't learn from our good images; we learn from the ones that can be improved on."– Jen Rozenbaum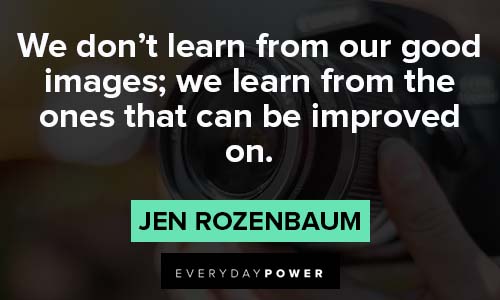 23. "Photography deals exquisitely with appearances, but nothing is what it appears to be."– Duane Michals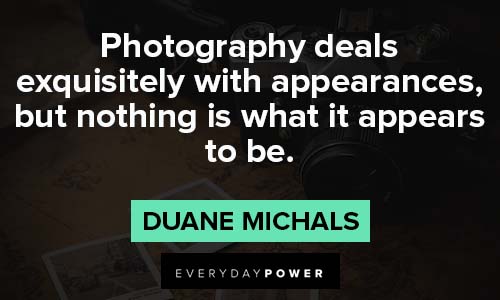 24. "There is only you and your camera. The limitations in your photography are in yourself, for what we see is what we are."– Ernst Haas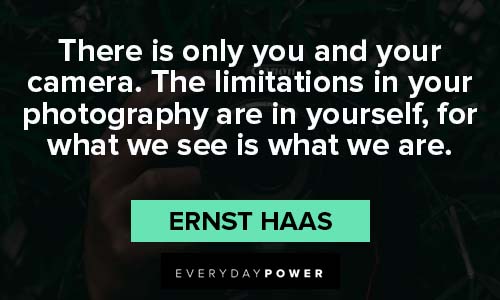 25. "You don't take a photograph, you make it."— Ansel Adams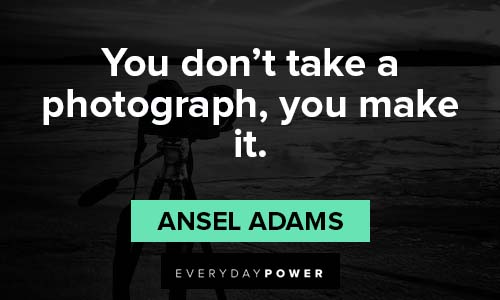 26. "I don't trust words. I trust pictures."- Gilles Peress
27. "A photograph is a secret about a secret. The more it tells you the less you know."— Diane Arbus
28. "If it makes you laugh, if it makes you cry, if it rips out your heart, that's a good picture."- Eddie Adams
29. "I began to realize that the camera sees the world differently than the human eye and that sometimes those differences can make a photograph more powerful than what you actually observed." – Galen Rowell
30. "A good snapshot keeps a moment from running away." ― E. Welty
Photography quotes to help you find inspiration
31. "There are no bad pictures; that's just how your face looks sometimes."
– Abraham Lincoln
32. "As I have practiced it, photography produces pleasure by simplicity. I see something special and show it to the camera. A picture is produced. The moment is held until someone sees it. Then it is theirs."– Sam Abell
33. "A good photograph is knowing where to stand."- Ansel Adams
34. "Photography for me is not looking, it's feeling. If you can't feel what you're looking at, then you're never going to get others to feel anything when they look at your pictures."– Don McCullin
35. "A portrait is not made in the camera but on either side of it."— Edward Steichen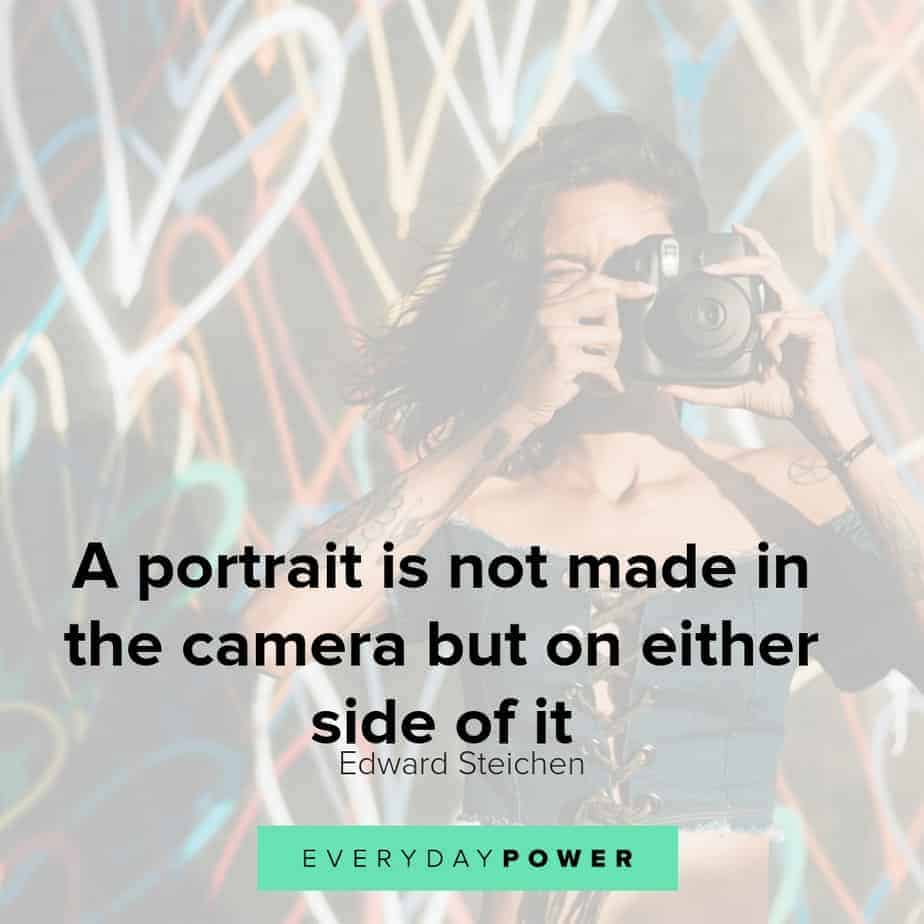 36. "Great photography is about depth of feeling, not depth of field." — Peter Adams
37. "Which of my photographs is my favorite? The one I'm going to take tomorrow."— Imogen Cunningham
38. "The best pictures differentiate themselves by nuances…a tiny relationship – either a harmony or a disharmony – that creates a picture." – Ernst Haas
39. "The two most engaging powers of a photograph are to make new things familiar and familiar things new." – William Thackeray
40. "When people look at my pictures I want them to feel the way they do when they want to read a line of a poem twice." ― Robert Frank
Inspiring photography quotes from top photographers
41. "We are making photographs to understand what our lives mean to us."
— Ralph Hattersley
42. "Photography has no rules, it is not a sport. It is the result which counts, no matter how it is achieved."– Bill Brandt
43. "The camera makes you forget you're there. It's not like you are hiding but you forget, you are just looking so much."– Annie Leibovitz
44. "There's something strange and powerful about black-and-white imagery."– Stefan Kanfer
45. "It is more important to click with people than to click the shutter."
– Alfred Eisenstaedt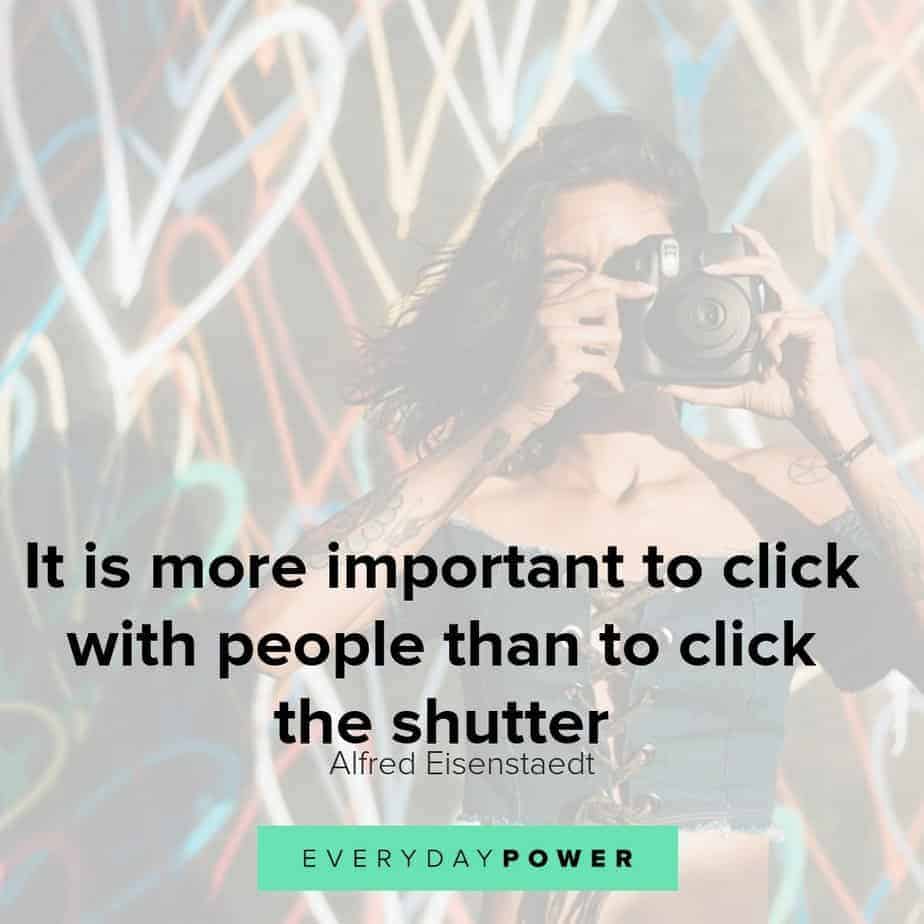 46. "What I like about photographs is that they capture a moment that's gone forever, impossible to reproduce."– Karl Lagerfeld
If you're enjoying these quotes, make sure to read our collection of Karl Lagerfeld quotes that will make you see the art in life.
47. "I believe photographers should shoot what they want, not shoot what they get." – Roberto Valenzuela
48. "Don't pack up your camera until you've left the location."– Joe McNally
49. "I've always believed that photography is a way to shape human perception."– James Balog
50. "When I photograph, what I'm really doing is seeking answers to things." – Wynn Bullock
Beautiful photography quotes and sayings
51. "There is one thing the photograph must contain, the humanity of the moment."— Robert Frank
52. "It's one thing to make a picture of what a person looks like, it's another thing to make a portrait of who they are."– Paul Caponigro
53. "Photography can never grow up if it imitates some other medium. It has to walk alone; it has to be itself."– Berenice Abbott
54. "Don't shoot what it looks like. Shoot what it feels like."- David Alan Harvey
55. "If your pictures aren't good enough, you're not close enough."
– Robert Capa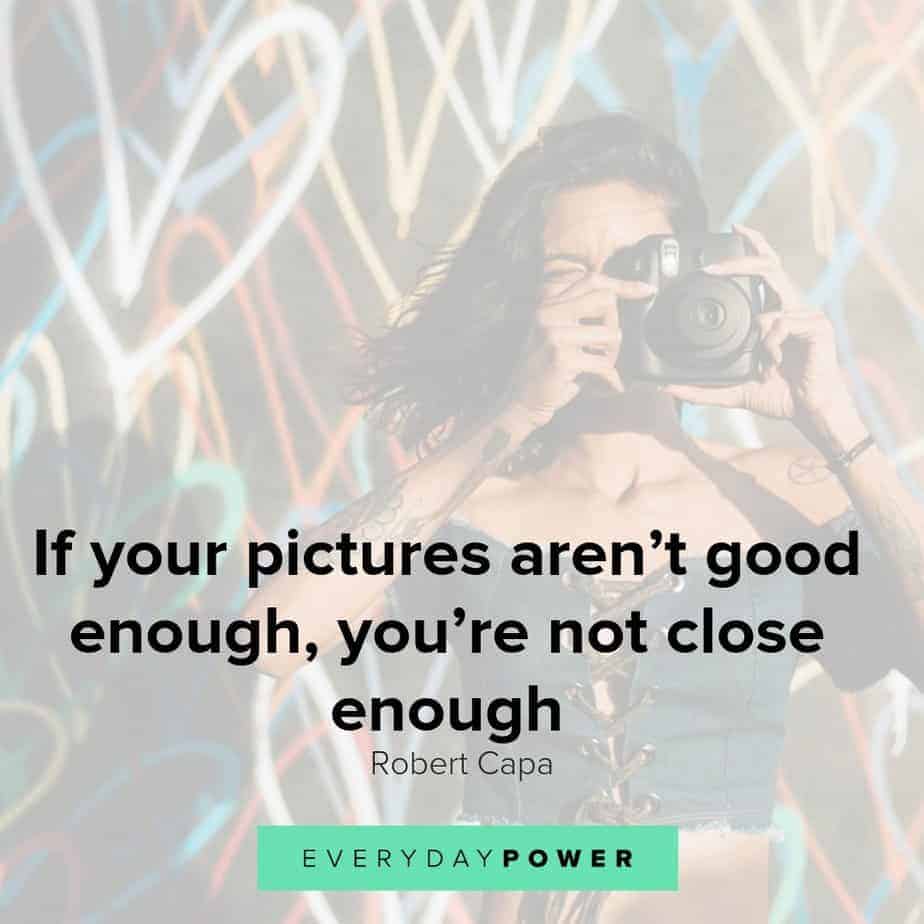 56. "For me, the camera is a sketch book, an instrument of intuition and spontaneity." ― Henri Cartier-Bresson
57. "Photography is the recording of strangeness and beauty with beguiling precision."– Sebastian Smee
58. "To me a photograph is a page from life, and that being the case, it must be real." – Weegee
59. "When you photograph a face . . .you photograph the soul behind it." –
Jean-Luc Godard
60. "A photograph is a moral decision taken in one eighth of a second. "
― Salman Rushdie
Other inspirational photography quotes
61. "When words become unclear, I shall focus with photographs. When images become inadequate, I shall be content with silence."— Ansel Adams
62. "A thing that you see in my pictures is that I was not afraid to fall in love with these people."– Annie Leibovitz
63. "I think good dreaming is what leads to good photographs."– Wayne Miller
64. "The best thing about a picture is that it never changes, even when the people in it do." – Andy Warhol
65. "Today everything exists to end in a photograph."— Susan Sontag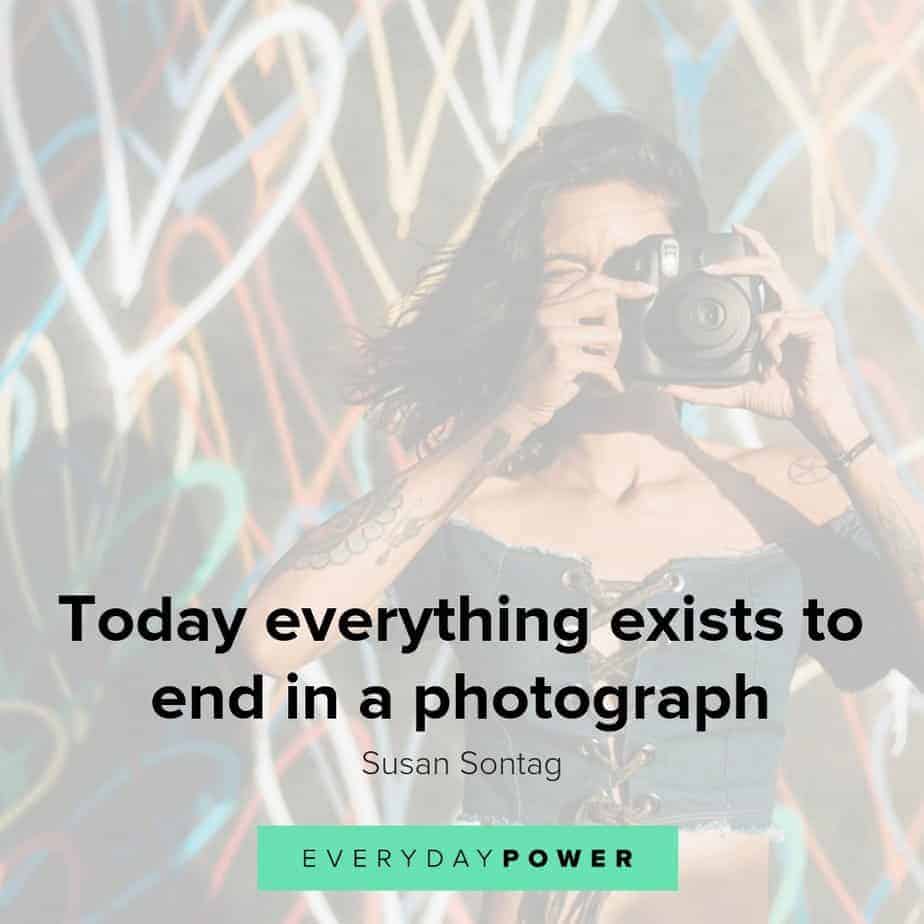 66. "The camera is an excuse to be someplace you otherwise don't belong. It gives me both a point of connection and a point of separation." — Susan Meiselas
67. "The best images are the ones that retain their strength and impact over the years, regardless of the number of times they are viewed." – Anne Geddes
68. "If a photographer cares about the people before the lens and is compassionate, much is given. It is the photographer, not the camera, that is the instrument."– Eve Arnold
69. "The camera sees more than the eye, so why not make use of it?" –
Edward Weston
70. "A photographer is like a cod, which produces a million eggs in order that one may reach maturity." ― George Bernard Shaw
More photography quotes and sayings
71. "When you photograph people in color, you photograph their clothes. But when you photograph people in Black and white, you photograph their souls!" – Ted Grant
72. "A great photograph is one that fully expresses what one feels, in the deepest sense, about what is being photographed." – Ansel Adams
73. "To the complaint, 'There are no people in these photographs,' I respond, There are always two people: the photographer and the viewer." – Ansel Adams
74. "Sometimes I arrive just when God's ready to have someone click the shutter." – Ansel Adams
75. I believe in equality for everyone, except reporters and photographers." – Mahatma Gandhi
76. "I used to think that I could never lose anyone if I photographed them enough. In fact, my pictures show me how much I've lost." – Nan Goldin
77. "There is nothing worse than a sharp image of a fuzzy concept." – Ansel Adams
78. "The eye should learn to listen before it looks." – Robert Frank
79. "Always seeing something, never seeing nothing, being photographer." – Walter De Mulder
Photography Quotes To Make History
80. "Photography is a major force in explaining man to man." — Edward Steichen
81. "Generally, the French highly promote culture and the arts, and photography is in their blood." — Herb Ritts
82. "Everyone is a photographer now, remember. That's the great thing about photography." — Martin Parr
83. "The highest vocation of photography is to explain man to man." — Susan Sontag
84. "There is a vast difference between taking a picture and making a photograph." — Robert Heinecken
85. "Every other artist begins with a blank canvas, a piece of paper the photographer begins with the finished product." — Edward Steichen
86. "Photography has the capacity to provide images of man and his environment that are both works of art and moments in history." — Cornell Capa
87. "Photography records the gamut of feelings written on the human face." — Edward Steichen
88. "All photographs are accurate. None of them is the truth." — Richard Avedon
89. "Photography is nothing-it's life that interests me." — Henri Cartier-Bresson
Which of these photography quotes was your favorite?
Photography has many benefits in our lives.
Besides helping us cement memories, pictures can lift our spirits, change our mood and help us to look beyond the gloom that life can sometimes throw at us.
Don't let the lack of a sophisticated camera stop you, grab your cell phone and get busy making photographs.
Hopefully, these quotes have inspired you to take fantastic shots.
Did you enjoy these photography quotes?
Which of the quotes was your favorite?
Tell us in the comment section below.
We would love to hear all about it.