Drug Quotes About the Effects of Drug Use
These drug quotes will remind you how drug use can affect your mind, body, and spirit.
According to the 2018 National Survey on Drug Use and Health, 20.3 million people aged 12 or older dealt with a substance abuse disorder in 2018.
Drug abuse affects your day-to-day life from many different perspectives including your career, your relationships, and your education.
Are you or someone you love currently dealing with a drug addiction?
Stepping away from a life of drug abuse is no easy feat. To help you along the way, we have compiled these inspirational quotes about drug use to remind you how drugs can affect your mind, body, and spirit.
Use the drug quotes below to motivate you towards a sober lifestyle. For more inspiration, also check out our list of recovery and addiction quotes to help you heal.
Drug Quotes about the effects of drugs
1. "Drugs and alcohol are the cruel engine of many an artists' creativity." – Nathan Hartzenberg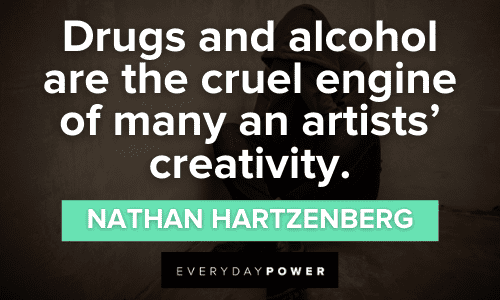 2. "Drugs are a bet with the mind." – Jim Morrison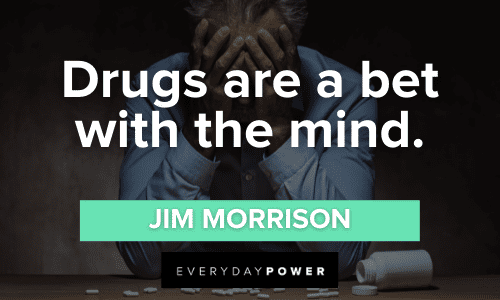 3. "That's all drugs and alcohol do, they cut off your emotions in the end." – Ringo Starr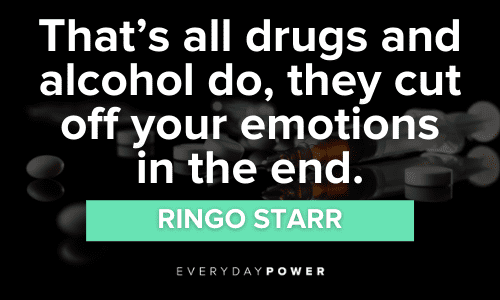 4. "There's not a drug on Earth that can make life meaningful." – Sarah Kane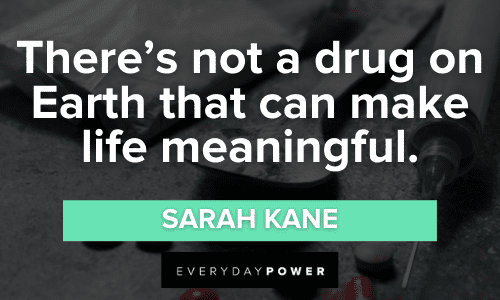 5. "Drugs take you to hell, disguised as heaven." — Donald Lyn Frost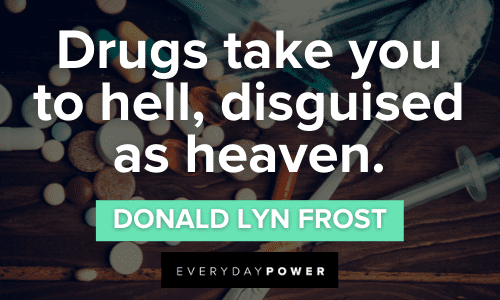 6. "Addiction begins with the hope that something 'out there' can instantly fill up the emptiness inside." – Jean Kilbourne
7. "Drugs are a waste of time. They destroy your memory and your self-respect and everything that goes along with your self-esteem." – Kurt Cobain
8. "The mentality and behavior of drug addicts and alcoholics is wholly irrational until you understand that they are completely powerless over their addiction." – Russell Brand
9. "All the suffering, stress, and addiction comes from not realizing you already are what you are looking for." – Jon Kabat-Zinn
10. "Addiction is like a curse and until it is broken, its victim will perpetually remain in the shackles of bondage." – Oche Otorkpa
Drug quotes about smoking cigarettes
11. "Giving up smoking is the easiest thing in the world. I know because I've done it thousands of times." – Mark Twain
12. "The believing we do something when we do nothing is the first illusion of tobacco." – Ralph Waldo Emerson
13. "Smoking helps you lose weight, one lung at a time!" – Alfred E. Neuman
14. "Smoking is related to practically every terrible thing that can happen to you." – Loni Anderson
15. "Smoking is hateful to the nose, harmful to the brain, and dangerous to the lungs." – King James I
16. "If you ever lit a cigarette in your life, you have very little will to live." – Neale Donald Walsch
17. "A cigarette is the only consumer product which when used as directed kills its consumer." – Gro Brundtland
18. "The true face of smoking is disease, death and horror, not the glamour and sophistication the pushers in the tobacco industry try to portray." – David Byrne
19. "Rather than you smoking a cigarette, the cigarette is really smoking you." – Anthony Liccione
20. "Not only will giving up cigarettes put more money in your pocket, your body will thank you for it." – Auliq Ice
Don't forget to also read these quotes about drug addiction to inspire recovery.
Drug quotes about drinking alcohol
21. "Drunkenness is nothing but voluntary madness." – Seneca
22. "Alcohol decimated the working class and so many people." – Martin Scorsese
If you're enjoying these quotes, make sure to read our collection of Martin Scorsese quotes from the iconic director.
23. "Alcoholism is a disease of the whole person." – Maurice Gelinas
24. "Alcohol does not solve problems but becomes a problem in itself." – Amit Abraham
25. "Alcohol is a good preservative for everything but brains." – Mary Pettibone Poole
26. "Alcoholism is a thief of health, mental sanity, and human dignity." – Dr. T.P. Chia
27. "Alcohol is a make-you-stupid drug." – Beverly A. Potter & Sebastian Orfali
28. "To dispute with a drunkard is to debate with an empty house." – Publilius Syrus
29. "An aching head and trembling limbs, which are the inevitable effects of drinking, disincline the hands from work." – George Washington
More drug quotes about alcoholism
30. "First you take a drink, then the drink takes a drink, then the drink takes you." – F. Scott Fitzgerald
31. "I don't need alcohol to see the world in its depths, I carry the sun in me." – Lamine Pearlheart
32. "You know you're an alcoholic when you misplace things, like a decade." – Paul Williams
33. "Alcohol is the reduced form of spirit. Therefore, many people, lacking spirit, take to drink. They fill themselves with alcohol." – Carl Jung
34. "Alcohol is one of the quickest vehicles with which we escape shyness, our problems, and self-consciousness, for a few hours." – Mokokoma Mokhonoana
35. "I like liquor, its tastes and effects, and that is just the reason why I'll never drink it." – Stonewall Jackson
36. "One reason I don't drink is that I want to know when I am having a good time." – Lady Astor
37. "Drinking makes such fools of people, and people are such fools to begin with, that it's compounding a felony." – Robert Benchley
Drug quotes about being drug-free
38. "Sobriety was the greatest gift I ever gave myself." – Rob Lowe
39. "Drugs are not always necessary, but belief in recovery always is." – Norman Cousins
40. "Sometimes becoming drug-free has less to do with addiction and more to do with sanity." – Shane Koyczan
41. "Drugs are the enemies of ambition and hope, and when we fight against drugs we are fighting for the future." – Bob Riley
42. "A strong positive attitude will create more miracles than any wonder drug." – Patricia Neal
43. "It's been one of the greatest challenges that ever came along in my life; it was one of the more difficult things to do." – Buzz Aldrin
44. "My recovery is the single greatest accomplishment of my life. Without that, the rest of my life would have fallen apart." – Martin Sheen
45. "If you can quit for a day, you can quit for a lifetime." – Benjamin Alire Sáenz
46. "We honor ourselves when we speak out for recovery. We show the world that recovery matters because it brings hope and peace into the lives of individuals and their loved ones." – Beth Wilson
47. "It takes a strong person to stand up to his or her fate and overcome the obstacles that stand in the way of freedom and success, but I believe in you." – Pax Prentiss
48. "I used drugs to feel better. I quit drugs to be better." – Unknown
49. "Days will pass, and you'll abandon things you were addicted to, and leave someone, and cancel a dream, and finally, accept a reality." – Nizar Qabbani
50. "Getting sober was one of the three pivotal events in my life, along with becoming an actor and having a child. Of the three, finding my sobriety was the hardest thing." – Robert Downey, Jr.
How have drugs affected you throughout your life?
Loneliness can play a large part in fueling substance abuse. If you are suffering from a substance abuse disorder, it is important to remember that you are not alone.
Millions of people have dealt with the effects of drug use in some way, including many of the individuals referenced in the above quotes.
Although the journey towards becoming drug-free may come with obstacles, it is important to remember that there is a light at the end of the tunnel.
Keep putting one foot in front of the other and you will eventually get to your destination.
Are there any other insightful drug quotes that you would like to share? Let us know in the comments section below.
December 11, 2019 7:45 AM EST
Click to view