80 Good Luck Quotes For When You Are Feeling Ill-Fated
These good luck quotes will help you better understand luck and uplift you when you're feeling ill-fated.
Wishing someone good luck can be a gesture of goodwill, but what does it mean to be lucky?
The intent behind saying "good luck" is to express wishes for success, but there are other ways to wish people well.
What can you say instead of "good luck?"
How can you wish someone well without actually using the words good luck?
These good luck quotes will help answer these questions, while also attempting to explain what it means to be lucky.
Is it really necessary to throw that salt over your shoulder?
Maybe being "lucky" is just another word for hard work and determination!
Below is our collection of inspirational, wise, and memorable good luck quotes and sayings, collected from various sources over the years.
Also, check out these powerful fate quotes and sayings to help you take control.
If you enjoy this article, check out our most popular quote article, a list of short inspirational quotes for daily motivation.
Browse our entire collection of inspirational quotes for more motivating ideas and concepts.
Good luck quotes about hard work
1. "It's hard to detect good luck – it looks so much like something you've earned." – Frank A. Clark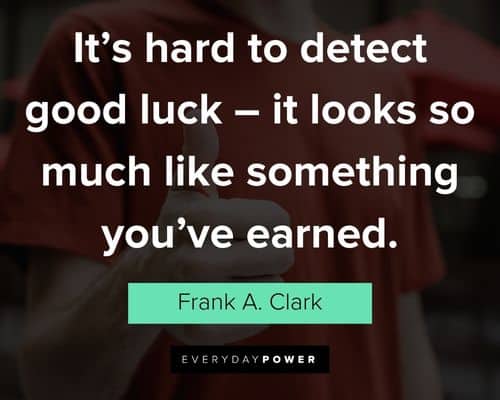 You will also enjoy our article on leg day quotes.
2. "I don't rely on feng shui. I believe hard work brings us good luck and success." – John Gokongwei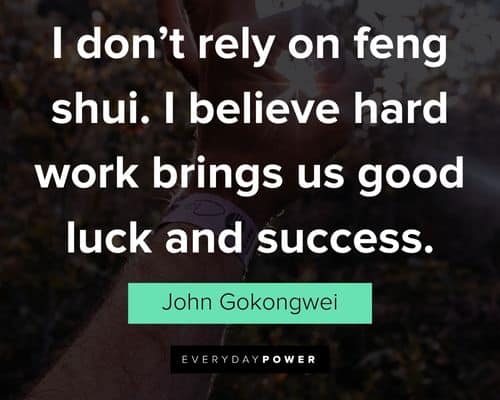 3. "To accomplish great things, we must not only act, but also dream; not only plan, but also believe." – Anatole France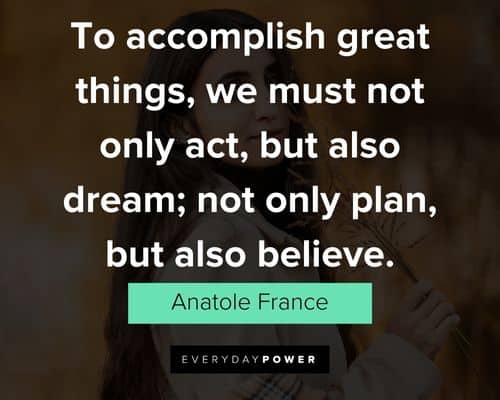 4. "Luck? I don't know anything about luck. I've never banked on it and I'm afraid of people who do. Luck to me is something else: Hard work – and realizing what is opportunity and what isn't." – Lucille Ball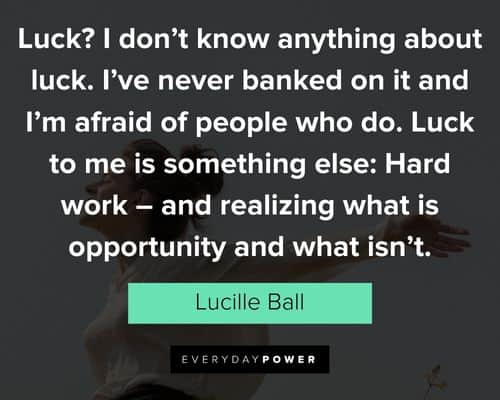 5. "You are never given a wish without also being given the power to make it come true. You may have to work for it, however." – Richard Bach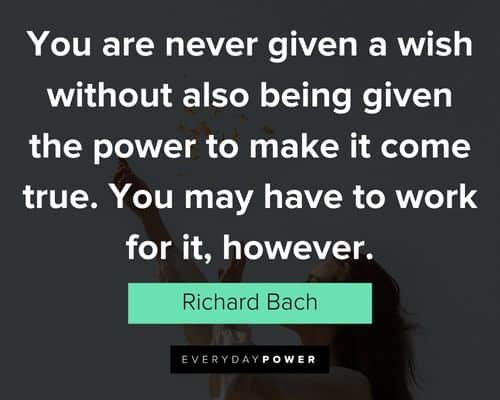 6. "Shallow men believe in luck. Strong men believe in cause and effect." – Ralph Waldo Emerson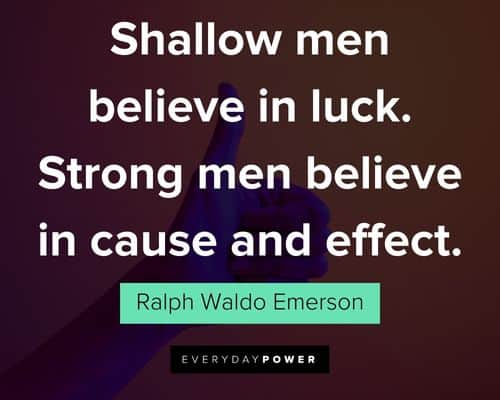 7. "Luck is not chance, it's toil; fortune's expensive smile is earned." – Emily Dickinson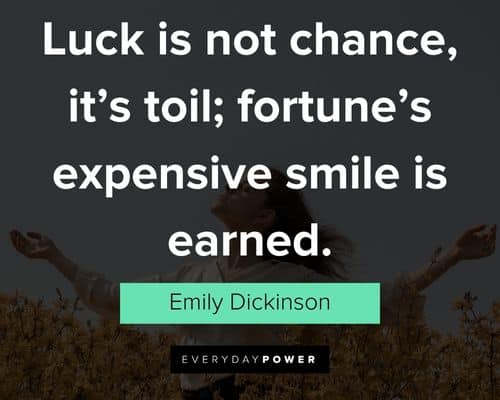 8. "The only good luck many great men ever had was being born with the ability and determination to overcome bad luck." – Channing Pollock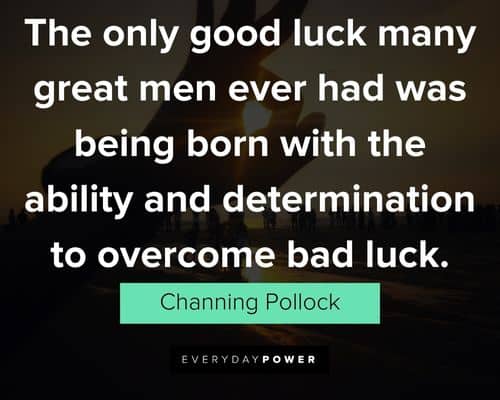 9. "Luck marches with those who give their very best." – H. Jackson Brown, Jr.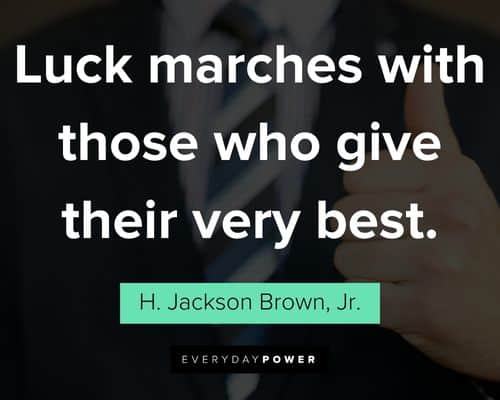 10. "Good luck is the twin brother of hard work." – Unknown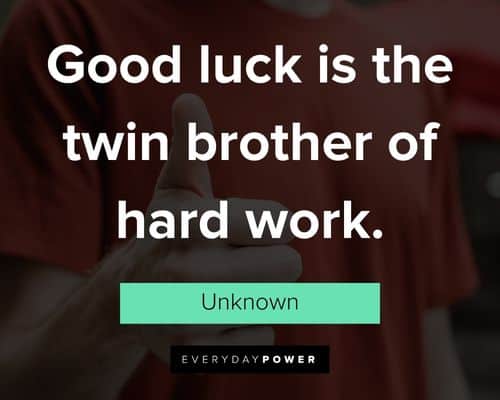 11. "Put P before the word "Luck" and you have the password to the attainment of all your desires." – Walter Matthews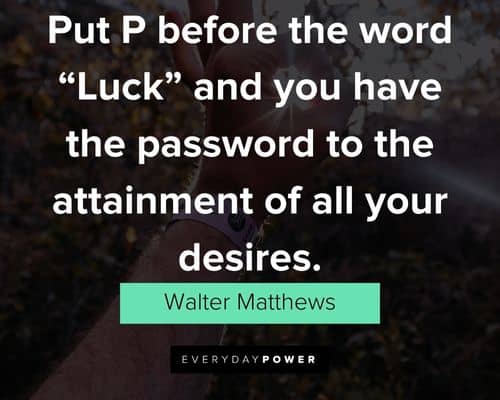 12. "When it comes to luck you make your own." – Bruce Springsteen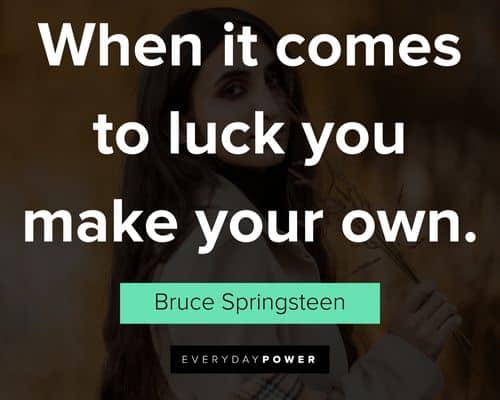 13. "A pound of pluck is worth a ton of luck." – James A. Garfield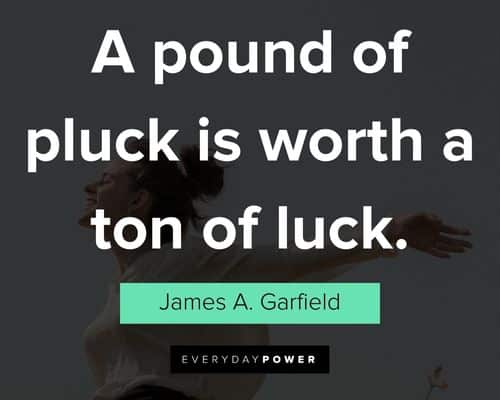 Clever good luck quotes
14. "I think we consider too much the good luck of the early bird and not enough the bad luck of the early worm." – Franklin D. Roosevelt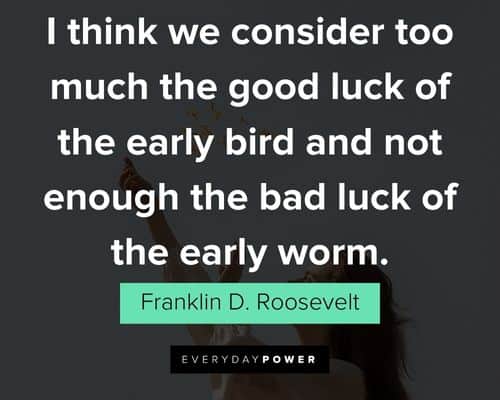 15. "Diligence is the mother of good luck." – Benjamin Franklin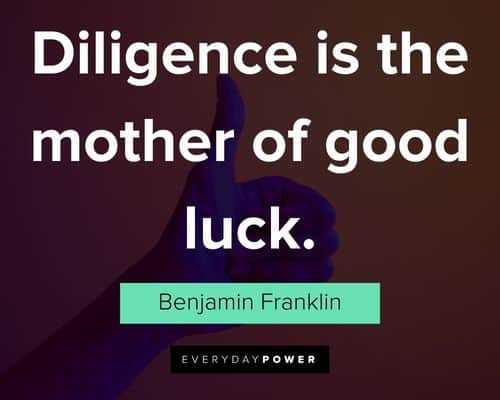 16. "When it comes to the future, there are three kinds of people: those who let it happen, those who make it happen, and those who wonder what happened." – John M. Richardson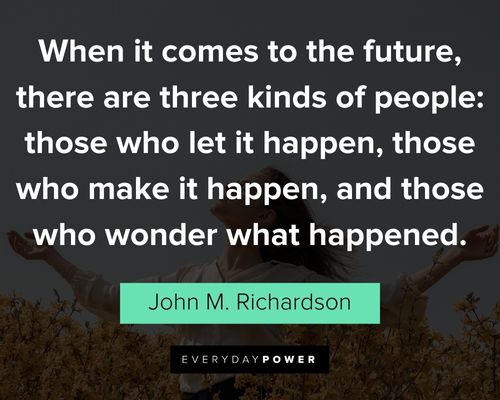 17. "For a long time now I have tried simply to write the best I can. Sometimes I have good luck and write better than I can." – Ernest Hemingway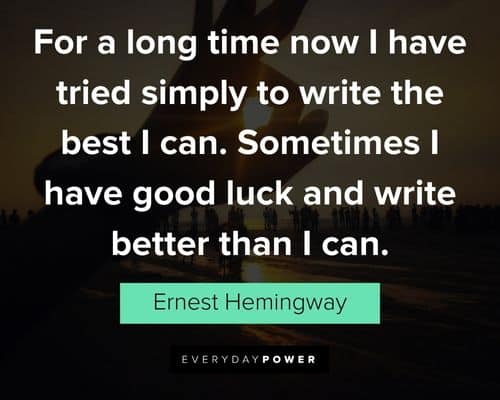 18. "Every day a piano doesn't fall on my head is good luck." – Meg Rosoff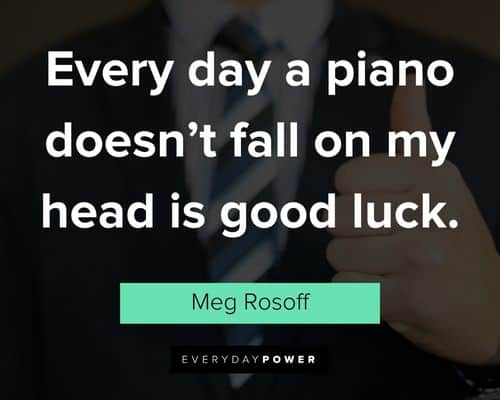 19. "Luck's always to blame." – Jean de La Fontaine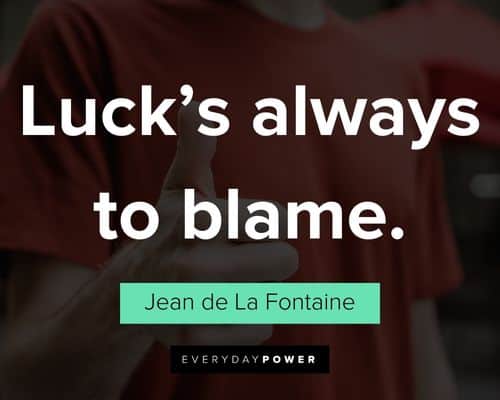 20. "Most of us regard good luck as our right, and bad luck as a betrayal of that right." – William Feather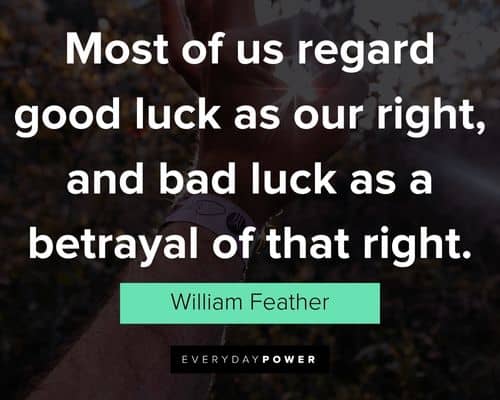 21. "Good luck has its storms." – George Lucas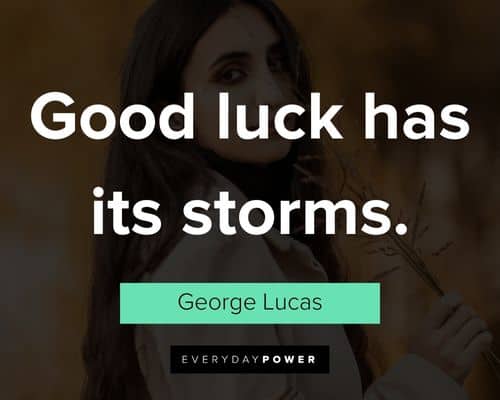 If you're enjoying this article, make sure to also check out these new month quotes that inspire new beginnings.
22. "Nothing is as obnoxious as other people's luck." – F. Scott Fitzgerald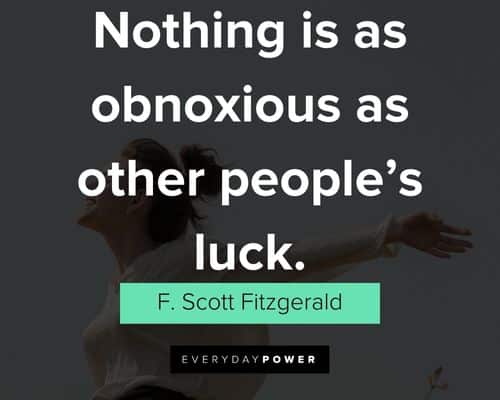 23. "You never know what worse luck your bad luck has saved you from." – Cormac McCarthy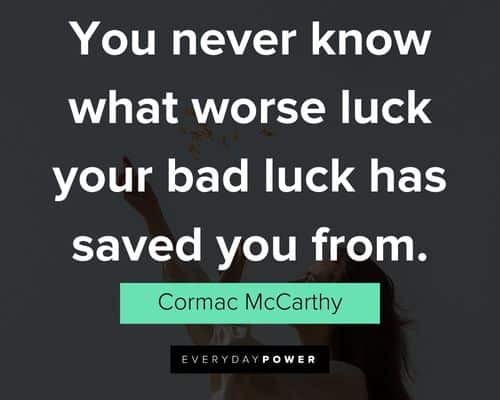 24. "The powerless worship Luck and Fate." – Mason Cooley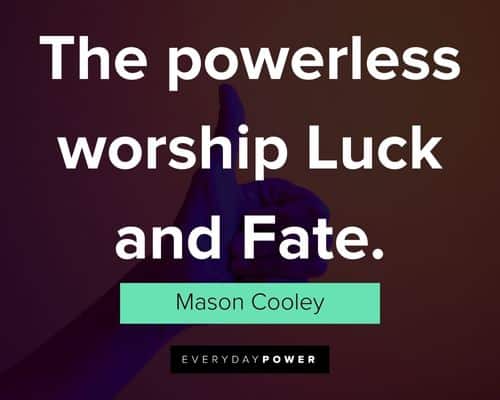 25. "An ounce of luck is worth a pound of wisdom." – French Proverb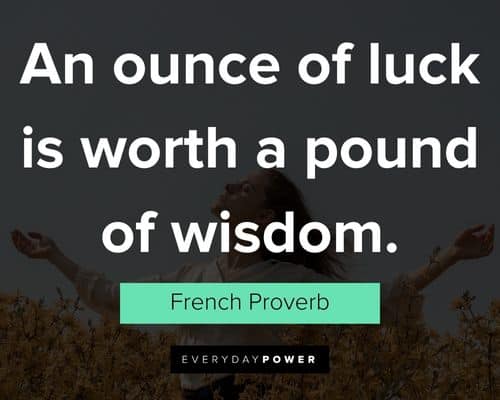 26. "Luck has two sides. One you can control–and one you can also control." – Nick Offerman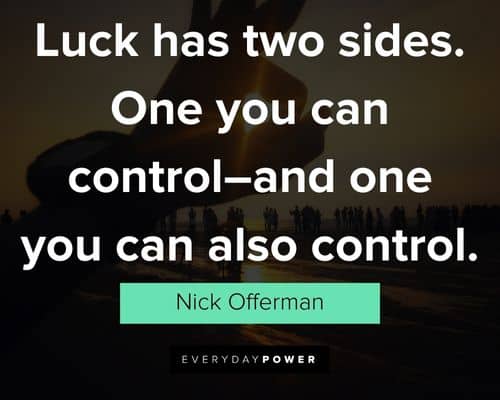 Good luck quotes on what it really means
27. "Luck is everything… My good luck in life was to be a really frightened person. I'm fortunate to be a coward, to have a low threshold of fear, because a hero couldn't make a good suspense film." – Alfred Hitchcock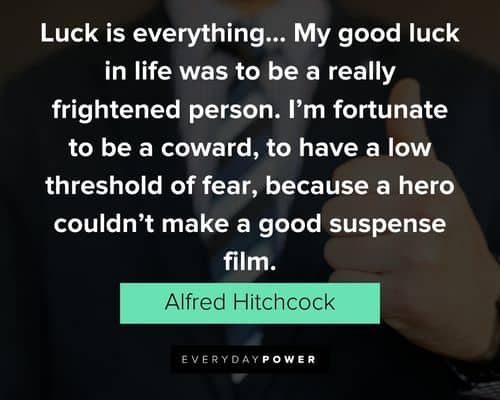 28. "Good luck is when opportunity meets preparation, while bad luck is when lack of preparation meets reality." – Eliyahu Goldratt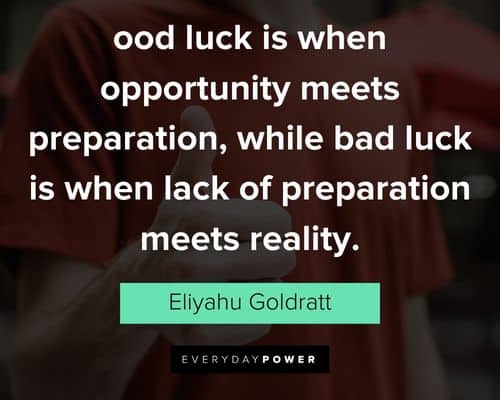 29. "Luck is yours wishes are mine. Let your future always shine. Best of Luck." – Ralph Chaplin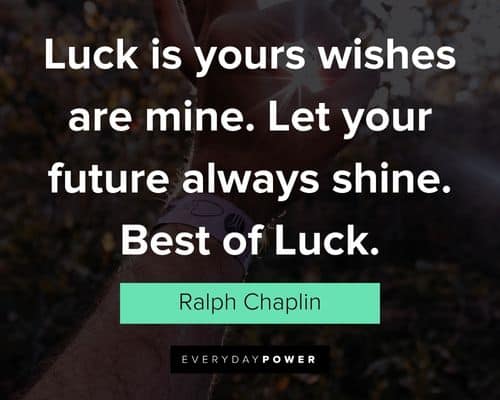 30. "Good luck is a residue of preparation." – Jack Youngblood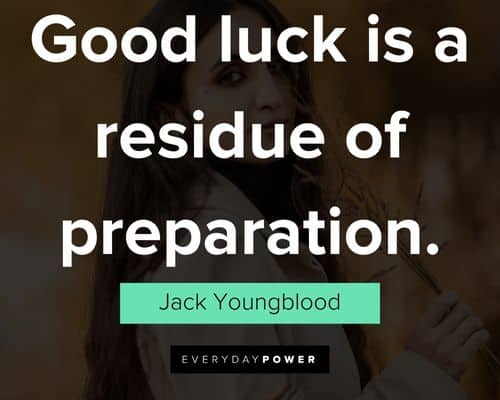 31. "Here's the thing about luck…you don't know if it's good or bad until you have some perspective."― Alice Hoffman
32. "Luck is a very thin wire between survival and disaster, and not many people can keep their balance on it." – Hunter S. Thompson
If you're enjoying these quotes, make sure to check out our collection of Hunter S. Thompson quotes from journalist and author.
33. "The meeting of preparation with opportunity generates the offspring we call luck." – Tony Robbins
34. "Good luck needs no explanation." – Shirley Temple
35. "I feel that luck is preparation meeting opportunity." – Oprah Winfrey
36. "Luck is an accident that happens to the competent." – Albert M. Greenfield
37. "Luck's just another word for destiny … either you make your own or you're screwed." – John Le Carre
Good luck quotes and wishes
38. "Best wishes to you as you progress from one stage in life to another. While this can be a difficult time, the results that you will achieve are worth all of the hard work that you will put in." – Rajesh Mankar
39. "Here is the best wish for the new year: Let there be more freedom of thought throughout the world! Fields need rain; truths need freedom of thought." – Mehmet Murat ildan
40. "If we had one wish for you on this special day it would be: May the best of your past be the worst of your future." – Catherine Pulsifer
41. "You're off to great places! Today is your day. Your mountain is waiting. So get on your way." – Dr. Seuss
42. "Go confidently in the direction of your dreams. Live the life you have imagined." – Henry David Thoreau
43. "Take the first step in faith. You don't have to see the whole staircase, just take the first step." – Martin Luther King, Jr.
Good luck quotes to strengthen your belief
44. "Luck has a way of evaporating when you lean on it."― Brandon Mull
45. "What's happened in my career is probably fate and good luck." – Pruitt Taylor Vince
46. "Being famous is complete luck, and that's something you can't bank on." – Bo Burnham
47. "Nobody ever told me, 'Art is this.' This was good luck in a way because I would have had to spend half of my life forgetting everything that I had been told, which is what happens with most students in schools of fine arts." – Fernando Botero
48. "Luck always seems like it belongs to someone else." – David Levien, City of the Sun
49. "We must believe in luck. For how else can we explain the success of those we don't like?" – JeanCocteau, attributed, Forbes, 1985
50. "After hard work, the biggest determinate is being in the right place at the right time." – Michael Bloomberg (see more Michael Bloomberg quotes)
51. "People who believe they have bad luck create bad luck. Those who believe they are very fortunate, that the world is a generous place filled with trustworthy people, live in exactly that kind of world." – Chris Prentiss
More good luck quotes and sayings
52. "Hard work increases the probability of serendipity." – Ken Poirot
53. "Good luck' is like the shadow of a tree, for some time it gives comfort to a traveler but it doesn't go ahead with a traveler." – Amit Kalantri
54. "Write your bane in a sand, your blessing in a stone." – Amit Kalantri
55. "The power of our subconscious thoughts and desires attracts good luck." – Debasish Mridha
56. "Our survival is a result, not of caution or wisdom, but of pure luck." – Mokokoma Mokhonoana
57. "You can spoil your good luck with your stupidity, but even with all the smartness in the world, you can never outrun your bad luck." – Shon Mehta
58. "Because of ignorance, we often attribute to good genes and therefore good luck fruits of things such as exercise, reading, meditation, and fasting." – Mokokoma Mokhonoana
59. "I've found that luck is quite predictable. If you want more luck, take more chances. Be more active. Show up more often." – Brian Tracy
60. "The amount of good luck coming your way depends on your willingness to act." – Barbara Sher
Good luck quotes that will make you wise
61. "Remember that sometimes not getting what you want is a wonderful stroke of luck." —Dalai Lama XIV
62. "I'm a greater believer in luck, and I find the harder I work the more I have of it." — Thomas Jefferson
63. "Good luck is another name for tenacity of purpose." — Ralph Waldo Emerson
64. "Luck is a dividend of sweat. The more you sweat, the luckier you get." — Ray Kroc
65. "Luck is what you have leftover after you give 100 percent." — Langston Coleman
66. "People always call it luck when you've acted more sensibly than they have." — Anne Tyler
67. "Luck never made a man wise." — Seneca
68. "Learn to recognize good luck when it's waving at you, hoping to get your attention." — Sally Koslow
69. "The harder I work, the luckier I get." — Samuel Goldwyn
70. "Luck is what we make it, not what is thrust upon us. You've shown initiative and it has nothing to do with luck." — George Bellairs
Good Luck Quotes To Land You In Great Opportunities
71. "An opportunity to work is good luck for me. I put my soul into it. Each such opportunity opens the gates for the next one." — Narendra Modi
72. "In the laughing times we know that we are lucky, and in the quiet times we know that we are blessed. And we will not be alone." — Dar Williams
73. "Good luck is opportunity meeting preparedness." — Deepak Chopra
74. "Jeremy, Good luck on your first marriage." — David Sedaris
75. "You never can tell whether bad luck may not after all turn out to be good luck." — Winston Churchill
76. "They say you have to be good to be lucky, but I think you have to be lucky to be good." — Rico Carty
77. "In my youth, it was my good luck to have a few good teachers, men and women, who came into my head and lit a match." — Yann Martel
78. "This life is mine because of good luck. And because I reached out and took it." — Laura Moriarty
79. "I find that most people [in social media] just want me to say "happy birthday" to their mom or wish them good luck with their exams." — Boy George
80. "Yes, I've had some pretty good luck finding wonderful talent." — Gene Krupa
What did you learn from these good luck quotes?
I don't think I am an overly superstitious person, but I don't shy away from helping my luck along.
I try not to get too envious of others when lady luck seems to be giving them her favor, instead, I attempt to work a little harder.
I used to carry a rabbit's foot around when I was younger, but I gave that up when I realized that it wasn't fortunate for the poor bunny!
This theatre saying is used today to wish theatre performers good luck without actually saying that unlucky phrase.
"Break a leg" is based on the "leg line," an area in the wings that was marked so actors would know when the audience could see them.
Any performer who crossed the leg line and appeared in front of the audience would get paid.
Thus, people wished actors would break a leg in hopes they would pass the line and get their paycheck.
Do you feel like luck is on your side?
Or are you one of these people who wouldn't have any luck at all if it wasn't for good luck?
Leave a comment and let us know which one of these good luck quotes and sayings was your favorite!