Mountain Quotes Celebrating New Heights in Your Life
Allow these motivational mountain quotes to help you achieve new heights in your own life.
For many of us, we see mountains as a symbol of beauty, challenge, and opportunity.
Mountains are amazing physical creations, but there are also metaphysical mountains we must climb in our minds to achieve great heights.
We want to give you the tools to make the highest climb, so allow these mountain quotes to inspire you to conquer the obstacles in your life so you can soar to new heights.
Mountains offer plenty of benefits to human life.
These majestic land masses provide recreation for humans, are a source of fresh water and they also have lots of health benefits.
Besides, mountains provide a unique habitat for animals and vegetation, and also affect global and local weather and climate
All in all, mountains bring a lot of positivity to different aspects of our lives.
So if you get the opportunity, why not plan your next vacation or getaway in the mountains?
There are many activities you can do in the mountains, such as hiking, climbing, skiing, and camping.
To celebrate them, below is our collection of inspirational, adventurous, and motivational mountain quotes and mountain sayings, collected from a variety of sources over the years.
We also have a compilation of forest quotes that will motivate you to appreciate nature.
Be sure to read that as well.
Check out our most popular quote article, a list of short inspirational quotes for daily inspiration.
Check out our inspirational quotes category page for more inspirational life quotes.
Mountain quotes celebrating new heights in your life
1. "You have to conquer every obstacle, before you can reach the top of the mountain." ― Lailah Gifty Akita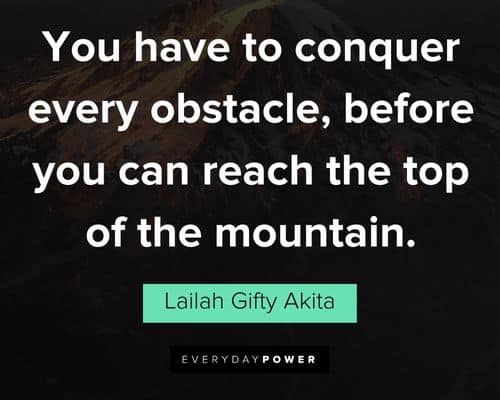 You will also enjoy our article on birthday quotes.
2. "He who climbs upon the highest mountains laughs at all tragedies, real or imaginary." ― Friedrich Nietzsche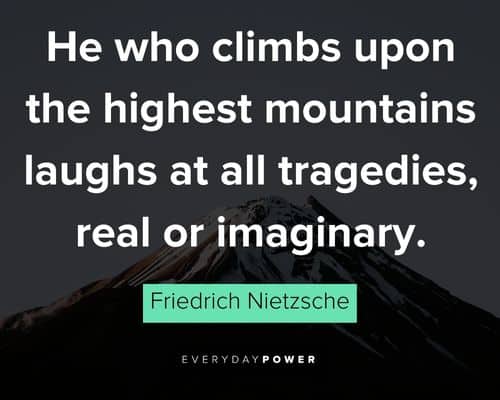 3. "That's what mountains do, they taunt you, lure you to the freedom of the wilderness, and it is fucking exhilarating." ― Shannon M Mullen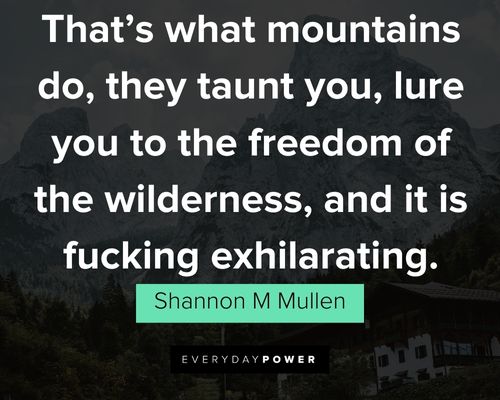 4. "Mountains are not stadiums where I satisfy my ambition to achieve, they are the cathedrals where I practice my religion." – Anatoli Boukreev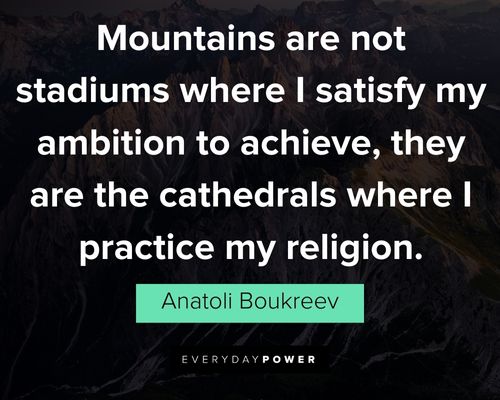 5. "The mountains are calling and I must go." – John Muir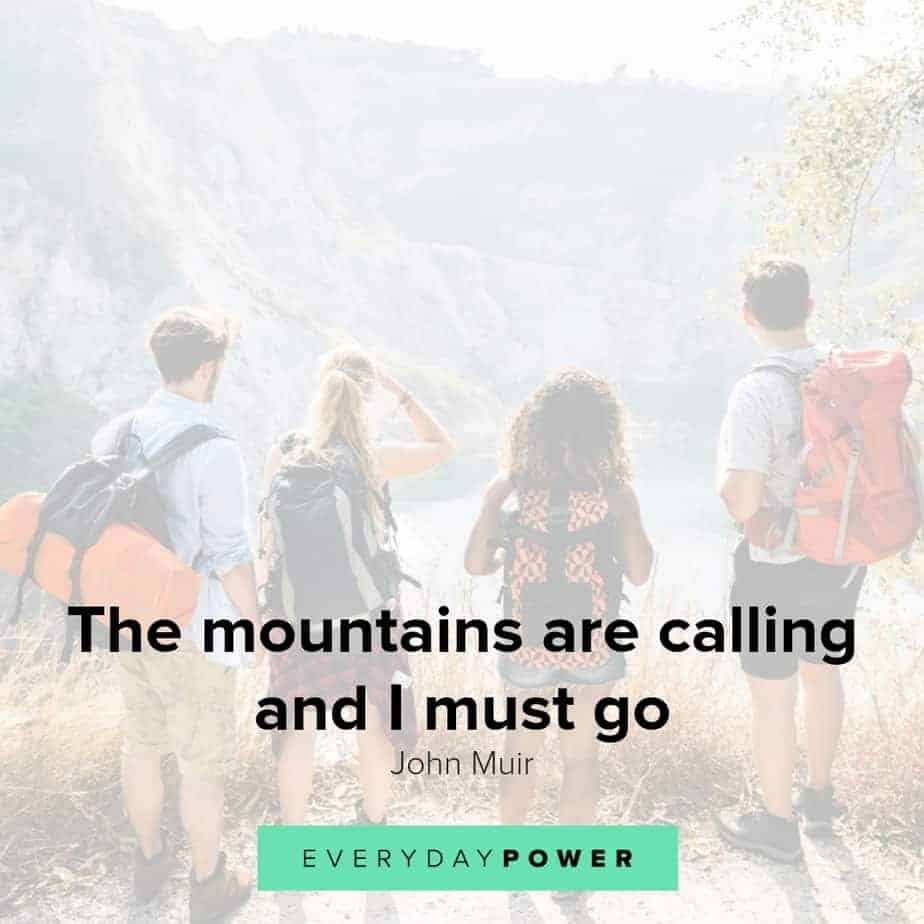 6. "Over every mountain there is a path, although it may not be seen from the valley." – Theodore Roethke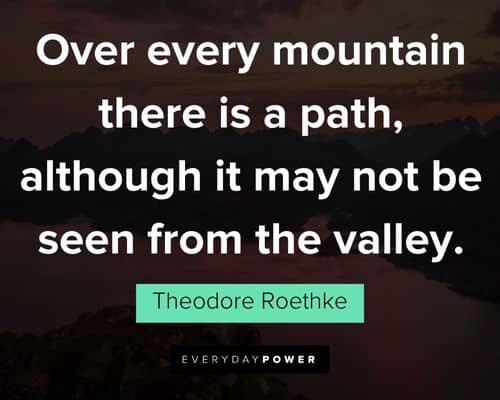 7. "It isn't the mountains ahead to climb that wear you out; it's the pebble in your shoe." – Muhammad Ali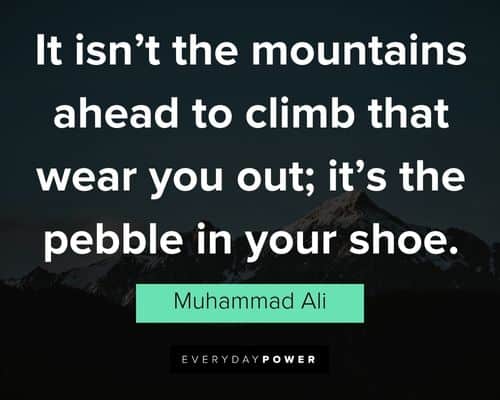 8. "Those who travel to mountain-tops are half in love with themselves, and half in love with oblivion." ― Robert Macfarlane
9. "Only mountains can feel the frozen warmth of the sun through snow's gentle caress on their peaks" ― Munia Khan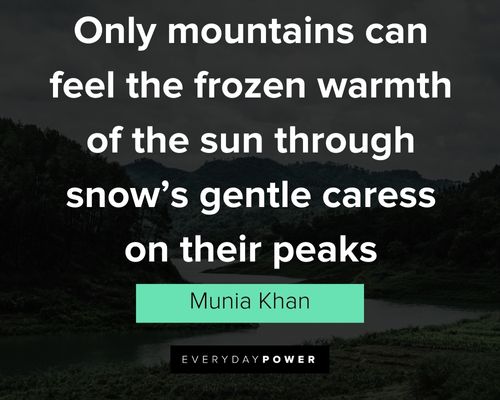 10. "The mountains here contained a sense of time, geologic time. They lay in embryo, a process unfolding, or a shriveled dying perhaps. They had the look of naked events." ― Don DeLillo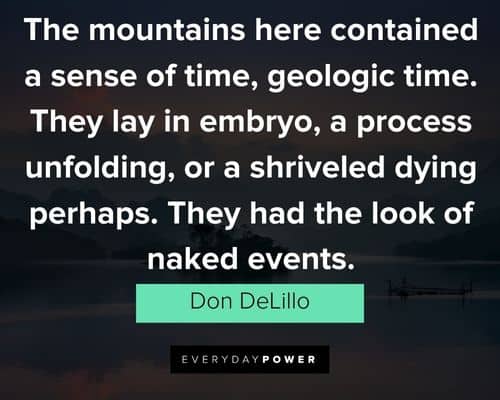 Also read these motivational quotes about camping that will get you outdoors.
Mountain quotes to give you inspiration
11. "Climb the mountains and get their good tidings." – John Muir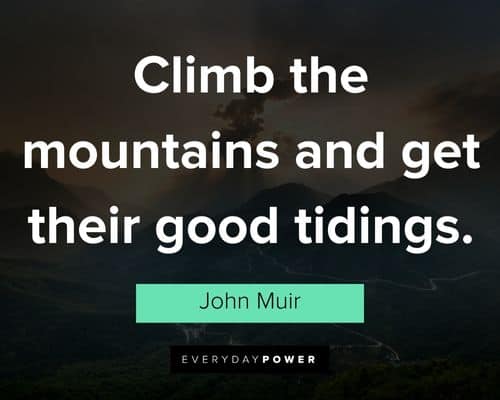 12. "Climb the mountain not to plant your flag, but to embrace the challenge, enjoy the air and behold the view. Climb it so you can see the world, not so the world can see you." – David McCullough Jr.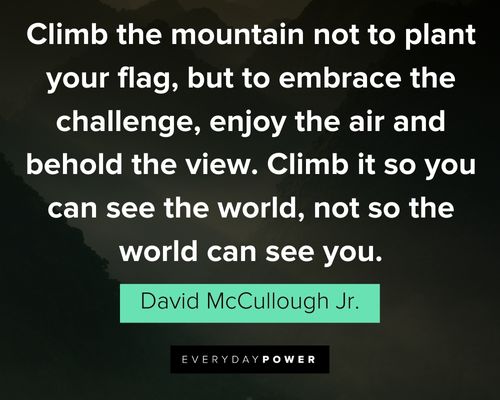 13. "When the sun is shining I can do anything; no mountain is too high, no trouble too difficult to overcome." – Wilma Rudolph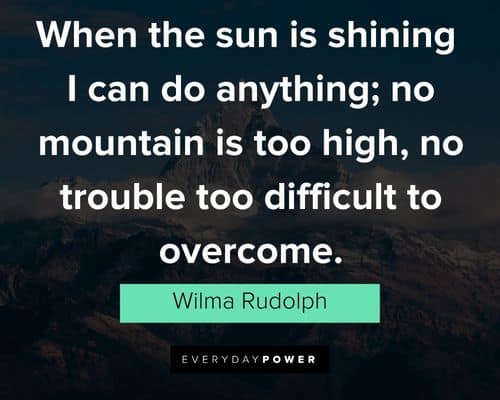 14. "You don't need to climb a mountain to know that it's high." ― Paulo Coelho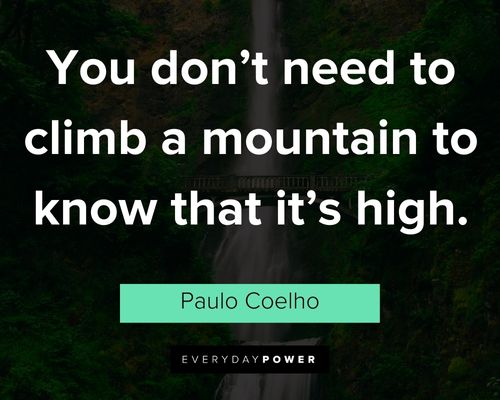 15. "The top of one mountain is always the bottom of another." – Marianne Williamson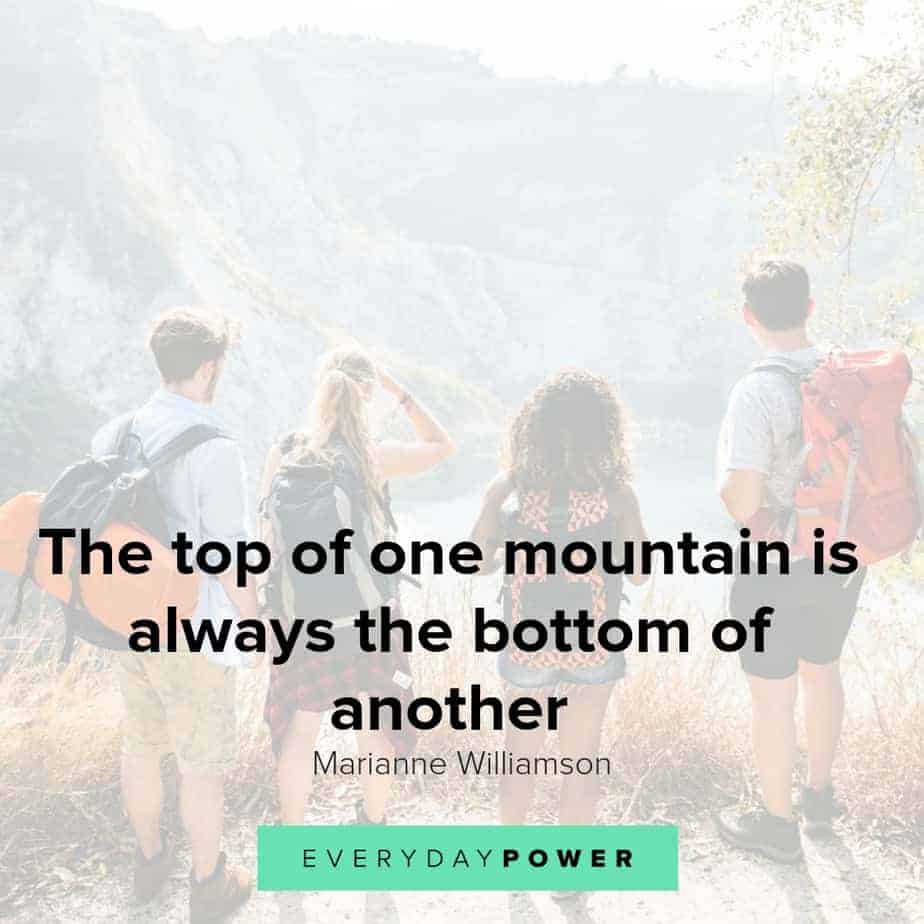 16. "Life is a mountain of solvable problems, and I enjoy that." – James Dyson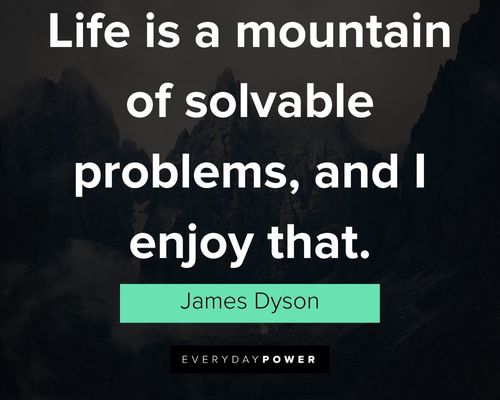 17. "When you scale a mountain, you have to leave your ego at home." ― Anthony T. Hincks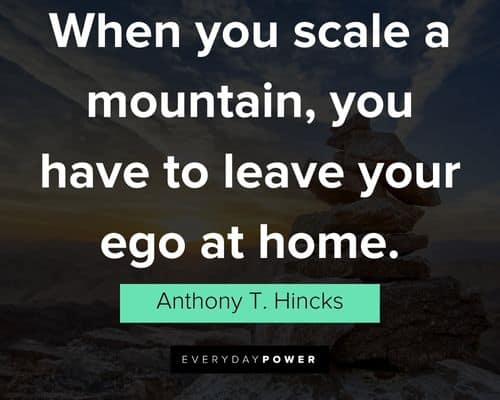 18. "There is always a mountain ahead, that must be conquered." ― Lailah Gifty Akita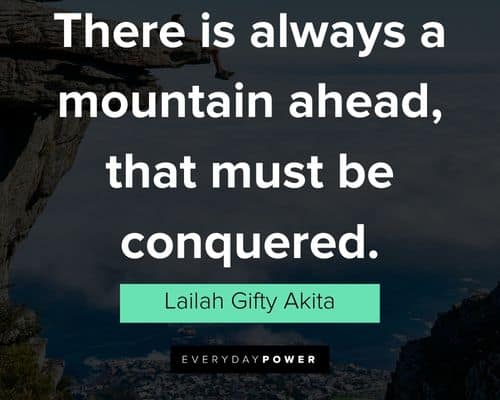 19. "The mountains themselves call us into greater stories." ― Donald Miller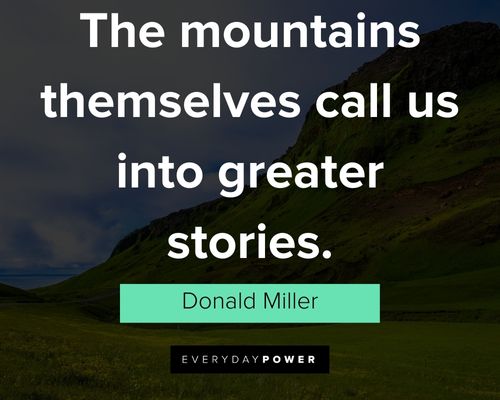 20. "The mountains were so wild and so stark and so very beautiful that I wanted to cry. I breathed in another wonderful moment to keep safe in my heart." ― Jane Wilson-Howarth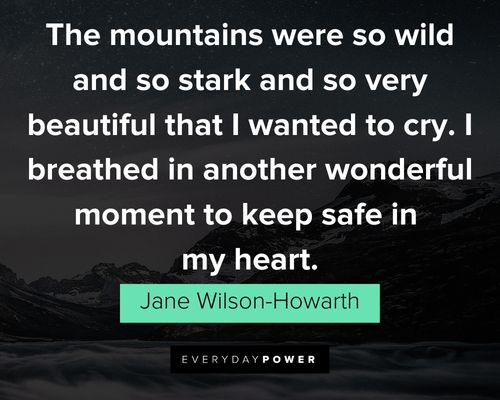 Also read these inspirational lake quotes that will bring your life peace.
Mountain quotes to inspire you to keep climbing the mountains you face in your life
21. "May your dreams be larger than mountains and may you have the courage to scale their summits." ― Harley King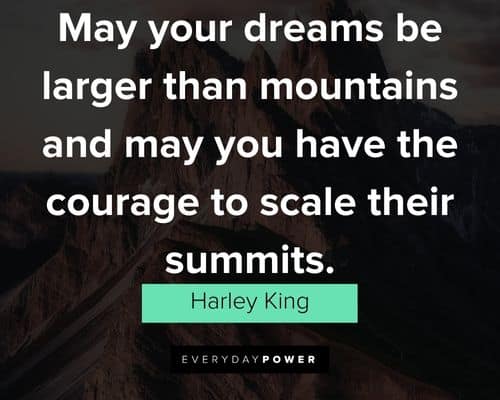 22. "I've realized that at the top of the mountain, there's another mountain." – Andrew Garfield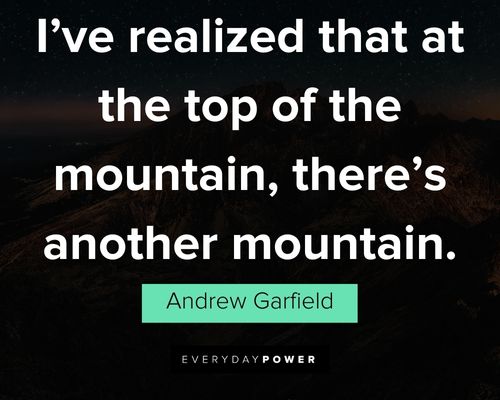 23. "Mountains are freedom. Treat them respectfully." – Conrad Anker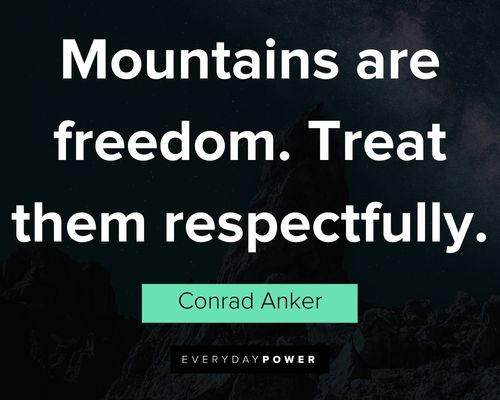 24. "Every mountain top is within reach if you just keep climbing." – Barry Finlay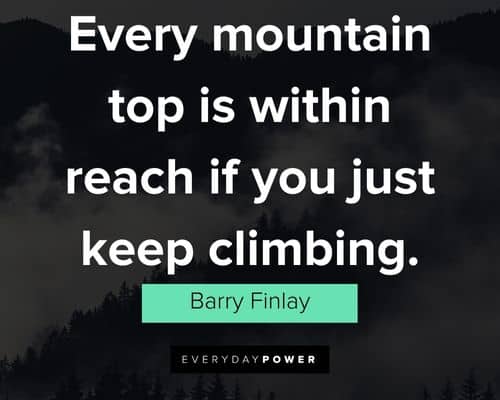 25. "It is not the mountain we conquer but ourselves." – Edmund Hillary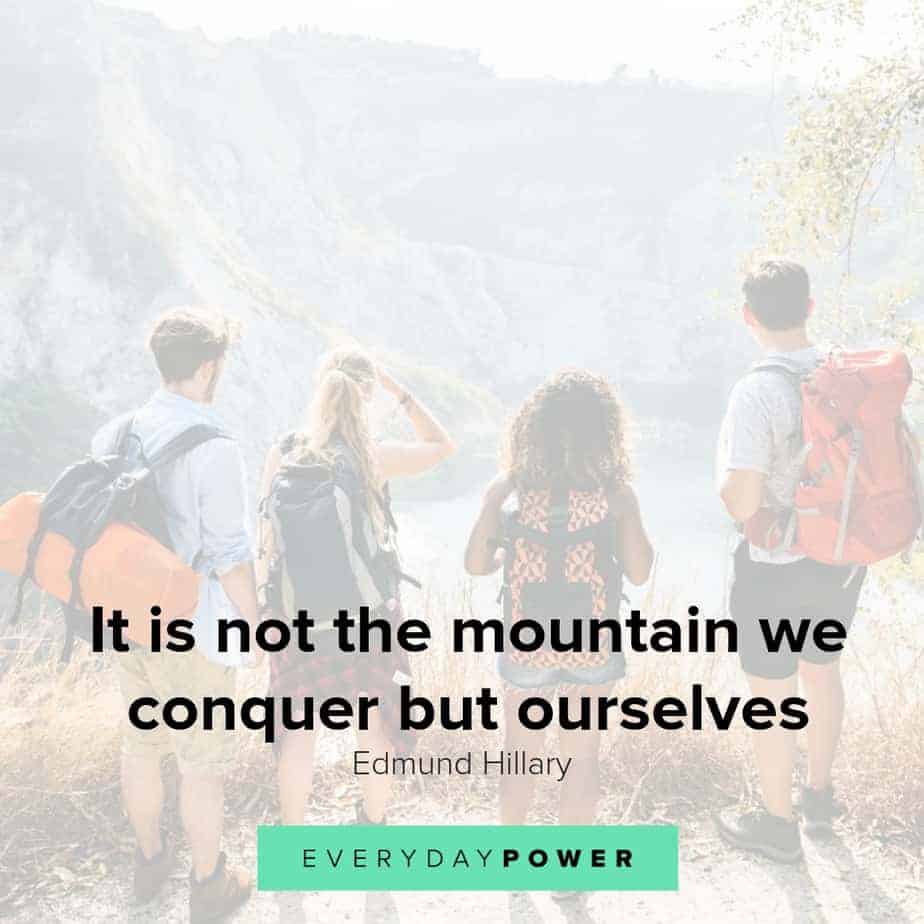 26. "Great men are rarely isolated mountain peaks; they are the summits of ranges." – Thomas Wentworth Higginson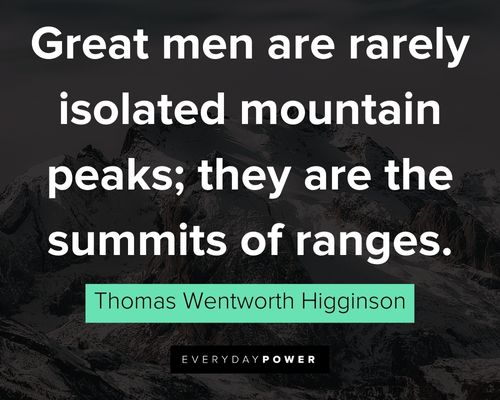 27. "Summit of a mountain is not the upper end of that mountain because every mountain has a soul higher than his body!" ― Mehmet Murat ildan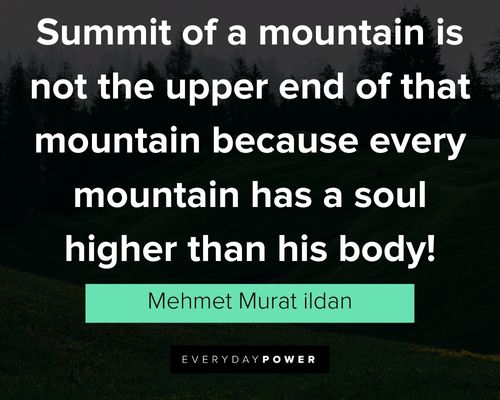 28. "We can only climb the mountains because there's a valley that makes the mountain a mountain." ― Craig D. Lounsbrough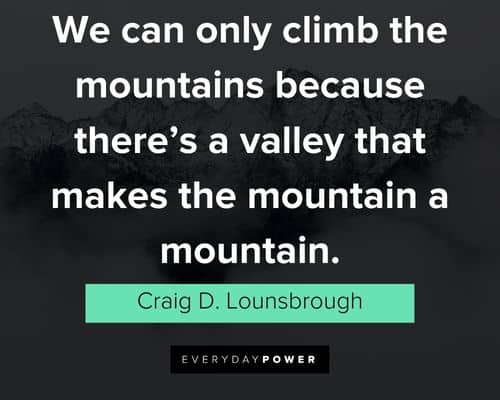 29. "Trust me, there are things in this mountain that will make your jaw bounce off the floor." ― Jaleigh Johnson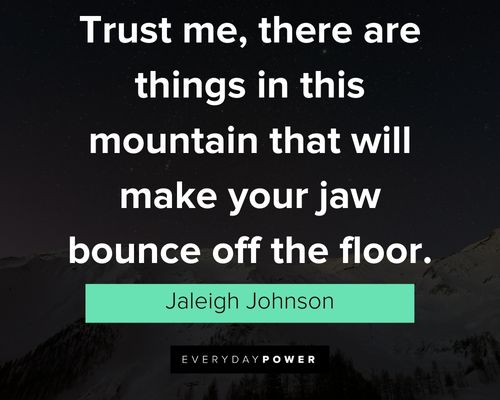 30. "Mountains are like Challenges… I climb upon them and then face them." ― Sagar Gosavi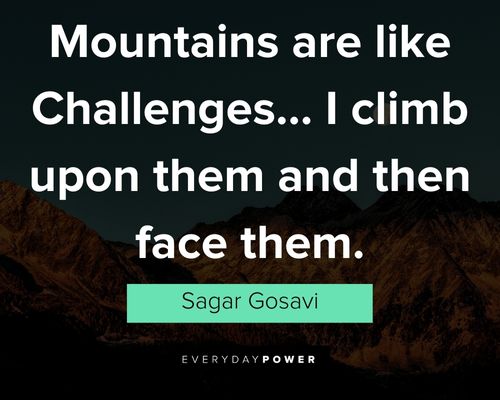 Don't forget to also check out these farmer quotes that will make you love the land.
Mountain quotes to inspire you to seize your opportunities
31. "Somewhere between the bottom of the climb and the summit is the answer to the mystery why we climb." – Greg Child
32. "Whatever that means, however you got on that mountain, why not try to climb it? And do it in your own way." – Stephen Curry
33. "You can't move mountains by whispering at them." – Pink
34. "In the presence of eternity, the mountains are as transient as the clouds." – Robert Green Ingersoll
35. "I think, every time I'm on the mountain, I'm just so thankful to be there." – Chloe Kim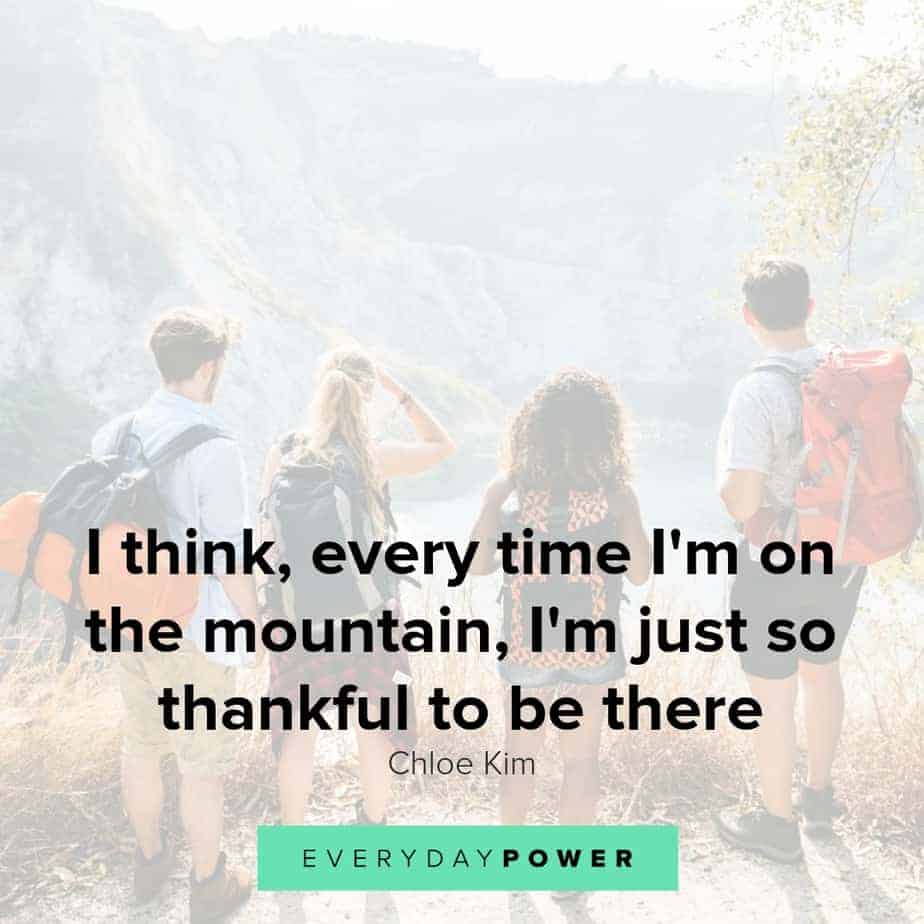 36. "Mountains know secrets we need to learn. That it might take time, it might be hard, but if you just hold on long enough, you will find the strength to rise up." – Tyler Knott
37. "I ascended the mountains to hear the voice of God, and was answered in echoes from afar." ― Meeta Ahluwalia
38. "Always be thankful for the little things… even the smallest mountains can hide the most breathtaking views!" ― Nyki Mack
39. "Without the energy that lifts mountains, how am I to live?" ― Mīrābāī
40. "All mountain people are like that. No matter where you go, the mountains call you back."― Karan Bajaj
Don't forget to also read these Greta Thunberg quotes about climate change and more.
Mountain quotes to inspire you to reach the top
41. "Never measure the height of a mountain until you reach the top. Then you will see how low it was." –Dag Hammerskjold
42. "We've climbed the mighty mountain. I see the valley below, and it's a valley of peace." – George W. Bush
43. "I believe that the ascent of mountains forms an essential chapter in the complete duty of man, and that it is wrong to leave any district without setting foot on its highest peak." – Sir Leslie Stephen
44. "If I see a mountain, I just pick up and hike it." – Aurora
If you're enjoying these quotes, you'll love our collection of hiking quotes that will tap into the adventurer within you.
45. "Mountains are the beginning and the end of all natural scenery." – John Ruskin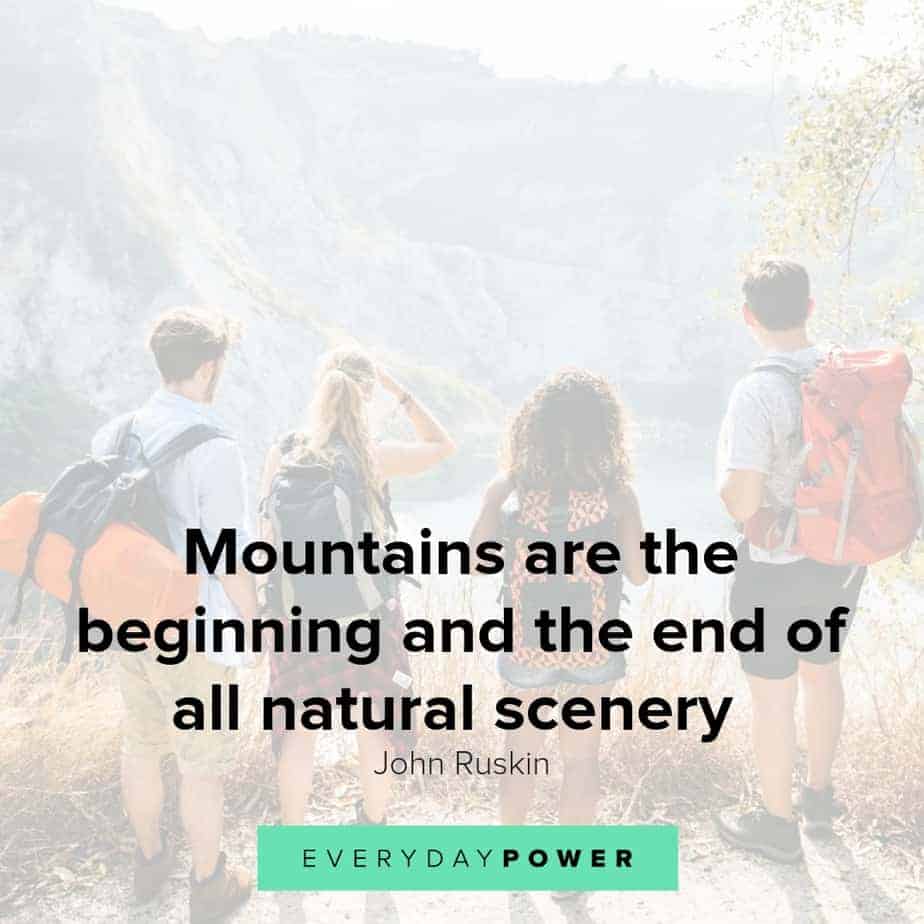 46. "The stillness on the mountain top is only disrupted by the sound of my heartbeat within my ears." ― Anthony T. Hincks
47. "No single mountain ever came to me…so I always go to them." ― Erik Tanghe
48. "Without mountains, we might find ourselves relieved that we can avoid the pain of the ascent, but we will forever miss the thrill of the summit. And in such a terribly scandalous trade-off, it is the absence of pain that becomes the thief of life." ― Craig D. Lounsbrough
49. "The climb speaks to our character, but the view, I think, to our souls"
― Lori Lansens
50. "So this was what a mountain was like, the same as a person: the more you know, the less you fear." ― Wu Ming-Yi
If you enjoy this article, check out our collection of climbing quotes to help you reach the top.
Strong mountain quotes to motivate you
51. "The special forces gave me the self-confidence to do some extraordinary things in my life. Climbing Everest then cemented my belief in myself." – Bear Grylls
52. "Chasing angels or fleeing demons, go to the mountains." – Jeffrey Rasley
53. "The violets in the mountains have broken the rocks." – Tennessee Williams
54. "You need mountains, long staircases don't make good hikers." – Amit Kalantri
55. "What would be ugly in a garden constitutes beauty in a mountain." – Victor Hugo
56. "The summit is what drives us, but the climb itself is what matters." – Conrad Anker
57. "My father considered a walk among the mountains as the equivalent of churchgoing." – Aldous Huxley
58. "Man can climb to the highest summits, but he cannot dwell there long." – George Bernard Shaw
59. "Never measure the height of a mountain until you have reached the top. Then you will see how low it was." – Dag Hammarskjold
60. "The mountains are a demanding, cold place, and they don't allow for mistakes." – Conrad Anker
Also read these John Muir quotes that will inspire you to get out into the wilderness.
More mountain quotes and sayings
61. "The sea tells you everything will be fine. The mountains tell you it doesn't matter anyway." – Adeel Ahmed Khan
62. "Mountains make me believe that nothing can be bigger than nature, not even human ego." – Jay Kumar Singh
63. "Throw me to the mountains, I'll be at peace as long as I will live." – Shashank Rayal
64. "Faith is the only force that can move mountains." – Lailah Gifty Akita
65. "Don't pay attention to the size of the mountain in front of you. Rather, think about what the view from the summit is going to be like." – Craig D. Lounsbrough
66. "Mountains slowly change, but they will always be there, defining Freedom." – Foster Kinn
67. "The mountains stand as if they have been there since the beginning of time." – Foster Kinn
68. "If you have the high spirit of the high mountains, even the greatest powers of the outer world will respect and admire you!" – Mehmet Murat ildan
69. "Keep your goals as big as mountains. But if you want to achieve them, be sure to keep them unsullied by fear." – Chetan M. Kumbhar
70. "No matter the height of them, faith takes the mountains that stand in front of us and makes them the road that passes under us." – Craig D. Lounsbrough
Powerful mountain quotes to live by
71. "Kid, you'll move mountains." ― Dr. Seuss
72. "The mountains were his masters. They rimmed in life. They were the cup of reality, beyond growth, beyond struggle and death. They were his absolute unity in the midst of eternal change." ― Thomas Wolfe
73. "I'm a person of the mountains and the open paddocks and the big empty sky, that's me, and I knew if I spent too long away from all that I'd die; I don't know what of, I just knew I'd die." ― John Marsden
74. "All mountain landscapes hold stories: the ones we read, the ones we dream, and the ones we create." ― Michael Kennedy
75. "We are in the world where the longing mountains are the most grounded." ― Sorin Cerin
76. "O dear Himalaya…why are you so amazing, can I kiss your peak or can I just let your silence speak…O dear Himalaya…" ― Santosh Kalwar
77. "It gets cold in the desert at night, particularly up in the mountains; the stars hammer on The Rock and strike frost." ― Tanith Lee
78. "From the top of the highest mountains, the world seems to be left behind and far below, but in fact the world is always with us, in our head, even if we go into space!" ― Mehmet Murat ildan
79. "If you wonder why you haven't climbed the mountain, it's probably because you've spent too much time trying to find the perfect shoes." ― Craig D. Lounsbrough
80. "Remember about mountains: what they are made of is not what made them." ― John McPhee
Mountain Quotes That Inspire You To Strive To Reach Your Goals
81. "Go up to the mountain, go up to the glen, where silence will touch you, and heartbreak will mend." — Van Morrison
82. "Only if you have been in the deepest valley, can you ever know how magnificent it is to be on the highest mountain." — Richard M. Nixon
83. "Everyone wants to live on top of the mountain, but all the happiness and growth occurs while you're climbing it." — Andy Rooney
84. "One may walk over the highest mountain one step at a time." — John Wanamaker
85. "In the mountains, the shortest way is from peak to peak: but for that you must have long legs." — Friedrich Nietzsche
86. "Happiness is like the mountain summit. It is sometimes hidden by clouds, but we know it is there." — Helen Keller
87. "The only Zen you can find on the tops of mountains is the Zen you bring up there." — Robert M. Pirsig
88. "The mountains are fountains not only of rivers and fertile soil, but of men." — John Muir
89. "You're off to Great Places! Today is your day! Your mountain is waiting, So… get on your way!" — Dr. Seuss
90. "Winners take time to relish their work, knowing that scaling the mountain is what makes the view from the top so exhilarating." — Denis Waitley
Which of these mountain quotes was your favorite?
There are a lot of reasons to celebrate mountains and the many gifts they offer us.
If you visit them on a regular basis, you'll be able to enjoy the many benefits mountains have on the mind, body, and soul.
Hopefully, these quotes have given you the inspiration and motivation you need to overcome the obstacles in your life and achieve your goals and dreams.
Which of these mountain quotes resonated with you best?
Do you have any other favorite quotes to share with us?
Tell us in the comment section below.
We would love to hear all about it.