Long Distance Relationship Quotes On Making It Work
Listen to article
4 minutes
Our latest collection of long distance relationship quotes that will help you make it work.
Although many people might believe that long distance relationships are never going to work, the distance can actually make your relationship better.
You may also enjoy our article on:
Having the time to miss your loved one will make you remember why you loved them in the first place.
Studies have even shown that couples who live apart tend to have the same or more satisfaction in their relationships than couples who are geographically close.
Granted, the extra distance might make things complicated.
But by being apart, you can develop higher levels of dedication to your relationship and have fewer feelings of being trapped.
If you are committed to making it work, you will improve your chances of a healthy, lasting love.
To help you keep your love alive and strong, here is our collection of inspirational, wise, and uplifting long distance relationship quotes, long distance relationship sayings, and long distance relationship proverbs, collected from a variety of sources over the years.
Don't forget to also read our collection of anniversary quotes to help keep your love strong.
If you like this article, we suggest you explore our most popular quotes article, a list of short inspirational quotes for daily encouragement.
Check out more inspirational quotes on our motivational quotes category page.
Long distance relationship quotes about making it work
1. "Love is missing someone whenever you're apart, but somehow feeling warm inside because you're close in heart."– Kay Knudsen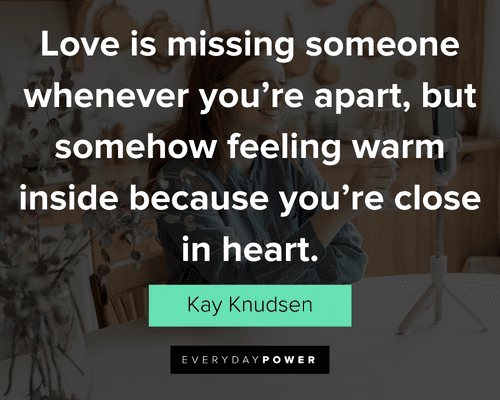 You will also enjoy our article on love quotes for him.
2. "I fell in love with her when we were together, then fell deeper in love in the years we were apart." – Nicholas Sparks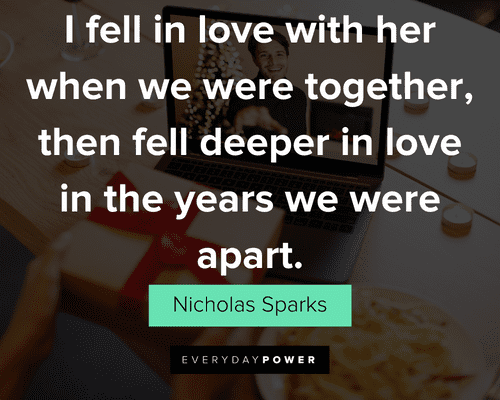 You will also enjoy our article on getting over someone quotes.
3. "But I must admit, I miss you quite terribly. The world is too quiet without you nearby." – Lemony Snicket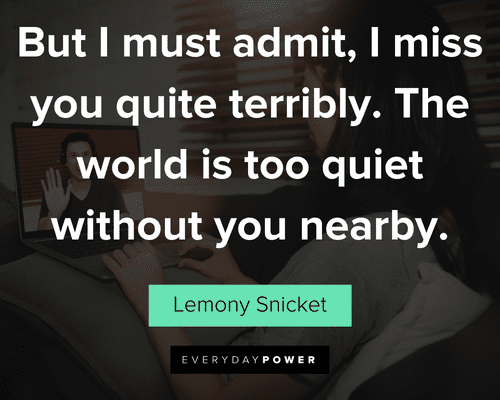 4. "The ocean separates lands, not souls." – Munia Khan
You will also enjoy our article on best relationship quotes.
5. "Absence sharpens love, presence strengthens it." – Thomas Fuller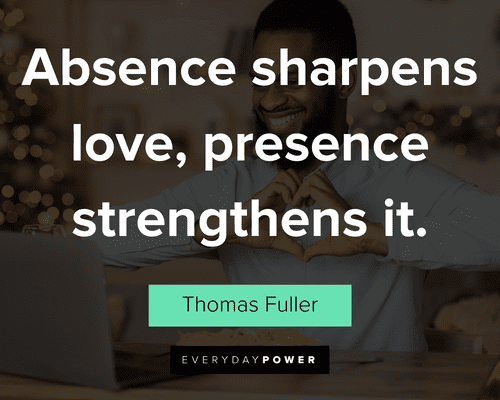 You will also enjoy our article on toxic relationships quotes.
6. "I don't cry because we've been separated by distance, and for a matter of years. Why? Because for as long as we share the same sky and breathe the same air, we're still together." – Donna Lynn Hope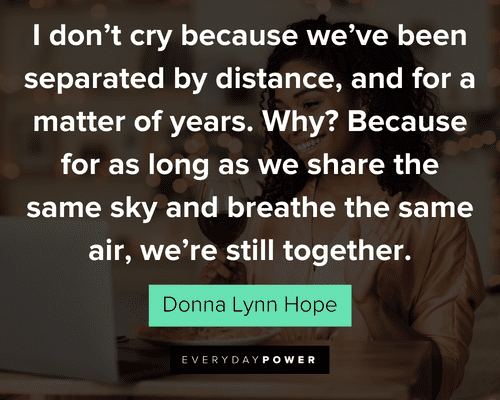 You will also enjoy our article on separation quotes.
7. "You don't develop courage by being happy in your relationships every day. You develop it by surviving difficult times and challenging adversity." – Epicurus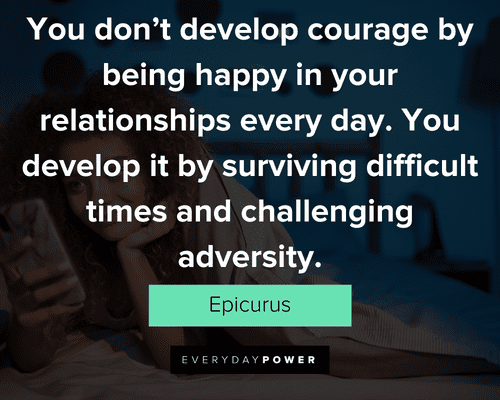 You will also enjoy our article on finish strong quotes.
8. "She affected me, even when she was absent." – Shannon A. Thompson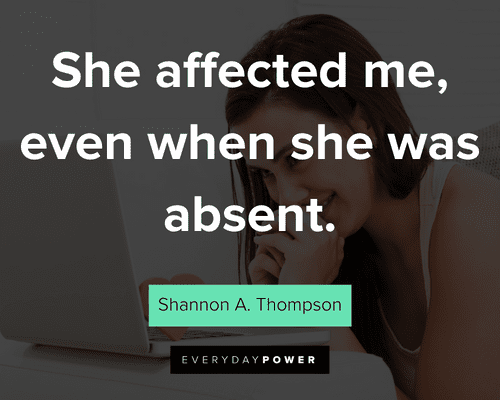 You will also enjoy our article on friendship quotes about life.
9. "The scary thing about distance is you don't know whether they'll miss you or forget you."― The Notebook (view The Notebook quotes)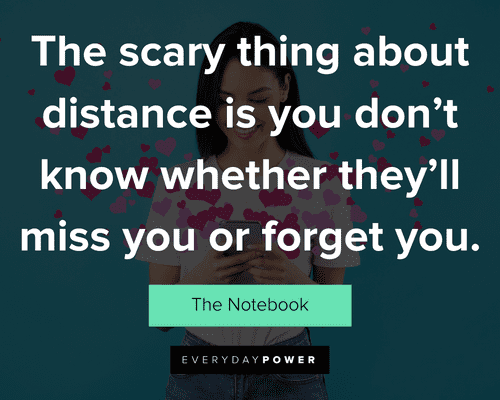 You will also enjoy our article on cousin quotes.
10. "Love will travel as far as you let it. It has no limits." — Dee King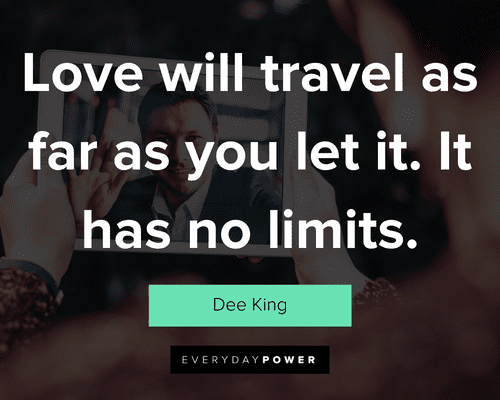 Long distance relationship quotes to brighten you up
11. "I carry your heart with me (I carry it in my heart)." – E.E. Cummings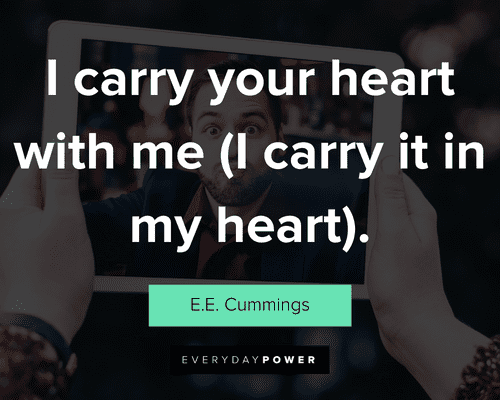 You will also enjoy our article on father daughter quotes.
12. "I miss you even more than I could have believed; and I was prepared to miss you a good deal." – Vita Sackville-West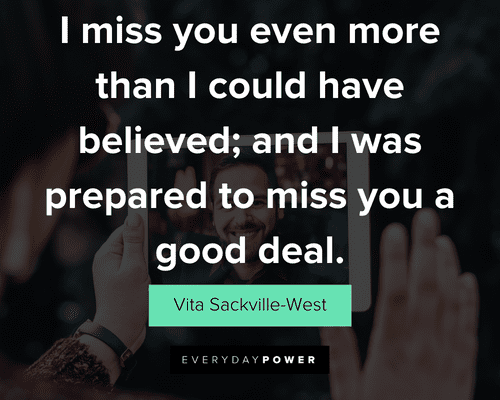 13. "I exist in two places, here and where you are." – Margaret Atwood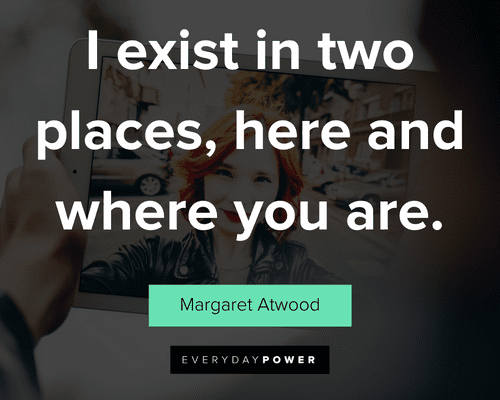 14. "Life has taught us that love does not consist in gazing at each other but in looking outward together in the same direction." – Saint-Exupery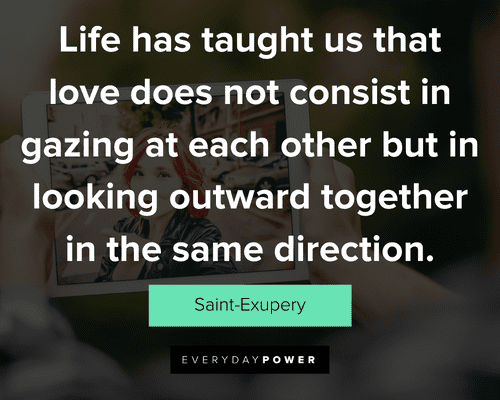 15. "You're too far for my hands to hold you, but too near for my heart to love you." – Heraline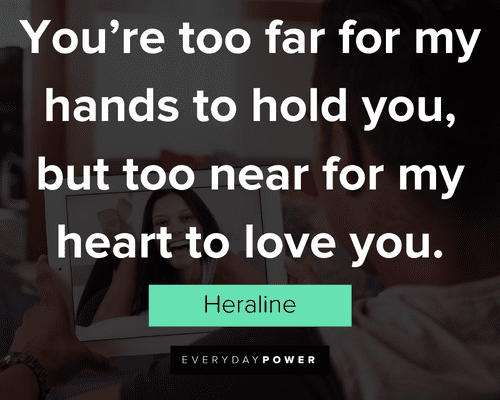 16. "Being close is the first and last desire of lovers, but being far and loving each other without an inch's difference is the characteristic of real love." – Senora Ray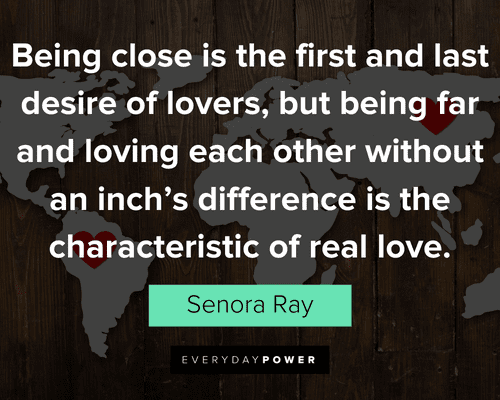 17. "The best and most beautiful things in the world cannot be seen or even touched. They must be felt with the heart." – Helen Keller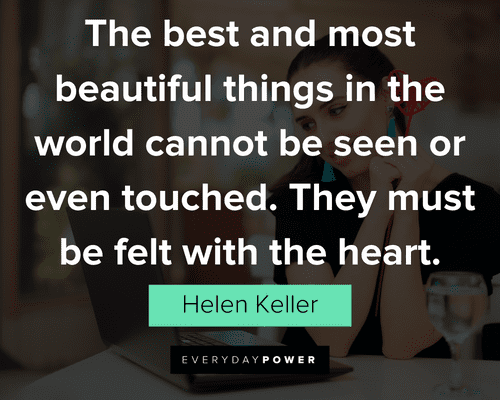 18. "Distance isn't a big factor in a relationship. Communication is. But most of all commitment is the most important one." — Unknown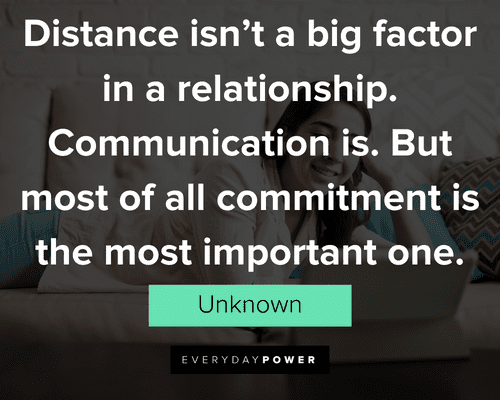 19. "When two souls are one, they hear each other, even in silence." ― Matshona Dhliwayo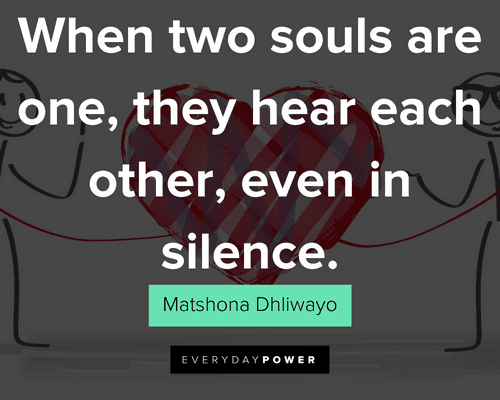 20. "A thing is mighty big when time and distance cannot shrink it." — Zora Neale Hurston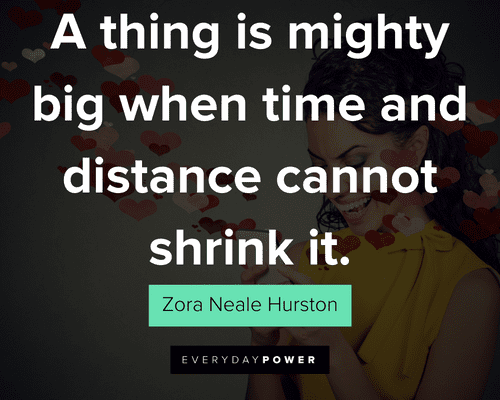 Don't forget to use these missing someone quotes and lines to make your feelings known.
Quotes about long distance relationships
21. "I found that I missed him the more he was absent from my life, and the more I missed him, the more I loved him." – Donna Lynn Hope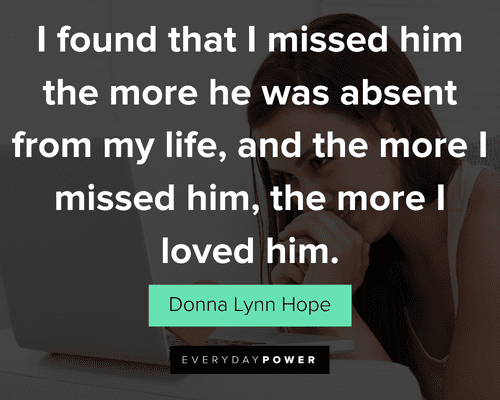 22. "Our lives were now worlds apart, separated by time, circumstance, and the unbridgeable chasm of money." – Travis Luedke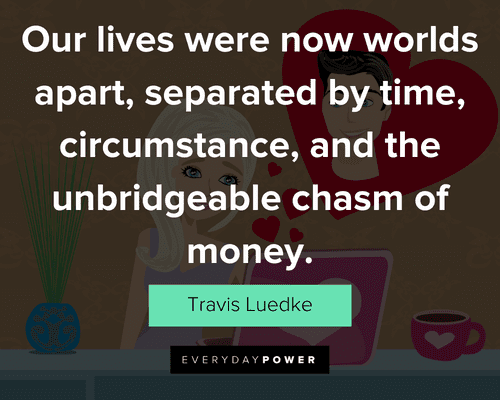 23. "I believe in the immeasurable power of love; that true love can endure any circumstance and reach across any distance." — Steve Maraboli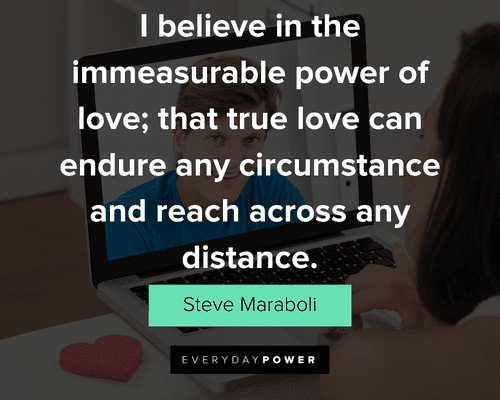 24. "Close together or far apart; you're forever in my heart." – Harry Styles
25. "If you found that one person who is really worth the sacrifices, pain, and hardships then your efforts will not go to waste." – Anna Agoncillo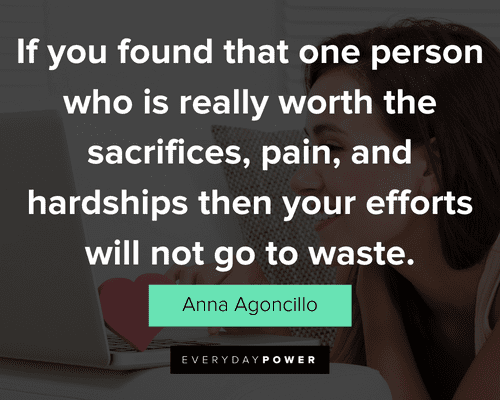 26. "If distance were measured in terms of the heart we'd never be more than a minute apart." – Unknown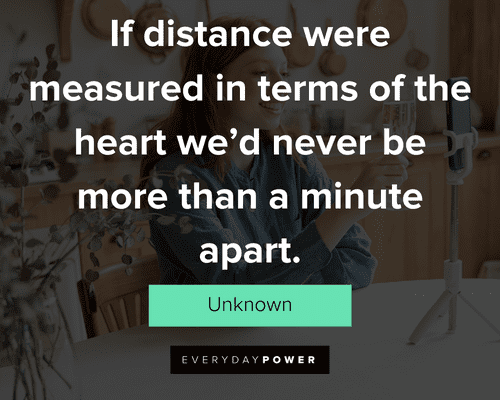 27. "Can miles truly separate? If you want to be with someone you love, aren't you already there?" – Richard Bach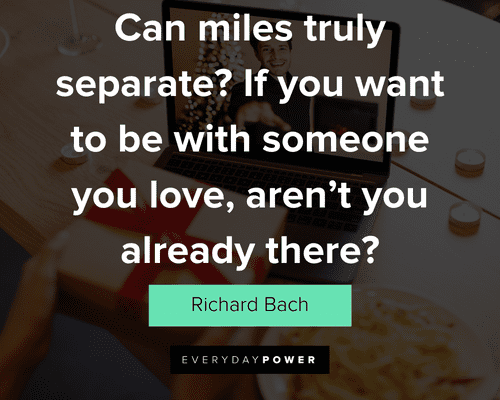 28. "Absence is to love as wind is to fire; it extinguishes the small and kindles the great." – Roger de Bussy-Rabutin
29. "Once trust is built, distance cannot kill it. Time and space alone cannot destroy authentic connection." ― Vironika Tugaleva
If you're enjoying these quotes, make sure to read our collection of trust issues quotes that will help you understand the meaning of trust.
30. "Like a wave out on the ocean I will always come right back to you." — Hunter Hayes
Long distance relationship quotes to keep you positive
31. "In true love, the smallest distance is too great, and the greatest distance can be bridged." – Hans Nouwens
32. "When your absence is felt, your presence is the essence and it makes a difference." – Michael Bassey Johnson
33. "Distance simply means separation in place but never in connections. Heart remains inseparable."― DhelChen
34. "The simple lack of her is more to me than others' presence."– Edward Thomas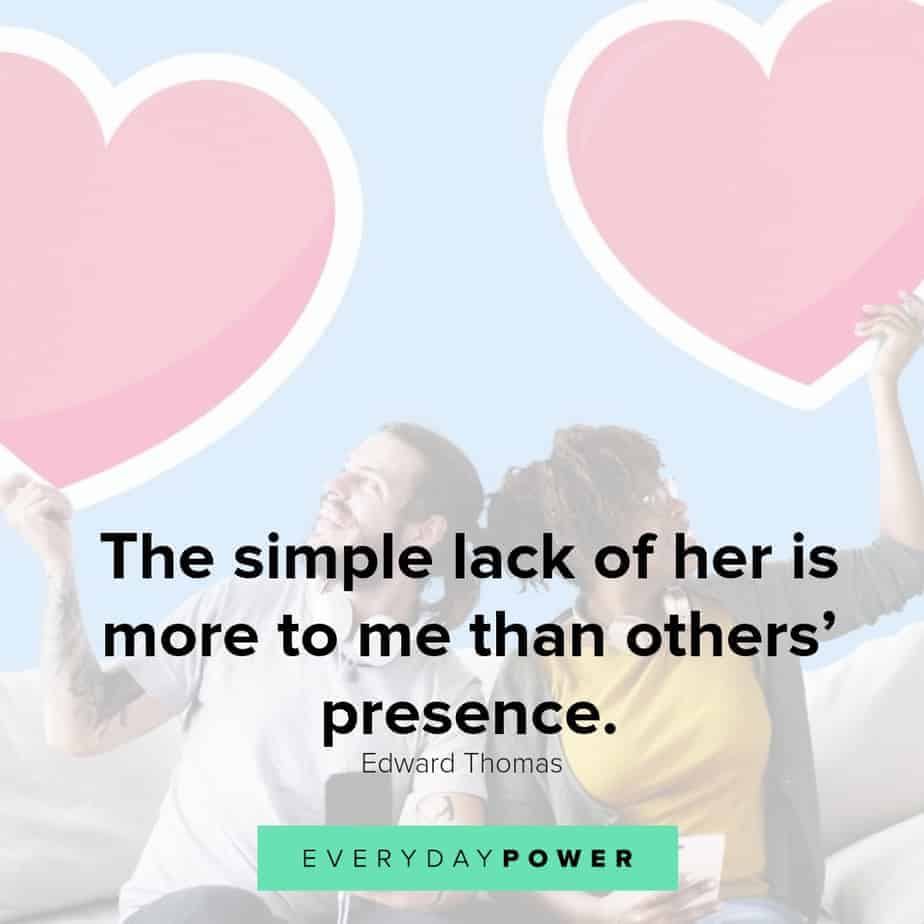 35. "Love is what you've been through with somebody." – James Thurber
36. "Missing someone can hurt. But when you know they are yours forever, negativity it helps avert." – Trishna Damodar
37. "The distance may be far and wide but my heart can cover them all. The space between us is so much more but you should know that I love you so!" – Linda Roy
38. "If you listen to the wind very carefully, you'll be able to hear me whisper my love for you." – Andrew Davidson
39. "Distance matters only when you fail to cover it through your mind." ― Munia Khan
40. "Missing someone gets easier every day because even though you get one day further from the last time you saw them, you are one day closer to the next time you will see them."—Mark Ebert
Don't forget to also check out these love quotes for her from your heart to her spirit.
Long distance relationship quotes to enlighten you
41. "No matter where I am, no matter where I go, your heart is my northern light, I will always find my way home." – Michael Kilby
42. "In many ways, the art of love is largely the art of persistence." – Albert Ellis
43. "Your absence has not taught me how to be alone, it merely has shown that when together we cast a single shadow on the wall." – Doug Fetherling
44. "Distance means so little when someone means so much." – Tom McNeal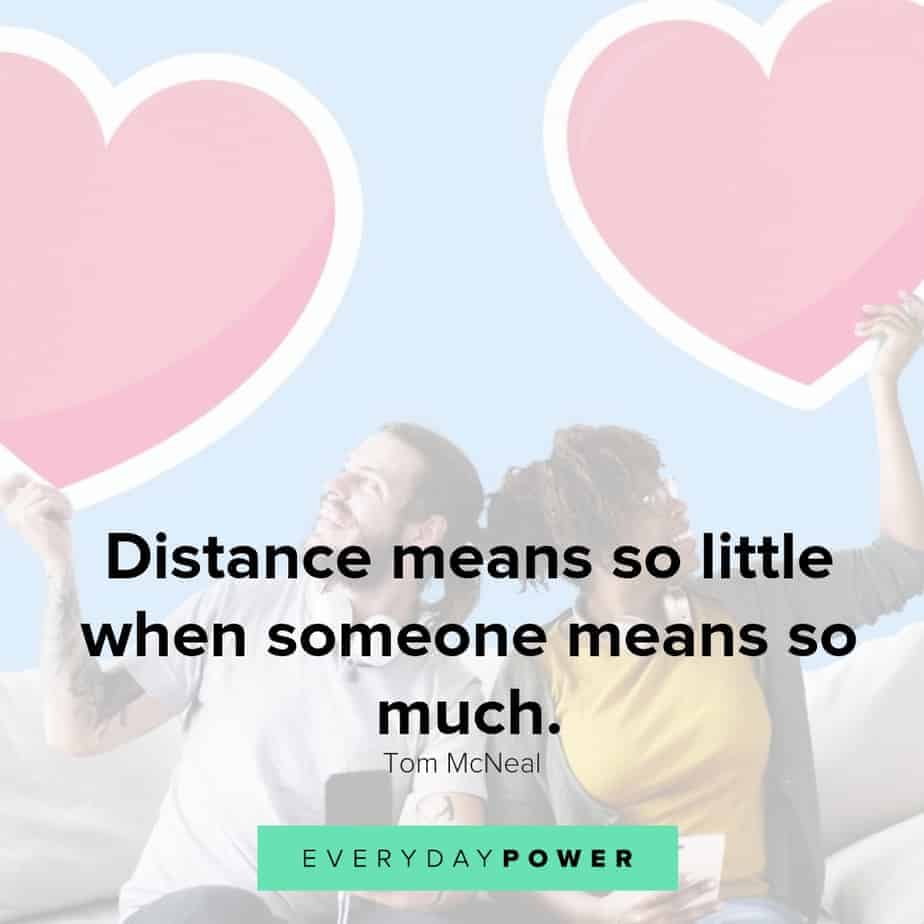 45. "If love cannot stand the test of time, then it has failed the test of love." – Bernard Byer
46. "My heart is your home, wherever in the world you are – you will always have a place to stay." – K.A. Hill
47. "Love knows not distance; it hath no continent; its eyes are for the stars." – Gilbert Parker
48. "The Pain of parting is nothing to the joy of meeting again." – Charles Dickens
49. "It's been a year and 3 months since we've kissed, and I rather have the ghost of his mouth on my lips than kiss anyone else."― Alishah Khan
50. "There are no goodbyes for us. Wherever you are, you will always be in my heart."—Gandhi
Don't forget to also read these I miss you quotes to fill that loneliness in your heart.
More long distance relationship quotes
51. "Sometimes you have to be apart from people you love, but that doesn't make you love them any less. Sometimes you love them more." – Nicholas Sparks
52. "And ever has it been known that love knows not its own depth until the hour of separation." – Khalil Gibran
53. "Distance makes the heart grow fonder." – Simone Elkeles
54. "Remember how far you've come, not just how far you have to go. You are not where you want to be, but neither are you where you used to be." – Rick Warren
55. "Distance is temporary, but our love is permanent. This may be the last time I see you, but if you keep me in your heart, together we shall be eternal; if you believe, we shall never part." – Ben Harper
56. "The scariest thing about distance is that you don't know whether they'll miss you or forget you." – Nicholas Sparks
57. "Absence makes the heart grow fonder, but it sure makes the rest of you lonely." – Charles M. Schulz
58. "Maybe, it's not the distance that's the problem, but how you handle it." – David Levithan
59. "Obviously, a long-distance relationship is hard. But, like anything worth having, you make it work." – Leona Lewis
You might also like these sad love quotes on pain, love and friendship.
Long distance relationship quotes to give you hope
60. "How lucky I am to have something that makes saying goodbye so hard." — A.A. Milne
61. "Distance is not for the fearful, it is for the bold. It's for those who are willing to spend a lot of time alone in exchange for a little time with the one they love. It's for those knowing a good thing when they see it, even if they don't see it nearly enough." — Meghan Daum
62. "It seemed that we loved each other better when there were large swaths of two continents between us. The daily work of love was often hard to perform at home." — Aleksandar Hemon
63. "I'm not telling you it is going to be easy- I am telling you it is going to be worth it." — Art Williams
64. "You have to go wholeheartedly into anything in order to achieve anything worth having." — Frank Lloyd Wright
65. "It's been a year and 3 months since we've kissed, and I rather have the ghost of his mouth on my lips than kiss anyone else." — Alisha Khan
66. "Time is the longest distance between two places." — Tennesse Williams
67. "This is the sad bed of chosen chastity because you are miles and mountains away." — Erica Jong
68. "My dear, I think of you always and at night I build myself a warm nest of things I remember and float in your sweetness till morning." — Zelda Fitzgerald
69. "The value of love is slowly lost when we have way too much. There is just no time to appreciate it. It is in times of separation and distance that you truly understand the meaning of love." — Tiffany Health
If you enjoy this article, check out our collection of separation quotes for when you are struggling to feel connected.
Long Distance Relationship Quotes That Will Make You Miss Your Loved One
70. "Be the success story you're looking for. Be the ones to survive your long distance relationship. Be the inspiration for others to follow." ― Dee King
71. "A friend of mine is in a long-distance relationship. They have dates on Skype. They'll both watch the same movie and…play." ― Emmy Rossum
72. "I close my eyes, thinking that there is nothing like an embrace after an absence, nothing like fitting my face into the curve of his shoulder and filling my lungs with the scent of him." ―
Jodi Picoult
73. "And one by one the nights between our separated cities are joined to the night that unites us." ― Pablo Neruda
74. "When something is missing in your life, it usually turns out to be someone." ― Robert Brault
75. "Nothing makes a room feel emptier than wanting someone in it." ― Calla Quinn
76. "I'll never see them again. I know that. And they know that. And knowing this, we say farewell." ― Haruki Murakami
77. "Distance never separates two hearts that really care, for our memories span the miles and in seconds we are there. But whenever I start feeling sad, because I miss you, I remind myself how lucky I am to have someone so special to miss." ― Cheryl Ott
78. "Long distance relationships through mobile communication generally becomes poor because of the weak signals and ends up due to jammed networks." ― Amit Abraham
79. "There is love in holding, and there is love in letting go." ― Elizabeth Berg
Which of these long distance relationship quotes was your favorite?
Long distance relationships may be tough but through this experience, the both of you will be bound together even stronger.
Instead of letting the extra distance pull you apart, you should view it as a learning curve for the both of you.
There are many happy couples who are in long distance relationships and according to some experts, it's healthy for a relationship to begin when two people live in different places.
Hopefully, these long distance relationship quotes will improve your chances of a healthy, lasting love.
Did you enjoy these long distance relationship quotes?
Which of the quotes was your favorite?
We would love to hear all about it in the comment section below.
April 29, 2022 5:00 AM EST