Happy Anniversary Quotes To Celebrate Love
Make every trip around the sun you spend together better than the last with these anniversary quotes.
Anniversaries celebrate a life spent with your special someone by your side, so show them how much you care with these happy anniversary quotes just with them in mind.
Whether it's your first or your twentieth, these anniversary quotes speak volumes about love and togetherness.
Every relationship thrives on memories those involved create together.
These memories may include the time you met, your engagement, your wedding, and the times you had children.
Most couples keep these memories in mind, but only a few remember to celebrate such occasions.
Various studies have shown that couples can strengthen and prolong their relationships by celebrating anniversaries.
Taking time to remember the vows you took can help strengthen your bonds and help you overcome whatever challenges might arise in your union.
Anniversaries allow couples to reflect on their relationship and celebrate the milestones they have achieved together.
They are also an opportunity for couples to show each other how much they are appreciated and loved.
Moreover, celebrating anniversaries can help reignite the spark in a relationship and keep the romance alive.
Celebrating your anniversary does not necessarily mean spending a lot of money.
For instance, you can plan a picnic for you and your partner, take romantic photographs, or simply send a happy anniversary message or note.
Ultimately, celebrating anniversaries is a personal choice, and what is important is finding a way to mark the occasion in a meaningful and special way for you and your special one.
To help you celebrate your anniversary, we have compiled this list of romantic happy anniversary quotes that you can use as inspiration.
Below is our collection of inspirational happy anniversary quotes, messages, and happy anniversary wishes, collected over the years from various sources.
If you enjoy this article, check out our most popular quote article, a list of short inspirational quotes for daily motivation.
Browse our entire collection of inspirational quotes for more motivating ideas and concepts.
Happy anniversary quotes to celebrate love
1. "The secret of a happy marriage is finding the right person. You know they're right if you love to be with them all the time." ― Julia Child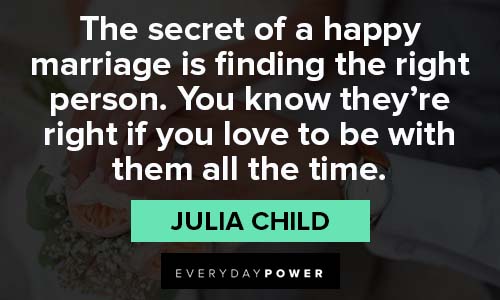 You will also enjoy our article on engagement quotes.
2. "The minute I heard my first love story I started looking for you, not knowing how blind that was. Lovers don't finally meet somewhere. They're in each other all along." ― Rumi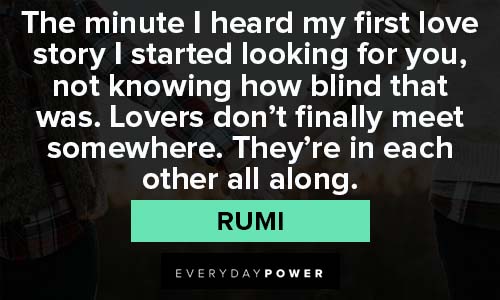 You will also enjoy our article on Twin Flame Quotes.
3. "If I know what love is, it is because of you." ― Herman Hesse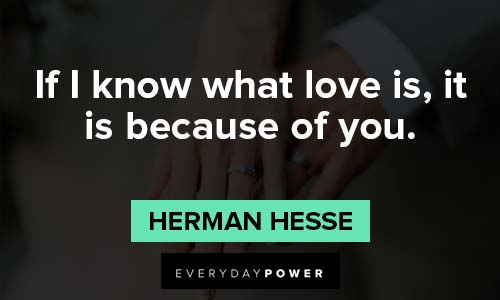 4. "Chains do not hold a marriage together. It is threads, hundreds of tiny threads, which sew people together through the years." ― Simone Signoret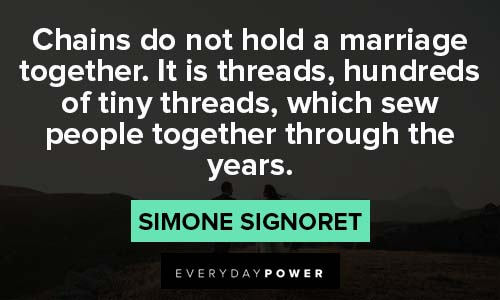 5. "There is no more lovely, friendly and charming relationship, communion or company than a good marriage." ― Martin Luther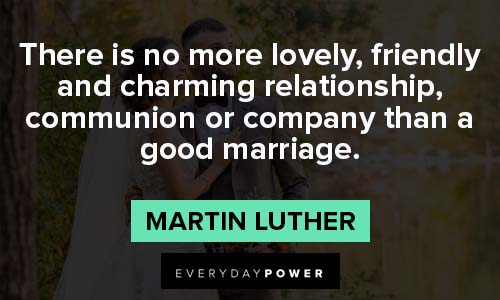 6. "Yes, it was love at first sight. I feel that after all these years, I have finally found my soulmate." ― Barbara Hershey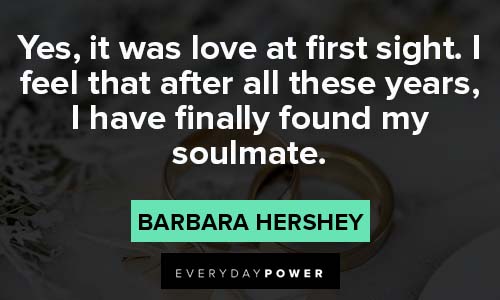 7. "I will spend an eternity loving you, caring for you, respecting you, showing you every day that I hold you as high as the stars." ― Steve Maraboli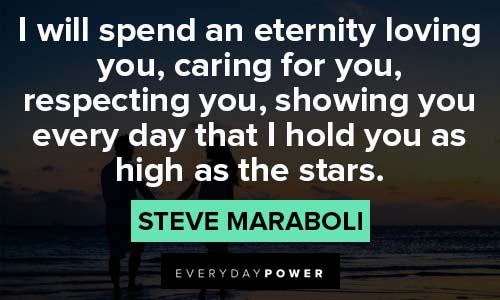 8. "If equal affection cannot be, let the more loving one be me." ― W.H. Auden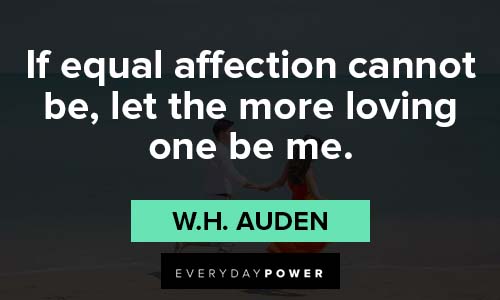 9. "I want you for always … days, years, eternities." ― Franz Schubert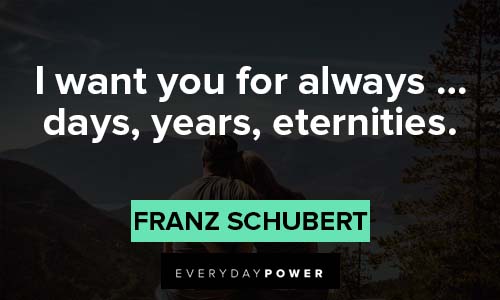 10. "To love at all is to be vulnerable." ― C.S. Lewis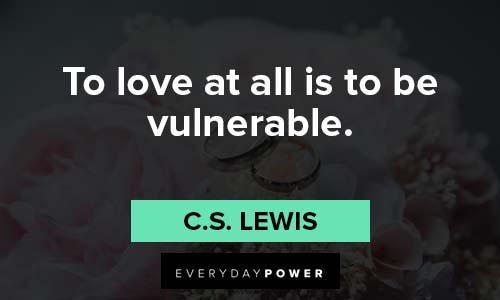 Don't forget to also check out these heartwarming 10 year anniversary quotes.
Happy anniversary quotes to celebrate your union
11. "Life's greatest happiness is to be convinced we are loved." ― Victor Hugo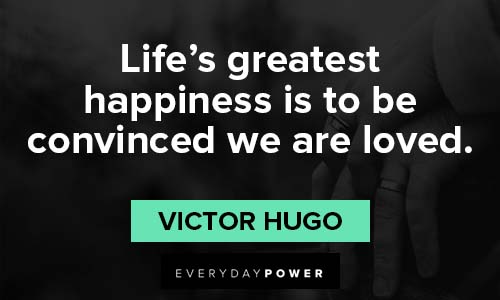 12. "A successful marriage requires falling in love many times, always with the same person." ― Mignon McLaughlin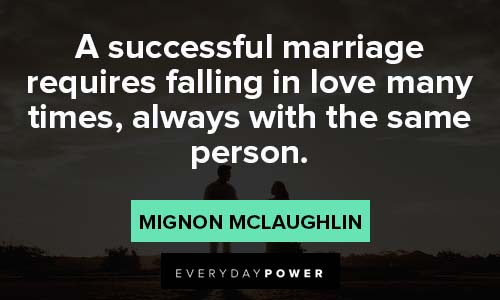 13. "Marriage is the most natural state of man, and… the state in which you will find solid happiness." ― Benjamin Franklin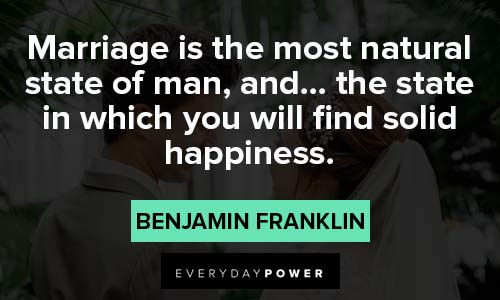 14. "I love you, and I will love you until I die, and if there's a life after that, I'll love you then." ― Cassandra Clare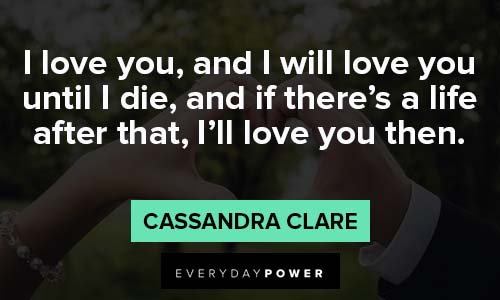 15. "I love you forever, not maybe. You are my one true love." ― Lana Del Rey
If you're enjoying these quotes, you'll love our collection of Lana Del Rey quotes that give a glimpse of who she is on a more personal level.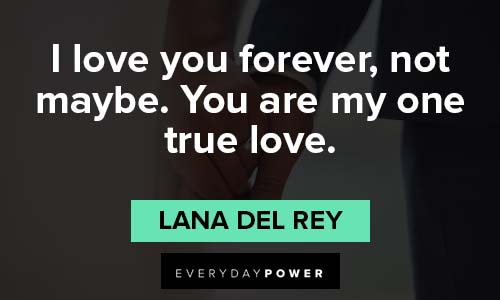 16. "I carry your heart with me (I carry it in my heart) I am never without it." ― E.E. Cummings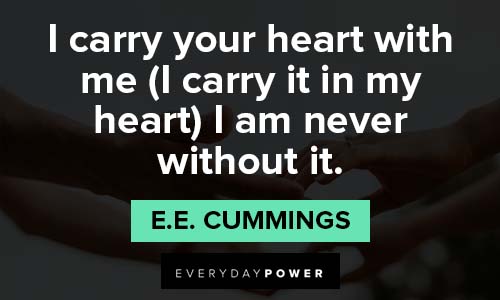 17. "No matter how much cats fight, there always seem to be plenty of kittens." ― Abraham Lincoln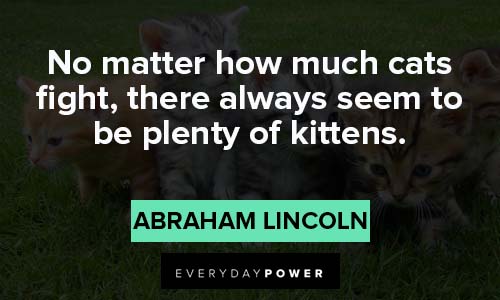 18. "I love you – I am at rest with you – I have come home." ― Dorothy L. Sayers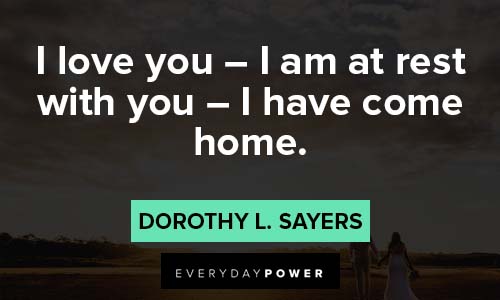 19. "Come, let's be a comfortable couple and take care of each other! How glad we shall be, that we have somebody we are fond of always, to talk to and sit with." ― Charles Dickens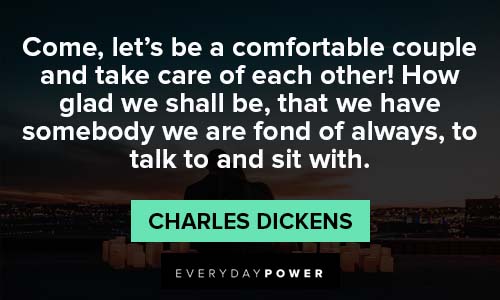 20. "Our wedding was many years ago. The celebration continues to this day." ― Gene Perret
If you're enjoying these quotes, you'll love our collection of wedding quotes that celebrate love, friendship, and marriage.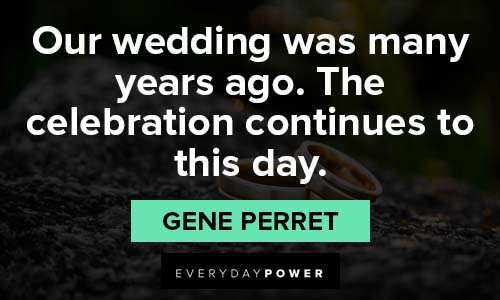 Happy anniversary quotes for your husband or wife
Don't forget to also check out this collection of lovely husband quotes.
21. "Experts on romance say for a happy marriage there has to be more than a passionate love. For a lasting union, they insist, there must be a genuine liking for each other. Which, in my book, is a good definition for friendship." ― Marilyn Monroe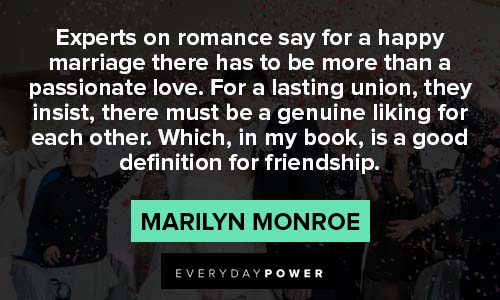 22. "To have you in my life is wondrous. Yet all good things, allegedly, come to an end, piffle, says I, for you, undoubtedly, will forever be my lover and best friend." ― John Walter Bratton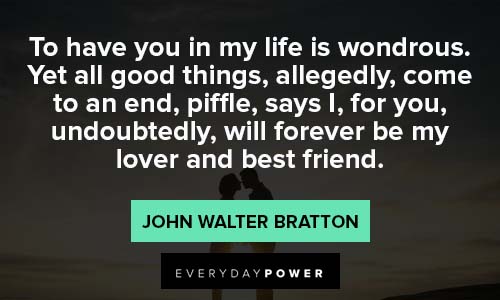 23. "The bonds of matrimony are like any other bonds – they mature slowly." ― Peter De Vries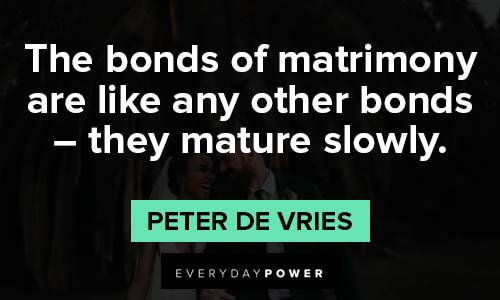 24. "You were made perfectly to be loved – and surely I have loved you, in the idea of you, my whole life long." ― Elizabeth Barrett Browning
25. "Love is the only gold." ― Alfred Lord Tennyson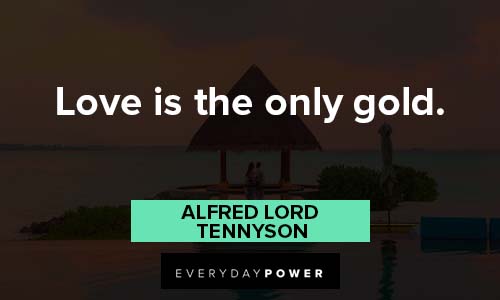 26. "You. You are my good days." ― F.D. Soul
27. "With our love, we could save the world." ― George Harrison
28. "I love you the more in that I believe you had liked me for my own sake and for nothing else." ― John Keats
29. "You are the finest, loveliest, tenderest, and most beautiful person I have ever known – and even that is an understatement." ― F. Scott Fitzgerald
30. "You may not be her first, her last, or her only. She loved before she may love again. But if she loves you now, what else matters? She's not perfect—you aren't either, and the two of you may never be perfect together but if she can make you laugh, cause you to think twice, and admit to being human and making mistakes, hold onto her and give her the most you can." ― Bob Marley
Don't forget to also check out our collection of quotes about having fun and enjoying your life.
Happy anniversary quotes to show how much you appreciate them
If you're enjoying these quotes, make sure to check out our collection of The Notebook quotes from the movie.
31. "Other men said they have seen angels. But I have seen thee, and thou art enough." ― George Moore
32. "I swear I couldn't love you more than I do right now, and yet I know I will tomorrow." ― Leo Christopher
33. "Every heart sings a song, incomplete, until another heart whispers back. Those who wish to sing always find a song. At the touch of a lover, everyone becomes a poet." ― Plato
34. "I am nothing special, of this I am sure. I am a common man with common thoughts and I've led a common life. There are no monuments dedicated to me and my name will soon be forgotten, but I've loved another with all my heart and soul, and to me, this has always been enough." ― Nicholas Sparks, The Notebook
35. "We're all a little weird. And life is a little weird. And when we find someone whose weirdness is compatible with ours, we join up with them and fall into mutually satisfying weirdness—and call it love—true love." ― Robert Fulghum, True Love
If you're enjoying these quotes, make sure to check out our collection of true love quotes for the hopeless romantic.
36. "Love is just a word but you bring it definition." ― Eminem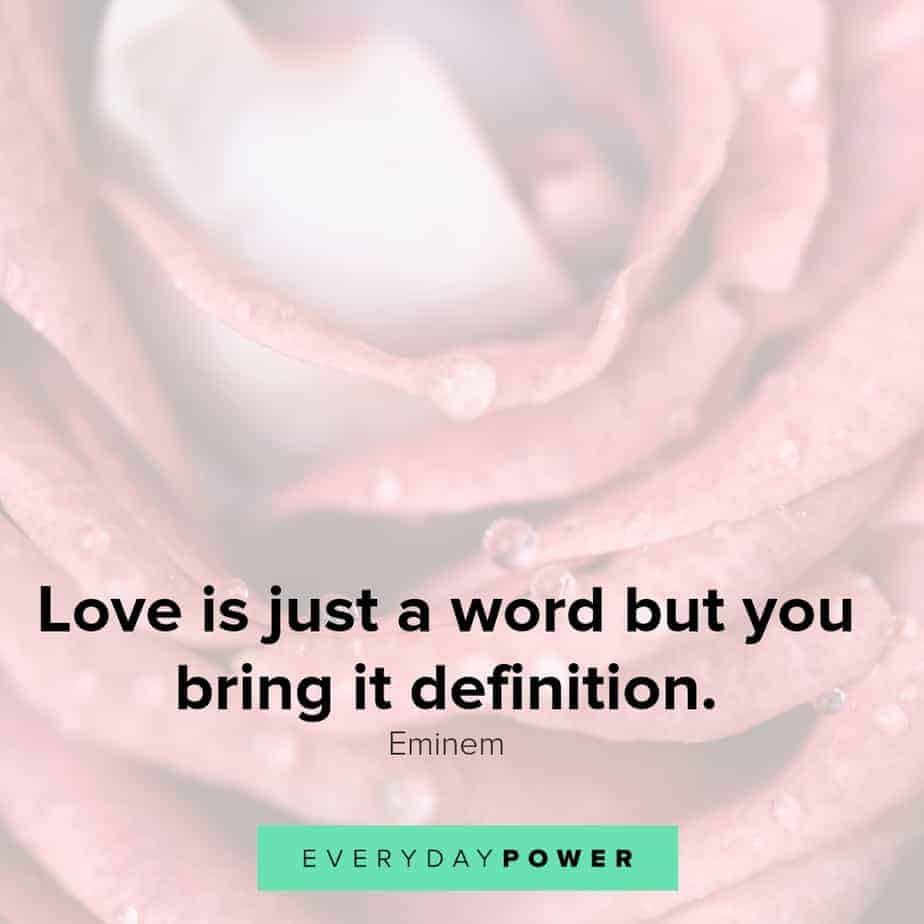 37. "If I had a flower for every time I thought of you… I could walk through my garden forever." ― Alfred Lord Tennyson
38. "Immature love says: "I love you because I need you." Mature love says "I need you because I love you." ― Erich Fromm
39. "Love is like a friendship caught on fire. In the beginning a flame, very pretty, often hot and fierce, but still only light and flickering. As love grows older, our hearts mature and our love becomes as coals, deep-burning and unquenchable." ― Bruce Lee
If you're enjoying this article, you will also love our collection of good morning texts for her to let her know how much you care.
Happy anniversary quotes to celebrate your love
40. "All that you are, all that I owe to you, justifies my love." ― Marquis de Lafayette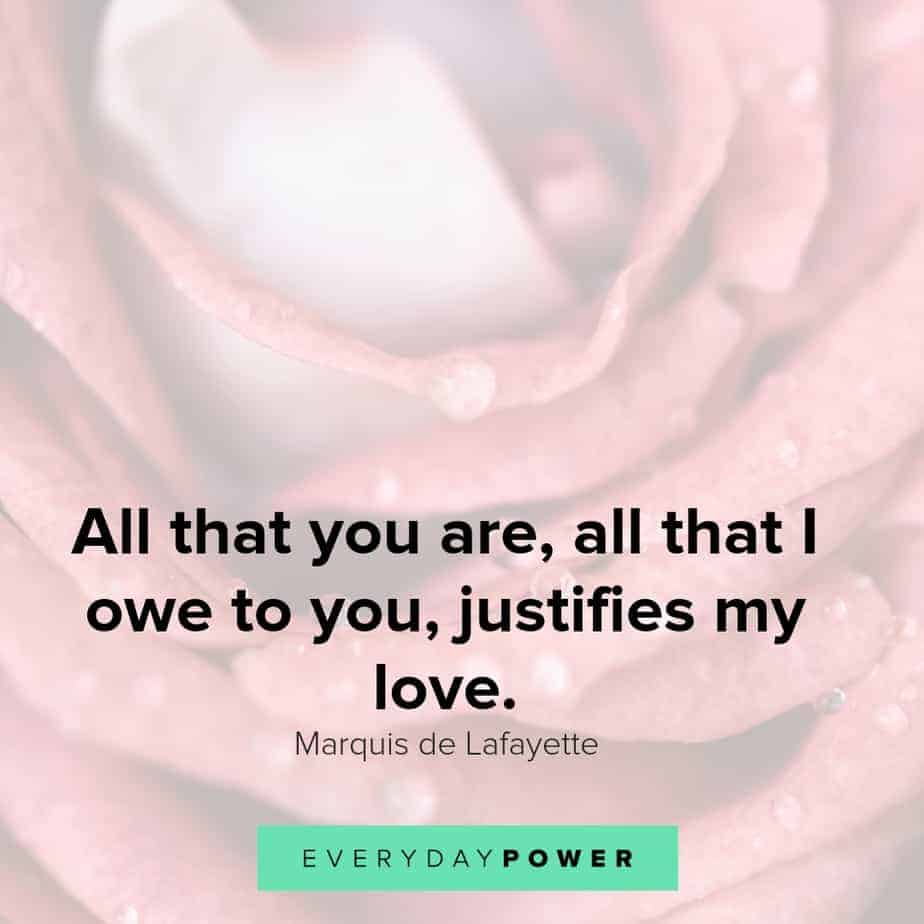 41. "All, everything that I understand, I only understand because I love." ― Leo Tolstoy
42. "A successful marriage requires falling in love many times, always with the same person." ― Mignon McLaughlin
43. "In all the world, there is no heart for me like yours. In all the world, there is no love for you like mine." ― Maya Angelou
44. "I ask you to pass through life at my side – to be my second self, and best earthly companion." ― Charlotte Bronte
45. "Meeting you was fate, becoming your friend was a choice, but falling in love with you I had no control over." ― James Blunt
46. "I saw that you were perfect, and so I loved you. Then I saw that you were not perfect and I loved you even more." ― Angelita Lim
47. "You have bewitched me, body and soul, and I love… I love… I love you. I never wish to be parted from you from this day on." ― Darcy
48. "I feel so loved and truly blessed. My best friend,my love. The kindest man who inspires me every day. Happy Anniversary to the best husband and daddy in the world!! EVER!" ― Victoria Beckham
49. "Cause all of me loves all of you, loves your curves and all your edges, all your perfect imperfections. Give your all to me, I'll give my all to you. You're my end and my beginning, even when I lose I'm winning." ― John Legend
50. "I was lucky to meet someone who has the same drive and wanted the same things in life… We have created 4 beautiful children and I couldn't wish for a more loving and caring mummy for them… Happy anniversary, I love you." ― David Beckham
Happy anniversary quotes to inspire you
51. "All that you are is all that I'll ever need." ― Ed Sheeran
52. "Real love stories never have endings." ― Richard Bach
53. "Grow old with me, the best is yet to be." ― Robert Browning
54. "You are my today and all of my tomorrows." ― Lee Christopher
55. "We loved with a love that was more than love." ― Edgar Allan Poe
56. "The best thing to hold onto in life is each other." ― Audrey Hepburn
57. "I never loved you any more than I do, right this second. And I'll never love you any less than I do, right this second." ― Kami Garcia
58. "As we grow older together, As we continue to change with age, There is one thing that will never change … I will always keep falling in love with you." ― Karen Clodfelder
60. "I love you not only for what you are, but for what I am when I am with you. I love you not only for what you have made of yourself, but for what you are making of me. I love you for the part of me that you bring out." ― Roy Croft
Happy wedding anniversary quotes for your love
61. "Where there is love there is life." ― Mahatma Gandhi
62. "I love being my husband's wife." ― Julianna Margulies
63. "There is no remedy for love but to love more." ― Henry David Thoreau
64. "Loved you yesterday, love you still, always have, always will." ― Unknown
65. "Whatever our souls are made of, his and mine are the same." ― Emily Bronte
66. "When I saw you I fell in love, and you smiled because you knew." ― Arrigo Boito
67. "One word frees us of all the weight and pain of life: That word is love." ― Sophocles
68. "Love grows more tremendously full, swift, poignant, as the years, multiply." ― Zane Grey
69. "You are my best friend, my human diary, and my other half. You mean the world to me and I love you." ― Unknown
70. "Being deeply loved by someone gives you strength while loving someone deeply gives you courage." ― Lao Tzu
71. "Love doesn't just sit there, like a stone, it has to be made, like bread; remade all the time, made new." ― Ursula K. Le Guin
72. "For you see, each day I love you more, today more than yesterday and less than tomorrow." ― Rosemonde Gerard
73. "Love recognizes no barriers. It jumps hurdles, leaps fences, penetrates walls to arrive at its destination full of hope." ― Maya Angelou
74. "A wedding anniversary is the celebration of love, trust, partnership, tolerance, and tenacity. The order varies for any given year." ― Paul Sweeney
75. "A great marriage is not when the 'perfect couple' comes together. It is when an imperfect couple learns to enjoy their differences." ― Dave Meurer
Other happy anniversary quotes and sayings
76. "I love her, and that's the beginning and end of everything." ― F. Scott Fitzgerald
77. "Forever is a measure of time used by people who share an ordinary love. Our extraordinary love is immeasurable … for us, forever just won't do." ― Steve Maraboli
If you're enjoying these quotes, make sure to read our collection of love quotes for her to help you express your feelings.
78. "Because of you, I laugh a little harder, cry a little less, and smile a lot more." ― Unknown
79. "I love you without knowing how, or when, or from where. I love you straightforwardly, without complexities or pride; so I love you because I know no other way." ― Pablo Neruda
If you're enjoying these quotes, you'll love our collection of Pablo Neruda quotes that will make you question life and love.
80. "When I follow my heart, it leads me to you." ― Unknown
81. "In a sea of people, my eyes will always search for you." ― Anonymous
82. "Every day is a gift. But some days are packaged better." ― Sanhita Baruah
83. "An anniversary is a celebration of the triumph and tragedy of love." ― Debasish Mridha
84. "Better than I was, more than I am. And all this happened by taking your hand." ― Tim McGraw
85. "An anniversary is where you look back at having either fulfilled Cinderella or Lord of the Flies." ― Fernando A. Torres
86. "I love you much most beautiful darling more than anyone on the earth and I like you better than everything in the sky." ― E.E. Cummings
87. "They say a person needs just three things to be truly happy in this world: someone to love, something to do, and something to hope for." ― Tom Bodett
88 "Most modern calendars mar the sweet simplicity of our lives by reminding us that each day that passes is the anniversary of some perfectly uninteresting event." ― Oscar Wilde
89. "The best love is the kind that awakens the soul; that makes us reach for more, that plants the fire in our hearts and brings peace to our minds. That's what I hope to give you forever." ― Nicholas Sparks
Happy anniversary quotes for couples
90. "But you are still you, I'm still me, and we are still we" ― Richard L. Ratliff
91. "Marriage is the beginning of an everlasting melody of love." ― Debasish Mridha, MD
92. "I want to get drunk with your love and get lost in your heart forever." ― Debasish Mridha, MD
93. "I wish there was a word more than 'love' itself to convey what I feel for you." ― Faraaz Kazi
94. "The key to a successful and lasting marriage relationship is friendship" ― Manuel Corazzari
95. "For the two of us, home isn't a place. It is a person. And we are finally home." ― Stephanie Perkins
96. "Every wedding anniversary, we behave like mountaineers,/and pretend to have conquered the distance." ― Sumana Roy
97. "You know you are in love when you don't want to fall asleep because reality is finally better than your dreams." ― Dr. Seuss
98."And as ridiculous as it may sound, sometimes all any of us needs in life is for someone to hold our hand and walk next to us." ― James Frey
99. "However, you forgot our anniversary date, but it does not matter because I know that you may have forgotten the date but you haven't forgotten my value in your life." ― Shattered Girl
Happy anniversary quotes to celebrate your years in marriage
100."I would rather share one lifetime with you than face all the ages of this world alone." ― Arwen
101. "An anniversary is a reminder as to why you love and married this person." ― Zoë Foster Blake
102."Every day I discover that I love you even more, and in this infinite universe I will love you till the end." ― Alicia N Green
103. "And I'd choose you; in a hundred lifetimes, in a hundred world, in any version of reality, I'd find you and I'd choose you." ― Kiersten White
104."An anniversary is not divided into mere hours of a day but measured in each moment when two never stop being one." ― Byron Pulsifer
105. "I think long-lasting, healthy relationships are more important than the idea of marriage. At the root of every successful marriage is a strong partnership." ― Carson Daly
106. "We are not the same people this year as last- nor are those we love. It is a happy chance if we, changing, continue to love a changed person." ― W. Somerset Maugham
107. "Love seems the swiftest, but it is the slowest of all growths. No man or woman really knows what perfect love is until they have been married a quarter of a century." ― Mark Twain
108. "Twenty-five years of happiness known. A very long time, yet so quickly it's flown! It's nice to remember the good times we've had, and leave in the past any things that were bad." ― Norman Wesley Brooks
109. "Thank you for being you. For sharing your love with me. For inspiring me to accept myself. For helping me see the unique beauty in imperfection. For showing me that love is something you do- something not to just be said, but also to be shown." ― Steve Maraboli
Happy anniversary quotes for your partner
110. "At the touch of love everyone becomes a poet." ― Plato
112. "You are my heart, my life, my one and only thought." ― Arthur Conan Doyle
112. "You will be my glass of wine and I'll be your shot of whiskey." ― Blake Shelton
113. "To love is nothing. To be loved is something. But to love and be loved, that's everything." ― T. Tolis
114. "I found true friendship the day I married you. Happy Anniversary to my best friend and soulmate!" ― Catherine Pulsifer
115. "The best and most beautiful things in this world cannot be seen or even heard, but must be felt with the heart." ― Helen Keller
116. " There's no substitute for a great love who says, 'No matter what's wrong with you, you're welcome at this table." ― Tom Hanks
117. "The heart wants what it wants. There's no logic to these things. You meet someone and you fall in love and that's that." ― Woody Allen
118. "You don't love someone for their looks, their clothes or their fancy car, but because they sing a song only you can hear." ― Oscar Wilde
119. "True love doesn't happen right away; it's an ever-growing process. It develops after you've gone through many ups and downs, when you've suffered together, cried together, laughed together." ― Ricardo Montalban
Which of these happy anniversary quotes was your favorite?
For you to have a happy relationship or marriage, you have to work for it.
Every union requires a lot of nurturing and work.
One way to ensure your relationship lasts is to celebrate every milestone and anniversary.
Sending a romantic happy anniversary quote to your loved one can help strengthen the bond you share with them; no matter how simple it may seem.
Hopefully, the above quotes will help you mark one of the most important days of your love life.
Did you enjoy these happy anniversary quotes?
Which of the quotes was your favorite?
Let us know in the comment section below.