Unicorn Quotes to Spark Your Imagination
There are few things as imaginative as a unicorn.
Use these unicorn quotes to spark your creativity.
There is something that just feels magical about the mythical unicorn.
You might also enjoy these related quote articles about magical and mythical things:
They have long been loved by children that love to dream up creative stories and are great at using their imaginations.
It's something that we can all learn from.
If you need a little help getting creative in your life or work, these unicorn quotes below can help you to tap into your imagination and think of things in a new way.
The ability to reach into your creative thinking is all within your control by how you think about things.
For more inspiration, don't forget to also read our collection of creativity quotes that will inspire you to express your real self.
Check out our most popular quote article, a list of short inspirational quotes for daily inspiration.
Our inspirational quotes category page has all our motivational quotes for all the different areas of life.
Unicorn quotes to spark your imagination
1. "Everyone says social media is a unicorn, but maybe it's just a horse?" – Jay Baer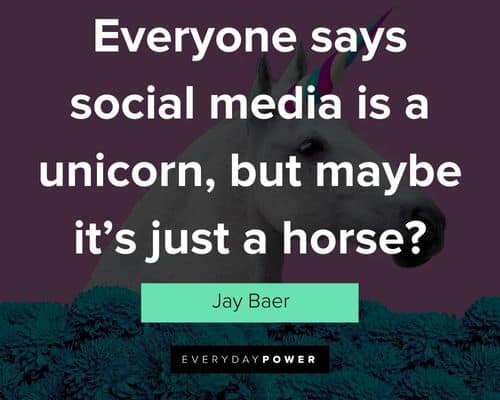 2. "A unicorn is just a horse with a point of view." – Ron Sexsmith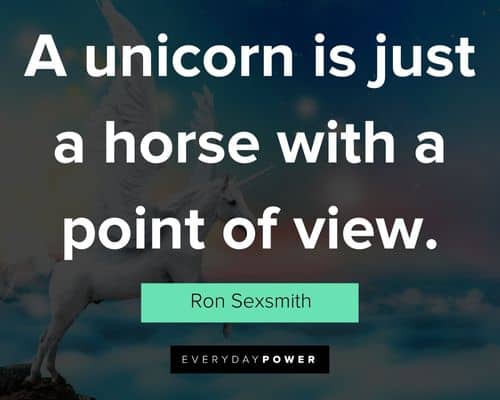 3. "I thought unicorns were more… fluffy." – Terry Pratchett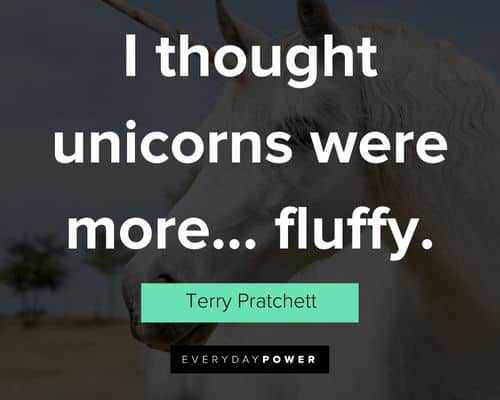 You will also enjoy our article on Magic Quotes.
4. "I might act like a rhinoceros, but I'm a unicorn." – Nuno Roque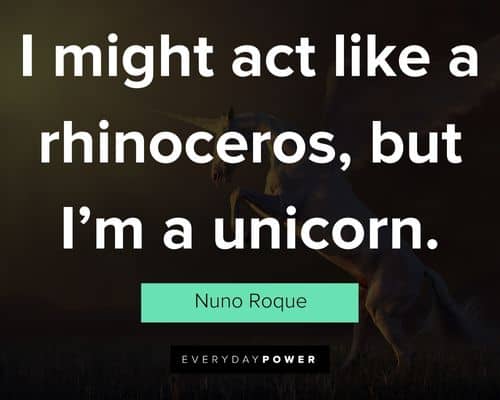 5. "Sleep is like the unicorn – it is rumored to exist, but I doubt I will see any." – Dr. Seuss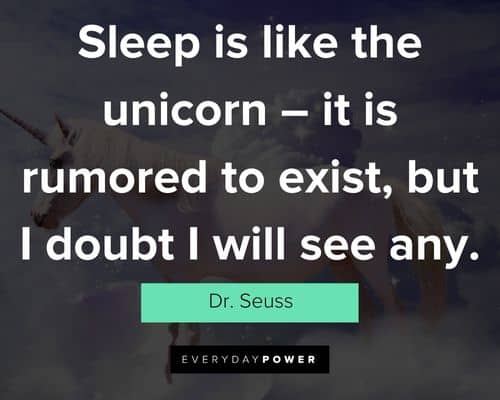 6. "It's not a unicorn – it's a horse with a sword on its head that protects my hopes and dreams." – Tad Quill & Gabrielle Allan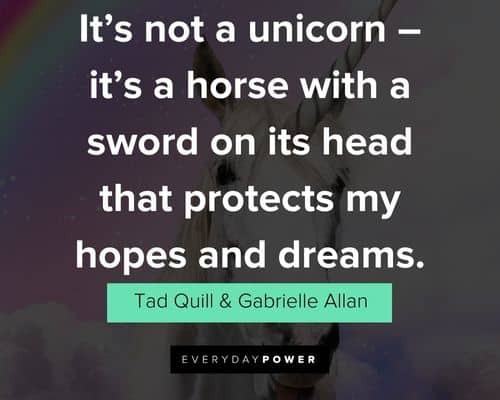 If you're enjoying these quotes, you'll love our collection of horse quotes that will inspire you to take a ride.
7. "When I look at myself in the mirror, I see a unicorn. A badass unicorn." – Sebastien Milon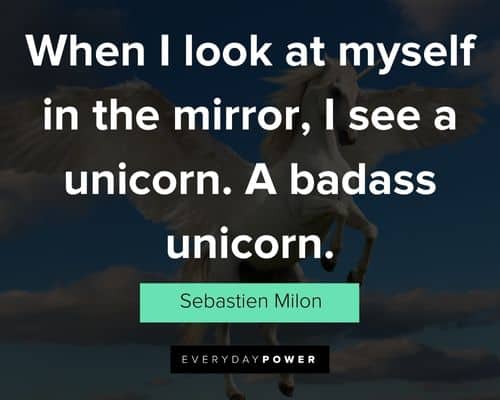 8. "It's like learning to ride a unicorn. You never forget." – Eoin Colfer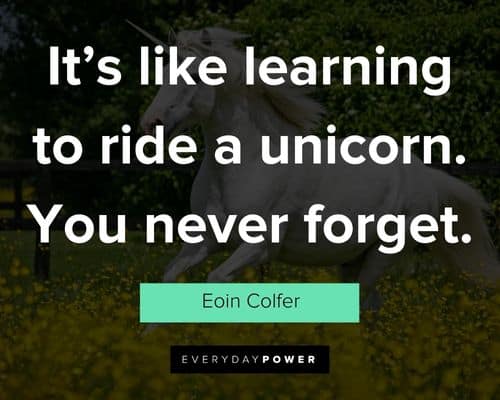 9. "Hey, I like unicorns. Unicorns are just weaponized ponies." – Damon Suede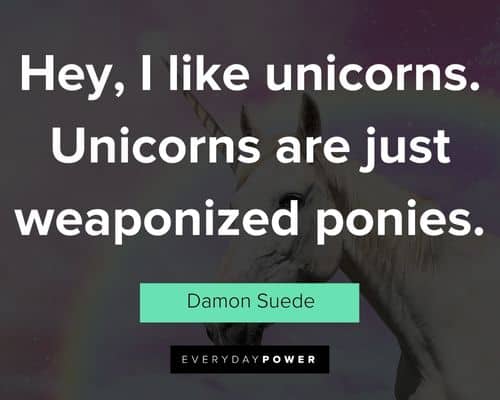 10. "Never pretend to be a unicorn by sticking a plunger on your head." – Martin Espada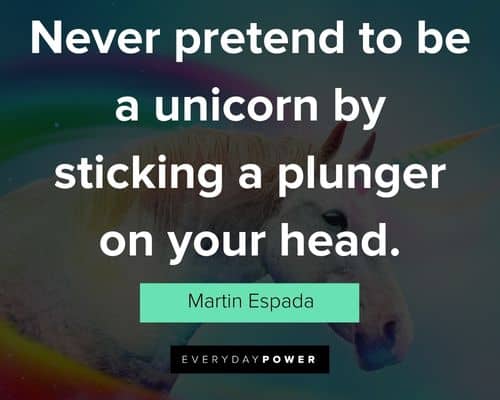 Unicorn quotes to make you think outside the box
11. "I suppose I could understand it if men had simply forgotten unicorns, but not to see the at all, to look at them and see something else – what do they look to one another, then? What do trees look like to them, or houses, or real horses, or their own children?" – Peter S. Beagle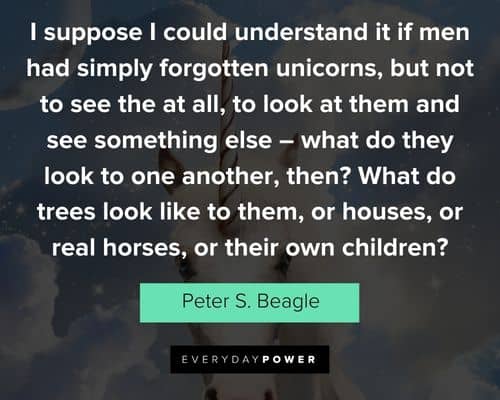 12. "Unicorns," I said. "Very dangerous. You go first." ― Jim Butcher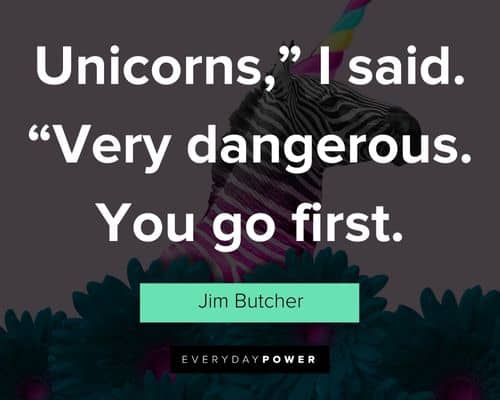 13. "The unicorns were the most recognizable magic the fairies possessed, and they sent them to those worlds where belief in the magic was in danger of falling altogether. After all there has to be some belief in magic- however small- for any world to survive." – Terry Brooks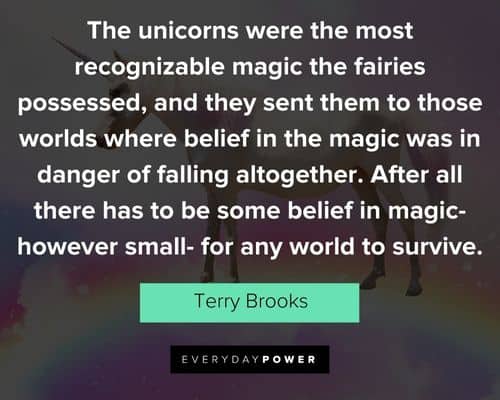 14. "Now I will believe that there are unicorns." – William Shakespeare (see more William Shakespeare quotes)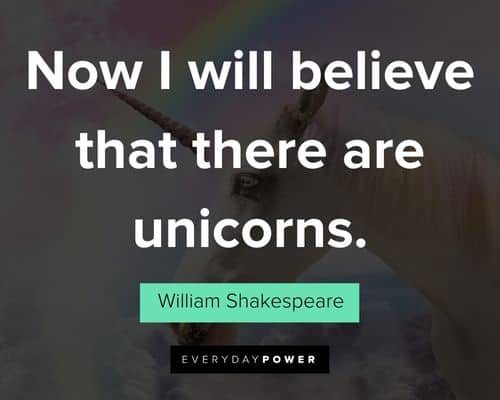 15. "'Do you know, I always thought unicorns were fabulous monsters, too? I never saw one alive before!' Well, now that we have seen each other,' said the unicorn, 'if you'll believe in me, I'll believe in you.'" – Lewis Carroll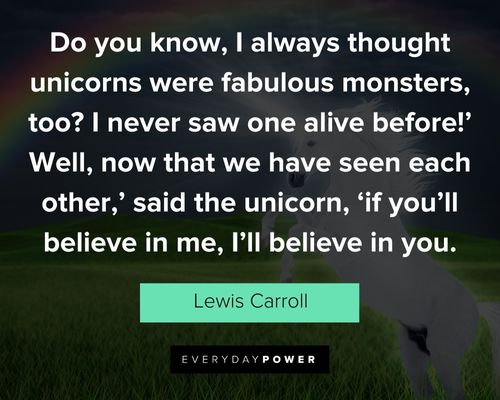 Also read these funny Willy Wonka quotes to awaken your imagination.
Thoughtful quotes about unicorns
16. "The unicorn is not known for its horn, beauty, or purity; but for it's strength and courage as one." – Nicole Beckwith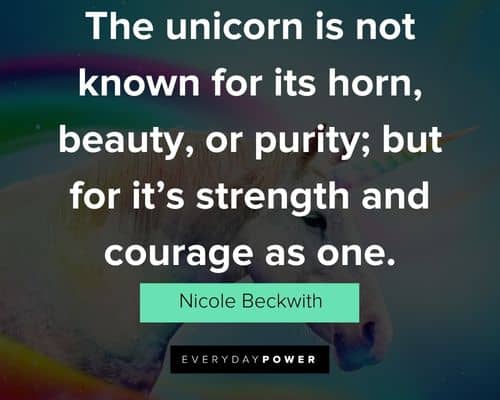 17. "I would wanna be a mermaid, but I think I'm a little bit more of a unicorn, because I'm like a little bit more horsey." – Blake Lively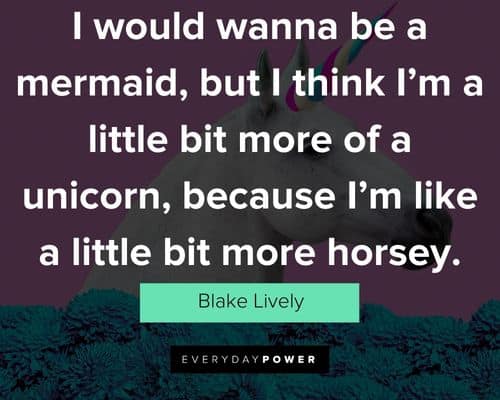 If you're enjoying these quotes, you'll love our collection of Little Mermaid quotes that will make you sing under the sea.
18. "Don't you love it that Prince doesn't use Twitter? Don't you think he's somewhere on a unicorn?" – Bruno Mars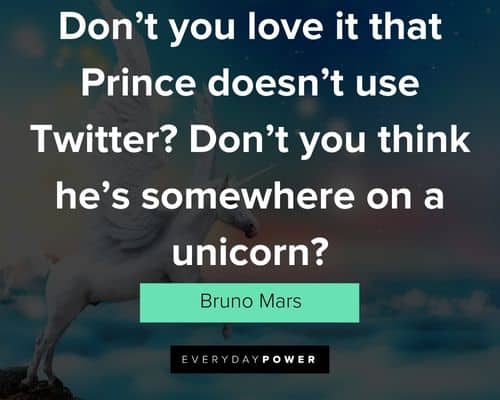 19. "Most people say, 'Show, don't tell,' but I stand by Show and Tell, because when writers put their work out into the world, they're like kids bringing their broken unicorns and chewed-up teddy bears into class in the sad hope that somebody else will love them as much as they do." – Colson Whitehead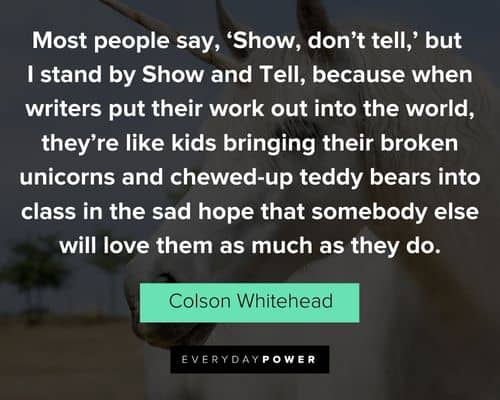 20. "'The unicorn', she said, 'was a marvelous beast, shining with honor, wisdom and strength. Just to see him strengthened the soul.'" – Megan Lindholm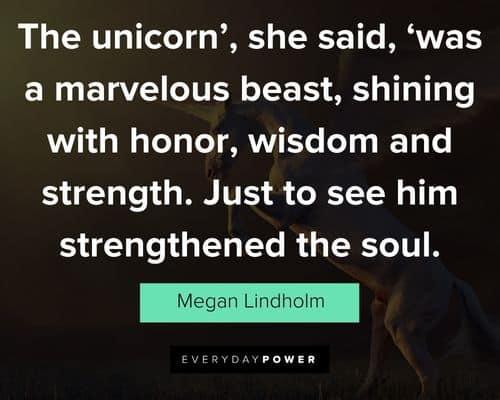 21. "My favorite wild animal is a narwhal – the unicorn of the sea. It's a whale with a tooth that sticks out of its head that's almost two-thirds the length of its entire body." – Kesha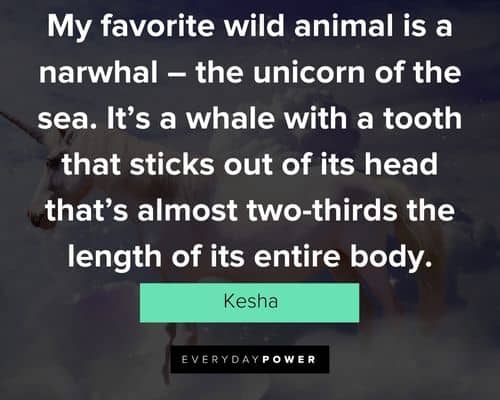 22. "A legend – now I am like a unicorn." – Jean Giraud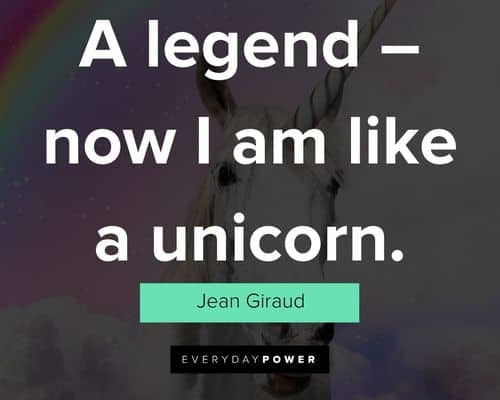 23. "Unicorns are immortal. It is their nature to live alone in one place: usually a forest where there is a pool clear enough for them to see themselves — for they are a little vain, knowing themselves to be the most beautiful." – Peter S. Beagle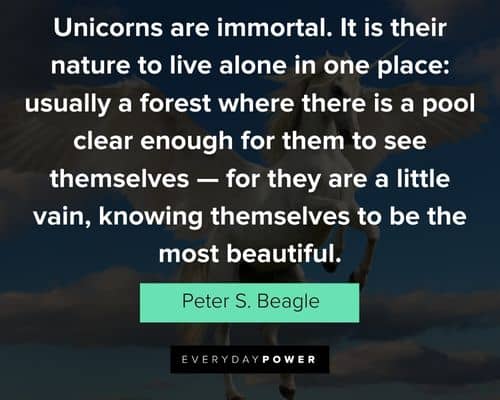 24. "This is the violet hour, the hour of hush and wonder, when the affections glow and valor is reborn, when the shadows deepen along the edge of the forest and we believe that, if we watch carefully, at any moment we may see the unicorn." – Bernard DeVoto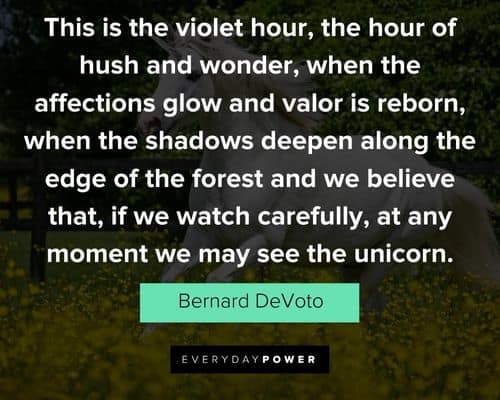 Magical unicorn quotes
25. "… no place is more enchanted than where a unicorn has been born." – Peter S. Beagle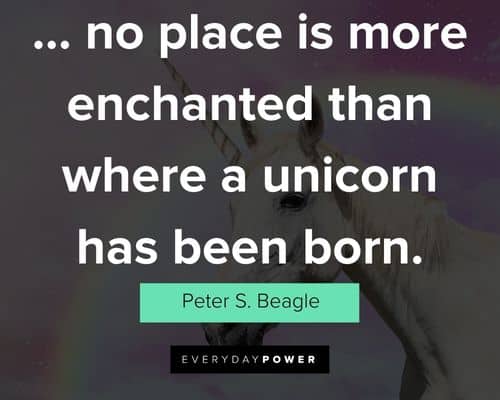 26. "There's something about girls and unicorns that's deep and meaningful. Something about childhood." – Ted Naifeh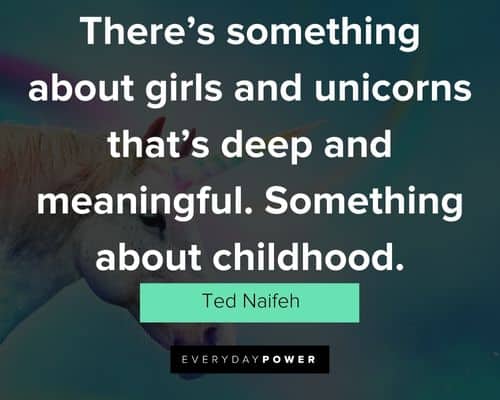 27. "I had My Little Ponies. I was obsessed with the idea of a creature that was born with something magical that sort of made them the misfit in the world of the stallion. I'm actually quite obsessed with unicorns. They are in essence a mythical creature. The unicorn is born magical and it's not the unicorn's fault and it doesn't make it any more or less special or any less unique but it can't help that it was born with that magic." – Lady Gaga (see more Lady Gaga quotes)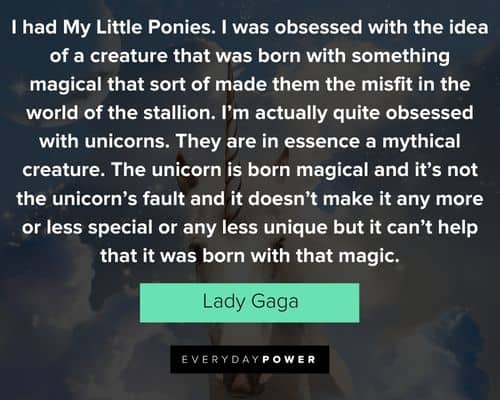 28. "Rhinos are just fat unicorns. If we'd give them the time and attention they deserve, as well as a diet: they'd reveal their majestic ways." – Unknown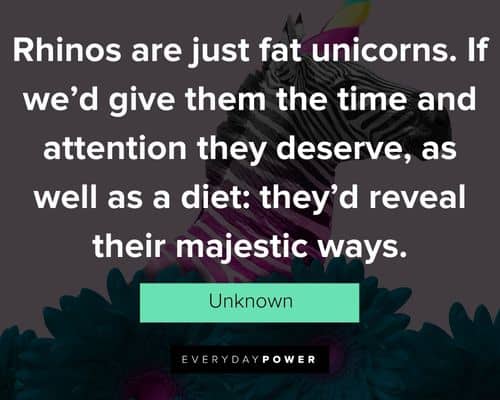 29. "I love nonsense. It wakes up the brain cells. Fantasy is a necessary ingredient in living." – Dr. Seuss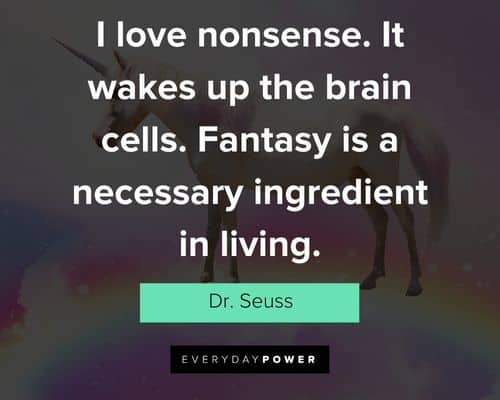 Funnyunicorn quotes
30. "Never play leapfrog with a unicorn." – Benny Hill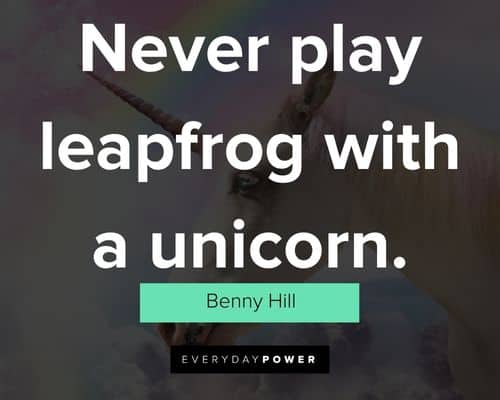 31. "There is something about riding a unicorn, for those people who still can, which is unlike any other experience: exhilarating, and intoxicating, and fine." – Neil Gaiman
32. "Be realistic with your expectations. I'd really like to cuddle a unicorn, but it ain't going to happen." – India Knight
33. "If I'm talking to a guy who's straight and cute and single, I'm like 'are you a unicorn?'" – Margaret Cho
34. "Wherever they may have come from, and wherever they may have gone, unicorns live inside the true believer's heart. Which means as long as we can dream, there will be unicorns." – Bruce Coville
35. "Sorry… I got distracted listening to you and hot glued myself to my unicorn." – Mira Grant
36. "I would compete in unicorn back riding! Why? Because we are from the same fairytale." – Sasha Pivovarova
37. "… my conscience has the same hard reality as a unicorn." – Jeff Lindsay
38. "What do men know? Because they have seen no unicorns for a while does not mean we have all vanished." – Peter S. Beagle
39. "Keep calm because unicorns are real." – Unknown
40. "You are like a unicorn who brings ice cream. You are too good to be true." – NotSalmon.com
41. "Being a person is getting too complicated. Time to be a unicorn." – Unknown
You might also like these color red quotes that express passion.
More unicorn quotes to inspire you
42. "Always be yourself, unless you can be a unicorn. Then, always be a unicorn." – Jaime Murray
43. "Be a unicorn in a field full of horses." – Unknown
44. "A friend told me I'm delusional. I almost fell off my unicorn." – Unknown
45. "Everything today has been heavy and brown. Bring me a unicorn to ride about the town." – Anne Morrow Lindbergh
46. "It would have been nice to have had unicorns." – Tom Stoppard
47. "It's going to be a rainbows and unicorns kind of day." – Unknown
48. "Poetry is news brought to the mountains by a unicorn and an echo." – Czeslaw Milosz
49. "Make your life story so amazing that unicorns have trouble believing it is true." – Karen Salmansohn
50. "The mist hung in the air like a prancing unicorn." – Graham Joyce
51. "When a unicorn is slain, men have destroyed again the image of beauty that they seek." – Nicholas Stuart Gray
52. "Unicorns aren't magical and beautiful. They're just predatory horses that have horns and love to eat virgins." – Delilah S. Dawson
53. "Just roll me in fairy dust and call me a unicorn." – Lita Burke
54. "Stars were golden unicorns neighing unheard through blue meadows." – William Faulkner
Unicorn quotes that prove everyone is unique
55. "Unicorns practically breathed magic. He was to a horse what a horse was to a pig, four tiny cloven hooves shone like burnished silver, slender legs as graceful as an antelope's led to a slender body, a delicate neck with an arch like the stem of a lily-blossom and a head like the blossom itself, crowned with that glorious pearly horn. And the eyes- big golden-brown eyes you could fall into and never come out of." – Mercedes Lackey
56. "I think that if you have a horse, pegasus, qilin, or unicorn, you should sit on it! You should stroke its hair, whisper in its ear, be one with it! And you shouldn't feel sorry if other people don't have one." – C. JoyBell C
57. "Heroes know that things must happen when it is time for them to happen. A quest may not simply be abandoned; unicorns may go unrescued for a long time, but not forever; a happy ending cannot come in the middle of the story." – Peter S. Beagle
58. "Be a diamond-studded unicorn; unbreakable & unique." – Coco
59. "You may have stopped believing in unicorns, but they never stopped believing in you." – Unknown
60. "Why a unicorn? Maybe the unicorn, too, is one of the men without women." – Haruki Murakami
61. "Let us only hate hatred; and once give love a play, we will fall in love with a unicorn." – Herman Melville
62. "Sometimes we all need a unicorn to believe in. Sometimes we need a unicorn to believe in us." – Claudia Bakker
63. "I found the hum of his computer rather soothing, but it was the complete lack of unicorn carcasses that really pulled the room together." – Diana Peterfreund
64. "So you're a real person! I always thought you were a legendary figure, like unicorns or Giuseppe Verdi." – Lemony Snicket
Unicorn quotes about this mystical creature
65. "The only thing that would make her jealous would be if I led a parade riding a unicorn while ballerinas sang love songs." — Brandon Mull
66. "The last unicorn wasn't really the last. And maybe she still isn't." — Laura Alden
67. "The unicorn lived in a lilac wood, and she lived all alone. She was very old, though she did not know it, and she was no longer the careless color of sea foam but rather the color of snow falling on a moonlit night. But her eyes were still clear and unwearied, and she still moved like a shadow on the sea." — Peter S. Beagle
68. "My words and my ideas are my property, and I'll keep and protect them as surely as I do my stable of unicorns." — Jarod Kintz
69. "Most days I was impossible. Like a unicorn." — Bryn Greenwood
70. "You're a talking unicorn. Sometimes when you poop, it comes out as rainbows and smells like cookies. There is nothing subtle about you." — T.J. Klune
71. "He is my unicorn, though… That's how I felt falling in love with him, as if I'd found a creature of myth." — Rivka Galchen
72. "'Unicorns,' she whispered. Rahela nodded. The most beautiful of all the Mother's children." — Jennifer Roberson
73. "Toads are to dragons what carrots are to unicorns." — Ness Kingsley
74. "The question of historicity and actuality with regard to Gods and unicorns is a relatively trifling matter which may be left to antiquarians and biologists, for both the God and the unicorn had a business to perform greater than any mere existence in the flesh could explain or provide a basis for." — Odell Shepard
Thought Provoking Unicorn Quotes
75. "Wanton stars galloped neighing like unicorns in blue meadows." ― William Faulkner
76. "She was a goddamn unicorn of selfishness." ― Victoria Dahl
77. "I had to admit it was adorable. You know, in a unicorns-farting-out-rainbows kind of way that made me want to hurl." ― Gemma Halliday
78. "Sara: Tegan just recently discovered that unicorns don't exist.
Tegan: I just thought they were extinct." ― Tegan and Sara
79. "Life would be simpler if only we were all unicorns." ― Olley White
80. "That is exactly what heroes are for. Wizards make no difference, so they say that nothing does, but heroes are meant to die for unicorns." ― Peter S. Beagle
81. "Those who don't believe in magic will never find it." – Unknown
82. "take criticism, smash it into dust, add color & use it to paint breathtaking images of unicorns frolicking thru endless fields of greatness" ― Matthew Gray Gubler
83. "It's a little-known fact, but Unicorns are something like 20% paint, and their horns are stolen exclusively from endangered species." ― Jeff Mach
Did these unicorn quotes make you feel creative?
Is your imagination kicking into full gear?
Unicorns bring with them the magical belief that anything is possible.
This is the type of thinking that you need to use when you are looking for solutions in your work or life.
Many times, people think that imagination is just for children.
But we all need creativity in life and being able to use your imagination is important for the process.
It's something that can make life and work exciting, help you to think outside of the box, and enjoy your day.
So, next time you are feeling stuck or struggling through a mundane day, think about unicorns.
Which of these motivational unicorn quotes sparked your creativity?
Do you have any other inspirational quotes to add?
Let us know in the comment section below.