Baby Girl Quotes That Will Have You Cherishing Your Daughter
Maurice Chevalier once wrote a whole song about why we needed to "Thank Heaven for Little Girls," and he was right!
Having a baby girl is a defining moment for moms and dads alike, and really is such a blessing.
You may also enjoy our article on:
These baby girl quotes for moms and dads talk about how a daughter will grow up to be her mom's best friend and a treasure to her father.
While being a girl parent is profound and meaningful, it also involves a lot of laughter and sparkle.
You will likely be taking many photos of your little princess and these baby girl quotes will also make the perfect Instagram captions.
Especially when there is glitter everywhere…
I do not miss the glitter stage of parenting a little girl.
Now, not all baby girls are pink princesses who sprinkle glitter wherever they go!
Some girls like blue, some like dragons and dirt, and maybe even baiting a fishing hook.
That's wonderful too!
Your baby girl will become the version of herself that she is meant to be, and I promise you will be so proud either way!
Keep reading these baby girl quotes to learn what a daughter really is!
Don't forget to also check out these baby boy quotes for expecting moms and dads.
If you enjoy this article, check out our most popular quote article, a list of short inspirational quotes for daily motivation.
If you want more motivational quotes, check out our motivational quotes category page.
Baby girl quotes for Instagram captions that are perfect for your princess
1. "Let her sleep, for when she wakes she will move mountains." ― Napoleon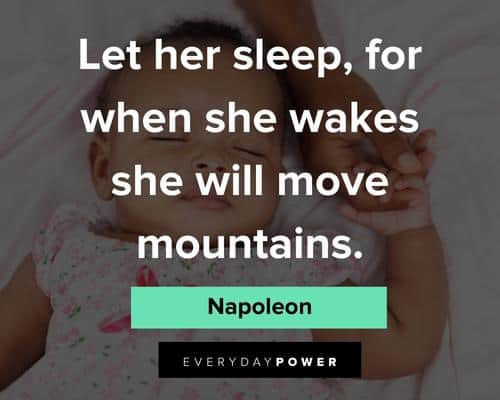 You will also enjoy our article on baby quotes.
2. "Patience, my daughter, learn patience, and life will be easier." ― Catherine Pulsifer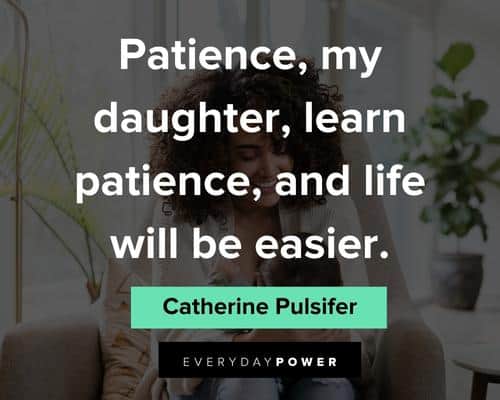 You will also enjoy our article on quotes for girls.
3. "She has fire in her soul and grace in her heart." ― Unknown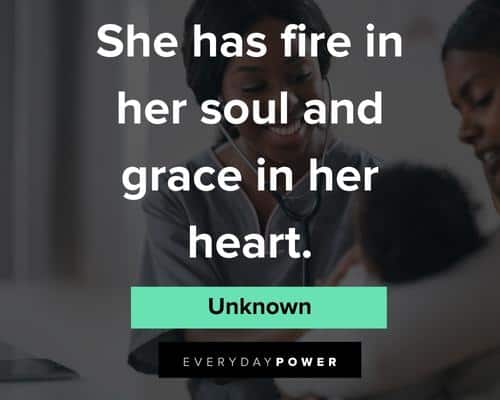 You will also enjoy our article on baby smile quotes.
4. "In a field of roses, she is a wildflower." ― Unknown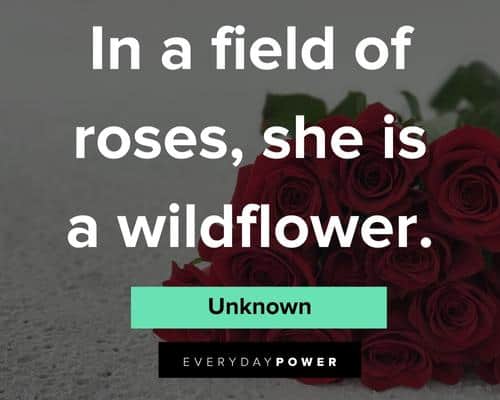 You will also enjoy our article on New Girl quotes.
5. "Her little hands stole my heart, her little feet ran away with it." ― Unknown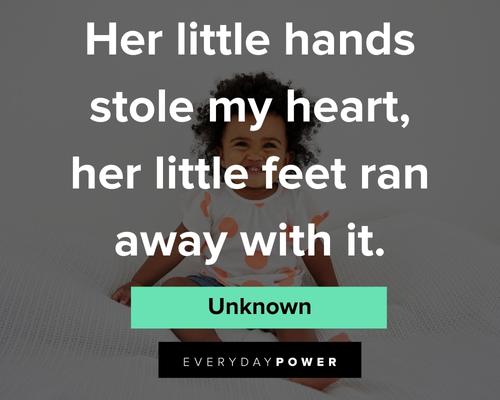 You will also enjoy our article on baby shower quotes.
6. "Ah, my little angel! My beautiful and precious princess." ― Apollo M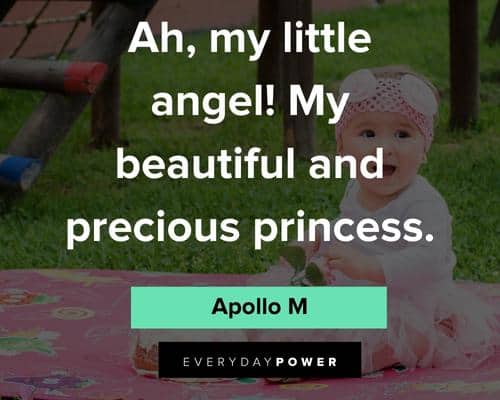 You will also enjoy our article on granddaughter quotes.
7. "No matter how old my daughter gets, she'll always be my baby girl." ― Unknown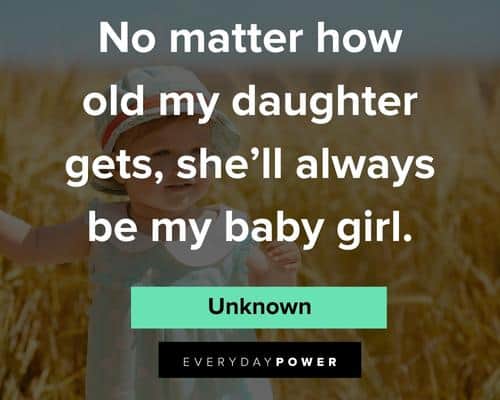 You will also enjoy our article on single mom quotes.
8. "She leaves a little sparkle wherever she goes." ― Kate Spade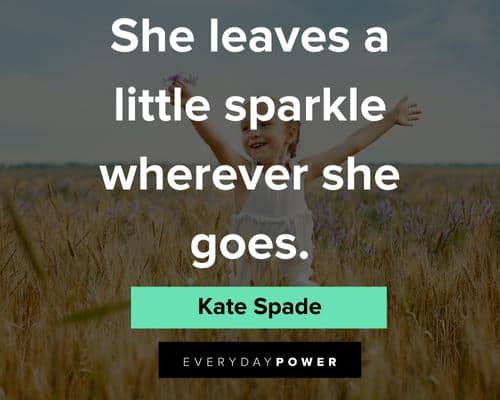 You will also enjoy our article on miscarriage quotes.
9. "A baby girl is like a giggle wrapped in sunshine and glitter. She will always brighten your day." ― Unknown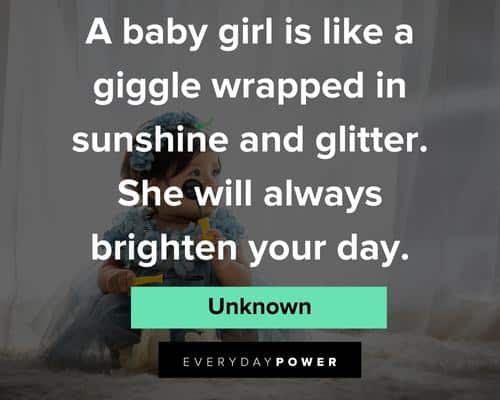 You will also enjoy our article on pink quotes.
10. "No matter what the moment, a baby girl will always render sunshine in your life with her adorable smile." ― Unknown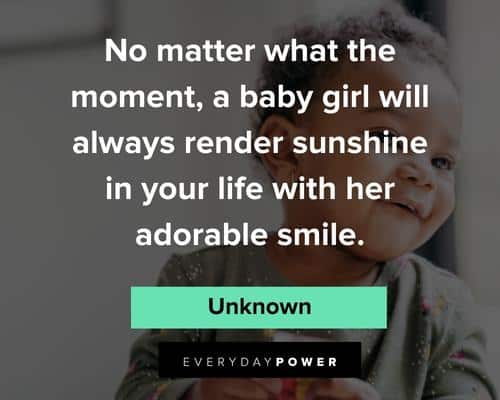 You will also enjoy our article on mother daughter quotes.
These baby girl quotes are perfect for a nursery mural
11. "A baby girl fills a place in your heart you never knew was empty." ― Unknown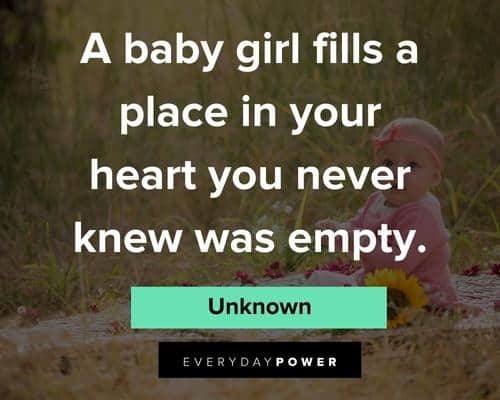 You will also enjoy our article on good morning texts for her.
12. "Always remember, you are braver than you believe, stronger than you think, and loved more than you know." ― A A Milne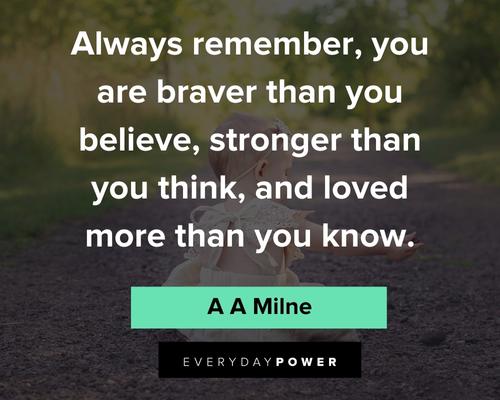 You will also enjoy our article on motivational quotes for kids.
13. "A baby girl arrives, and just like that, everything changes. The world gets bigger, hearts grow fuller and life means more because she's in it." ― Unknown
You will also enjoy our article on sibling quotes.
14. "I don't know who you will be, but I know you will be my everything." ― Unknown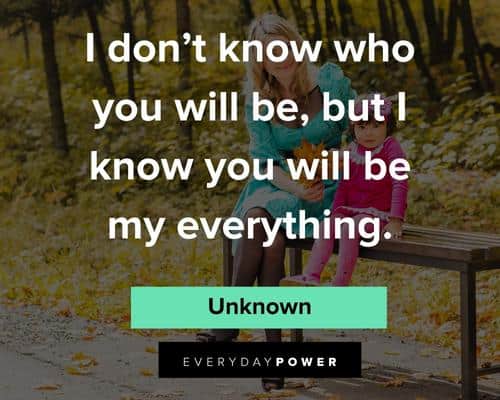 You will also enjoy our article on parents quotes and sayings.
15. "She is so tiny, she is so small, and she is so loved by all!" ― Unknown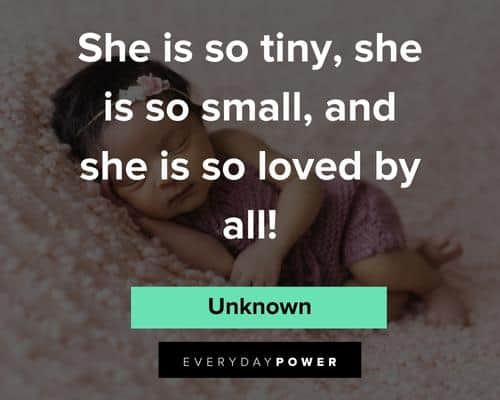 16. "Here comes a little baby girl, to fill our hearts and brighten our world." ― Unknown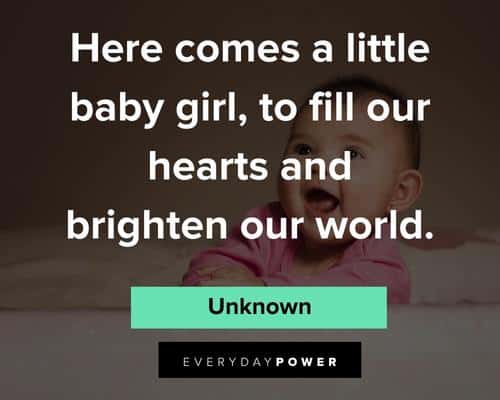 17. "You make me merry, dear daughter." ― Lori Nelson Spielman, The Life List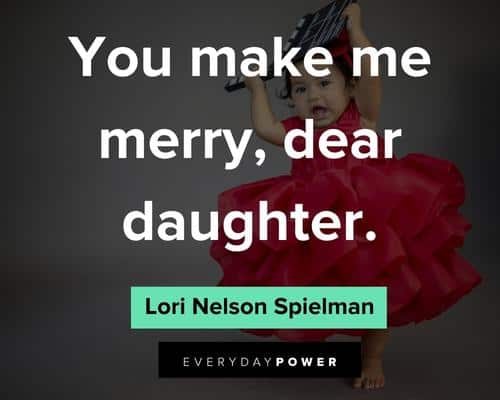 18. "My little daughter, you're the princess of my world and the love of my life." ― Apollo M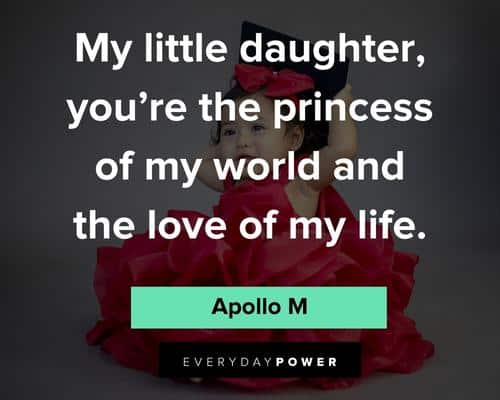 19. "Fly free, my daughter. Be what I could never be and leave the cage forever." ― Nalini Singh, Archangel's Enigma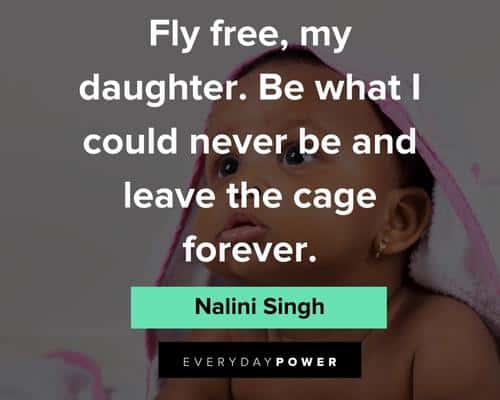 20. "Though she be but little, she is fierce." ― Shakespeare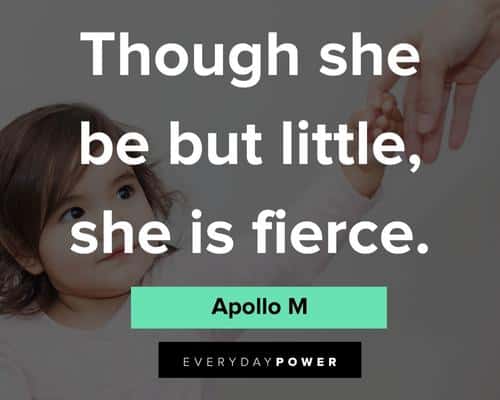 Baby girl quotes from mommy and daddy
21. "A baby girl is God's way of saying, I thought you could use a lifelong friend." ― Unknown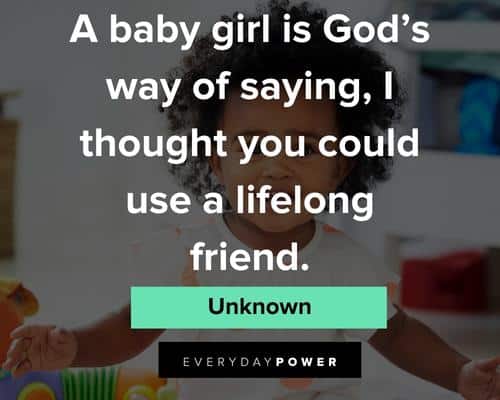 22. "My greatest wish is that my baby girl always knows how much I love her and that she'll walk through the rest of her life knowing I'll always be there for her any way I can." ― Unknown
23. "There's no better feeling than making your little girls laugh." ― Jerry O'Connell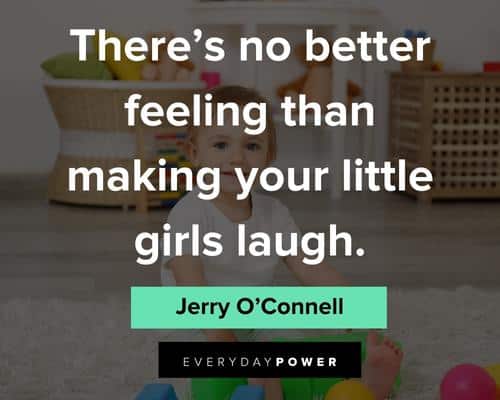 24. "A tiny daughter gives parents a life in a climate of perpetual wonder." — Pierre Doucet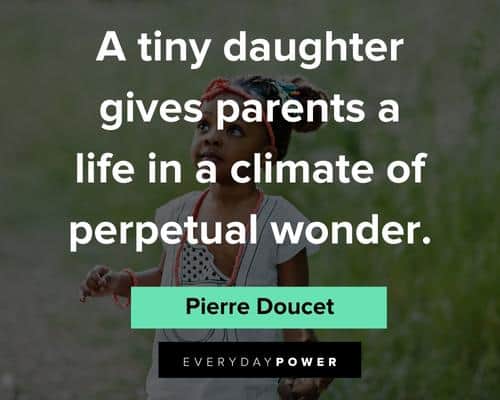 25. "Certain is it that there is no kind of affection so purely angelic as of a father to a daughter. In love to our wives, there is desire; to our sons, ambition, but to our daughters there is something which there are no words to express." ― Joseph Addison
26. "They are everything. And that's what I tell them when I whisper, 'Everything that matters is right here in my arms." ― B.N. Toler, Desperately Seeking Epic
27. "And it's a girl. And you will love her more than you love yourself. And you'll disappoint her, too—and never live up to the standards you set for yourself. But don't worry. She'll be okay." ― Katherine Center, Things You Save in a Fire
28. "It's true, every minute a father spends with his daughter is precious." ― Mark Higbee, Zendreo Chronicles The Legendary Zehn Mortalix
29. "The most precious jewels you'll have around your neck are the arms of your daughter" ― Altaf ul Qadri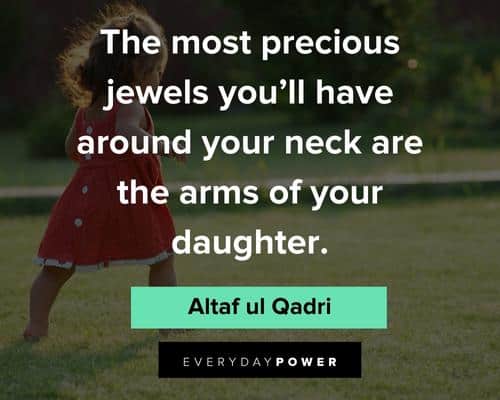 30. "The best music I have ever heard is the sound of my daughter's giggling." ― Debasish Mridha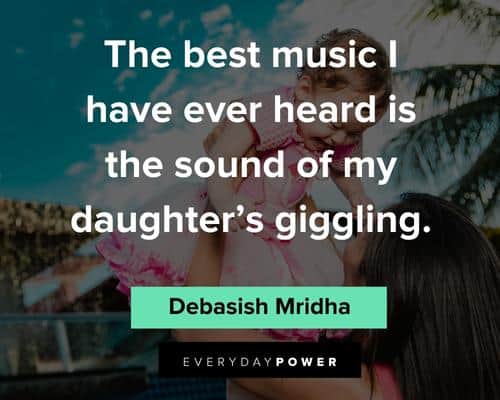 Baby girl quotes and sayings on what 'a daughter is…'
31. "A daughter is one of the most beautiful gifts this world has to give." — Laurel Atherton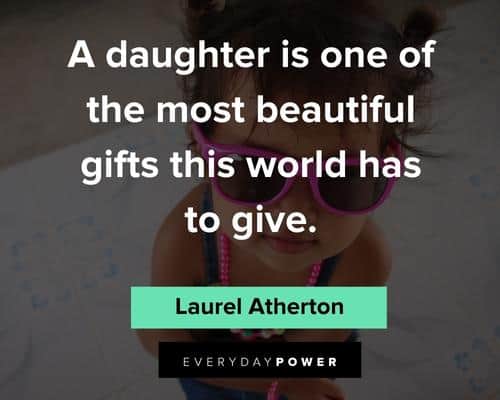 32. "A daughter is a treasure—and a cause of sleeplessness." ― Ben Sirach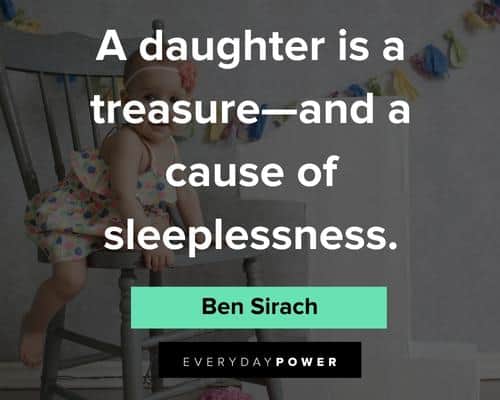 33. "A daughter is a miracle that never ceases to be miraculous…full of beauty and forever beautiful… loving and caring and truly amazing." ― Deanna Beisser
34. "A daughter is the most precious gift of life who lets our heart dance with joy." ― Apollo M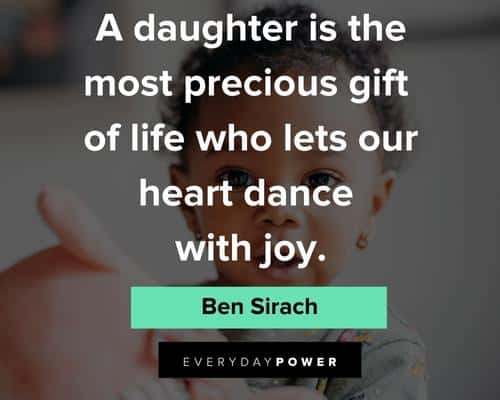 35. "My daughter is my present, my passion, and the miracle of my life." ― Debasish Mridha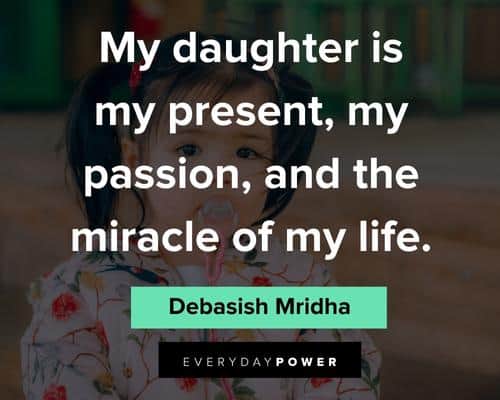 36. "A daughter is chiseled to chisel the world." ― Karishma Gajipara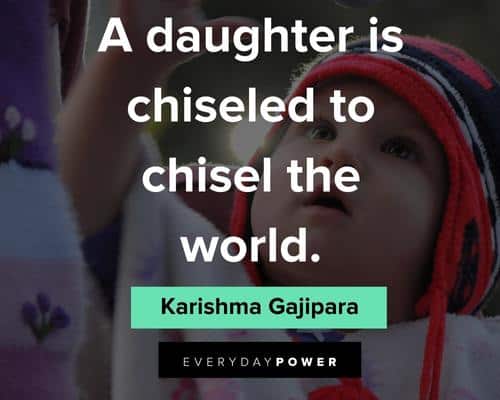 37. "A daughter is a rainbow – a curve of light through scattered mist that lifts the spirit with her prismatic presence." ― Ellen Hopkins, Triangles
38. "Daughter: A sprinkle of sparkle. A dazzle of sweet. A flutter of cute; from your head to your feet." ― Hallmark Cards, Celebrations: The Complete Book of American Holidays
39. "A daughter is a bundle of firsts that excite and delight, giggles that come from deep inside and are always contagious, everything wonderful and precious and your love for her knows no bounds." ― Barbara Cage
40. "A daughter is someone you laugh with, dream with, and love with all your heart." ― Unknown
Miraculous baby daughter quotes that are religious or from the bible
41. "A baby girl: one of the most beautiful miracles in life, one of the greatest joys we can ever know, and one of the reasons why where is a little extra sunshine, laughter and happiness in your world today." ― Unknown
42. "She's far more precious than jewels." ― Proverbs 31:10
43. "Sometimes when I need a miracle I look into my daughter's eyes and realize I already have one." ― Unknown
44. "A baby girl is a blessing. A gift from heaven above. A precious little angel to cherish and love." ― Unknown
45. "Such a big miracle in such a little girl" ― Unknown
46. "Babies are like little suns that, in a magical way, bring warmth, happiness and light into our lives." ― Kartini Diapari-Oengider
47. "Sometimes when I need a miracle, I look into the eyes of my child and realize I already have one." ― Unknown
48. "It's extraordinary to look into your baby girl's face and see a piece of your flesh and your spirit." ― Unknown
49. "You are altogether beautiful my darling, beautiful in every way." ― Song of Songs 4:7
50. "Children are a blessing from God and a display of his promises. May he continue to bless your family and fulfill his promises through you." ― Unknown
Baby girl quotes to appreciate your little one
51. "Courage, sacrifice, determination, commitment, toughness, heart, talent, guts. That's what little girls are made of." — Bethany Hamilton
52. "I believe that happy girls are the prettiest girls, I believe that tomorrow is another day, and I believe in miracles." — Audrey Hepburn
53. There is only one pretty child in the world – and every mother has it! — Chinese Proverb
54. "One girl is worth more than twenty boys." — Peter Pan
55. "A toddling little girl is a center of common feeling which makes the most dissimilar people understand each other." — George Eliot
56. "How long is a girl a child? She is a child, and then one morning you wake up she's a woman, and a dozen different people of whom you recognize none." — Louis L'Amour
57. "In every girl is a goddess." — Francesca Lia Block
58. "Like stardust glistening on fairies' wings, Little girls dreams are of magical things." — Sherry Larson
59. "Little girls are the nicest things that happen to people. They are born with a little bit of angel shine about them, and though it wears thin sometimes there is always enough left to lasso your heart." — Alan Beck
60. "Little girls, like butterflies, need no excuse." — Robert A. Heinlein
Baby girl quotes you'll adore if you have a daughter
61. "A happy baby has shining eyes. It walks open-hearted into the world and spreads magic." — Sigrid Leo
62. "She's a little wildflower with a lot of warrior underneath." — Melody Lee
63. "Lucky is the woman whose first child is a daughter." — Prophet Muhammed
64. "You never know when you're gonna get crapped on or when you're gonna get a big smile or when that smile immediately turns into hysterics. It might be like living with a drug addict." —Blake Lively
65. "And one day she discovered that she was fierce, and strong, and full of fire and that not even she could hold herself back because her passion burned brighter than her fears." — Mark Anthony
66. "She is my joy and heart's delight." – Robert Wever
67. "There is a garden in her eyes, where roses and white lilies flow." – Thomas Campion
68. "What I wanted most for my daughter was that she be able to soar confidently in her own sky, whatever that may be." – Helen Claes
69. "When we asked for a daughter we were sent a princess." – Sally Huss
70. "A daughter: The companion, the friend, and the confidant of her mother, and the object of a pleasure something like the love between the angels to her father." – Richard Steele
Baby Girl Quotes On How Special They Are
71. "Baby girl you need to stop it, all that pride and self esteem got you angry about this girl I'm with in all these magazines." ― Drake
72. "Baby girl, Cross is a tsunami." ― Sylvia Day
73. "I just had a baby girl. My daughter weighed 27 pounds. She was 3 years old. She was delivered to me by way of the court system and a blood test." ― Donnell Rawlings
74. "Take my heart with you, baby girl. It follows you….always." ― Lora Leigh
75. "She's my baby girl, Quinn. I want love for her. Real love. The kind that makes a man crazy inside. -Gibraltar to Quinn." ― Karen Marie Moning
76. "There is no other even moderately equal abuse than the murder of little baby girls – nothing else compares with that, in horror." ― Jimmy Carter
77. "I don't wanna dance, baby girl, it's like my legs are on strike." ― Killa Sin
78. "When I see a baby girl, I miss feelin on ya. I miss everything that's real about ya and that's everything about ya, that's just how I feel about ya." ― Drake
79. "Congratulations are in order for Woody Allen – he and Soon Yi have a brand new baby daughter. It's all part of Woody's plan to grow his own wives." ― David Letterman
80. "When I look in the mirror I see the girl I was when I was growing up, with braces, crooked teeth, a baby face and a skinny body." ― Heather Locklear
Baby Girl Quotes That Are Perfect For The Little Treasures
 81. "Thank heaven for little girls They grow up in the most delightful way." — Maurice Chevalier
82. "Baby girls are bits of stardust blown from the hand of God. Lucky is the woman who knows the pangs of birth for she has held a star." — Larry Barretto
83. "Babies are living dolls with dancing smiles that come from the stars to still our hearts." — Debasish Mridha
84. "Babies are the buds of life ready to bloom like a fresh flower to refresh humanity." — Debasish Mridha
85. "Giggles, curls, ribbons and bows. A little baby girl is so adorable from head to toes!" — Kristin Contreras
86. "A baby girl is a miracle that never ceases to be miraculous." — Rene Inge
87. "My daughter is my biggest achievement. She is a little star and my life has changed so much for the better since she came along." — Denise Van Outen
88. "Having a little girl has been like following an old treasure map with the important paths torn away." — Heather Gudenkauf
89. "Daughters are angels sent from above to fill our hearts with unending love." — J. Lee
90. "My life is a fairy tale because it revolves around a princess—my beautiful daughter." — Dumitru D. Coman
Baby Girls Quotes Bringing Joy and Laughter into Our Lives
91. "Isn't she lovely, isn't she wonderful, isn't she precious, less than one minute old, I never thought through love we'd be, making one as lovely as she." — Stevie Wonder
92. "Goodnight, my angel; now it's time to dream. And dream how wonderful your life will be." — Billy Joel
93. "There's two things I know for sure: She was sent here from heaven, and she's daddy's little girl." — Bob Carlisle
94. "I think my mom put it best. She said, 'Little girls soften their daddy's hearts.'" — Paul Walker
95. "The happiest moment of my life was probably when my daughter was born." — David Duchovny
96. "You're the end of the rainbow, my pot of gold; you're daddy's little girl to have and hold." — Michael Bublé
97. "I know a girl; she puts the color inside of my world." — John Mayer
98. "She is just a baby; She's my little girl; She looks like her mommy; Sporting little curls." — Clark Richard
99. "Go on, take on this old world but to me, you know you'll always be my little girl." — Tim McGraw
100. "Pink is supposed to weaken your enemies, make them go soft on you, which must be why it's used for baby girls. It's a wonder the military hasn't got on to this." — Margaret Atwood
Which of these little girl quotes is your favorite?
There were several baby girl quotes about what "a daughter is."
A daughter is all of those things but she is also so much more.
She is whatever she wishes to be, and sometimes she might not know what that is from moment to moment!
When I was pregnant for the first time, I just knew she was going to be a girl.
I couldn't wait for a little mini-me.
I didn't grow up with my mother, and I was thrilled to foster this amazing relationship with a daughter of my own.
I could envision all the moments and all the things we would do.
She was a little fashionista at three, who owned more shoes than I did.
She watched way too many Disney princess movies, and this became apparent the day she stood in the McDonald's play tower, looked down at two little boys playing below her, batted her eyelashes, and yelled, "Boys?
Boys, oh help me, boys…" I almost died.
But she has also been my child who jumped into the pool at 2 without an ounce of fear, braved all the girl drama of middle school with grace, while simultaneously throwing so much of my attitude right back at me (so much for wanting that mini-me…).
She danced her heart out on the dance team all through high school, while getting A's in the advanced placement and honors math and science classes.
Today she is almost 18 and somedays I see a beautiful woman that is my best friend, and other days there are glimpses of my baby girl who was obsessed with dolls.
That is what a daughter is to me, a beautiful and witty conundrum that will always keep you on your toes!
Did you enjoy these baby girl quotes and sayings?
Which of the quotes is your favorite?
Let us know in the comment section below.