195 Powerful Sisterhood Quotes to Share With Your Tribe
These sisterhood quotes will help you show your sister how much she means to you and how important she is.
"Sisterhood" is an incredibly powerful word when women are redefining their roles in society, solidifying their identities.
They are, in particular, coming into new understandings of their relationships with one another.
Tell us your favorite sisterhood quote in the comment section below.
You may also enjoy our article on:
What are the benefits of reading these sisterhood quotes?
Whether you have a sister, you are a sister, you are a woman, or you simply are close with a woman, you can benefit from the power of sisterhood.
Sisterhood is such a broad concept.
It can simply refer to how women relate to one another or to people they care about.
Sisterhood is the underlying force behind feminism and even unites women who don't know one another.
It's about nurturing love and empathy for each person's life experience.
Being part of a sisterhood can:
foster connection and healthy relationships
identify the power of friendship
help you learn more about feminism
Below is our collection of inspirational, empowering, and heart-warming sisterhood quotes and sayings from various sources over the years.
Check out our most popular quote article, a list of short inspirational quotes for daily inspiration.
Quotes About Sisterhood and Connection
1.) "A sister is a gift to the heart, a friend to the spirit, a golden thread to the meaning of life." – Isadora James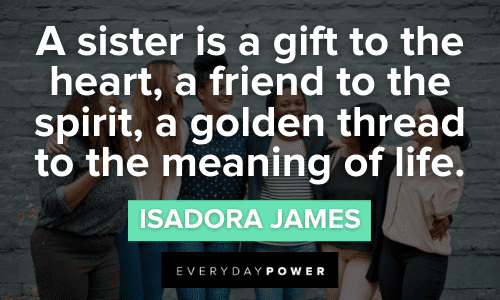 You will also enjoy our article on brother and sister quotes.
2.) "Women are going to form a chain, a greater sisterhood than the world has ever known." – Nellie McClung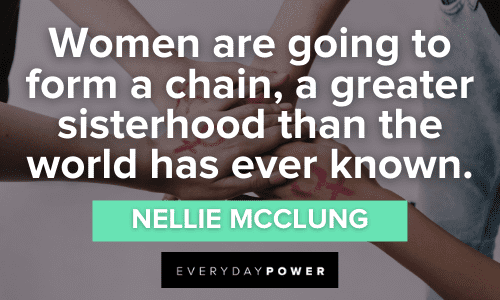 You will also enjoy our article on new friends quotes.
3.) "I would like more sisters, that the taking out of one, might not leave such stillness." – Emily Dickinson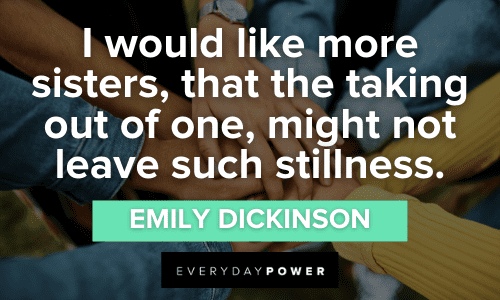 4.) "A sister is both your mirror and your opposite." – Elizabeth Fishel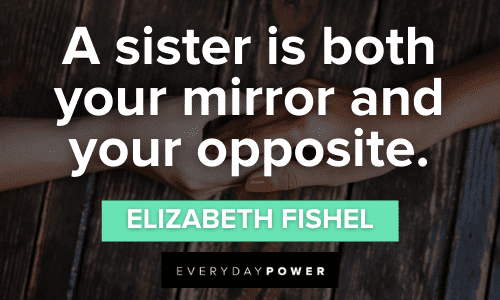 You will also enjoy our article on black women quotes.
5.) "You are blood. You are sisters. No man can break that bond." – Kim Boykin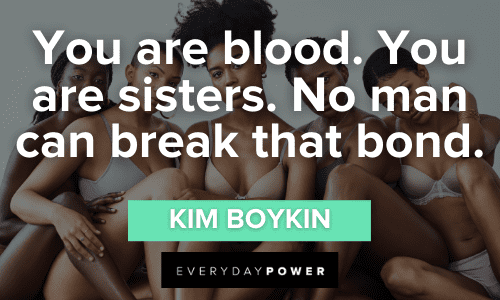 6.) "One woman is a tiny divine spark in a timeless sisterhood tapestry collective; all of us are Wild Women." – Jan Porter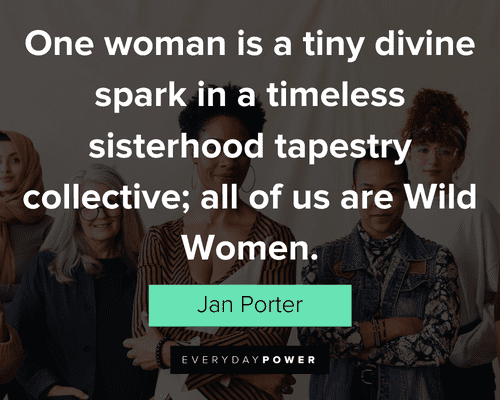 You will also enjoy our article on mirror quotes.
7.) "You may be as different as the sun and the moon, but the same blood flows through both your hearts. You need her, as she needs you." – George R.R. Martin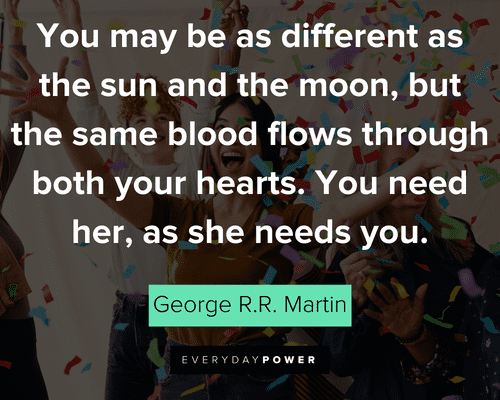 You will also enjoy our article on unity quotes.
8.) "No matter where we come from, there is one language we can all speak and understand from birth, the language of the heart, love." – Imania Margria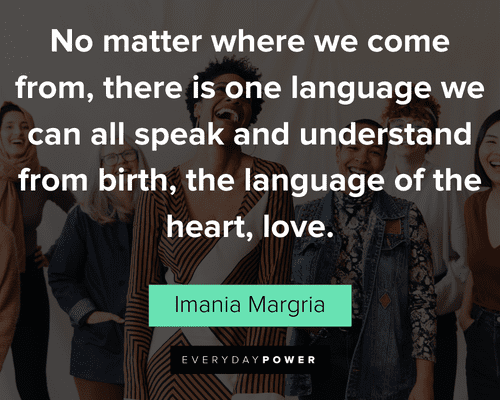 9.) "Sisters, as you know, also have a unique relationship. This is the person who has known you your entire life, who should love you and stand by you no matter what, and yet it's your sister who knows exactly where to drive the knife to hurt you the most." – Lisa See
You will also enjoy our article on feminism quotes.
10.) "We hang out, we help one another, we tell one another our worst fears and biggest secrets, and then just like real sisters, we listen and don't judge." – Adriana Trigiani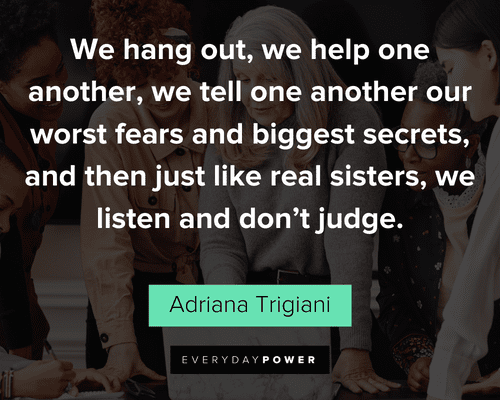 11.) "No matter where we are, we'll always share the same sky. We can always find each other in the same constellation." – Roshani Chokshi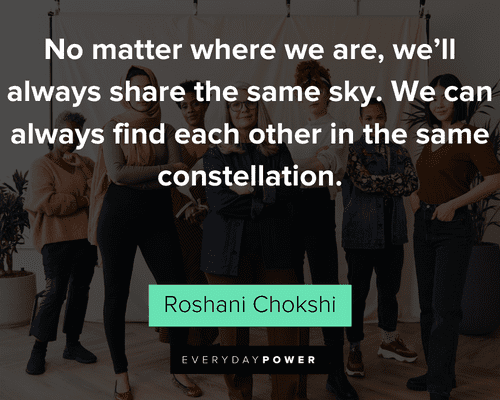 You will also enjoy our article on missing friends quotes.
12.) "There is space within sisterhood for likeness and difference, for the subtle differences that challenge and delight; there is space for disappointment-and surprise." – Christine Downing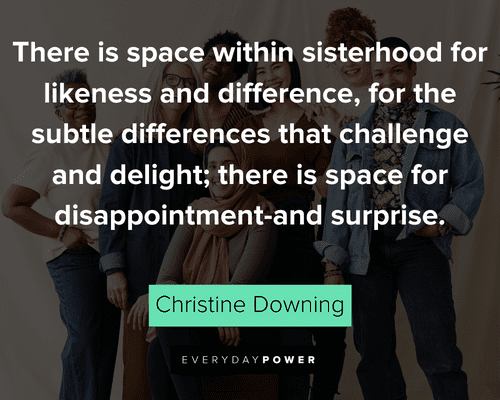 If you're enjoying these quotes, make sure to read our collection of funny sister quotes celebrating unconditional love.
Sisterhood Quotes About Friendship
13.) "Never hold resentments for the person who tells you what you need to hear; count them among your truest, most caring, and valuable friends." – Mike Norton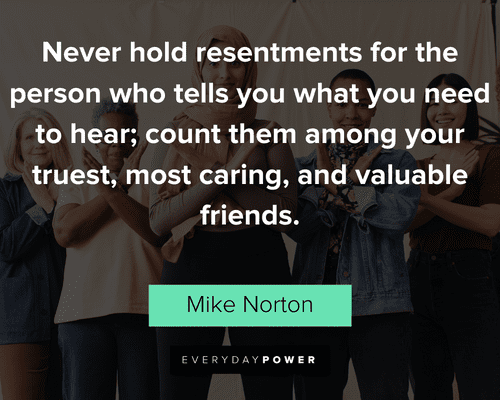 You will also enjoy our article on unexpected quotes.
14.) "We're connected, as women. It's like a spiderweb. If one part of that web vibrates, if there's trouble, we all know it, but most of the time we're just too scared, or selfish, or insecure to help. But if we don't help each other, who will?" – Sarah Addison Allen
15.) "For there is no friend like a sister in calm or stormy weather." – Christina Rossetti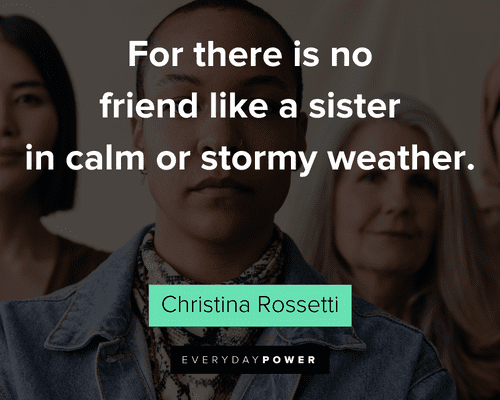 You will also enjoy our article on women supporting women quotes.
16.) "There can be no situation in life in which the conversation of my dear sister will not administer some comfort to me." – Mary Wortley Montagu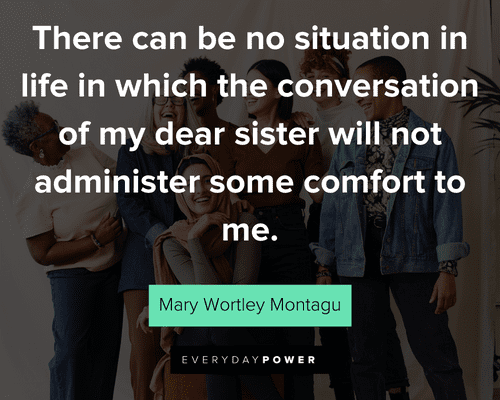 17.) "Participating in a sisterhood with other women is hugely important in my life and a source of joy." – Christy Turlington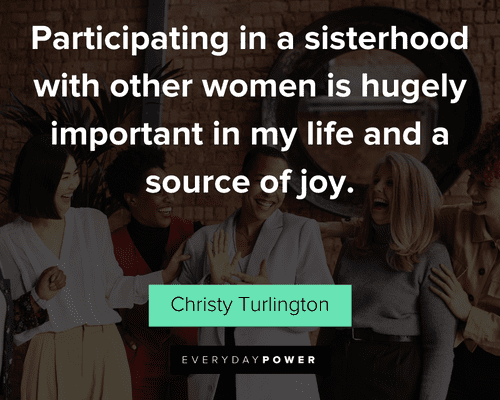 18.) "Hallie and I… were all there was. The image in the mirror that proves you are still here. We had exactly one sister apiece. We grew up knowing the simple arithmetic of scarcity: A sister is more precious than an eye." – Barbara Kingsolver
19.) "You can kid the world, but not your sister." – Charlotte Gray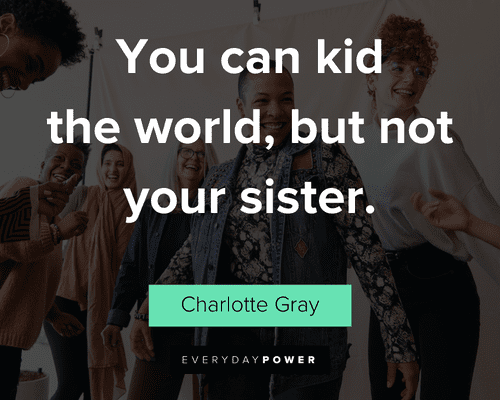 20.) "You keep your past by having sisters. As you get older, they're the only ones who don't get bored if you talk about your memories." – Deborah Moggach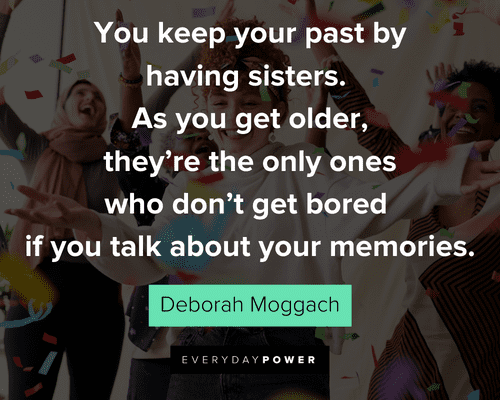 21.) "Storm Sister–a friend who sticks close when storms hit her friend's life." – Afton Rorvik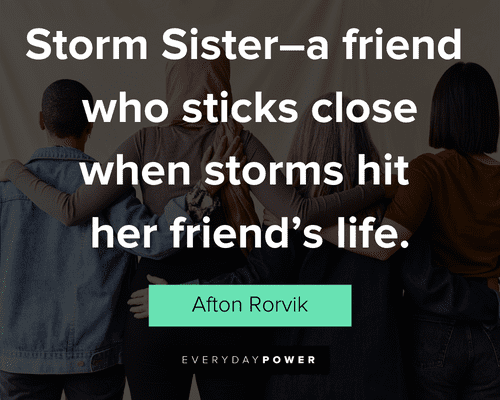 21.) "Is solace anywhere more comforting than that in the arms of a sister?" – Alice Walker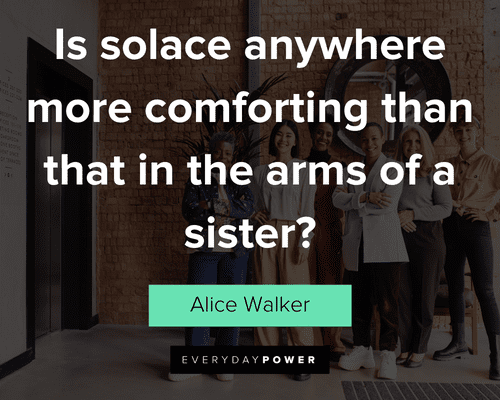 22.) "Sisterhood means if you happen to be in Burma and I happen to be in San Diego and I'm married to someone who is very jealous and you're married to somebody who is very possessive, if you call me in the middle of the night, I have to come." – Maya Angelou
23.) "Sister is probably the most competitive relationship within the family, but once the sisters are grown, it becomes the strongest relationship." – Margaret Mead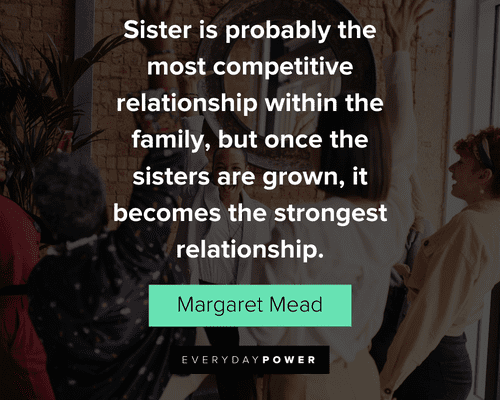 You will also enjoy our article on Amigas quotes.
24.) "I think women are amazing and women's friendships are like a sisterhood and we should see more of it in television and film." – Laurie Holden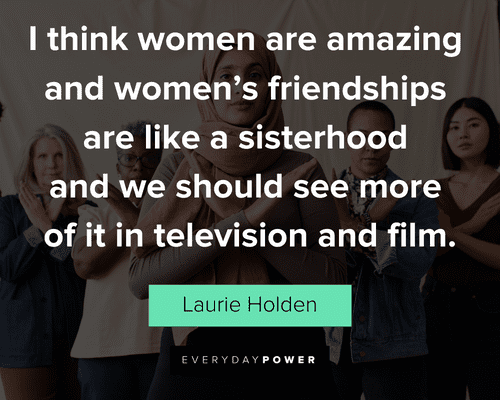 If you're enjoying these quotes, make sure to read our selection of friendship quotes celebrating life-long relationships.
25.) "Sister. She is your mirror, shining back at you with a world of possibilities. She is your witness, who sees you at your worst and best, and loves you anyway. She is your partner in crime, your midnight companion, someone who knows when you are smiling, even in the dark. She is your teacher, your defense attorney, your personal press agent, even your shrink. Some days, she's the reason you wish you were an only child." – Barbara Alpert
26.) "Sweet is the voice of a sister in the season of sorrow." – Benjamin Disraeli
Sisterhood Quotes About Feminism
27.) "And listen to me love, when a woman risks her place, her very life to speak a truth the world despises? Believe her. Always." – Joy McCullough
28.) "Feminism is a political practice of fighting male supremacy in behalf of women as a class, including all the women you don't like, including all the women you don't want to be around, including all the women who used to be your best friends whom you don't want anything to do with anymore. It doesn't matter who the individual women are." – Andrea Dworkin
29.) "Sweet, crazy conversations full of half sentences, daydreams and misunderstandings more thrilling than understanding could ever be." – Toni Morrison
30.) "Having a sister is like having a best friend you can't get rid of. You know whatever you do, they'll still be there." – Amy Li
31.) "Love is what makes the world go around. I know it's a big cliché to use, but it is the absolute truth. There is nothing else like it. I know that is what everybody is striving to feel: in relationships, in brother- and sisterhood, and in all of the things that we aspire to have in our lives." – Gladys Knight
32.) "Sisterhood is important because we are all we have to stand on. We have to stand near and by each other, pray for one another, and share the joys and the difficulties that women face in the world today. If we don't talk about it among ourselves, then we are made silent by the patriarchy, and that serves us no purpose." – Ntozake Shange
33.) "Sisterhood is important to me." – Cheryl Cole
34.) "The good news is when we are in full-on sisterhood, women are the most powerful, political force in America." – Cecile Richards
35.) "Any woman who chooses to behave like a full human being should be warned that the armies of the status quo will treat her as something of a dirty joke. That's their natural and first weapon. She will need her sisterhood." – Gloria Steinem
If you enjoy this article, check out our collection of girls' trip quotes to celebrate your friendship.
Sisterhood Quotes About Solidarity
36.) "There is a special place in hell for women who don't help other women." – Madeleine Albright
37.) "I believe in women uplifting other women." – C. JoyBell C.
38.) "I'm proud of her; she's proud of me. There is no competition animosity, envy, or jealousy. We're just secure, confident women doing our thing while supporting each other." – Sabrina Newby
39.) We can have unity in diversity and diversity in unity. We don't have to be like one another to enjoy sisterhood. – Barbara W. Winder
40.) "'All women is brothers,' Burley Coulter used to say, and then look at you with a dead sober look as if he didn't know why you thought that was funny. But, as usual, he was telling the truth. Or part of it." – Wendell Berry
41.) "Women instinctually know how to nourish each other, and just being with each other is restorative." – Tanja Taaljard
42.) "There's something different when a woman does you wrong. We're supposed to be here for each other!" – Kyle Labe
43.) "For some reason, I have better luck when I work with women. I guess I have a good sense of sisterhood." – Dolly Parton
If you're enjoying these quotes, make sure to read our collection of Dolly Parton quotes from the iconic actress.
44.) "Sisters annoy, interfere, criticize. Indulge in monumental sulks, in huffs, in snide remarks. Borrow. Break. Monopolize the bathroom. Are always underfoot. But if catastrophe should strike, sisters are there. Defending you against all comers." – Pam Brown
45.) "A sister can be seen as someone who is both ourselves and very much not ourselves a special kind of double." – Toni Morrison
46.) "Helping one another is part of the religion of our sisterhood." – Louisa May Alcott
Sisterhood Quotes About its Strength
47.) "Because there's one thing stronger than magic: sisterhood." – Robin Benway
48.) "Bond is stronger than blood. The family grows stronger by bond." – Itohan Eghide
49.) "No matter what, they always had each other. How did people get through life without sisters?" – Michelle Madow
50.) "The female warrior knows how to fight without violence. She knows when not to raise her sword, but instead hold up her heart. Her shield is not a defense against others but a shelter for all." – Riitta Klint
51.) "I felt like I was being carried over the threshold of a sisterhood of loss. I knew I was not walking alone, and that eventually I would bob back up to the surface of the deep, because the women around me showed me what healing looks like." – Anna White
52.) "Sisterhood is powerful. Woman can support each other as women, in their pursuit for enlightenment or anything else, without fear." – Frederick Lenz
53.) "Sisterly love is, of all sentiments, the most abstract. Nature does not grant it any functions." – Ugo Betti
54.) "Maybe we tried so hard to be like the Sisterhood because it was easy for them and we wanted it to be easy for us. Because they were lucky and we wanted to be lucky too. They had wonder, and we didn't have any. We looked for the magic, but we didn't find it. We waited for the magic, but it didn't find us." – Ann Brashares
If you're enjoying these quotes, make sure to read our collection of magic quotes about the power of the unseen.
More sisterhood quotes
55.) "Sisters share a bond unlike any other – thornier, but also tender, full of possibility."― Joy McCullough
56.) "Sisterhood is a funny thing. It's easy to recognize, but hard to define." – Pearl Cleage
57. "A sister is the second mother to her brother and a brother is a second father to her sister." – J. Tisa
58. "There is no place for secrets in sisterhood." – Erin Forbes
59. "Sisters function as safety nets in a chaotic world simply by being there for each other." – Carol Saline
60. "The bond of sisterly love is much tighter than the bond which binds men." – Dixie Waters
61. "Sisters are reliably good for two things: hating and loving." – Jessica Knoll
62. "A sister is a dearest friend, a closest enemy, and an angel at the time of need." – Debasish Mridha
63. "Maybe the truth is, there's a little bit of loser in all of us. Being happy isn't having everything in your life be perfect. Maybe it's about stringing together all the little things." – Ann Brashares
64. "Sisters in battle, I am shield and blade to you. As I breathe, your enemies will know no sanctuary. While I live, your cause is mine." – Leigh Bardugo
65. "The bittersweet about truth is that nothing could be more hurtful, yet nothing could be more helpful." – Mike Norton
66. "We didn't want to admit it then, but we were friends. Best friends." – Shannon Celebi
Sisterhood quotes for all women
67. "There is a power to sisterhood." — Ivory
68. "My major influence was my ten years older sister." — Willa Ford
69. "My sister has been there for me through everything." — Brad Goreski
70. "My first job is big sister and I take that very seriously." — Venus Williams
71. "As I grew up, one of my strongest allies has been my sister." — Patti Smith
72. "There's nobody in the world that knows me better than my sister." — Tia Mowry
73. "No life's worth more than any other, no sister worth less than any brother." — Michael Franti
74. "I consider myself very lucky to have a sister who is also my best friend, critic and guardian." — Ishita Dutta
75. "A sister is like yourself in a different movie, a movie that stars you in a different life." — Deborah Tannen
76. "I told my sister how much I loved her every day. That's the only reason I'm OK right now." — Amaury Nolasco
Sisterhood quotes to appreciate your girl tribe more
77. "But what Mom never told me is that along the way, you find sisters, and they find you. Girls are cool that way." — Adriana Trigiani
78. "Sisterhood – that is, primary and bonding love from women – is, like motherhood, a capacity, not a destiny. It must be chosen, exercised by acts of will." — Olga Broumas
79. "She is the mother I never had, she is the sister everybody would want. She is the friend that everybody deserves. I don't know a better person." — Oprah Winfrey
80. "Best friends are important. They're the closest thing to a sister you'll ever have." — Jenny Han
81. "I love the notion of "storm sisters" – soul friends who help us get through life's most raw and painful transitions." — Jennifer Grant
82. "I aspire to be the best sister I can be – wherever we end up – this is my heartfelt pledge of sisterhood." — Melanie J. Pellowski
83. "I believe in the power of sisterhood, so be that sister that another woman needs or when you need a lift, find a sister." — Cheryl Barton
84. "Sometimes when we met people we feel a connection, a sense of sisterhood. And usually that sense is correct." — Catherine Pulsifer
85. "There is a special place in hell for women who don't help other women." ― Madeleine Albright
86. "You are blood. You are sisters. No man can break that bond." ― Kim Boykin
Sisterhood quotes to share with your friends
87. "I'm excited about there being more of a sisterhood these days." -Alanis Morisette
88. When I look around at this world, we women need each other so badly, it breaks my heart. Sisterhood is dissipating, and we aren't doing nearly enough to salvage it. Eliminate the crazies in your life, yes. But also look again at those around you." -Grace Gealey
89. "Women who understand how powerful they are do not give into envy over meaningless things, instead they fight to maintain the beautiful bond of the sisterhood. These are the real women who know that we need each other's love and support to survive in this world." -Bindu
90. "Once women find sisterhood, there's nothing stronger." -Zoe Kravitz
91. "When sisters stand shoulder to shoulder, who stands a chance against us?" -Pam Brown
92. "That's why, as we tell our stories to ourselves, it is also important to share them with others. This sharing brings a sense of kinship, of sisterhood. We understand that we are not alone in our efforts to become conscious, whole, healthy persons." -Susan Wittig Albert
93. "Both within the family and without, our sisters hold up our mirrors: our images of who we are and of who we can dare to become." -Elizabeth Fishel
94. "It is important to learn from other women. We have a lot to offer and to learn from each other out of our separate and common experience. The sisterhood (including the boilers – the old chooks!) is important to me." -Hazel Hawke
95. "Where are the flowers, the fair young flowers, that lately sprang and stood / In brighter light and softer airs, a beauteous sisterhood?" -William C. Bryant
96. "Sisterhood is a powerful metaphor; it ought not become a synonym for groupthink." -Kathleen Hall Jamieson
The strong bonds of sisterhood quotes
97. "To shine forever as an example to all women, that is the mythic and collective legacy of all sisterhoods. How do we begin to reclaim our sisters? We get to know each other in all our depths." -Brenda Peterson
98. "A virtuous sister who is a faithful friend is a sister-friend. Within every friendship, there is a bond of some type which varies from person to person. We may have many acquaintances in life, but as the saying goes, "True friendships, like diamonds, are precious and rare." -Francie Taylor
99. "Empower, lift and fortify each other. For the positive vitality spread to one will be felt by every one of us. For we are associated, every last one." -Deborah Day
100. "Of all the blessings sisterhood can bestow, I think the greatest is to be known, really known." -Colleen Sell
101. "I am a living testament that deep, amazing platonic friendships can and do exist between men and women, and my life is the better for all of my surrogate sisters." -Hill Harper
102. "We've all been through the storms of life. What a comfort to know the One who quiets the winds and calms the raging seas – and sometimes uses our sisters-in-Christ to do it." -Virginia Smith
103. "God did plan for me to have sisters of the heart. Heart Sisters who didn't grow up with me but will stand up with me no matter what. Heart Sisters who know my most horrible qualities and love me anyway. Heart Sisters who aren't related to me by blood but instead by the sisterly bond entwined between our hearts. Heart Sisters are just as strong as – and in some cases even stronger than – blood sisters." -Natalie Chambers Snapp
104. "There's nothing like a conversation with a woman that understands you." -Beyonce
105. "It is the friends you can call up at 4 a.m. that matter." -Marlene Dietrich
106. "That was the thing about best friends. Like sisters and mothers, they could piss you off and make you cry and break your heart, but in the end, when the chips were down, they were there, making you laugh even in your darkest hours." -Kristen Hannah
Inspirational Sisterhood Quotes
107. "Since all females are daughters of a loving Father in Heaven, we are truly sisters, which explains our instinctive feelings of sisterhood." – Marilynne Todd Linford, Sisters Forever
108. "Help one another, is part of the religion of sisterhood." Louisa May Alcott
109. "There is no better friend than a sister and there is no better sister than you." – Unknown
110. "A sister is a little bit of childhood that can never be lost." – Marion C. Garretty
111. "She's my confidant, my joy, my greatest laughter, my private diary, my strength. She's my soul sister." – Unknown
112. "The feeling of sisterhood is the same whether you're in Salt Lake or South Africa."― Dorah Mkhabela
113. "When you find people who not only tolerate your quirks but celebrate them with glad cries of "Me,too!" be sure to cherish them. Because those weirdos are your tribe." – Unknown
114. "Sisterhood symbolizes all that we wish to accomplish in our lives. It represents the struggles we all face as we grow. Why we cling to it no one can explain, but in the end, we are all stronger for it." – Unknown
115. "Women are a sisterhood. They make common cause in behalf of the sex; and, indeed, this is natural enough, when we consider the vast power that the law gives us over them." – William Cobbett
116. "The success of every woman should be the inspiration to another. We should raise each other up. Make sure you're very courageous: be strong, be extremely kind, and above all be humble." – Serena Williams
Sisterhood Quotes That Describe Its A Unique Bond
117. "If you don't understand how a woman could both love her sister dearly and want to wring her neck at the same time, then you were probably an only child." — Linda Sunshine
118. "Long before feminism made fashion a guilty pleasure, my first experience of the sisterhood among strangers took place in a communal dressing room." — Judith Thurman
119. "This is the Easter message, that awakening is possible, to the goodness of God, the sacredness of human life, the sisterhood and brotherhood of all." — Anne Lamott
120. "My poor little sister should be out trick-or-treating, but you've kept her from a normal childhood and now she's a wall ornament." — Marnie Piper
121. "I could never love anyone as I love my sisters." — Jo
122. "We are two sisters bound by womanhood." — Mary Stuart
123. "It began with two sisters. One born with magical powers, and one born powerless, with her love of snowmen, infinite." — Olaf
124. "I wish nothing more than if I could tell my sister how much I loved her and that I always idolized her…" — Sarah Bloom
125."We're sisters. We're a lot more alike than you think." — Hayley Wheaton
126. "If you have a sister and she dies, do you stop saying you have one?" — Jodi Picoult
Sisterhood Quotes On How Well They Know Each Other
127. "I know my sister like I know my own mind, you will never find anyone as trusting or as kind." ― Lin-Manuel Miranda
128. "At this point, none of us are sure why we fight. We're sisters. We need no good reason to fight, even though we have plenty of them." ― Ken Wheaton
129. "My sister and I are so close that we finish each other's sentences and often wonder who's memories belong to whom." ― Shannon Celebi
130. "Our melanin will always make us marvelous… Just imagine what that sea of sisterhood would look like. Magic!" ― Alexandra Elle
131. "Back to the land of freedom. Back to breaking the law with her sisters to make sure justice got served. God, just the thought had her tingling all over." ― Fern Michaels
132. "It was not just friendship that we are attached to each other, it was sisterhood that made that bonding between us, but now that love doesn't exist anymore as people change with time- that's reality." ― Debolina
133. "It's because our friendships – female friendships are just a hope to our sisterhood, and sisterhood can be a very powerful force, to give to the world … the things that humans desperately need" ― Tanja Taaljard
134. "2 Become aware of the human UNITY that we can create-and of the loving support that we can give each other-is the core of real sisterhood and brotherhood. As we lovingly begin 2 except people and things as they are, we open a way 4 unity and harmony 2 be wonderfully synchronized, bringing the best situations 4 us and every1 around!" ― Angie karan
135. "The night was anything but silent making telepathy necessary, but impossible due to the missing member in the sisterhood of unimaginable beauty." ― Josie Campbell
136. "True happiness comes from a sense of brotherhood and sisterhood, but not from hatred and division." ― Oscar Auliq-Ice
Sisterhood Quotes To Make You Enjoy Your Sisters' Company
137. "Sisters make the best friends in the world." ― Marilyn Monroe
138. "During life's highs and lows, hurts and happiness, a sister is always there." ― Catherine Pulsifer
139. "Appreciation is a word that describes how I feel for my sister being a part of my life." ― Kate Summers
140. "I suppose there are sisters that don't compete. I have never met one." ― Lisa Grunwald
141. "Sisterhood cannot be assumed on the basis of gender; it must be forged in concrete historical and political practice and analysis." ― Chandra Talpade Mohanty
142. "Friend and sister – for always being available, always ready to listen and always ready to offer support and encouragement." ― Linda Blair
143. "Sisters become more beautiful as each day passes by." ― Michelle Malm
144. "I had a really good time on the show [Sisterhood of Hip Hop]. Most of all, what I've learned is that I need to share what it is that I know." ― MC Lyte
145. "Sisters share the scent and smells – the feel of a common childhood." ― Pam Brown
146. "I see my sisters as one of the few constants in my life." ― Jane Isay
Sisterhood Quotes To Express The Special Bond
147. "A sister smiles when one tells stories—for she knows where the decoration has been added." — Chris Montaigne
148. "Husbands come and go; children come and eventually they go. Friends grow up and move away. But the one thing that's never lost is your sister." — Gail Sheeny
149. "Acquaintances were always on their best behavior, but sisters loved each other enough to say anything." — Lauren Weisberger
150. "Sister is our first friend and second mother." — Sunny Gupta
151. "The best thing about having a sister was that I always had a friend." — Cali Rae Turner
152. "More than Santa Claus, your sister knows when you've been bad and good." — Linda Sunshine
153. "One of the best things about being an adult is the realization that you can share with your sister and still have plenty for yourself." — Betsy Z. Cohen
154. "A sister is a friend you don't have to avoid the truth with." — Michelle Malm
155. "Parents die, daughters grow up and marry out, but sisters are for life."— Lisa Lee
156. "What are sisters for if not to point out the things the rest of the world is too polite to mention." — Claire Cook
Sisterhood Quotes About Caring for Each Other
157. "Sisters never quite forgive each other for what happened when they were five." — Pam Brown
158. "Big sisters are the crab grass in the lawn of life." — Charles M. Schulz
159. "How wide and sweet and wild motherhood and sisterhood can be." — Rebecca Wells
160. "We are sisters. We will always be sisters. Our differences may never go away, but neither, for me, will our song." — Elizabeth Fishel
161. "A nun of winter's sisterhood kisses not more religiously; the very ice of chastity is in them." — William Shakespeare
162. "We acquire friends and we make enemies, but our sisters come with the territory." — Evelyn Loeb
163. "Don't talk about my sister; don't play with me about my sister. If you do, you'll see another side of me." — Beyonce
164. "If your sister is in a tearing hurry to go out and cannot catch your eye, she's wearing your best sweater." — Pam Brown
165. "Bless you, my darling, and remember you are always in the heart – oh tucked so close there is no chance of escape – of your sister." — Katherine Mansfield
166. "In thee my soul shall own combined the sister and the friend." — Catherine Killigrew
Celebrating the Power of Sisterhood Quotes
167. "Sisters are the people we practice on, the people who teach us about fairness and cooperation and kindness and caring." — Pamela Dugdale
168. "Sisters are the heartbeat in the family's body." — Clara Ortega
169. "But whenever she thanks the givers for favors great and small, she thinks of the good little sister who gave her more than they all." — Phoebe Cary
170. "From the psychological jousting between sisters in the early family arena emerge the first tentative boundaries of their personalities." — Elizabeth Fishel
171. "That is our vocation: to convert the enemy into a guest and to create the free and fearless space where brotherhood and sisterhood can be formed and fully experienced." — Henri Nouwen
172. "I have thought a sufficient measure of civilization is the influence of good women." — Ralph Waldo Emerson
173. "Please know that I am aware of the hazards. I want to do it because I want to do it. Women must try to do things as men have tried. When they fail, their failure must be a challenge to others." — Amelia Earhart
174. "Women must pay for everything. They do get more glory than men for comparable feats, but, they also get more notoriety when they crash." — Amelia Earhart
175. "Women's natural role is to be a pillar of the family." — Grace Kelly
176. "I want to organize so that women see ourselves as people who are entitled to power, entitled to leadership." — Patricia Ireland
Sisterhood Quotes That Warm the Heart
177. "Ironically, women who acquire power are more likely to be criticized for it than are the men who have always had it." — Carolyn Heilbrun
178. "An older sister is a friend and defender – a listener, conspirator, a counsellor and a sharer of delights. And sorrows too." — Pam Brown
179. "Softball has given me so much in life. It's taught me the kind of person I want to be, and given me a sweet sisterhood. It even led me to my husband." — Jennie Finch
180. "My career has always revolved around what I do and don't want my sisters and brothers seeing me doing." — Melissa Joan Hart
181. "The thing about guitar players is we're all like a brotherhood or sisterhood. We don't care if you're great, good, bad, in between or whatever. As long as you love it, then we're all going to help each other." — Tommy Emmanuel
182. "I grew up with a lot of brothers and I don't have any sisters, so for me it's really important to develop my sisterhood. It's something I've always coveted." — Mickalene Thomas
183. "When women love us, they forgive us everything, even our crimes; when they do not love us, they give us credit for nothing, not even our virtues." — Honore de Balzac
184. "It's more than Fifth Harmony, the girl group – it's a sisterhood." — Camila Cabello
185. "It's hard to be responsible, adult and sensible all the time. How good it is to have a sister whose heart is as young as your own." — Pam Brown
186. "As long as women are using class or race power to dominate other women, feminist sisterhood cannot be fully realized." — Bell Hooks
187. "One of the basic points is kindness. With kindness, with love and compassion, with his feeling that is the essence of brotherhood, sisterhood, one will have inner peace. This compassionate feeling is the basis of inner peace." — Dalai Lama
188. "Failed friendship. Failed sisterhood and daughterhood. Failed mirrors and scales and phone calls. Good thing I'm stable." — Laurie Halse Anderson
189. "It makes them siblings, gives them mutuality of parentage. Sisterhood and brotherhood is a condition people have to work at." — Maya Angelou
190. "Of two sisters one is always the watcher, one the dancer." — Louise Glück
191. "A ministering angel shall my sister be." — William Shakespeare
192. "Wisdom and goodness are twin-born, one heart must hold both sisters, never seen apart." — William Dean Howells
193. "My sister and I never engaged in sibling rivalry. Our parents weren't that crazy about either one of us." — Erma Bombeck
194."Let the erring sisters depart in peace; the idea of getting up a civil war to compel the weaker States to remain in the Union appears to us horrible to the last degree." — Jane Swisshelm
195. "She wouldn't climb out of the bed for her sister, but she had climbed into a crater. She wouldn't cross a room, but she had crossed a continent." — Anthony Marra
How does sisterhood benefit you?
Maybe you have a sister who cares for you or brings out the best in you.
Maybe you are a sister and give the utmost care to a sibling who means the world to you.
You may be a woman who derives strength in nurturing others, or perhaps you aren't a woman, but you reap the benefits of a friendship or relationship with a woman who provides that warmth and empathetic care for you when you need it most.
Sisterhoods and sisterly relationships benefit everyone, so we must be thankful for them.
Which of these sisterhood quotes and sayings resonated with you best?
Do you have any other favorite quotes to add?
Tell us in the comment section below.
We would love to hear all about it.
You can explore the introspective verses of rap storyteller J. Cole that delve into the complexities of love and life.