Thank God Quotes To Express Your Gratitude
These 'thank God' quotes are perfect whether you are feeling appreciative for religious reasons, or want to have a good laugh at some things people thank God for.
You may also enjoy our article on:
Famous people like Lil' Wayne express their belief that they are blessed and God influences their lives every day.
Other people's reasons for thanking God will make you laugh—like George Bernard Shaw's comment.
With all the things people say 'thank God' for, it made me question if there is a right way to thank God?
Like many things with God, the answer seems to come down to prayer.
You could offer a simple prayer in thanks for the blessings that you feel God has given you.
Beyond that, there are things you can do in your daily life that shows God and others that you are living with a thankful heart.
Keep reading through these thank God quotes for tangible ways you can express your gratitude!
Don't forget to also check out these God quotes to help you learn about God.
Check out our most popular quote article, a list of short inspirational quotes for daily inspiration.
Our inspirational quotes category page has all of our motivational quotes for all the different areas of life.
Thank God quotes from famous people
1. "I was brought up to question authority, and thank God for that." — Pink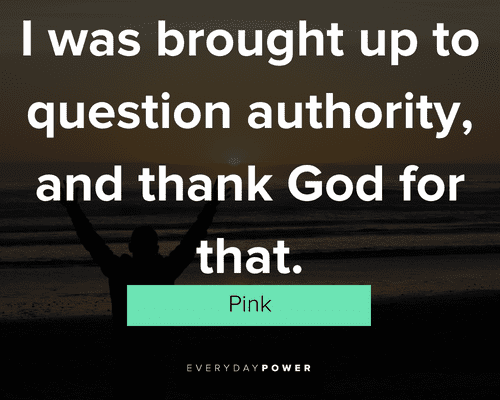 You will also enjoy our article on Scooby-Doo quotes.
2. "I'm blessed and I thank God for every day for everything that happens for me." — Lil Wayne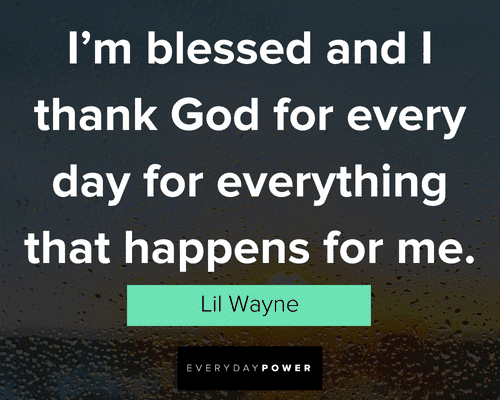 You will also enjoy our article on thankful quotes.
3. "Thank God for reality shows, or we wouldn't have anybody to look down on." — George Clooney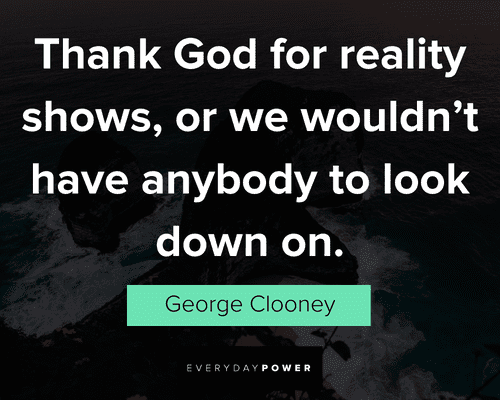 You will also enjoy our article on God's plan quotes.
4. "Mooo!' was one of those songs where I was like thank God people like it because I like it, too." — Doja Cat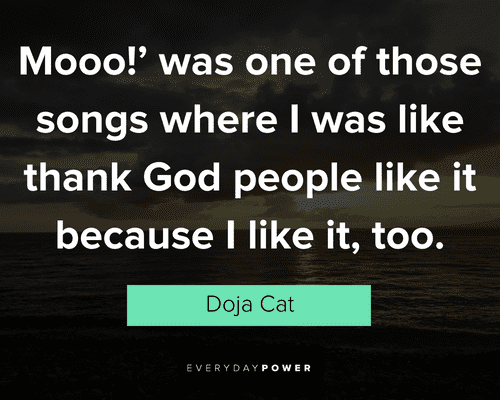 You will also enjoy our article on appreciation quotes.
5. "My parents just had faith in me, and thank God they did. They weren't stage parents in the slightest." — Lili Reinhart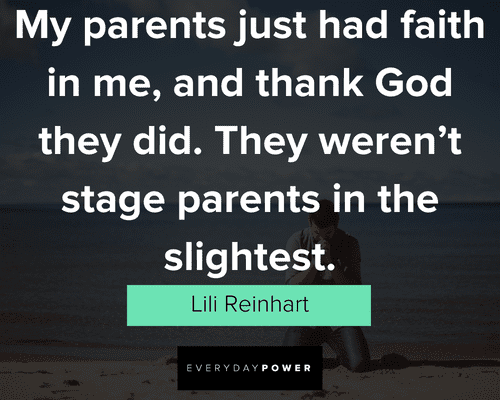 You will also enjoy our article on thank you quotes.
6. "I thank God for my failures. Maybe not at the time, but after some reflection. I never feel like a failure just because something I tried has failed." — Dolly Parton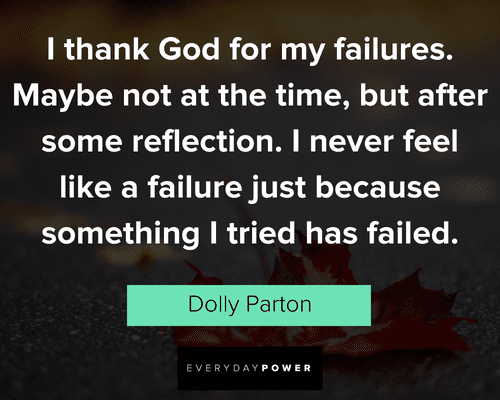 You will also enjoy our article on gratitude quotes.
7. "When the punk thing came along and I heard my friends saying, I hate these people with the pins in their ears. I said, Thank God, something got their attention." — Neil Young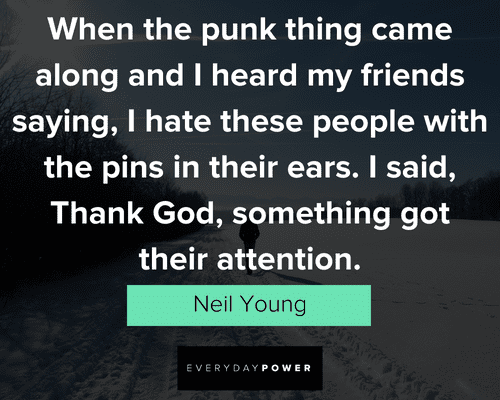 You will also enjoy our article on God is good quotes.
8. "People face difficulties, no matter who you are. I faced difficulties with a lot of things. I face opposition every day, but I didn't kill myself and now, thank God, I'm here." — Nicki Minaj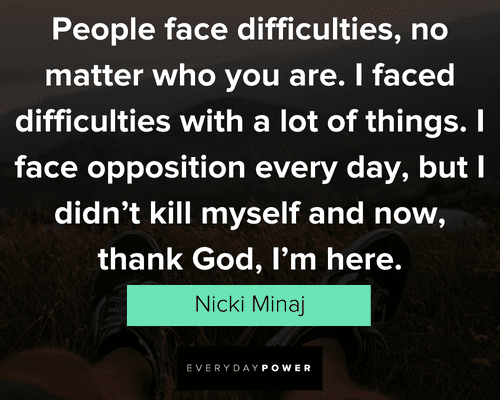 You will also enjoy our article on God give me strength quotes.
9. "I thank God that I'm a product of my parents. That they infected me with their intelligence and energy for life, with their thirst for knowledge and their love. I'm grateful that I know where I come from." — Shakira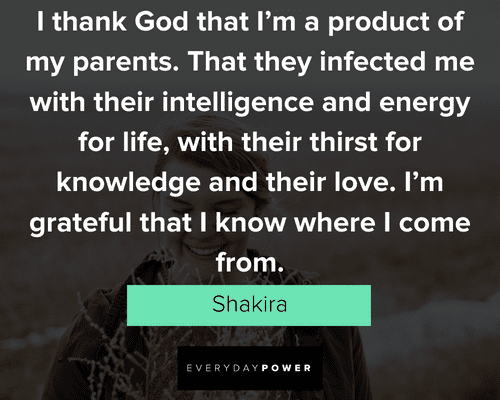 You will also enjoy our article on good night prayer quotes.
10. "I want to thank God, obviously for the health, for the talent He's given me, for my family who supports me, for the things that basketball's taught me on and off the court. For the people that I've been able to meet through the game of basketball." — Stephen Curry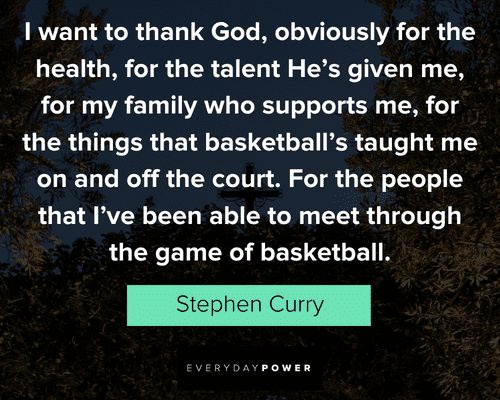 You will also enjoy our article on blessed quotes.
Funny thank God quotes
11. "I thank God for making me a man." — Little Richard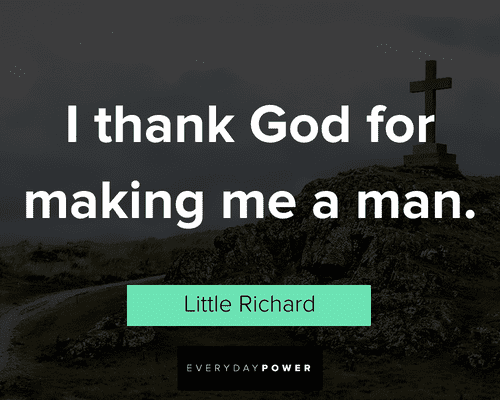 You will also enjoy our article on Joel Osteen quotes.
12. "I thank God that I wasn't born perfect." — Bob Fosse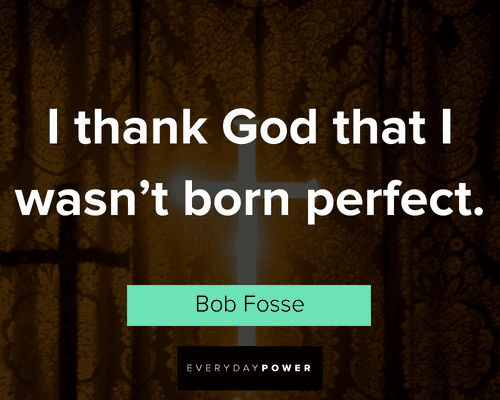 You will also enjoy our article on letting go quotes.
13. "I thank God every night for David Stern." — Anne Donovan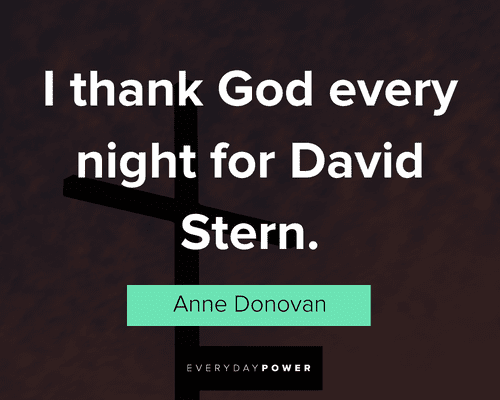 You will also enjoy our article on never give up quotes.
14. "I'm an atheist and I thank God for it." — George Bernard Shaw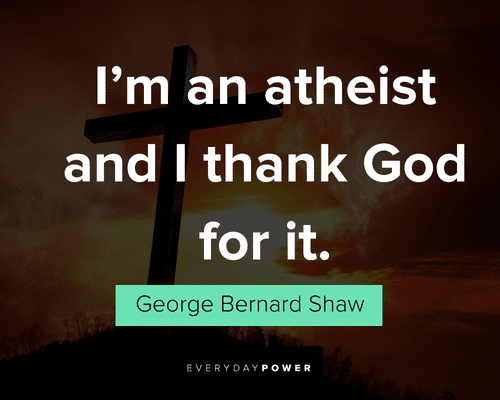 15. "I just thank God for giving me the body that I have." — Zion Williamson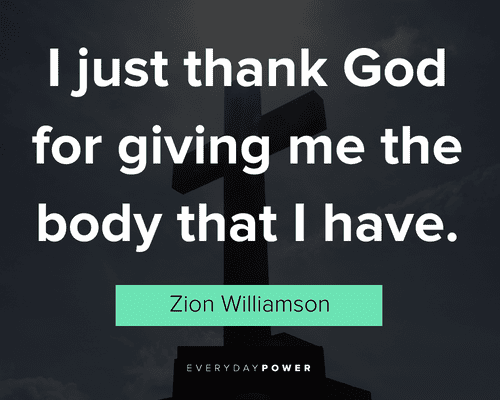 16. "I thank God I was raised Catholic, so sex will always be dirty." — John Waters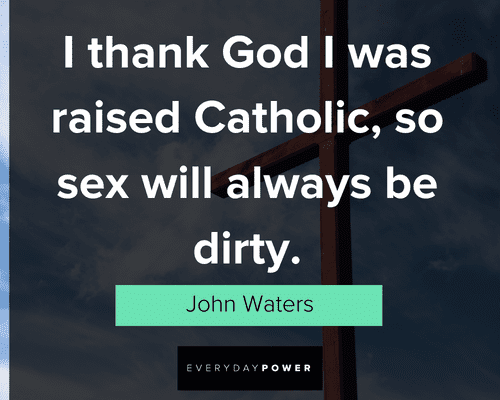 17. "I haven't had that many weird encounters with fans, thank God." — Vin Diesel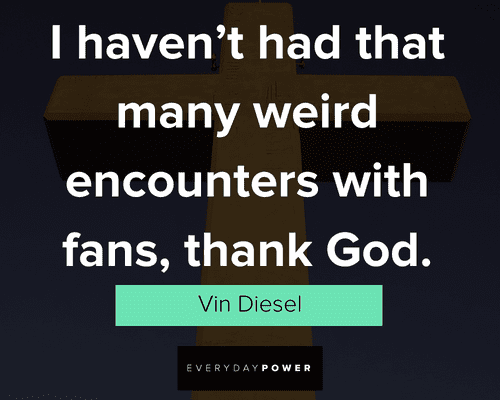 18. "Thank God I didn't have my children until I was a little bit older." — Lauren Holly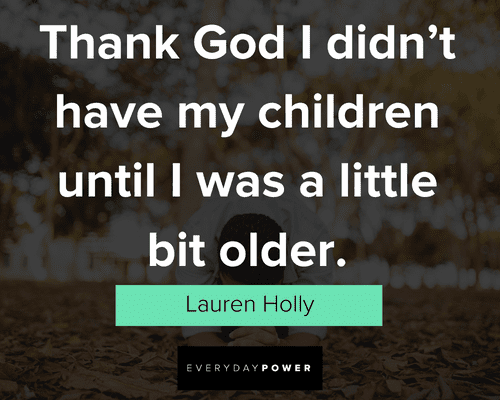 19. "God gives us relatives; thank God, we can choose our friends." — Addison Mizner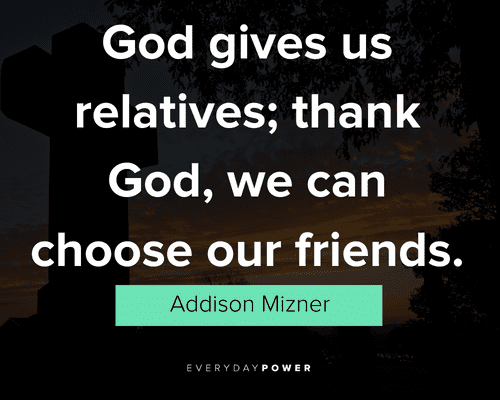 20. "I am as bad as the worst, but, thank God, I am as good as the best." — Walt Whitman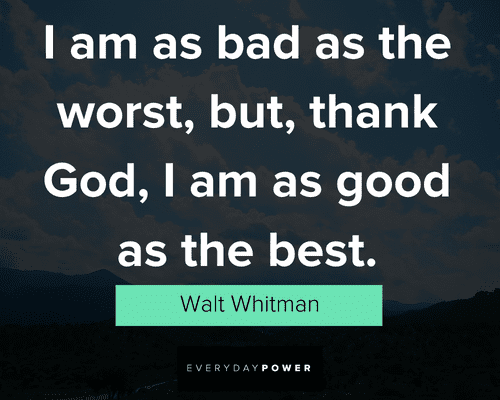 Short thank God quotes
21. "Thank God for Botox." — Bonnie Tyler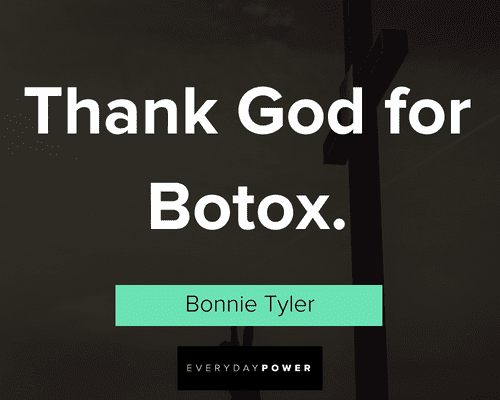 22. "Thank God for the theater." — Raul Julia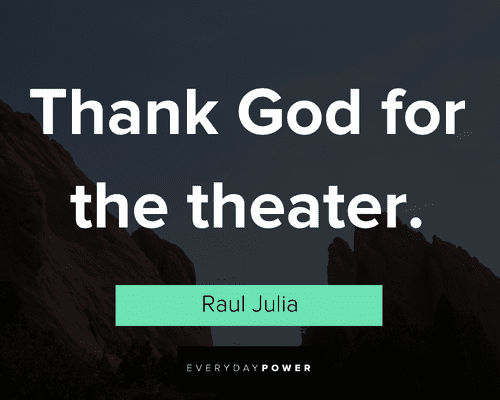 23. "Thank God I have the right friends." — Chevy Chase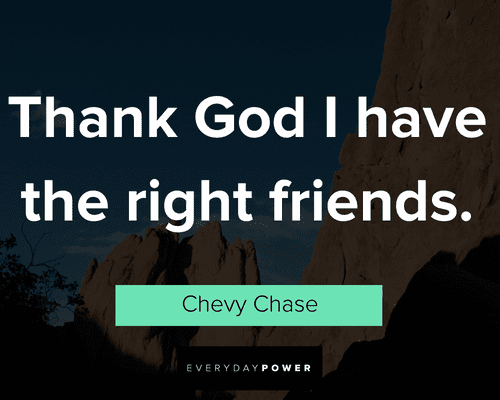 24. "Thank God for paper ballots." — Anibal Acevedo Vila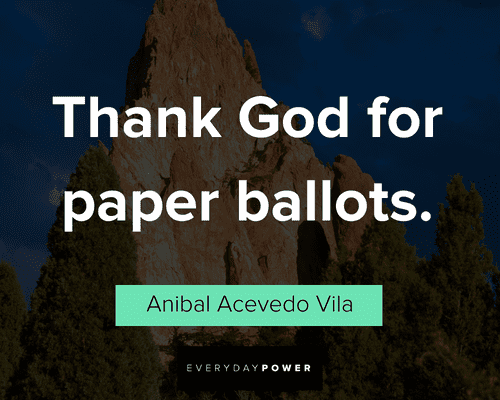 25. "I thank God every day for my family." — Brett Kavanaugh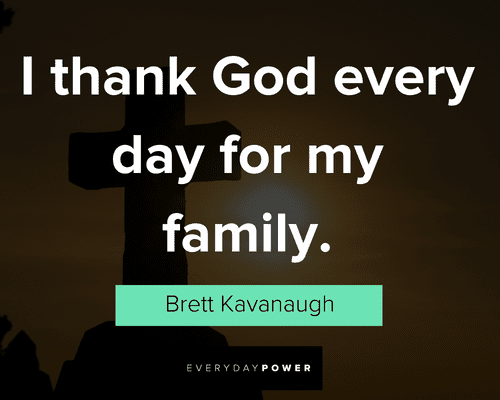 26. "I just thank God when I wake up every day." — Cilla Black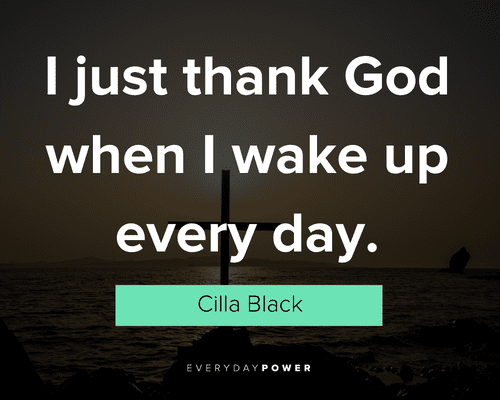 27. "All my life I thank God. My family was very religious." — Pele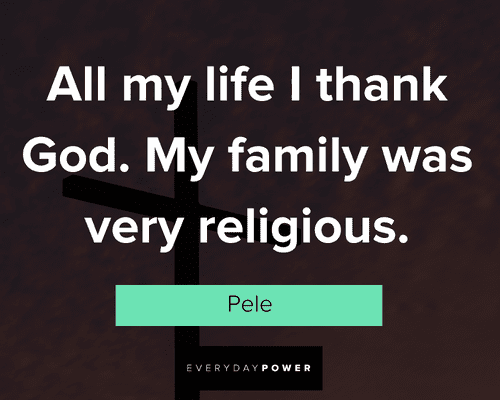 28. "Sometimes I thank God… for cheeseburgers." — Garth Brooks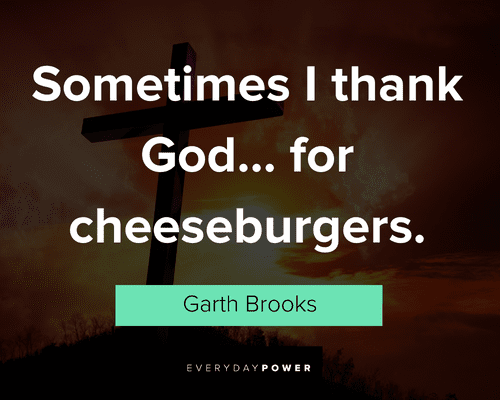 29. "I stopped eating meat when I was 35. Thank God." — Cloris Leachman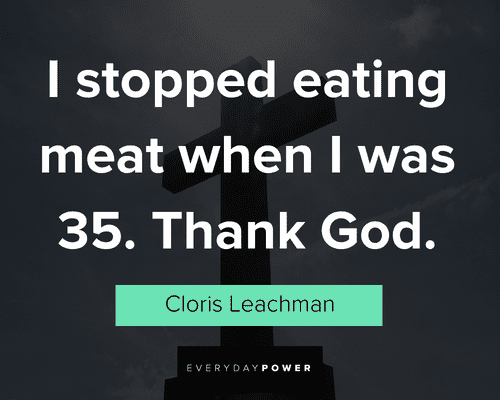 30. "Well, thank God for a media that will ask questions." — Lindsey Graham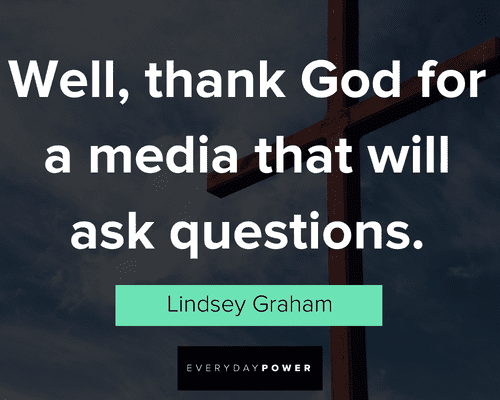 Thought-provoking thank God quotes
31. "Thank God I had all these family values or who knows where I'd be now." — Patricia Velasquez
32. "Thank God men cannot fly, and lay waste the sky as well as the earth." — Henry David Thoreau
33. "It is foolish and wrong to mourn the men who died. Rather we should thank God that such men lived." — George S. Patton
34. "Attraction is what happens between you. It's not universal. And it's not conventional. And thank God for that." — Rainbow Rowell
35. "Humans love truth and justice, and rejoice in ceremonies that honor those qualities. For that sentiment we should indeed thank God." — Alfred Hershey
36. "Although oil is a commodity, it's still not a commodity like coffee, which, thank God, we will have with us always. At some point the oil will run out." — James Surowiecki
37. "Thank God that the people that run this world are not smart enough to keep running it forever. You know, everybody gets a handle on it for a little while." — Arlo Guthrie
38. "Now I can do no more. We must trust to the Great Disposer of all events and the justice of our cause. I thank God for this opportunity of doing my duty." — Horatio Nelson
39. "We may thank God that we can feel pain and know sadness, for these are the human sentiments that constitute our glory as well as our grief." — Eugene Kennedy
40. "It's like real life: We don't get a preview of what's coming up, thank God, and we don't build our own character from what we're going to be informed with in the future." — Frances Conroy
Inspirational thank God quotes
41. "I hit rock bottom, but thank God my bottom wasn't death." — Stevie Ray Vaughan
42. "I may not be where I want to be, but thank God I am not where I used to be." — Joyce Meyer
43. "The Holy Spirit, thank God, often enables people to forgive even though they are not sure how they did it." — Lewis B. Smedes
44. "Before I go to bed, I thank God for blessing me with all the things he blessed me with, and for my family to be safe." — Lauren Alaina
45. "I just thank God that I didn't grow up with so much money or privilege because you had to create ways to make it happen." — Kim Basinger
46. "In closing, let me just thank God, on the floor of the House, for not turning away from us even though we seem to be turning away from Him." — Zach Wamp
47. "Every morning that I wake up and I'm breathing, I can feel it and take a moment to say, you know, 'Thank God I'm alive for another day.'" — Ron Cephas Jones
48. "You can't get around pain and opposition, but you can try to be joyful in the trial, and thank yourself for the trial, and thank God for the strength to get through it." — Mary J. Blige
49. "We didn't always have what we wanted or needed, we had to struggle. That is why I also thank God for my mum – she is the one who worked hard to pay for my first football boots." — Odion Ighalo
50. "You learn from the things that happen in your career. You get up and down. You never give up. All the things that happened in my career, thank God it happened early rather than late in my career." — Pablo Sandoval
Thank God Quotes To Be Grateful About Life
51. "We have had much to bear already. And still more will we have to bear. Let us thank God for being young." ― Joseph Goebbels
52. "I thank God daily for the good fortune of my birth, for I am certain I would have made a miserable peasant." ― C. S. Forester
53. "Thank God when he oppresses you, and again when he releases you." ― Johann Wolfgang von Goethe
54. "Thank God I've always avoided persecuting my enemies." ― Adolf Hitler
55. "Thank God in advance for what's already yours." ― Denzel Washington
56. "I have never wished there was a God to call on- I have often wished there was a God to thank." ― F. Scott Fitzgerald
57. "I make such big efforts to forget things and I can't tell the story of my life because, thank God, I'm still living it." ― Karl Lagerfeld
58. "My health, thank God, has kept my brain alive." ― Don Rickles
59. "Thank God even crazy dreams come true." ― Carrie Underwood
60. "Last, I just want to thank God again. He's the first and the last. Alpha and Omega. I thank you for saving my life." ― Kevin Durant
Thank God Quotes To Appreciate His Mercies
61. "Find time to thank God for all the blessings you receive on a day to day basis." — Steven Johnson
62. "We give thanks to God not because of how we feel but because of who He is." — Ann Voskamp
63. "Thank God for His grace, for without it we would have no hope!" — Billy Graham
64. "Thank God for home and parents, children and friends, for sweet companionship that never ends." — Thomas Durley Landels
65. "Thank God for this! That once again we are alive to greet the spring." — Wilhelmina Stitch
66. "Don't complain about it, pray about it! Thank GOD for what you have and let it go. Give it to GOD." — Joanna C Smith
67. "Anybody can thank God for good things. But when you can thank God even in the bad things, your faith grows and your spiritual roots go deeper." — Rick Warren
68. "The work you do today may be difficult and tiring, but we should still thank God for it because it is His gift to us – the ability to provide for our needs." — Dr. David Jeremiah
69. "But, thank God through the written word I can find joy, peace and comfort through life's trials." — Ruel Fordyce
70. "Your past may be painful, yet you must forgive, move on, and thank God for it." — Martin Henderson
Thank God Quotes to Express Appreciation to the Almighty
71. "Thank God I had two parents who loved me enough to stay on my case." ― Shaquille O'Neal
72. "My family was loving… they were very supportive and very affectionate, and basically I could do what I wanted, and basically it wasn't anything dangerous, thank God." ― Bob Balaban
73. "When you solve a problem, you ought to thank God and go on to the next one." ― Dean Rusk
74. "Thank God for the way He made you. You are special, distinct, and unique. You were not made from a common mold. Thank Him that you are special." ― Erwin W. Lutzer
75. "[My favorite thing about motherhood is] that it's made me grow into a woman finally, and I finally grew up, thank God." ― Nicole Polizzi
76. "We all see the world differently. And thank God for that. Otherwise, what a boring world this would be." ― Philip Johnson
77. "I love performing, and it allows me to be very discerning about what I choose next, thank god." ― Joel McHale
78. "God is the greatest. So at the end of the day and beginning of the day, I thank God." ― DJ Khaled
79. "I thank God tonight for freedom – those who bought and paid for it with their lives in the past – those who will protect it in the present and defend it in the future." ― Jim Gibbons
80. "I thank God that I have been meeting so many people who want to help me." ― Julie King
Ways you can express your thanks for God and His blessings
The first way you can show your thanks to God is to remember Him in all you do.
This includes your thoughts, words, and actions.
If you have God at the forefront of your mind, then you can live life with gratitude for His influence.
Another way you can give thanks to God is to keep a gratitude journal where you name the blessings He has brought into your life.
A gratitude journal is an excellent way to cultivate an attitude of gratitude for everyone—even if you are not religious.
Another thing you can do is to serve others.
Be a blessing in someone else's life the way God has blessed you with supportive people.
This will also help you create an attitude of gratitude, in general.
People are much happier when they express gratitude for the things in their lives.
Whether you attribute those things to God or something else, remember gratitude is important.
It makes dealing with the stress and challenges of life much easier.
What's your biggest takeaway from these thank God quotes and sayings?
Let us know what you thank God for in the comment section below.