Pink Quotes for When Pink is Your Favorite Color
These pink quotes will share in your love for this pretty color.
Who doesn't love the color pink?
Everybody seems to love this cute shade.
We bet you will also love these cute and funny pink quotes too.
Tell us your favorite pink quote in the comment section below.
You may also enjoy our article on:
What are the benefits of reading these pink quotes?
The color pink is probably one of the favorite shades for women and men.
This pale tint of the passionate and fiery red hue is an all-time hit for many.
This calming shade can be associated with:
femininity
kindness
compassion
They often use pink in fashion statements to give an impression of chicness and cuteness, depending on the hue of the color.
For pale pink, it gives a more relaxing vibe while neon and vibrant pink can be linked with energy and fun.
Don't forget to check out these blue quotes for color lovers and creatives.
Check out our most popular quote article, a list of short inspirational quotes for daily inspiration.
Explore our complete collection of motivational quotes here.
Pink Quotes And Sayings About Fashion
1. "I don't think I will ever get tired of wearing pink." – Emma Bunton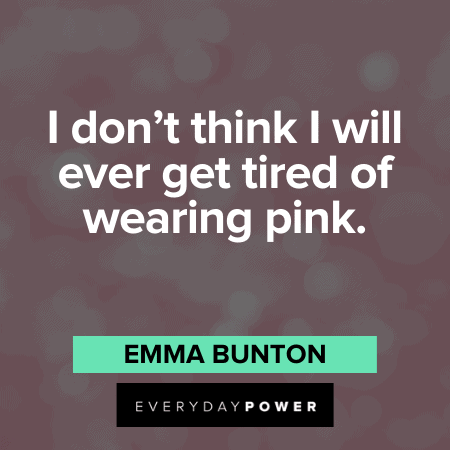 You will also enjoy our article on party quotes.
2. "I love a nice hot pink. I like thick lipstick, otherwise, it doesn't look like you're wearing any." – Iris Apfel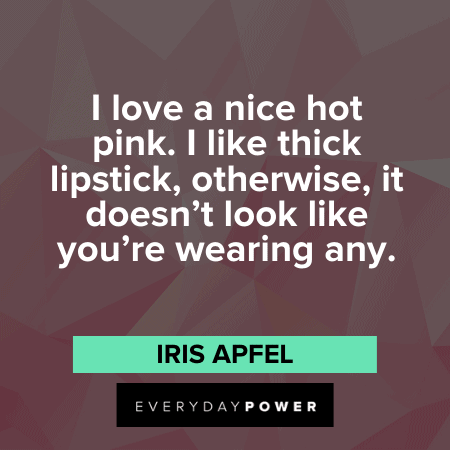 You will also enjoy our article on red quotes.
3. "I gave to pink, the nerve of the red, a neon pink, an unreal pink." – Elsa Schiaparelli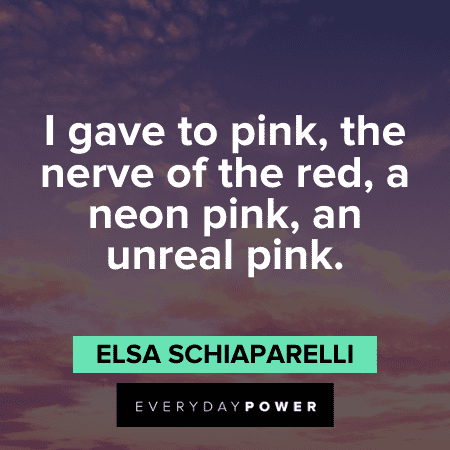 You will also enjoy our article on pretty Woman quotes.
4. "Think pink. But don't wear it." – Karl Lagerfeld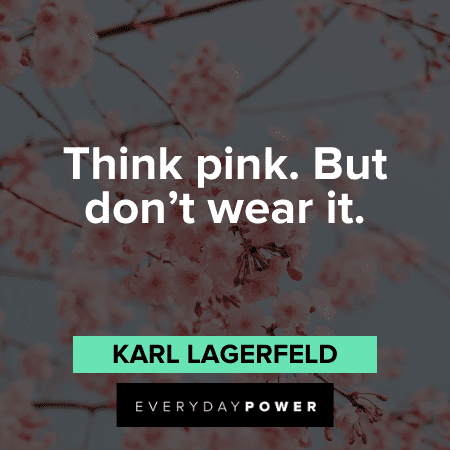 You will also enjoy our article on Thursday quotes.
5. "Whoever said orange was the new pink was seriously disturbed." – Elle Woods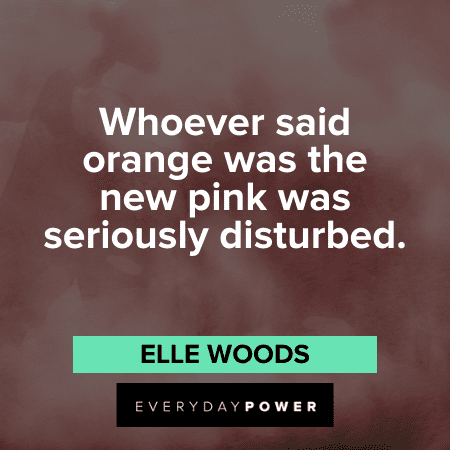 You will also enjoy our article on fashion quotes.
6. "Always have a pink Oxford shirt ready for days when you're feeling run down." – Michael Bastian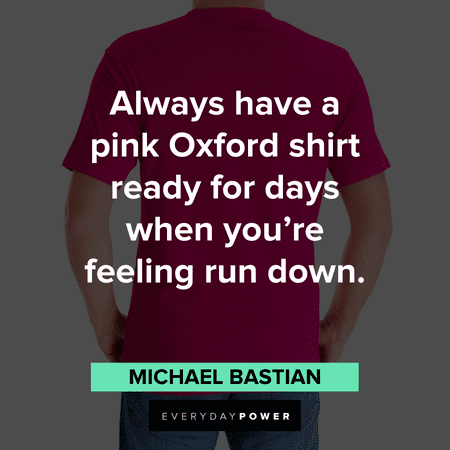 You will also enjoy our article on Pink Floyd quotes
7. "Picasso had his pink period and his blue period. I am in my blonde period right now." – Hugh Hefner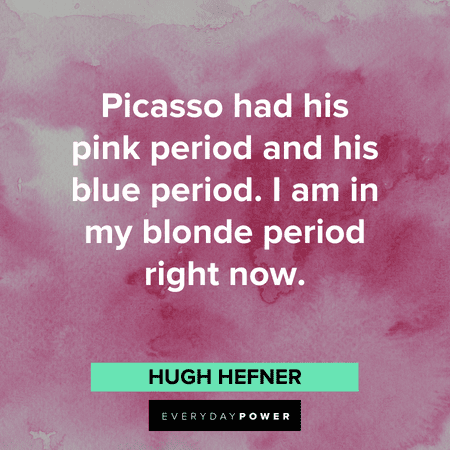 You will also enjoy our article on purple quotes.
8. "Pink is the color of strength, a color of conviction, a color of decision making." – Angad Bedi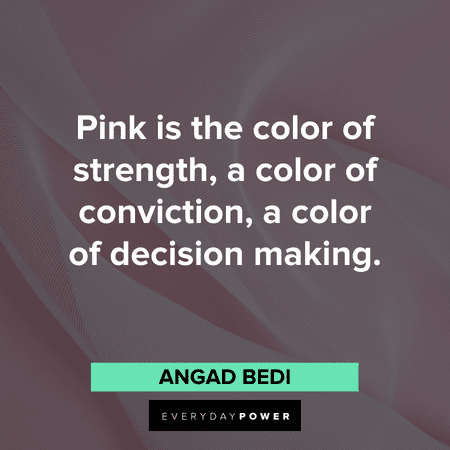 You will also enjoy our article on cute quotes.
9. "Pink is not a color – it's a culture to me." – DeAngelo Williams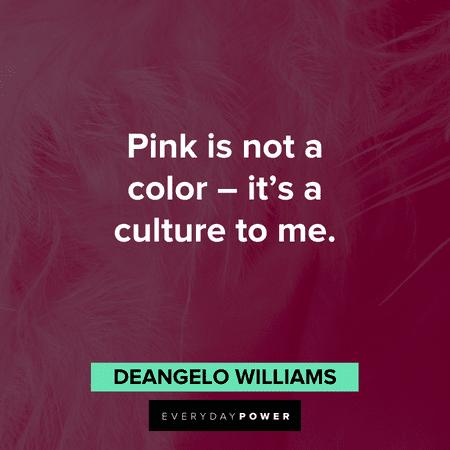 You will also enjoy our article on Makeup quotes.
10. "I always wanted pink hair." – Rachel McAdams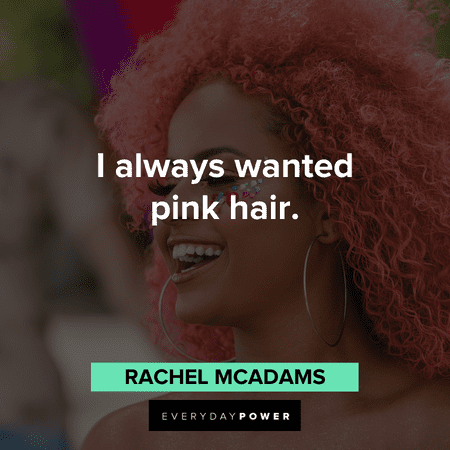 You will also enjoy our article on bad bitch quotes.
11. "Love just comes in one color. Pink!" – Anthony T. Hincks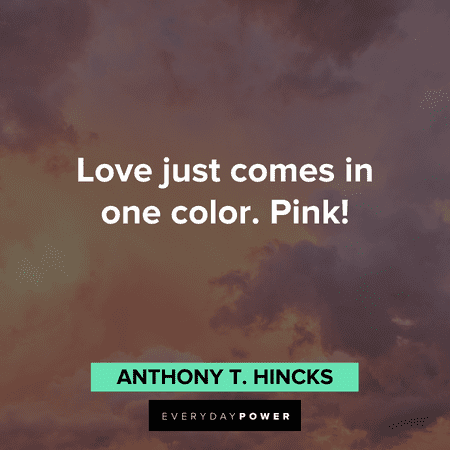 You will also enjoy our article on anne with an e quotes.
12. "Barbies, nails, and fashion – I'll take everything in baby pink, please." – Jeffree Star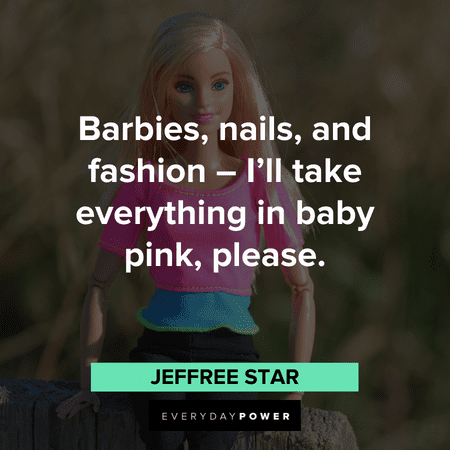 You will also enjoy our article on orange quotes.
13. "The tones of gray, pale turquoise, and pink will prevail." – Christian Dior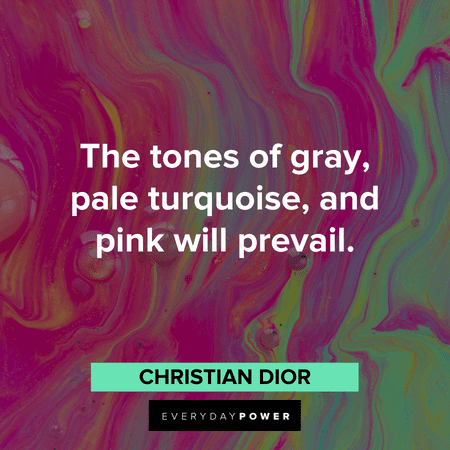 You will also enjoy our article on savage quotes.
14. "I remember being mad about having pink and red shoes. I grew up envying other girls' pink and red shoes." – Miuccia Prada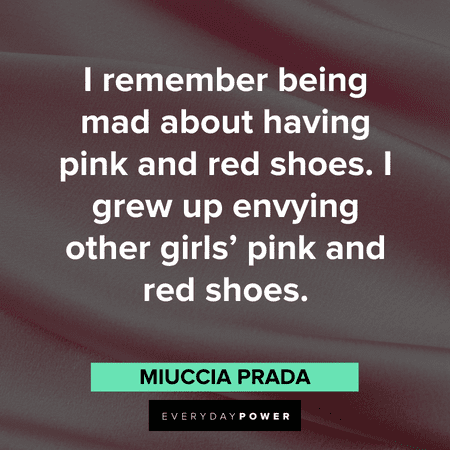 You will also enjoy our article on color red quotes.
15. "I used to be obsessed with Pearl Jam, but I love having pink hair and kind of looking like a Barbie." – Ellie Goulding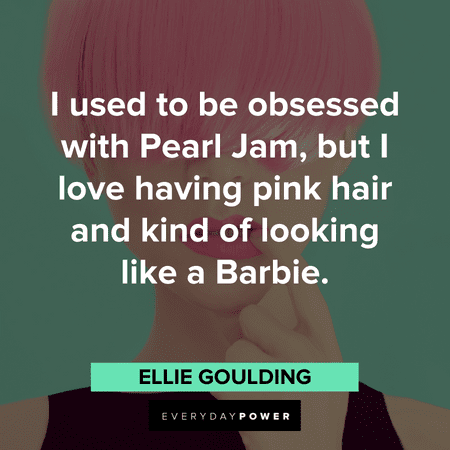 You will also enjoy our article on catchy quotes.
Favorite Color Pink Quotes
16. "Why would anyone pick blue over pink? Pink is obviously a better colour." – Kanye West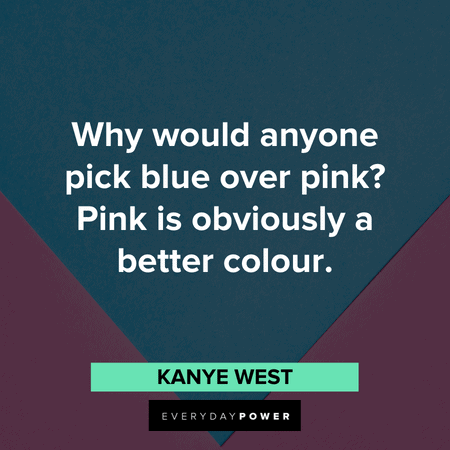 You will also enjoy our article on dazed and confused quotes.
17. "Pink is the new black." – Diana Vreeland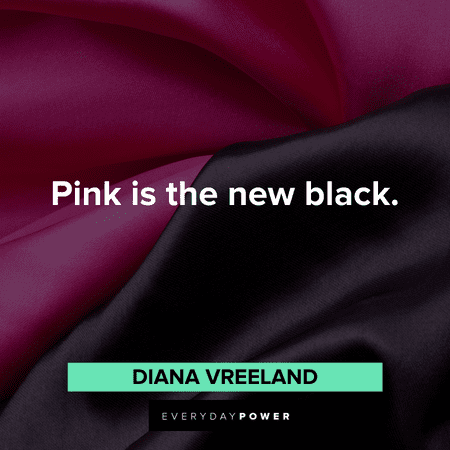 You will also enjoy our article on rose quotes.
18. "Pink is the navy blue of India." – Diana Vreeland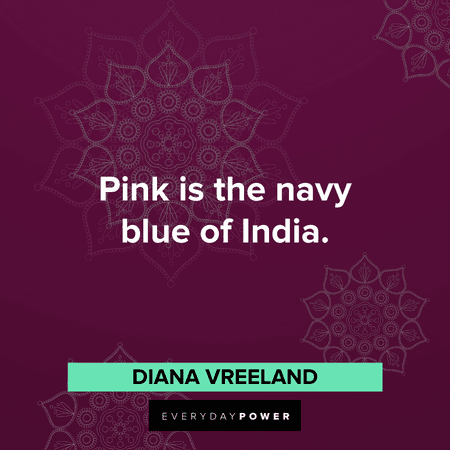 You will also enjoy our article on baby girl quotes.
19. "Mauve? Mauve is just pink trying to be purple." – James Whistler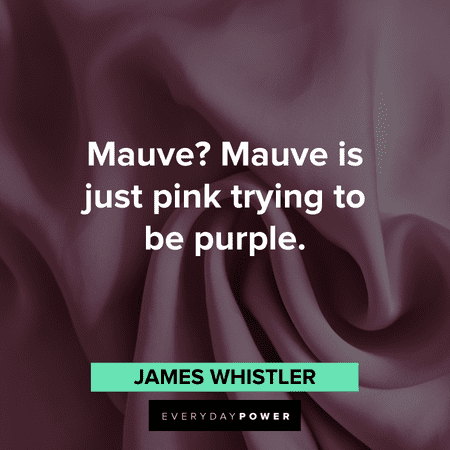 You will also enjoy our article on Fifty Shades of Grey quotes.
20. "Pink isn't just a color, it's an attitude!" – Miley Cyrus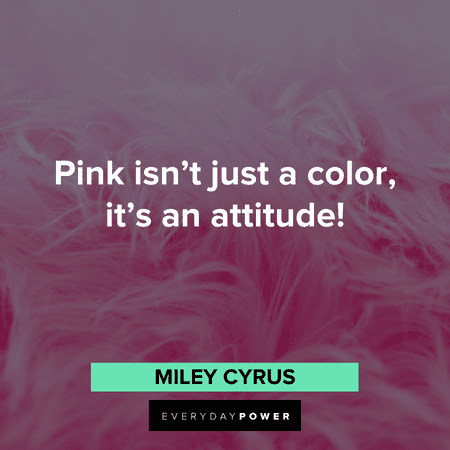 You will also enjoy our article on candy quotes.
21. "I fell off my pink cloud with a thud." – Elizabeth Taylor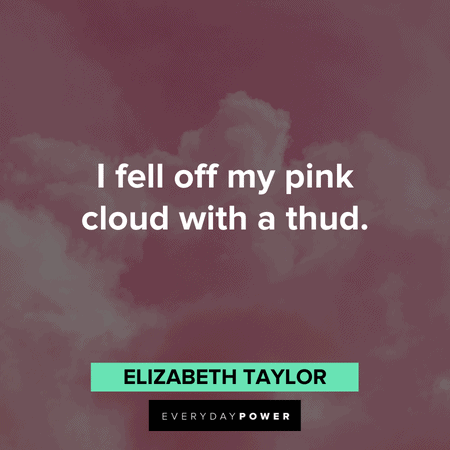 22. "I adore pink; it's very powerful. It makes you feel sweet and sexy, also if you are a man." – Alessandro Michele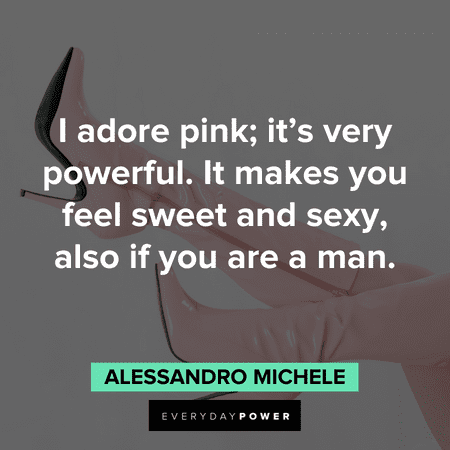 23. "Blush pink is a timeless, classy, and soft color that all of us can rock any time of year!" – Jefree Star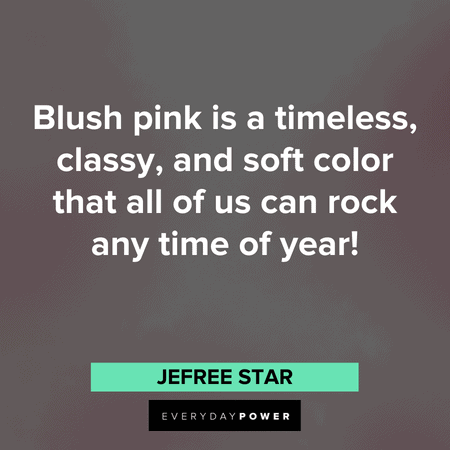 24. "My look is a very individual look. I love Pink, but I don't really dress like Pink." – Ashley Tisdale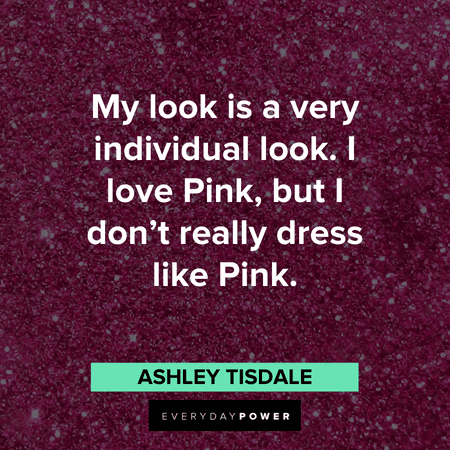 Color Pink Quotes That Uplift Mood
25. "I seem to have had quite a lot of pink dresses." – Vera Lynn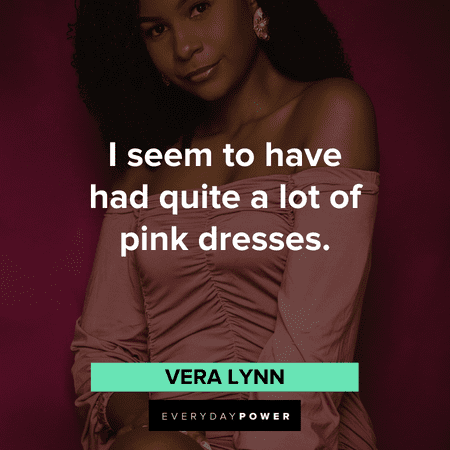 26. "I dyed my hair pink when I was fifteen." – Karen Gillan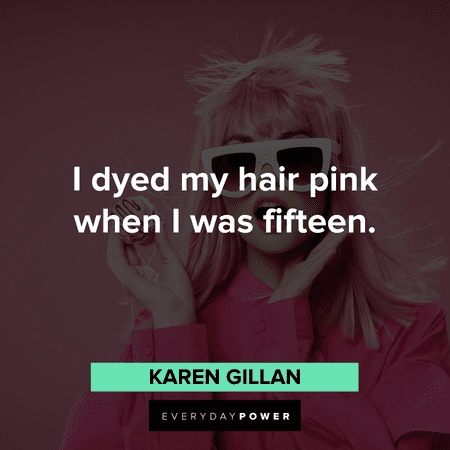 27. "I don't wear much make-up but when I do, I love pink for the summer." – Toni Garrn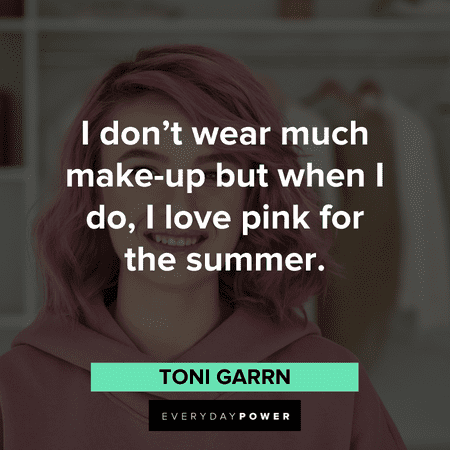 28. "Anything is possible with sunshine and a little pink." – Lilly Pulitzer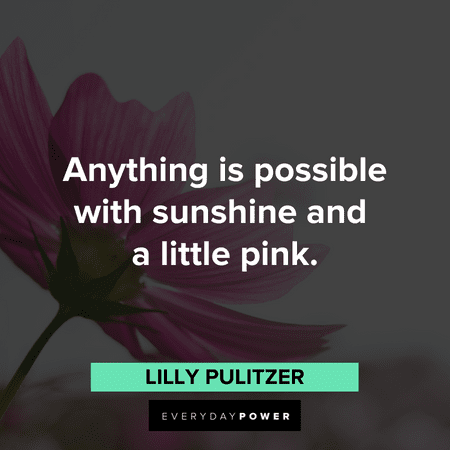 29. "On Wednesdays we wear pink." – Regina George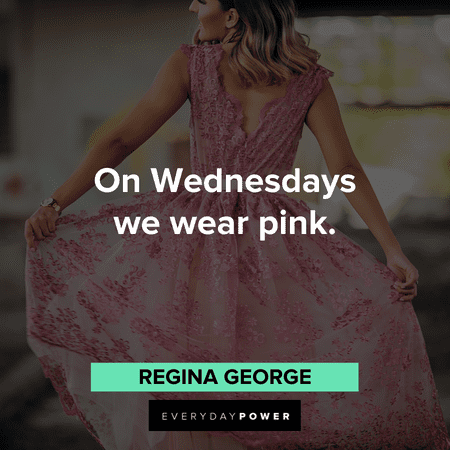 30. "Pink is what I do. Alecia is who I am. The world has taken Pink and turned it into this thing, a brand – a snarl." – Pink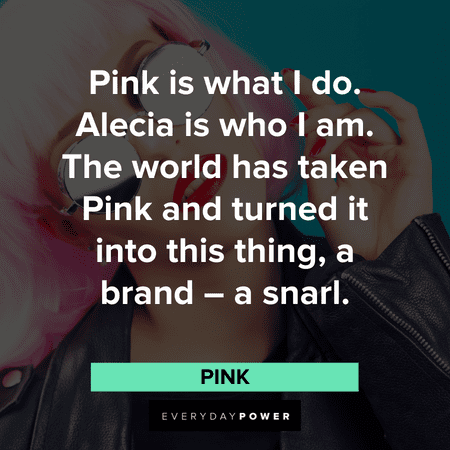 Other Cute Pink Quotes
31. "Capitalism is an organized system to guarantee that greed becomes the primary force of our economic system and allows the few at the top to get very wealthy and has the rest of us riding around thinking we can be that way, too – if we just work hard enough, sell enough Tupperware and Amway products, we can get a pink Cadillac." – Michael Moore
32. "The main difference to me with Lyft is the sense of community and social experience. The pink mustache, fist bump, and strict screening have fostered a strong sense of community with many stories of new friends, discovered jobs, and even some Lyft hugs after a tough break up." – John Zimmer
33. "Pink is my favorite color. I used to say my favorite color was black to be cool, but it is pink – all shades of pink. If I have an accessory, it is probably pink." – Roxane Gay
34. "The pigeon here is a beautiful bird, of a delicate bronze colour, tinged with pink about the neck, and the wings marked with green and purple." – William John Wills
35. "Try to forget what objects you have before you – a tree, a house, a field, or whatever. Merely think, 'Here is a little square of blue, here an oblong of pink, here a streak of yellow,' and paint it just as it looks to you, the exact color and shape until it gives you your own impression of the scene before you." – Claude Monet
36. "My fashion statement depends on my mood. I am more of a tomboy when dressing up, and I have never worn pink in my entire life." – Lalaine
37. "'Shine On You Crazy Diamond' and 'Wish You Were Here' are standout tracks. 'Comfortably Numb' is another one. 'High Hopes' from 'The Division Bell' is one of my favorite all-time Pink Floyd tracks. 'The Great Gig in the Sky,' 'Echoes,' there's lot of them." – David Gilmour
38. "My music is like a baby pink-frosted cake with sprinkles, but when you cut into it, there's a gooey, dark chocolate center." – Melanie Martinez
39. "When I was 11, I had an Ugly sister birthday party. All my idea. Most girls want to be a fairy or a princess, but there I am with beauty spots and fur and fluorescent pink kiss-curls." – Lucy Punch
40. "I literally have people go, 'Oh my God, you're the Pink Power Ranger' and I'm like, 'I do other things!' But, you know, it's so cool! I saved the world for a year." – Erin Cahill
41. "I was a goth in my student days. I dyed my hair black, but it came out grey, with a blue scalp. Then I dyed it red and it came out fuschia pink." – Alice Roberts
More quotes about pink color
42. "My friend and I sang an a cappella rendition of Extreme's 'More Than Words' at one of our football pep rallies in a desperate attempt to look cool. For a while, I wore pink Converse All Stars because I thought it made me seem daring and irreverent." – Ed Helms
43. "Baseball is a red-blooded sport for red-blooded men. It's no pink tea, and mollycoddles had better stay out." – Ryan Cabrera
44. "I was driving across Georgia with a warlord and his bodyguards riding shotgun with their Kalashnikovs in a convoy of Mercedes and Land Rovers. The guy put on Pink Floyd's 'Dark Side of the Moon' on a cassette, which they played on loudspeakers as we raced across the mountains, and I remember thinking, 'This sure beats respectable life in England.'" – Simon Sebag Montefiore
45. "I've always been multi-cultural myself. I'm not black and I'm not white and I'm not pink and I'm not green. Eartha Kitt has no color, and that is how barriers are broken." – Eartha Kitt
46. "As teenagers, we used to listen to entire Rush albums, entire Pink Floyd albums and shut down the lights and it was great." – John Petrucci
47. "I don't know about England so much, but in Germany and some of these other countries, the pink was something that they liked. For those kids, the pink and black and the whole look with the sunglasses and the leather jacket was the right kind of hero they could get behind, and I think that really set me apart from everyone else." – Bret Hart
48. "Miami is just really fun whenever I go there. It's like this post-apocalyptic Barbie world: everything is pink, and there're palm trees everywhere. But then there are also all these people in crazy sunglasses, warehouses with sick parties where all the girls are covered in spikes and black leather. It's a very weird place." – Grimes
49. "When I get up in the morning and put on a pink or a green wig, I see myself as a piece of animation. It lets me be the person I want to be, a person who's not embarrassed to have fun." – Nicki Minaj
50. "I have suffered from migraines since childhood and have long been curious about my own aching head, my dizziness, my divine lifting feelings, my sparklers and black holes, and my single visual hallucination of a little pink man and a pink ox on the floor of my bedroom." – Siri Hustvedt
51. "When I first started wearing pink, it wasn't nothing I planned on doing or strategized. But people showed me so much love for the pink mink I wore, I had to go out to Pantone and create my own color, which is called Killa Pink." – Cam'ron
52. "Getting away from a white or light-colored tuxedo shirt is always a little dangerous. Certain staples shouldn't be mixed with. Light pink or blue is not bad, but again, you're just breaking from a classic." Paul Feig
53. "Everybody was starting to grow long hair and wear pink suits and purple glasses and stuff and then, I suppose, some people thought we were crazy, but we weren't really crazy because we're all still here!" – Noel Redding
54. "I have as much pink as you can have. I love to see other women in pink. It's good for every shade of skin and hair." – Evelyn Lauder
55. "I saw a pink sun, and when no one believed me I blocked their sky with the soft side of my hand." – Kushal Poddar
Pink quotes by celebrities
56. "I don't think men get enough flowers. A deeper pink or red peonies are my favorite. But I'll take anything, really." – Waris Ahluwalia
57. "I've constantly tried new things, even as a child, and have always been obsessed with pink. Now I'm just a little more ladylike and fearless. You should never feel afraid to become a piece of art. It's exhilarating." – Nicki Minaj
58. "I've worn my share of leopard pink boots to premieres or belts the size of cars. I thought my pink leopard boots were so cool." – Brittany Snow
59. "Just to see what a pink dress can mean to a woman, any woman, but a disabled woman, that's extra special and thrilling because they shouldn't be separated and their disabilities don't have to separate them in anyway." – Betsey Johnson
60. "I love pink – pink's my favourite. I hardly ever – weirdly – wear it, but I love the colour pink." – Ellie Goulding
61. "I believe in pink. I believe that laughing is the best calorie burner. I believe in kissing, kissing a lot. I believe in being strong when everything seems to be going wrong. I believe that happy girls are the prettiest girls. I believe that tomorrow is another day and I believe in miracles." – Audrey Hepburn
62. "My parents told me I'd point to a bed of flowers and say 'Pink. Pretty,' before I knew any other words." – Joni Mitchell
63. "Almost all words do have color and nothing is more pleasant than to utter a pink word and see someone's eyes light up and know it is a pink word for him or her too." – Gladys Taber
64. "When I was in third grade, I promised my mom that I would get her a pink Cadillac Escalade." – Teddy Bridgewater
65. "When I watched castles in 'Alice In Wonderland' or 'Snow White,' I would think of owning a house in white and not pink." – Sana Khan
66. "I wore a pink Betsey Johnson dress to my prom, and I pretty much looked like a pink cupcake. I loved that dress!" – Sarah Gadon
Eclectic pink quotes about everything
67. "My favorite jelly bean is the pink one with the flavor inside." — Chester Bennington
68. "Harbour Island in the Bahamas is beautiful, with turquoise water and pink sand." — Diane Furstenberg
69. "I began using shocking pink and ice blue and all kinds of bright colors. And I dyed furs." — Elsa Schiaparelli
70. "I don't think people expect Bruce Springsteen to come out in a pink satin jacket, but Rod Stewart, they do." — Rod Stewart
71. "We have to stop this stereotype that for girls it's about being in pink and horse riding. We need to teach kids to think outside the box, to dare girls to be different." — Susie Wolff
72. "Baseball is a red-blooded sport for red-blooded men. It's no pink tea, and mollycoddles had better stay out. It's a struggle for supremacy, a survival of the fittest." — Ty Cobb
73. "I have never once celebrated a Valentine's Day as a romantic holiday. For me, it's another opportunity to tell my kids or whoever how much I love them. I hang pink crepe paper and make heart-shaped pancakes!" — Delilah
74. "We only had white socks in Romania. But when I used to come back from the States, I used to bring back pink and yellow socks with all kind of designs, and hair clips and elastic bands for the ponytail that had colorful designs." — Nadia Comaneci
75. "I first started wearing fragrance when I was thirteen or fourteen, and the smell was candy-like. They were in very colorful bottles, like turquoise and pink. By the time I was sixteen or seventeen, it got more girly and more floral." — Blake Lively
76. "If you're white and you're wrong, then you're wrong; if you're black and you're wrong, you're wrong. People are people. Black, blue, pink, green – God make no rules about color; only society make rules where my people suffer, and that why we must have redemption and redemption now." — Bob Marley
Thought Provoking Pink Quotes
77. "You could be my flamingo. 'Cause pink is the new kinda lingo." — Aerosmith
78. "Got the rose-pink tinted lenses. It's a Wednesday." — Drake
79. "Sippin' pink-gold lemonades." — Frank Ocean
80. "And her pink skies will keep me warm." — Frank Ocean
81. "I'll eat rabbit pellets before you get me into something pink with ruffles." — Deb Baker
82. "Pink is a beautiful color, because it is one of the colors that the sun makes at twilight and in the dawns." — C. Joybell C
83. "Ooh, wee BB freaky deaky, think me see she pink bikini." — Beyonce
84. "Lavender is the new pink. I'll never stop wearing pink but I wanted to venture out." — Nicki Minaj
85. "I love the color pink. It makes a bold statement." — Samuel Larsen
86. "Pale pink salmon is the only color I cannot abide—although, naturally, I adore pink." — Diana Vreeland
Pink Quotes Just as Perfect as the Color Itself
87. "Get you under pink skies, I know exactly where we should go." — LANY
88. "Sunrise paints the sky with pinks and the sunset with peaches. Cool to warm. So is the progression from childhood to old age." — Vera Nazarian
89. "I would wear pink because I knew my future was anything but rosy." — Karen Marie Moning
90. "As for me I will follow the path of the pink bunnies." ― Magenta Periwinkle
91. "Pink gives me reason to love every colour in life" — Anthony T. Hincks
92. "The woman in red will be scarlet in pink and blushing with emotions." ― Anthony T. Hincks
93. "Pink glows with emotions." ― Anthony T. Hincks
94. "Pink leaves me blushing with love." ― Anthony T. Hincks
95. "Pink's sensuality comes from its colour." — Anthony T. Hincks
96. "Pink is what red always wanted to be." ― Anthony T. Hincks
Pink Quotes To Make You Feel Bright
97. "There is absolutely nothing feminine about the color pink, or, anything bad-luck'ish about the color black in itself." ― Mokokoma Mokhonoana
98. "Now I really feel the landscape, I can be bold and include every tone of blue and pink: it's enchanting, it's delicious." ― Claude Monet
99. "Pink, it was love at first sight, Pink, when I turn out the light." ― Aerosmith
100. "There is no energy greater than the power of love. Once I finally embraced this concept, I realized that the path to ascension always begins with the heart and the color pink." ― Eleyne-Mari Sharp
101. "It was like she was made of cake, light and pretty and decorated on the outside with her sweet laugh and pink streak to her hair-but it was anyone's guess what was on the inside." ― Sarah Addison Allen
102. "Though there were no strong conventions until the nineteenth-century, pink was certainly a very suitable color for boys." ― Grayson Perry
103. "The redness was going out of the light now; the remains of the day were a fading pink, the color of wild roses." ― Stephen King
104. "The first stab of love is like a sunset, a blaze of color — oranges, pearly pinks, vibrant purples…" ― Anna Godbersen
105. "Life, when it was good, was indeed pink. La vie en rose." ― Lydia Michaels
106. "Pink reminds me of my love for dance. My youth. The innocence of being young. Tutus. Strawberry frosting on a vanilla cake (my favorite)." ― R.B. O'Brien
Fancy Pink Quotes To Rock in Pink
107. "When you lust after a colour. It's just got to be pink!" ― Anthony T. Hincks
108. "Jaipur is a blushing bride draped in pink, dancing in our dreams while the peacocks sing." ― Vinita Kinra
109. "Her bedroom had seemed so pink and young and delicate, appropriate to her pastel-shaded lingerie tossed here and there on chair and bed." ― F. Scott Fitzgerald
110. "The block of sky in our twin high windows became a nectarine, amber and rose pink, and we lay in silence as white sunlight broke." ― Aspen Matis
111. "Swirling soft pinks, in silky drinks. Cotton candy sky and precious winks." ― B.K. Sweeting
112. "Pink is just fancy red." ― Daphne
113. "Her powder pink panties, which mate the discarded brazier, had the soaked path of Lizy's excitement and lustful flow." ― Bat Maxwell
114. "Her cheeks glowed with pink charcoals." ― Ray Bradbury
115. "I wear a lot of pink cos' seeing pink activates endorphins and energizes my creativity. It is a colour of femininity and fierceness." ― Janna Cachola
116. "Pink is filled with emotions of colour." ― Anthony T. Hincks
Pink Quotes About Its Warm Color
117. "Everything should be available in the color pink, including monster trucks." ― Richelle E. Goodrich
118. "Pink is a powerful color." ― William Ralston Balch
119. "Pink, a whisper of beauty." ― Terri Guillemets
120. "I love pink… the colour of hope." ― Robert Lynd
121. "Pink is a magical color." ― Constance Fuller McIntyre
122. "In the years in which I used often to be still awake at dawn, what an entrancing spectacle were the pink clouds in the eastern sky!" ― Robert Lynd
123. "Dawn spreads her wispy pink angel wings over the morning." ― Terri Guillemets
124. "I can honestly say that, in my opinion, the best thing that could happen to the world would be that it should become pinker and pinker." ― Robert Lynd
125. "Pink… is the loveliest colour of the carnation." ― Robert Lynd
126. "These pigments are of hues from warm or cool, from pure pink to the deepest rose colour." ― George Field
Which of these Pink quotes is your favorite?
These are just some quotes about the color pink that can help you love it even more.
For mothers, especially when giving birth to a baby girl, pink is a top choice.
Chic women who want to have a tinge of girly shade on their outfits also rely on wearing something pink to spice up their looks.
Many feminine businesses have emerged with branding that relies on color combinations such as pink and gold.
And while in the past, men were associated with colors like blue and green, in modern times, men are also becoming more inclined to wear pink.
More and more men are also into wearing ensembles in the same color.
In fact, we can no longer associate a specific color with a specific gender because colors are inclusive for everyone already.
So, keep on wearing that cute pink shirt or dress anytime without feeling intimidated or anxious by people's judgment.
Did you enjoy reading these Pink quotes and sayings?
Which of the quotes is your favorite?
Let us know in the comment section below.
Don't forget to share this article with everyone who loves pink on your social media!