Stay Strong Quotes to Help You Through Dark Times
Are you struggling to stay resilient while dealing with the highs and lows of life?
Our stay strong quotes will show you how to persevere in the face of adversity.
How have you stayed strong in the past?
Whether it's in your career, relationship, or family, sometimes it may feel like you can't catch a break.
After dealing with challenge after challenge, you may be struggling to pick up the pieces.
All of us have felt the same way that you feel right now.
That's proven through the quotes listed below.
We have compiled 50 quotes about staying strong from celebrities, writers, and public speakers.
Each person gives insightful advice about how they picked themselves up after struggling and kept moving forward.
Enjoy our curated list of inspirational quotes below.
Check out our most popular quote article, a list of short inspirational quotes for daily inspiration.
Our inspirational quotes category page has all of our motivational quotes for all the different areas of life.
Inspirational stay strong quotes
1. "If you have a good support system like your family and your friends around you, then you can't go wrong. So just believe in yourself, do you your thing, and stay strong in what you believe in." – Roman Reigns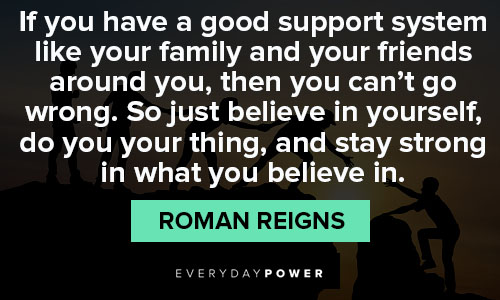 You will also enjoy our article on quotes about being strong.
2. "Stay strong. Stand up. Have a voice." – Shawn Johnson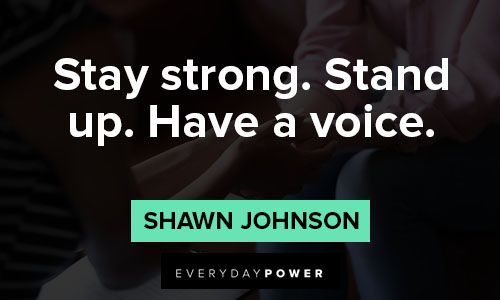 You will also enjoy our article on dark quotes.
3. "Stay strong. Stay true to yourself and to who you are because there is community out there. It may not be in your town or perhaps even in your family, but you are wanted and you are loved and there are places in the world where you will be safe and supported." – Emma Walton Hamilton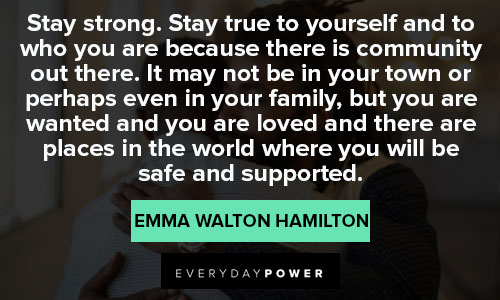 4. "The key is to stay level headed. Not get too high with the highs. At the same time, you need to stay strong when things aren't going your way." – Joe Gomez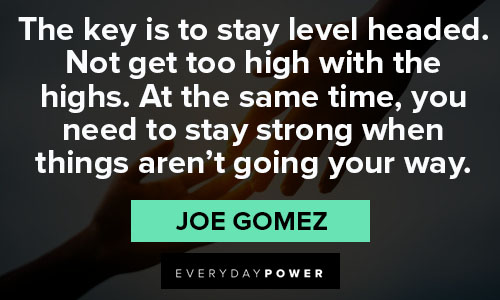 5. "If someone is strong enough to bring you down, show them you are strong enough to get back up." – A. Josland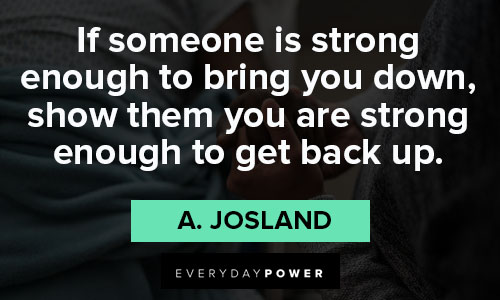 Stay Strong quotes about fear and courage
6. "Inaction breeds doubt and fear. Action breeds confidence and courage. If you want to conquer fear, do not sit home and think about it. Go out and get busy." – Dale Carnegie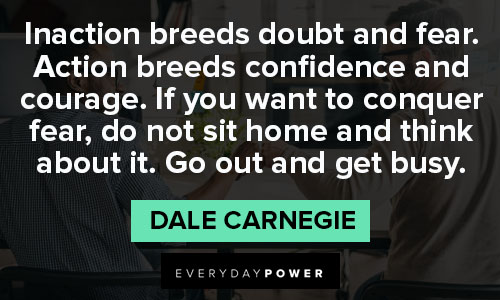 7. "Courage doesn't always roar. Sometimes courage is the quiet voice at the end of the day saying, "I will try again tomorrow." – Mary Anne Radmacher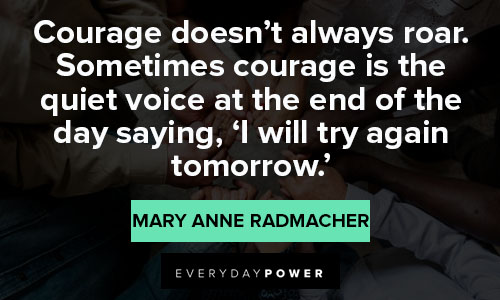 8. "Only those who will risk going too far can possibly find out how far one can go." – T.S. Eliot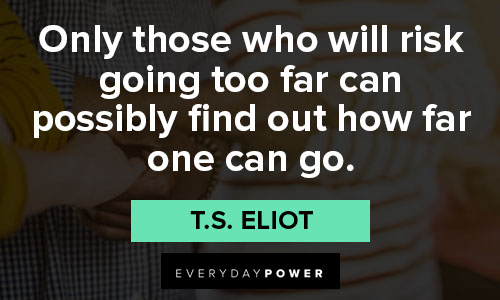 9. "Courage is what it takes to stand up and speak; courage is also what it takes to sit down and listen." – Winston Churchill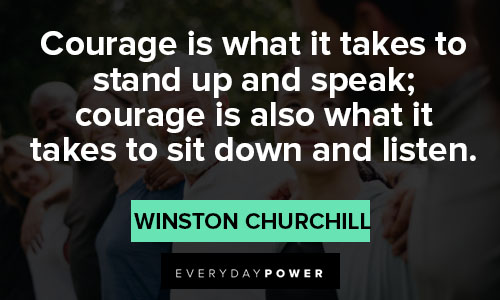 10. "Courage is knowing what not to fear." – Plato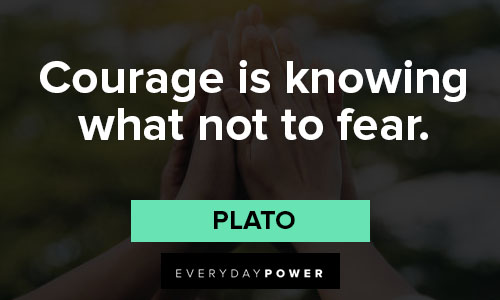 11. "Courage is fear holding on a minute longer." – George S. Patton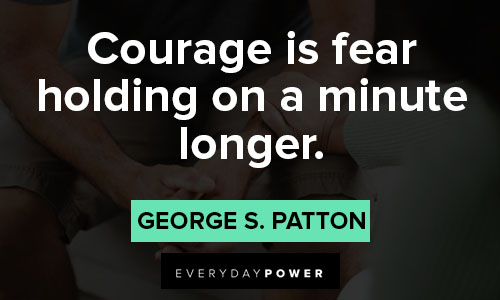 12. "Success is never final, failure is never fatal. It's courage that counts." – John Wooden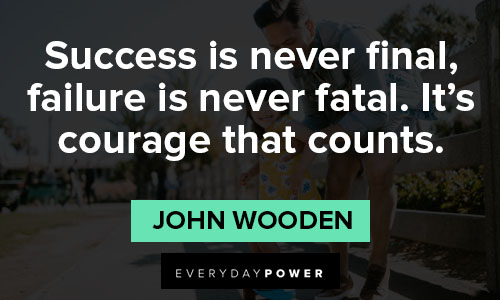 13. "Don't be afraid to see what you see." – Ronald Reagan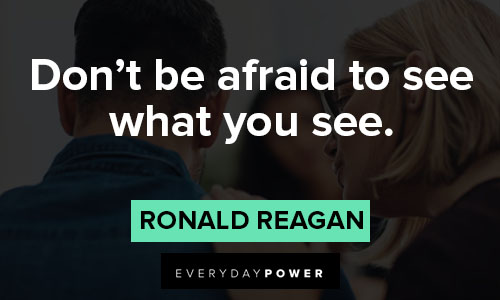 14. "Avoiding danger is no safer in the long run than outright exposure. The fearful are caught as often as the bold." – Helen Keller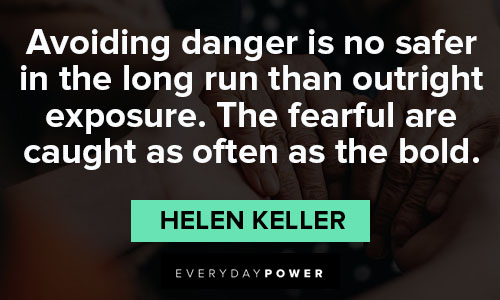 15. "There is no passion so contagious as that of fear." – Michel de Montaigne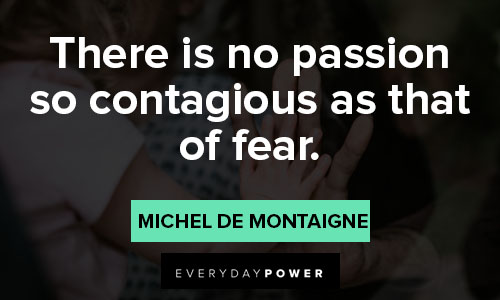 16. "Fear is static that prevents me from hearing myself." – Samuel Butler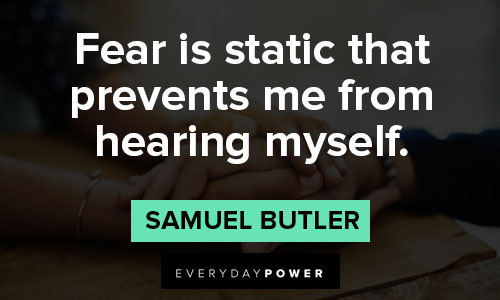 17. "I think fearless is having fears but jumping anyway." – Taylor Swift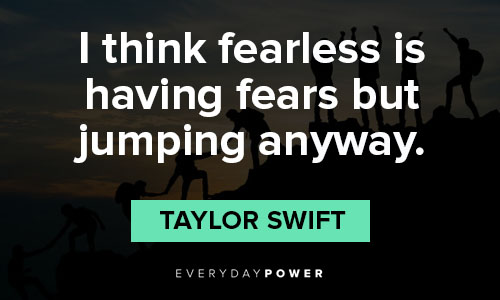 18. "Find out what you're afraid of and go live there." – Chuck Palahniuk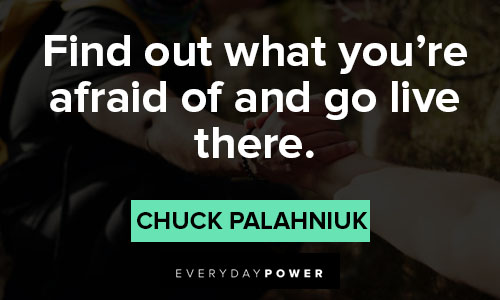 19. "Either you decide to stay in the shallow end of the pool or you go out in the ocean." – Christopher Reeve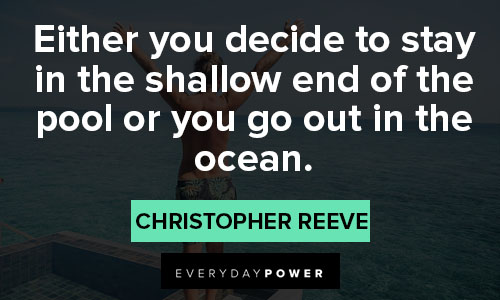 20. "Courage is not the absence of despair; it is, rather, the capacity to move ahead in spite of despair." – Rollo May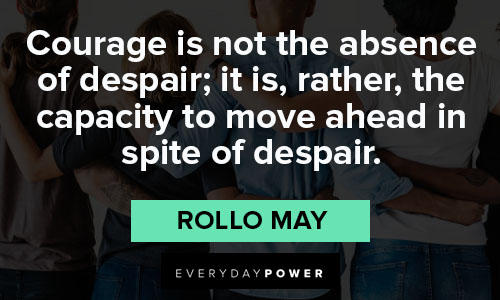 21. "Courage is a special kind of knowledge: the knowledge of how to fear what ought to be feared and how not to fear what ought not to be feared." – David Ben-Gurion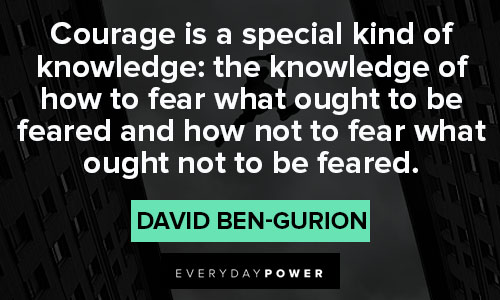 If you're enjoying this article, make sure to also check out our collection of encouraging quotes to help keep you going.
Stay Strong quotes about strength
22. "Tough times never last, but tough people do." – Robert H. Schuller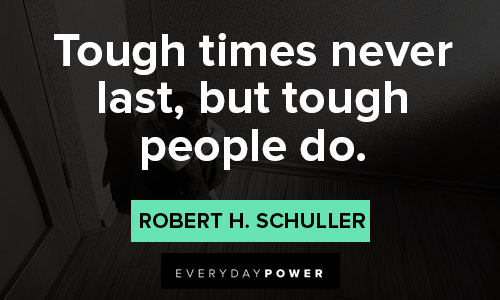 23. "Anyone can hide. Facing up to things, working through them, that's what makes you strong." – Sarah Dessen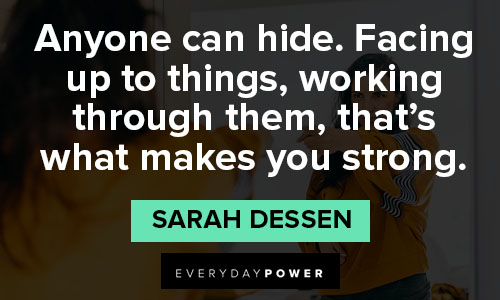 24. "Be sure you put your feet in the right place, then stand firm." – Abraham Lincoln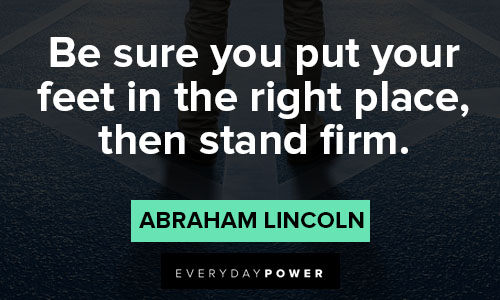 25. "You have power over your mind – not outside events. Realize this, and you will find strength." – Marcus Aurelius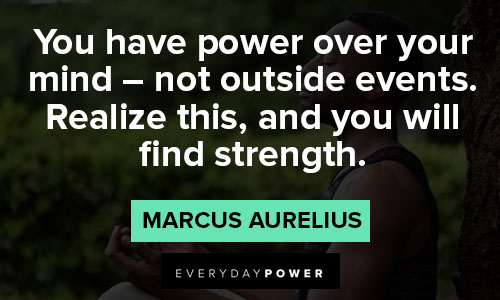 26. "Strength does not come from winning. Your struggles develop your strengths. When you go through hardships and decide not to surrender, that is strength." – Arnold Schwarzenegger
27. "He who conquers others is strong; He who conquers himself is mighty." – Lao Tzu
28. "A mind at peace, a mind centered and not focused on harming others, is stronger than any physical force in the universe." – Wayne Dyer
29. "It does not take much strength to do things, but it requires great strength to decide on what to do." – Elbert Hubbard
30. "Only the weak are cruel. Gentleness can only be expected from the strong." – Leo Buscaglia
31. "Permanence, perseverance and persistence in spite of all obstacles, discouragements, and impossibilities: It is this, that in all things distinguishes the strong soul from the weak." – Thomas Carlyle
32. "Endure and persist; this pain will turn to good by and by." – Ovid
33. "Strength and compassion are not mutually exclusive." – Robert Kiyosaki
34. "The strength people need to proceed along the path of human development can come only from the spiritual worlds." – Rudolf Steiner
35. "Anyone can give up, it's the easiest thing in the world to do. But to hold it together when everyone else would understand if you fell apart, that's true strength." – Evangeline Love
If you're enjoying this article, make sure to also check out these blessed quotes celebrating your everyday blessings.
Stay Strong quotes about adversity
36. "Kites rise highest against the wind – not with it." – Winston Churchill
37. "The eagle has no fear of adversity. We need to be like the eagle and have a fearless spirit of a conqueror!" – Joyce Meyer
38. "You should never view your challenges as a disadvantage. Instead, it's important for you to understand that your experience facing and overcoming adversity is actually one of your biggest advantages." – Michelle Obama
39. "There is no better than adversity. Every defeat, every heartbreak, every loss, contains its own seed, its own lesson on how to improve your performance the next time." – Malcolm X
40. "When adversity strikes, that's when you have to be the most calm. Take a step back, stay strong, stay grounded and press on." – LL Cool J
41. "Comfort and prosperity have never enriched the world as much as adversity has." – Billy Graham
42. "Fresh activity is the only means of overcoming adversity." – Johann Wolfgang von Goethe
43. "There is no education like adversity." – Benjamin Disraeli
44. "Always seek out the seed of triumph in every adversity." – Og Mandino
45. "Many who seem to be struggling with adversity are happy; many, amid great affluence, are utterly miserable." – Tacitus
Don't forget to also check out these empowering breast cancer quotes to raise awareness.
Other stay strong quotes and sayings
46. "You can do nothing, or you can take on the challenge of taking on the adversity. You have got to have faith. You have to have faith in whatever you believe in." – Brian Banks
47. The harder the struggle, the more glorious the triumph. Self-realization demands very great struggle." – Swami Sivananda
48. "Adversity is the diamond dust Heaven polishes its jewels with." – Thomas Carlyle
49. "Life is truly known only to those who suffer, lose, endure adversity and stumble from defeat to defeat." – Anais Nin
50. "Adversity reveals genius, prosperity conceals it." – Horace
51. "Let your life reflect the faith you have in God. Fear nothing and pray about everything. Be strong, trust God's word, and trust the process." – Germany Kent
52. "Life is like a war. There will always be people trying to shoot you down. But it's your choice whether you're going to surrender, fight back, or dodge the bullet." – Peyton
53. "Stay strong, stay positive, and never give up." – Roy T. Bennett
54. "No matter who you are, big or small, female or man, brave or not brave, you can still be empowered and feel strong." – Lights Poxlietner
55. "Be strong, live happy and love, but first of all. Him whom to love is to obey, and keep his great command!" – John Milton
Don't forget to also check out these warrior quotes on having an unbeatable mind.
Stay Strong Quotes To Help Men and Women Build Resilience in Tough Times
56. "One of the most courageous things you can do is identify yourself, know who you are, what you believe in, and where you want to go." — Sheila Murray Bethel
57. "A strong woman understands that the gifts such as logic, decisiveness, and strength are just as feminine as intuition and emotional connection. She values and uses all of her gifts." — Nancy Rathburn
58. "Each time a woman stands up for herself, she stands up for all women." — Maya Angelou
59. "I have chosen to no longer be apologetic for my femaleness and my femininity. And I want to be respected for all of my femaleness because I deserve to be."— Chimamanda Ngozi Adichie
60. "Don't let a little stormy weather get you down, there is always sunshine on the other side." — Heather A. Stillufsen
61. "Nothing can dim the light that shines from within." — Maya Angelou
62. "A strong woman is a woman determined to do something others are determined not to do." — Marge Piercy
63. "And one day, she discovered that she was fierce and strong, and full of fire and that not even she could hold herself back because her passion burned brighter than her fears." — Mark Anthony
64.. "She was powerful not because she wasn't scared, but because she went on so strongly, despite the fear." — Atticus
65. "Women are like teabags. We don't know our true strength until we are in hot water." — Eleanor Roosevelt
Stay Strong Quotes To Encourage Positivity
66. "Sometimes you don't realize your own strength until you come face to face with your greatest weakness." – Susan Gale
67. "You gain strength, courage, and confidence by every experience in which you really stop to look fear in the face. You are able to say to yourself, 'I lived through this horror. I can take the next thing that comes along." – Eleanor Roosevelt
68. "I love the man that can smile in trouble, that can gather strength from distress, and grow brave by reflection." — Thomas Paine
69. "When the Japanese mend broken objects, they aggrandize the damage by filling the cracks with gold. They believe that when something's suffered damage and has a history it becomes more beautiful." – Barbara Bloom
70. "I must not fear. Fear is the mind-killer. Fear is the little-death that brings total obliteration.
I will face my fear." – Frank Herbert
71. "I don't really want to become normal, average, standard. I want merely to gain in strength, in the courage to live out my life more fully, enjoy more, experience more. I want to develop even more original and more unconventional traits." – Anaïs Nin
72. "To dare is to lose one's footing momentarily. To not dare is to lose oneself." – Soren Kierkegaard
73. Never say never, because limits, like fears, are often just an illusion." – Michael Jordan
74. "A problem is a chance for you to do your best." – Duke Ellington
75. "Success is not final, failure is not fatal: it is the courage to continue that counts." – Winston Churchill
What does courage mean to you?
Being courageous isn't about the absence of fear.
It is about choosing to make progress even though you are fearful.
That's where true strength lies, as author Sarah Dessen says, "Anyone can hide.
Facing up to things, working through them, that's what makes you strong."
Don't be afraid to reach out to your support system (friends, family, mentors, etc.).
Their unique perspectives may bring you the insight you need to persevere.
Sometimes, all we need is a helping hand to pick us back up.
Which of these stay strong quotes and sayings is your favorite?
Let us know in the comments below!