Quotes About Being Strong Against all Odds
Did you know that you're stronger than you'll ever realize? Read our quotes about being strong to see!
Our latest collection of quotes about being strong will provide you with the strength you need to fight through your challenges.
Regardless of who you are in this world, life is full of challenges. Whatever your goals or dreams, you're bound to encounter obstacles before hitting your targets.
You'll always have to fight through hardships and suffer your fair share of pain before you achieve success. But once you reach that success you've been working for, it'll be that much sweeter.
When everything seems to be going wrong, the question is – what will you do? Will you give up or will you persist and keep fighting past the hurdles and obstacles?
If your endeavor is driven and fueled by purpose, then giving up is never an option. You'll find the courage and persistence to look past the problems and difficulties along your path and instead focus on finding solutions.
Despite the challenges or difficulties you might be facing, here are some inspirational quotes about being strong that will give you the strength to keep fighting through them.
We hope these quotes about being strong will encourage you to solve your problems, live your dreams and pursue your mission in life.
Also check out these strong Joan of Arc quotes that will inspire you to defy expectations and adhere to your own personal beliefs.
Quotes about being strong against all odds
1. "The weak fall, but the strong will remain and never go under!" – Anne Frank
2. "Be strong, be fearless, be beautiful. And believe that anything is possible when you have the right people there to support you." – Misty Copeland
If you're enjoying these quotes, make sure to check out our collection of Misty Copeland quotes for a life of passion.

3. "Winners never quit, and quitters never win." – Vince Lombardi
4. "When I'm competing, I need to be strong." – Ashley Wagner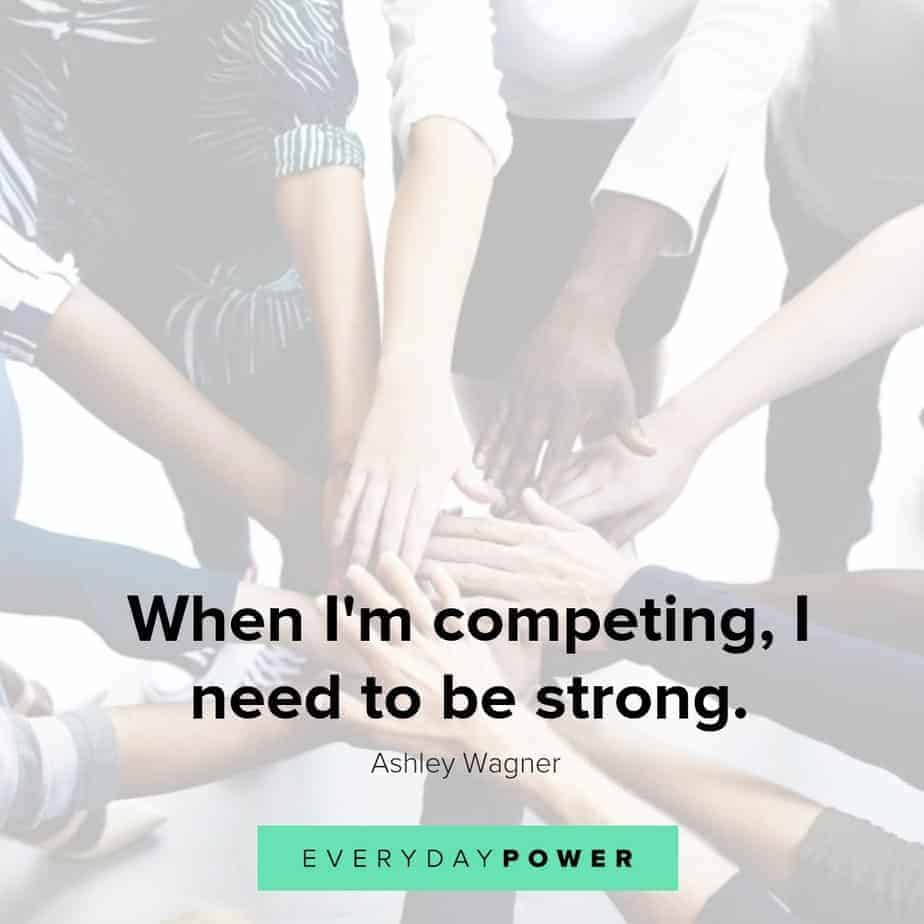 5. "Failure will never overtake me if my determination to succeed is strong enough." – Og Mandino
6. "Be strong & face the life. Because sometimes Life keeping nothing but only one option. Be strong anyway." – Bharat Zanvar
7. "A truly strong person does not need the approval of others any more than a lion needs the approval of sheep." —Vernon Howard
8. "Don't wait for extraordinary opportunities. Seize common occasions and make them great. Weak men wait for opportunities; strong men make them."~ Orison Swett Marden
9. "You've got to stay strong to be strong in tough times." – Tilman J. Fertitta
10. "People with strong willpower will always have the bigger picture in mind. They will be able to forgo small pleasures in order to help attain bigger goals." – Bryan Adams
Quotes about being strong to keep you fighting
11. "Sometimes you don't realize your own strength until you come face to face with your greatest weakness." – Susan Gale
12. "Life is full of happiness and tears; be strong and have faith." – Kareena Kapoor Khan
13. "The world is the great gymnasium where we come to make ourselves strong." – Swami Vivekananda
14. "Promise me you'll always remember: You're braver than you believe and stronger than you seem, and smarter than you think." – A. A. Milne
15. "Never bend your head. Always hold it high. Look the world right in the eye." – Helen Keller
16. "There are better starters than me but I'm a strong finisher." —Usain Bolt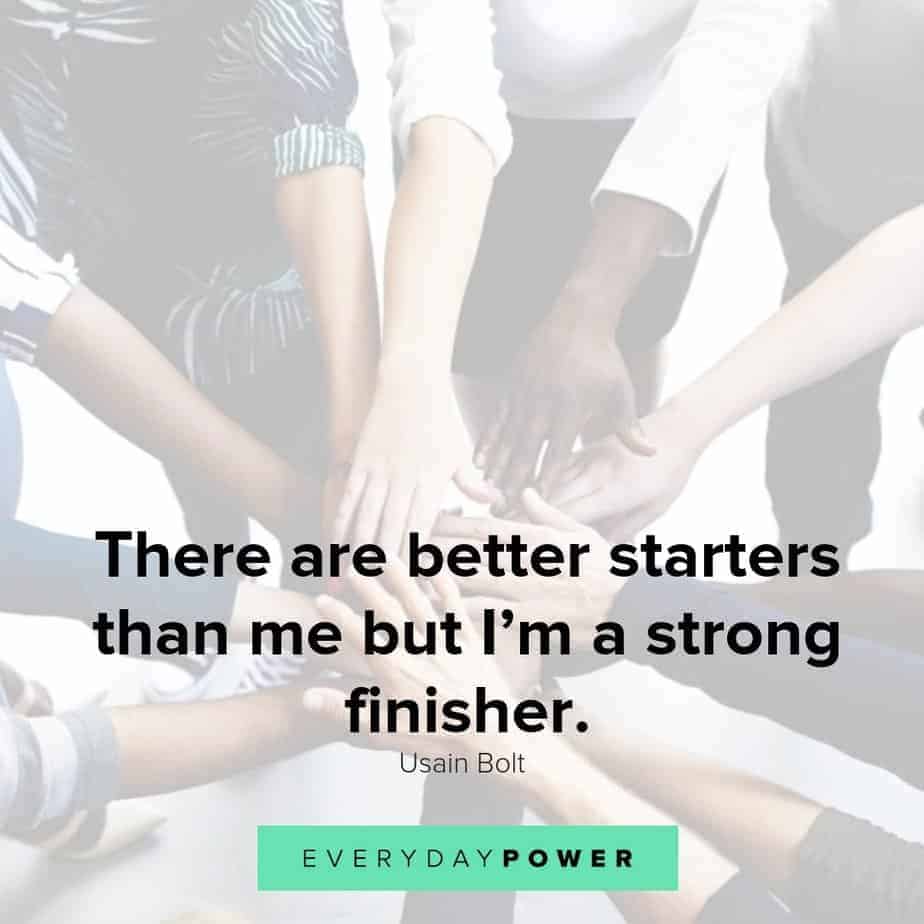 17. "Hard times don't create heroes. It is during the hard times when the 'hero' within us is revealed." – Bob Riley
If you're enjoying these quotes, make sure to check out our collection of hero quotes that inspire everyone to make a difference.

18. "Build up your weaknesses until they become your strong points." – Knute Rockne
19. "The bird rises against a strong headwind, not only in spite of the wind but because of it. The opposing force becomes a lifting force if faced at the right angle." – L.B. Cowman
20. "The most beautiful people I've known are those who have known trials, have known struggles, have known loss, and have found their way out of the depths." – Elisabeth Kübler-Ross
Don't forget to also check out these empowering breast cancer quotes to raise awareness.
Quotes about being strong through hard times
21. "Strength does not come from winning. Your struggles develop your strengths. When you go through hardships and decide not to surrender, that is strength."– Arnold Schwarzenegger
22. "Most of the important things in the world have been accomplished by people who have kept on trying when there seemed to be no hope at all." – Dale Carnegie
23. "Success is not final, failure is not fatal: it is the courage to continue that counts."– Winston Churchill
24. "He who believes is strong; he who doubts is weak. Strong convictions precede great actions." – Louisa May Alcott
25. "Tough times never last, but tough people do." —Robert H. Schuller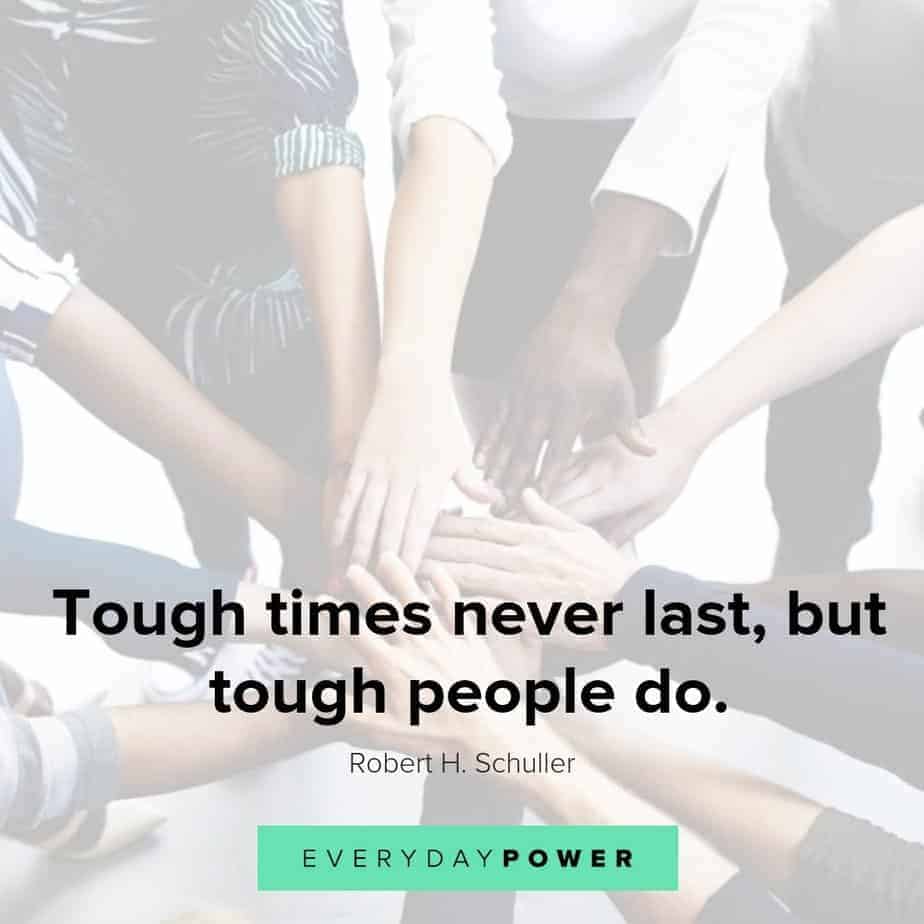 26. "The ultimate measure of a man is not where he stands in moments of comfort and convenience, but where he stands at times of challenge and controversy." – Martin Luther King, Jr.
27. "I'm a strong man, and usually I get over hurts and it makes me stronger when I come back." – Dusty Baker
28. "Each of us is stronger than we realize. Strength is something we often find in desperate moments." – Jennifer Arnold
29. "Out of suffering have emerged the strongest souls; the most massive characters are seared with scars." – Kahlil Gibran
30. "Life's challenges are not supposed to paralyze you, they're supposed to help you discover who you are." – Bernice Johnson Reagon
Quotes about being strong and happy
31. "You can't really be strong until you see a funny side to things." – Ken Kesey
32. "A strong woman is someone who is able to smile this morning like she wasn't crying last night." – Harriet Morgan
33. "Smiling does not necessarily mean you're happy. Sometimes it just means you're strong." – Nishan Panwar
34. "Being glamorous is about strength and confidence. It's black and white – dramatic. You have to be strong." – Catherine Zeta-Jones
35. "Nothing is impossible, the word itself says 'I'm possible'!"– Audrey Hepburn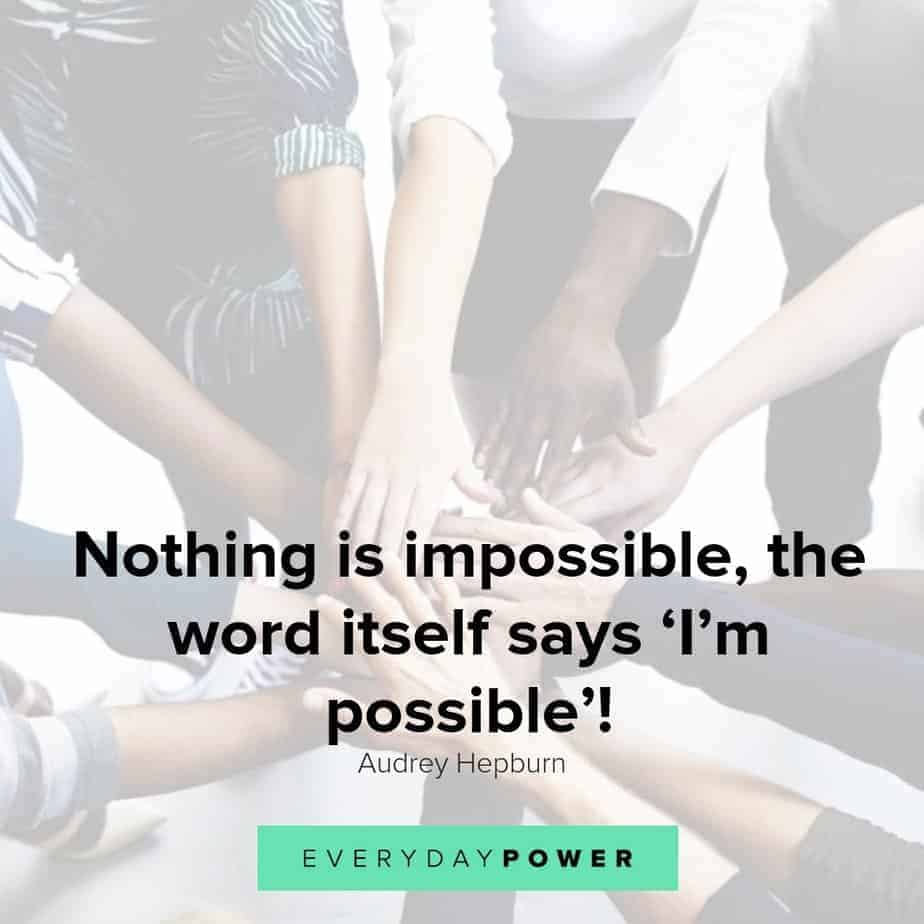 36. "You cannot dream yourself into a character; you must hammer and forge yourself one." – James A. Froude
37. "I like criticism. It makes you strong." – LeBron James
38. "Difficulties are meant to rouse, not discourage. The human spirit is to grow strong by conflict." — William Ellery Channing
39. "My strength did not come from lifting weights. My strength came from lifting myself up when I was knocked down."~Bob Moore
40. "Never believe for a second that your weak, within all of us we have a reserve of inner hidden strength." – Victoria Addino
Inspirational quotes about being strong through hard times
41. "The world breaks everyone, and afterward, some are strong at the broken places."– Ernest Hemingway
If you're enjoying these quotes, make sure to read our collection of short quotes that can make a big difference in your life.

42. "Be strong in body, clean in mind, lofty in ideals." – James Naismith
43. "Adversity is like a strong wind. It tears away from us all but the things that cannot be torn so that we see ourselves as we really are." – Arthur Golden
44. "You never know how strong you are until being strong is the only choice you have." – Bob Marley
45. "Be very strong… be very methodical in your life if you want to be a champion." —Alberto Juantorena
46. "When you have exhausted all possibilities, remember this: you haven't." ~Thomas Edison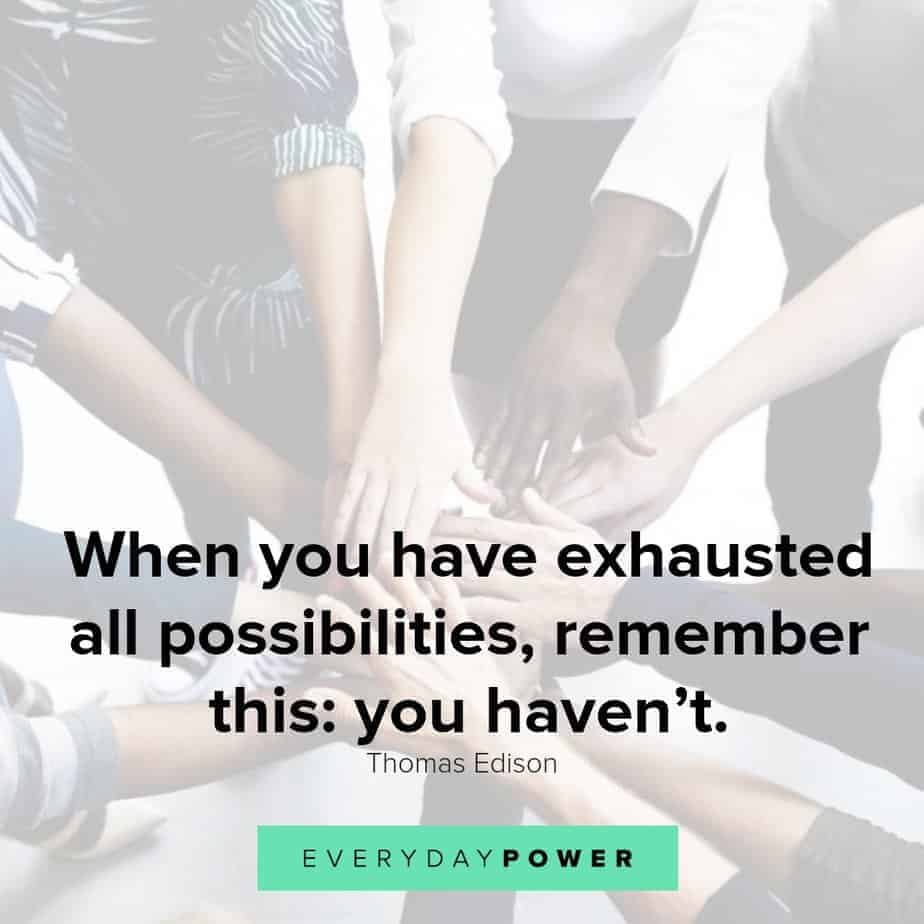 47. "Anyone can give up; it's the easiest thing in the world to do. But to hold it together when everyone would expect you to fall apart, that's true strength.~Chris Bradford
48. "Let me tell you the secret that has led me to my goal. My strength lies solely in my tenacity." – Louis Pasteur
49. "There are no negatives in life, only challenges to overcome that will make you stronger." – Eric Bates
50. "If you can find a path with no obstacles, it probably doesn't lead anywhere." – Frank A. Clark
Quotes about being strong to elevate your mind
51. "Be strong because things will get better. It may be stormy now but it never rains forever." – Evan Carmichael
52. "The greatest test of courage on the earth is to bear defeat without losing heart." – Arvind Jain
53. "Build upon strengths, and weaknesses will gradually take care of themselves." – Joyce C. Lock
54. "In the depth of winter, I finally learned that there lay within me an invincible summer." – Albert Camus
55. "Problems are not stop signs; they are guidelines." – Robert Schuller
56. "Every adversity, every failure, every heartache carries with it the seed of a greater or equal benefit." – Napoleon Hill
57. "I am not afraid of storms, for I am learning how to sail my ship." –Louisa May Alcott
58. "The gem cannot be polished without friction, nor man perfected without trials." – Confucius
59. "Failure will never overtake you if your determination to succeed is strong enough!" – Og Mandino
If you're enjoying these quotes, make sure to read our collection of determination quotes to help you keep moving forward.

60. "You have power over your mind – not outside events. Realize this, and you will find strength." – Marcus Aurelius
Powerful quotes about being strong
61. "When everything seems to be going against you, remember that the airplane takes off against the wind, not with it." – Henry Ford
62. "Don't quit. Suffer now and live the rest of your life as a champion." – Muhammad Ali
If you're enjoying these quotes, make sure to read our collection of Muhammad Ali quotes on life, love and being a champion.

63. "Stay strong, be brave, love hard and true, and you will have nothing to lose." – Demi Lovato
64. "Be strong when you are weak, brave when you are scared, and humble when you are victorious." – Unknown
65. "Courage is like a muscle. We strengthen it by use." – Ruth Gordo
66. "You've got three choices in life: give up, give in, or give it all you've got." – Unknown
67. "Stop wearing your wishbone where your backbone ought to be." –
Elizabeth Gilbert
68. "I think that everything happens to you for a reason. The hard times that you go through build character, making you a much stronger person." – Rita Mero
69. "A Strong Woman looks a challenge dead in the eye and gives it a wink." – Gina Carey
70. "One must need to be strong, otherwise one will never become strong." – Friedrich Nietzsche
Remember to also read these inspirational perseverance quotes that will remind you to never give up.
More quotes about being strong
71. "It's never the differences between people that surprise us. It's the things that, against all odds, we have in common." – Jodi Picoult
72. "During your struggle society is not a bunch of flowers, it is a bunch of cactus." – Amit Kalantri
73. "Be strong. Even when you can't be." – Saim A. Cheeda
74. "Ever notice the word 'rough' in through? There is truth to that, though the way may be rough, we are still able to get through it." – Anthony Liccione
75. "Do not be sad that all odds are against you; be happy that your real purpose is by you." – Ernest Agyemang Yeboah
76. "The feeling of success is a special one. And this feeling becomes magical when you achieve success against all odds in life!" – Avijeet Das
77. "Keep up the fight against the wobble, no matter what the cost." – Prof. Salam Al Shereida
78. "The strongest people find the courage and caring to help others, even if they are going through their own storm." – Roy T. Bennett
79. "The one who falls and gets up is stronger than the one who never tried. Do not fear failure but rather fear not trying." – Roy T. Bennett
80. "If you build the guts to do something, anything, then you better save enough to face the consequences." – Criss Jami
Being strong quotes that help you become the best version of yourself
81. "A single twig breaks, but the bundle of twigs is strong." — Tecumseh
82. "He who conquers others is strong; He who conquers himself is mighty." — Lao Tzu
83. "It is easier to build strong children than to repair broken men." — Frederick Douglass
84. "The weak can never forgive. Forgiveness is the attribute of the strong." — Mahatma Gandhi
85. "A strong, positive self-image is the best possible preparation for success." — Joyce Brothers
86. "Strong people are made by opposition like kites that go up against the wind." — Frank Harris
87. "Nothing is so strong as gentleness, nothing so gentle as real strength." — Saint Francis de Sales
88. "Some of us think holding on makes us strong; but sometimes it is letting go." — Hermann Hesse
89. "A woman is like a tea bag – you can't tell how strong she is until you put her in hot water." — Eleanor Roosevelt
90. "We don't even know how strong we are until we are forced to bring that hidden strength forward. In times of tragedy, of war, of necessity, people do amazing things. The human capacity for survival and renewal is awesome." — Isabel Allende
Encouraging quotes about being strong
91. "Where there is no struggle, there is no strength." – Oprah Winfrey
92. "My strength is as the strength of ten, because my heart is pure." – Alfred Lord Tennyson
93. "With the new day comes new strength and new thoughts." – Eleanor Roosevelt
94. "Building mental strength is the key to reaching our full potential in life." – Amy Morin
95. "You have to be strong and calm to overcome difficult moments." – Dani Alves
96. "Show me someone who has done something worthwhile, and I'll show you someone who has overcome adversity." – Lou Holtz
97. "Some people believe holding on and hanging in there are signs of great strength. However, there are times when it takes much more strength to know when to let go and then do it." – Ann Landers
98. "Success is not final, failure is not fatal: it is the courage to continue that counts." – Will Smith
99. "If you fell down yesterday, stand up today." – H.G. Wells
100. "The hard days are what make you stronger." – Aly Raisman
Strong Quotes to Empower You
101. "Develop the strength to do bold things, not the strength to suffer." – Niccolò Machiavelli
102. "Where is the man who has the strength to be true, and to show himself as he is?" – Johann Wolfgang von Goethe
103. "We are only as strong as we are united, as weak as we are divided." – J.K. Rowling
104. "One who gains strength by overcoming obstacles possesses the only strength which can overcome adversity." – Albert Schweitzer
105. "Courage isn't having the strength to go on, it is going on when you don't have the strength." – Napoleon Bonaparte
106. "That which does not kill us makes us stronger." – Friedrich Nietzsche
107. "People do not lack strength, they lack will." – Victor Hugo
108. "Strength of mind is exercise, not rest." – Alexander Pope
109. "There are two ways of exerting one's strength: one is pushing down, the other is pulling up." – Booker T. Washington
110. "The real man smiles in trouble, gathers strength from distress, and grows brave by reflection." – Thomas Paine
Quotes about being strong in your mind
111. "Strength and growth come only through continuous effort and struggle." -Napoleon Hill
112. "Character cannot be developed in ease and quiet. Only through experience of trial and suffering can the soul be strengthened, ambition inspired, and success achieved." -Helen Keller
113. "Strength does not come from physical capacity. It comes from an indomitable will." -Mahatma Gandhi
114. "Be sure you put your feet in the right place, then stand firm." -Abraham Lincoln
115. "A hero is an ordinary individual who finds the strength to persevere and endure in spite of overwhelming obstacles." -Christopher Reeve
116. "Kites rise high against the wind – not with it." -Winston Churchill
117. "When we long for life without difficulties, remind us that oaks grow strong in contrary winds and diamonds are made under pressure." -Peter Marshall
118. "The strong man is the one who is able to intercept at will the communication between the senses and the mind." -Napoleon Bonaparte
119. "Endurance is not just the ability to bear a hard thing, but to turn it into glory." -William Barclay
120. "We can be tired, weary and emotionally distraught, but after spending time alone with God, we find that He injects into our bodies energy, power and strength." -Charles Stanley
Quotes about being strong as a result of struggles
121. "We must embrace pain and burn it as fuel for our journey." – Kenji Miyazawa
122. "Few men during their lifetime come anywhere near exhausting the resources dwelling within them. There are deep wells of strength that are never used." – Richard E. Byrd
123. "Your struggle is your strength. If you can resist becoming negative, bitter or hopeless, in time your struggles will give you everything." – Bryant McGill
124. "I was always looking outside myself for strength and confidence but it comes from within. It is there all the time." –Ana Freud
125. "I believe in being strong when everything seems to be going wrong." –Audrey Hepburn
126. "We gain strength, and courage, and confidence by each experience in which we really stop to look fear in the face…we must do that which we think we cannot." –Eleanor Roosevelt
127. "Do not pray for an easy life; pray for the strength to endure a difficult one." –Bruce Lee
128. "Strength doesn't come from what you can do. It comes from overcoming the things you once thought you couldn't." –Nikki Rogers
129. "Real strength is not just a condition of one's muscle, but a tenderness in one's spirit." –McCallister Dodds
130. "Life is very interesting. In the end, some of your greatest pains become your greatest strengths." –Drew Barrymore
Did you enjoy these quotes about being strong
Whatever stage you are at in your own life, you'll always encounter obstacles along your path. When that happens, you can either choose to give up or to keep on fighting through.
It's up to you to look beyond your challenges and work towards achieving your targets. You were built to last, so remember this even in the moments when being strong seems overwhelming.
Hopefully, these quotes about being strong have helped you find the strength to keep fighting regardless of what hardship or difficulty you might be facing in your life.
Did you enjoy these quotes about being strong? Which of the quotes was your favorite? Tell us in the comment section below. We would love to hear all about it in the comment section below.
May 11, 2022 5:00 AM EST
Click to view