228 Quotes About Being Strong Against all Odds
Did you know that you're stronger than you'll ever realize? Read our quotes about being strong to see!
Our latest collection of quotes about being strong will provide you with the strength you need to fight through your challenges.
Regardless of who you are in this world, life is full of challenges.
Whatever your goals or dreams, you're bound to encounter obstacles before hitting your targets.
You may also enjoy our article on
A study by the University of Pennsylvania found that individuals who demonstrate perseverance and determination in the face of obstacles are more likely to achieve their goals.
This study highlights the link between resilience and goal attainment and suggests that being strong in the face of adversity can help individuals overcome obstacles and achieve success.
You'll always have to fight through hardships and suffer your fair share of pain before you achieve success.
But once you reach that success you've been working for, it'll be that much sweeter.
When everything seems to be going wrong, the question is – what will you do?
Will you give up or will you persist and keep fighting past the hurdles and obstacles?
If your endeavor is driven and fueled by purpose, then giving up is never an option.
You'll find the courage and persistence to look past the problems and difficulties along your path and instead focus on finding solutions.
Despite the challenges or difficulties you might be facing, here are some inspirational quotes about being strong that will give you the strength to keep fighting through them.
We hope these quotes about being strong will encourage you to solve your problems, live your dreams and pursue your mission in life.
Also, check out these strong Joan of Arc quotes that will inspire you to defy expectations and adhere to your own personal beliefs.
If you enjoy this article, check out our most popular quote article, a list of short inspirational quotes for daily motivation.
Browse our entire collection of inspirational quotes for more motivating ideas and concepts.
Quotes about being strong against all odds
Researchers at Stanford University have found that individuals with a strong sense of resilience are more likely to experience positive mental health outcomes.
This research underscores the benefits of resilience for psychological well-being and suggests that cultivating emotional strength has important implications for mental health.
1. "When you have exhausted all possibilities, remember this: you haven't." ~Thomas Edison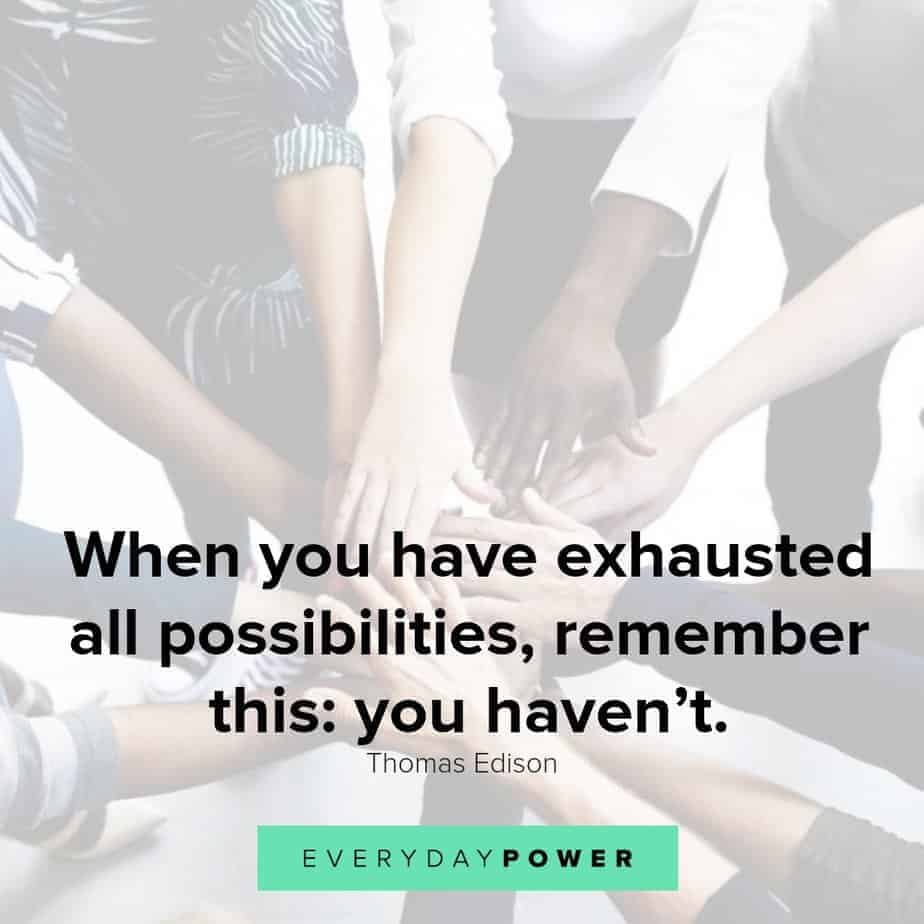 You will also enjoy our article on challenge quotes.
2. "Nothing is impossible, the word itself says 'I'm possible'!"– Audrey Hepburn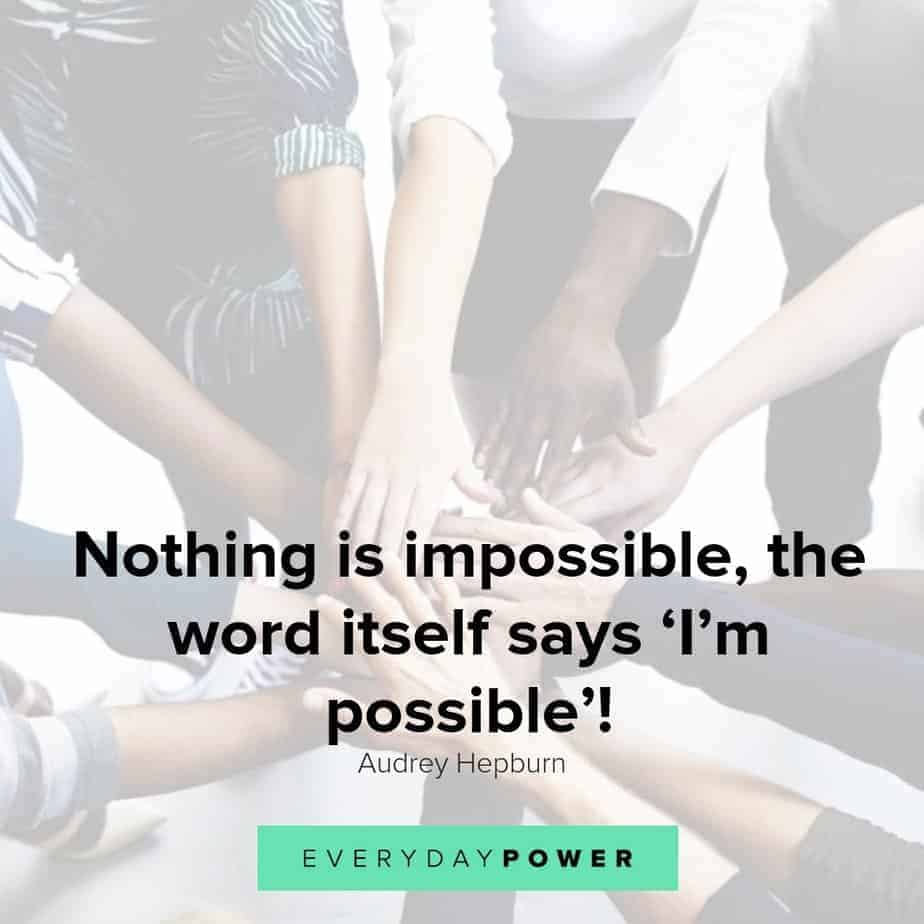 You will also enjoy our article on I'm tired quotes.
3. "Tough times never last, but tough people do." —Robert H. Schuller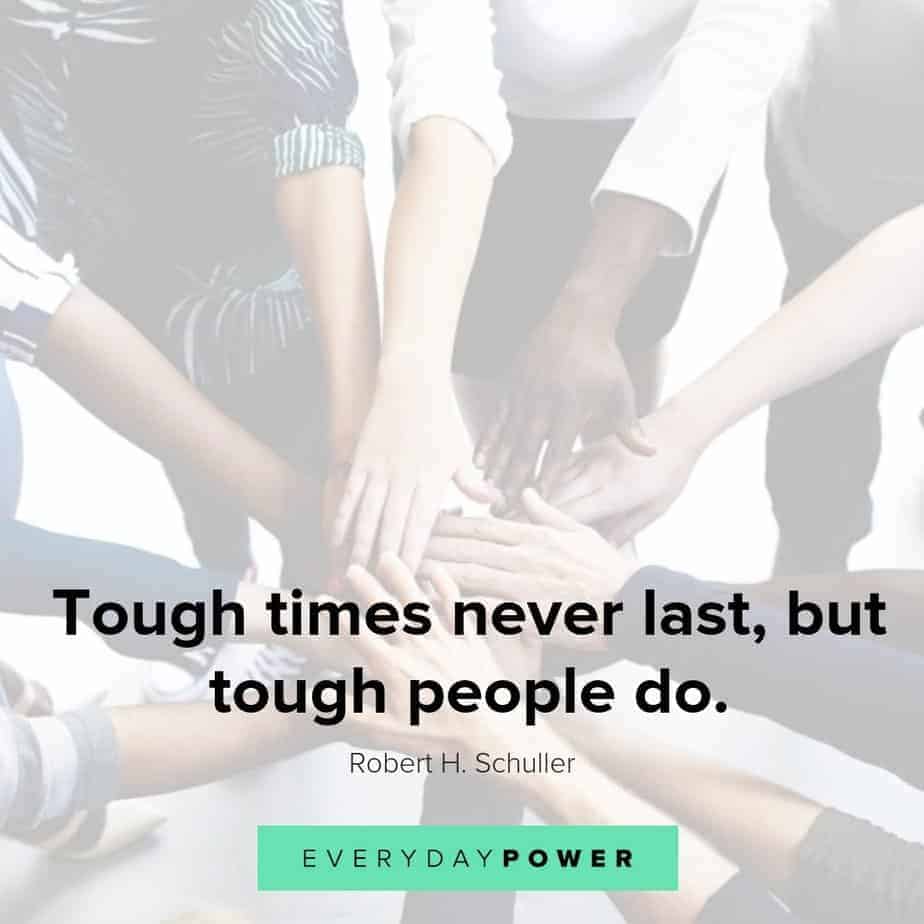 You will also enjoy our article on bob marley quotes.
4. "When I'm competing, I need to be strong." – Ashley Wagner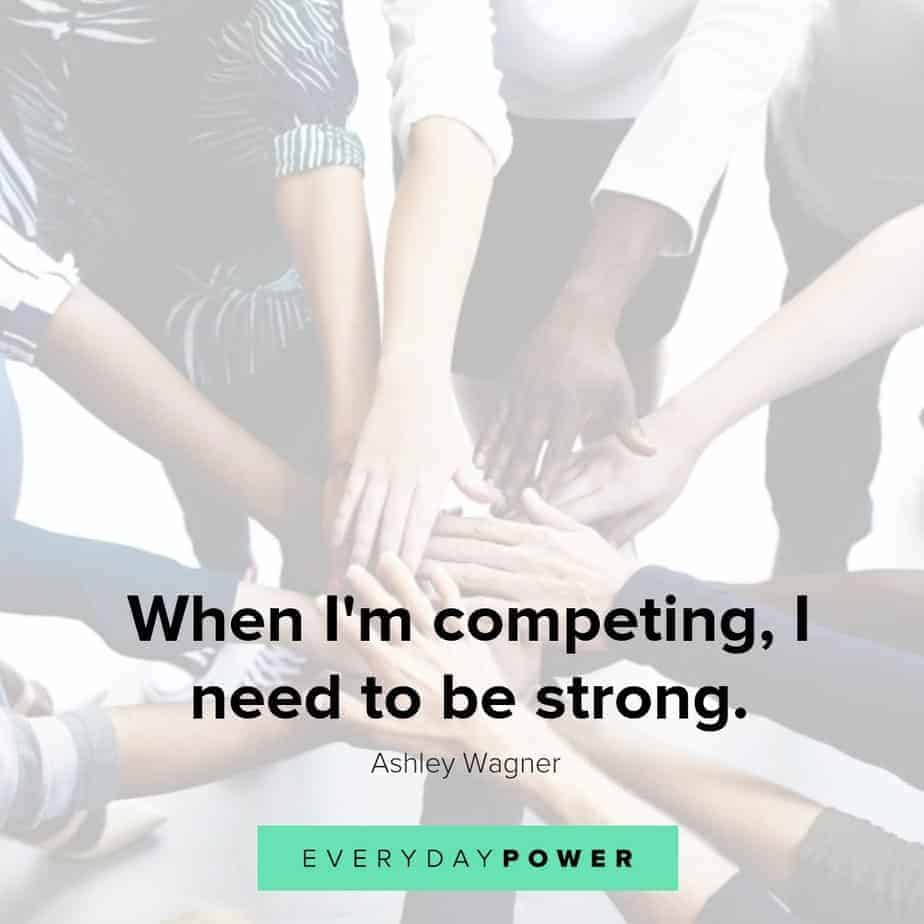 You will also enjoy our article on second chances quotes.
5. "There are better starters than me but I'm a strong finisher." —Usain Bolt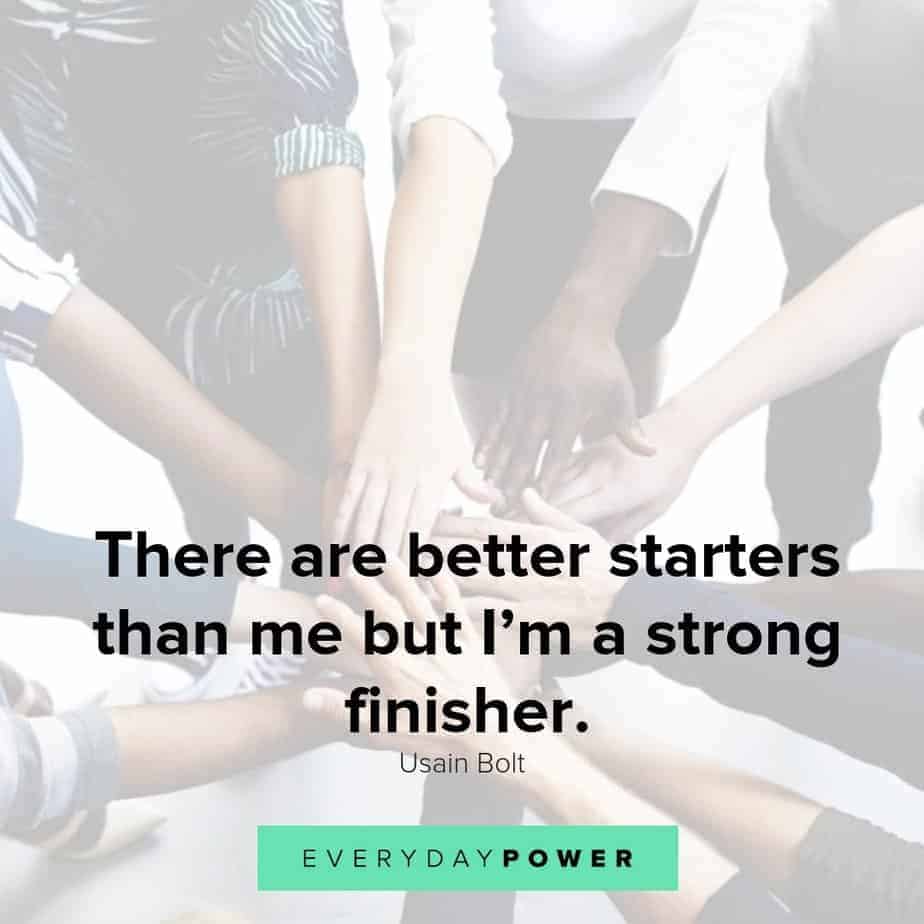 You will also enjoy our article on hard times quotes.
6. "The weak fall, but the strong will remain and never go under!" – Anne Frank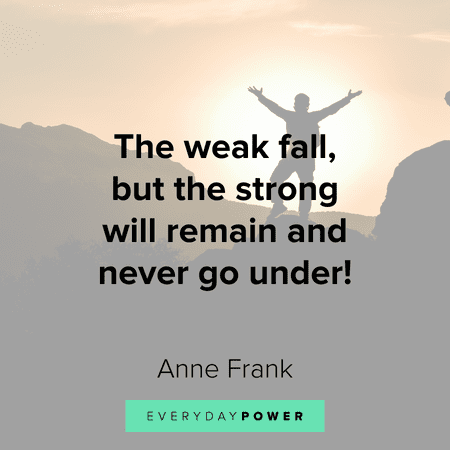 You will also enjoy our article on never give up quotes.
7. "Winners never quit, and quitters never win." – Vince Lombardi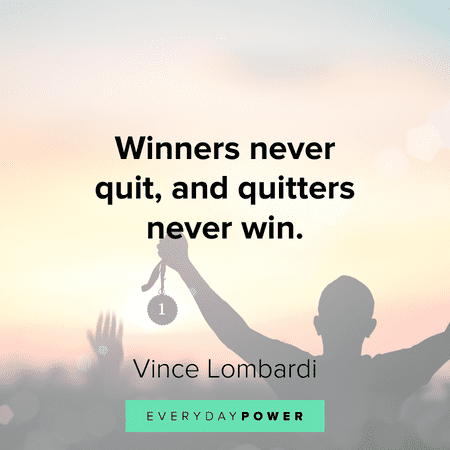 You will also enjoy our article on quotes about helping others.
8. "Failure will never overtake me if my determination to succeed is strong enough." – Og Mandino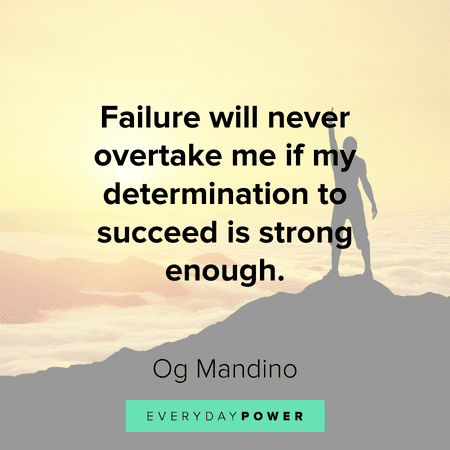 9. "You've got to stay strong to be strong in tough times." – Tilman J. Fertitta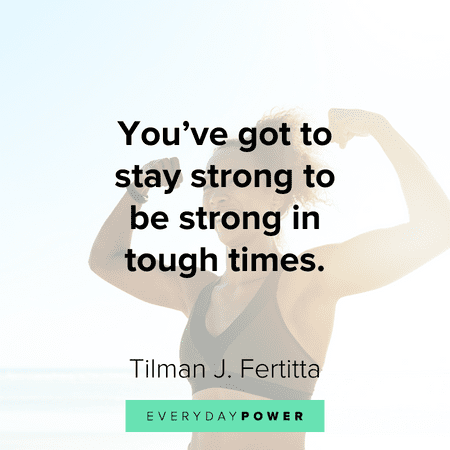 10. "You can't really be strong until you see a funny side to things." – Ken Kesey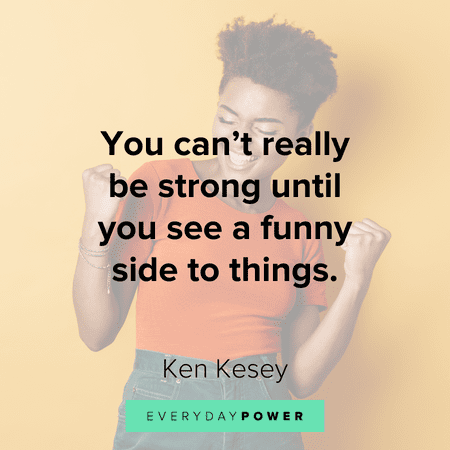 You might also like these stand tall quotes that will help you stay confident.
Quotes about being strong to keep you fighting
Research from the University of California, Los Angeles, suggests that having a strong sense of purpose in life can help individuals build resilience and weather difficult times.
This highlights the importance of cultivating a sense of purpose or meaning in life to develop resilience.
11. "You cannot dream yourself into a character; you must hammer and forge yourself one." – James A. Froude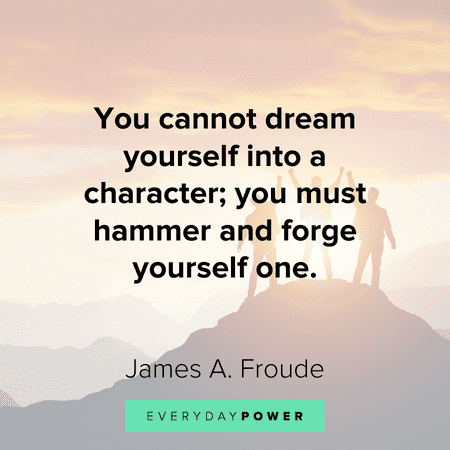 12. "I like criticism. It makes you strong." – LeBron James
13. "Smiling does not necessarily mean you're happy. Sometimes it just means you're strong." – Nishan Panwar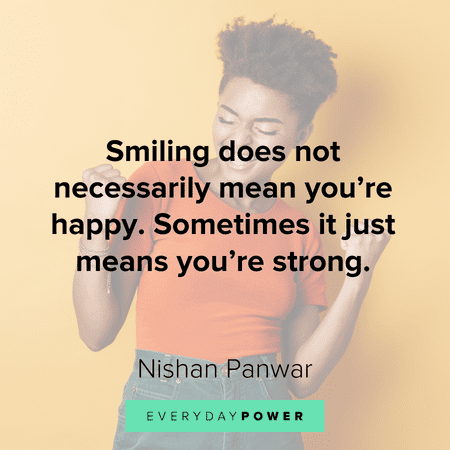 14. "Life is full of happiness and tears; be strong and have faith." – Kareena Kapoor Khan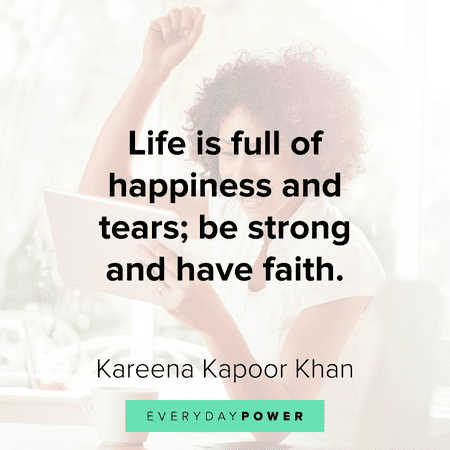 15. The world is the great gymnasium where we come to make ourselves strong." – Swami Vivekananda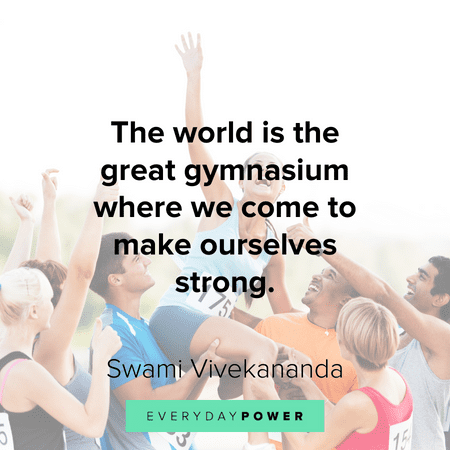 16. "Never bend your head. Always hold it high. Look the world right in the eye." – Helen Keller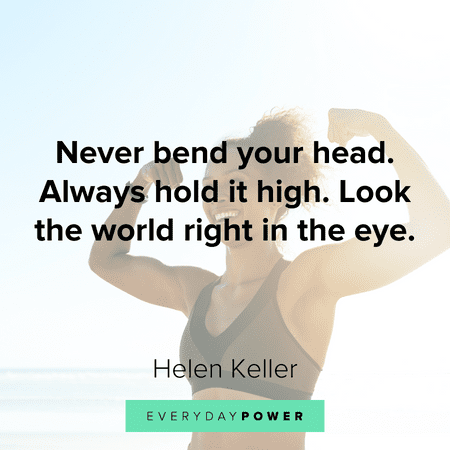 17. "Build up your weaknesses until they become your strong points." – Knute Rockne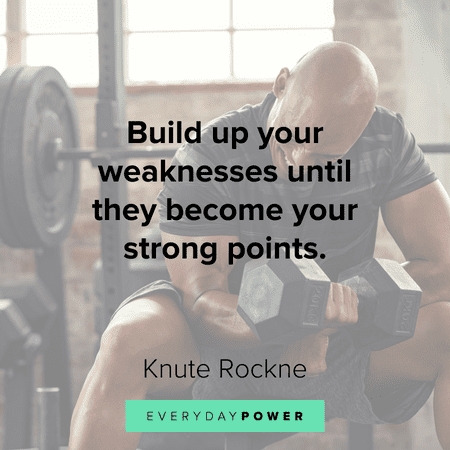 18. "Where there is no struggle, there is no strength." – Oprah Winfrey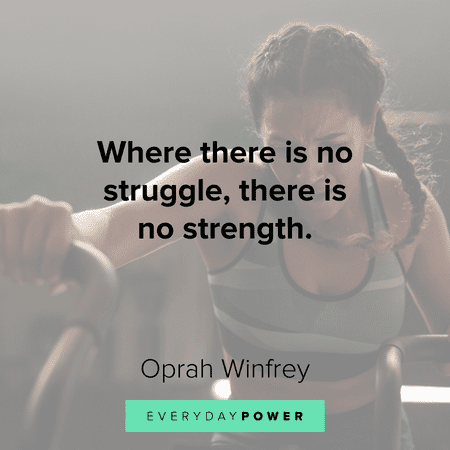 19. "My strength is as the strength of ten, because my heart is pure." – Alfred Lord Tennyson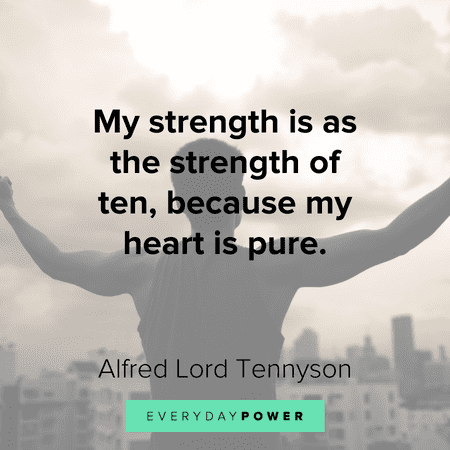 20. "With the new day comes new strength and new thoughts." – Eleanor Roosevelt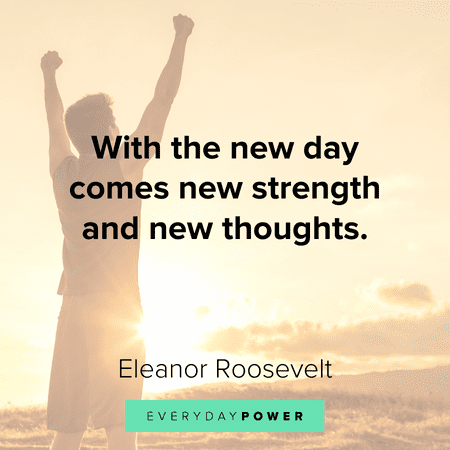 Don't forget to also check out these empowering breast cancer quotes to raise awareness.
Quotes about being strong through hard times
21. "Building mental strength is the key to reaching our full potential in life." – Amy Morin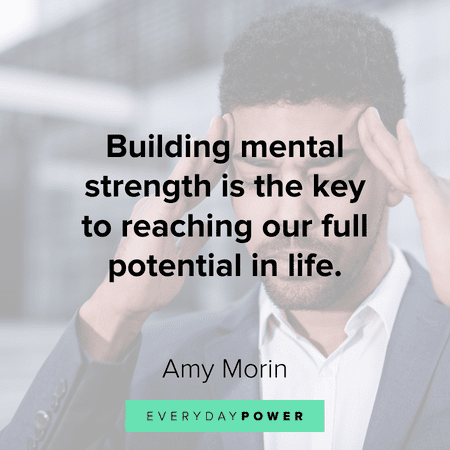 22. "Success is not final, failure is not fatal: it is the courage to continue that counts."– Winston Churchill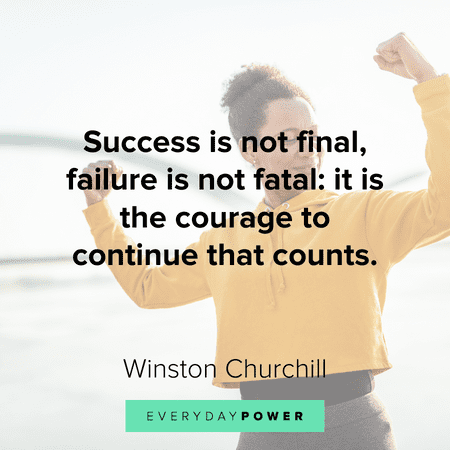 You will also enjoy our article on quotes about choices.
23. "Be strong in body, clean in mind, lofty in ideals." – James Naismith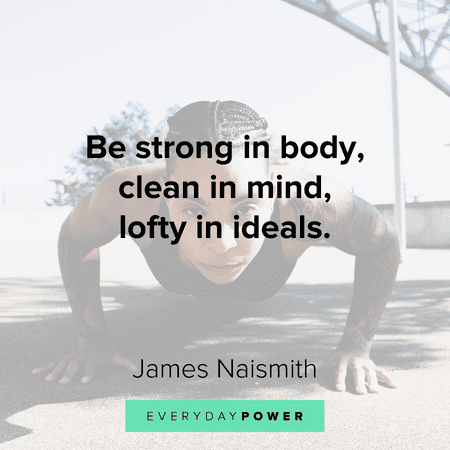 You will also enjoy our article on adversity quotes.
24. "You never know how strong you are until being strong is the only choice you have." – Bob Marley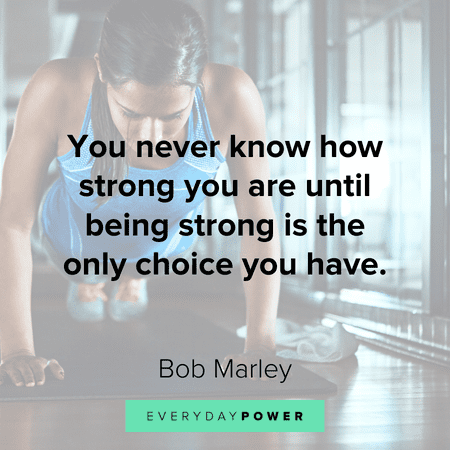 You will also enjoy our article on survival quotes.
25. "Be very strong… be very methodical in your life if you want to be a champion." —Alberto Juantorena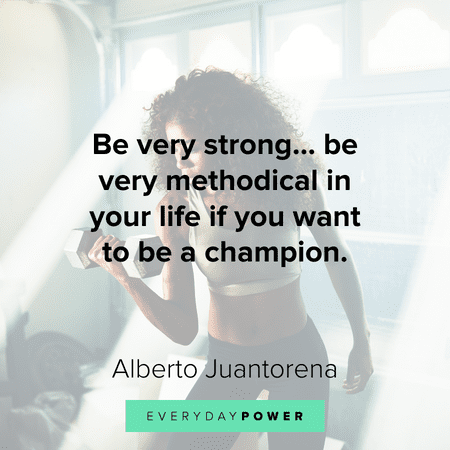 You will also enjoy our article on diamond quotes.
26. "There are no negatives in life, only challenges to overcome that will make you stronger." – Eric Bates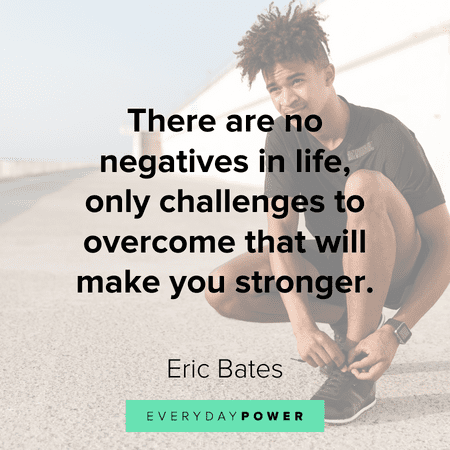 You will also enjoy our article on keep your head up quotes.
27. "If you can find a path with no obstacles, it probably doesn't lead anywhere." – Frank A. Clark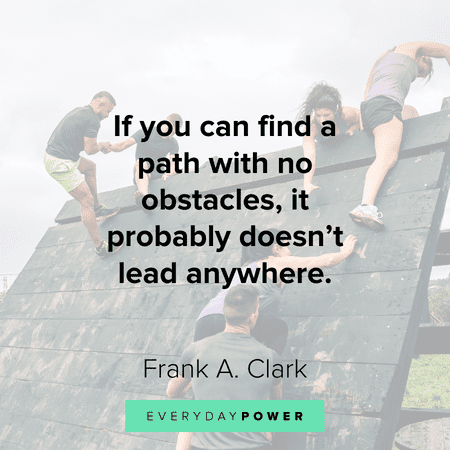 You will also enjoy our article on approval quotes.
28. "He who conquers others is strong; He who conquers himself is mighty." — Lao Tzu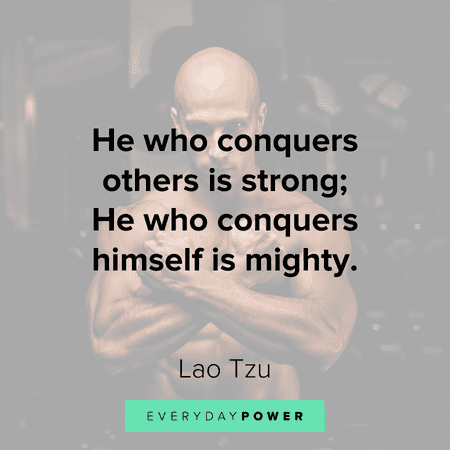 You will also enjoy our article on Arthur Morgan quotes.
29. "It is easier to build strong children than to repair broken men." — Frederick Douglass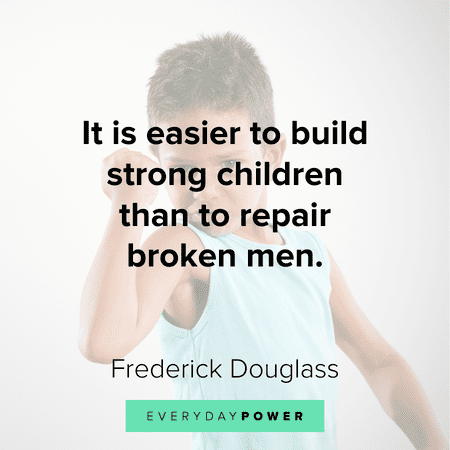 You will also enjoy our article on bear quotes.
30. "The weak can never forgive. Forgiveness is the attribute of the strong." — Mahatma Gandhi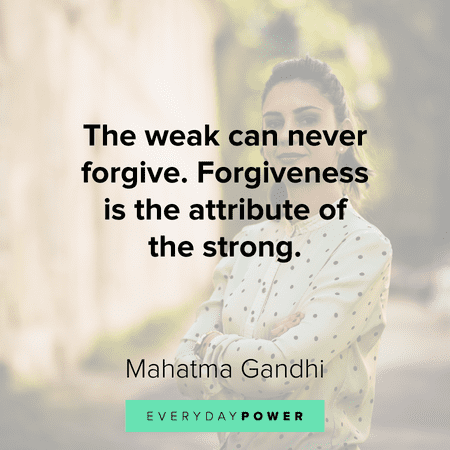 You will also enjoy our article on quotes on being calm.
Quotes about being strong and happy
31. "Be strong & face the life. Because sometimes Life keeping nothing but only one option. Be strong anyway." – Bharat Zanvar
32. "A truly strong person does not need the approval of others any more than a lion needs the approval of sheep." —Vernon Howard
33. "People with strong willpower will always have the bigger picture in mind. They will be able to forgo small pleasures in order to help attain bigger goals." – Bryan Adams
34. "Be strong, be fearless, be beautiful. And believe that anything is possible when you have the right people there to support you." – Misty Copeland
35. A strong woman is someone who is able to smile this morning like she wasn't crying last night." – Harriet Morgan
36. "Being glamorous is about strength and confidence. It's black and white – dramatic. You have to be strong." – Catherine Zeta-Jones
37. "The most beautiful people I've known are those who have known trials, have known struggles, have known loss, and have found their way out of the depths." – Elisabeth Kübler-Ross
38. "Difficulties are meant to rouse, not discourage. The human spirit is to grow strong by conflict." — William Ellery Channing
39. "My strength did not come from lifting weights. My strength came from lifting myself up when I was knocked down."~Bob Moore
40. "Never believe for a second that your weak, within all of us we have a reserve of inner hidden strength." – Victoria Addino
If you're enjoying these quotes, make sure to check out our collection of Misty Copeland quotes for a life of passion.
Inspirational quotes about being strong through hard times
41. "The world breaks everyone, and afterward, some are strong at the broken places."– Ernest Hemingway
42. "Strength does not come from winning. Your struggles develop your strengths. When you go through hardships and decide not to surrender, that is strength."– Arnold Schwarzenegger
43. "Most of the important things in the world have been accomplished by people who have kept on trying when there seemed to be no hope at all." – Dale Carnegie
44. "He who believes is strong; he who doubts is weak. Strong convictions precede great actions." – Louisa May Alcott
45. "The ultimate measure of a man is not where he stands in moments of comfort and convenience, but where he stands at times of challenge and controversy." – Martin Luther King, Jr.
46. "I'm a strong man, and usually I get over hurts and it makes me stronger when I come back." – Dusty Baker
47. "Adversity is like a strong wind. It tears away from us all but the things that cannot be torn so that we see ourselves as we really are." – Arthur Golden
48. "Don't wait for extraordinary opportunities. Seize common occasions and make them great. Weak men wait for opportunities; strong men make them."~ Orison Swett Marden
49. "Anyone can give up; it's the easiest thing in the world to do. But to hold it together when everyone would expect you to fall apart, that's true strength.~Chris Bradford
50. "Let me tell you the secret that has led me to my goal. My strength lies solely in my tenacity." – Louis Pasteur
Quotes about being strong to elevate your mind
51. "Be strong because things will get better. It may be stormy now but it never rains forever." – Evan Carmichael
52. "The greatest test of courage on the earth is to bear defeat without losing heart." – Arvind Jain
53. "Build upon strengths, and weaknesses will gradually take care of themselves." – Joyce C. Lock
54. "In the depth of winter, I finally learned that there lay within me an invincible summer." – Albert Camus
55. Problems are not stop signs; they are guidelines." – Robert Schuller
56. "Every adversity, every failure, every heartache carries with it the seed of a greater or equal benefit." – Napoleon Hill
57. "I am not afraid of storms, for I am learning how to sail my ship." -Louisa May Alcott
58. "The gem cannot be polished without friction, nor man perfected without trials." – Confucius
59. "Strong people don't put others down… They lift them up." ― Michael P. Watson
60. "You have power over your mind – not outside events. Realize this, and you will find strength." – Marcus Aurelius
If you're enjoying these quotes, make sure to read our collection of determination quotes to help you keep moving forward.
Powerful quotes about being strong
61. "When everything seems to be going against you, remember that the airplane takes off against the wind, not with it." – Henry Ford
62. "Don't quit. Suffer now and live the rest of your life as a champion." – Muhammad Ali
63. Stay strong, be brave, love hard and true, and you will have nothing to lose." – Demi Lovato
64. "Be strong when you are weak, brave when you are scared, and humble when you are victorious." – Unknown
65. "Courage is like a muscle. We strengthen it by use." – Ruth Gordo
66. "You've got three choices in life: give up, give in, or give it all you've got." – Unknown
67. "Stop wearing your wishbone where your backbone ought to be." –
Elizabeth Gilbert
68. "I think that everything happens to you for a reason. The hard times that you go through build character, making you a much stronger person." – Rita Mero
69. "A Strong Woman looks a challenge dead in the eye and gives it a wink." – Gina Carey
70. "One must need to be strong, otherwise one will never become strong." – Friedrich Nietzsche
Remember to also read these inspirational perseverance quotes that will remind you to never give up.
More quotes about being strong
71. "It's never the differences between people that surprise us. It's the things that, against all odds, we have in common." – Jodi Picoult
72. "During your struggle society is not a bunch of flowers, it is a bunch of cactus." – Amit Kalantri
73. "Be strong. Even when you can't be." – Saim A. Cheeda
74. "Ever notice the word 'rough' in through? There is truth to that, though the way may be rough, we are still able to get through it." – Anthony Liccione
75. "Do not be sad that all odds are against you; be happy that your real purpose is by you." – Ernest Agyemang Yeboah
76. "The feeling of success is a special one. And this feeling becomes magical when you achieve success against all odds in life!" – Avijeet Das
77. "Keep up the fight against the wobble, no matter what the cost." – Prof. Salam Al Shereida
78. "The strongest people find the courage and caring to help others, even if they are going through their own storm." – Roy T. Bennett
79. "The one who falls and gets up is stronger than the one who never tried. Do not fear failure but rather fear not trying." – Roy T. Bennett
80. "If you build the guts to do something, anything, then you better save enough to face the consequences." – Criss Jami
If you're enjoying these quotes, make sure to read our collection of Muhammad Ali quotes on life, love and being a champion.
Being strong quotes that help you become the best version of yourself
81. "A single twig breaks, but the bundle of twigs is strong." — Tecumseh
82. "Each of us is stronger than we realize. Strength is something we often find in desperate moments." – Jennifer Arnold
83. "Out of suffering have emerged the strongest souls; the most massive characters are seared with scars." – Kahlil Gibran
84. "Life's challenges are not supposed to paralyze you, they're supposed to help you discover who you are." – Bernice Johnson Reagon
85. "A strong, positive self-image is the best possible preparation for success." — Joyce Brothers
86. "Strong people are made by opposition like kites that go up against the wind." — Frank Harris
87. "Nothing is so strong as gentleness, nothing so gentle as real strength." — Saint Francis de Sales
88. "Some of us think holding on makes us strong; but sometimes it is letting go." — Hermann Hesse
89. "A woman is like a tea bag – you can't tell how strong she is until you put her in hot water." — Eleanor Roosevelt
90. "We don't even know how strong we are until we are forced to bring that hidden strength forward. In times of tragedy, of war, of necessity, people do amazing things. The human capacity for survival and renewal is awesome." — Isabel Allende
If you're enjoying these quotes, make sure to check out our collection of hero quotes that inspire everyone to make a difference.
Encouraging quotes about being strong
91. "Sometimes you don't realize your own strength until you come face to face with your greatest weakness." – Susan Gale
92. "Promise me you'll always remember: You're braver than you believe and stronger than you seem, and smarter than you think." – A. A. Milne
93. "Hard times don't create heroes. It is during the hard times when the 'hero' within us is revealed." – Bob Riley
94. "The bird rises against a strong headwind, not only in spite of the wind but because of it. The opposing force becomes a lifting force if faced at the right angle." – L.B. Cowman
95. "You have to be strong and calm to overcome difficult moments." – Dani Alves
96. "Show me someone who has done something worthwhile, and I'll show you someone who has overcome adversity." – Lou Holtz
97. "Some people believe holding on and hanging in there are signs of great strength. However, there are times when it takes much more strength to know when to let go and then do it." – Ann Landers
98. "That is the rule of the Wilds: You must be bigger and stronger and tougher. You must hurt or be hurt." ― Lauren Oliver
99. "If you fell down yesterday, stand up today." – H.G. Wells
100. "The hard days are what make you stronger." – Aly Raisman
Strong Quotes to Empower You
101. "Develop the strength to do bold things, not the strength to suffer." – Niccolò Machiavelli
102. Where is the man who has the strength to be true, and to show himself as he is?" – Johann Wolfgang von Goethe
103. "We are only as strong as we are united, as weak as we are divided." – J.K. Rowling
104. "One who gains strength by overcoming obstacles possesses the only strength which can overcome adversity." – Albert Schweitzer
105. "Courage isn't having the strength to go on, it is going on when you don't have the strength." – Napoleon Bonaparte
106. "That which does not kill us makes us stronger." – Friedrich Nietzsche
107. "People do not lack strength, they lack will." – Victor Hugo
108. "Strength of mind is exercise, not rest." – Alexander Pope
109. "There are two ways of exerting one's strength: one is pushing down, the other is pulling up." – Booker T. Washington
110. The real man smiles in trouble, gathers strength from distress, and grows brave by reflection." – Thomas Paine
Quotes about being strong in your mind
111. "Strength and growth come only through continuous effort and struggle." -Napoleon Hill
112. "Character cannot be developed in ease and quiet. Only through experience of trial and suffering can the soul be strengthened, ambition inspired, and success achieved." -Helen Keller
113. "Strength does not come from physical capacity. It comes from an indomitable will." –Mahatma Gandhi
114. "Be sure you put your feet in the right place, then stand firm." -Abraham Lincoln
115. "A hero is an ordinary individual who finds the strength to persevere and endure in spite of overwhelming obstacles." -Christopher Reeve
116. "Kites rise high against the wind – not with it." -Winston Churchill
117. "When we long for life without difficulties, remind us that oaks grow strong in contrary winds and diamonds are made under pressure." -Peter Marshall
118. "The strong man is the one who is able to intercept at will the communication between the senses and the mind." -Napoleon Bonaparte
119. "Endurance is not just the ability to bear a hard thing, but to turn it into glory." -William Barclay
120. "We can be tired, weary and emotionally distraught, but after spending time alone with God, we find that He injects into our bodies energy, power and strength." -Charles Stanley
Quotes about being strong as a result of struggles
121. "We must embrace pain and burn it as fuel for our journey." – Kenji Miyazawa
122. "Few men during their lifetime come anywhere near exhausting the resources dwelling within them. There are deep wells of strength that are never used." – Richard E. Byrd
123. "Your struggle is your strength. If you can resist becoming negative, bitter or hopeless, in time your struggles will give you everything." – Bryant McGill
124. "I was always looking outside myself for strength and confidence but it comes from within. It is there all the time." -Ana Freud
125. "I believe in being strong when everything seems to be going wrong." -Audrey Hepburn
126. "We gain strength, and courage, and confidence by each experience in which we really stop to look fear in the face…we must do that which we think we cannot." -Eleanor Roosevelt
127. "Do not pray for an easy life; pray for the strength to endure a difficult one." -Bruce Lee
128. "Strength doesn't come from what you can do. It comes from overcoming the things you once thought you couldn't." -Nikki Rogers
129. "Real strength is not just a condition of one's muscle, but a tenderness in one's spirit." -McCallister Dodds
130. "Life is very interesting. In the end, some of your greatest pains become your greatest strengths." -Drew Barrymore
Encouraging Quotes About Being Strong
131. "It is time for parents to teach young people early on that in diversity there is beauty and there is strength." — Maya Angelou
132. "Be strong in who you are." ― Adrienne Posey
133. "The internal and external bruises will fade away. Carry on in strength." ― Mitta Xinindlu
134. "How could I understand my weaknesses if my strength had not been tested?" ― Jennifer Beckstrand
135. "Don't give up when dark times come. The more storms you face in life, the stronger you'll be. Hold on. Your greatest is coming." ― Germany Kent
136. "Realize your true strength when people reject you. In actual fact, they do not reject you. They only show you your real strength" ― Ernest Agyemang Yeboah
137. "You do not need any more strength. You only need to realize how strong you already are." ― Vironika Tugaleva
138. "Be so strong that no one can ignore you." ― Debasish Mridha
139. "In your weakness be strong " ― Olawale Daniel
140. "Don't let any tragic event or any people pull you away from the path of peace. Be strong and attract others to your path toward peace." ― Debasish Mridha
Quotes About Being Strong That Encourage You To Hang In There And Keep Staying Strong
141. "Choose rather to be strong of soul than strong of body." — Pythagoras
142. I want my girls to be strong and self-sufficient." — Angie Harmon
143. "You can be strong and true to yourself without being rude or loud." — Paula Radcliffe
144. "I've never met a strong person with an easy past." — Atticus
145. "We do not have to become heroes overnight. Just a step at a time, meeting each thing that comes up, seeing it is not as dreadful as it appeared, discovering we have the strength to stare it down." — Eleanor Roosevelt
146. "The resistance that you fight physically in the gym and the resistance that you fight in life can only build a strong character." — Arnold Schwarzenegger
147. "Taking care of yourself makes you stronger for everyone in your life – including you." — Kelly Rudolph
148. "Anyone can hide. Facing up to things, working through them, that's what makes you strong." — Sarah Dessen
149. "Concentration is the secret of strength." — Ralph Waldo Emerson
150. "We are stronger, gentler, more resilient, and more beautiful than any of us imagine." — Mark Nepo
Quotes About Being Strong No Matter What Comes Your Way
151. "The secret to becoming unbreakable is realizing that you are already broken. We all are." ― Brant Menswar
152. "Strength isn't something we all naturally have, it is something we do and then become" ― Rachel D. Greenwell
153. "Dear self, Be brave enough to face every obstacle that comes in waves. It helps you to become a great warrior." ― sophieya
154. "Truth stings; it takes the strong to face the truth." ― Aniekee Tochukwu Ezekiel
155. "Being confident, well-informed, and in control doesn't make you a "monster". It makes you a strong leader. People fear what (and who) they can't control." ― Liz Faublas
156. "Be strong, take life as it comes." ― Santosh Kumar
157. "A smart woman fixes her own crown. She does not dethrone other women from their own glory. For she knows on her own she is strong." ― Gift Gugu Mona
158. "In those moments when I have to choose to practice faith, that's when I feel strong." ― Rachel D. Greenwell
159. "You must be stronger than the situation in order to conquer it." ― Lailah Gifty Akita
160. "Strong people stand up for themselves, but stronger people stand up for others." ― Suzy Kassem
Quotes About Being Strong To Give You Courage
161. "Train your mind to be strong, to resist temptations. Learn to talk to one another and to respect each other." — Emily Benedek
162. "Being strong is about standing up against resistance, refusing to give in on matters of principle, and defending the weak." — Cecilia Reynolds
163. "Every day I turn to the Bible to give me strength and wisdom for the day and hope for the future." — Billy Graham
164. "Like the muscle in our bodies, the brain gets strong in the places where we train it." — Eileen McDargh
165. "Your faith can encourage you, give you strength, help you in hard times and give you hope." — Catherine Pulsifer
166. "Being strong, showing that you will see things through no matter what comes your way, that's what matters most to me." — Cat Zingano
167. "Resilient people: are emotionally strong, are kind, gentle and patient, are compassionate even amid personal stress." — Amit Sood
168. "With a powerful desire, with a strong determination, and with a commitment to yourself, you can find ways to achieve your goals, and overcome challenges." — Catherine Pulsifer
169. "We do learn something about ourselves when we are up against the wall, and we do most certainly come out stronger." — Tina Sloan
170. "Recognizing and dealing with your fears requires courage, inner strength and strong self-esteem." — Sandra V. Abell
Quotes About Being Strong When One Is Discouraged
171. "You were given this life because you are strong enough to live it." ― Ain Eineziz
172. "Life is, at times, tough. And all we need to do is to prove that we are tougher than it." ― Sanhita Baruah
173."Great works are performed not by strength but by perseverance." ― Samuel Johnson
174. "Nothing is more beautiful than the smile that has struggled through the tears." ― Demi Lovato
175. "Powerful souls contain mountains of strength, ocean of love and a strong belief in themselves." ― Shaa Zainol
176. "Be bold enough to appreciate. Be strong enough not to criticize." ― Debasish Mridha
177. "The harder you fall, the heavier your heart; the heavier your heart, the stronger you climb; the stronger you climb, the higher your pedestal." ― Criss Jami
178."No matter how much falls on us, we keep plowing ahead. That's the only way to keep the roads clear." ― Greg Kincaid
179. "Pain makes you stronger. Tears make you braver. Heartbreak makes you wiser. And vodka makes you not remember any of that crap." ― Nishan Panwar
180. "Spending too much time focused on others' strengths leaves us feeling weak. Focusing on our own strengths is what, in fact, makes us strong." ― Simon Sinek
Quotes About Being Strong To Build Yor Character
181. "The weak are always anxious for justice and equality. The strong pay no heed to either." ― Aristotle
182. "If God sends us on strong paths, we are provided strong shoes." ― Corrie ten Boom
183. "Don't be afraid to give your best to what seemingly are small jobs. Every time you conquer one it makes you that much stronger." ― Andrew Carnegie
184. "It is worth remembering that the time of greatest gain in terms of wisdom and inner strength is often that of greatest difficulty." ― Dalai Lama
185. "Strength is a matter of the made up mind." ― John Beecher
186. "A strong, positive self image is the best possible preparation for success." ― Dr. Joyce Brothers
187. "Sometimes, being strong is to forgive in the name of love, to make someone smile when our own heart is broken, to comfort a friend when we ourselves needed help and to keep faith when we have lost hope." ― Brigitte Nicole
188. "Promise yourself to be so strong that nothing can disturb your peace of mind." ― Christian Larson
189. "Things happen to you to make you realize your true potential, strength, will power, and heart. You've got to have faith." ― Dr. Byron Hayes
190. "Ask for help. Not because you are weak. But because you want to remain strong." ― Les Brown
Quotes About Being Strong to Fuel Your Resilience
191. "You have to believe in yourself and be strong." ― Adriana Lima
192. "Life only demands from you the strength that you possess. Only one feat is possible; not to run away." ― Dag Hammarskjold
193. "A strong mind always hopes, and has always cause to hope." ― Thomas Carlyle
194. "The harder the conflict, the more glorious the triumph. I love the man that can smile in trouble, that can gather strength from distress and grow." ― Thomas Paine
195. "It does not take much strength to do things, but it requires great strength to decide on what to do." ― Elbert Hubbard
196. "For strength to bear is found in duty alone, and he is blest indeed who learns to make the joy of others cure his own heartache." ― Drake
197. "There is a comfort in the strength of love; 'Twill make a thing endurable, which else would overset the brain, or break the heart." ― William Wordsworth
198. "He is greatest whose strength carries up the most hearts by the attraction of his own." ― Henry Ward Beecher
199. "I believe a strong woman may be stronger than a man, particularly if she happens to have love in her heart. I guess a loving woman is indestructible." ― John Steinbeck
200. Our strength lies, not alone in our proving grounds and our stockpiles, but in our ideals, our goals, and their universal appeal to all men who are struggling to breathe free." ― Adlai Stevenson I
Quotes About Being Strong to Help You Overcome Challenges
201. "Strong people have a strong sense of self-worth and self-awareness; they don't need the approval of others." ― Roy T. Bennett
202. "Let your life reflect the faith you have in God. Fear nothing and pray about everything. Be strong, trust God's word, and trust the process." ― Germany Kent
203. "I'd prefer 'be strong' than 'don't worry'." ― Toba Beta
204. "They thought the rain would dampen your spirit. Not knowing that it's your source of strength." ― Mitta Xinindlu
205. "Your strength doesn't come from winning. It comes from struggles and hardship. Everything that you go through prepares you for the next level." ― Germany Kent
206. "No struggle, no success. The stronger the thunder, the heavier the rainfall" ― Israelmore Ayivor
207. "Some say, "Be Strong." I say, "Surrender to your vulnerability and therein lies your strength." ― Julieanne O'Connor
208. "If you want to live longer and to be strong, intelligent, loving, and kind–then don't follow a tiger. Follow an elephant." ― Debasish Mridha
209. "Be so strong; for peace of mind, love those who do not deserve your love." ― Debasish Mridha
210. "Always do what you're afraid to do. …I will prove myself strong when they think I am sick.
I will prove myself brave when they think I am weak." ― E. Lockhart
Quotes About Being Strong to Succeed in Your Plans
211. "So he tasted the deep pain that is reserved only for the strong, just as he had tasted for a little while the deep happiness." ― F. Scott Fitzgerald
212. "Stay strong, stay positive, and never give up." ― Roy T. Bennett
213. "On the left side of a strong woman, stands a strong man; he is strengthened by her character." ― Ellen J. Barrier
214. "You must be strong enough to strike and strike and strike again without tiring. The first lesson is to make yourself that strong." ― Holly Black
215. "…no woman can love a weak man hard enough to make him strong." ― Pearl Cleage
216. "Every challenge you face today makes you stronger tomorrow. The challenge of life is intended to make you better, not bitter." ― Roy T. Bennett
217. "You are strong enough to survive the fall" ― Leigh Bardugo
218. "I feel like myself, strong and weak at once – allowed, at least for a little while, to be both." ― Veronica Roth
219. "A strong positive attitude will create more miracles than any wonder drug." ― Patricia Neal
220. "With a strong intuition you can build confidence in your life that you are always supported, have strong guidance that you can rely upon and feel safe." ― Lisa K
221. "As the soul and the physical body become more strongly connected one's soul will begin to color one's physical world." ― Leanna Burns
222. "Things achieved too easily often lose their charm and meaning, its life's trials that makes us strong in spirit." ― Bernard Kelvin Clive
223. "Always remember, you have within you the strength, the patience, and the passion to reach for the stars to change the world." ― Harriet Tubman
224. "And while our environment definitely affects our lives, it is entirely up to us to have the strength to overcome whatever is thrown at us." ― Zelana Montminy
225. "Part of wisdom is knowing when to react strongly and when to let things pass." ― Nick Vujicic
226. "People driven by intention are described as having a strong will that won't permit anything to interfere with achieving their inner desire." ― Wayne Dyer
227. "A strong body makes the mind strong." ― Thomas Jefferson
228. "You do not know what strength you have until being strong is the only strength you have." ― Jacque Maria Ellison
Did you enjoy these quotes about being strong
Whatever stage you are at in your own life, you'll always encounter obstacles along your path.
When that happens, you can either choose to give up or to keep on fighting through.
It's up to you to look beyond your challenges and work towards achieving your targets.
You were built to last, so remember this even in the moments when being strong seems overwhelming.
Hopefully, these quotes about being strong have helped you find the strength to keep fighting regardless of what hardship or difficulty you might be facing in your life.
Did you enjoy these quotes about being strong?
Which of the quotes was your favorite?
Tell us in the comment section below.
We would love to hear all about it in the comment section below.