Motivational Swimming Quotes That Make a Splash
February 28, 2023 5:00 AM EST
These summer swimming quotes will have you ready to dive into the water!
Swimming is an excellent hobby and a great way to stay in shape.
This collection of swimming quotes will inspire you to make a big splash.
You may also enjoy our article on:
According to the Centers for Disease Control and Prevention (CDC), swimming is a low-impact activity that can improve cardiovascular health and muscle strength.
This makes it an excellent choice for individuals of all ages and fitness levels who want to stay healthy and active.
What can you say about swimming?
Whether you dive into the ocean or wade into a pool, the most important aspect of swimming is that you have fun.
Even if you're a competitive swimmer who trains every day, there are still ways you can find joy and beauty in swimming.
These famous swimming quotes will remind you why you fell in love with the water in the first place.
If you're a swimmer, you'll love these inspirational quotes about diving straight into the water.
Whether you're a coach, a team member, or a hobbyist, it's important to remember to never give up.
Read these motivational swimming quotes to inspire yourself to work hard during practice and try your best.
Don't forget to also check out these perfection quotes that inspire excellence.
Check out our most popular quote article, a list of short inspirational quotes for daily inspiration.
Check out our inspirational quotes category page for more inspirational life quotes.
Motivational swimming quotes that make a splash
A study published in the International Journal of Aquatic Research and Education found that swimmers have a lower risk of chronic diseases such as diabetes and hypertension compared to non-swimmers.
The study also suggests that swimming may be a more effective form of exercise for reducing these risks compared to other types of physical activity.
1. "I actually love swimming but I just hate jumping in the water." – Natalie Coughlin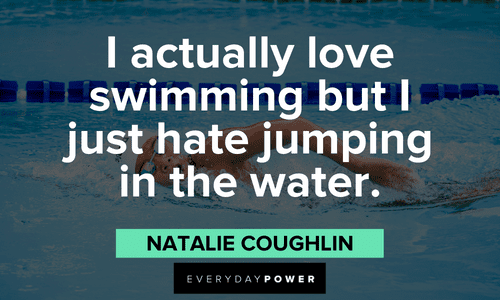 You will also enjoy our article on water quotes.
2. "Only when the tide goes out do you discover who's been swimming naked." – Warren Buffett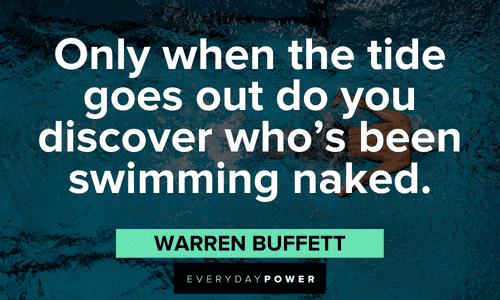 You will also enjoy our article on waves quotes.
3. "A huge part of swimming for me is I love it, and it is so much fun." – Missy Franklin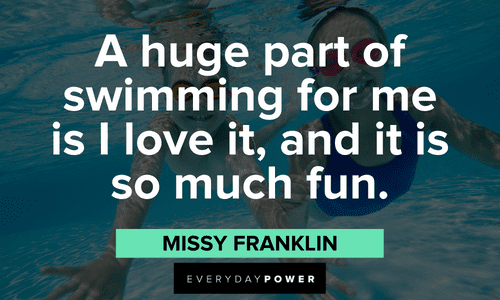 You will also enjoy our article on Grinch Quotes.
4. "I'm just a simple guy swimming in a sea of sharks." – Don Johnson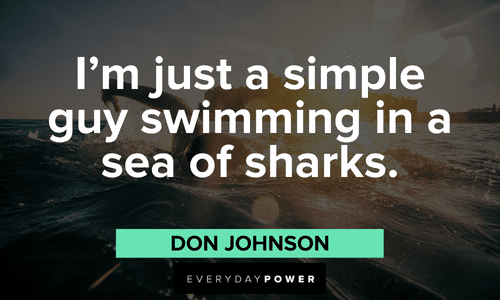 You will also enjoy our article on lake quotes.
5. "I'm so used to swimming with the piranhas. And they're really not that bad." – Brie Larson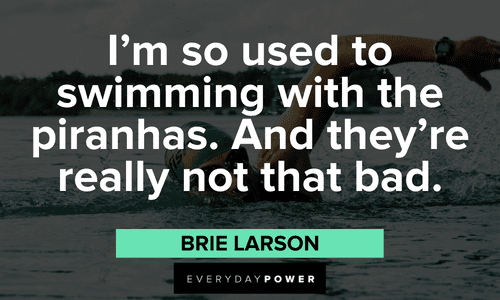 You will also enjoy our article on gym quotes.
6. "Live in the sunshine, swim the sea, drink the wild air." – Ralph Waldo Emerson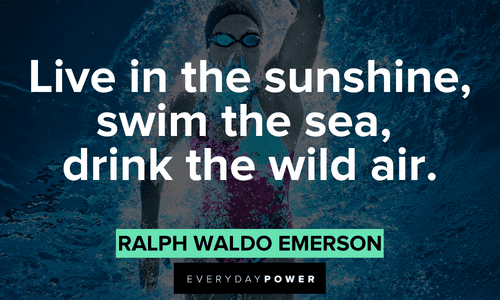 You will also enjoy our article on river quotes.
7. "All good writing is swimming underwater and holding your breath." – F. Scott Fitzgerald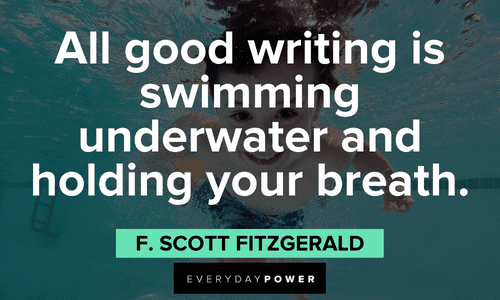 You will also enjoy our article on perseverance quotes.
8. "Don't wait for your ship to come in. Swim out to it." – Steve Southerland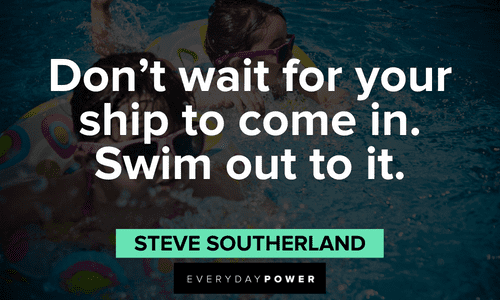 You will also enjoy our article on July quotes.
9. "The man who is swimming against the stream knows the strength of it." – Woodrow Wilson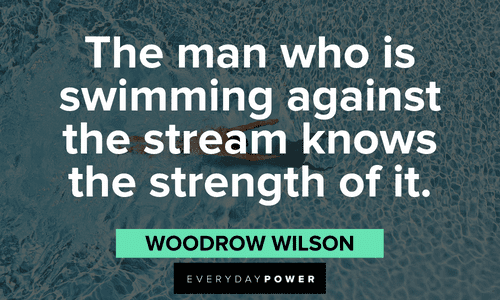 You will also enjoy our article on survival quotes.
10. "Swimming isn't everything, winning is." – Mark Spitz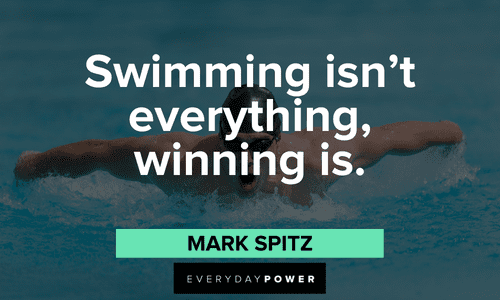 Don't forget to also check out these pool quotes to splash up your Insta feed.
Swimming quotes that will have you ready to dive into the water
The American Heart Association reports that swimming for just 30 minutes a day can lower your risk of coronary heart disease by up to 30%.
This highlights the significant cardiovascular benefits of swimming and its potential to improve overall heart health.
11. "Remember, a dead fish can float downstream, but it takes a live one to swim upstream." – W. C. Fields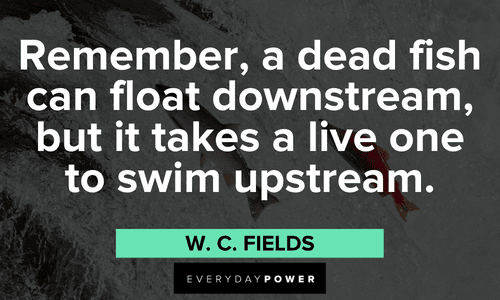 You will also enjoy our article on galaxy quotes.
12. "I can't control what everyone else swims but if all goes well I know there are no limits." – Leisl Jones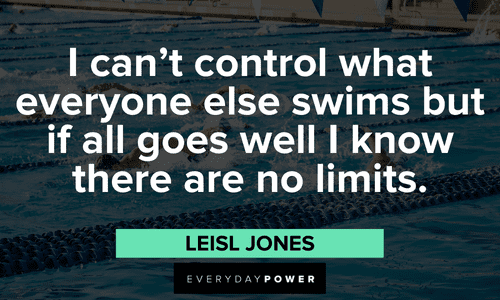 You will also enjoy our article on Pink Floyd quotes.
13. "This life is like a swimming pool. You dive into the water, but you can't see how deep it is." – Dennis Rodman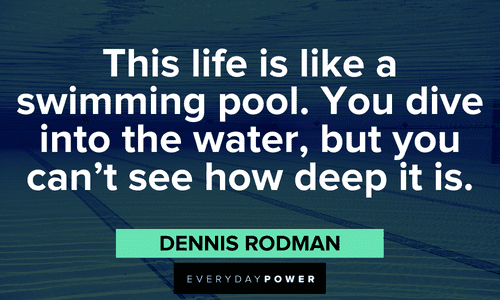 You will also enjoy our article on Thursday quotes.
14. "While I'm swimming, I sing songs in my mind." – Alexandr Popov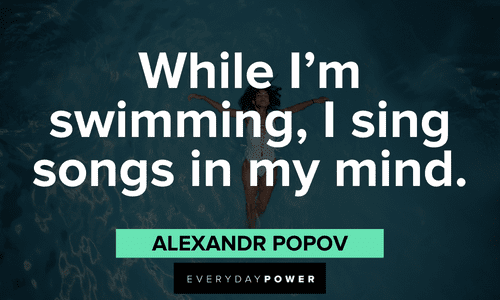 You will also enjoy our article on finding nemo quotes.
15. "Don't be a fish; be a frog. Swim in the water and jump when you hit the ground." – Kim Young-ha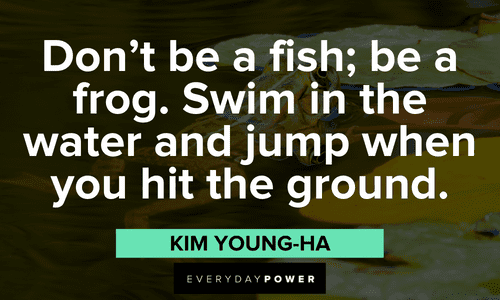 You will also enjoy our article on grandchildren quotes.
16. "I have stayed active. I do keep moving. But I should start swimming more. Great exercise." – Marv Levy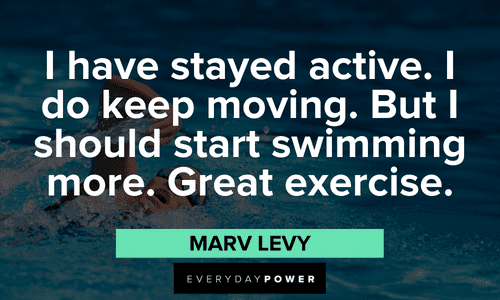 17. "I try to separate my personal life from swimming." – Michael Phelps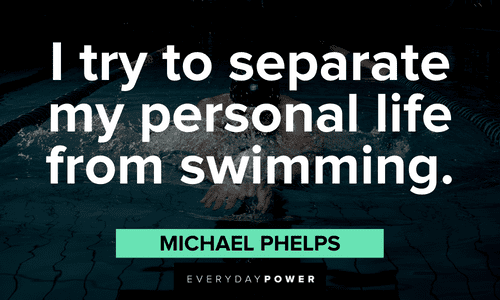 18. "Some fish love to swim upstream. Some people love to overcome challenges." ― Amit Ray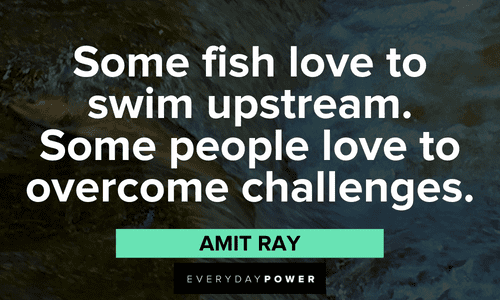 19. "Swimming was the opposite of panic attack. Fluid and calm and quiet." ― John Corey Whaley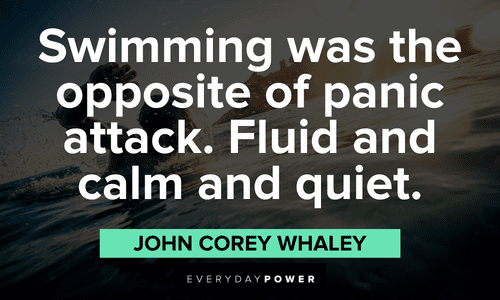 20. "Swimming gives me immense satisfaction." – Laura Dutta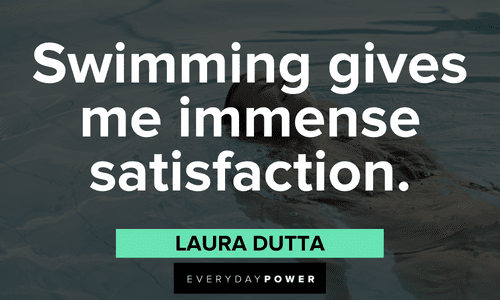 If you enjoy this article, check out our collection of drowning quotes to help banish the fear of drowning.
Swimming quotes that will make you fall in love with the water
21. "As long as I'm enjoying swimming, I will keep swimming." – Cate Campbell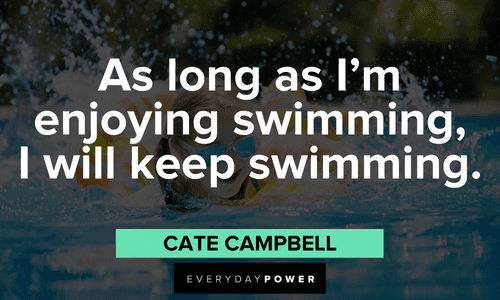 22. "Swimming is simply moving meditation." – Cesar Nikko Caharian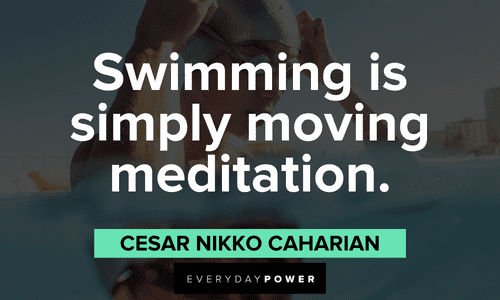 23. "I was so relaxed in the water, it felt amazing." – Pieter van den Hoogenband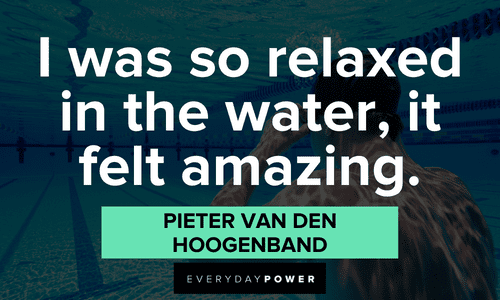 24. "Swimming is my passion and something that I love." – Natalie du Toit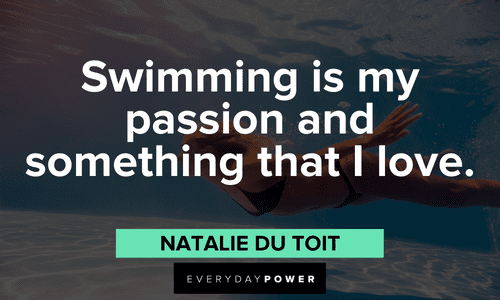 25. "I was scared of water, so I learnt swimming."– Geeta Phogat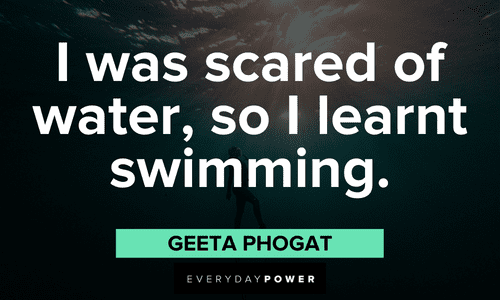 26. "Swimming is one of the hardest sports." – Stephanie Rice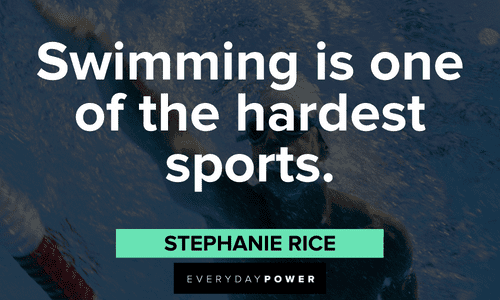 27. "You cannot swim for new horizons until you have courage to lose sight of the shore." – William Faulkner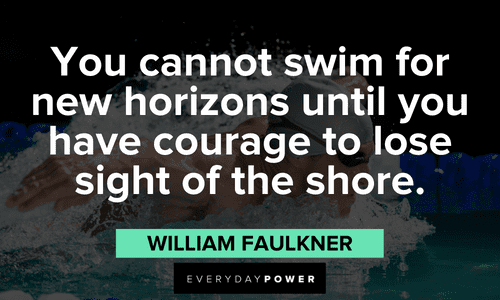 28. "I drank to drown my sorrows, but the damned things learned how to swim." – Frida Kahlo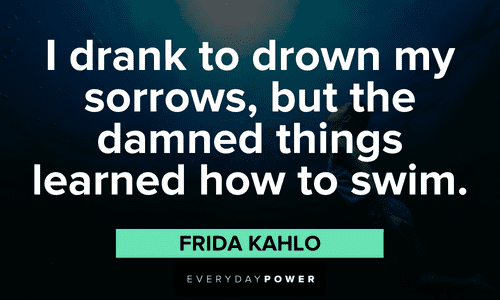 29. "On matters of style, swim with the current, on matters of principle, stand like a rock." – Thomas Jefferson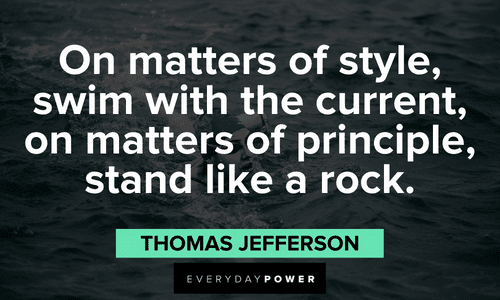 30. "She kept swimming out into life because she hadn't yet found a rock to stand on." – Barbara Kingsolver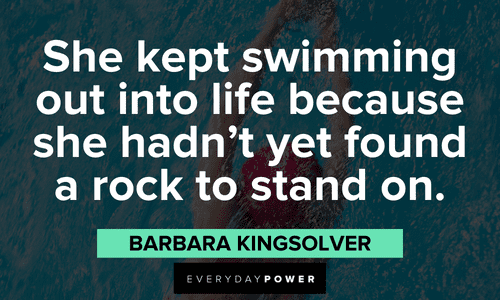 Swimming quotes to inspire and motivate
31. "For myself, losing is not coming second. It's getting out of the water knowing you could have done better. For myself, I have won every race I've been in." – Ian Thorpe
32. "Believe in yourself, not only in swimming but in life itself. You always have to have fun. You have to have an open mind. If you're not enjoying it, don't do it. Life's too short." – Debbie Meyer
33. "The water is your friend…..you don't have to fight with water, just share the same spirit as the water, and it will help you move." – Alexandr Popov
34. "I told myself there was no way I was going to let this training go to waste. It was my time, and I was ready to go." – Katie Hoff
35. "In most sports, they have a physical effect on your performance, in swimming only psychological. If you worry about what your rival is doing, you take your mind off what you are doing and so fail to concentrate on your performance." – Bachrach
36. "It's unbelievable I'm swimming so fast. I went in with no expectations. I just went out hoping to get a personal best. I went out there with a smile, just to have fun and see what would happen." – Jade Edmistone
37. "To have faith is to trust yourself to the water. When you swim you don't grab hold of the water, because if you do you will sink and drown. Instead, you relax, and float." – Alan Watts
38. "I've just been enjoying the training a bit more. I've put too much pressure on myself in the past. Just relax and let it come. I just went out there to have a bit of fun tonight." – Sophie Edington
39. "When you prepare for something, it's like jumping into cold water, but you're prepared. You jump in. And you start swimming, or if you don't swim, you drown." – Rza
40. "I swam the race like I trained to swim it. It is not mathematical. I just let my body do it. It is a lot easier if you let your body do what it is trained for." – Ian Thorpe
Swimming quotes to motivate you
41. "Swimming is a confusing sport, because sometimes you do it for fun, and other times you do it to not die. And when I'm swimming, sometimes I'm not sure which one it is." – Demetri Martin
42. "I love to watch the movement of light on water, and I love to play in rivers and lakes, swimming or canoeing. I am fascinated by people who work with water – fishermen, boatmen – and by a way of life that is dominated by water." – Berlie Doherty
43. "Somehow I kept my head above water. I relied on the discipline, character, and strength that I had started to develop as that little girl in her first swimming pool." – Esther Williams
44. "Do activities you're passionate about – which make your heart and soul feel perky – including things like working out, cooking, painting, writing, yoga, hiking, walking, swimming, being in nature, being around art, or reading inspiring books." – Karen Salmansohn
45. "I know I've made huge gains in my confidence and knowing more about my racing and myself as a person. That has made me a better athlete." – Libby Lenton
46. "Tonight was not about winning, it was about focusing on myself and what I was aiming to do. It's the reason why I was able to swim so well." – Libby Lenton
47. "I have been visualizing myself every night for the past four years standing on the podium having the gold placed around my neck." – Megan Quann
48. "We shall not be happy unless we live like good animals, unless we enjoy the exercise of the ordinary functions of life: eating, sleeping, loving, walking, running, swimming, riding, sailing." – William Morris
If you're enjoying these quotes, you'll love our collection of exercise quotes to inspire long term thinking.
49. "My preference is swimming in the sea. I find the sea is more liberating, wild and good fun rather than plodding up and down a pool." – Jo Brand
50. "Mainly, I like to have fun. Swimming is all about having fun, and I am a firm believer that you should keep swimming as long as you are having fun, but I can say that it becomes much more fun as you get older and learn more about the sport, life, and especially more about yourself." – Scott Goldblatt
More swimming quotes
51. "Water was something he loved, something he respected. He understood its beauty and its dangers. He talked about swimming as if it were a way of life." ― Benjamin Alire Sáenz
52. "When you truly sing, you sing yourself free. When you truly dance, you dance yourself free. When you walk in the mountains or swim in the sea, again, you set yourself free." ― Jay Woodman
53. "Swimming is normal for me. I'm relaxed. I'm comfortable, and I know my surroundings. It's my home." – Michael Phelps
54. "I love going to the beach and swimming in the ocean. I think it's so relaxing. It's also a great form of active recovery. It's perfect for those rest days when you still want to move a little bit." – Eugenie Bouchard
55. "The most risky day in the world will be the day the bird will decide to swim and the fish will decide to fly. Stay glued to what you can do." ― Israelmore Ayivor
56. "When you are learning swimming, try to swim like a fish! Target the best so that you can always easily reach good and better!" ― Mehmet Murat ildan
57. "People who swim very well in troubled waters are respected and celebrated than those who swim excellently in calm waters." – Israelmore Ayivor
Swimming quotes for water lovers
58. "Most of us, swimming against the tides of trouble the world knows nothing about, need only a bit of praise or encouragement – and we will make the goal." – Robert Collier
59. "I concentrate on preparing to swim my race and let the other swimmers think about me, not me about them." – Amanda Beard
60. "Swimming has its educational value – mental, moral, and physical – in giving you a sense of mastery over an element, and of power of saving life, and in the development of wind and limb." – Robert Baden-Powell
61. "I want to test my maximum and see how much I can do. And I want to change the world of swimming." – Michael Phelps
62. "To achieve fitness one need not hit the gym. One can always opt for any sport: yoga, jog, swimming, and much more. The idea is to do something that not only burns calories but relieves stress as well." – Milind Soman
63. "On matters of style, swim with the current, on matters of principle, stand like a rock. – I can't really do the running on hard ground that I used to do. Instead, I go swimming as often as possible." – Jamie Dornan
64. "Swimming is a life-saving skill, so just the fact that the sport that I love can give so much back to other people – and inspire them to join something that they never thought they could do or go after their dreams – is something that is really special to me." – Simone Manuel
65. "Enjoy swimming for swimming's sake. We have to spend far too much time in the water to not enjoy the process of challenging yourself of moving through the water." – Jeff Rouse
66. "If you want to learn to swim, jump into the water. On dry land, no frame of mind is ever going to help you." – Bruce Lee
67. "Swimming is about the mind too. To find rhythm in the water is to discover a new way of being in the world, through flow." – Bonnie Tsui
Swimming quotes that will encourage you
68. "Being happy outside the pool means fast swimming in the pool." – Eric Shanteau
69. "You are always racing against the other swimmers, but I always try to just focus on what I'm doing and how I want to swim my races." – Katie Ledecky
70. "It's a beautiful thing, diving into the cool crisp water and then just sort of being able to pull your body through the water and the water opening up for you." – Dawn Fraser
71. "If you're scared to lose rather than excited to win, then that's the wrong way to approach a race." – Cate Campbell
72. "It's easy to forget when you're an elite athlete that everyone else gets nervous as well. Even the best people in the world, at whatever they do, they're still nervous." – Leisl Jones
73. "I knew I had all kinds of work to do and I left no stone unturned. But on the day I actually got to the Olympics there was this incredible, overwhelming, feeling that someone has to win this race and why not me?" – Mark Tewksbury
74. "In Athens I was 17 and I didn't have any expectations. I was just swimming fast and racing everybody." – Laure Manaudou
75. "The best swimmers are the ones that almost don't try the most… It's just about relaxing and enjoying it." – Cate Campbell
76. "Never worry about what anyone else is doing…Just swim your own race." – Dara Torres
77. "I've swum for my country, I've swum for my coaches and my schools and my teams. I decided this time I was going to swim for myself." – Janet Evans
Swimming quotes about life
78. "You may not see the ocean, but right now we are in the middle of the ocean, and we have to keep swimming." – Tracy Kidder
79. "Let them think what they liked, but I didn't mean to drown myself. I meant to swim till I sank — but that's not the same thing." – Joseph Conrad
80. "I love to exercise outside in the fresh air and sun: hiking, swimming, stand-up paddleboarding, and jogging." – Colbie Caillat
81. "Many people cycle or swim to keep trim. But if swimming is so good for the figure, how do you explain whales?" – Charles Saatchi
82. "I want people to see the passion I have for swimming and become more involved in the sport." – Ryan Lochte
83. "To me, the sea is like a person – like a child that I've known a long time. It sounds crazy, I know, but when I swim in the sea, I talk to it. I never feel alone when I'm out there." – Gertrude Ederle
84. "Fate is never fair. You are caught in a current much stronger than you are; struggle against it and you'll drown not just yourself but those who try to save you. Swim with it. and you'll survive" – Cassandra Clare
85. "Even when I'm dead, I'll swim through the Earth, like a mermaid of the soil, just to be next to your bones." – Jeffrey McDaniel
86. "I have often wanted to drown my troubles, but I can't get my wife to go swimming." – Jimmy Carter
87. "Don't wait for your ship to come in, swim out to it." – Cathy Hopkins
Swimming Quotes To Give You That Extra Push
88. "I'm always swimming forward like a shark. You just keep going and you don't rest. I love waking up knowing that I have a problem to solve." ― Nile Rodgers
89. "When you retire, you don't get fat and old. C'mon: it's like a shark. Sharks never stop swimming; that's when they die. You gotta keep moving." ― Reggie Miller
90. "Swimming gave me my start, but my pal Tarzan did the real work. He set me up nicely." ― Johnny Weissmuller
91."If your ship doesn't come in, swim out to it." ― Jonathan Winters
92. "Traveling to swimming meets took me beyond my small-town existence, gave me a hint of the exciting world outside of my own home." ― Esther Williams
93. "I've enjoyed training again, I've enjoyed pushing myself in the pool and I'll keep on swimming until I feel I cannot get any more out of myself." ― Ian Thorpe
94. "Inside I'm treading water steady tryna swim ashore." ― Drake
95. "There are younger, stronger swimmers… I can't influence what they do… I know how greedy I am to defend my title." ― Kirsty Coventry
96. "I love sailing and water sports; whether it's water skiing, body boarding or surfing or simply swimming in the ocean." ― Karolina Kurkova
97. "Dance with the waves, move with the sea. Let the rhythm of the water set your soul free." ― Christy Ann Martine
Swimming quotes Instagram
98. "If you want me to swim fast, you have to let me enjoy my life." – Amanda Beard
99. "Swimming might be the closest to flying a human being can get."― Elizabeth Acevedo
100. "Excellence eliminates doubt." – Anne Ottenbrite
101. "When you are learning swimming, try to swim like a fish!"― Mehmet Murat ildan
102. "I ache to swim again. Walking's for mammals."― Shaun Hick
103. "Masterful practice leads to success. If you constantly repeat and strengthen your mistakes in swimming, how can you expect better results?"― Piotr J. Kober
104. "I hate to lose. I like winning."― Ryan Lochte
105. "Swimming was the opposite of panic attack. Fluid and calm and quiet."― John Corey Whaley
106. "Most men will not swim before they are able to."― Herman Hesse
107. "A good swimmer is one who knows how to swim through the river of life without drowning."― Michael Bassey Johnson
Swimming Quotes To Relax Your Body
108. "The only thing I can worry about is my swimming pool and keeping the leaves out of my swimming pool. I can't worry about what's happened to my neighbors." — Cheo Hodari Coker
109. "I'm swimming every day and I'm even trying to get the golf swing working again – but that might take a little bit longer." — Sean Connery
110. "Those big blue eyes were swimming, and he was afraid that if the first tear fell, he would break and carry her off anywhere she wanted to go." — Nora Roberts
111. "Rosemary felt that this swim would become the typical one of her life, the one that would always pop up in her memory at the mention of swimming." — F. Scott Fitzgerald
112. "I try to keep myself busy. I always hang out with my family and friends and my dogs. Go to the beach. Go swimming. Go get exercise. Go on a hike." — Colbie Caillat
113. "I've got a swimming pool and I pretend to be like a mermaid, like in the middle of the night. It kind of de-stresses me." — Rebel Wilson
114. "I lead a very physical life. I played a lot of sports and I spent a lot of time in the water surfing, swimming. I was a big swimmer." — Dustin Clare
115. "I think for most people it's hard to understand what it is about swimming – I mean, it's such a solo endeavour." — Stephanie Rice
116. "Some people give their problems swimming lessons instead of drowning them." — Mark Twain
117. "It really helps if you've got something like cycling, walking, running or swimming that can let your body release all that tension and keep your muscles fit." — Paul Rankin
Swimming Quotes To Cool Your Body in the Pool
118. "It's like swimming, underwater, this whole year. I just close my eyes. hold my breath, and keep kicking." ― Laura Moriarty
119. "We are swimming on the face of time and all else has drowned, is drowning, or will drown." ― Henry Miller
120. "You have to have other things in your life apart from swimming to focus on. It's not going to be just swimming in my life." ― Jazmin Carlin
121. "We are swimming on the face of time and all else has drowned, is drowning, or will drown." ― Henry Miller
122. "I just want one day off when I can go swimming and eat ice cream and look at rainbows." ― Mariah Carey
123. "My fitness routine includes things that are not stressful on my body – swimming, yoga, stretching, and rebounding." ― Laura Prepon
124. "I'm swimming in your cadences that you permeate my very language." ― David Levithan
125. "Some people dream of having a big swimming pool. With me, it's closets." ― Audrey Hepburn
126. "My head is my favorite swimming pool." ― Lauren DeStefano
127. "Getting outdoors is always fun. In the summertime, I like to go waterskiing and swimming; during the winter, I'll sometimes go jogging or hiking." ― Josie Ho
What are your favorite swimming quotes about diving in without fear?
Never give up on your swimming and diving dreams.
If you believe in yourself and have the swimming skills, you can go the distance and reach your goals.
These swimming quotes will motivate you and encourage you to pursue your passion.
These inspirational quotes are proof that swimming is a way of life for many people.
The motivational quotes from the minds of famous swimmers will help you learn more about their philosophies and perspectives.
Once you understand that swimming can be considered a lifestyle, you will begin to view this exercise in a different light.
Share this list of amazing quotes with all the swimmers in your life to highlight what swimming has taught you.
What are your favorite swimming quotes and sayings about getting your feet wet?
Let us know in the comment section below