Meaningful Love Your Life Quotes To Make You Appreciate All That You Have
August 30, 2022 7:30 AM EST
Listen to article
4 minutes
In case you forgot, these love your life quotes will remind you of all the beauty in the world around you despite what you're going through.
Life has so much to offer.
We should all open our eyes to the beauty around us and appreciate all that we have.
Although the world isn't near perfect, there is so much reason to fall in love with your life.
Find things in your life to be grateful for and appreciate.
Remember, the happiest people aren't those with the most wealth, friends or power, but those who practice gratitude and focus on loving their lives.
Start loving your life because there are countless opportunities around you, the world is full of amazing people, and you still have so many new experiences ahead to look forward to.
We all go through hard times when we feel like it's the end of the world.
But even when everything seems to be going wrong, there's always something that's going right.
You just need to find it and bring it into your awareness.
To help you appreciate all that you have, below is our collection of inspirational, wise, and meaningful love your life quotes, love your life sayings, and love your life proverbs, collected from a variety of sources over the years.
Enjoy!
If you love this quote collection, read out our most popular quote article about short inspirational quotes for daily motivation.
If you need more inspirational quotes, check out our motivational quotes category page.
Meaningful Love Your Life Quotes To Make You Appreciate All That You Have
1. "If you look at what you have in life, you'll always have more. If you look at what you don't have in life, you'll never have enough." – Oprah Winfrey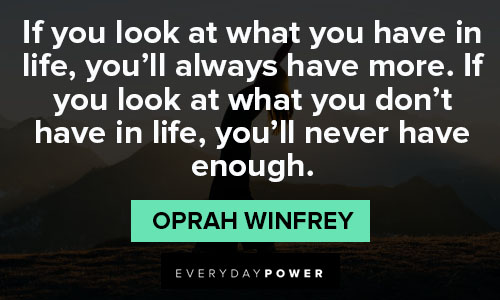 You will also enjoy our article on appreciation quotes.
2. "I think of life as a good book. The further you get into it, the more it begins to make sense." – Harold Kushner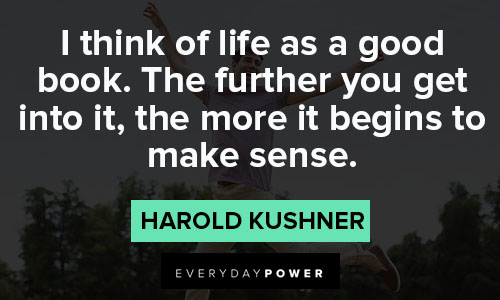 You will also enjoy our article on ex quotes.
3. "Beautiful memories are sensual memories, and they are created daily." ― Lebo Grand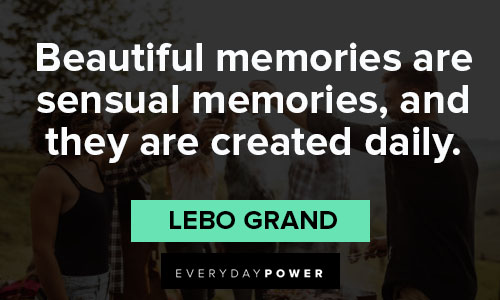 4. "I am blessed to have so many great things in my life – family, friends and God. All will be in my thoughts daily." – Lil' Kim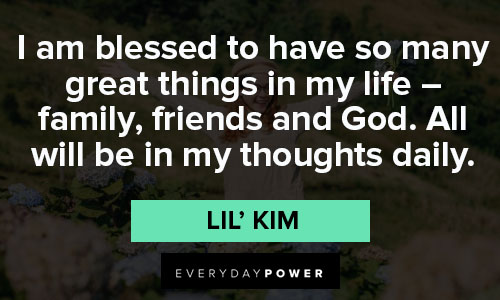 5. "Live your life in such a way that you can say "I love my life" and really mean it." ― TemitOpe Ibrahim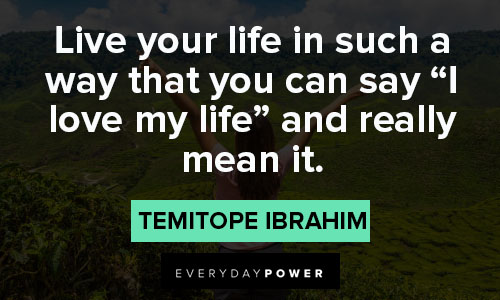 6. "Out of suffering have emerged the strongest souls; the most massive characters are seared with scars." – Kahlil Gibran

7. "My life has been a blessing. I'm grateful for everything I do have and the places I'm going and the things I've seen." – Leah LaBelle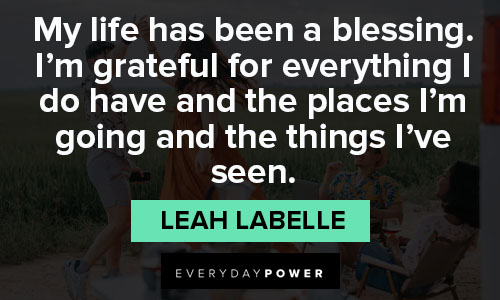 8. "Live each day as if your life had just begun." – Johann Wolfgang von Goethe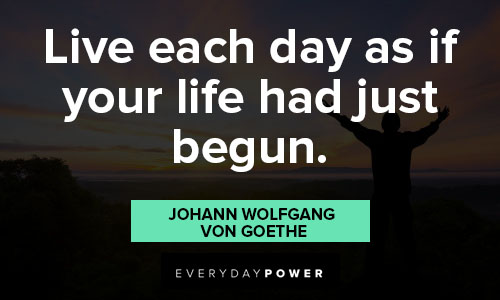 9. "Today is a certainty, tomorrow is a hope. Live in certainty and hope for the best tomorrow." ― Giridhar Alwar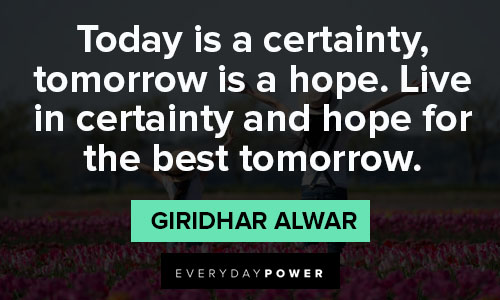 10. "My life has been a gift up to this point, and I've been blessed beyond my wildest imagination. And wherever this ride takes me is where I'm going." – Sean Hannity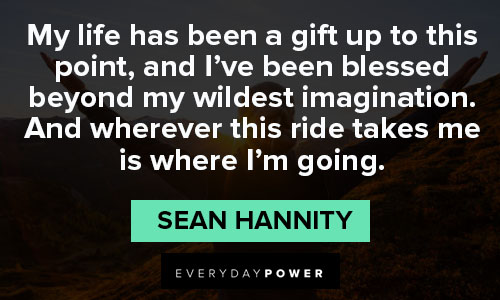 If you're enjoying these quotes, make sure to read our collection of blessed quotes to help you idenity the blessings in your life.
Love your life quotes to help you see the positive possibilities around you

11. "Keep love in your heart. A life without it is like a sunless garden when the flowers are dead."— Oscar Wilde

12. "Be happy with what have and are, be generous with both, and you won't have to hunt for happiness." – William E. Gladstone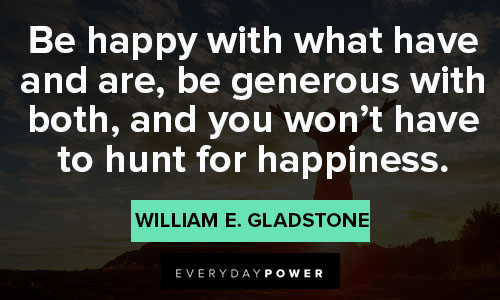 13. "Challenges are what make life interesting and overcoming them is what makes life meaningful." – Joshua J. Marine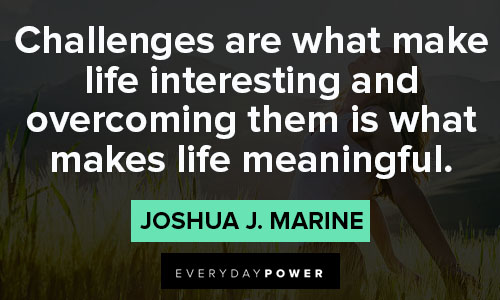 14. "Though no one can go back and make a brand-new start, anyone can start from now and make a brand-new ending." – Carl Bard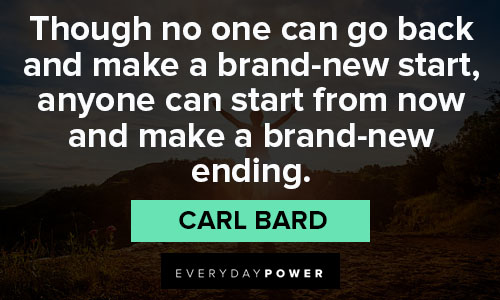 15. "I have found that if you love life, life will love you back." – Arthur Rubinstein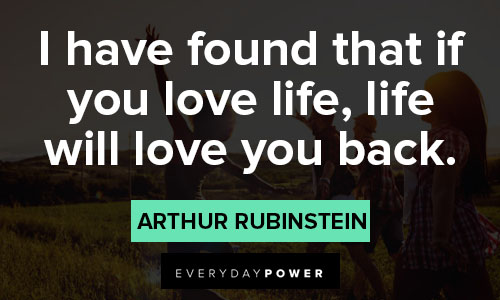 If you're enjoying these quotes, make sure to read our collection of love of my life quotes to help you celebrate the amazing people in your life.
16. "It's a funny thing about life, once you begin to take note of the things you are grateful for, you begin to lose sight of the things that you lack." ― Germany Kent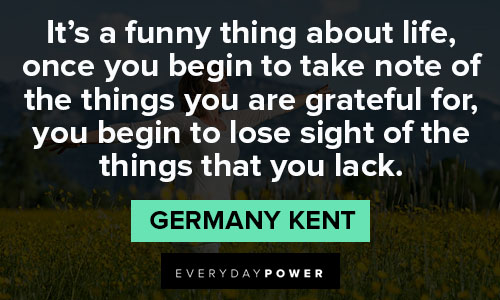 17. "Clouds come floating into my life, no longer to carry rain or usher storm, but to add color to my sunset sky." – Rabindranath Tagore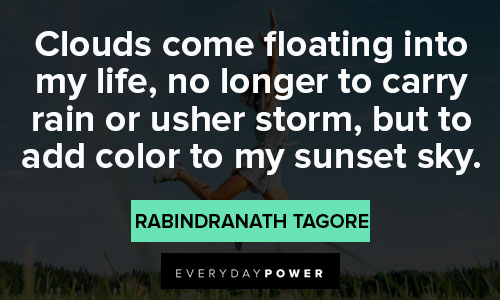 18. "When one door closes, another opens; but we often look so long and so regretfully upon the closed door that we do not see the one that has opened for us." – Alexander Graham Bell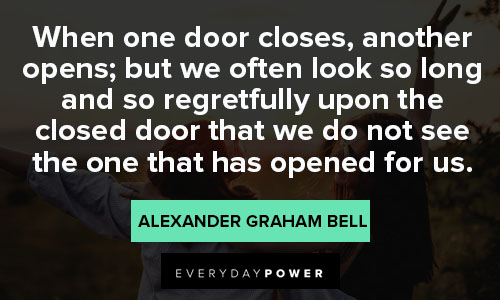 19. "Love your life and live it without competing with the next person, so that you can be the best person the world has ever had." ― Gift Gugu Mona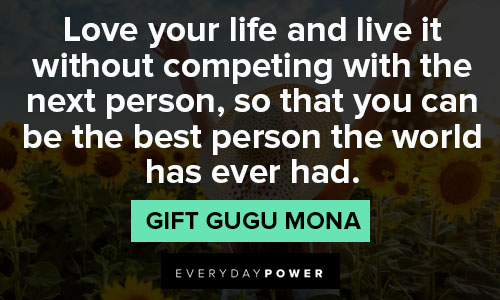 20. "People grow through experience if they meet life honestly and courageously. This is how character is built." – Eleanor Roosevelt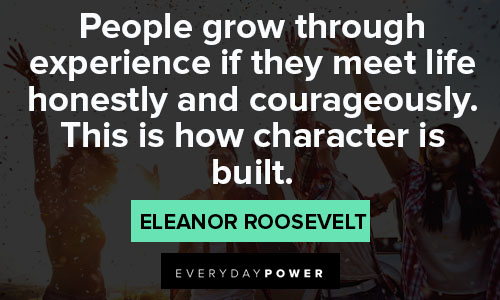 Love your life quotes that will open your eyes to the beauty around you

21. "Whether you think you can or you think you can't, you're right." – Henry Ford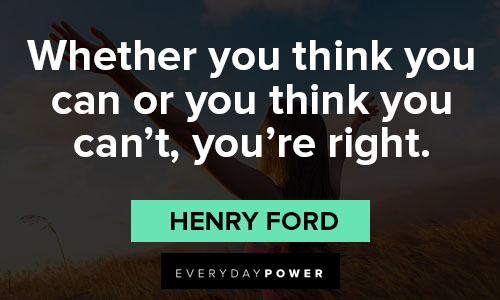 22. "The greatest thing about where my life is right now is it's very relaxed and chill. I'm just hanging out, being myself and doing my work." – Lucas Grabeel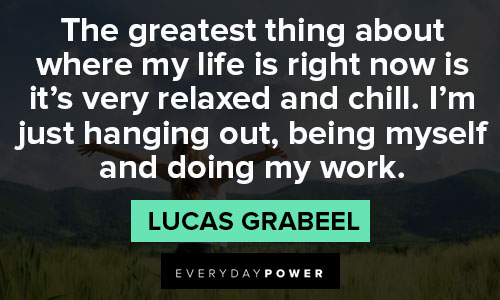 23. "I remember my mother's prayers and they have always followed me. They have clung to me all my life." – Abraham Lincoln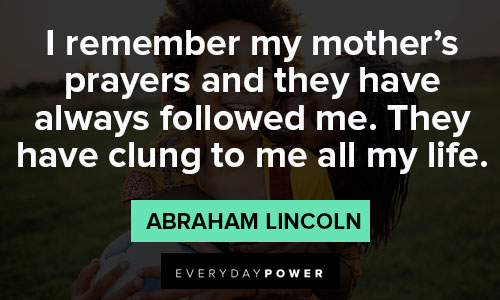 24. "Limitations live only in our minds. But if we use our imaginations, our possibilities become limitless." – Jamie Paolinetti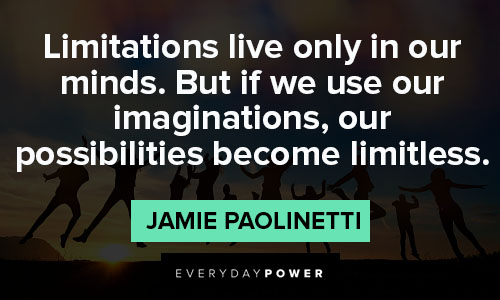 25. "Your time is limited, so don't waste it living someone else's life." – Steve Jobs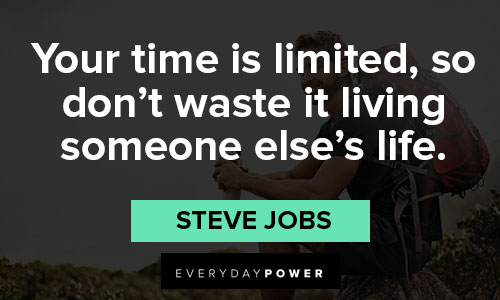 26. "It doesn't matter what others think. This is about YOU. Create a life that you genuinely love with your whole heart and start with yourself." ― Brittany Burgunder

27. "You can never cross the ocean until you have the courage to lose sight of the shore." – Christopher Columbus

28. "In the end, it's not the years in your life that count. It's the life in your years." – Abraham Lincoln

29. "Attitude and enthusiasm play a big part in my life. I get excited about the things that inspire me. I also believe in laughing and having a good time." – Dwayne Johnson

30. "The journey of a thousand miles begins with one step." – Lao Tzu
Love your life quotes to help you practice gratitude
31. "The sky is always there for me, while my life has been going through many, many changes. When I look up the sky, it gives me a nice feeling, like looking at an old friend." – Yoko Ono

32. "You have the approval of yourself. That's quite enough for we who know true inner peace! – Charmainism" ― Charmaine Smith Ladd

33. "You can never plan the future by the past." – Edmund Burke

34. "There is no royal road to anything. One thing at a time, all things in succession. That which grows fast, withers as rapidly. That which grows slowly, endures." – Josiah Gilbert Holland

35. "The only way to do great work is to love what you do." – Steve Jobs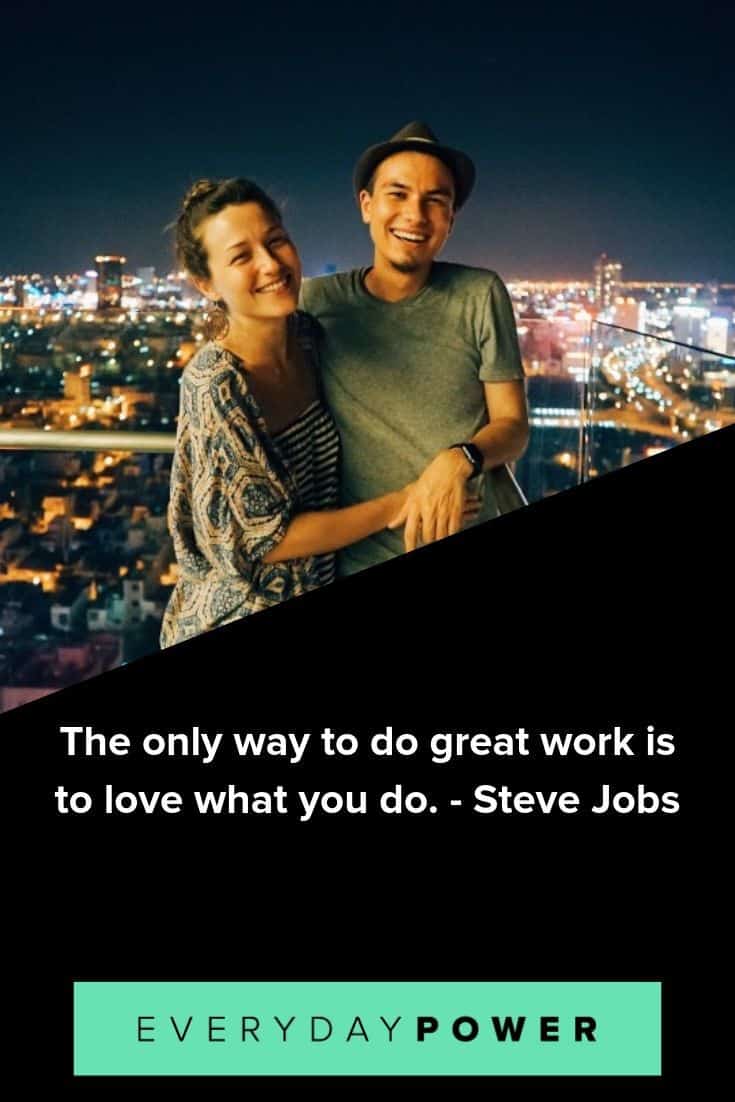 36. "Take a deep breath and pause for one minute without doing anything! There did you feel the magic?" ― Avijeet Das

37. "Look at the sparrows; they do not know what they will do in the next moment. Let us literally live from moment to moment." – Mahatma Gandhi
If you're enjoying these quotes, make sure to read our collection of living life in the moment quotes that will remind you to enjoy life today.

38. "Life is much more fun if you live it in the spirit of play and collaboration, working with instead of against others." – Wally Amos

39. "If you think fully embracing your sensuality is futile or risky imagine reaching the end of your life and realizing you haven't even started living." ― Lebo Grand

40. "Don't worry about failures, worry about the chances you miss when you don't even try." – Jack Canfield
Meaningful love your life quotes to inspire you
41. "Love yourself first and everything else falls into line. You really have to love yourself to get anything done in this world." – Lucille Ball

42. "I have been very blessed in my life and rewarded with good friends and good health. I am grateful and happy to be able to share this." – Eric Idle

43. "I am not what happened to me, I am what I choose to become." – C.G. Jung

44. "If you are truly in love with this world and your life, then you will lose the sense of angst." ― Debasish Mridha

45. "Life isn't about finding yourself. Life is about creating yourself." – George Bernard Shaw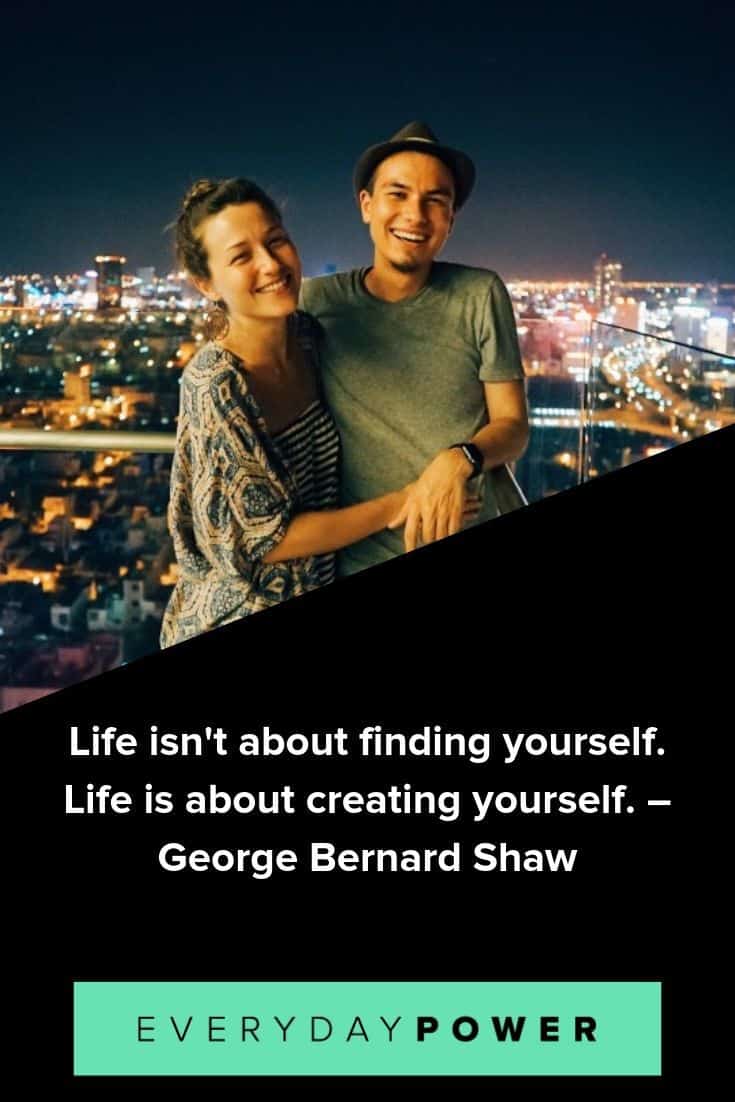 46. "My daughter is my biggest achievement. She is a little star and my life has changed so much for the better since she came along." – Denise Van Outen

47. "Life is not about how fast you run or how high you climb, but how well you bounce." – Vivian Komori

48. "I have so much chaos in my life, it's become normal. You become used to it. You have to just relax, calm down, take a deep breath and try to see how you can make things work rather than complain about how they're wrong." – Tom Welling

49. "The quality of a person's life is in direct proportion to their commitment to excellence, regardless of their chosen field of endeavor." – Vince Lombardi

50. "The purpose of life is to live it, to taste experience to the utmost, to reach out eagerly and without fear for newer and richer experience." – Eleanor Roosevelt
More love your life quotes and sayings
51. "Invest your time to know yourself. Things that are meant for you follow you in your way." – Giridhar Alwar
52. "It means much to have loved, to have been happy, to have laid my hand on the living Garden, even for a day." – Luis Borges
53. "The saddest part of love life is when you cannot live with and without the one you love." – Amit Abraham
54. "There is no better way to feel happier than to be content with who you are." – Dina Al-Hidiq Zebib
55. "If I learned one thing from my ride in this world thus far, it is never to take anything for granted." – Hagir Elsheikh
56. "Every morning is a new opportunity to enrich our lives and to understand and expand the best in our life." – Amit Ray
57. "If you cannot find a reason to be grateful for today, be grateful for you have the sky." – Dragos Bratasanu
58. "Life is like an echo; if you love life, it loves you back". – Debasish Mridha
59. "If you're looking for Mr. Perfect, you"re going to spend your whole life being disappointed, because he doesn"t exist. You have to get the best deal you can, but there will always be problems." – Linda Howard
60. "See the life through your heart, understand it by your mind and love it like your soul." – Amit Kalantri
Love Your Life Quotes To Keep You Going Strong
61. "Don't quit. Suffer now and live the rest of your life as a champion." – Muhammad Ali
62. "A dream is what makes people love life even when it is painful" – Theodore Zeldin
63. "Life is about accepting the challenges along the way, choosing to keep moving forward, and savoring the journey." – Roy T. Bennett
64. "Be brave enough to live the life of your dreams according to your vision and purpose instead of the expectations and opinions of others." – Roy T. Bennett
65. "Love the life you live. Live the life you love." – Bob Marley
66. "Live life to the fullest, and focus on the positive." – Matt Cameron
67. "After you have wept and grieved for your physical losses, cherish the functions and the life you have left." – Morrie Schwartz
68. "Unless you learn how to love yourself first, you will not be able to truly love anyone else" – Camilla Dorand.
69. "Though nobody can go back and make a new beginning… Anyone can start over and make a new ending." – Chico Xavier
70. "Don't grieve. Anything you lose comes around in another form." – Rumi
Love Your Life Quotes To Make You Celebrate Every Aspect
71. "I tend to say faith is believing in life, and as I love life, I try to do the best with it, make it as serene and joyous as possible." — Sandrine Bonnaire
72. "If you love life, don't waste time, for time is what life is made up of." — Bruce Lee
73. "We have one life and we should cherish it and make it the best we can." — David Morrissey
74. "The more you praise and celebrate your life, the more there is in life to celebrate." — Oprah Winfrey
75. "Someone who managed to navigate the tricky waters between living a life you could be proud of and still delighting in the many things there are to take pleasure in." ― Calvin Trillin
76. "You must not only exist in the world, live life." ― Lailah Gifty Akita
77."If there are things you don't like in the world you grew up in, make your own life different." — Dave Thomas
78. "Love life. Live your life with joy so you may fill the world with joy. Let no one leave your presence without feeling the joy of life." ― Debasish Mridha
79. "Be happy for this moment. This moment is your life." — Omar Khayyam
80. "Celebrate your life, this is your only life." ― Lailah Gifty Akita
Which of these love your life quotes was your favorite?
Too often we find more reasons to hate our lives than to appreciate what we have.
But regardless of your situation, there are so many reasons to be happy and love your life.
The life you live ultimately depends on you.
You can choose to focus on the negative, or you can choose to see the positive possibilities around you.
Hopefully, these quotes will open your eyes to the beauty of life.
Which of these love your life quotes resonated with you best?
Do you have any other favorite quotes to add?
Feel free to share your thoughts in the comment section below.