Skincare Quotes To Help You Keep Your Skin Glowing
March 14, 2023 5:00 AM EST
Listen to article
4 minutes
These skincare quotes are short and perfect for Instagram, but they are also filled with information from doctors and other skincare experts.
You might be surprised to learn that the skin is the largest organ of the human body—which is only one reason that skincare is so vital.
Tell us your favorite skincare quote in the comment section below.
You may also enjoy our article on:
According to a study by the American Academy of Dermatology, more than 85% of Americans suffer from acne at some point, and argues that taking care of your skin can help prevent acne and other skin problems.
Reading skin care quotes can motivate you to develop a skincare routine that works for you.
What are the benefits of reading these skincare quotes?
The purpose of skin is to protect the human body from things like bacteria, chemicals, and temperature extremes.
I always thought skincare was just an industry (and a little overrated) and constantly asked myself why I needed a skincare "routine."
However, I learned that there are actually a few benefits to having a solid skincare routine.
Primarily, a good skincare routine helps your skin stay in good condition.
Basically, it is your way of protecting it!
An effective routine can help prevent:
Acne
Treat and prevent wrinkles
Help keep your skin looking its best (and more youthful)
Taking care of your skin also helps prevent skin problems.
An ounce of prevention is worth a pound of cure and all that.
Who wouldn't like the confidence boost you get from healthy glowing skin?
Keep reading through these skincare quotes and learn just what you should include in a skincare routine.
Don't forget to also check out these self-care quotes on taking care of yourself.
Check out our most popular quote article, a list of short inspirational quotes for daily inspiration.
Our inspirational quotes category page has all of our motivational quotes for all the different areas of life.
Short skincare quotes
A study by the British Journal of Dermatology found that women who reported higher stress levels experienced more acne and other skin problems.
Reading skincare quotes can remind you to prioritize self-care and stress management in your daily life, leading to healthier, happier skin.
1. "Invest in your skin. It is going to represent you for a very long time." — Linden Tyler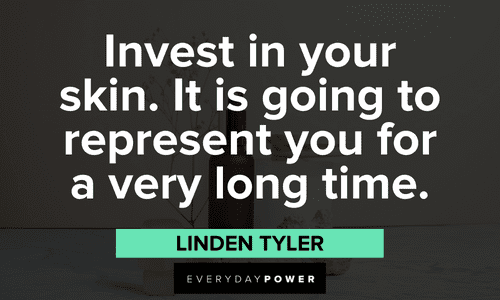 You will also enjoy our article on beauty quotes.
2. "Be good to your skin. You'll wear it every day for the rest of your life." — Renee Rouleau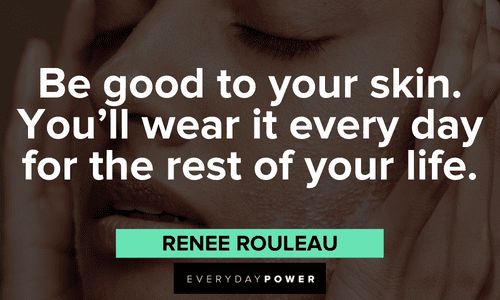 You will also enjoy our article on massage quotes.
3. "Beautiful skin requires commitment, not a miracle." — Erno Laszlo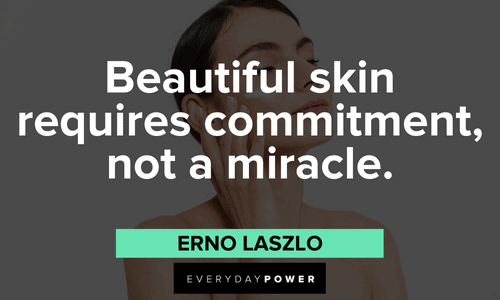 You will also enjoy our article on feeling lost quotes.
4. "Skincare must be good enough to eat!" — Joanna Runciman, The Radiant Woman's Handbook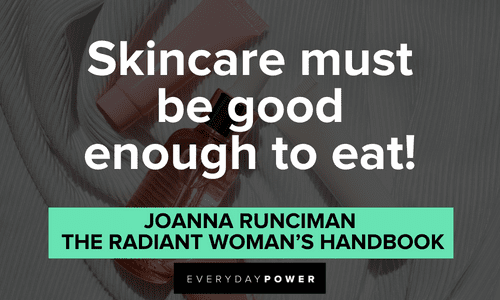 You will also enjoy our article on weekend quotes.
5. "Sleep, drink water, and treat your skin." — Georgia Louise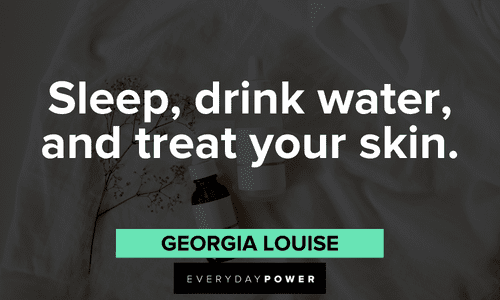 You will also enjoy our article on that 70s show quotes.
6. "Loving your skin isn't vanity, it's sanity." — Andre Gide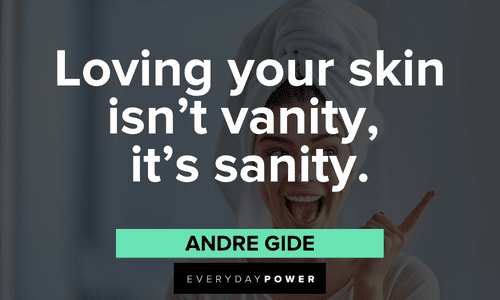 You will also enjoy our article on Thursday quotes.
7. "Good skincare is a lifetime commitment." — Georgia Louise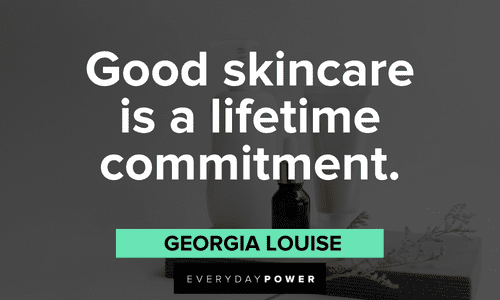 You will also enjoy our article on Inner Beauty Quotes.
8. "Happiness is a habit. So is your skincare." — Linden Tyler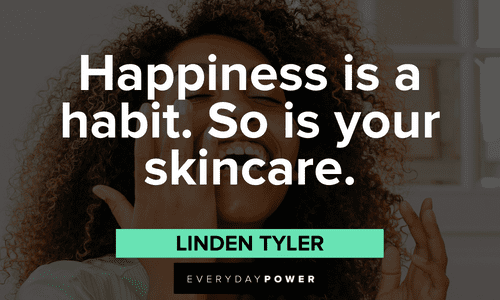 You will also enjoy our article on lavender quotes.
9. "Aging is a fact of life. Looking your age is not." — Dr. Howard Murad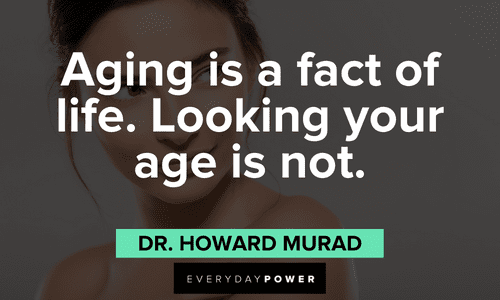 You will also enjoy our article on wellness quotes.
10. "Every person should learn to be their own skincare expert" — Bobbi Brown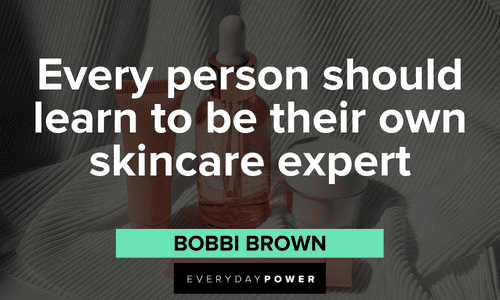 You will also enjoy our article on mothers day gifts.
Skincare quotes for Instagram
According to a study by the Journal of Investigative Dermatology, chronic sun exposure can lead to visible signs of aging, such as wrinkles and age spots.
Protecting your skin from the sun can help prevent these signs of aging and keep your skin looking youthful and healthy.
11. "You're never too old to become younger." – Mae West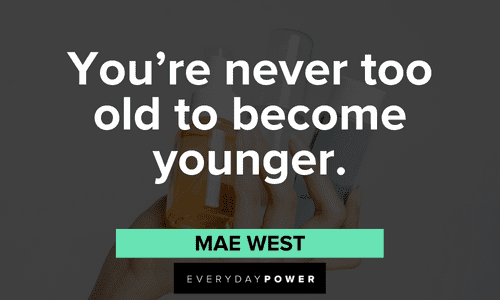 You will also enjoy our article on cell phone usage making you ugly.
12. "Skin care is so important, and I'm the craziest person about it." – Jeffree Star
13. "Filters are great, but skincare is better." — Renee Rouleau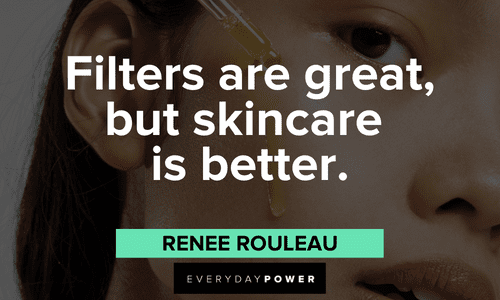 You will also enjoy our article on girl wash your face quotes.
14. "Wrinkles should merely indicate where smiles have been." – Mark Twain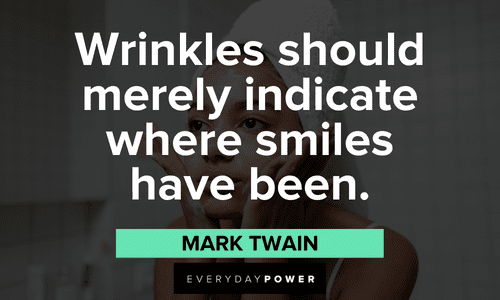 You will also enjoy our article on rose quotes.
15. "Beauty begins the moment you decide to be yourself." – Coco Chanel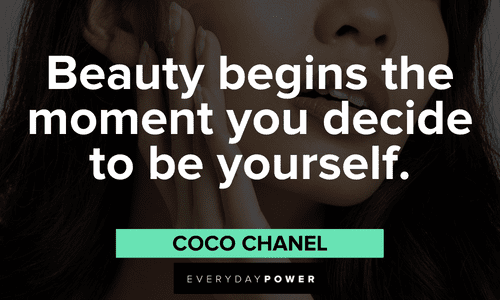 16. "Skincare is like a workout for your skin." ― Amit Kalantri
17. "Healthy skin is a reflection of overall wellness." — Dr. Murad.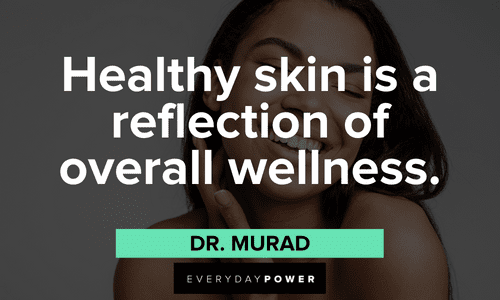 You will also enjoy our article on alcohol quotes.
18. "Makeup is the finishing touch, the final accessory." – Marc Jacobs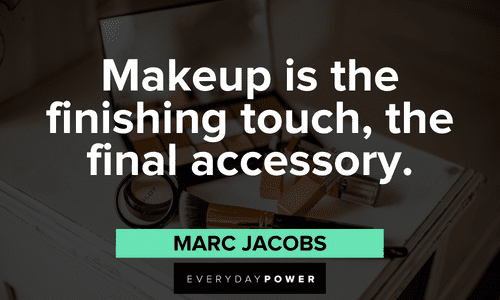 You will also enjoy our article on mask quotes.
19. "The best thing is to look natural, but it takes makeup to look natural." – Calvin Klein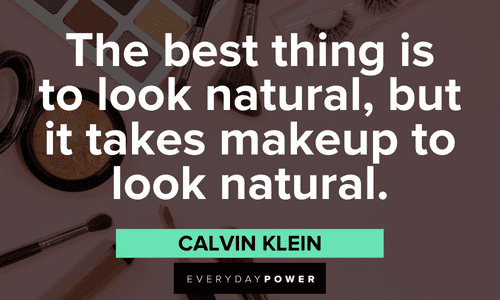 You will also enjoy our article on scars quotes.
20. "Whether I am wearing lots of makeup or no makeup, I am always the same person inside." – Lady Gaga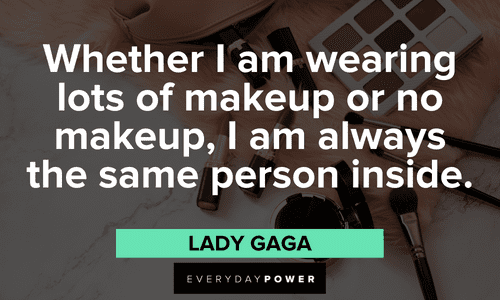 If you enjoy this article, check out our collection of melanin quotes about the versatile molecule.
Skincare quotes from celebrities
According to a study by the American Academy of Dermatology, nearly 85% of people between the ages of 12 and 24 experience some form of acne.
Addressing this common skin concern early can help prevent scarring and boost self-esteem, making it crucial to adopt a skincare routine tailored to one's specific needs.
21. "Nature gives you the face you have at twenty; it is up to you to merit the face you have at fifty." — Coco Chanel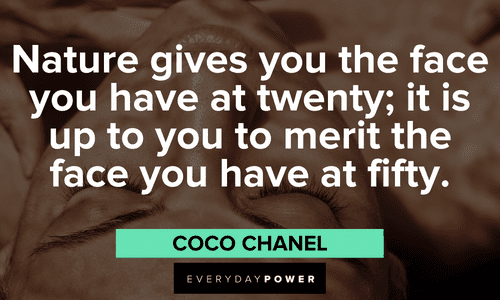 You will also enjoy our article on Fifty Shades of Grey quotes.
22. "I'm really into my skin looking naked. I'm trying to honor that my skin looks so good now and rock it." — Lizzo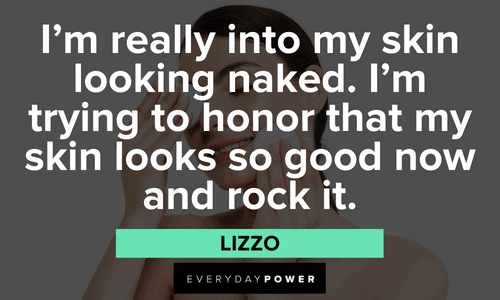 You will also enjoy our article on health quotes.
23. "I'm a big believer in that if you focus on good skincare, you really won't need a lot of make-up." — Demi Moore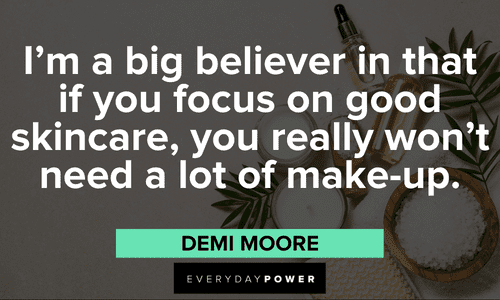 24. "Facials are my biggest beauty indulgence. Looking good is about having a good base. It's about taking care of your skin." — Halle Berry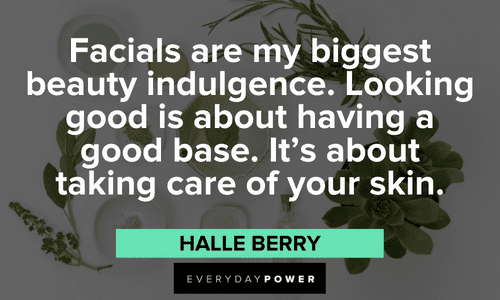 25. "I wouldn't mind spending a little more time and effort and money on good skincare." — Catherine O'Hara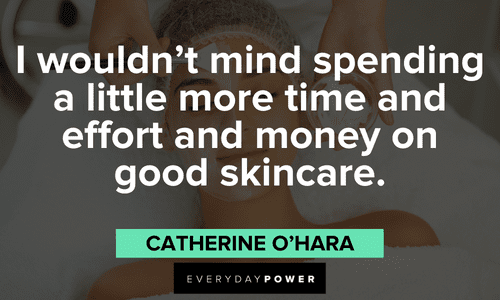 26. "To me, beauty is natural beauty. If you are naturally yourself, you are beautiful." – Young M.A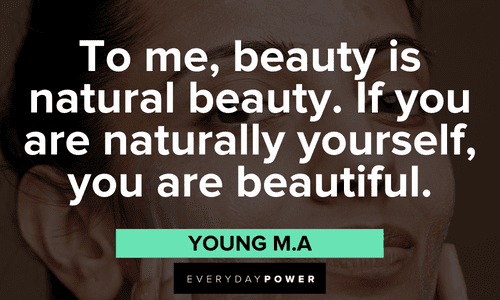 27. "Your skin is the fingerprint of what is going on inside your body and all skin conditions." — Dr. Georgiana Donadio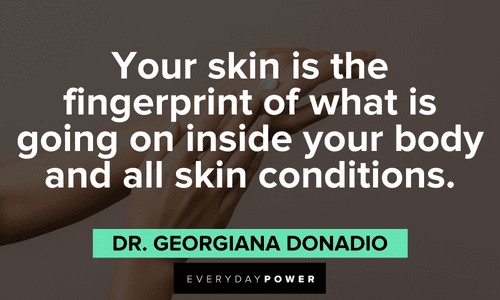 28. "Glowing skin is a result of proper skincare. It means you can wear less makeup and let skin shine through." — Michael Coulombe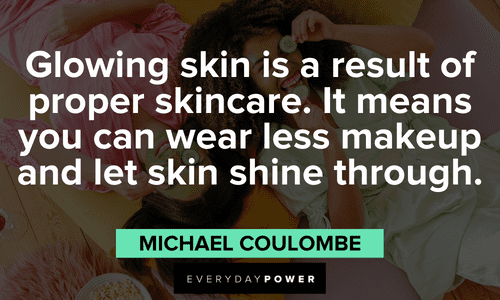 29. "Drink a bunch of water and get facials regularly. I take care of my skin." — Angela Bassett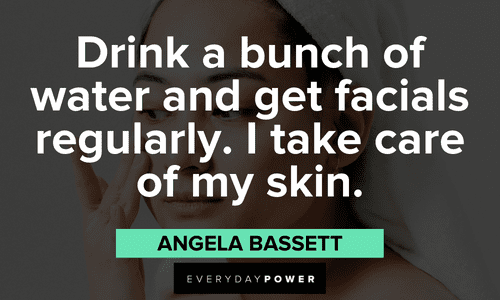 30. "I can't change the day I was born. But I can take care of my skin, my body, my mind, and try to live my life and be happy." — Olivia Munn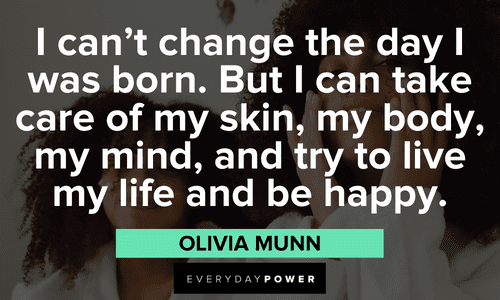 Check out our collection of scrub quotes if you enjoy this article.
Skincare quotes about overall health
Lastly, a report from the Global Wellness Institute states that the global skincare industry was valued at $134.5 billion in 2020 and is expected to continue growing.
This demonstrates the increasing demand for effective skincare products and highlights the importance of self-care in promoting overall health and well-being.
31. "It's not just what substances you put on your skin. Inappropriate inflammation is rooted in diet, how you handle stress, how you rest, and your exposure to environmental toxins." — Andrew Weil
32. "Take good care of your skin and hydrate. If you have good skin, everything else will fall into place." — Liya Kebede
33. "What is your skin trying to tell you? Often the skin is a metaphor for deeper issues and a way for your body to send up a red flag to warn you that all is not well underneath." — Dr. Judyth Reichenberg.
34. "Your skin is an organ – you would never harm your heart or lungs in order to approve them. The same goes for skin." – Dr. Dennis Gross
35. "For me, taking care of your skin is the most important step. You can cover it with all the makeup you have, and it's still not as nice as beautiful skin." — Astrid Berges-Frisbey
36. "Whenever I'm putting on skincare products… Sometimes it really feels like therapy. I'm taking care of my skin. I'm breathing in essential oils." — Aimee
37. "If you want sweeter-looking skin, sidestep the sugar. Sugar and highly refined carbohydrates, including white bread, white rice, French fries, and sugar-laded soda, can increase acne." — Leslie Baumann
38. "Self-care is an essential part of a healthy life. Essential oils figure in many at-home remedies to smooth the skin, soothe the spirit, and calm the mind." — Amy Leigh Mercree, Essential Oils Handbook
39. "Be patient. Your skin took a while to deteriorate. Give it some time to reflect a calmer inner state." — Jess C. Scott
40. "Massage is considered to be an effective method to strengthen the immune system, as it combines essential oil application with touch, entering through the largest organ in our bodies, our skin." — Amy Leigh Mercree, Essential Oils Handbook
Skincare quotes from doctors, writers, and other skin experts
In a survey conducted by the International Journal of Cosmetic Science, it was found that 72% of respondents felt more confident when they were satisfied with their skin's appearance.
This emphasizes the significant impact that maintaining a healthy skincare routine can have on an individual's overall well-being and self-confidence.
41. "Beauty is in the skin! Take care of it, oil it, clean it, scrub it, perfume it, and put on your best clothes, even if there is no special occasion, and you'll feel like a queen." — Fatima Mernissi
42. "Your skin has a memory. In ten, twenty, thirty years from now, your skin will show the results of how it was treated today. So treat it kindly and with respect." — Jana Elston
43. "In a polite society, a well-maintained skincare routine is one of life's great successes." — Violet Grey
44. "Skincare is like dieting. You have to invest time and effort. There is no instant miracle cure." — Karen Grant
45. "I encourage girls and women all over the world to love the skin they're in! Strive to have healthy looking skin, not perfect looking skin." — Stephanie Lahart
46. "The most valuable benefit of apple cider vinegar is that it helps to restore your skin's natural pH balance." — Amy Leigh Mercree, Apple Cider Vinegar Handbook
47. "Palmarosa is your skin's friend. Because it stimulates cellular regeneration, it is helpful in the prevention of wrinkles and in the treatment of scars." — Amy Leigh Mercree, Essential Oils Handbook
48. "Different skin types require different types of cleanser, but there is one common cleanser nobody should ever use: common bar soap." — Anthony Youn, The Age Fix
49. "For most of us, the most common and unfortunate side effect of skin problems is isolation. And it's hard for some of us to imagine that people can see the face – the person – behind the acne." — Yancy Lael
50. "Real skin has texture, pores, and even the occasional blemish. The goal is healthy skin, not perfect skin." — Sean Garrette
Skincare quotes to inspire you to look after your skin
51. "Don't forget that healing takes time. Don't expect to try meditation and a new skincare line and end up with perfect skin in a week. Give yourself the gift of time and patience." — Yancy Lael
52. "What was the one underlying cause of acne according to this patient, and to others who I talked to after that day? In patients' minds, they were somehow to blame for this whole ordeal." — Aarti Patel
53. "I'd rather invest in my skin than a handbag." – Georgia Louise
54. "A smile is the best makeup any girl can wear." – Marilyn Monroe
55. I believe that all women are pretty without makeup – but with the right makeup can be pretty powerful. – Bobbi Brown
56. "Whether I'm wearing lots of makeup or no makeup, I'm always the same person inside." – Lady Gaga
57. "Healthy skin is crucial for providing the right canvas for applying make up, to enhance natural beauty and create natural healthy looking skin." – Caroline Frazer
58. "Look after yourself from within, and your beauty will shine through on your skin." – Jana Elston
59. "Healthy skin is not an overnight process." – Kelsea Ballerini
60. "Sixties models knew nothing about skin care." – Marie Helvin
Skin Care Quotes To Help You Stick To The Routine
61. "A healthy skin assures a hearty smile." ― Amit Kalantri
62. "Take care of your skin and your confidence will take care of itself." ― Amit Kalantri
63. "Say good morning to your skin with this enchanting treat." ― Amy Leigh Mercre
64. "We believe beautiful skin means healthy skin." ― Alexa Smith
65. "Skin care is so much more important than makeup. Makeup is for when you're having fun and going out. But your skin is forever." — Halima Aden
66. "When it comes to skin care, I like to keep things simple. I'm not the type of person who runs out to have facials." — Chyler Leigh
67. "Like, I'm hyper-conscious about going to bed on time, and doing my seven-step skin care routine at night." — Gillian Jacobs
68. "I love skin care and actually wanted to be an esthetician for many years." — Ashley Rickards
69. "Always wash your face before you go to bed – skin care is key." — Kelsea Ballerini
Skincare Quotes To Help You Achieve a Glowing Skin
70. "I was looking for someone to formulate a skin care line I could use." ― Connie Sellecca
71. "When I began my search for the perfect skin care to fight the aging process, I noticed that my sensitive skin was reacting horribly to any product I used." ― Connie Sellecca
72. "I'm trying to be good with my skin care now that I'm getting older. I really do think it's from the inside – so exercise, hydration, sleep, sex." ― Gwyneth Paltrow
73. "My mom always told me drinking water was the most important skin care tip. I also think the less you do to your skin the better. I'm a fan of simple and natural products." ― Hailey Rhode Baldwin
74. "My own skin-care ritual is quite simple and straightforward; I don't like a lot of fuss, surprisingly. My products are designed to make you look and feel better. I think there are a lot of men out there who want and need the same products." ― Tom Ford
75. "Bronzer is a booster. Choose a shade that is one shade darker than your skin tone. It adds warmth and richness." ― Sam Fine
76."I keep up with everything in terms of health, fitness, nutrition, skin care, hair, nails. Really, everything. I'm an avid reader of every women's health newsletter from every hospital in the country." ― Evelyn Lauder
77. "Beauty is not in the face; Beauty is a light in the something you do daily." ― Mike Murdock
78. "I'm mildly obsessed with skin care. I do a lot of masks at home, like Elisha Coy's Korean Collagen masks. I also use an embarrassingly wide variety of facial creams." ― Nina Arianda
79. "I cleanse my face no matter how tired I am or how many martinis I have had that night." ― Romy Frydman
Skincare Quotes To Formulate A Skincare Routine
80. "The best foundation is your glowing skin." — Dr. Barbara Sturm
81. "Skin care is one of the most important things for the body and feeling good." — Denise Bidot
82. "Look after yourself from within and your beauty will shine through on your skin." — Shanina Shaik
83. "Good skin care is a lifetime commitment." — Georgia Louise
84. "There's an ideal beauty that is harder to define or understand, because it occurs not just in the body but where the body and the spirit meet and define each other." — Ursula K. Le Guin
85. "Korean skin care is about the daily and nightly routine, and I do it religiously." — Jessica Jung
86. "All the makeup in the world won't make a difference without great skincare." — Khloe Kardashian
87. "There are now skin products supposedly created with 24-karat gold extract. I guess if financial times got really tough, you could always pawn your own head." — Gina Barreca
88. "Because I've been around forever and ever, like wallpaper, people ask me for secret… it's the same with my skin care range; that's out of necessity. As soon as I saw the first signs, I bought everything in the market." — Lulu
89. "Beauty is an experience, nothing else. It is not a fixed pattern or an arrangement of features. It is something felt, a glow or a communicated sense of fineness." — D. H. Lawrence
Skin Care Quotes To Give You Confidence About Your Skin
90. "Be happy with being you. Love your flaws. Own your quirks. And know that you are just as perfect as anyone else, exactly as you are."— Ariana Grande
91. "My mother never wore makeup, but she taught me about inner beauty. She always told me to be kind to others and to be a good person." — —
92. "I commend women who wake up 30, 40 minutes early to put on eyeliner. I think it's ­beautiful. I'm just not that person." ― Mila Kunis
93. "It takes alot to shine without makeup; it takes courage, strength, self-esteem and a good serum." ― Hanya Marie
94. "A lot of people can do a killer eye, but if the foundation doesn't look flawless and fresh, then you're missing the whole point." — Amber Valletta
95. "I like my skin best when it's clean and glowy, and that comes from sleep, hydration, and happiness." — Tracee Ellis Ross
96. "If society is hard on you, fight back by pampering your skin. Skin is political. Otherwise why would the imams order us to hide it?" ― Fatima Mernissi
97. "I love wearing makeup! It's just that if you choose not to wear it, that's OK. And if you choose to wear it, that's OK as well." — Lilly Singh
98. "Live your Eyeliner, Breathe your Lipstick, and Kill for each other." — Lady Gaga
99. "Do your squats eat, your vegetables, wear red lipstick, [and] don't let boys be mean to you." — Kendall Jenner
Skin Care Quotes You Should Not Ignore
100. "Taking care of your skin is more important than covering it up." — Lady Gaga
101. "Beauty to me is about being comfortable in your own skin. That, or a kick-ass red lipstick." – Gwyneth Paltrow
102. "Professional skincare treatments are like oil changes for your car. Get them regularly." — Karen Grant
103. "Want beautiful skin? Consistency is the key." — Georgia Louise
104. "I try to do simple but effective things to keep my skin looking healthy and flawless. I drink tons and tons of water. Also, I believe in eating right. You are what you eat." — Anushka Sharma
105. "My skin care is really important." — Leigh-Anne Pinnock
106. "Skin care is massively important to me. My mom instilled that into my brain from a pretty young age." — Madelyn Cline
107. "Beauty is about being comfortable in your own skin. It's about knowing and accepting who you are." — Ellen DeGeneres
108. "It is right there, one of the first things people notice about us – our face." — Yancy Lael
109. "I was never someone who was able to afford all of this skin care. You jump on some of the trends because you expect them to work, and when they don't, it's really disappointing." — Tayshia Adams
Things you need for a good skincare routine
Like I mentioned before skincare is an industry, so there are a lot of products and options to choose from.
Just because skincare is important, doesn't mean you have to buy a bunch of expensive products.
However, there are a few basic things you should have handy in your bathroom.
The first thing you will need is a cleanser.
Experts recommend gentle, nonabrasive water-based cleansers that are alcohol and fragrance-free.
This will help keep your skin from getting too dry.
Exfoliants are also quite helpful but not essential.
Retinoids, derivatives of vitamin A compounds, can help with acne and reduce the appearance of fine lines and wrinkles.
Experts point out that you shouldn't be exfoliating and using retinoids in the same routine.
To avoid irritation exfoliate and use your retinoid on alternating days, or exfoliate in the morning and use the retinoid in the evening.
The next things are must-haves: moisturizers and sunscreen.
Moisturizers help draw and seal moisture into the skin.
This keeps your skin hydrated and helps it protect you better.
Sunscreen helps protect your skin from damaging UV rays.
Not only do UV rays cause accelerated signs of aging, but can also lead to cancer.
The bottom line here is that at a bare minimum we need to keep our skin healthy like we try to do with all our organs.
What's your biggest takeaway from these skincare quotes and sayings?
Share some of your favorite skincare routine tips and products with us in the comment section below.