Merry Christmas Quotes to Get You in the Holiday Spirit
There's something magical about the holidays, and these merry christmas quotes will get you in a festive mood!
Whether you're enjoying a white Christmas or are surrounded by palm trees, these Merry Christmas quotes will have you feeling cheerful, merry, and bright!
Ah, the holidays; time to spend with those we love and make memories that will last a lifetime.
There are many things to love about Christmas.
Tell us which Merry Christmas quote you liked the most in the comment section below.
What are the benefits of reading these Merry Christmas quotes?
For many of us, it's one of our favorite holiday seasons.
A time when people are more helpful and more loving, and smiles and laughter come from everyone.
Unfortunately, modern society has made the holidays all about presents and materialism, and it's especially atrocious during Christmas.
Many people seem to have forgotten the true meaning of the season.
You also enjoy our article on happy holiday quotes.
These Merry Christmas quotes will:
help you remember the reason for the season
remind you to be kind and giving
make you feel nostalgia and the magic of Christmas
But despite all the commercialism, always remember that Christmas is all about being a better, kinder person.
The gifts and food might be plentiful, but we should all reach down within ourselves to find the spirit of Christmas.
To help you embrace the season's true meaning, below is our collection of inspirational, beautiful, and magical Merry Christmas quotes and sayings.
Also, check out our list of funny Christmas quotes for more inspiration.
If you enjoy this article, check out our most popular quote article, a list of short inspirational quotes for daily motivation.
If you want more motivational quotes, check out our motivational quotes category page.
Merry Christmas Quotes to Get You in the Holiday Spirit
1. "The best of all gifts around any Christmas tree: the presence of a happy family all wrapped up in each other." – Burton Hills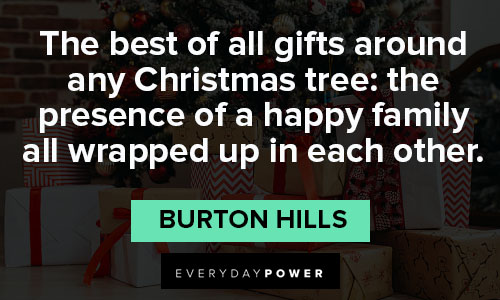 You will also enjoy our article on Grinch Quotes.
2. "Christmas gives us the opportunity to pause and reflect on the important things around us." – David Cameron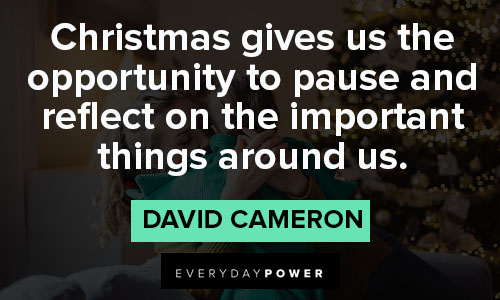 You will also enjoy our article on Christmas quotes.
3. "Each sight, each sound of Christmas, and fragrances sublime, make hearts and faces happy this glorious Christmas time." — Carice Williams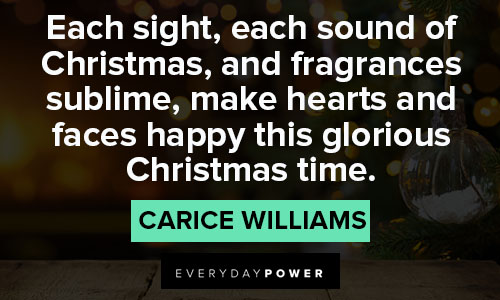 4. "Christmas day is a day of joy and charity. May God make you very rich in both." – Phillips Brooks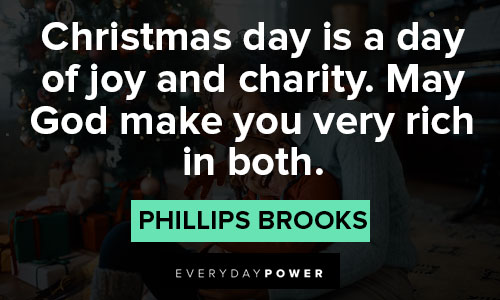 You will also enjoy our article on happy holidays quotes.
5. "Let us remember that the Christmas heart is a giving heart, a wide open heart that thinks of others first." — George Matthew Adams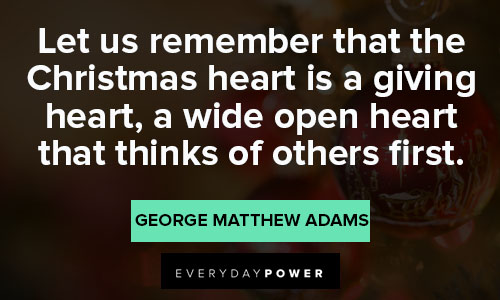 6. "Christmas is a good time to take stock of our blessings." — Pat Boone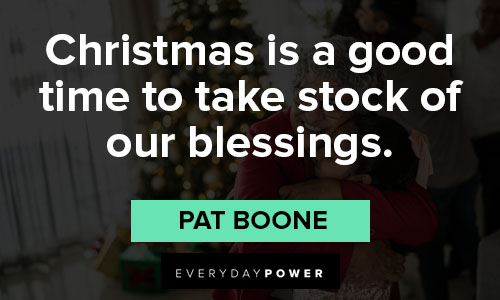 7. "One of the most glorious messes in the world is the mess created in the living room on Christmas day. Don't clean it up too quickly." – Andy Rooney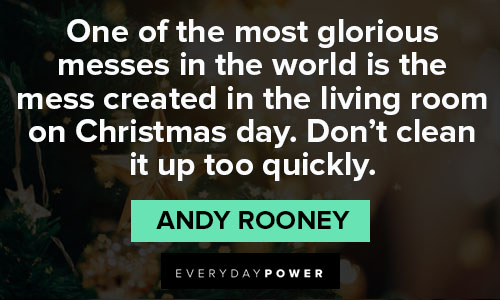 8. "From home to home, and heart to heart, from one place to another. The warmth and joy of Christmas bring us closer to each other." — Emily Matthews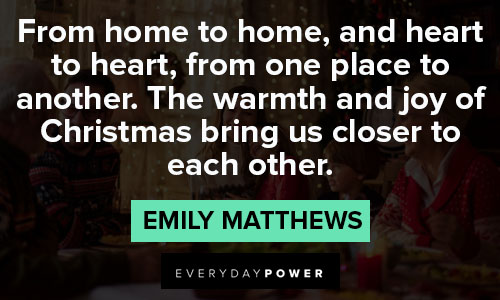 9. "This is the message of Christmas: We are never alone." – Taylor Caldwell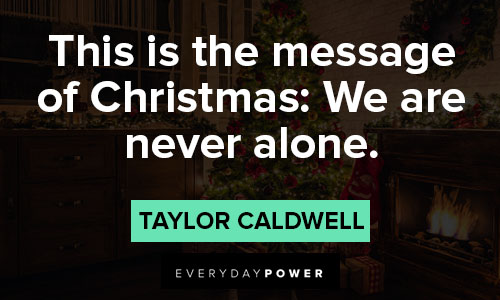 10. "Christmas is a tonic for our souls. It moves us to think of others rather than of ourselves. It directs our thoughts to giving." — B.C. Forbes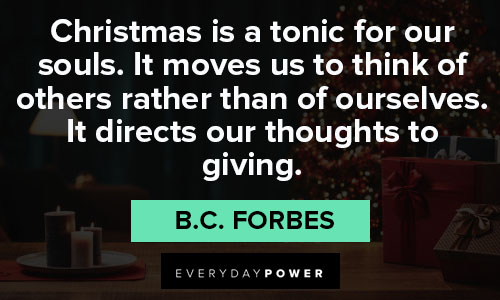 Merry Christmas quotes to bring more joy and happiness into your life
11. "There's nothing cozier than a Christmas tree all lit up." ― Jenny Han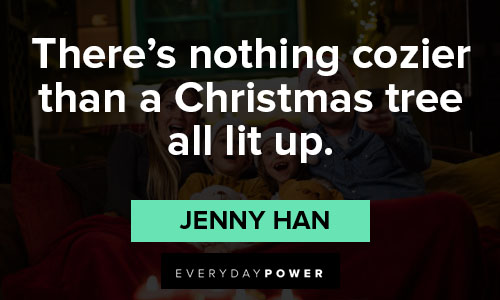 12. "Every gift which is given, even though it be small, is in reality great, if it is given with affection." – Pindar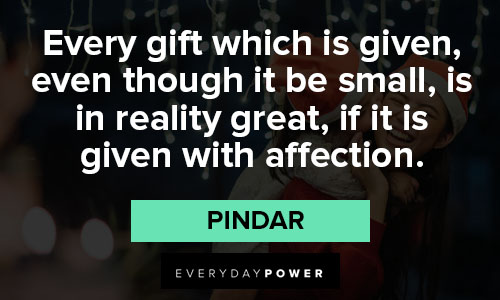 13. "Christmas now surrounds us, Happiness is everywhere. Our hands are busy with many tasks as carols fill the air." – Shirley Sallay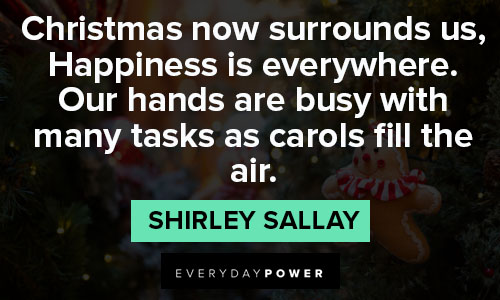 14. "Christmas waves a magic wand over this world, and behold, everything is softer and more beautiful." – Norman Vincent Peale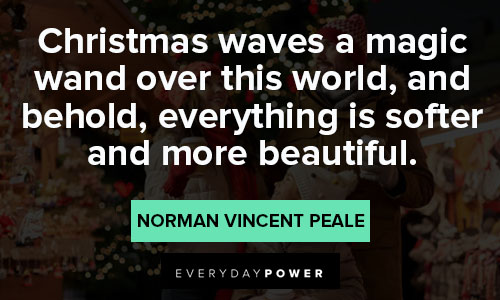 15. "Christmas is a box of tree ornaments that have become part of the family." – Charles M. Schulz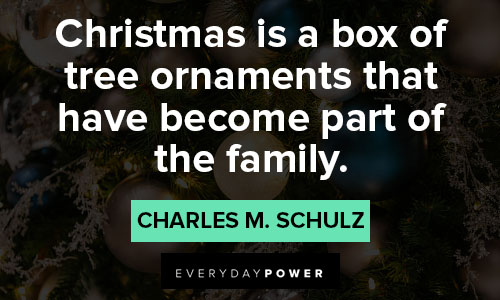 16. "May you have the gladness of Christmas which is hope; The spirit of Christmas which is peace; The heart of Christmas which is love." — Ada V. Hendricks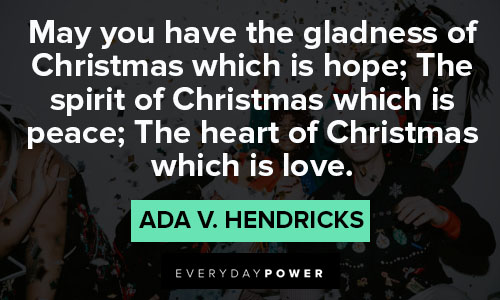 17. "Christmas is a season not only of rejoicing but of reflection." – Winston Churchill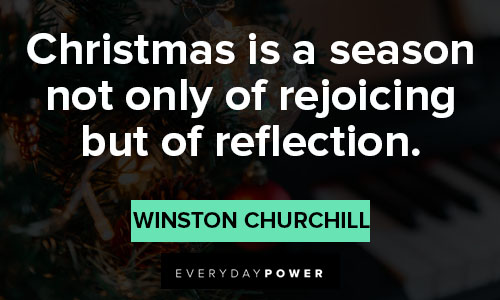 18. "Christmas is most truly Christmas when we celebrate it by giving the light of love to those who need it most." – Ruth Carter Stapleton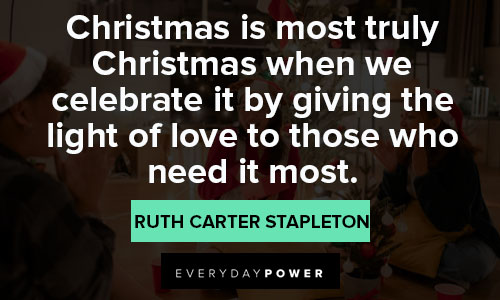 19. "Let us keep Christmas beautiful without a thought of greed." – Ann Garnett Schultz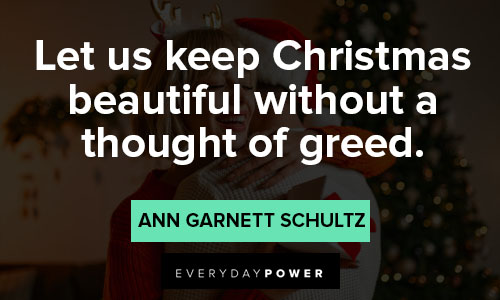 20. "Christmas is a day of meaning and traditions, a special day spent in the warm circle of family and friends." — Margaret Thatcher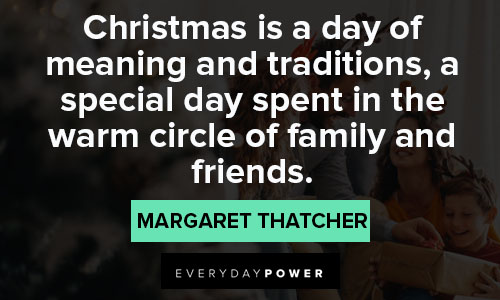 Merry Christmas quotes to help you find the true meaning of the season
21. "Christmas Day in the company of children is one of the few occasions on which men become entirely alive." — Robert Lynd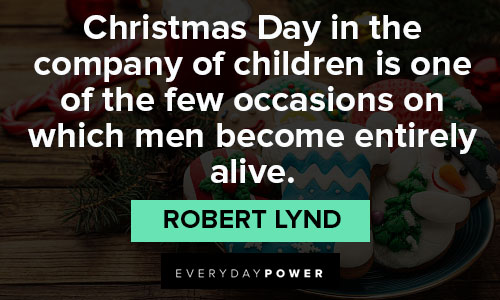 22. "There seems a magic in the very name of Christmas." – Charles Dickens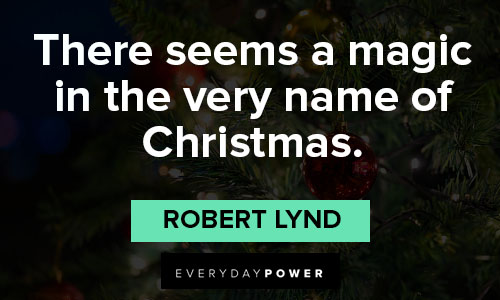 23. "The world has grown weary through the years, but at Christmas, it is young." – Phillips Brooks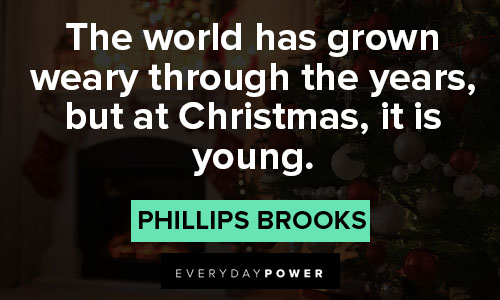 24. "What is Christmas? It is the tenderness of the past, courage for the present, and hope for the future." – Agnes M. Pahro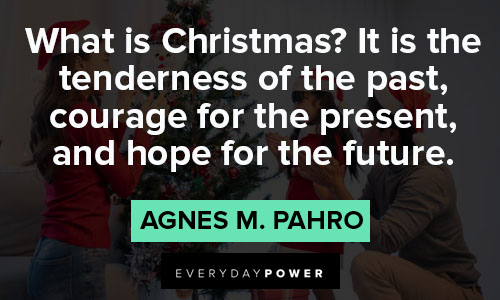 25. "Have yourself a merry little Christmas, let your heart be light. From now on, our troubles will be out of sight." — Hugh Martin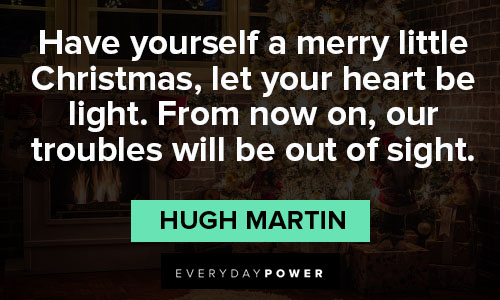 If you're enjoying these quotes, make sure to read our collection of elf quotes for the Christmas holiday.
26. "Christmas is not an external event at all, but a piece of one's home that one carries in one's heart." — Freya Stark
27. "Like snowflakes, my Christmas memories gather and dance — each beautiful, unique, and too soon gone." – Deborah Whipp
28. "Gifts of time and love are surely the basic ingredients of a truly merry Christmas." – Peg Bracken
29. "Christmas is doing a little something extra for someone." — Charles M. Schulz
30. "Christmas is a season for kindling the fire for hospitality in the hall, the genial flame of charity in the heart." – Washington Irving
Merry Christmas quotes to get you in a festive mood
31. "The best way to spread Christmas cheer is singing loud for all to hear." – Will Ferrell
If you're enjoying these quotes, you'll love our collection of Will Ferrell quotes to give you a good laugh.
32. "Christmas is forever, not for just one day. For loving, sharing, giving, are not to put away." – Norman Wesley Brooks
33. "Christmas is sights, especially the sights of Christmas reflected in the eyes of a child." — William Saroyan
34. "Christmas is not a time nor a season, but a state of mind. To cherish peace and goodwill, to be plenteous in mercy, is to have the real spirit of Christmas." – Calvin Coolidge
35. "The Christmas spirit is a spirit of giving and forgiving." – James Cash Penney
36. "Christmas may be a day of feasting, or of prayer, but always it will be a day of remembrance—a day in which we think of everything we have ever loved." – Augusta E. Randel
37. "Christmas is not as much about opening our presents as opening our hearts." – Janice Maeditere
38. "Christmas is like candy; it slowly melts in your mouth sweetening every taste bud, making you wish it could last forever." – Richelle E. Goodrich
39. "Remember this December, that love weighs more than gold." – Josephine Daskam Bacon
40. "I heard the bells on Christmas Day, their old, familiar carols play. And wild and sweet, the words repeat, of peace on earth, goodwill to men!" – Henry Wadsworth Longfellow
Merry Christmas quotes that will have you feeling cheerful
41. "That's what Christmas memories are made from, they're not planned, they're not scheduled, nobody puts them in their blackberry, they just happen." – Deck the Halls
42. "Peace on earth will come to stay, when we live Christmas every day." – Helen Steiner Rice
43. "Good news from heaven the angels bring, glad tidings to the earth they sing: To us this day a child is given, to crown us with the joy of heaven."— Martin Luther
44. "Christmas is a stocking stuffed with sugary goodness." — Mo Rocca
45. "Our hearts grow tender with childhood memories and love of kindred, and we are better throughout the year for having, in spirit, become a child again at Christmastime." – Laura Ingalls Wilder
46. "He who has not Christmas in his heart will never find it under a tree." – Roy L. Smith
47. "Mankind is a great, an immense family… This is proved by what we feel in our hearts at Christmas." — Pope John Paul XXIII
48. "There are no strangers on Christmas Eve." — Adele Comandini
49. "I wish we could put up some of the Christmas spirit in jars and open a jar of it every month." – Harlan Miller
50. "Christmas is a necessity. There has to be at least one day of the year to remind us that we're here for something else besides ourselves." — Eric Sevareid
If you're enjoying this article, make sure to check out these blessed quotes celebrating your everyday blessings.
Other Merry Christmas quotes and sayings
51. "It is Christmas every time you let God love others through you." – Mother Teresa
52. "Blessed is the season which engages the whole world in a conspiracy of love." – Hamilton Wright Mabie
53. "The way you spend Christmas is far more important than how much." – Henry David Thoreau
54. "Don't let the past steal your present. This is the message of Christmas: We are never alone." – Taylor Caldwell
55. "Christmas isn't a season. It's a feeling." – Edna Ferber
56. "I love the excitement, the childlike spirit of innocence and just about everything that goes along with Christmas." – Hillary Scott
57. "Christmas makes me happy no matter what time of year it comes around." – Bryan White
58. "Christmas is, of course, the time to be home – in heart as well as body." – Garry Moore
59. "Christmas is joy, religious joy, an inner joy of light and peace." – Pope Francis
60. "Christmas is the day that holds all time together." – Alexander Smith
Merry Christmas quotes for a joyful Yuletide season
61. "One can never have enough socks," said Dumbledore. "Another Christmas has come and gone and I didn't get a single pair. People will insist on giving me books." ― J.K. Rowling
62. "Then the Grinch thought of something he hadn't before! What if Christmas, he thought, doesn't come from a store. What if Christmas… perhaps… means a little bit more!" ― Dr. Seuss
63. "I will honor Christmas in my heart, and try to keep it all the year." ― Charles Dickens
64. "Want to keep Christ in Christmas? Feed the hungry, clothe the naked, forgive the guilty, welcome the unwanted, care for the ill, love your enemies, and do unto others as you would have done unto you." ― Steve Maraboli
65. "My idea of Christmas, whether old-fashioned or modern, is very simple: loving others. Come to think of it, why do we have to wait for Christmas to do that?" ― Bob Hope
66. "Christmas, children, is not a date. It is a state of mind." ― Mary Ellen Chase
67. "When we recall Christmas past, we usually find that the simplest things – not the great occasions – give off the greatest glow of happiness." ― Bob Hope
68. "A lovely thing about Christmas is that it's compulsory, like a thunderstorm, and we all go through it together." ― Garrison Keillor
69. "The smells of Christmas are the smells of childhood." ― Richard Paul Evans
70. "Christmas Eve was a night of song that wrapped itself about you like a shawl. But it warmed more than your body. It warmed your heart… filled it, too, with melody that would last forever." ― Bess Streeter Aldrich
Merry Christmas Quotes To Fill Your Hearts With Joy
71. "Christmas! The very word brings joy to our hearts." ― Joan Winmill Brown
72. "Bloody Christmas, here again, let us raise a loving cup, peace on earth, goodwill to men, and make them do the washing up." ― Wendy Cope
73. "There is no ideal Christmas; only the one Christmas you decide to make as a reflection of your values, desires, affections, traditions." ― Bill McKibben
74. "The rooms were very still while the pages were softly turned and the winter sunshine crept in to touch the bright heads and serious faces with a Christmas greeting." ― Louisa May Alcott
75. "Mail your packages early so the post office can lose them in time for Christmas." ― Johnny Carson
76. "O Christmas Sun! What holy task is thine! To fold a world in the embrace of God!" ― Guy Wetmore Carryl
77. "Christmas is all about surrender. It's all about the surrender of the Son to obey the perfect will of the Father and enter human history." ― Nancy Leigh DeMoss
78. "Time always seems long to the child who is waiting – for Christmas, for next summer, for becoming a grownup: long also when he surrenders his whole soul to each moment of a happy day." ― Dag Hammarskjold
79. "Heap on more wood! – the wind is chill; But let it whistle as it will, We'll keep our Christmas merry still." ― Walter Scott
80. "Only in souls the Christ is brought to birth, And there He lives and dies." ― Alfred Noyes
Did you enjoy these Merry Christmas quotes?
Christmas is one of the most wonderful times of the year.
There's family time, decorations, Christmas movies, presents, and much more.
Everyone is happy and friendly, and the giving mood is increased.
Rather than looking on the material side of the holidays, embrace the Christmas spirit and find the season's true meaning.
Hopefully, the quotes above have added to your memories and joy.
Did you enjoy these Merry Christmas quotes?
Which of the quotes is your favorite?
Let us know in the comment section below.
Also, don't forget to share with your friends and followers.