194 Family Quotes About Struggles And Love
A world without them would be unbearable. Read these family quotes to make you feel forever grateful.
The most precious gift you will ever have in life, these family quotes and sayings will remind you of those special beings you're bound together with.
Keep reading to discover quotes about family that you can share with those amazing people in your life who make your heart smile.
You may also enjoy our article on:
Irrespective of whether big or small, families are an important aspect of society.
To many people, family means everything.
Among other numerous benefits, our families provide us a sense of belonging, security, and more happiness and satisfaction.
And for those who can't provide for themselves, the family is tasked with helping meet their basic needs.
In many cases, only your family members will accept you for who you are.
Your family is your blood and it's the only place where your life begins and love never ends.
In that respect, here is a collection of inspirational, loving, and happy family quotes, family sayings, and family proverbs, collected from a variety of sources over the years.
Enjoy!
Make sure to read our collection of mother and son quotes that put words to this unbreakable bond.
If you enjoy this article, check out our most popular quote article, a list of short inspirational quotes for daily motivation.
If you want more motivational quotes, check out our motivational quotes category page.
Inspirational Family quotes about love and happiness
1. "A happy family is but an earlier heaven." —George Bernard Shaw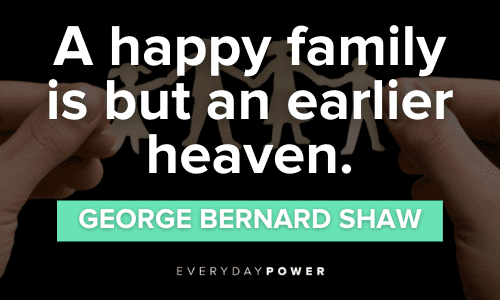 You will also enjoy our article on brother and sister quotes.
2. "Happiness is having a large, loving, caring, close-knit family in another city." ― George Burns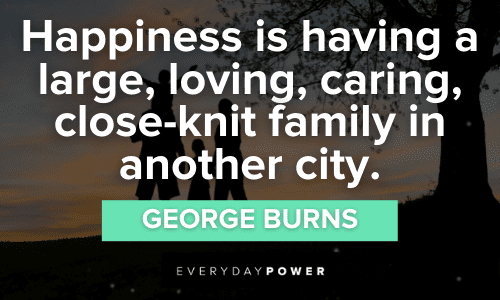 3. "The most important thing in the world is family and love." – John Wooden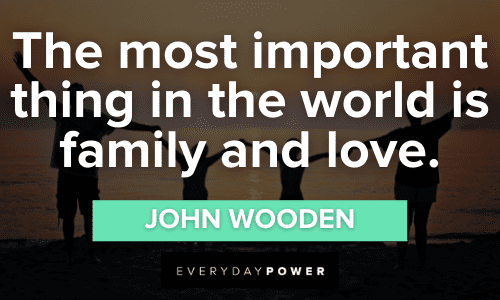 You will also enjoy our article on sibling quotes.
4. "Family is not an important thing. It's everything." – Michael J. Fox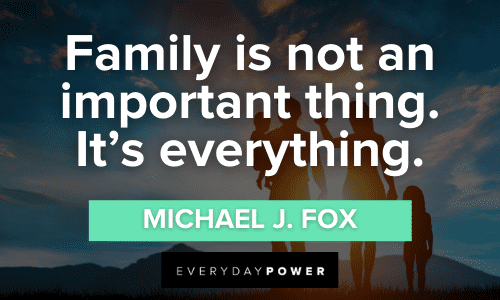 You will also enjoy our article on when family excludes you quotes.
5. "I love my family because they are always there for me even in my most fragile moments." ― Gift Gugu Mona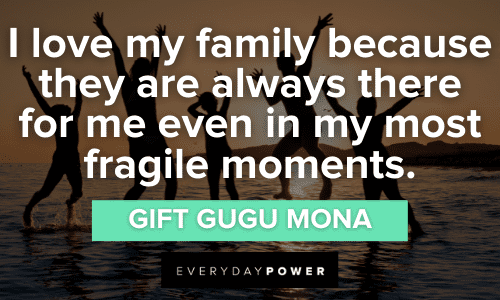 6. "Real family values have gone down the drain in modern families." – Wes Borland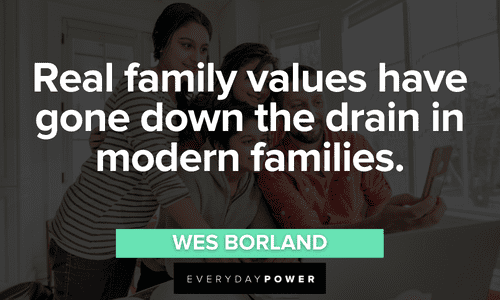 You will also enjoy our article on grandparents quotes.
7. "What can you do to promote world peace? Go home and love your family." – Mother Teresa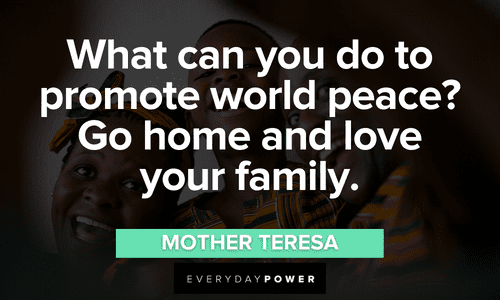 8. "All happy families are alike; each unhappy family is unhappy in its own way." ― Leo Tolstoy, Anna Karenina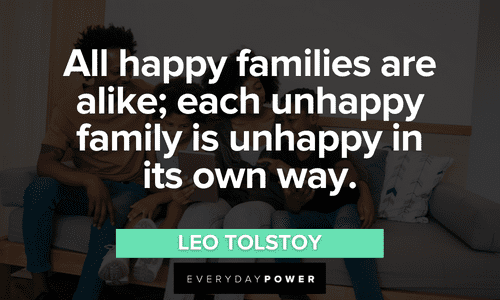 You will also enjoy our article on legacy quotes.
9. "In modern life, we tend to forget family values because of the hectic schedule." – Mahesh Babu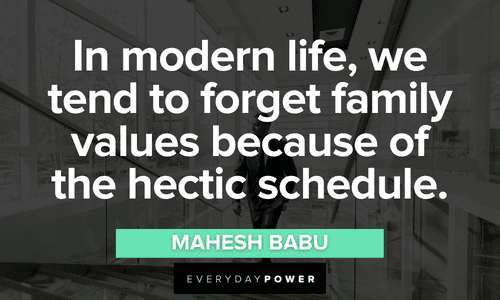 10. "Let us nurture the practice of family values, by embracing policies that value families." – Benjamin Todd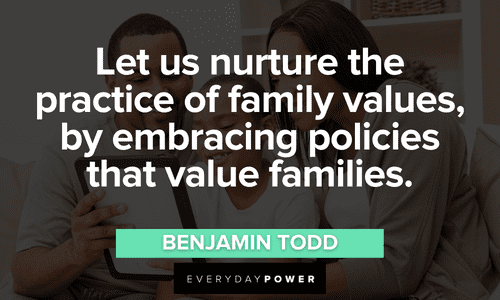 Also, read these blended family quotes to share with your loved ones.
Family quotes that remind us about the importance of our loved ones
11. "The family is one of nature's masterpieces." – George Santayana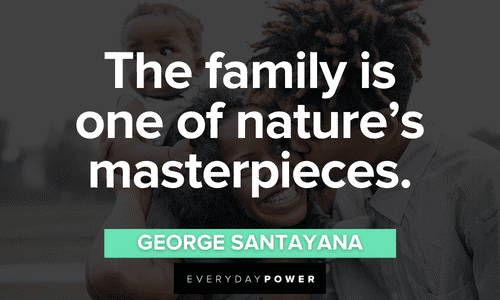 You will also enjoy our article on loyalty quotes.
12. "Many men can make a fortune but very few can build a family." – J.S. Bryan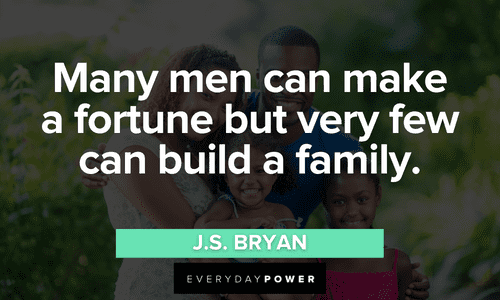 You will also enjoy our article on fruit quotes.
13. "A brother may not be a friend, but a friend will always be a brother." – Ben Franklin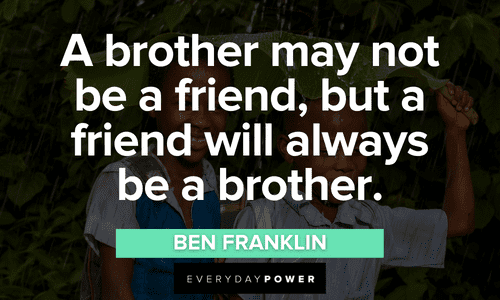 You will also enjoy our article on family guy quotes.
14. "If you cannot get rid of the family skeleton, you may as well make it dance." – George Bernard Shaw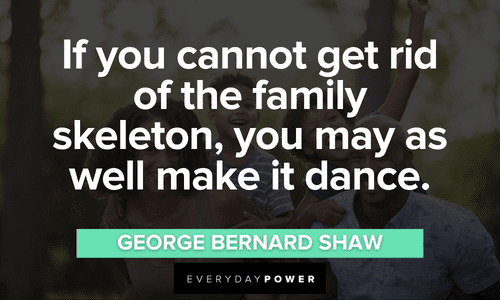 You will also enjoy our article on home alone quotes.
15. "Thank God I had all these family values or who knows where I'd be now." – Patricia Velasquez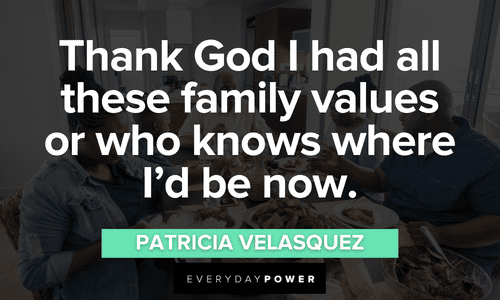 You will also enjoy our article on evolve quotes.
16. "The strength of a family, like the strength of an army, is in its loyalty to each other." – Mario Puzo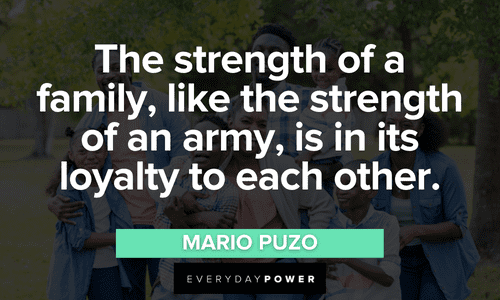 You will also enjoy our article on family reunion quotes.
17. "Family time is sacred time and should be protected and respected." – Boyd K. Packer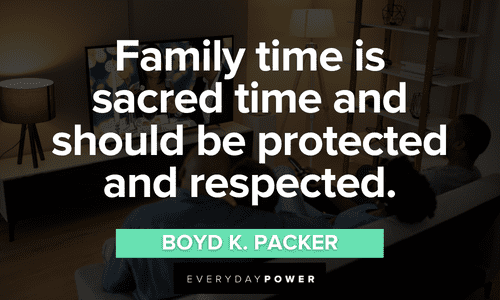 18. "Tennis just a game, family is forever." – Serena Williams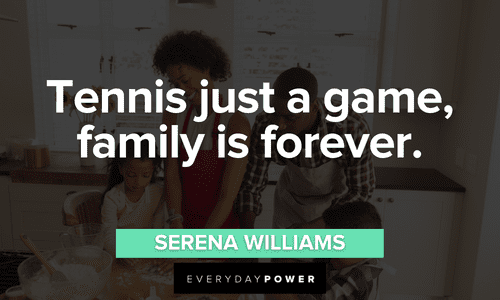 19. I sustain myself with the love of family." – Maya Angelou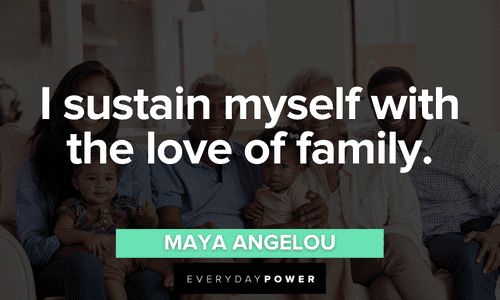 You will also enjoy our article on heritage quotes.
20. "Everyone needs a house to live in, but a supportive family is what builds a home."- Anthony Liccione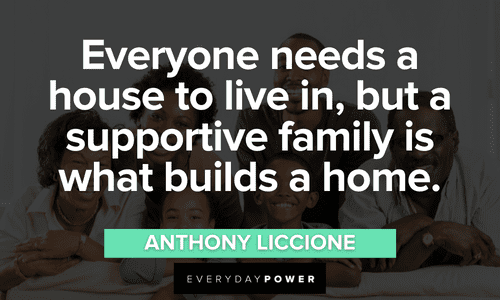 Don't forget to also check out these inspirational step dad quotes that will make you appreciate your blended family.
Inspirational family quotes about problems and struggles
21. "You don't choose your family. They are God's gift to you, as you are to them." – Desmond Tutu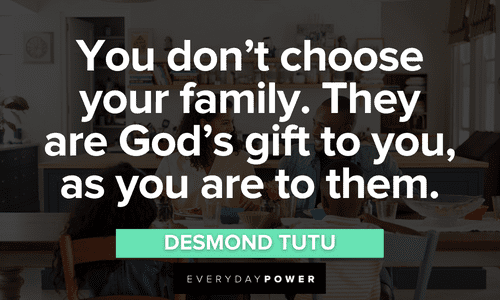 22. "Every family is dysfunctional, whether you want to admit it or not." – Shailene Woodley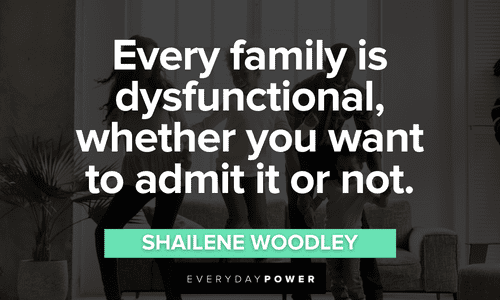 23. "No family is sane, is it?" – Rebecca Hall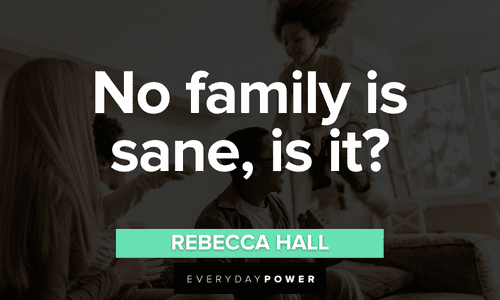 24. "Other things may change us, but we start and end with the family." —Anthony Brandt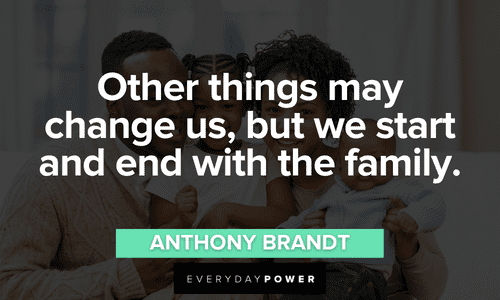 25. "When everything goes to hell, the people who stand by you without flinching — they are your family. " ― Jim Butcher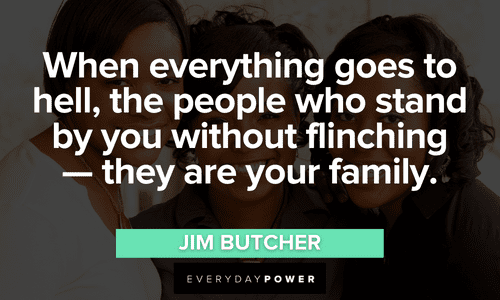 26. "Family means no one gets left behind or forgotten." – David Ogden Stiers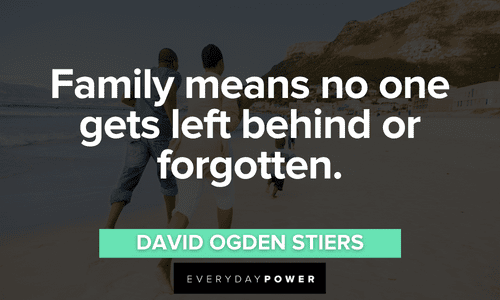 27. "Seeing the family is a very important part of my weekend." – Susannah York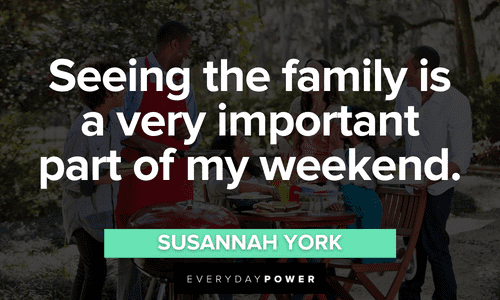 28. "We must take care of our families wherever we find them." – Elizabeth Gilbert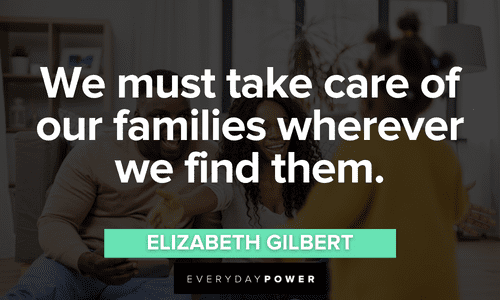 29. "In family relationships, love is really spelled T.I.M.E." – Dieter F. Uchtdorf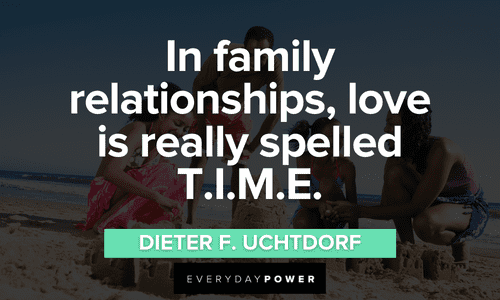 30. "Rejoice with your family in the beautiful land of life." – Albert Einstein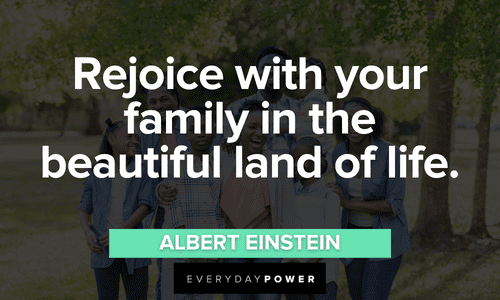 You might also like these blood is thicker than water quotes that will have you rethinking your relationships.
Quotes about family values
31. "Family life contributes immensely to an individual's happiness. Only in a happy home life can complete contentment be found." – Dorothea S. Koppliln
32. "Family is where life begins & love never ends." – Unknown
33. "In family life, love is the oil that eases friction, the cement that binds closer together, and the music that brings harmony." – Friedrich Nietzche
34. "Having somewhere to go is home. Having someone to love is family. Having both is a blessing." – Unknown
You might also like these cousin quotes that perfectly describe your bond.
35. "The most important parts of building a family are "God's Love" and "Meaningful Friendships." ― Phil Mitchell
36. "The family is the test of freedom; because the family is the only thing that the free man makes for himself and by himself." – Gilbert K. Chesterton
37. "Think of your family today and every day thereafter, don't let the busy world of today keep you from showing how much you love and appreciate your family." – Josiah
38. "It's very important to prioritize. I know, for me, my family comes first. That makes every decision very easy." – Jada Pinkett Smith
39. "Life is a secret lease from God and we should not allow ourselves to be bruised. Family life is our strength and success." – Joseph Losery
40. "Family: like branches on a tree, we all grow in different directions yet our roots remain as one." – Unknown
Don't forget to also read these inspiring grandkids quotes that will make you smile.
Quotes about family love and being together
41. "To us, family means putting your arms around each other and being there." – Barbara Bush
42. "Every successful individual knows that his or her achievement depends on a community of persons working together." – Paul Ryan
43. "I think togetherness is a very important ingredient to family life."– Barbara Bush
44. "Love is just a feeling of togetherness and openness in your heart…." – Ken Keyes Jr.
45. "Togetherness, passion, laughter, faith, trust, and jealousy are the essential ingredients of love." – Shahrukh Khan
46. "Nothing is better than going home to family and eating good food and relaxing." – Irina Shayk
47. "If the family were a fruit, it would be an orange, a circle of sections, held together but separable — each segment distinct." – Letty Cottin Pogrebin
48. "Sticking with your family is what makes it a family." – Mitch Albom
49. Love your family. Spend time, be kind & serve one another. Make no room for regrets. Tomorrow is not promised & today is short.-Unknown
Don't forget to also check out these niece quotes for every proud aunt and uncle.
Family quotes and sayings celebrating the most precious gift you will ever have in life
50. "Family life is too intimate to be preserved by the spirit of justice. It can be sustained by a spirit of love which goes beyond justice."– Reinhold Niebuhr
51. "Spread love. Hug the people you care about and make sure they know that you care and appreciate them. Make it known to your friends and family that you love them." ― Germany Kent
52. "Families are the compass that guides us. They are the inspiration to reach great heights, and our comfort when we occasionally falter." – Brad Henry
53. "I think family is key, and if you have love for family, then you have love for others – and you have unity as a people." – Marlon Wayans
54. "You need a strong family because at the end, they will love you and support you unconditionally. Luckily, I have my dad, mom and sister." – Esha Gupta
55. "Families are messy. Immortal families are eternally messy. Sometimes the best we can do is to remind each other that we're related for better or for worse and try to keep the maiming and killing to a minimum." – Rick Riordan
56. "Family is a unique gift that needs to be appreciated and treasured, even when they're driving you crazy. As much as they make you mad, interrupt you, annoy you, curse at you, try to control you, these are the people who know you the best and who love you." – Jenna Morasca
57. "Family quarrels are bitter things. They don't go according to any rules. They're not like aches or wounds, they're more like splits in the skin that won't heal because there's not enough material."– F. Scott Fitzgerald
58. "Sometimes problems don't require a solution to solve them; instead they require maturity to outgrow them."
– Steve Maraboli
59. "It doesn't matter how much money you have. If you have family, you're rich. All the money in the world could never compare to the love of a family."
60. "You leave home to seek your fortune and, when you get it, you go home and share it with your family." – Anita Baker
Have seen these insightful brotherhood quotes on the power of family?
Family quotes to elevate your perspective
61. "It's frightening seeing in ourselves the same ingredients as dysfunctional members of our families. Fortunately, as it is with baking, the proportions, mix, and temperature of the exact same ingredients can yield anything from burnt cookies to elegant soufflés."– Alan Robert Neal
62. "This is my family. I found it all on my own. It's little, and broken, but still good. Yeah. Still good." – Stitch
63. "Being a family means you are a part of something very wonderful. It means you will love and be loved for the rest of your life." – Lisa Weed
64. "In every conceivable manner, the family is link to our past, bridge to our future."― Alex Haley
65. "My family is my life, and everything else comes second as far as what's important to me." – Michael Imperioli
66. "Family, friends and relationships are the blessings of the God. They are the best way to access God."― Amit Ray
67. "Family is more than blood."― Cassandra Clare
68. "There is no doubt that it is around the family and the home that all the greatest virtues… are created, strengthened and maintained." – Winston Churchill
69. "The world, we'd discovered, doesn't love you like your family loves you."― Louis Zamperini
70. "Spending time with the ones who are dear to you is like being in a dream, is it not?"― Sakura Tsukuba
71. "The home is the ultimate career. All other careers exist for one purpose, and that is to support the ultimate career."― C.S. Lewis
72. "Bond is stronger than blood. The family grows stronger by bond."― Itohan Eghide
73. "The best way to feel family is being part of it."― Miguel Ángel Sáez Gutiérrez
74. "It didn't matter how big our house was; it mattered that there was love in it." – Peter Buffett
75. "The supreme happiness of life is the conviction that we are loved."― Victor Hugo
76. "The core of any family is what is changeless, what is going to be there──shared vision and values."― Stephen R. Covey
You might also like these sister quotes they need to hear and will not forget.
Other inspirational family quotes and sayings
77. "Family and friends are hidden treasures, seek them and enjoy their riches."– Wanda Hope Carter
78. "Without a family, man, alone in the world, trembles with the cold."
– Andre Maurois
79. "There was so much fun going to the farm with grandma. In group with other family members, grandma lead the way." ― Lailah Gifty Akita
80. "Family isn't defined only by last names or by blood; it's defined by commitment and by love." – Dave Willis
81. "At the end of the day, a loving family should find everything forgivable."– Mark V. Olsen
82. "The only rock I know that stays steady, the only institution I know that works, is the family." – Lee Iacocca
83. "Family ties mean that no matter how much you might want to run from your family, you can't!"– Unknown
84. "Families is where our nation finds hope, where wings take dream." – George W. Bush
85. "The family is the first essential cell of human society."– Pope John XXIII
You might also like these funny sister quotes celebrating unconditional love.
More family quotes and sayings
86. "The happiest moments of my life have been the few which I have passed at home in the bosom of my family." – Thomas Jefferson
87. "One day you will do things for me that you hate. That is what it means to be family." – Jonathan Safran Foer
88. "Home is where you are loved the most and act the worst." – Marjorie Pay Hinckley
89. "You are born into your family and your family is born into you. No returns. No exchanges." – Elizabeth Berg
90. "God is the designer of the family." – Gordon B. Hinckley
91. "Mothers are our world. Sisters are our sky. Daughters are our stars. Women are our universe." – Matshona Dhliwayo
92. "Keep them close if they love you for living in your truth. But weigh their intentions if they love you for living in their truth." – Mitta Xinindlu
93. "Families weren't like a box of standardized-test-taking number two pencils. Families were like a box of assorted-color Sharpie markers: different, kinda stinky (but not in a bad way), and permanent whether you liked it or not." – Roshani Chokshi
94. "The best of investments is your family." – Atalay Aydın
95. "Family is your greatest gift and your greatest challenge." – Bert McCoy
96. "Family is a candle burning at both ends – stay in the middle for as long as you can." – Bert McCoy
You'll also love these mother daughter quotes expressing unconditional love.
Family quotes about the good and bad realities of families
97. "Insanity runs in my family. It practically gallops." — Cary Grant
98. "When trouble comes, it's your family that supports you." — Guy Lafleur
99. "My family is my strength and my weakness." — Aishwarya Rai Bachchan
100. "I believe the world is one big family, and we need to help each other." — Jet Li
101. "The family you come from isn't as important as the family you're going to have." — Ring Lardner
102. "The other night I ate at a real nice family restaurant. Every table had an argument going." — George Carlin
103. "The bond that links your true family is not one of blood, but of respect and joy in each other's life." — Richard Bach
104. "The love of family and the admiration of friends is much more important than wealth and privilege." — Charles Kuralt
105. "A family is a risky venture, because the greater the love, the greater the loss… That's the trade-off. But I'll take it all." — Brad Pitt
106. "One's family is the most important thing in life. I look at it this way: One of these days I'll be over in a hospital somewhere with four walls around me. And the only people who'll be with me will be my family." — Robert Byrd
If you enjoy this article, check out our collection of toxic family quotes to help you heal.
Family quotes to help you cherish the VIPs in your life
107. "As we age, we become our parents; live long enough and we see faces repeat in time." ― Neil Gaiman
108. "No one's family is normal. Normalcy is a lie invented by advertising agencies to make the rest of us feel inferior." ― Claire LaZebnik
109. "There's nothing that makes you more insane than family. Or more happy. Or more exasperated. Or more . . . secure." ― Jim Butcher
110. "My mother used to tell me that when push comes to shove, you always know who to turn to. That being a family isn't a social construct but an instinct." ― Jodi Picoult
111. "Families break up when they get hints you don't intend and miss hints that you do." ― Robert Frost
112. "There is no such thing as fun for the whole family." ― Jerry Seinfeld
113. "The way you help heal the world is you start with your own family." ― Mother Teresa
114. "So much of what is best in us is bound up in our love of family, that it remains the measure of our stability because it measures our sense of loyalty." ― Haniel Long
115. "Mothers and their children are in a category all their own. There's no bond so strong in the entire world. No love so instantaneous and forgiving." ― Gail Tsukiyama
116. "Is this what family is like: the feeling that everyone's connected, that with one piece missing, the whole thing's broken?" ― Trenton Lee Stewart
Family quotes and sayings to appreciate those who love you
117. "A family is a place where principles are hammered and honed on the anvil of everyday living." -Charles R. Swindoll
118. "The family is the nucleus of civilization." -Will Durant
119. "Some of the most important conversations I've ever had occurred at my family's dinner table." -Bob Ehrlich
120. "I woke up one morning thinking about wolves and realized that wolf packs function as families. Everyone has a role, and if you act within the parameters of your role, the whole pack succeeds, and when that falls apart, so does the pack." -Jodi Picoult
121. "People are pretty forgiving when it comes to other people's families. The only family that ever horrifies you is your own." -Douglas Coupland
122. "A home with a loving and loyal husband and wife is the supreme setting in which children can be reared in love and righteousness and in which the spiritual and physical needs of children can be met." -David A. Bednar
123. "Happy or unhappy, families are all mysterious." -Gloria Steinem
124. "I find the family the most mysterious and fascinating institution in the world." -Amos Oz
125. "If we abandon marriage, we abandon the family." -Michael Enzi
If you're enjoying these quotes, make sure to read our collection of blessed quotes to help you idenity the blessings in your life.
Family Quotes And Sayings About Being There For Each Other
126. "The informality of family life is a blessed condition that allows us all to become our best while looking our worst." — Marge Kennedy
127. "I have a wonderful shelter, which is my family." — José Carreras
128. "My greatest pleasure is spending time with my family." — Siri Hustvedt
129. "I don't think quantity time is as special as quality time with your family." — Reba McEntire
130. "Having a family is like having a bowling alley installed in your brain." — Martin Mull
131. "Families are like fudge–mostly sweet, with a few nuts." — Les Dawson
132. "Home isn't where you're from, it's where you find light when all grows dark."― Pierce Brown
133. "A family is a bunch of people who keep confusing you with someone you were as a kid." — Robert Brault
134. "Then I discovered that being related is no guarantee of love!" ― Stieg Larsson
135. "Life is beautiful. It's about giving. It's about family." — Walt Disney
If you're enjoying these quotes, you'll love our collection of Barbara Bush quotes that will help you understand the complexities of life.
Family Quotes and Sayings as a Support System
136. "The foundation of family – that's where it all begins for me." ― Faith Hill
137. "When I'm ready, I plan to adopt. I still believe in family." ― LaToya Jackson
138. "A loving family provides the foundation children need to succeed." ― Jim Bunning
139. "Better a loving single-parent family than a 'conventional' family where the parents hate each other and the father is a demagogue." ― Moby
140. "The thing about family disasters is that you never have to wait long before the next one puts the previous one into perspective." ― Robert Breault
141. "I like to see a home like this, a home connected with people's thoughts and work, things they love." ― DeWitt Bodeen
142. "Friends are the family we choose for ourselves." ― Edna Buchanan
143. "Sister is probably the most competitive relationship within the family, but once the sisters are grown, it becomes the strongest relationship." ― Margaret Mead
144. "I stay in tune with my family and God." ― Regina King
145. "My family was my guide to my reality." ― Haywood Nelson
If you're enjoying these quotes, make sure to read our collection of inspiring Mother Teresa quotes on kindness, love, and charity.
Family Quotes and Sayings To Spend Quality Time
146. "Being part of a family means smiling for photos." ― Harry Morgan
147. "Family life was wonderful. The streets were bleak. The playgrounds were bleak. But home was always warm. My mother and father had a great relationship. I always felt 'safe' there." ― Robert Cormier
148. "I can get up in the morning and look myself in the mirror and my family can look at me too and that's all that matters." ― Lance Armstrong
149. "Like all the best families, we have our share of eccentricities, of impetuous and wayward youngsters and of family disagreements." ― Queen Elizabeth II
150. "Family and friendships are two of the greatest facilitators of happiness." ― John C. Maxwell
151. "Family is a life jacket in the stormy sea of life." ― J.K. Rowling
152. "A woman can take care of the family. It takes a man to provide structure, to provide stability." ― Tom DeLay
153. "Family likeness has often a deep sadness in it." ― George Eliot
154. "The greatest thing in family life is to take a hint when a hint is intended-and not to take a hint when a hint isn't intended." ― Robert Frost
155. "There's nothing I value more than the closeness of friends and family, a smile as I pass someone on the street." ― Willie Stargell
If you're enjoying these quotes, make sure to read our collection of unity quotes about bringing people together.
Family Quotes and Sayings to Celebrate the Ties That Bind
156. "Your retirement is an opportunity to live out your dreams and take care of your family. Don't leave it to chance." ― Chris Hogan
157. "It's all about quality of life and finding a happy balance between work and friends and family." ― Philip Green
158. "The secret is to make sure your family comes before anything else, because no matter what you do you've got to come home." ― Barry Gibb
159. "Under any system of society … the family holds the future in its bosom." ― Charles Franklin Thwing
160. "Stick to the basics, hold on to your family and friends – they will never go out of fashion." ― Niki Taylor
161. "I cannot remember a moment in my life when I have not felt the love of my family. We were a family that would have killed for each other – and we still are." ― Richard Branson
162. "I enjoy what I'm able to give my family." ― Shia LaBeouf
163. "I like to live. I like to dance. I like to eat. I like to work and I like my family. I like to enjoy. And.. knock on wood.. it's nice that I can live this way." ― Ivana Trump
164. "Family is the root of all that is good in our lives, and I am so grateful for mine." ― Ivana Trump
165. "Doing something for yourself like running, and using it to test yourself, will only make you feel better about your career or your family role." ― Joan Benoit
Family Quotes And Sayings To Share With Relatives
166. "A woman of faith is the face behind many breakthroughs in a family." ― Gift Gugu Mona
167. "When someone gets locked up, so does their family." ― Shaka Senghor
168. "So your family is as mad as mine?" ― Megan Jacobson
169. "Happiness is quality time with friends and family. Incorporate higgle to everyday life to guarantee it." ― Jessica Joelle Alexander
170. "There comes a time when we have to accept that people make their own choices, and we're not responsible for those choices, even if they're our family." ― Amy Tintera
171. "Whatever you do, keep your family together. That's the most important thing in the world."
― Edward Rutherfurd
172. "Things such as the idea of family and that of friendship are a sign of spiritual barbarism." ― Mokokoma Mokhonoana
173. "Family is for fun not for fight." ― Lailah Gifty Akita
174. "The best gift God gave is family." ― Lailah Gifty Akita
175. "Our families are defined by far more than just blood, so sometimes it's necessary to cut the cord with who came before so that we can find our way to who we need right now" ― E.B. Johnson
Family Quotes And Sayings About Keeping The Family Together
176. "Her family had shown her that love is a lie. It isn't stone-solid; instead it bends and crumbles away, weak as rusty metal." ― N.K. Jemisin
177. "It is a matter of economic wellbeing that most families be formed as mother, father, and children in a single-family household." ― Hendrith Vanlon Smith Jr
178. "The relationships we share with our families are important, and they are the first compass by which we orientate ourselves in this world." ― E.B. Johnson
179. "Anyone who treats me kind and loves unreservedly, I consider them my family" ― Charmaine J Forde
180. "None of them were truly related to her, but they were still her family." ― Nicki Pau Preto
181. "Friends are family we have chosen ourselves." ― Dahi Tamara Koch
182. "It's a hard thing, balancing your obligation to the family who supported you, who loves you, and the desires of your heart." ― Melanie A. Smith
183. "Keep the joy of loving God in your heart today and share this joy with all you meet, especially your family." ― Mother Theresa of Calcutta
184. "One thing I have seen spread faster than coronavirus: Connection – with family, friends, and our communities." ― Charles F. Glassman
185. "A person's family life and home environment have a huge impact on how their personalities and priorities are formed." ― Florian Hewitt
186. "The very first team we ever encounter is the family we are born into, and then as we grow we move to schools and colleges." ― Derek Stanzma
187. "Your own family can negatively influence your life. Often it is done unintentionally." ― Sandra Leon
188. "To maintain a joyful family requires much from both the parents and the children. Each member of the family has to become, in a special way, the servant of the others." ― Pope John Paul II
189. "The family is the corner stone of our society. More than any other force it shapes the attitude, the hopes, the ambitions, and the values of the child." ― Lyndon Baines Johnson
190. "Of all the rocks upon which we build our lives, we are reminded today that family is the most important." ― President Barack Obama
191. "God's dream is that you and I and all of us will realize that we are family, that we are made for togetherness, for goodness, and for compassion." ― Desmond Tutu
192. "My family provided me with the proper information and inspiration for me to overcome the challenge of blindness." ― David DeNotaris
193. "In the family, happiness is in the ratio in which each is serving the others, seeking one another's good, and bearing one another's burdens." ― Henry Ward Beecher
194. "Special people in our life sometimes can become our family, it doesn't mean they have to be blood related, it means appreciating those who care and love you." ― B. B. Butler
If you're enjoying these quotes, make sure to read our collection of father daughter quotes about their unbreakable bond.
Did you enjoy these Family quotes and sayings?
Although the definition of family might have evolved over time, its importance still remains.
When we have family, it becomes easier to handle the challenges we encounter because we don't have to face them alone.
Overall, family is many things. It's love and support, a shoulder to lean on, a meaningful connection, and an incredible and unbreakable bond.
Hopefully, these quotes about family have reminded you why your loved ones matter.
Which of these quotes was your favorite?
Do you have any other family quotes to add to the list?
Tell us in the comment section below.