Quotes to Help You Build a Growth Mindset
These mindset quotes will help you develop motivation, hope, and a strong character that will take you where you want to go in life.
You'll often hear it said nowadays that it's best to embody a growth mindset, rather than a fixed mindset.
This means you should always look at yourself as someone who is growing and changing, no matter how old you are.
Any flaw or perceived failure does not reflect a permanent problem, but something you must continue to work on.
You may also enjoy our article on:
How can a growth mindset benefit you?
Whatever you're trying to achieve, you must always fight negative self-talk that tries to convince you that you're destined to fail.
Whatever your mindset is, it tends to end up coming true.
Staying positive and maintaining a mindset of confidence, determination, and hope can help you overcome challenges.
A growth mindset is the marker of great character.
Below is our collection of inspirational, wise, and thought-provoking mindset quotes and sayings, collected from a variety of sources over the years.
Don't forget to also read these attitude quotes that will inspire you to work hard and stay positive.
If you like this article, we suggest you explore our most popular quotes article, a list of short inspirational quotes for daily encouragement.
Check out more inspirational quotes on our motivational quotes category page.
Quotes About Mindset and Confidence
1. "Besides pride, loyalty, discipline, heart, and mind, confidence is the key to all the locks." – Joe Paterno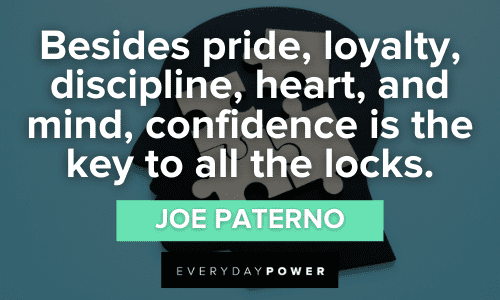 You will also enjoy our article on positive thinking quotes.
2. "With confidence, you have won before you have started." – Marcus Garvey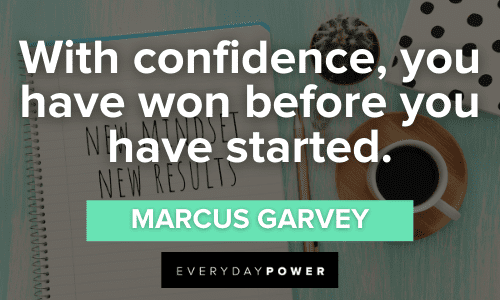 You will also enjoy our article on gentleman quotes.
3. "Don't worry about your heart, it will last you as long as you live." – W. C. Fields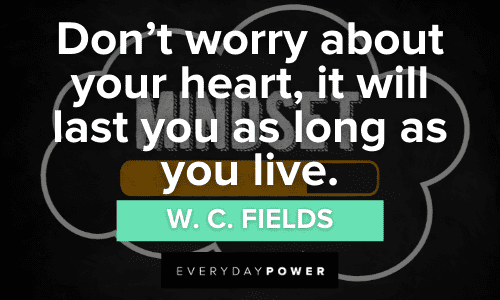 You will also enjoy our article on quotes on change growth.
4. "Whatever we expect with confidence becomes our own self-fulfilling prophecy." – Brian Tracy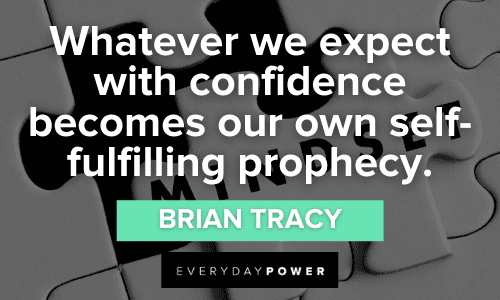 You will also enjoy our article on deep quotes.
5. "Do what you can, with what you've got, where you are." – Theodore Roosevelt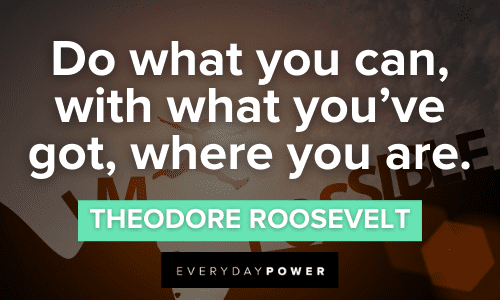 You will also enjoy our article on angel quotes.
6. "Worry – a God, invisible but omnipotent. It steals the bloom from the cheek and lightness from the pulse; it takes away the appetite, and turns the hair gray." – Benjamin Disraeli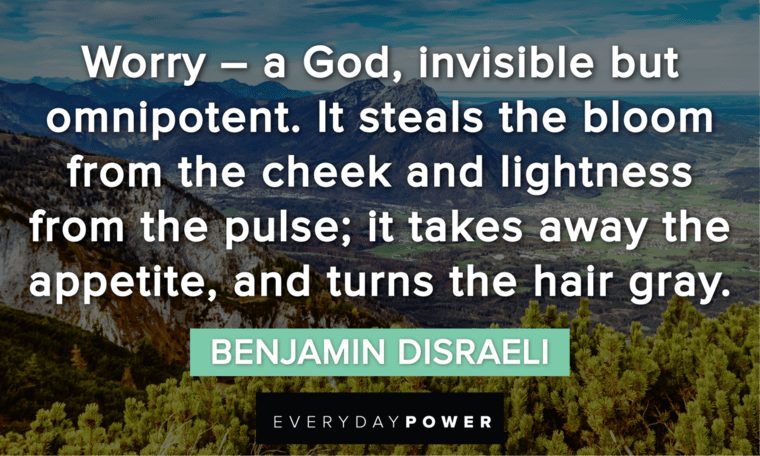 You will also enjoy our article on hustle quotes.
7. "Instead of worrying about what you cannot control, shift your energy to what you can create." – Roy T. Bennett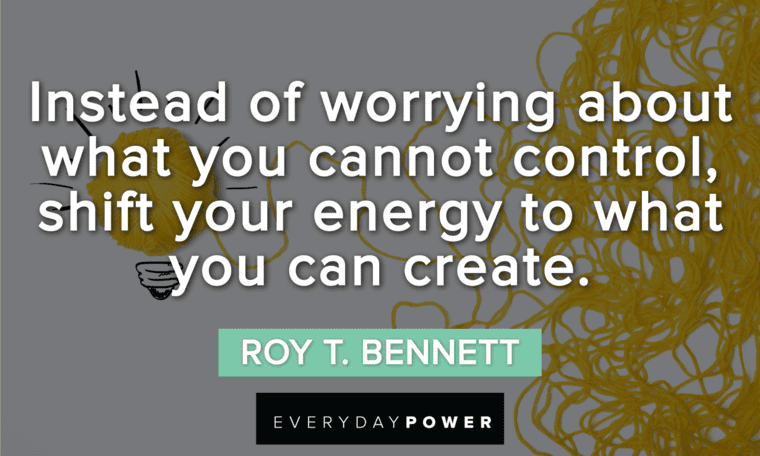 You will also enjoy our article on quality quotes.
8. "Action is a great restorer and builder of confidence. Inaction is not only the result, but the cause, of fear. Perhaps the action you take will be successful; perhaps different action or adjustments will have to follow. But any action is better than no action at all." – Norman Vincent Peale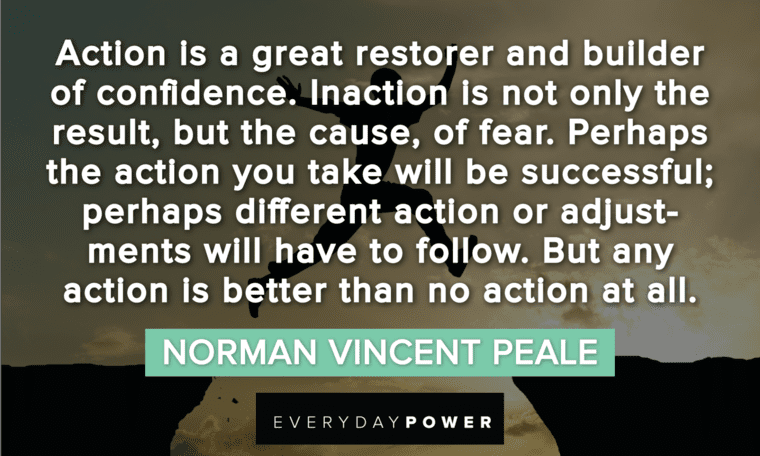 You will also enjoy our article on Monday motivation quotes.
9. "If a problem is fixable, if a situation is such that you can do something about it, then there is no need to worry. If it's not fixable, then there is no help in worrying. There is no benefit in worrying whatsoever." – The Dalai Lama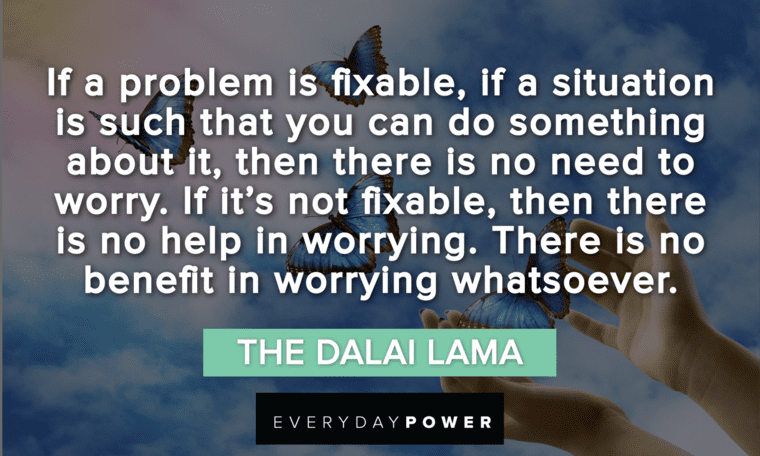 You will also enjoy our article on positive attitude quotes.
10. "Do not worry about your difficulties in Mathematics. I can assure you mine are still greater." – Albert Einstein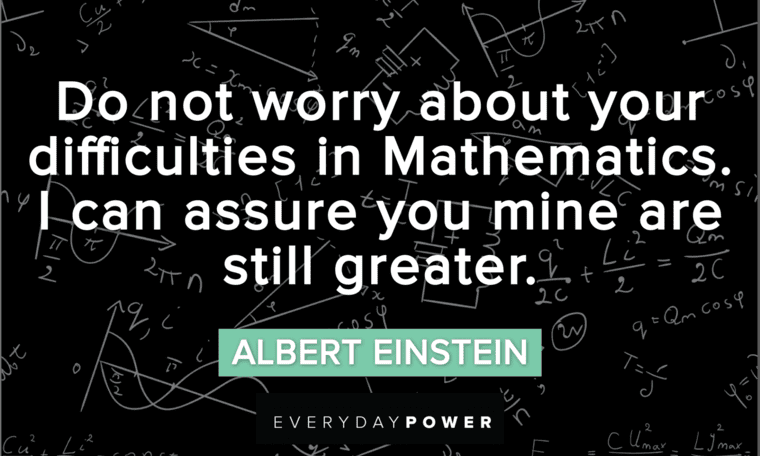 You will also enjoy our article on motivational sports quotes.
11. "Never let the future disturb you. You will meet it, if you have to, with the same weapons of reason which today arm you against the present." – Marcus Aurelius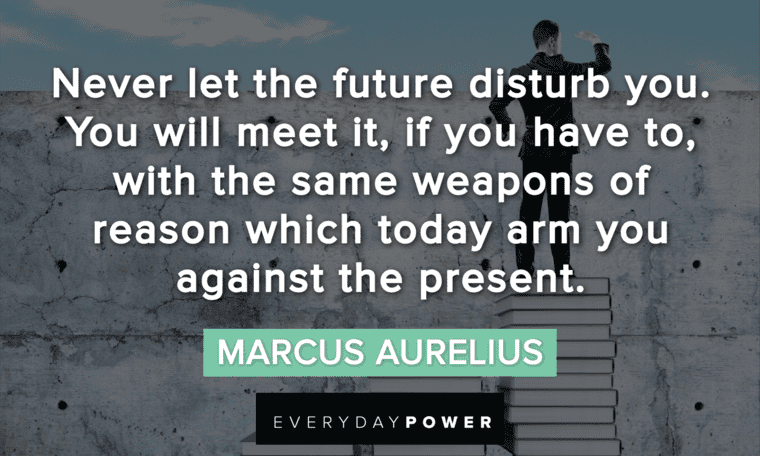 You will also enjoy our article on dark quotes.
12. "I believe everyone should have a broad picture of how the universe operates and our place in it. It is a basic human desire. And it also puts our worries in perspective." – Stephen Hawking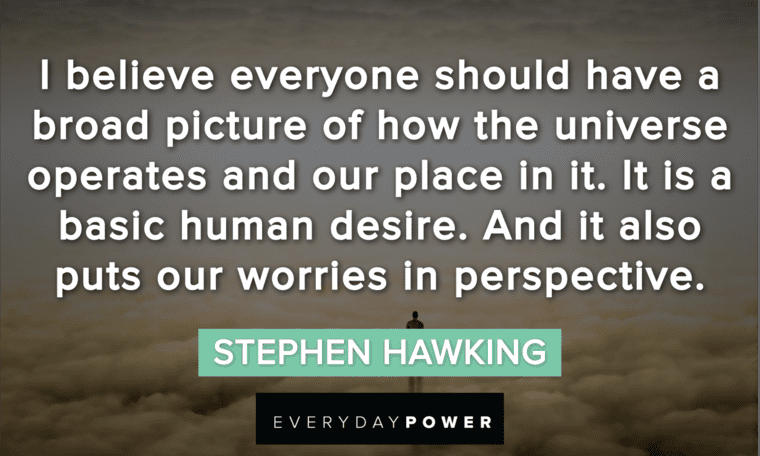 You will also enjoy our article on achievement quotes.
13. "You gain strength, courage, and confidence by every experience in which you really stop to look fear in the face. You are able to say to yourself, 'I lived through this horror. I can take the next thing that comes along.'" – Eleanor Roosevelt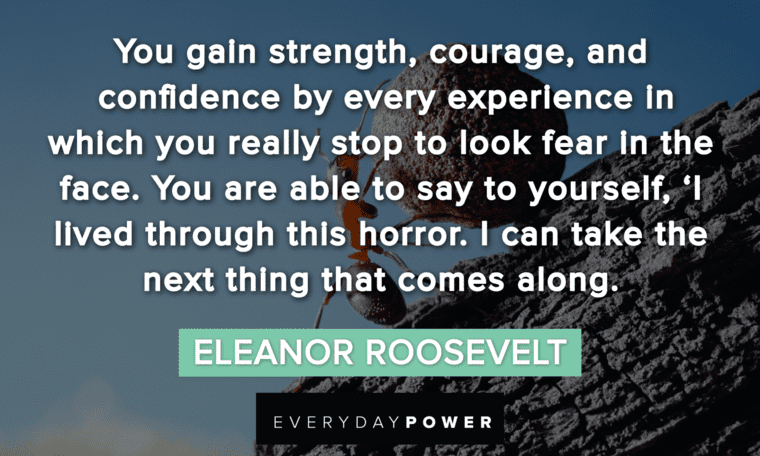 You will also enjoy our article on morning quotes.
14. "You must have confidence in your competence." – Elijah Cummings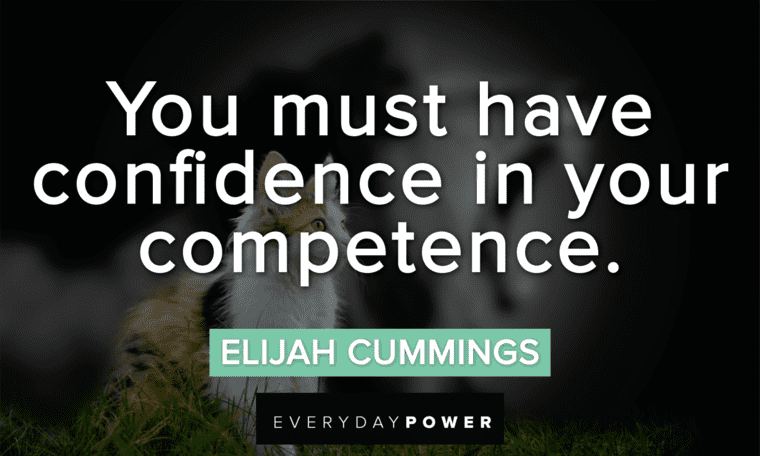 You will also enjoy our article on quotes about possibility.
15. "That's the secret to life… replace one worry with another." – Charles M. Schulz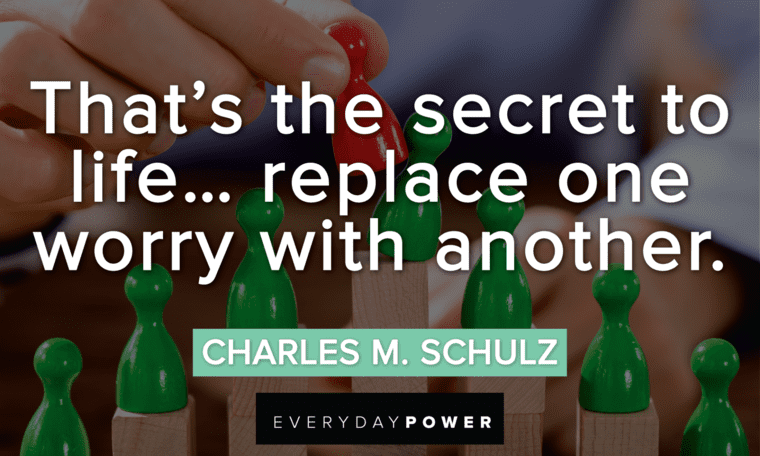 You will also enjoy our article on savage quotes.
16. "I have learned not to worry about love; but to honor its coming with all my heart." – Alice Walker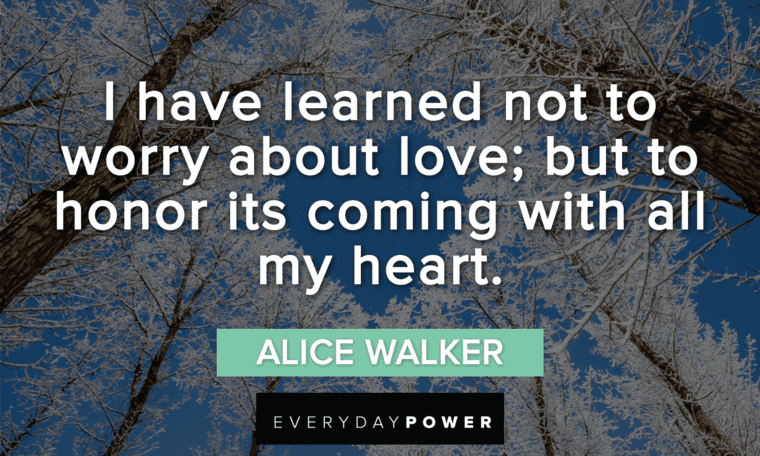 You will also enjoy our article on determination quotes.
17. "Whatever is going to happen will happen, whether we worry or not." – Ana Monnar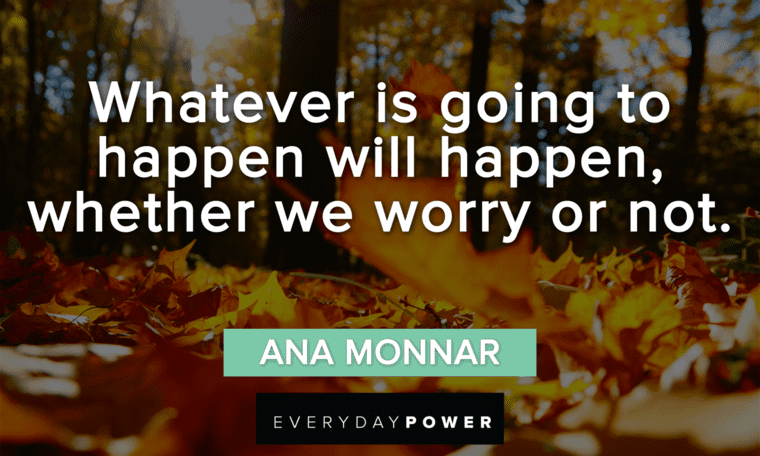 You will also enjoy our article on fighting cancer quotes.
18. "There is a great difference between worry and concern. A worried person sees a problem, and a concerned person solves a problem." – Harold Stephen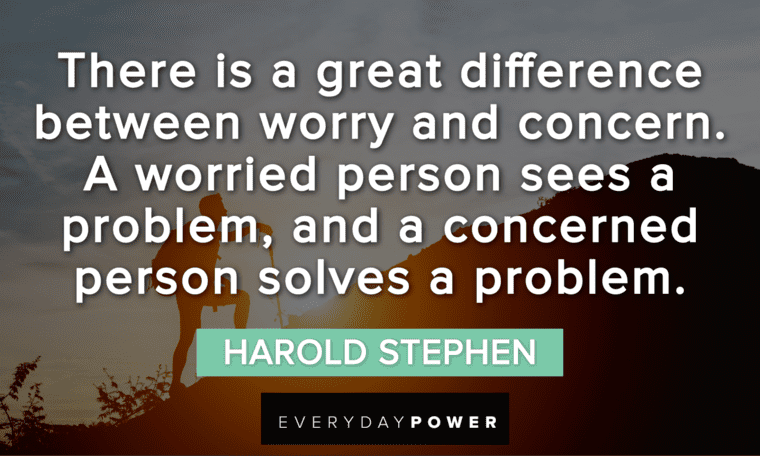 Mindset Quotes About Making a Comeback
19. "Fall down seven times, get up eight." – Naoki Higashida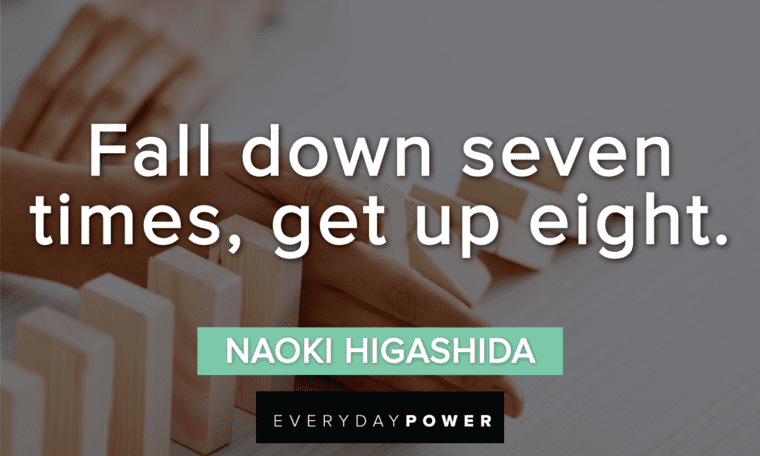 You will also enjoy our article on bad habits quotes.
20. "There's nothing as exciting as a comeback – seeing someone with dreams, watching them fail, and then getting a second chance." – Rachel Griffiths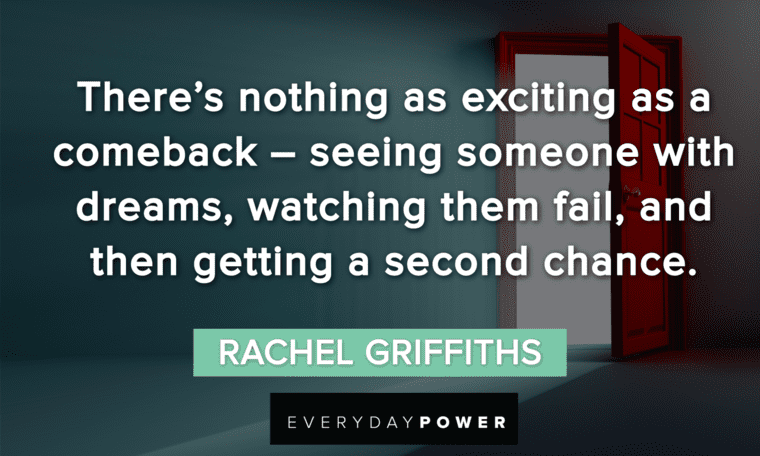 21. "Nothing is cooler and more attractive than a big comeback, and that'll be me." – Steven Adler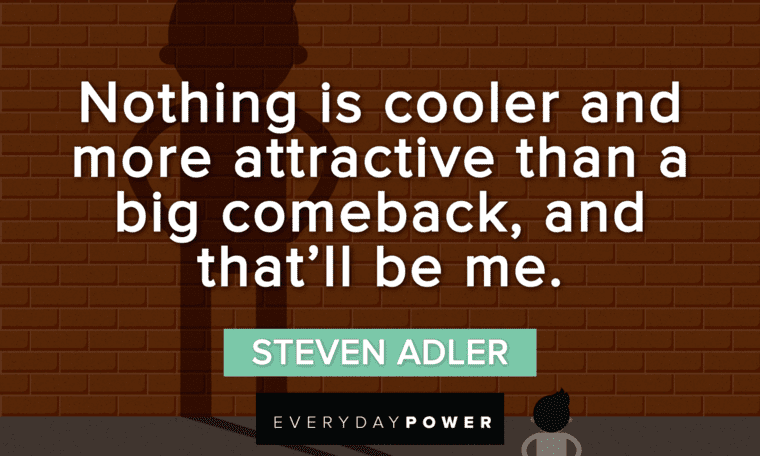 22. "There is nothing as sweet as a comeback, when you are down and out, about to lose, and out of time." – Anne Lamott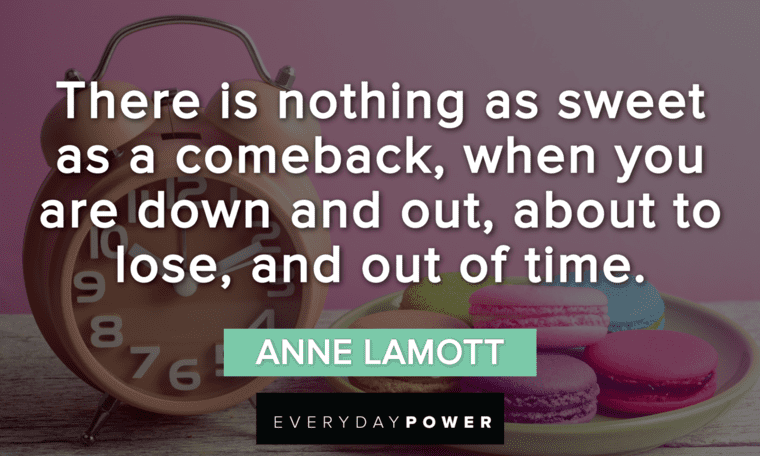 23. "I'm always making a comeback but nobody ever tells me where I've been." – Billie Holiday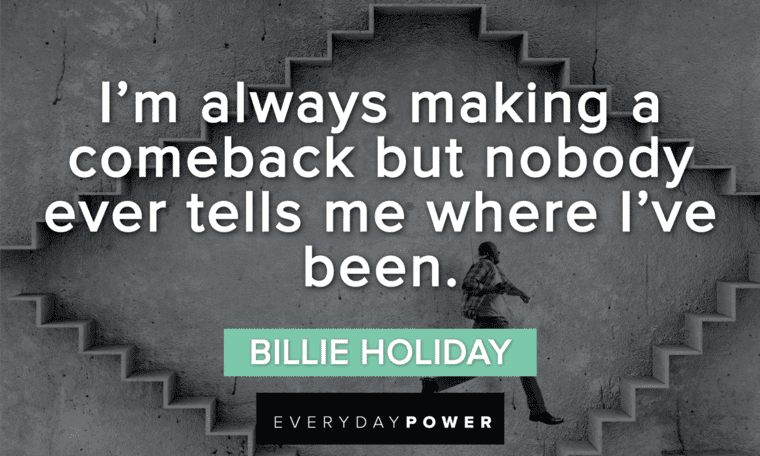 24. "Making a comeback is one of the most difficult things to do with dignity." – Greg Lake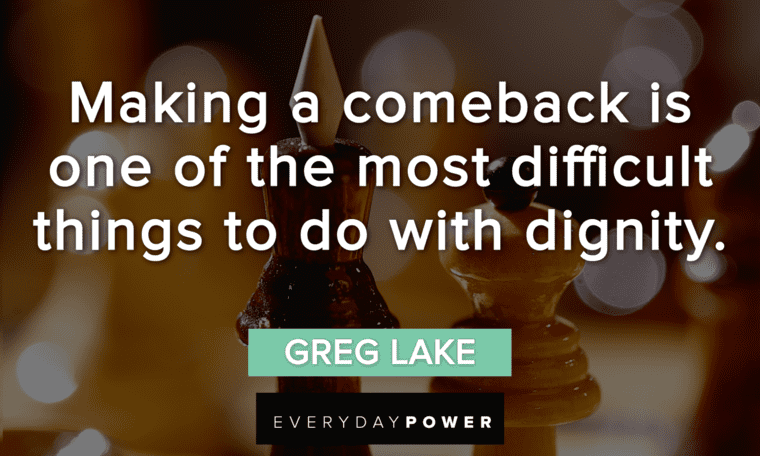 If you're enjoying these quotes, make sure to check out our collection of comeback quotes to help you bounce back.
25. "I am facing a challenge, I am not facing defeat. Remember this." – Nikki Rowe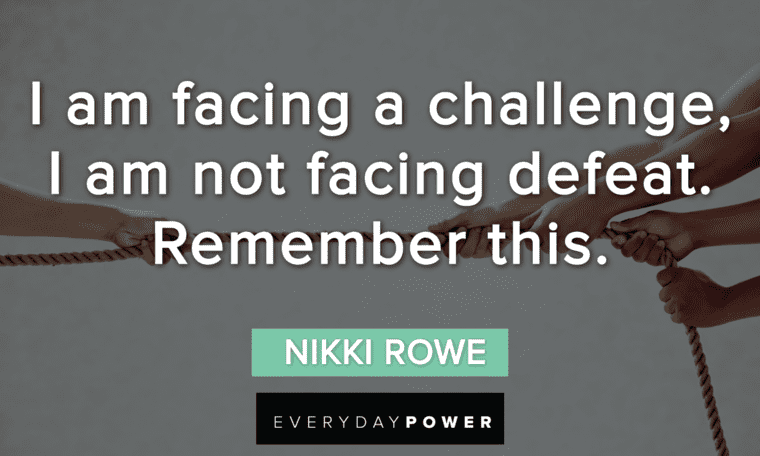 26. "That's the greatest comeback since Lazarus." – Sid Waddell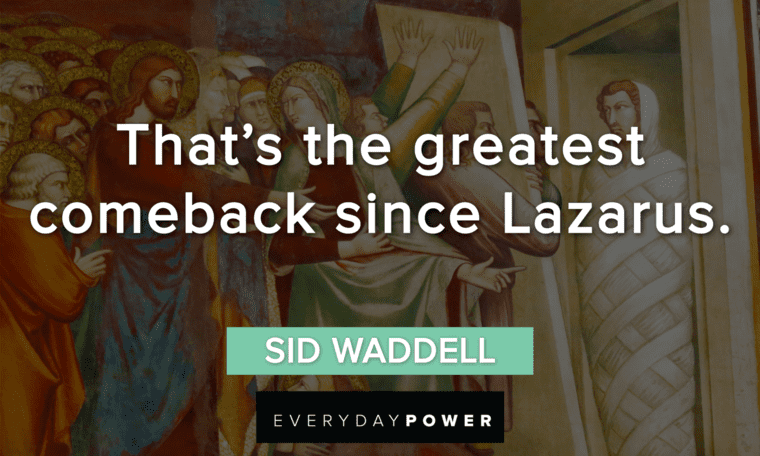 27. "To have a comeback, you have to have a setback." – Mr. T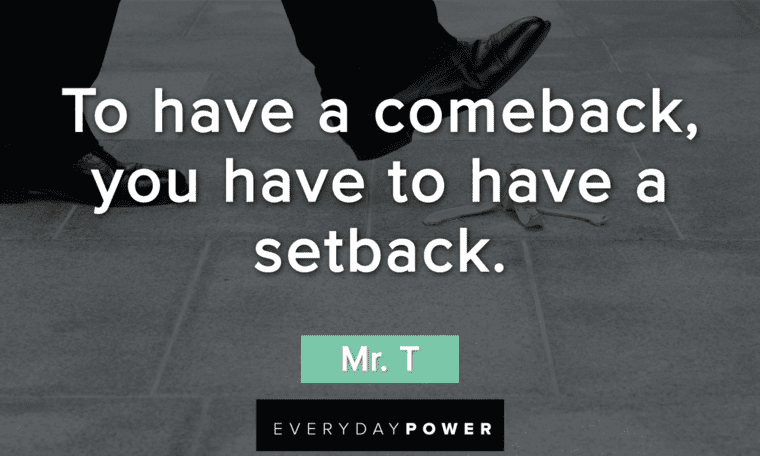 28. "To admit you want to have a comeback means you have to admit you weren't what you were supposed to be. You dropped below your own standard." – Marilyn Manson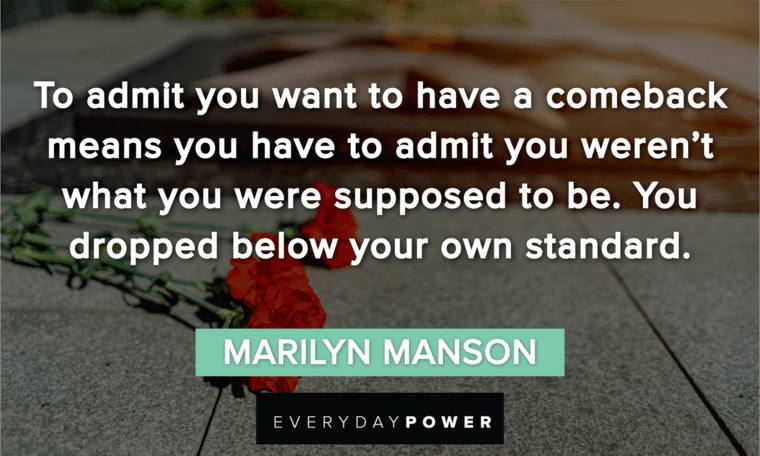 29. "I'm a comeback waiting to happen. No one deserves it more than I do." – Sean Young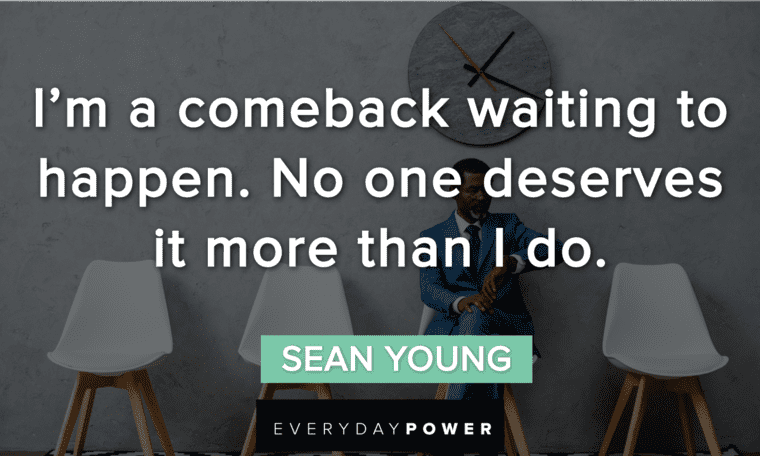 You might also like these manifestation quotes that will inspire you to take control of your future.
Mindset Quotes About Determination
30. "It is not in the stars to hold our destiny but in ourselves." – William Shakespeare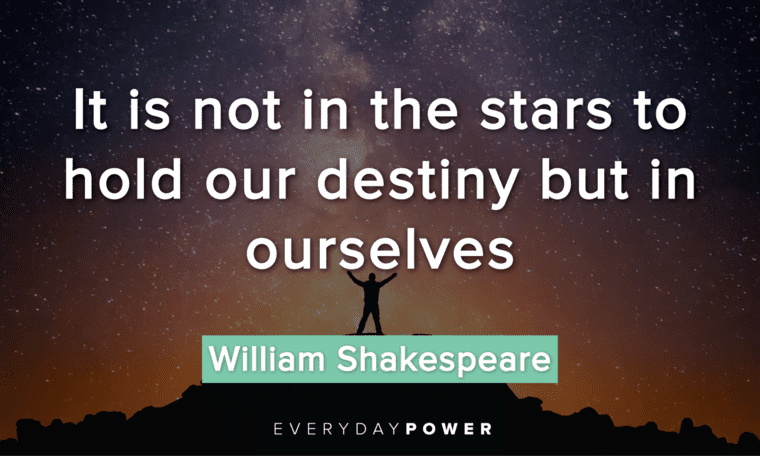 31. "For the sake of peace and justice, let us move toward a world in which all people are at last free to determine their own destiny." – Ronald Reagan
If you're enjoying these quotes, make sure to read our collection of Ronald Reagan quotes from the former United States President.
32. "No one saves us but ourselves. No one can and no one may. We ourselves must walk the path." – Buddha
33. "Once you make a decision, the universe conspires to make it happen." – Ralph Waldo Emerson
34. "When it comes to life, we spin our own yarn, and where we end up is really, in fact, where we always intended to be." – Julia Glass
35. "Every person has the power to change their fate if they are brave enough to fight for what they desire more than anything." – Stephanie Garber
36. "We dream to give ourselves hope. To stop dreaming – well, that's like saying you can never change your fate." – Amy Tan
37. "Actions are the seed of fate. Deeds grow into destiny." – Harry S. Truman
38. "Be extremely subtle, even to the point of formlessness. Be extremely mysterious, even to the point of soundlessness. Thereby you can be the director of the opponent's fate." – Sun Tzu
If you're enjoying these quotes, make sure to read our collection of Sun Tzu quotes from the iconic warrior and philospher.
39. "Every man gotta right to decide his own destiny." – Bob Marley
40. "It is in your moments of decision that your destiny is shaped." – Tony Robbins
41. "Control your own destiny or someone else will." – Jack Welch
42. "Destiny is a worrying concept. I don't want to be fated, I want to choose." – Jeanette Winterson
43. "It is what a man thinks of himself that really determines his fate." – Henry David Thoreau
44. "There is no fate that cannot be surmounted by scorn." – Albert Camus
Mindset Quotes About Character
45. "It was character that got us out of bed, commitment that moved us into action, and discipline that enabled us to follow through." – Zig Ziglar
46. "Character, in the long run, is the decisive factor in the life of an individual and of nations alike." – Theodore Roosevelt
47. "Hard conditions of life are indispensable to bringing out the best in human personality." – Alexis Carrel
48. "You will never do anything in this world without courage. It is the greatest quality of the mind next to honor." – Aristotle
49. "Be sure you put your feet in the right place, then stand firm." – Abraham Lincoln
50. "Just as we develop our physical muscles through overcoming opposition – such as lifting weights – we develop our character muscles by overcoming challenges and adversity." – Stephen Covey
51. "Life is a series of experiences, each one of which makes us bigger, even though sometimes it is hard to realize this. For the world was built to develop character, and we must learn that the setbacks and grieves which we endure help us in our marching onward." – Henry Ford
52. "Our ability to handle life's challenges is a measure of our strength of character." – Les Brown
53. "A hero is an ordinary individual who finds the strength to persevere and endure in spite of overwhelming obstacles." – Christopher Reeve
54. "This is no time for ease and comfort. It is time to dare and endure." – Winston Churchill
55. "He who conquers others is strong; He who conquers himself is mighty." – Lao Tzu
56. "You have power over your mind – not outside events. Realize this, and you will find strength." – Marcus Aurelius
57. "I learned that courage was not the absence of fear, but the triumph over it. The brave man is not he who does not feel afraid, but he who conquers that fear." – Nelson Mandela
58. "Courage is fear holding on a minute longer." – George S. Patton
59. "One isn't necessarily born with courage, but one is born with potential. Without courage, we cannot practice any other virtue with consistency. We can't be kind, true, merciful, generous, or honest." – Maya Angelou
If you're enjoying these quotes, you'll love our collection of consistency quotes to inspire long-term thinking.
60. "Success is a mindset and not a point in time but an inbuilt combination of character, discipline, behaviors and set of principles that make who the person becomes."― Dr. Lucas D. Shallua
Other mindset quotes and sayings
61. "There are no limitations to the mind except those we acknowledge. Both poverty and riches are the offspring of thought." – Napoleon Hill
62. "What you feed your mind, will lead your life." – Kemi Sogunle
63. "Normative mind tends to be naive." – Toba Beta
64. "Always stay clam in every situation and see beauty in everything. You'll win!" – Lord Robin
65. "If your systems and your processes are not simple then you have no control hence you do not take action." – Chinmai Swamy
66. "If ever you think that you're losing control of a situation, just shift your mindset and watch your situation change." – Dr. Amelia Rose
67. "A positive mindset can build a positive physical and mental structure for an amazing life." – Hormuzd Dossabhoy
68. "Change Your Ordinary Mindset to Think Extra-Ordinary." – Deep Pandey
69. "Every day, stand guard at the door of your mind." – Jim Rohn
70. "If you live in perception of a perception,you will become anything for everyone." – John Mutuku Nzuvi
71. "Action & Overthinking cannot exist together. You are either busy taking action or you are busy overthinking."― Sharat Sharma
72. "In the stop we find the best answers. As the old saying goes, slow down to speed up."
― Allison Graham
73. "Don't wait for the cold to know that you're the fire."― Goitsemang Mvula
74. "In our most difficult moments, we are given an opportunity to reset & determine who we are or want to be. You alone shape your life."― Megan Hine
75. "Don't think about what if you fall? Think about what if you fly?"― Amit Kalantri
Motivational mindset quotes to inspire you to not give up
76. "Work hard now. Don't wait. If you work hard enough, you'll be given what you deserve." – Shaquille O 'Neal
77. "Success is the ability to go from one failure to another with no loss of enthusiasm." – Winston Churchill
78. "A truly strong person does not need the approval of others any more than a lion needs the approval of sheep." – Vernon Howard
79. "If you quit once it becomes a habit. Don't quit." – Michael Jordon
80. "Dreams don't work unless you do." – John C. Maxwell
81. "Test scores and measures of achievement tell you where a student is, but they don't tell you where a student could end up." – Carol Dweck
82. "Press forward. Do not stop, do not linger in your journey, but strive for the mark set before you." – George Whitefield
83. "Many of life's failures are people who did not realize how close they were to success when they gave up." – Thomas Edison
84. "Perseverance is not a long race; it is many short races one after the other." – Walter Elliot
85. "If at first you don't succeed, try, try, try again." – Thomas H. Palmer
86. "The measure of success is not whether you have a tough problem to deal with, but whether it's the same problem you had last year." – John Foster Dulles
Mindset quotes to shift your perspective
87. "The mind is just like a muscle – the more you exercise it, the stronger it gets and the more it can expand." ― Idowu Koyenikan
88. "Happiness depends on your mindset and attitude." ― Roy T. Bennett
89. "Mind is a flexible mirror, adjust it, to see a better world." ― Amit Ray
90. "Once your mindset changes, everything on the outside will change along with it." ― Steve Maraboli
91. "It is easier for one to take risks and to chase his dreams with a mindset that he has nothing to lose. In this lies the immense passion, the great advantage of avoiding a materialistic, pleasure-filled way of life." ― Criss Jami
92. "In the fixed mindset, everything is about the outcome. If you fail—or if you're not the best—it's all been wasted. The growth mindset allows people to value what they're doing regardless of the outcome . They're tackling problems, charting new courses, working on important issues. Maybe they haven't found the cure for cancer, but the search was deeply meaningful." ― Carol S. Dweck
93. "Do you know great minds enjoy excellence, average minds love mediocrity and small minds adore comfort zones?" ― Onyi Anyado
94. "The mind is a powerful thing. It can take you through walls." ― Denis Avey
95. "What we beileve is what we see." ― Sukant Ratnakar
96. "If you saturate your mind with positive thoughts, it will sustain you in any situation." ― Lailah Gifty Akita
Thought-provoking mindset quotes
97. "If you can build a muscle, you can build a mindset." – Jay Shetty
98. "No matter what, people grow. If you chose not to grow, you're staying in a small box with a small mindset. People who win go outside of that box. It's very simple when you look at it." – Kevin Hart
99. "Your mindset matters. It affects everything – from the business and investment decisions you make, to the way you raise your children, to your stress levels and overall well-being." – Peter Diamandis
100. "Being an entrepreneur is a mindset. You have to see things as opportunities all the time." – Soledad O'Brien
101. "The most difficult thing is changing people's mindset." – Arunachalam Muruganantham
102. "If you start with the mindset that you know nothing, you will learn a lot that nobody knew before." – David Maraniss
103. "'No fear' is a mindset that I stand for. It's the reason why I've got to where I am today." – Skepta
104. "Changing the game is a mindset." – Robert Rodriguez
105. "I'm always going to try to win with a positive mindset." – Brock Osweiler
106. "When you have a traumatic experience, you look at your mindset." – Keith Barry
Encouraging mindset quotes
107. "We need to make sure we're all working together to change mindsets, to change attitudes, and to fight against the bad habits that we have as a society." – Justin Trudeau
108. "It takes different mindsets to do different things." – Henry Mancini
109. "You cannot have a positive life and a negative mind." – Joyce Meyer
110. "Get your mind going in the right direction and you'll get your life going in the right direction." – Joel Osteen
111. "Know how to change your mindset so that you can steer it towards success." – Lora Jets
112. "A positive mindset is one of the attributes of successful people." – Sandra Leon
113. "Changing your mindset may change the situation." – Lisa Rusczyk
114. "I've never known a person who was successful that didn't at first establish a mindset of success." – Byron Pulsifer
115. "Nothing will slow your progress like a negative mindset." – Unknown
116. "If you accept the expectations of others, especially negative ones, then you never will change the outcome." – Michael Jordan
Mindset Quotes To Help You Focus On Your Goals
117. "I think anything is possible if you have the mindset and the will and desire to do it and put the time in." ― Roger Clemens
118. "Eliminate the mindset of can't! Because you can do anything!" ― Tony Horton
119. "Getting rich begins with the right mindset, the right words and the right plan." ― Robert Kiyosaki
120. "No matter what comes your way, shake it off and move forward. When you have a positive mindset, you can't be defeated." ― Joel Osteen
121. "Mindsets are contagious. So choose the people you populate your life with extremely well." ― Robin Sharma
122. "Successful people don't have any fewer problems than unsuccessful people; they just have a different mindset in dealing with them." ― John C. Maxwell
123. "If you are ready to take your game to the next level, you gotta change that mindset." ― Eric Thomas
124. "Starting each day with a positive mindset is the most important step of your journey to discovering opportunity." ― Jay Samit
125. "To create something exceptional, your mindset must be relentlessly focused on the smallest detail." ― Giorgio Armani
126. "Successful people do not have a part-time mindset nor a full-time mindset, but a lifetime mindset." ― Orrin Woodward
Mindset Quotes To Help You Settle for a Decision
127. "Happiness in simplicity can be achieved with a flexible mindset and nine hours sleep each night." — Dalai Lama
128. "It just feels like I'm on the right path musically and I'm in the right mindset to continue out my mission in music because I'm not putting myself in a box." — Brandy Norwood
129. "I always feel like there's more. I think that's just a mindset you're supposed to have." — Dez Bryant
130. "I always make music that's reflective of the mindset I'm in at the time, and how I'm feeling." — Ladyhawke
131. "Tragically, many people have this faithless, wishy-washy mindset, which causes them to lose the battle in their minds before they ever fight it in the world." — Craig Groeschel
132. "I feel like anyone can be a kid forever as long as you have that mindset and attitude towards the world." — Mark Hoppus
133. "By activating an expansive, tolerant, and creative mindset, positive feelings maximize the social, intellectual, and physical benefits that will accrue." — Martin Seligman
134. "I think that when people experience something that seems to be supernatural, in some ways it cuts through the secular mindset." — Nicky Gumbel
135. "Physical fears change and shift depending on the role and depending on the mindset I'm in." — Misty Copeland
136. "If you do not like anything, alter it. If you can not change it, adjust your mindset. Will not complain." — Maya Angelou
Mindset Quotes To Help You Focus
137. "Your mindset determines how you perceive and connect to the world around you." — Joseph Taylor
138. "Without the right mind-set, there is no chance that anyone can reach their potential." — James Atkinson
139. "Think of your mindsets as your foundation. With a solid foundation, you can build something amazing and strong." — Dave Perotta
140. "The opportunity to develop resilience comes through difficult circumstances that both highlight and challenge existing mindsets." — Devra Davis
141. "Gratitude and humility … are critical in developing a successful mindset." — Paul Brodie
142. "Those with a growth mindset believe intelligence changes, so it's not as tightly bound up into your sense of self." — Jonathan Harnum
143. "A positive, or winning mindset can often mean the difference between success or failure in any endeavour." — Anthony T. Galie
144. "Mindfulness involves paying attention with a focused mind, in the present moment, without judgement." — DK
145. "You will find when you take emotion out of the picture and give the mindset a good reason to do something, it's easy to do it and get on with your life." — Lora Jets
146. "Success is a mindset. Let's learn how to create a positive one." — Beau Norton
Mindset Quotes To Control How You Think
147. "I believe that every innovative thought comes from a creative mindset….A creative mindset is what drives our world, and art is the base of that." — Omar Epps
148. "Only changes in mindsets can extend the frontiers of the possible." — Winston Churchill
149. "I don't think you ever will yourself to win. I think you prepare yourself the best you can, get yourself in the best mindset you can get in, and go after it." — Jack Nicklaus
150. "True philanthropy requires a disruptive mindset, innovative thinking and a philosophy driven by entrepreneurial insights and creative opportunities." — Naveen Jain
151. "You can be a victim of cancer, or a survivor of cancer. It's a mindset." — Dave Pelzer
152. "Leadership is a mindset that shifts from being a victim to creating results. Any one of us can demonstrate leadership in our work and within our lives." — Robin Sharma
153. "The difference between average and good. Good and Great! Great and Phenomenal! It's their mindset!" — Eric Thomas
154. "Poor people have the desire to prosper but their mindset stop them." — Matthew Ashimolowo
155. "Your environment influences your mindset." — Robin Sharma
156. "Let the dataset change your mindset." — Hans Rosling
Mindset Quotes To Help You Change Your Altitude For Good
157. "Neatness and cleanliness is not a function of how rich or poor you are but that of mentality and principle." ― Ikechukwu Izuakor
158. "An undisciplined mind is a wasted one, which will be reflected in the life of the one who possesses such a mind." ― Stephen Richards
159. "It's all about reprogramming our minds to focus more on what brings us joy." ―
Alaric Hutchinson
160. "The biggest game you will ever play is the game in your mind. Master your mind, master your world." ― Kevin Abdulrahman
161. "Policy-makers continue to discover that they cannot solve today's problems with yesterday's mindsets." ― Widad Akrawi
162. "Your mind is its own food in the appetite to success." ― Anthony T. Hincks
163. "Stop being an average mindset." ― Ankit Samrat
164. "Invest in yourself. You'll make the money back. Just keep an abundant mindset." ― Robin S. Baker
165. "With the change of circumstances, new opportunities emerge every moment. How mindful are we about these opportunities?" ― Sukant Ratnakar
166. "Even if you know the steps to succeed, without the right mindset, you won't do those steps." ― Cristina Imre
Is your mindset working for you, or against you?
If you ever noticed a voice in your mind that tells you you're a failure every time you make a mistake, you probably need to adjust your mindset.
Try to catch yourself sending these negative messages.
When you do, remind yourself that each mistake is just that – one mistake.
You can always do better the next time.
Ask yourself what you can learn from this mistake, so you can improve.
This positive mindset will allow you to develop motivation, hope, and a strong character that will take you where you want to go in life.
Soon, you'll realize the full power of a growth mindset.
What's your biggest takeaway from these mindset quotes and sayings?
Do you have any other inspirational quotes to add?
Let us know in the comment section below.