Quotes to Help You Build a Growth Mindset
These mindset quotes will help you develop motivation, hope, and a strong character that will take you where you want to go in life.
You'll often hear it said nowadays that it's best to embody a growth mindset, rather than a fixed mindset.
This means you should always look at yourself as someone who is growing and changing, no matter how old you are.
Any flaw or perceived failure does not reflect a permanent problem, but something you must continue to work on.
How can a growth mindset benefit you?
Whatever you're trying to achieve, you must always fight negative self-talk that tries to convince you that you're destined to fail.
Whatever your mindset is, it tends to end up coming true. Staying positive and maintaining a mindset of confidence, determination, and hope can help you overcome challenges.
A growth mindset is the marker of great character.
Below is our collection of inspirational, wise, and thought-provoking mindset quotes and sayings, collected from a variety of sources over the years.
Don't forget to also read these attitude quotes that will inspire you to work hard and stay positive.
Quotes About Mindset and Confidence
1. "Besides pride, loyalty, discipline, heart, and mind, confidence is the key to all the locks." – Joe Paterno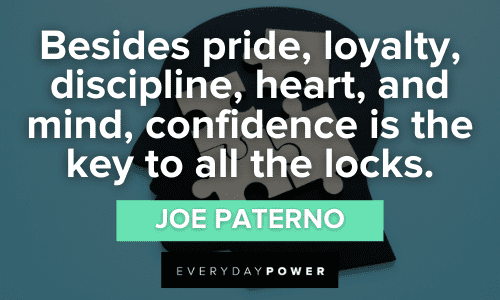 2. "With confidence, you have won before you have started." – Marcus Garvey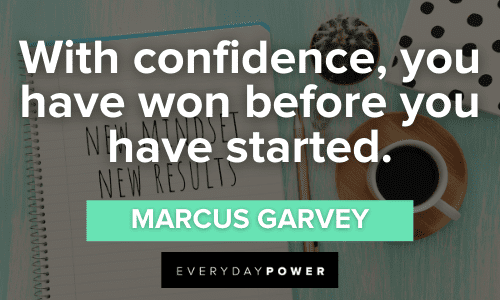 3. "Don't worry about your heart, it will last you as long as you live." – W. C. Fields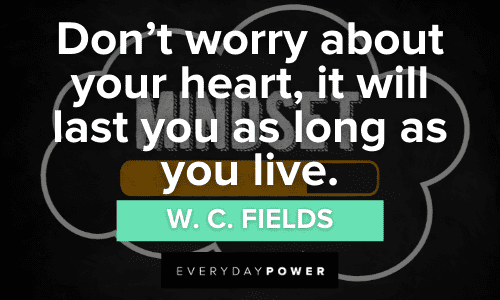 4. "Whatever we expect with confidence becomes our own self-fulfilling prophecy." – Brian Tracy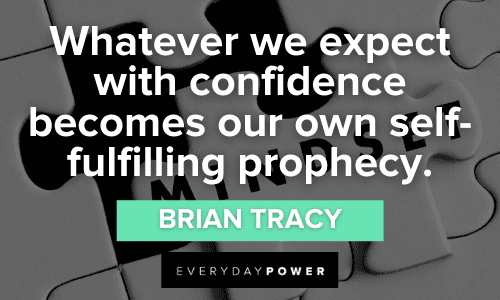 5. "Do what you can, with what you've got, where you are." – Theodore Roosevelt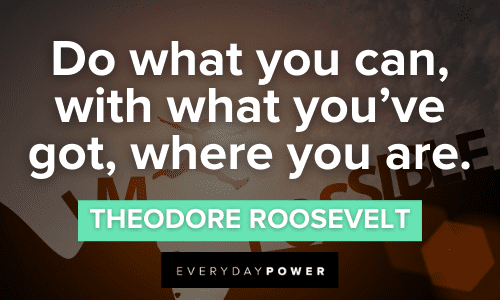 6. "Worry – a God, invisible but omnipotent. It steals the bloom from the cheek and lightness from the pulse; it takes away the appetite, and turns the hair gray." – Benjamin Disraeli
7. "Instead of worrying about what you cannot control, shift your energy to what you can create." – Roy T. Bennett
8. "Action is a great restorer and builder of confidence. Inaction is not only the result, but the cause, of fear. Perhaps the action you take will be successful; perhaps different action or adjustments will have to follow. But any action is better than no action at all." – Norman Vincent Peale
9. "If a problem is fixable, if a situation is such that you can do something about it, then there is no need to worry. If it's not fixable, then there is no help in worrying. There is no benefit in worrying whatsoever." – The Dalai Lama
10. "Do not worry about your difficulties in Mathematics. I can assure you mine are still greater." – Albert Einstein
11. "Never let the future disturb you. You will meet it, if you have to, with the same weapons of reason which today arm you against the present." – Marcus Aurelius
12. "I believe everyone should have a broad picture of how the universe operates and our place in it. It is a basic human desire. And it also puts our worries in perspective." – Stephen Hawking
13. "You gain strength, courage, and confidence by every experience in which you really stop to look fear in the face. You are able to say to yourself, 'I lived through this horror. I can take the next thing that comes along.'" – Eleanor Roosevelt
14. "You must have confidence in your competence." – Elijah Cummings
15. "That's the secret to life… replace one worry with another." – Charles M. Schulz
16. "I have learned not to worry about love; but to honor its coming with all my heart." – Alice Walker
17. "Whatever is going to happen will happen, whether we worry or not." – Ana Monnar
18. "There is a great difference between worry and concern. A worried person sees a problem, and a concerned person solves a problem." – Harold Stephen
Mindset Quotes About Making a Comeback
19. "Fall down seven times, get up eight." – Naoki Higashida
20. "There's nothing as exciting as a comeback – seeing someone with dreams, watching them fail, and then getting a second chance." – Rachel Griffiths
21. "Nothing is cooler and more attractive than a big comeback, and that'll be me." – Steven Adler
22. "There is nothing as sweet as a comeback, when you are down and out, about to lose, and out of time." – Anne Lamott
23. "I'm always making a comeback but nobody ever tells me where I've been." – Billie Holiday
24. "Making a comeback is one of the most difficult things to do with dignity." – Greg Lake
If you're enjoying these quotes, make sure to check out our collection of comeback quotes to help you bounce back.
25. "I am facing a challenge, I am not facing defeat. Remember this." – Nikki Rowe
26. "That's the greatest comeback since Lazarus." – Sid Waddell
27. "To have a comeback, you have to have a setback." – Mr. T
28. "To admit you want to have a comeback means you have to admit you weren't what you were supposed to be. You dropped below your own standard." – Marilyn Manson
29. "I'm a comeback waiting to happen. No one deserves it more than I do." – Sean Young
You might also like these manifestation quotes that will inspire you to take control of your future.
Mindset Quotes About Determination
30. "It is not in the stars to hold our destiny but in ourselves." – William Shakespeare
31. "For the sake of peace and justice, let us move toward a world in which all people are at last free to determine their own destiny." – Ronald Reagan
If you're enjoying these quotes, make sure to read our collection of Ronald Reagan quotes from the former United States President.
32. "No one saves us but ourselves. No one can and no one may. We ourselves must walk the path." – Buddha
33. "Once you make a decision, the universe conspires to make it happen." – Ralph Waldo Emerson
34. "When it comes to life, we spin our own yarn, and where we end up is really, in fact, where we always intended to be." – Julia Glass
35. "Every person has the power to change their fate if they are brave enough to fight for what they desire more than anything." – Stephanie Garber
36. "We dream to give ourselves hope. To stop dreaming – well, that's like saying you can never change your fate." – Amy Tan
37. "Actions are the seed of fate. Deeds grow into destiny." – Harry S. Truman
38. "Be extremely subtle, even to the point of formlessness. Be extremely mysterious, even to the point of soundlessness. Thereby you can be the director of the opponent's fate." – Sun Tzu
If you're enjoying these quotes, make sure to read our collection of Sun Tzu quotes from the iconic warrior and philospher.
39. "Every man gotta right to decide his own destiny." – Bob Marley
40. "It is in your moments of decision that your destiny is shaped." – Tony Robbins
41. "Control your own destiny or someone else will." – Jack Welch
42. "Destiny is a worrying concept. I don't want to be fated, I want to choose." – Jeanette Winterson
43. "It is what a man thinks of himself that really determines his fate." – Henry David Thoreau
44. "There is no fate that cannot be surmounted by scorn." – Albert Camus
Mindset Quotes About Character
45. "It was character that got us out of bed, commitment that moved us into action, and discipline that enabled us to follow through." – Zig Ziglar
46. "Character, in the long run, is the decisive factor in the life of an individual and of nations alike." – Theodore Roosevelt
47. "Hard conditions of life are indispensable to bringing out the best in human personality." – Alexis Carrel
48. "You will never do anything in this world without courage. It is the greatest quality of the mind next to honor." – Aristotle
49. "Be sure you put your feet in the right place, then stand firm." – Abraham Lincoln
50. "Just as we develop our physical muscles through overcoming opposition – such as lifting weights – we develop our character muscles by overcoming challenges and adversity." – Stephen Covey
51. "Life is a series of experiences, each one of which makes us bigger, even though sometimes it is hard to realize this. For the world was built to develop character, and we must learn that the setbacks and grieves which we endure help us in our marching onward." – Henry Ford
52. "Our ability to handle life's challenges is a measure of our strength of character." – Les Brown
53. "A hero is an ordinary individual who finds the strength to persevere and endure in spite of overwhelming obstacles." – Christopher Reeve
54. "This is no time for ease and comfort. It is time to dare and endure." – Winston Churchill
55. "He who conquers others is strong; He who conquers himself is mighty." – Lao Tzu
56. "You have power over your mind – not outside events. Realize this, and you will find strength." – Marcus Aurelius
57. "I learned that courage was not the absence of fear, but the triumph over it. The brave man is not he who does not feel afraid, but he who conquers that fear." – Nelson Mandela
58. "Courage is fear holding on a minute longer." – George S. Patton
59. "One isn't necessarily born with courage, but one is born with potential. Without courage, we cannot practice any other virtue with consistency. We can't be kind, true, merciful, generous, or honest." – Maya Angelou
If you're enjoying these quotes, you'll love our collection of consistency quotes to inspire long-term thinking.
60. "Success is a mindset and not a point in time but an inbuilt combination of character, discipline, behaviors and set of principles that make who the person becomes."― Dr. Lucas D. Shallua
Other mindset quotes and sayings
61. "There are no limitations to the mind except those we acknowledge. Both poverty and riches are the offspring of thought." – Napoleon Hill
62. "What you feed your mind, will lead your life." – Kemi Sogunle
63. "Normative mind tends to be naive." – Toba Beta
64. "Always stay clam in every situation and see beauty in everything. You'll win!" – Lord Robin
65. "If your systems and your processes are not simple then you have no control hence you do not take action." – Chinmai Swamy
66. "If ever you think that you're losing control of a situation, just shift your mindset and watch your situation change." – Dr. Amelia Rose
67. "A positive mindset can build a positive physical and mental structure for an amazing life." – Hormuzd Dossabhoy
68. "Change Your Ordinary Mindset to Think Extra-Ordinary." – Deep Pandey
69. "Every day, stand guard at the door of your mind." – Jim Rohn
70. "If you live in perception of a perception,you will become anything for everyone." – John Mutuku Nzuvi
71. "Action & Overthinking cannot exist together. You are either busy taking action or you are busy overthinking."― Sharat Sharma
72. "In the stop we find the best answers. As the old saying goes, slow down to speed up."
― Allison Graham
73. "Don't wait for the cold to know that you're the fire."― Goitsemang Mvula
74. "In our most difficult moments, we are given an opportunity to reset & determine who we are or want to be. You alone shape your life."― Megan Hine
75. "Don't think about what if you fall? Think about what if you fly?"― Amit Kalantri
Is your mindset working for you, or against you?
If you ever noticed a voice in your mind that tells you you're a failure every time you make a mistake, you probably need to adjust your mindset.
Try to catch yourself sending these negative messages. When you do, remind yourself that each mistake is just that – one mistake.
You can always do better the next time. Ask yourself what you can learn from this mistake, so you can improve.
This positive mindset will allow you to develop motivation, hope, and a strong character that will take you where you want to go in life. Soon, you'll realize the full power of a growth mindset.
What's your biggest takeaway from these mindset quotes and sayings? Do you have any other inspirational quotes to add? Let us know in the comment section below.
November 29, 2021 5:40 AM EST
Be the first one to leave a comment!