Quotes About Taking Risks to Inspire Your Inner Lion
Looking for inspirational quotes about taking risks?
Life is full of risks. No outcome is ever 100% certain. No matter what you do, you have to take risks.
But although nothing is ever guaranteed, taking calculated risks is the only way to move forward and advance your life. As the saying goes, "Fortune favors the brave."
You cannot grow and expand if you're afraid to take the leap of faith and leave your comfort zone. You cannot live your most fulfilling life if you choose not to take chances in life.
Although the fear of taking risks will always be there, you cannot let it stop you from pursuing your goals and living a purposeful life.
There is never a perfect time for you to take action. Don't let the fear of failure stop you from starting that project, showing your work, or changing your habit.
If you want to tap into your Everyday Power and taste meaningful achievement, you can't be afraid of embracing risk and working with it.
Here are some powerful quotes about taking risks that will inspire you to take that leap of faith.
Quotes about taking risks to inspire your inner lion
1. "It seems to be a law of nature, inflexible and inexorable, that those who will not risk cannot win." – John Paul Jones
2. "Don't be afraid to take a big step. You can't cross a chasm in two small jumps." — David Lloyd George
3. "Take risks: if you win, you will be happy; if you lose, you will be wise." – Swami Vivekananda
4. "If you risk nothing, then you risk everything." – Geena Davis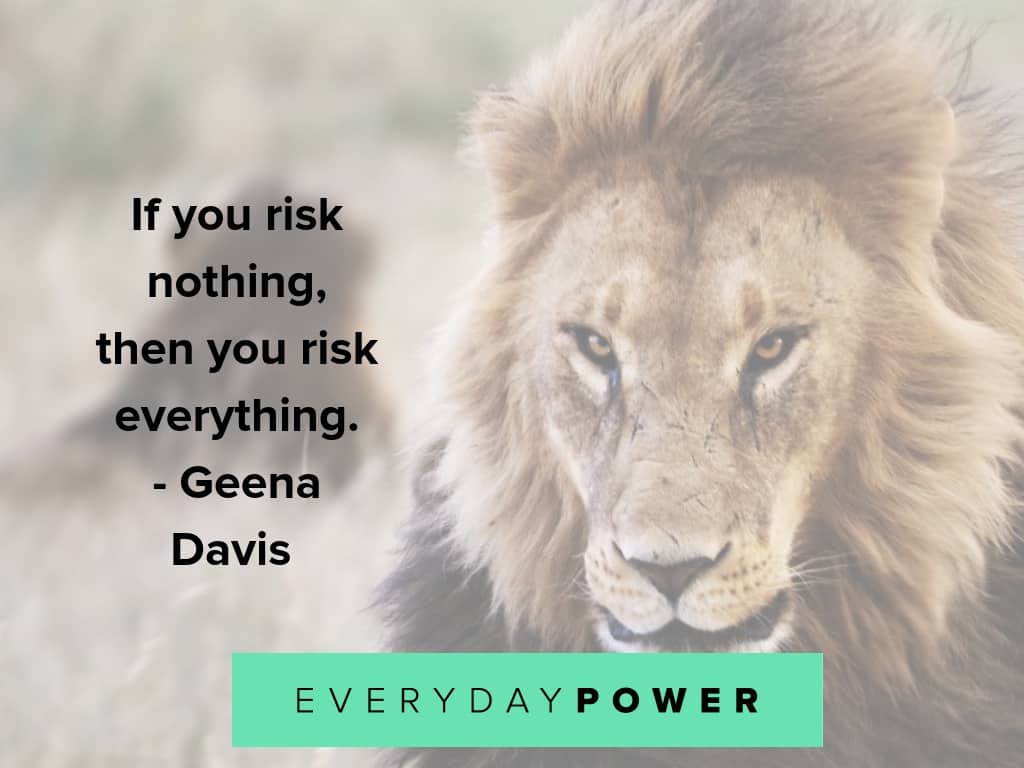 5. "I don't believe in pitfalls. I believe in taking risks and not doing the same thing twice." – Guy Laliberte
6. "No man is worth his salt who is not ready at all times to risk his well-being, to risk his body, to risk his life in a great cause." – Theodore Roosevelt
7. "If you dare nothing, then when the day is over, nothing is all you will have gained." ― Neil Gaiman
8. "He who is not courageous enough to take risks will accomplish nothing in life." – Muhammad Ali
9. "The most critical risk of all, is not taking the risk if means be dangerous." ― Anthony Liccione
10. "When you take risks you learn that there will be times when you succeed and there will be times when you fail, and both are equally important." ― Ellen DeGeneres
Quotes about taking risks and living life
11. "Life is inherently risky. There is only one big risk you should avoid at all costs, and that is the risk of doing nothing." – Denis Waitley
12. "Never let the odds keep you from doing what you know in your heart you were meant to do." — H. Jackson Brown, Jr.
13. "There's something liberating about not pretending. Dare to embarrass yourself. Risk." – Drew Barrymore
14. "Whatever you can do, or dream you can, begin it. Boldness has genius, power and magic in it." – Goethe
15. "The reward is in the risk." – Rachel Cohn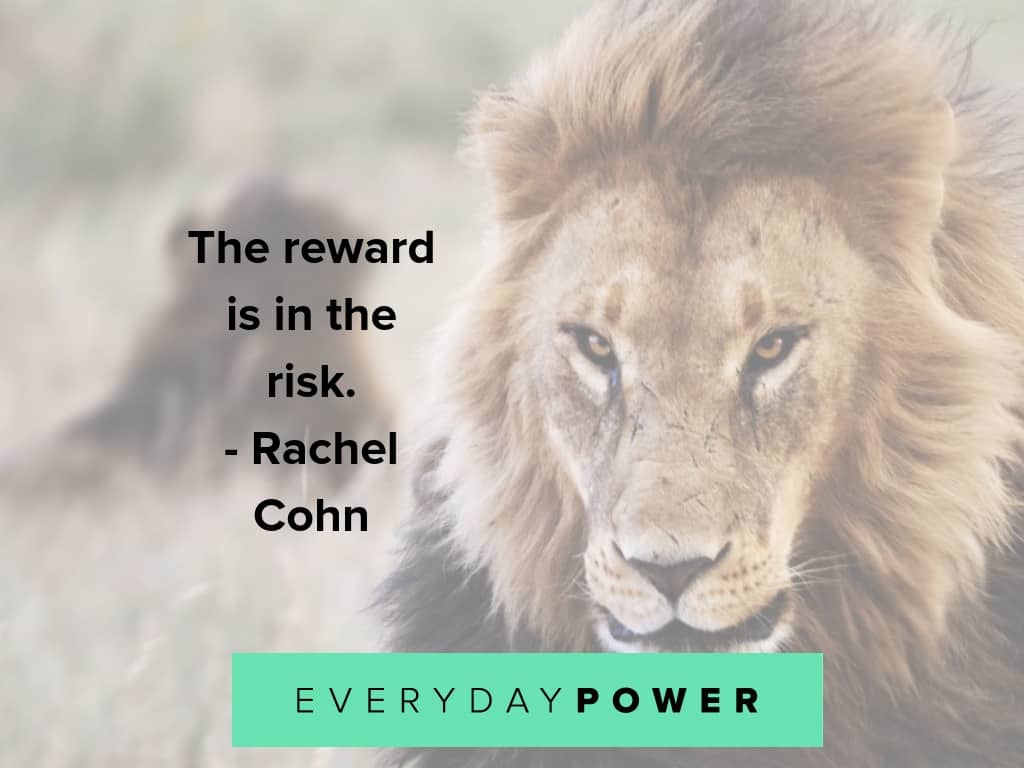 16. "To know what life is worth you have to risk it once in a while." – Jean-Paul Sartre
17. "…maybe sometimes it's riskier not to take a risk. Sometimes all you're guaranteeing is that things will stay the same." ― Danny Wallace
18. "People who don't take risks generally make about two big mistakes a year. People who do take risks generally make about two big mistakes a year." ― Peter F. Drucker
19. "The first step toward success is taken when you refuse to be a captive of the environment in which you first find yourself." –  Mark Caine
20. "Two roads diverged in a wood, and I . . . I took the one less traveled by, and that has made all the difference." – Robert Frost
Quotes about taking risks to inspire and motivate
21. "The biggest risk is not taking any risk. In a world that's changing really quickly, the only strategy that is guaranteed to fail is not taking risks." —Mark Zuckerberg (see more Mark Zuckerberg quotes)
22. "If fear was a man he would never take risks." ― Fritz Chery
23. "You only do good work when you're taking risks and pushing yourself." –  Sally Hawkins
24. "And the day came when the risk to remain tight in a bud was more painful than the risk it took to blossom." — Anais Nin
25. "In battle it is the cowards who run the most risk; bravery is a rampart of defense." – Sallust
26. "Taking risks gives me energy." –  Jay Chiat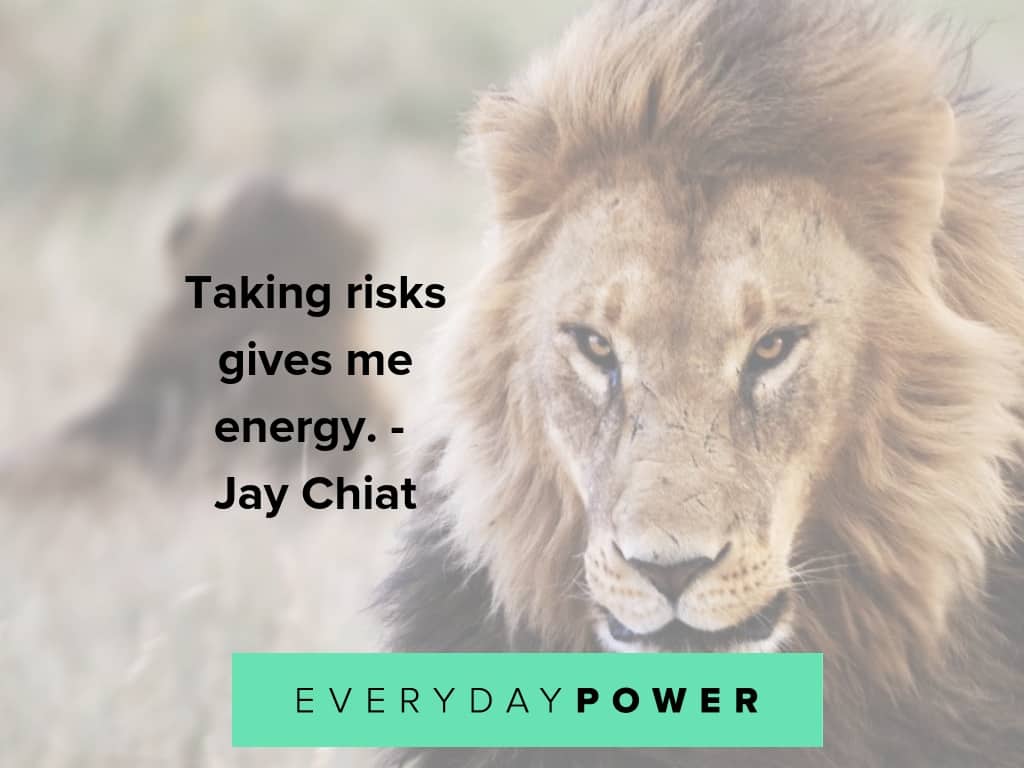 27. "The biggest risk a person can take is to do nothing." – Robert Kiyosaki
28. "…If there is no risk, there is no reward." ― Christy Raedeke
29. "Only those who will risk going too far can possibly find out how far one can go." – T. S. Eliot
30. "The only certainty in life is that it is uncertain." ― Charles F. Glassman
Quotes about taking risks to inspire you to greater heights
31. "Progress always involves risks. You can't steal second base and keep your foot on first." — Frederick Wilcox
32. "You can't be successful in business without taking risks. It's really that simple." – Adena Friedman
33. "Because if you're prepared and you know what it takes, it's not a risk. You just have to figure out how to get there. There is always a way to get there." – Mark Cuban
34. "Life is either a daring adventure or nothing at all." ― Helen Keller
35. "You have to risk falling to be able to fly."  ― Debasish Mridha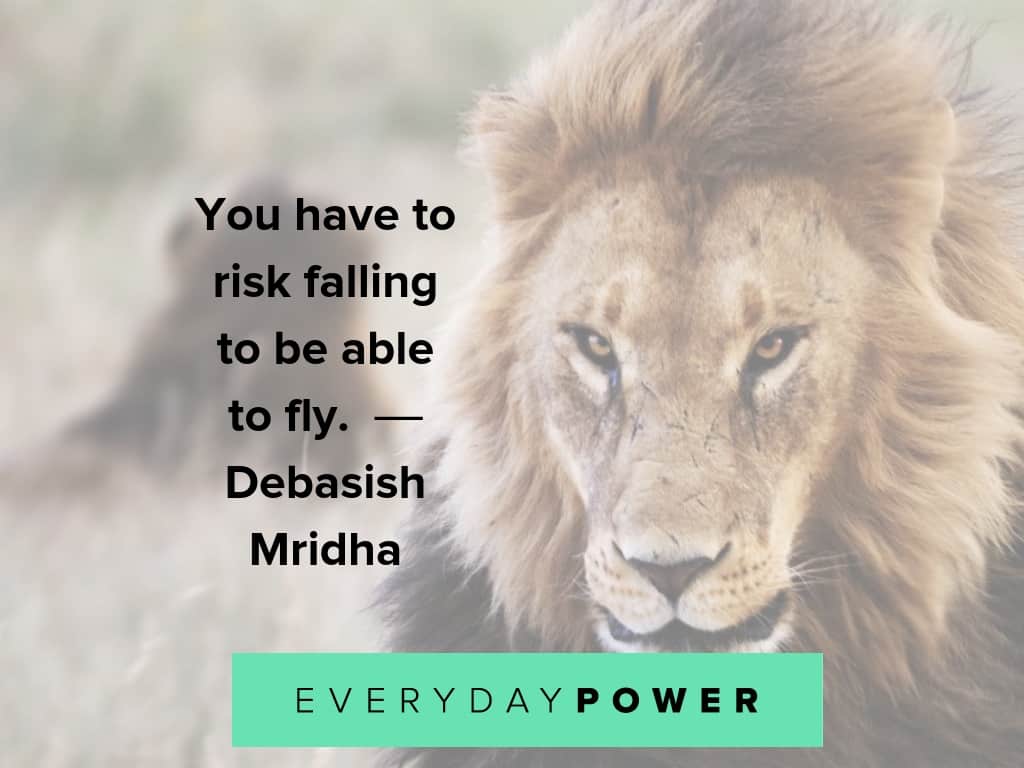 36. "A ship in harbor is safe, but what is not what ships are built for." – John A. Shedd
37. "Only those who play win. Only those who risk win. History favors risk-takers. Forgets the timid. Everything else is commentary." ― Iveta Cherneva
38. "Don't worry about failures, worry about the chances you miss when you don't even try." – Jack Canfield
39. "Whenever you see a successful business, someone once made a courageous decision." – Peter Drucker
40. "Take chances, make mistakes. That's how you grow. Pain nourishes your courage. You have to fail in order to practice being brave." — Mary Tyler Moore
Other inspirational quotes about taking risks
41. "There are risks and costs to action. But they are far less than the long-range risks of comfortable inaction." — John F. Kennedy
42. "Living with fear stops us from taking risks, and if you don't go out on the branch, you're never going to get the best fruit." – Sarah Parish
43. "When you play it too safe, you're taking the biggest risk of your life. Time is the only wealth we're given. –Barbara Sher
44. "If you opt for a safe life, you will never know what it's like to win." ― Richard Branson
45. "Anything that is successful is a series of mistakes." — Billie Armstrong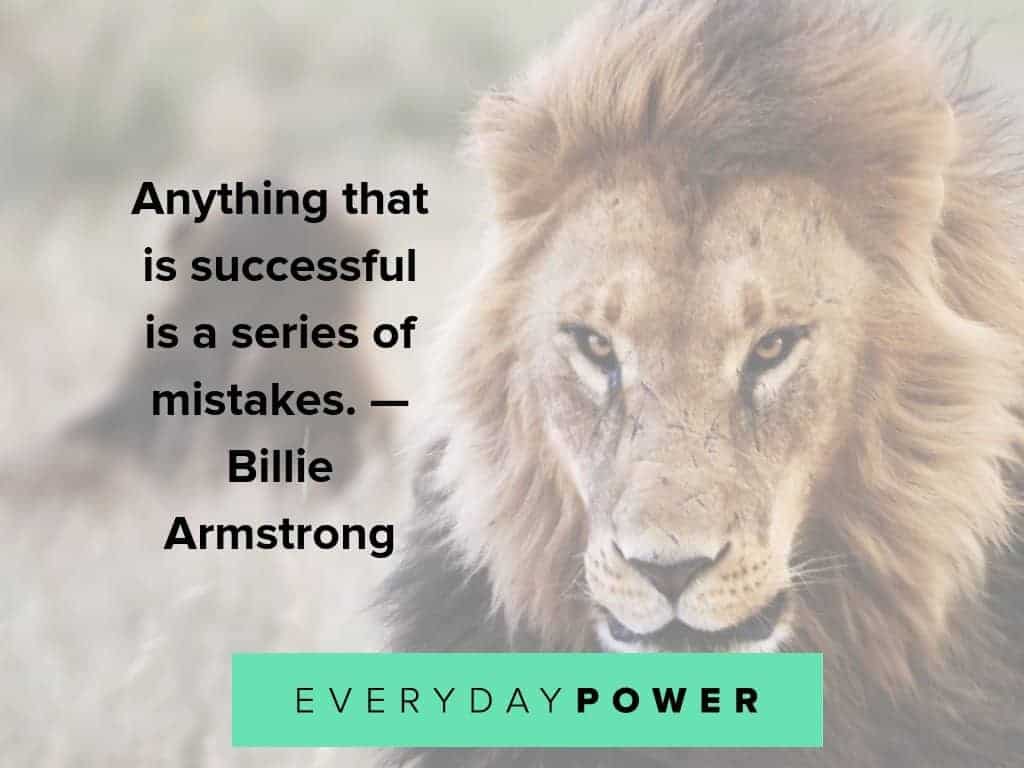 46. "If you are not willing to risk the unusual, you will have to settle for the ordinary." – Jim Rohn
47. "One who is not afraid to die lives, and one who is afraid to live dies." ― Matshona Dhliwayo
48. "Everything you've ever wanted is on the other side of fear." – George Addair
49. "As we risk ourselves, we grow. Each new experience is a risk." – Fran Watson
50. "It's better to be a lion for a day than a sheep all your life." — Sister Elizabeth Kenny
More Quotes About Taking Risks
51. "Don't be too timid and squeamish about your actions. All life is an experiment. The more experiments you make the better." – Ralph Waldo Emerson
52. "There is strange comfort in knowing that no matter what happens today, the Sun will rise again tomorrow." – Aaron Lauritsen
53. "The struggles we endure today will be the 'good old days' we laugh about tomorrow." – Aaron Lauritsen
54. "Most men either compromise or drop their greatest talents and start running after, what they perceive to be, a more reasonable success, and somewhere in between they end up with a discontented settlement. Safety is indeed stability, but it is not progression." – Criss Jami
55. "Life's trials will test you, and shape you, but don't let them change who you are." – Aaron Lauritsen
56. "This is our big chance to see what people think of us. The real us. We have to show em there's nothing to be afraid of. If we don't get over our fears, they never will." – Lisi Harrison
57. "Those who achieve the extraordinary are usually the most ordinary because they have nothing to prove to anybody. Be Humble." – Aaron Lauritsen
58. "The only way to find true happiness is to risk being completely cut open." – Chuck Palahniuk
59. "There is no intensity of love or feeling that does not involve the risk of crippling hurt. It is a duty to take this risk, to love and feel without defense or reserve." – William S. Burroughs
60. "If you don't take risks, you'll have a wasted soul." – Drew Barrymore
Did you enjoy these quotes about taking risks
Taking risks is how you grow and expand. It is how you become better at what you do and live the large life you're destined to have.
To achieve anything worthwhile in life, you need to step outside the safe zone. You must embrace some level of discomfort if you want to be as big and successful as you can possibly imagine. Hopefully, these quotes have inspired you to take the necessary risks to live the life you dream of.
Did you enjoy these quotes about taking risks? Which of the quotes was your favorite? Let us know in the comment section below. Also, don't forget to share with your friends and loved ones.
May 5, 2019 7:33 AM EST
Be the first one to leave a comment!