Workout Motivation Quotes For The Best Workout Ever
Our latest collection of workout motivation quotes on Everyday Power.
Workout motivation quotes have the power to make us feel motivated to work out even when we don't feel like it because we are tired or because we don't see the results we had anticipated when starting out.
Similarly, when you have a busy schedule, you need good workout motivation to keep you going.
These workout motivation quotes can kick you into high gear in just a couple of minutes.
Most people are addicted to words and phrases; whether they realize it or not.
The words we hear and thoughts we have can easily distract us from achieving our goals or keep us fixed on achieving them.
We have collected the quotes below to help you stay on track in your quest to stay fit and healthy.
These quotes are from a diverse group of personalities, such as those in fitness like Arnold Schwarzenegger and Dwayne Johnson, sports personalities like Venus Williams, Muhammad Ali and Michael Jordan, and public figures like Benjamin Franklin, Nelson Mandela, Maya Angelou and Mahatma Gandhi.
And when you're done, check out our collection of motivational fitness quotes.
Enjoy!
Check out our most popular quote article, a list of short inspirational quotes for daily inspiration.
Check out our inspirational quotes category page for more inspirational life quotes.
Workout Motivation Quotes For The Best Workout Ever
1. "Strength does not come from the physical capacity. It comes from an indomitable will." – Mahatma Gandhi
2. "Training gives us an outlet for suppressed energies created by stress and thus tones the spirit just as exercise conditions the body." – Arnold Schwarzenegger
You will also enjoy our article on training quotes.
3. "Energy & persistence conquer all things." – Benjamin Franklin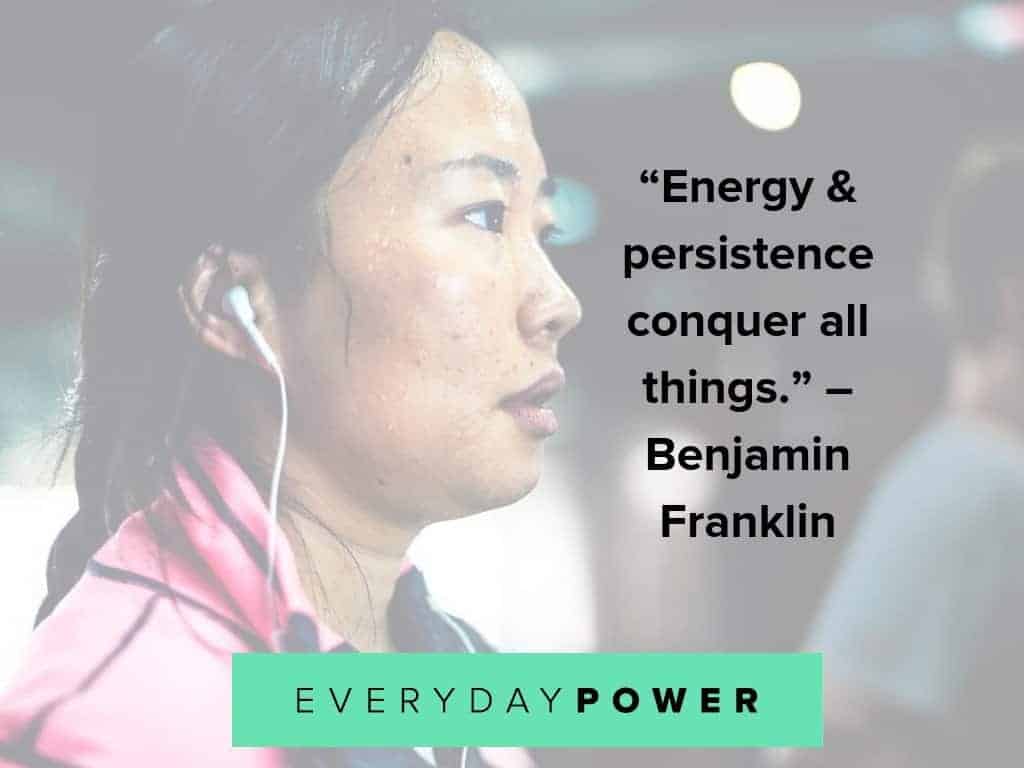 You will also enjoy our article on Fitness Motivational Quotes.
4. "I've missed more than 9,000 shots in my career. I have lost almost 300 games. Twenty-six times I've been trusted to take the game-winning shot and missed. I've failed over and over and over again in my life. And that is why I succeed." —Michael Jordan
You will also enjoy our article on gym quotes.
5. "If you have a body, you are an athlete!" – Bill Bowerman
6. "Someone busier than you is working our right now." – Unknown
7. "You can either suffer the pain of discipline or the pain of regret." –Jim Rohn
8. "The best way to predict the future is to create it." – Abraham Lincoln
9. "Exercise is a celebration of what your body can do. Not a punishment for what you ate." —​Women's Health UK
10. "No matter how slow you go, you're still lapping everybody on the couch." —​Elite Daily
If you're enjoying this article, be sure to also check out these motivational quotes for weight loss that will inspire you to achieve!
Powerful workout motivation quotes
11. "It always seems impossible until it's done." —​Nelson Mandela
12. "I already know what giving up feels like. I want to see what happens if I don't." —​Neila Rey
13. "At first they'll ask why you're doing it. Late they'll ask how you did it." —Tone It Up
14. "I'm not trying to look perfect. I just want to feel better, look great, know I'm healthy, and rock any outfit I choose." —21 day Fix
15. "Look in the mirror … that's your competition." —​Unknown
16. "One workout at a time. One day at a time. One meal at a time." —​Chalene Johnson
17. "If it doesn't challenge you it doesn't change you!" – Fred Devito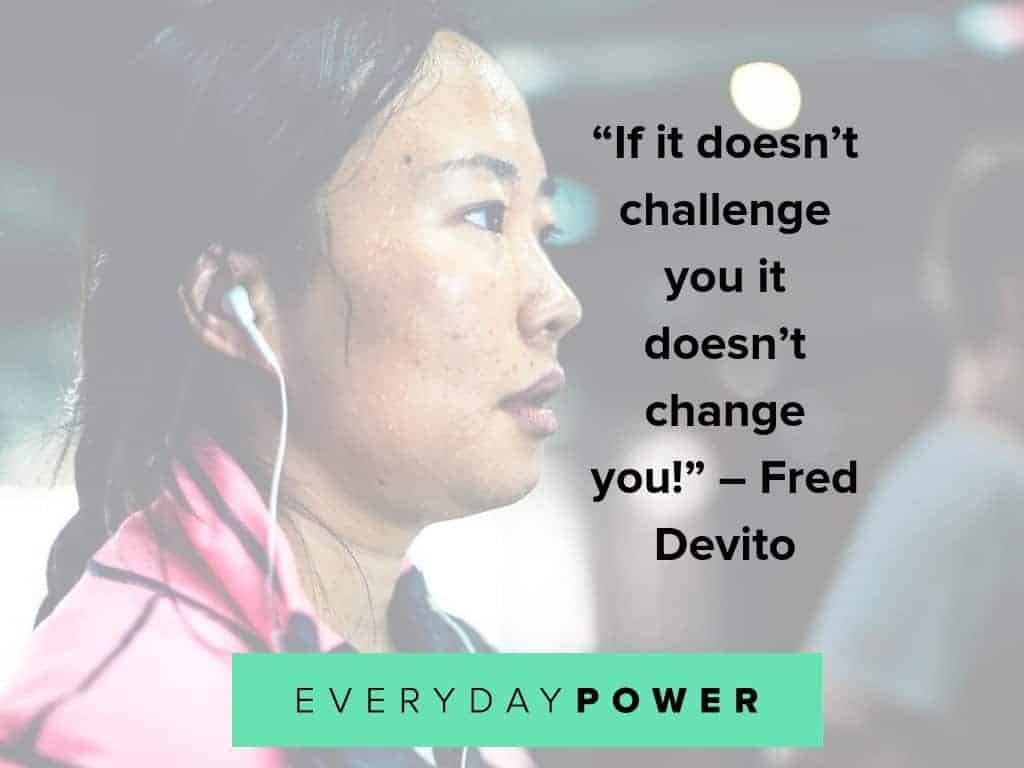 18. "We are what we repeatedly do. Excellence then is not an act but a habit." —Aristotle
19. "Sweat is fat crying." —Unknown
20. "If you want something you've never had, you must be willing to do something you've never done." —Thomas Jefferson
Also, read these inspirational movement quotes that will give you a burst of energy.
Workout motivation quotes for an amazing workout
21. "You don't have to be great to start, but you have to start to be great." – Zig Ziglar
22. "Today I will do what others won't, so tomorrow I can accomplish what others can't." —Jerry Rice
23. "All great achievements require time." —Maya Angelou
24. "To enjoy the glow of good health, you must exercise." – Gene Tunney
25. "Work hard in silence. Let success be your noise." – Frank Ocean
26. "The difference between try and triumph is a little umph." – Marvin Phillips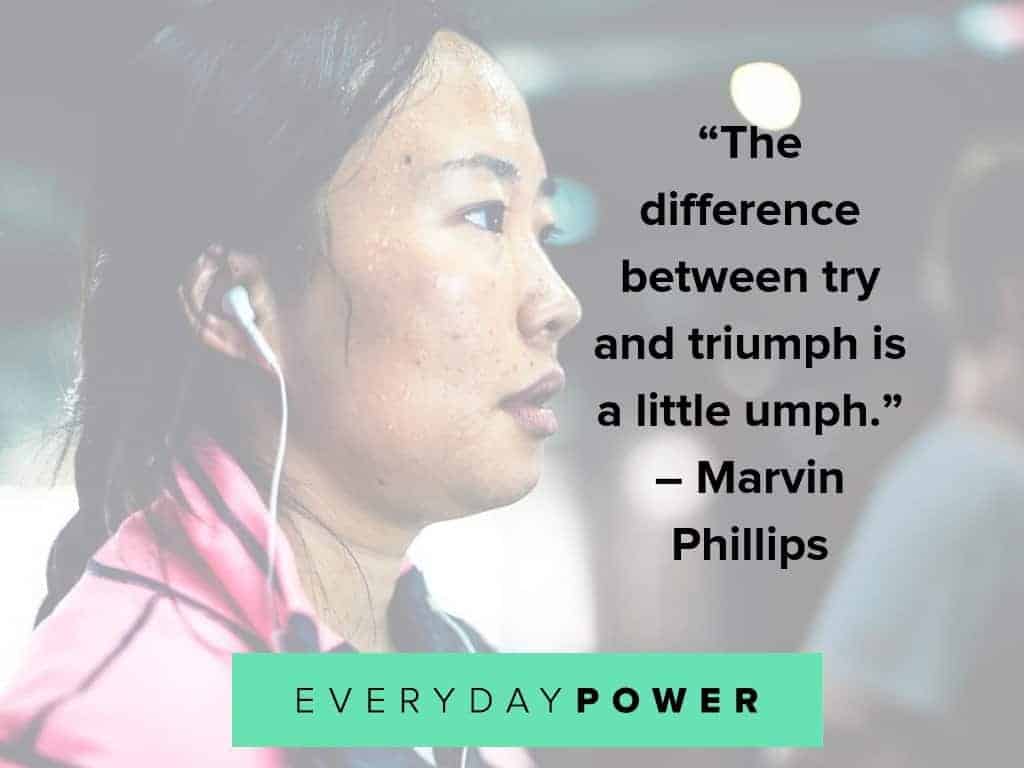 You will also enjoy our article on discipline quotes.
27. "The purpose of training is to tighten up the slack, toughen the body, and polish the spirit." – Morihei Ueshiba
If you're enjoying this article, be sure to also check out our collection of healthy eating quotes celebrating better food choices.
28. "To give anything less than your best is to sacrifice the gift." —Steve Prefontaine
29. "Fitness is not about being better than someone else… It's about being better than you used to be." – Khloe Kardashian
30. "You never know how strong you are until being strong is the only choice you have." – Unknown
Inspirational Workout motivation quotes
31. "Just believe in yourself. Even if you don't pretend that you do and, and some point, you will." —Venus Williams
32. "Don't quit. You are already in pain. You are already hurt. Get a reward from it." – Unknown
33. "We don't stop exercising because we grow old; we grow old because we stop exercising." – Mike Banks
34. "If you ever lack the motivation to train, then think what happens to your mind and body when you don't." – Shifu Yan Lei, Master from the Shaulin Temple
35. "True enjoyment comes from activity of the mind and exercise of the body; the two are ever united." – Wilhelm von Humboldt
36. "Motivation is what gets you started. Habit is what keeps you going." – Jim Ryun
If you're enjoying these quotes, you'll love our collection of short motivational quotes that will get you ready to tackle the day.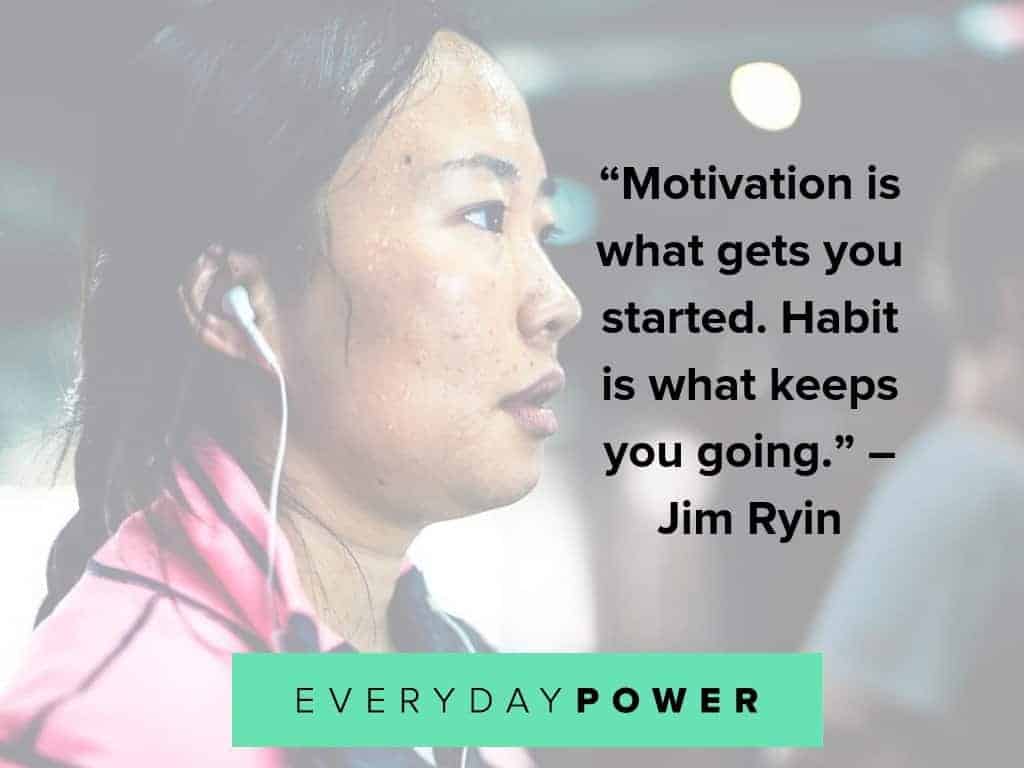 37. "Whether you think you can or you think you can't, you're right." – Henry Ford
38. "The reason I exercise is for the quality of life I enjoy." – Kenneth H. Cooper
39. "The difference between the impossible and the possible lies in a person's determination." —Tommy Lasorda
40. "A muscle is like a car. If you want it to run well early in the morning, you have to warm it up." – Florence Griffith Joyner
Don't forget to also check out these motivational walking quotes about the mental, physical, and emotional benefits.
More workout motivation quotes
41. "My fitness journey will be a lifelong journey." – Khloe Kardashian
42. "Exercise should be regarded as a tribute to the heart." – Gene Tunney
43. "The real workout starts when you want to stop." – Unknown
44. "I just get things done, instead of talking about getting them done." – Henry Rollins
45. "Hustle for that muscle." – Tatianaamico
46. "No pain, no gain." – Benjamin Franklin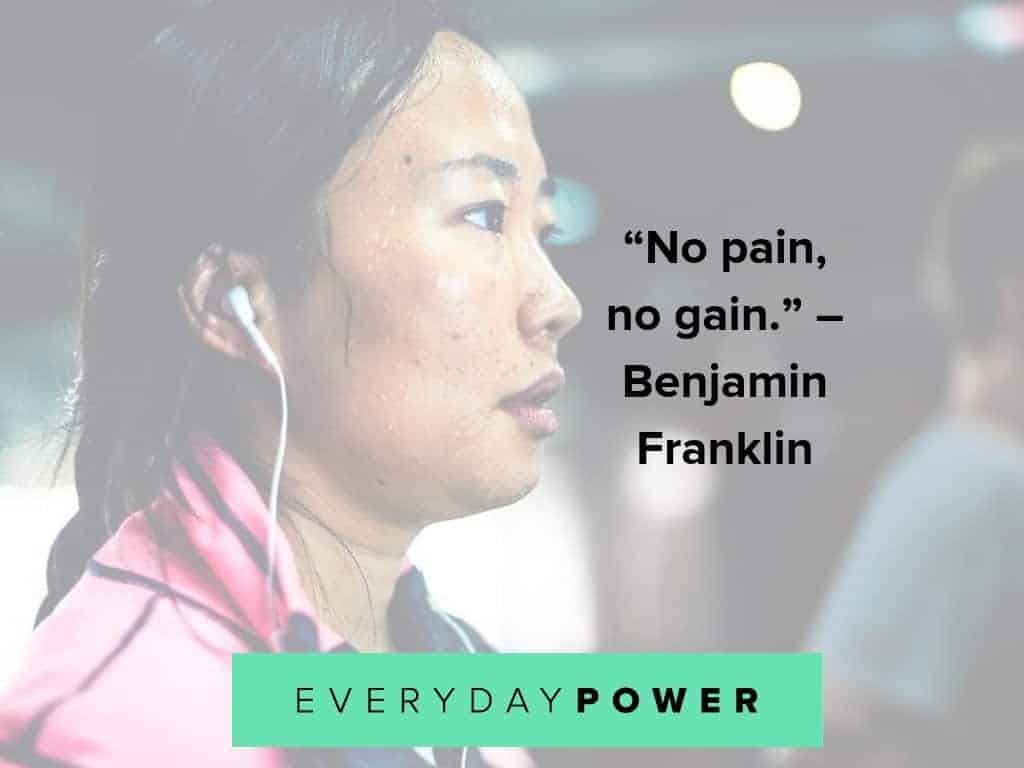 47. "The first step in achieving your goal is to take a moment to respect your goal. Know what it means to you to achieve it." – Dwayne "The Rock" Johnson
48. "Work hard in silence; let your success make the noise." – Arnold Schwarzenegger
49. "Don't count the days, make the days count." —Muhammad Ali
50. "Running's a pain in the ass. But it sure gives me a nice one." – Unknown
You might also like these running quotes to motivate you to stay active.
Powerful workout motivation quotes and sayings
51. "The last three or four reps is what makes the muscle grow. This area of pain divides a champion from someone who is not a champion."— Arnold Schwarzenegger
52. "A year from now you may wish you had started today." – Karen Lamb
53. "Success usually comes to those who are too busy to be looking for it."— Henry David Thoreau
54. "Don't give up on your dreams, or your dreams will give up on you." – John Wooden
55. "All progress takes place outside the comfort zone."— Michael John Bobak
56. "The only person you are destined to become is the person you decide to be." – Ralph Waldo Emerson
57. "The successful warrior is the average man, with laser-like focus."— Bruce Lee
58. "Put all excuses aside and remember this: YOU are capable." – Zig Ziglar
59. "A champion is someone who gets up when they can't."— Jack Dempsey
60. "You will never always be motivated. You have to learn to be disciplined." – Unknown
If you're enjoying this article, make sure to also check out our collection of inspirational sports quotes about working towards your full potential.
Workout motivation quotes to inspire physical fitness
61. "Squats are a form of torture designed by people who don't need to do squats in the first place." – Nora Roberts
62. "Run for fun. Run for exercise. Run for a better life." – Toni Sorenson
63. "Sweat is a release of fat, of pain, of victory!" – Toni Sorenson
64. "Excuses don't kill the fat, exercises do." – Amit Kalantri
65. "Fitness should be the passion, fitness should be the fashion." – Amit Kalantri
66. "To move is to live. To live is to move." – Toni Sorenson
67. "Stretching your body and mind is essential to avoid rigidity." – Haresh Sippy
68. "A healthy body owns a healthy mind." – Amit Kalantri
69. "Fitness is never really about what you lose; it's about all that you gain." – Toni Sorenson
70. "Before you worry about the beauty of your body, worry about the health of your body." – Amit Kalantri
More workout motivation quotes and sayings
71. "You're going to have to let it hurt. Let it suck. The harder you work, the better you will look. Your appearance isn't parallel to how heavy you lift, it's parallel to how hard you work." – Joe Manganiello
72. "Some people want it to happen, some wish it would happen, others make it happen." – Michael Jordan
73. "You have to push past your perceived limits, push past that point you thought was as far as you can go." – Drew Brees
74. "Exercise is king. Nutrition is queen. Put them together and you've got a kingdom." – Jack LaLanne
75. "If you ain't pissed off for greatness, that just means you're okay with being mediocre." – Ray Lewis
76. "Success is what comes after your stop making excuses." – Luis Galarza
77. "When you have a clear vision of your goal, it's easier to take the first step toward it." – L.L. Cool J
78. "The pain you feel today will be the strength you feel tomorrow." – Arnold Schwarzenegger
79. "We run for the people who think they cant." – Dick Hoyt
80. "Discipline is the bridge between goals and accomplishment." – Jim Rohn
Workout motivation quotes to get you going
81. "Nothing will work unless you do." – Maya Angelou
82. "Health is not about the weight you lose, but about the life you gain." – Dr. Josh Axe
83. "Take care of your body. It's the only place you have to live" – Jim Rohn
84. "Once you are exercising regularly, the hardest thing is to stop it." – Erin Gray
85. "If you don't make time for exercise, you'll probably have to make time for illness." – Robin Sharma
86. "I don't count my sit-ups. I only start counting when it starts hurting because they're the only ones that count." – Muhammad Ali
87. "You just can't beat the person who never gives up." – Babe Ruth
88. "Do something today that your future self will thank you for." – Sean Patrick Flanery
89. "Nobody who ever gave his best regretted it." – George Halas
90. "When you hit failure, your workout has just begun." – Ronnie Coleman
Workout Motivation Quotes to Help You Stick to a Fitness Routine
91. "The clock is ticking. Are you becoming the person you want to be?" — Greg Plitt
92. "The only place where success comes before work is in the dictionary." — Vidal Sassoon
93. "Things work out best for those who make the best of how things work out." —
John Wooden
94. "Success is walking from failure to failure with no loss of enthusiasm." — Winston Chu
95. "Exercise is labor without weariness." — Samuel Johnsonrchill
96. "Your body can stand almost anything. It's your mind that you have to convince." — Andrew Murphy
97. "I hated every minute of training, but I said, 'Don't quit. Suffer now and live the rest of your life as a champion.'" — Muhammad Ali
98. "Don't limit your challenges. Challenge your limits." — Jerry Dunn
99. "Believe in yourself and all that you are. Know that there is something inside of you that is greater than any obstacle." — Christian D. Larson
100. "Most people fail, not because of lack of desire, but because of lack of commitment." — Vince Lombardi
Which of these workout motivation quotes was your favorite?
Working out needs a lot of motivation and a strong will.
As you continue to work out, there will come a time when you will feel like it's not worth it to keep working out.
When you experience this feeling, you can choose to work through it, ignore the feeling, or give up.
Hopefully, the workout motivation quotes above will keep you motivated and remind you why you need to push on even during your worst days, when you don't even feel like lifting a finger.
Even a single quote from the above list is enough to keep you motivated.
So go ahead, pick your favorite one, and let it be your workout mantra.
If you need a little more inspiration, check out Andy Frisella's 75 Hard challenge.
Did you enjoy these workout motivation quotes?
Which of the quotes resonated with you best?
Let us know in the comment section below.
We would love to hear all about it.