Women Empowerment Quotes for Strong Feminists
September 20, 2022 7:00 AM EST
Listen to article
4 minutes
These women empowerment quotes will inspire you to succeed in life.
The purpose of the women's empowerment movement is to fight for equality and encourage all women to succeed.
When we work together and lift each other up, it's possible to reach new heights.
These empowering quotes will inspire you to live boldly and reach your full potential.
Why is it important to empower women?
Throughout history and all around the globe, women have faced injustices and hardships.
Keep the bravery and strength of these women in mind as you read this collection of women empowerment quotes.
If you're a feminist, you'll definitely love these powerful and brilliant quotes.
The best feminist quotes will make you feel powerful, determined, and invincible.
When you live your life unapologetically and with purpose, anything is possible.
Celebrate who you are as a woman and unleash your true potential.
Share these women empowerment quotes with all the important ladies in your life to remind them of their strength.
Don't forget to also check out these feminism quotes about empowerment and equality for women.
If you love this quote collection, read out our most popular quote article about short inspirational quotes for daily motivation.
If you need more inspirational quotes, check out our motivational quotes category page.
Women empowerment quotes to help you succeed in life
1. "To all the little girls who are watching this, never doubt that you are valuable and powerful, and deserving of every chance and opportunity in the world to pursue and achieve your own dreams." – Hillary Clinton
2. "Feminism isn't about making women stronger. Women are already strong, it's about changing the way the world perceives that strength." – G.D. Anderson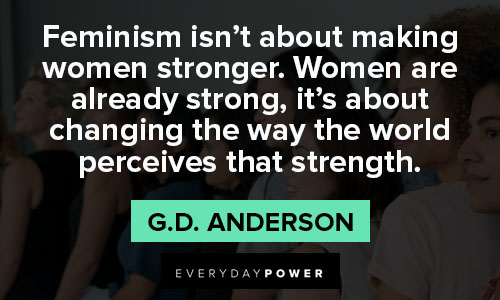 You will also enjoy our article on inspirational quotes for women.
3. "There's something so special about a woman who dominates in a man's world. It takes a certain grace, strength, intelligence, fearlessness, and the nerve to never take no for an answer." – Rihanna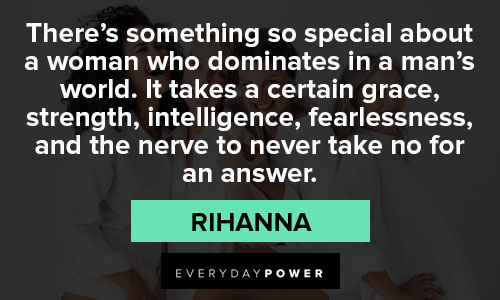 4. "It took me quite a long time to develop a voice, and now that I have it, I am not going to be silent." – Madeleine Albright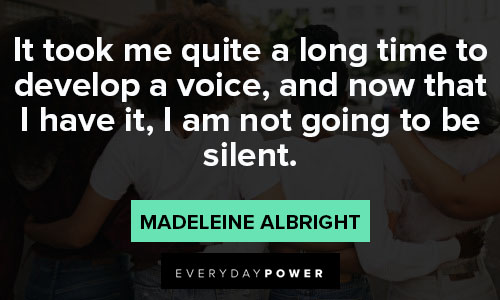 5. "I raise up my voice—not so that I can shout, but so that those without a voice can be heard … We cannot all succeed when half of us are held back." – Malala Yousafzai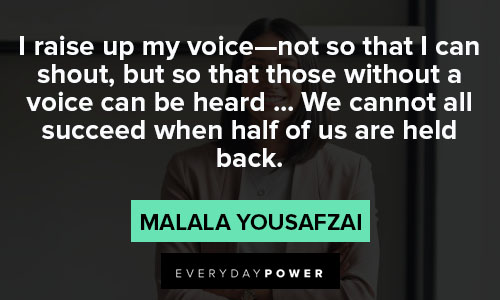 6. "There is no limit to what we, as women, can accomplish." – Michelle Obama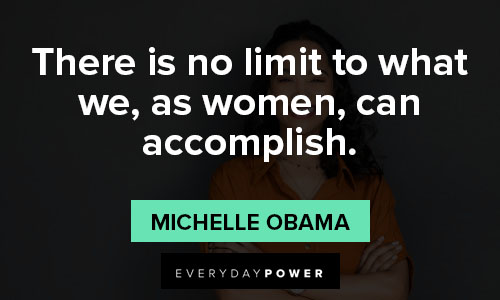 7. "Of course I am not worried about intimidating men. The type of man who will be intimidated by me is exactly the type of man I have no interest in." – Chimamanda Ngozi Adichie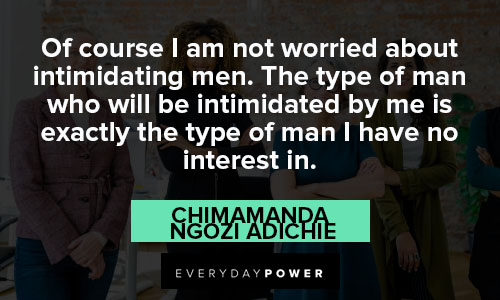 8. "Women belong in all places where decisions are being made." – Ruth Bader Ginsburg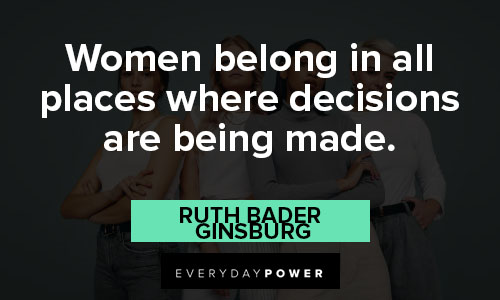 9. "You don't have to be pretty. You don't owe prettiness to anyone. Not to your boyfriend/spouse/partner, not to your co-workers, especially not to random men on the street. You don't owe it to your mother, you don't owe it to your children, you don't owe it to civilization in general. Prettiness is not a rent you pay for occupying a space marked 'female.'" – Erin McKean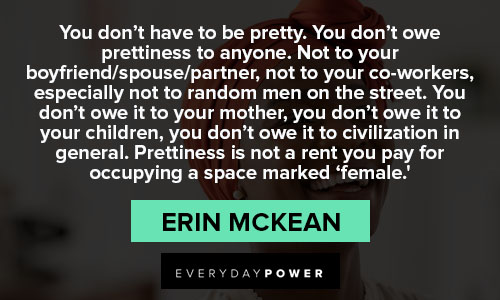 10. "A woman with a voice is, by definition, a strong woman." – Melinda Gates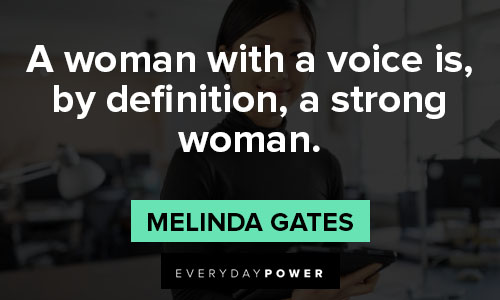 Women empowerment quotes that will inspire you to live boldly
11. "A feminist is anyone who recognizes the equality and full humanity of women and men." – Gloria Steinem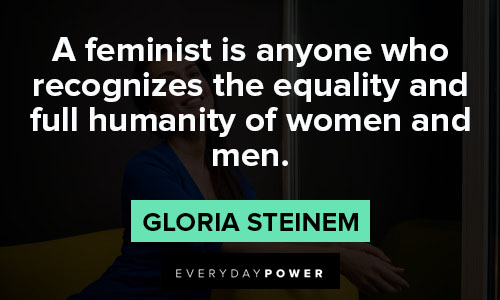 12. "I am not free while any woman is unfree, even when her shackles are very different from my own." – Audre Lorde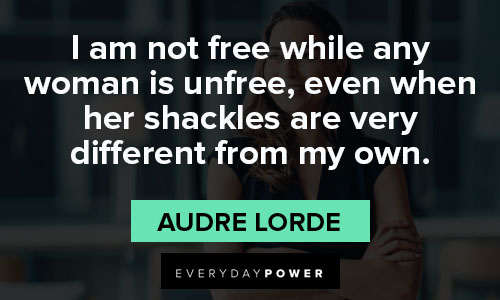 13. "Women are leaders everywhere you look—from the CEO who runs a Fortune 500 company to the housewife who raises her children and heads her household. Our country was built by strong women, and we will continue to break down walls and defy stereotypes." – Nancy Pelosi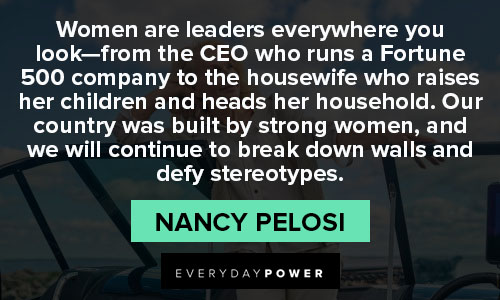 If you're enjoying these quotes, make sure to check out our collection of Nancy Pelosi quotes from America's most powerful woman.
14. "We need to reshape our own perception of how we view ourselves. We have to step up as women and take the lead." – Beyoncé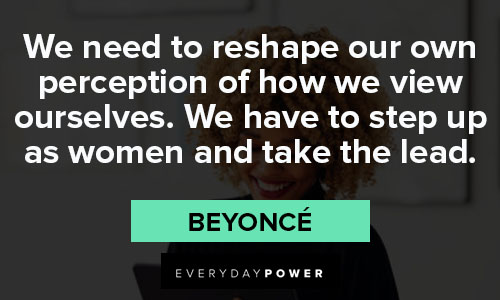 15. "Justice is about making sure that being polite is not the same thing as being quiet. In fact, often times, the most righteous thing you can do is shake the table." – Alexandria Ocasio-Cortez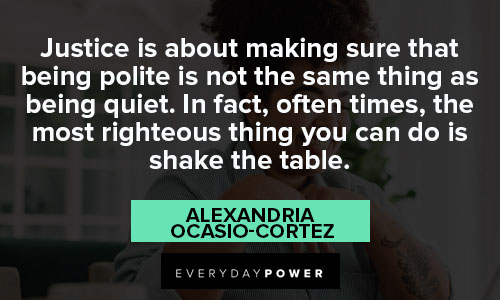 16. "Women must learn to play the game as men do." – Eleanor Roosevelt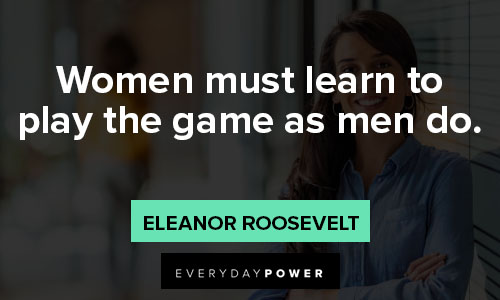 17. "In the future, there will be no female leaders. There will just be leaders." – Sheryl Sandberg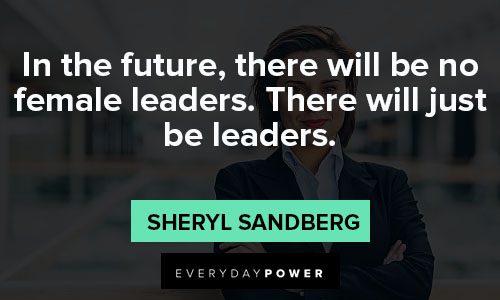 18. "Freeing yourself was one thing, claiming ownership of that freed self was another." – Toni Morrison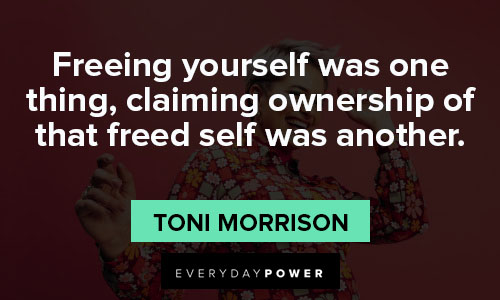 19. "Around the world there are countless examples of women rising, taking leadership, taking their destiny into their own hands, inspiring all of us. But women and girls are still the majority of the victims of war. They are over half of all refugees, and the vast majority of the victims of rape and other sexual and gender-based violence." – Angelina Jolie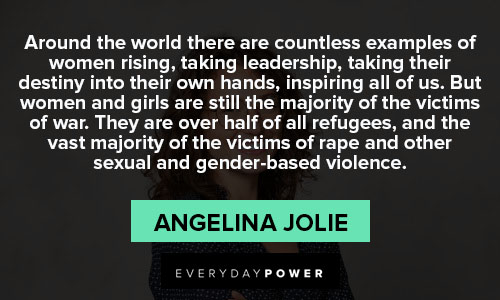 20. "Women, if the soul of the nation is to be saved, I believe you must become its soul." – Coretta Scott King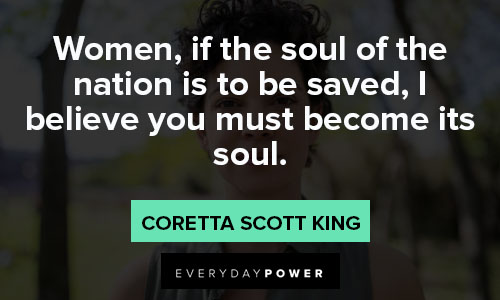 You might also like these international Women's Day quotes to celebrate womanhood.
Women empowerment quotes to help you reach your full potential
21. "I love to see a young girl go out and grab the world by the lapels. Life's a bitch. You've got to go out and kick ass." – Maya Angelou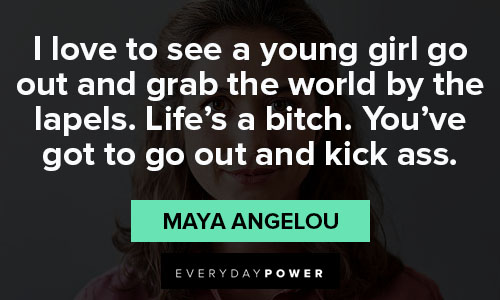 If you're enjoying these quotes, make sure to read our collection of Maya Angelou quotes celebrating success, love & life.
22. "No one ever became a success without taking chances … One must be able to recognize the moment and seize it without delay." – Estée Lauder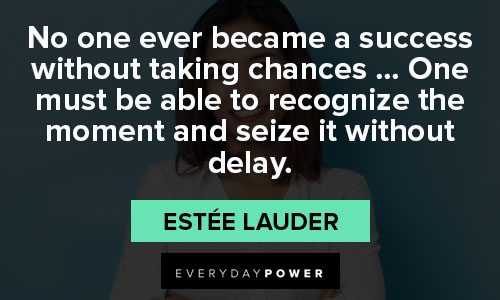 23. "Women will be hidden no more. We will not remain hidden figures. We have names. … It was woman that gave you Dr. Martin Luther King, Jr. It was woman that gave you Malcolm X. And according to the Bible, it was a woman that gave you Jesus. Don't you ever forget it." – Janelle Monáe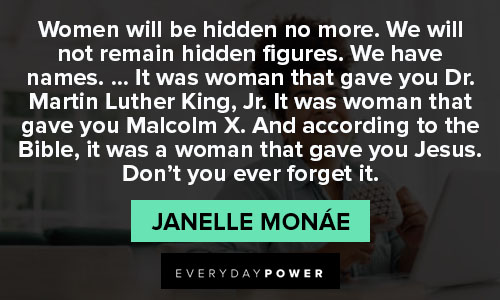 24. "Women have to harness their power — it's absolutely true. It's just learning not to take the first no. And if you can't go straight ahead, you go around the corner." – Cher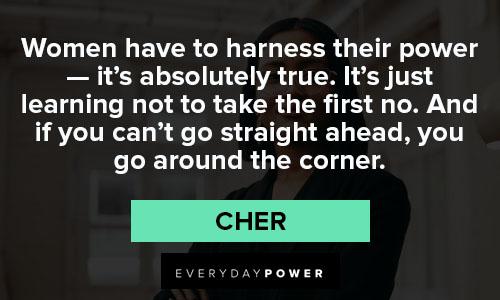 25. "When a man gives his opinion, he's a man; when a woman gives her opinion, she's a bitch." – Bette Davis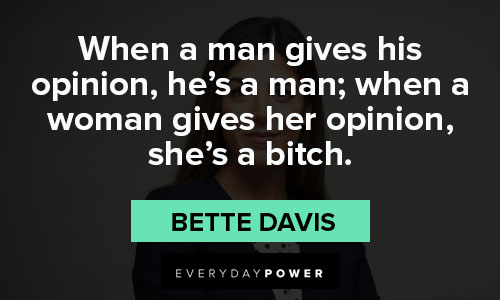 If you're enjoying these quotes, make sure to read our collection of bad bitch quotes to whip your self-confidence back into shape.
26. "You could make a case that, along with the technological revolution, the most provocative upending destabilizing thrilling change in the course of human history is that we're finally in it … We're here now, women are in the world, and we will not be bullied." – Meryl Streep
27. "The most courageous act is still to think for yourself. Aloud." – Coco Chanel
28. "If you want to run for Prime Minister, you can. If you don't, that's wonderful, too. Shave your armpits, don't shave them, wear flats one day, heels the next. These things are so irrelevant and surface to what it is all really about, and I wish people wouldn't get caught up in that. We want to empower women to do exactly what they want, to be true to themselves, to have the opportunities to develop. Women should feel free." – Emma Watson
29. "With each generation, women's ability to live the lives they choose reaches a place their grandmothers never thought possible. But that doesn't mean everything is perfect or that our work is finished." – Cathy McMorris Rodgers
30. "Success, they taught me, is built on the foundation of courage, hard-work and individual responsibility. Despite what some would have us believe, success is not built on resentment and fears." – Susana Martinez
Women empowerment quotes to remind you of your strength
31. "I think that passion is the secret ingredient that drives hard work and excellence." – Kelly Ayotte
32. "I stand for honesty, equality, kindness, compassion, treating people the way you want to be treated, and helping those in need. To me, those are traditional values." – Ellen DeGeneres
33. "Every woman's success should be an inspiration to another. We're strongest when we cheer each other on." – Serena Williams
34. "Women don't need to find a voice, they have a voice, and they need to feel empowered to use it, and people need to be encouraged to listen." – Meghan Markle
35. "My coach said I run like a girl. And I said if he ran a little faster, he could too." – Mia Hamm
36. "Each time a woman stands up for herself, without knowing it possibly, without claiming it, she stands up for all women." – Maya Angelou
37. "The most common way people give up their power is by thinking they don't have any." – Alice Walker
38. "I can't think of any better representation of beauty than someone who is unafraid to be herself." – Emma Stone
39. "We need women at all levels, including the top, to change the dynamic, reshape the conversation, to make sure women's voices are heard and heeded, not overlooked and ignored." – Sheryl Sandberg
40. "Do not live someone else's life and someone else's idea of what womanhood is. Womanhood is you." – Viola Davis
Also check out these powerful Margaret Thatcher quotes about strong will and leadership
More women empowerment quotes to make you feel powerful
41. "Never be ashamed of what you feel. You have the right to feel any emotion that you want, and to do what makes you happy. That's my life motto." – Demi Lovato
42. "Good girls go to heaven, bad girls go everywhere." – Mae West
43. "Just because you are blind, and unable to see my beauty doesn't mean it does not exist." – Margaret Cho
44. "When I dare to be powerful, to use my strength in the service of my vision, then it becomes less and less important whether I am afraid." – Audre Lorde
45. "Above all, be the heroine of your life, not the victim." – Nora Ephron
46. "My mission in life is not merely to survive, but to thrive; and to do so with some passion, some compassion, some humor, and some style." – Maya Angelou
47. "Think like a queen. A queen is not afraid to fail. Failure is another stepping stone to greatness." – Oprah Winfrey
48. "Human rights are women's rights and women's rights are human rights, once and for all." – Hillary Clinton
49. "I'm tough, ambitious, and I know exactly what I want. If that makes me a bitch, okay." – Madonna
50. "A girl should be two things: who and what she wants." – Coco Chanel
You might also like these Clara Barton quotes from the angel of the battlefield.
51. "There's a wilderness here. She knew it lived inside her." – Nora Roberts
52. "A powerful woman always finds a way to inspire and empower women." – Gift Gugu Mona
53. "As women, we must have our weapons in this world, whether they're our minds or our fists or our wiles or our tears." – Laura Sebastian
54. "If you invest in a girl or a woman, you're investing in everyone else." – Melinda Gates
Take a moment and check out these feminist quotes.
Women Empowerment Quotes To Raise Powerful Women
55. "There is no greater warrior than a mother protecting her child." — NK. Jemisin
56. "I am a woman. Phenomenally. Phenomenal woman. That's me." — Maya Angelou
57. "A strong woman is a woman determined to do something that others are determined not to be done." — Marge Piercy
58. "Women's freedom is the sign of social freedom." — Rosa Luxemberg
59. "A woman is the full circle. Within her is the power to create, nurture and transform." — Diane Mariechild
60. "Don't just stand for the success of other women – insist on it." — Gail Blanke
61. "A really strong woman accepts the war she went through and is ennobled by her scars." — Carly Simon
62. "Women have discovered that they cannot rely on men's chivalry to give them justice." — Helen Keller
63. "I tell my story, not because it is unique, but because it is not. It is the story of many girls." — Malala Yousafzai
64. "Every word a woman writes changes the story of the world, revises the official version." — Carolyn See
Which of these brilliant women empowerment quotes inspires you the most?
Now more than ever, it's important for women to lift each other up and empower one another to be strong.
These feminist quotes will encourage you to thrive in this world.
Whether you want to succeed in business, politics, sports, the arts, or in other areas of your life, these uplifting sayings can help motivate you.
This collection of women empowerment quotes comes from the minds of influential women throughout history.
These wise thoughts and inspirational slogans will guide you on the path to ambition and success.
Be courageous and unapologetic on your journey.
Hopefully, the women empowerment quotes above will inspire you to live a bold, fearless life.
Use these inspirational words as a guide on your journey to success.
As women, it's important that we all stand together and strengthen one another.
Share these powerful quotes with the women in your life to encourage and inspire them.
What are your favorite feminist women empowerment quotes that make you feel determined and powerful?
Let us know in the comment section below.