Hard Times Quotes About Life And This Too Shall Pass
When the going gets really tough, these hard times quotes will keep you going.
If you happen to be going through a rough time, these hard times quotes are sure to motivate you. Share which one of these quotes inspired you the most in the comments below.
Life is not always easy. There are times when we must look deep within ourselves to push us past adversity and believe in our own everyday power to get us through.
Life is tough and unpredictable. No matter how well-thought-out your plans might be, they're bound to be disrupted at some point.
When life knocks you down, you can either bounce back up and move on or you can stay down there and live the rest of your life with resentment and regret.
If you're going through a hard time in your life, reading some words of inspiration can help you remember that both the 'best and worst of times' will soon pass.
Below are some uplifting hard times quotes about life that we gathered for you. Enjoy!
We also have a collection of motivating determination quotes to keep you going towards your goals and dreams. Be sure to read that as well.
Powerful hard times quotes about life and this too shall pass
1. "A problem is a chance for you to do your best."– Duke Ellington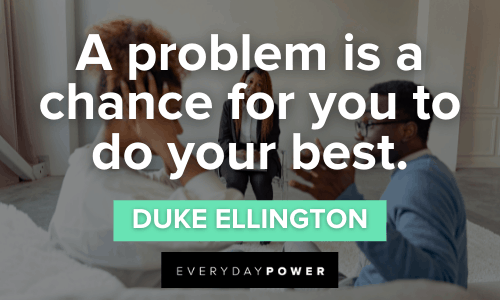 2. "Tough times never last, but tough people do." – Robert H. Schuller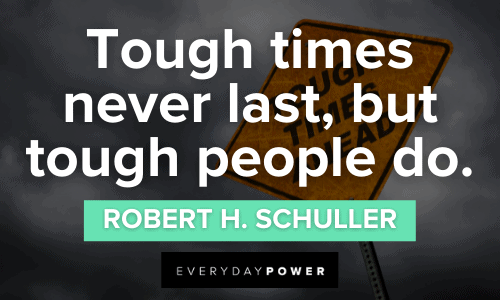 3. "We've gotten through a lot of tough times, and we're going to keep working to make them better. I wish the record was better." – Mike Quade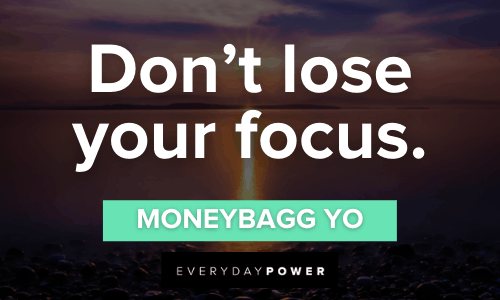 4. "We must accept finite disappointment, but we must never lose infinite hope."– Martin Luther King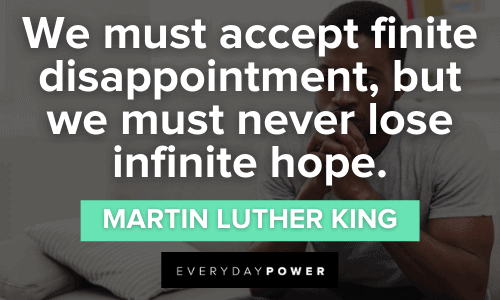 5. "We must embrace pain and burn it as fuel for our journey."– Kenji Miyazawa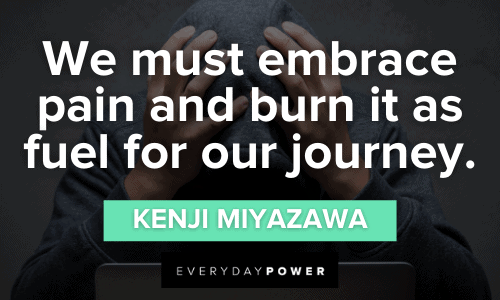 6. "You're going to go through tough times – that's life. But I say, 'Nothing happens to you, it happens for you.' See the positive in negative events." – Joel Osteen
7. "Problems are not stop signs, they are guidelines."– Robert Schuller
8. "The greatest glory in living lies not in never failing, but in rising every time we fail."– Nelson Mandela
If you're enjoying this article, you might also like these domestic violence quotes for support and strength.
9. "No matter how bad things are, you can always make things worse." ― Randy Pausch
10. "Life is at its best when everything has fallen out of place, and you decide that you're going to fight to get them right, not when everything is going your way and everyone is praising you." ― Thisuri Wanniarachchi
11. "It's funny how, when things seem the darkest, moments of beauty present themselves in the most unexpected places." ― Karen Marie Moning
Inspirational hard times quotes for when life gets tough
12. "The ultimate measure of a man is not where he stands in moments of comfort and convenience, but where he stands at times of challenge and controversy."—Martin Luther King, Jr.
13. "When you come to the end of your rope, tie a knot and hang on."—Franklin D. Roosevelt
14. "To be tested is good. The challenged life may be the best therapist."—Gail Sheehy
15. "Let perseverance be your engine and hope your fuel."—H. Jackson Brown, Jr.
16. "Seeds of faith are always within us; sometimes it takes a crisis to nourish and encourage their growth." – Susan Taylor
17. "If you are going through hell, keep going." – Winston Churchill
18. "Hard times don't create heroes. It is during the hard times when the 'hero' within us is revealed." – Bob Riley
19. "I am not afraid of storms, for I am learning how to sail my ship." – Louisa May Alcott
20. "I have no regrets in my life. I think that everything happens to you for a reason. The hard times that you go through build character, making you a much stronger person." – Rita Mero
Don't forget to also read these motivational survival quotes that will help get through the tough times.
Quotes about getting through hard times
21. "Hard times always lead to something great." – Betsey Johnson
22. "Success is not final, failure is not fatal: it is the courage to continue that counts." – Winston Churchill
23. "Life's challenges are not supposed to paralyze you, they're supposed to help you discover who you are." – Bernice Johnson Reagon
24. "New beginnings are often disguised as painful endings." – Lao Tzu
25. "It is not because things are difficult that we do not dare; it is because we do not dare that they are difficult." – Seneca
26. "When the going gets tough, the tough get going." – Joseph Kennedy
27. "Never give up on something that you can't go a day without thinking about." — Sir Winston Churchill
28. "Most of the important things in the world have been accomplished by people who have kept on trying when there seemed to be no hope at all."– Dale Carnegie
29. "Life is like riding a bicycle. To keep your balance, you must keep moving."– Albert Einstein
30. "It's not that I'm so smart, it's just that I stay with problems longer."– Albert Einstein
If you're enjoying this article, be sure to also check out these depression quotes on mental health to help you feel understood.
Encouraging hard times quotes to help you stay strong
31. "Our greatest glory is not in never falling, but in rising every time we fall." – Confucius
32. "We must meet the challenge rather than wish it were not before us." – William J. Brennan, Jr.
33. "Many of life's failures are people who did not realize how close they were to success when they gave up." – Thomas Edison
34. "Accept responsibility for your life. Know that it is you who will get you where you want to go, no one else." – Les Brown
35. "You need to spend time crawling alone through shadows to truly appreciate what it is to stand in the sun." – Shaun Hick
36. If God sends us on strong paths, we are provided strong shoes.~ Corrie ten Boom
37. "I ask not for a lighter burden, but for broader shoulders."~ Jewish Proverb
38. "I have not failed. I've just found 10,000 ways that won't work." ~ Thomas Alva Edison
39. "Thankfully, persistence is a great substitute for talent." – Steve Martin
40. "I think that little by little I'll be able to solve my problems and survive." – Frida Kahlo
Don't forget to also read these overcoming dark quotes for moving past difficult times.
Hard times quotes to make you strong
41. "If you feel like giving up, give up on that feeling and give into the realization there are endless possibilities waiting to be discovered before you." – Tom Althouse
42. "Encourage yourself, believe in yourself, and love yourself. Never doubt who you are." – Stephanie Lahart
43. "Pain is your friend; it is your alie. Pain reminds you to finish the job and get the hell home. Pain tells you when you have been seriously wounded. And you know what the best thing about pain is? It tells you you're not dead yet!" – G.I Jane
You might also like these pain quotes will help you channel your warrior within.
44. "A problem is a chance for you to do your best." – Duke Ellington
45. "When everything seems to be going against you, remember that the airplane takes off against the wind, not with it." – Henry Ford
46. "In times of great stress or adversity, it's always best to keep busy, to plow your anger and your energy into something positive." – Lee Iacocca
47. "If someone is strong enough to bring you down, show them you are strong enough to get back up."- A. Josland
48. "Do not pray for an easy life, pray for the strength to endure a difficult one." – Bruce Lee
If you're enjoying these quotes, make sure to read our collection of Bruce Lee quotes from the iconic actor and fighter.

49. You've got to Stay Strong to be strong in tough times. – Tilman J. Fertitta
50. Storms make trees take deeper roots. – Dolly Parton
Hard times quotes to remind you of your strength
51. "All of life is a test and we all have our challenges to meet."― Marjory Sheba
52. "It is a blessing to experience hardship. Not because we suffer, but because we learn to endure."― Saim .A. Cheeda
53. "See your hard times through the spectacles of your experiences. They, too, shall pass away."― Ogwo David Emenike
54. "It's true that no one ever said life would be easy, but it is also true that no one ever said you had to go through it alone."― Jellis Vaes
55. "It takes a lot of courage to push through hard times. Never give up. Good things are coming your way."― Robert Tew
56. "In my experience, people who don't stick around during the hard times weren't worth having around anyway."― Kimberly Belle
57. "Hard times are like thunder. They make a lot of noise but do little harm. Don't fear hard times."― Debasish Mridha
58. "Some roses grow through concrete. Remember that."― Brandi L. Bates
59. "When hardships keep coming back, do not take it personal. It's just life."― Naide P Obiang
60. "I'll tell you something about tough times. They just about kill you, but if you decide to keep working at them, you'll find your way through."― Joan Bauer
61. "Life keeps throwing me stones. And I keep finding the diamonds…"― Ana Claudia Antunes
62. "Attitude-flexibility is the mentality that helps us to smoothly persevere through turbulent times."― Dr. Jacinta Mpalyenkana
63. "Never give up. Things may be hard, but if you quit trying they'll never get better. Stop worrying and start trusting God. It will be worth it."― Germany Kent
64. "Difficult times will come." It's a fact of life, isn't it? There are good times and bad times in everybody's life."― Raj Kosaraju
65. "Hard times lifts the seeking souls to higher spiritual realms."― Lailah Gifty Akita
Hard times quotes to motivate you
66. "I like to use the hard times of the past to motivate me today." –Dwayne Johnson
67. "Hard times may have held you down, but they will not last forever. When all is said and done, you will be increased." — Joel Osteen
68. "Hard times, when held with open hands and a tender heart, can prepare us for the future." ― Cindee Snider Re
69. "Sometimes adversity is what you need to face in order to become successful." – Zig Ziglar
70. "Hard times may have put you down sometimes but they will not last forever. When all is said and done, you will be wise and strong." – Anurag Prakash Ray
71. "If you are being positive and strong in difficult times half of your problems will be solved automatically." – Anurag Prakash
72. "Enthusiasm is common. Endurance is rare." — Angela Duckworth
73. "Hard times sustain and strengthen others, inspiring them to strive toward personal growth." – Senora Roy
74. "Hard times arouse an instinctive desire for authenticity." – Coco Chanel
75. "Going through challenging things can teach you a lot, and they also make you appreciate the times that aren't so challenging." – Carrie Fisher
Uplifting hard times quotes
76. "You may not realize it when it happens, but a kick in the teeth may be the best thing in the world for you." – Walt Disney
77. "Adversity is like a strong wind. It tears away from us all but the things that cannot be torn, so that we see ourselves as we really are." – Arthur Golden
78. "If you're feeling low, don't despair. The sun has a sinking spell every night, but it comes back up every morning. The way I see it, if you want the rainbow, you gotta put up with the rain." – Dolly Parton
79. "One ceases to recognize the significance of mountain peaks if they are not viewed occasionally from the deepest valleys." – Dr. Al Lorin
80. "If you can find a path with no obstacles, it probably doesn't lead anywhere." – Frank A. Clark
81. "I have sometimes been wildly, despairingly, acutely miserable, but through it all I still know quite certainly that just to be alive is a grand thing." – Agatha Christie
82. "In the midst of winter, I finally learned that there was in me an invincible summer." – Albert Camus
83. "In the middle of difficulty lies opportunity. " – Albert Einstein
84. "I know God will not give me anything I can't handle. I just wish that He didn't trust me so much." – Mother Teresa
If you're enjoying these quotes, make sure to read our collection of inspiring Mother Teresa quotes on kindness, love, and charity.

85. "When it is dark enough, you can see the stars." – Ralph Waldo Emerson
Hard times quotes to uplift you
86. "The difference between stumbling blocks and stepping stones is how you use them." – Unknown
87. "The signature of the truly great is not the absence of difficulty but the ability to recover from setbacks."— Jim Collins
88. "What lies behind you and what lies in front of you, pales in comparison to what lies inside of you." – Ralph Waldo Emerson
89. "Don't let what you cannot do interfere with what you can do."— John R. Wooden
90. "Never let your head hang down. Never give up and sit down and grieve. Find another way. And don't pray when it rains if you don't pray when the sun shines." – Leroy Satchel Paige
91. "You may have to fight a battle more than once to win it."— Margaret Thatcher
92. "The bravest sight in the world is to see a great man struggling against adversity." –Seneca
If you're enjoying these quotes, you'll love our collection of Seneca quotes that will help you in all facets of your life.

93. "It is better to die on your feet than to live on your knees." — Emiliano Zapata
94. "Obstacles don't have to stop you. If you run into a wall, don't turn around and give up. Figure out how to climb it, go through it, or work around it." – Michael Jordan
95. "You'll never regret what you do in life. You'll only regret what you don't do."— Dr. Wayne Dyer
More hard times quotes and sayings
96. "Your friends will believe in your potential, your enemies will make you live up to it." – Tim Fargo
97. "Faith is why I'm here today and faith is why I made it through." – Jonathan Anthony Burkett
98. "You start with a darkness to move through but sometimes the darkness moves through you." – Dean Young
99. "Some people make a bad bed, they just have to lie in it." – Virginia Euwer Wolff
100. "Accept hardship as a necessary discipline." – Lailah Gifty Akita
101. "Hard times and fake friends are like oil and water: they don't mix." – Nkwachukwu Ogbuagu
102. "The good life is not built on a foundation of ease…it's the hard times that give us a rock solid foundation." – Richie Norton
If you're enjoying this article, make sure to also check out these inspirational challenge quotes about tough times in life, work and love.
103. "As the worst comes to us when we are unprepared, so shall we Strive when the best in unexpected." – Goitsemang Mvula
104. "Without hope, how can we survive hard times?" – Lailah Gifty Akita
105. "In the hard times everything will be revealed, stay watching." – Gun Gun Febrianza
Did these hard times quotes inspire you?
All of us face difficulties or hardships at some point in our lives. But remember, if life wasn't difficult, then it wouldn't be worth living.
As Oprah Winfrey once said: "It doesn't matter how far you might rise. At some point, you're bound to stumble."
Hopefully, these quotes have inspired you to never give up even when the going gets tough.
Did these hard times quotes inspire you? Which of the quotes was your favorite? We would love to hear all about in the comment section below.
March 15, 2021 6:00 AM EST
Click to view