Super Motivational Picture Quotes About Becoming Great!
Super motivational picture quotes to get you fired up about life and your future.
It's about time we added more motivational pictures and inspirational picture quotes on Everyday Power!
Motivational picture quotes are hanging up all around my home and workplace.
Of course, motivation is generated within.
Still, we cannot overlook the power of outside influences.
We all need reminders, boosts and positive influences.
This is why we believe that inspirational picture quotes are so important!
Enjoy!
Check out our most popular quote article, a list of short inspirational quotes for daily inspiration.
If you enjoy this collection, check out our inspirational quotes category page.
Motivational Picture Quotes
1. "I believe in the person I want to become." – Lana Del Rey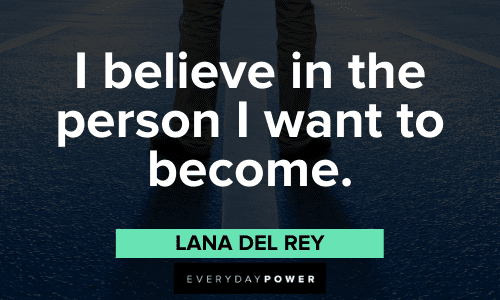 You will also enjoy our article on time flies quotes.
2. "When you have a dream, you've got to grab it and never let go." — Carol Burnett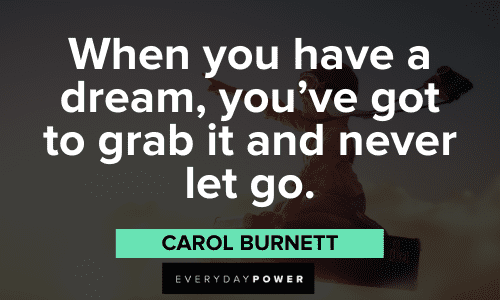 3. "Nothing is impossible. The word itself says 'I'm possible!'" — Audrey Hepburn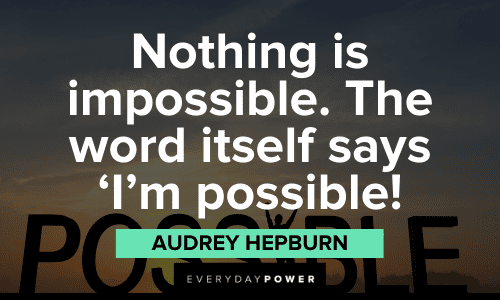 You will also enjoy our article on motivational.
4. "There is nothing impossible to they who will try." — Alexander the Great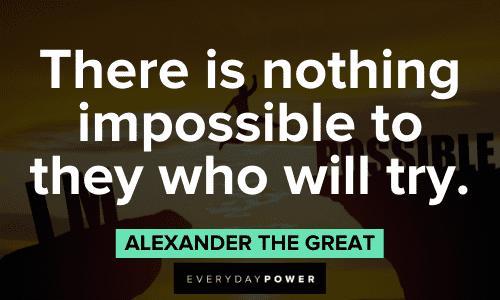 5. "The bad news is time flies. The good news is you're the pilot." — Michael Altshuler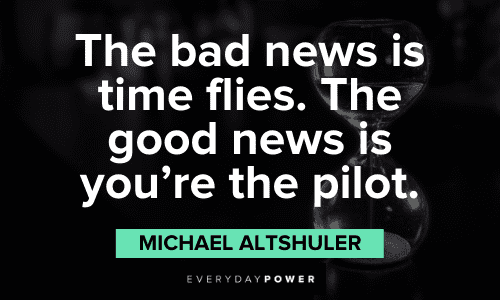 6. "Life has got all those twists and turns. You've got to hold on tight and off you go." — Nicole Kidman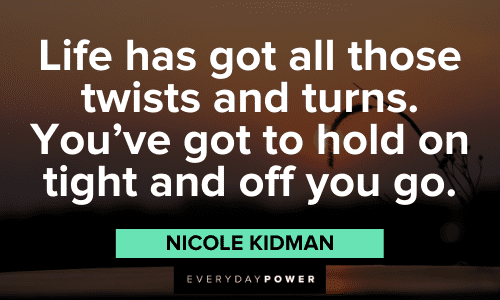 7. "Keep your face always toward the sunshine, and shadows will fall behind you." — Walt Whitman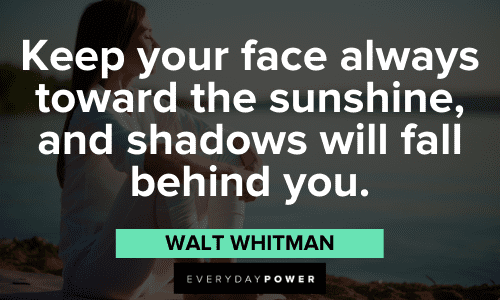 8. "You define your own life. Don't let other people write your script." — Oprah Winfrey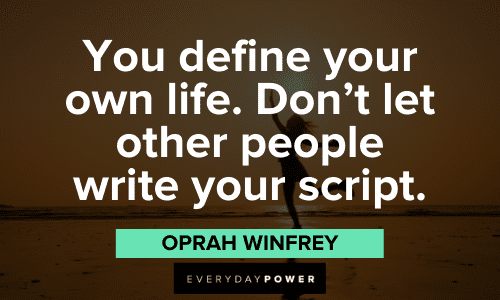 9. "You are never too old to set another goal or to dream a new dream." — Malala Yousafzai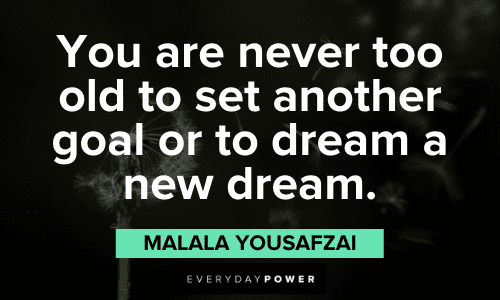 10. "The future is always beginning now." – Mark Strand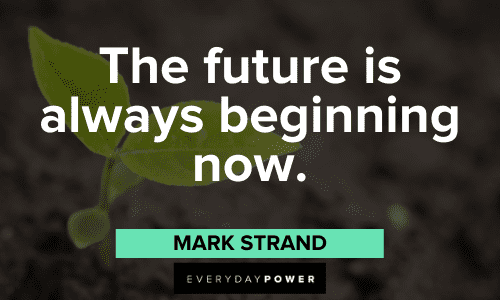 Motivational Picture Quotes For Your Everyday Empowerment
11. "Do not allow people to dim your shine because they are blinded. Tell them to put some sunglasses on." — Lady Gaga
12. Don't just look, observe. Don't just swallow, taste. Don't just sleep, dream. Don't just think, feel. Don't just exist, live.
13. Sometimes you have to do what is best for you and your life, now what's best for everyone else.
14. Sometimes it's okay if the only thing you did today was breathe.
15. A physician once said, "The best medicine for humans is love." Someone asked, "what if it doesn't work?' He smiled and said, "increase the dose."
16. "What lies behind you and what lies in front of you, pales in comparison to what lies inside of you." — Ralph Waldo Emerson
17. Be your own kind of beautiful.
18. "Mistakes are always forgivable, if one has the courage to admit them."
If you're enjoying this article, be sure to also check out our collection of inspirational pictures quotes that will help push you to keep moving forward.
19. What you did in the past represents who you were then. What you do now represents who you're becoming.
20. You get a limited number of chances in life to do something big. When they come, take them.
21. If we wait until we're ready, we'll be waiting for the rest of our lives.
22. Keep away from those who try to belittle your ambitions. Small people always do that, but the really great make you believe that you too can become great.
23. Everybody is a genius. But if you judge a fish by its ability to club a tree, it'll lvd its while life believing that it is stupid.
24. The longer you wait for the future, the shorter it will be.
You might also like these clever Facebook quotes about life and love that are perfect to post as your FB status.
25. Go after dreams, not people.
26. Look to your left and to your right. Who do you see? Be sure that those who stand beside you are positive, motivated and connect with your energy. Your closest companions help to influence your actions. You're more likely to push through obstacles and take chances with the right encouragement.
27. This morning, let go of everything you didn't do right, the negative things people have said and focus on all you are becoming.
Motivational Picture Quotes About Life And Success
28. "If you can dream it, you can do it." — Walt Disney
29. "Build your own dreams or someone else will hire you to build theirs." — Farrah Gray
30. "Great minds discuss ideas, average minds discuss events, small minds discuss people." — Eleanor Roosevelt
31. "Whether you think you can or you think you can't, you are right." — Henry Ford
32. All our dreams can come true if we have the courage to pursue them." — Walt Disney
33. "Number one reason people fail in life is because they listen to their friends, family and neighbors." — Napoleon Hill
34. "The single most important route of success is persistence- never, ever give up." — Terry Matthews
35. "The best revenge is massive success." — Frank Sinatra
36. "The secret of getting ahead is getting started." — Mark Twain
37. "Never give up. You only get one life. Go for it." — Richard E. Grant
Short Motivation Picture Quotes To Be Positive
38. "Find your peace and live in it." ― Yohancé Salimu
39. "Just one small positive thought in the morning can change your whole day." — Dalai Lama
40. "Don't let someone else's opinion of you become your reality." — Les Brown
41. "It is never too late to be what you might have been." — George Eliot
42. "I am not a product of my circumstances. I am a product of my decisions." — Stephen R. Covey
43. "Opportunities don't happen, you create them." — Chris Grosser
44. "If you're not positive energy, you're negative energy." ― Mark Cuban
45. "He that can have patience can have what he will." ― Benjamin Franklin
46. "Set your goals high, and don't stop till you get there." — Bo Jackson
47. "Live out of your imagination, not your history." — Stephen Covey
Motivational Picture Quotes To Keep You Going
48. "You do not find the happy life. You make it." — Camilla Eyring Kimball
49. "A lot of people are afraid to say what they want. That's why they don't get what they want. — Madonna
50. "It ain't about how hard you hit. It's about how hard you can get hit and keep moving forward." — Sylvester Stallone
51. "Being vulnerable is a strength, not a weakness." — Selena Gomez
52. "Embrace the glorious mess that you are." — Elizabeth Gilbert
53. "You must find the place inside yourself where nothing is impossible." — Deepak Chopra
54. "If my mind can conceive it, if my heart can believe it, then I can achieve it." — Muhammad Ali
55. "I will not let anyone scare me out of my full potential." — Nicki Minaj
56. "Perfection is not attainable, but if we chase perfection, we can catch excellence." — Vince Lombardi
57. "The power of imagination makes us infinite." — John Muir